The pie guy is at it again with Coconut Cream Pie. The second Ken gets bored into the kitchen he goes. He starts routing around and finds ingredients and off he goes creating. Their was one pie shell in the freezer and then he found some coconut and that's how we got coconut cream pie. Ken was wanting to use the whipping cream also that we have in the fridge, so instead of a traditional meringue topping we did a lighter than air whipped cream topping.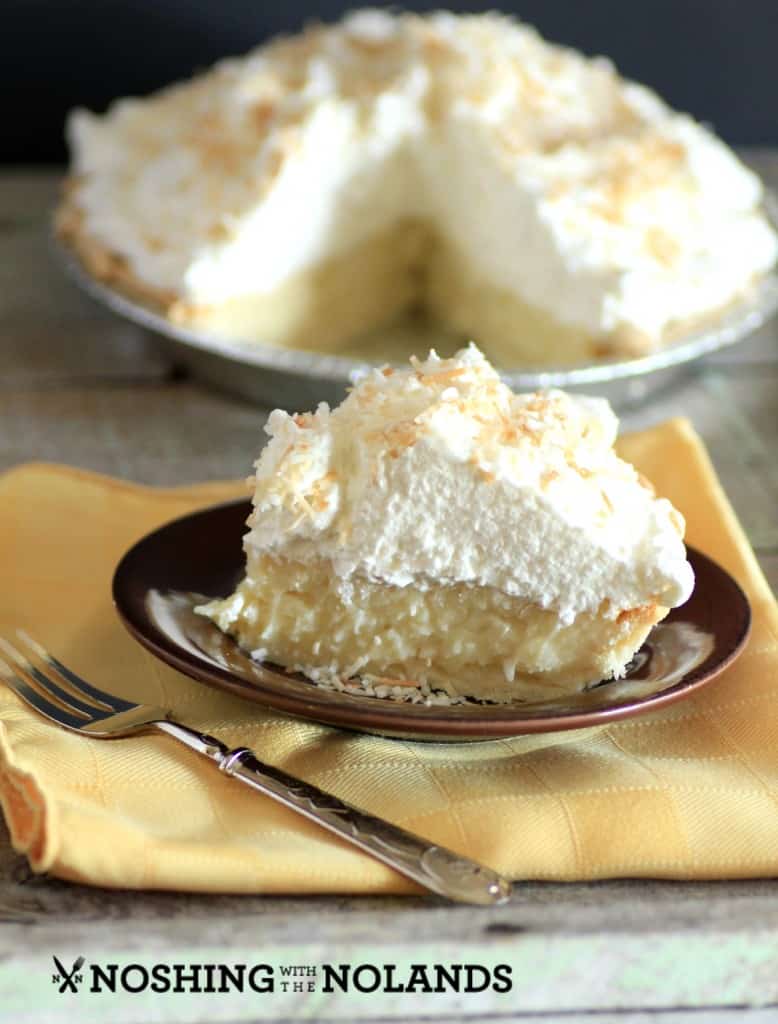 This pie was amazing and it got some rave reviews from the neighborhood boys who got to indulge in this for their dessert. It has got lots of coconut flavor and you could up it even more if you wanted by adding coconut extract to the whipping cream. ENJOY!!!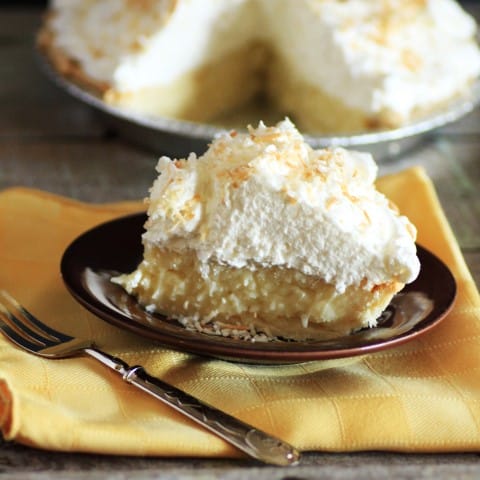 Coconut Cream Pie
A lighter than air coconut cream pie!!
Ingredients
¾ cup sugar
⅓ cup flour
¼ tsp. salt
1½ cups milk
½ cup whipping cream
3 egg yolks, slightly beaten
2 Tbsp. butter
½ tsp. coconut extract
1 cup sweetened shredded coconut
1 pre baked 9" pie shell, cooled
Whipped Topping
2 cups whipping cream
1½-2 Tbsp. icing sugar or to taste
½ tsp. coconut extract (optional)
¼ cup toasted sweetened shredded coconut
Instructions
In a medium saucepan combine sugar, flour and salt. Whisk in the milk and cream over medium heat, continue stirring until the mixture boils and thickens. Continue cooking for 2 min. longer, stirring. Remove from heat.
Take small amounts of the hot mixture and add it slowly to the egg yolks and then whisk the egg yolks into the hot mixture and continue to cook for 2 min. stirring on medium heat. Remove from heat and stir in butter. Stir in the coconut and the extract. Pour into the prebaked pie shell. Place plastic wrap right on top of custard and refrigerate until cool.
When ready to serve, whip the cream until starting to thicken, add the icing sugar and extract if using. Continue to beat until fluffy. Place on top of chilled pie. Sprinkle with toasted coconut.
Recipe adapted from Better Homes and Gardens Pie and Cakes