This scrumptious Glazed Pistachio Bundt Cake is packed with the nutty, sweet flavor of pistachio and drizzled with a smooth white chocolate pistachio glaze.
Pistachio is one of the lighter, sweeter varieties of nuts, and it is delicious in sweet or savoury dishes. Try them our Pistachio Iced Coffee for a quick pick me up or crushed with herbs over Grilled Lamb Chops.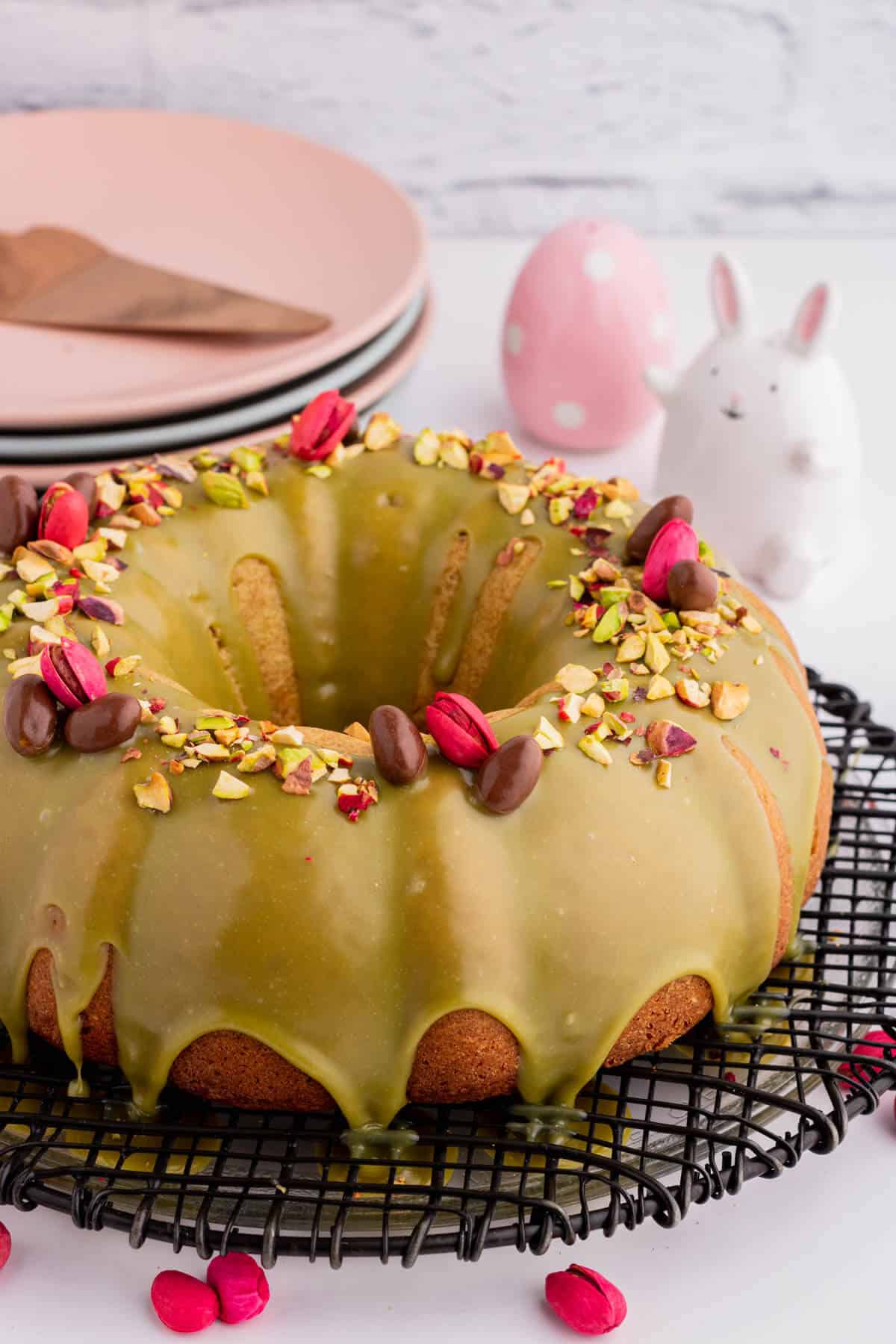 Pistachio Bundt Cake
Everything about this cake screams scrumptious right to the last crumb. This fabulous cake has a sweet, nutty and buttery flavour dotted by chopped fresh pistachios.
It bakes up nice and moist, almost with a bit of a 'pound cake' texture and mouthfeel. It's butter, but not oily. It has a large crumb but is not heavy or dense.
The final touch, or crowning glory, is the simple white chocolate, cream, and pistachio cream glaze. Pistachio cream is a spreadable treat similar to Nutella but made with pistachios.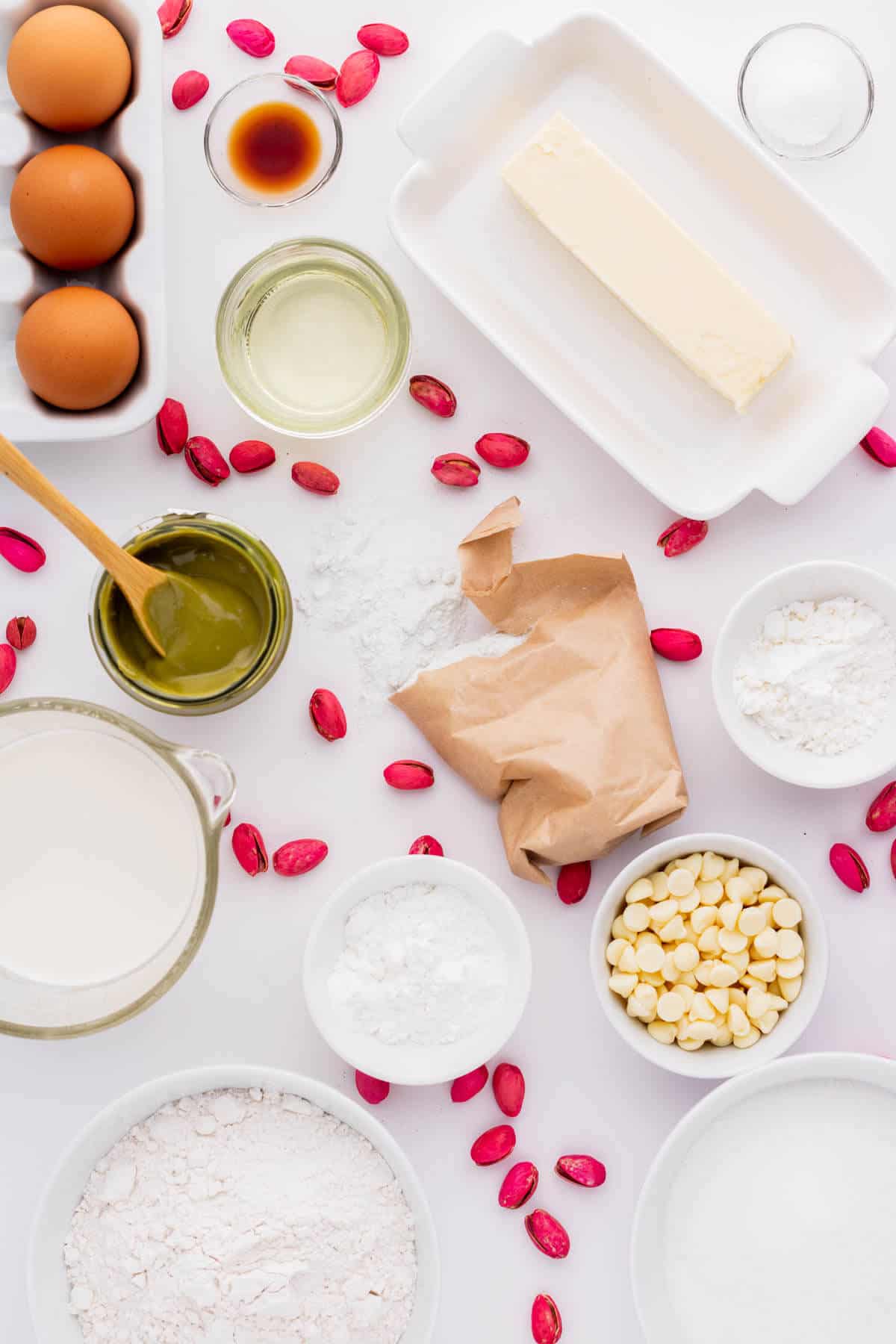 Hello everyone, this is Bernice from Dish 'n' the Kitchen. Today I am welcoming Spring and sharing this Easter-themed Pistachio Bundt Cake with NWTN readers. I know you're going to love this cake as much as my family did.
Spring is in full swing on my blog too. I've recently shared a velvety Nettle Soup with Potato and Leek featuring Stinging Nettle, a popular foraged Spring green.
Need an easy Easter main? My easy slow cooker Spiral Sliced Ham has a fantastic Pineapple Cola Glaze and is scalable for any size of Easter gathering.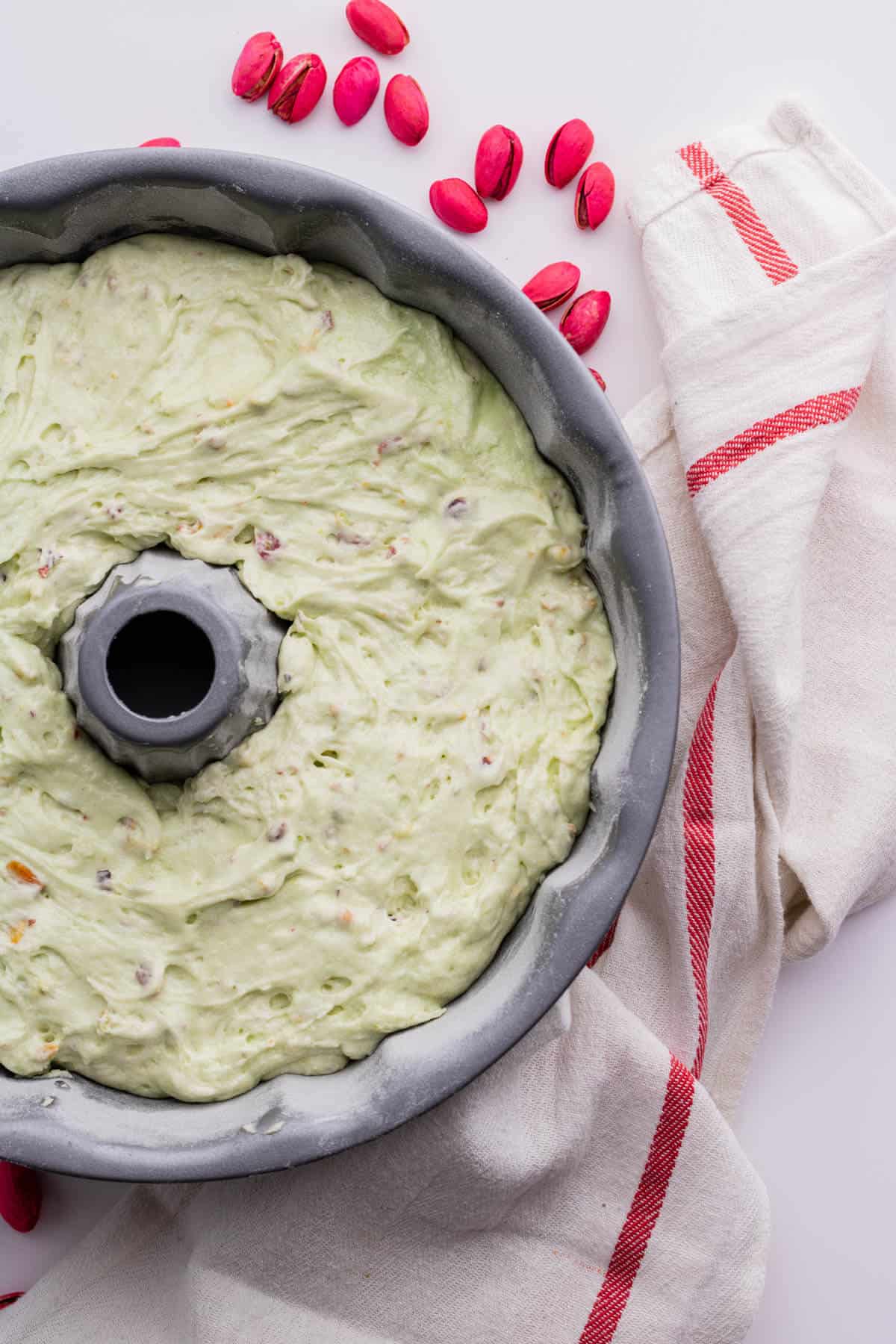 Ingredients for the Perfect Pistachio Bundt Cake
This Pistachio Bundt Cake recipe contains everyday pantry staples accented by a few specialty items. Read on to find out what these tasty specialty items are and what ingredients to substitute, if need be.
Flour
Cornstarch
Baking Powder
Salt
Unsalted Butter
Sugar
Pistachio Pudding Mix
Eggs
Pistachios
Milk
Canola Oil
Vanilla
White Chocolate Chips
Heavy Cream
Pistachio Cream
The first 'specialty' ingredient you will need for this cake is a 3.5 oz (99 gram) box of instant Pistachio pudding mix. It should be easy to find in the 'jello' section of your nearest grocery store.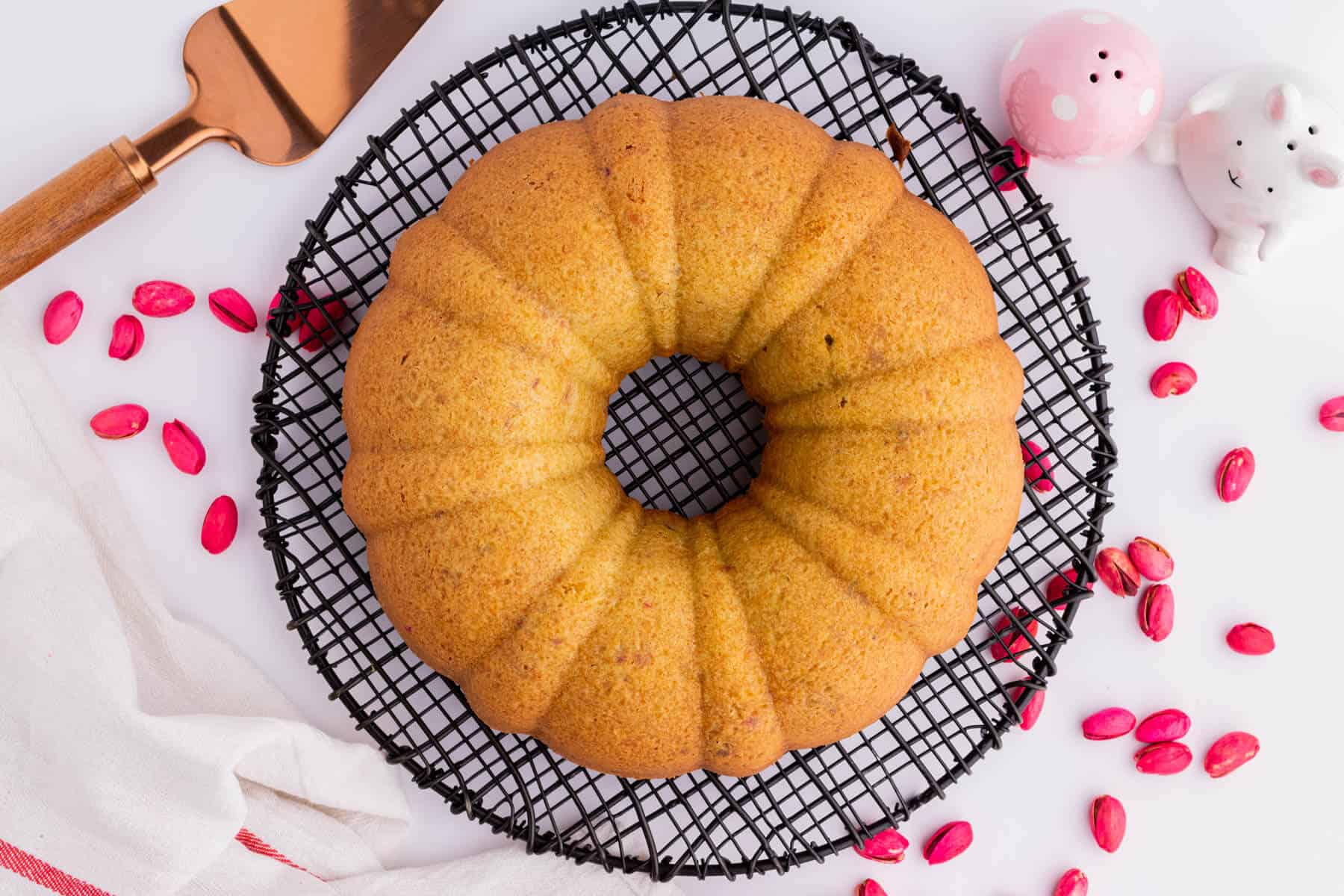 Vanilla extract is a common baker's pantry item; however, if you can source pistachio extract, this will add even more sweet nutty flavour to this cake. Some recipes suggest using almond extract, but this is a pistachio bundt cake, so there's no need to complicate the flavour.
Pistachio Cream is a smooth and creamy spread or butter, similar to Nutella. You can find it at most Italian supermarkets.
All About Pistachios
Pistachios are not necessarily a common pantry staple. However, this 'specialty' ingredient is relatively easy to find. There's no need to buy fuchsia-dyed pistachios, but they do add an eye-catching flair to the cake.
Pistachios are available in many forms; red shell, natural tan shell, unshelled, raw, roasted, salted and many other flavours. Use any of them (except the flavoured!) in this recipe. If using raw pistachios, take the time to roast them before adding them to the cake batter.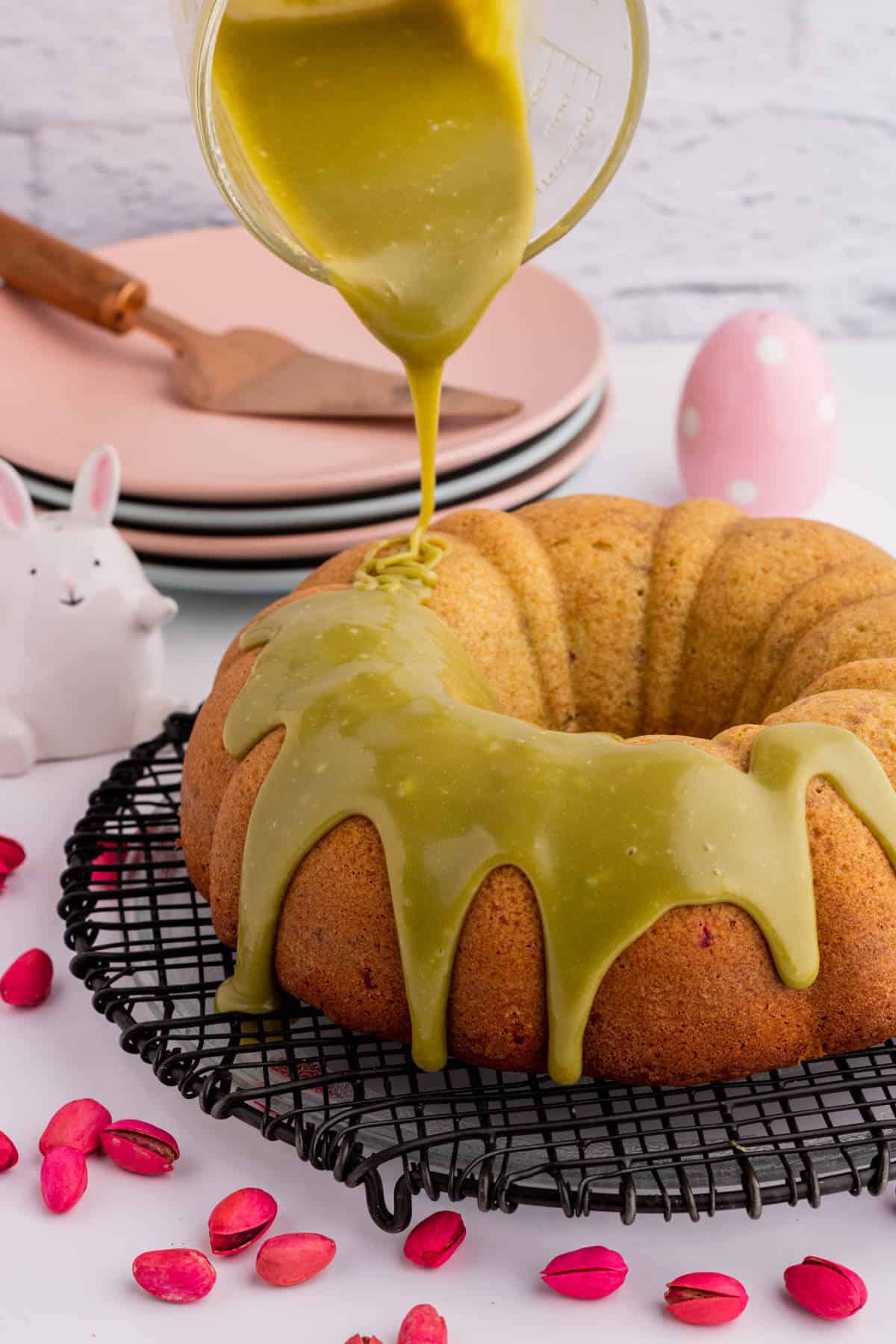 Do you know why pistachios were once commonly dyed red? There are a few suggestions as to why. However, the most likely is that the dye hid imperfections caused by the harvesting process, making them more appealing to consumers.
Pistachios grow on trees in clusters (similar to grapes) in the arid climates of Turkey, the Middle East, Greece, Italy and California. The first known archeological remains of pistachios date back around 9000 years ago in the Middle East.
The first North American harvest took place more recently in 1976. This means they were planted in 1970 as the trees take at least 6 or 7 years to bear nuts. This is one of the reasons they are so expensive.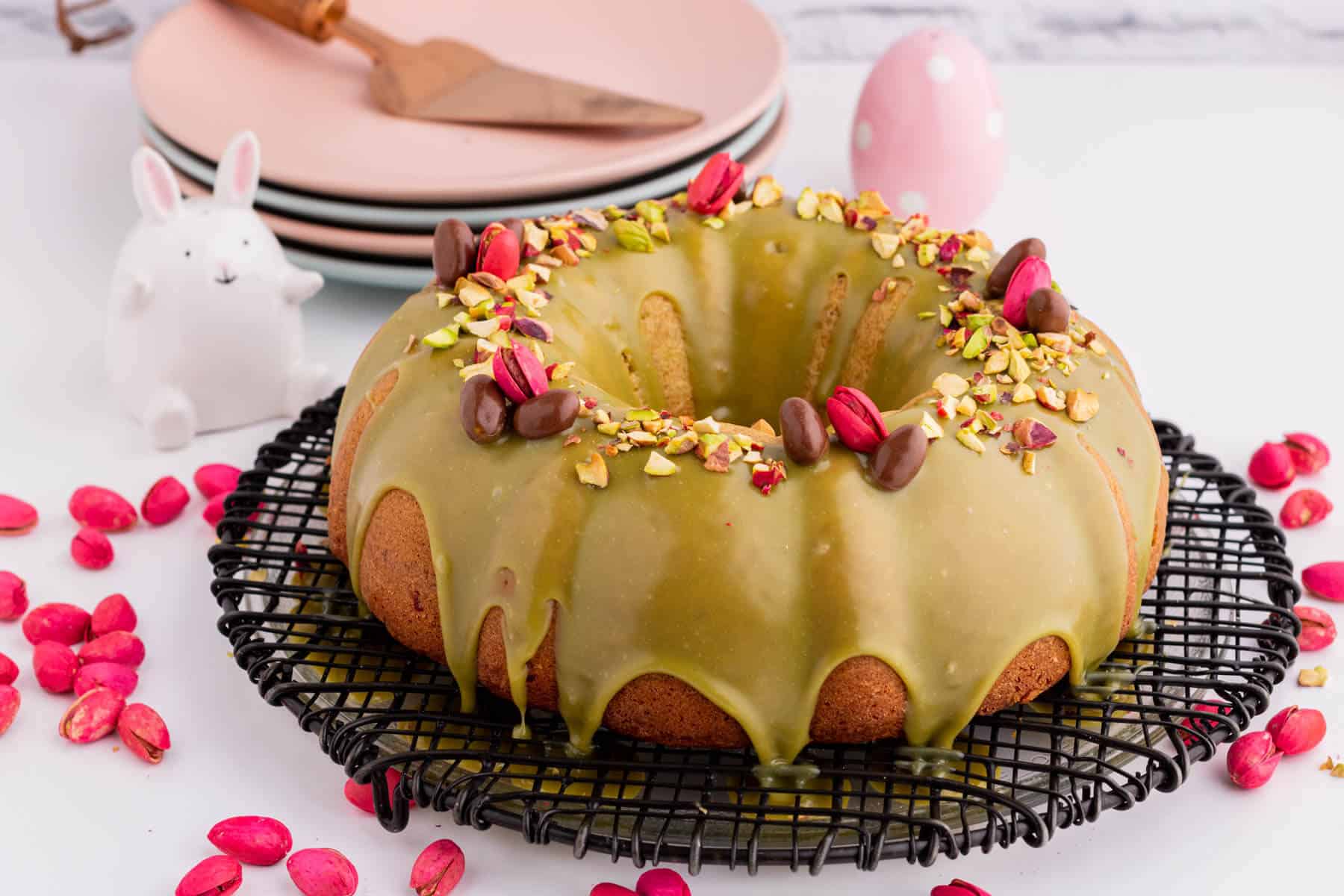 How to Prepare a Bundt Cake Pan
There is no greater feeling in a baker's day than flipping a perfect bundt cake successfully out of a bundt pan. Every successful bundt cake recipe begins with preparing the pan with a generous layer of grease and a light dusting of flour.
Take a pat of butter in your hands (about 1 tsp) and rub it all around the pan, taking special care to coat any crannies and especially the interior of the pan. Do not use a baking spray as it will not coat the pan evenly.
Next, add a few tbsp flour in the bottom of the pan and use a 'tilt, turn, and tap' technique to move the flour around the pan. When the entire pan is coated in a light but even flour layer, discard the remaining flour. You can give the pan an extra tap to remove any excess flour while it is upside down.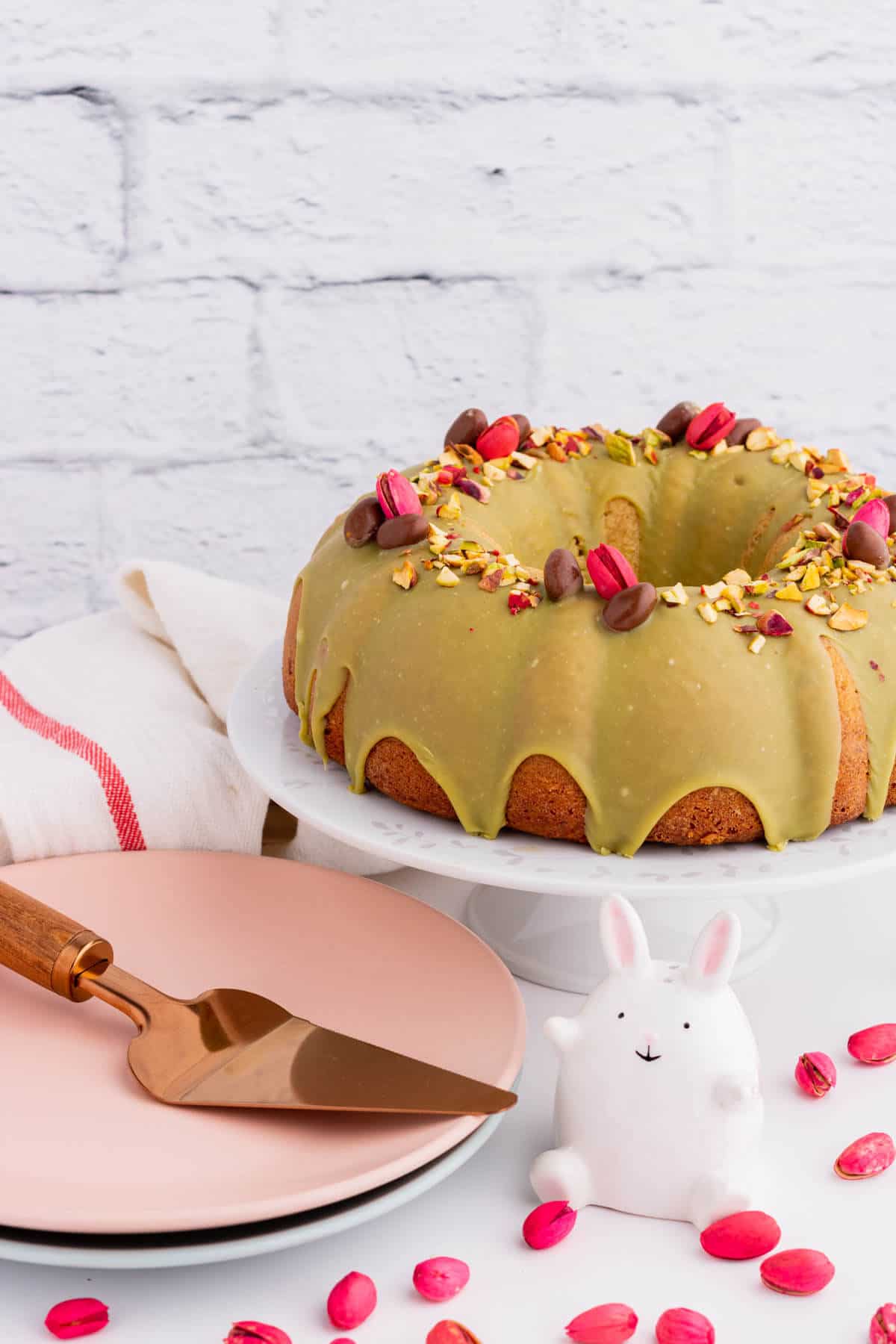 How to Make Pistachio Bundt Cake Batter
Preheat oven to 350 F. Add the softened butter and sugar to the bowl of a stand mixer and cream them together using the paddle attachment. Once this mixture becomes light and fluffy, mix in the package of pudding. Add the eggs, one at a time, mixing in between additions. Stir in the chopped pistachios.
Whisk the dry ingredients (flour, cornstarch, baking powder, and salt) together in a large bowl and set them aside.
Lastly, mix the milk, oil, and vanilla together in a large measuring cup.
Combine the three mixtures together by adding 1/3 of the dry mixture to the stand mixture while mixer is on the low setting. Pour in 1/3 of the wet mixture then add another 1/3 of the dry mixture. Repeat additions until you finish with the last amount of wet mixture.
Continue mixing the batter on low setting (or by hand) until the ingredients have just come together. Do not overmix.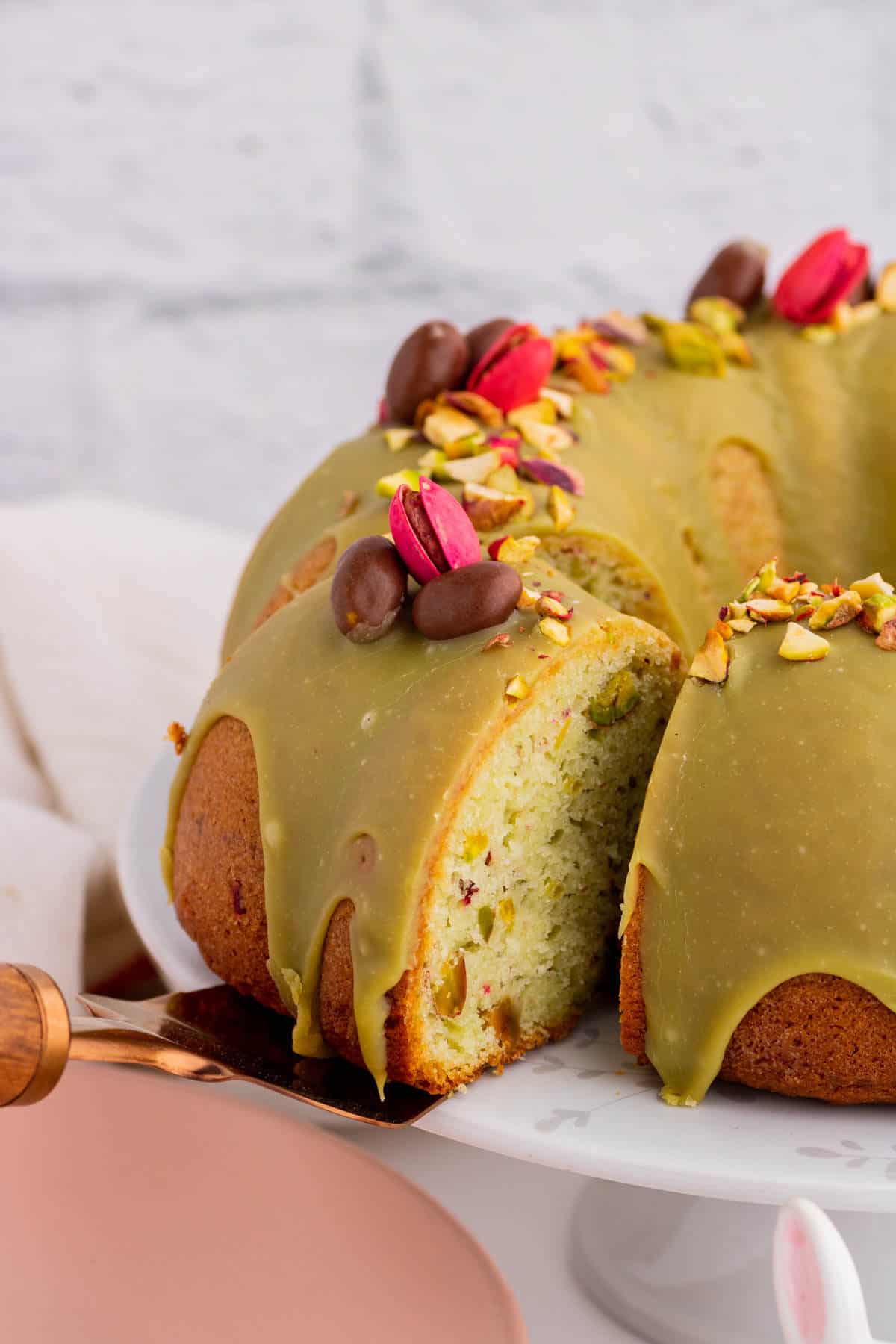 Using a spoon or spatula, place the batter evenly around the bottom of the bundt pan. Smooth it out slightly, then bake it in the preheated oven for 45 minutes.
Test the doneness of the pistachio cake by inserting a cake tester (a toothpick inserted is too short) into the middle of the cake. If it comes out clean, the cake is done baking. If it is still 'sticky', bake the cake for another 5-10 minutes and repeat the test. Bundt cakes can take a long time as they are thick.
How to Remove a Bundt Cake from the Pan
The cake is out of the oven…now what? Successfully removing the cake from the pan results from 4 very important steps:
Grease and flour the pan.
The cake is fully baked.
Allowing the cake to cool for 10 minutes before attempting removal.
A confident flip.
Once the cake is out of the oven, cool it in the pan on a wire rack. Do not attempt to flip it over immediately as it will fall out and break into pieces. After ten minutes of cooling, it is time for the flip.
Place the wire rack over top of the cake pan and flip it over in one quick motion. You should hear a satisfying 'thud' as the cake hits the rack.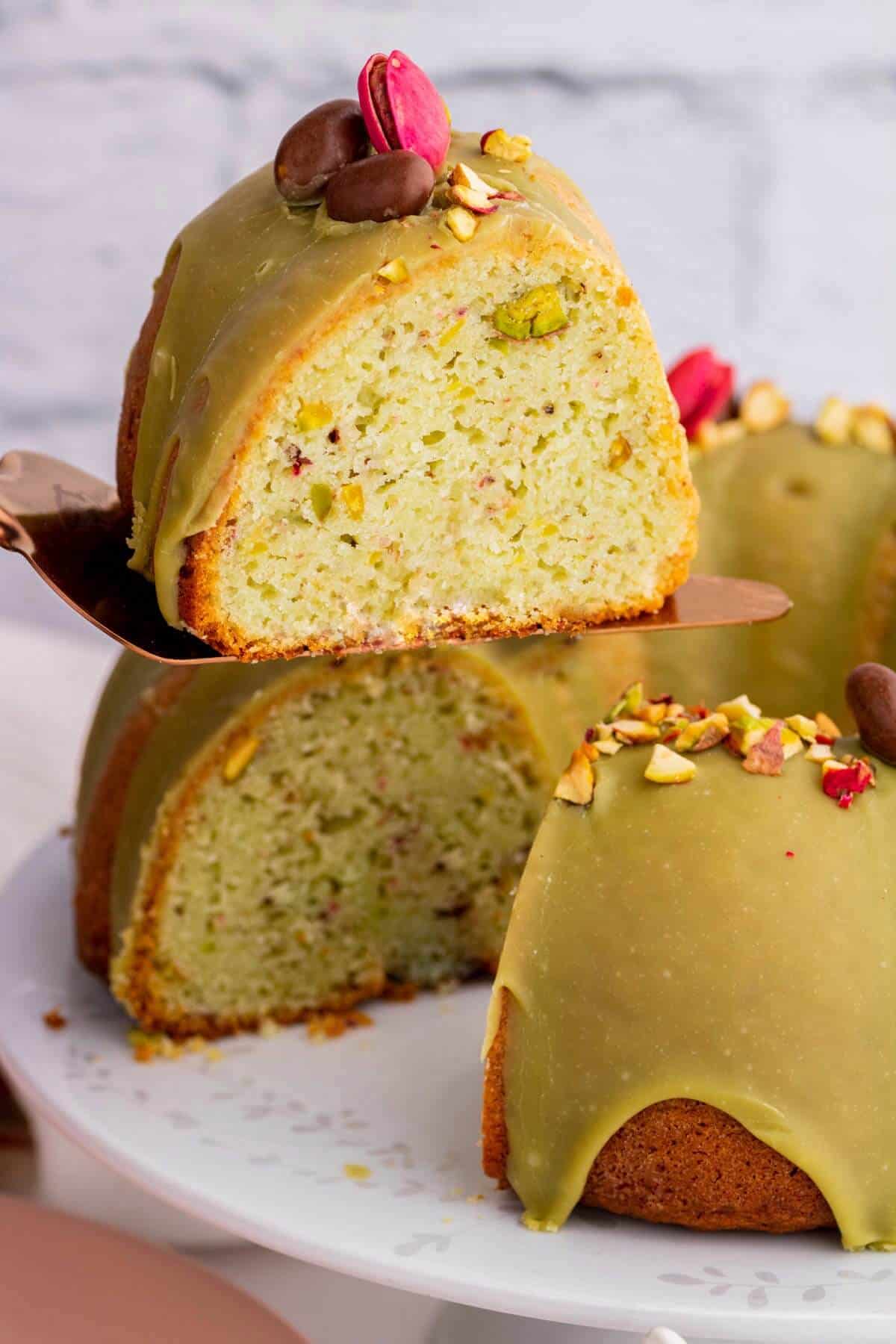 How to Remove a Stuck Bundt Cake
It happens. If your cake has stuck to the pan despite greasing, flouring, and cooling please do NOT stick a knife or spatula down the edges to loosen it.
Place a clean tea towel in the sink and pour a touch of boiling water over the towel. Place the damp (not dripping!) towel over the cake pan, not allowing it to touch the cake. Let the cake steam for ten minutes, then try to remove it.
If this method fails, carefully insert a flexible rubber spatula in between the cake and the pan edges. Allow the cake to cool to room temperature before glazing.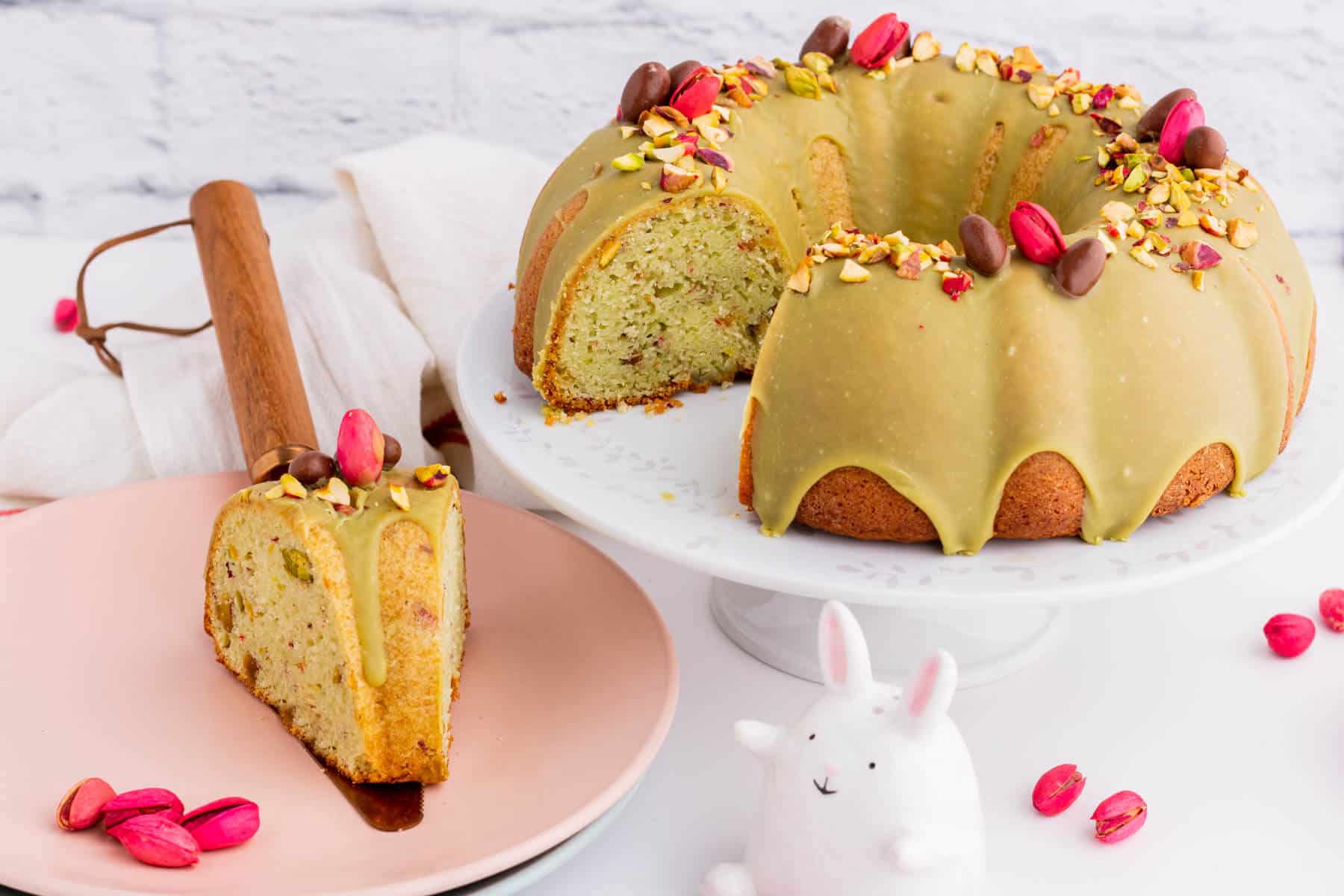 Finishing the Cake
Bundt cakes are beautiful on their own (or served with a dollop of whipped cream) and often only need a slight dusting of confectioner's sugar. However, this pistachio bundt cake is glazed with a creamy white chocolate pistachio glaze.
Simply add 1/2 cup white chocolate chips, 1/4 cup heavy cream, and 1/4 cup pistachio cream to a 2 cup glass measuring cup. Microwave for 20 seconds, then remove and stir. Repeat until there are only a few bits of chocolate remaining. Stir until smooth, then pour evenly over the cake.
Garnish with more chopped pistachios, chocolate coated pistachios, or Mini Eggs.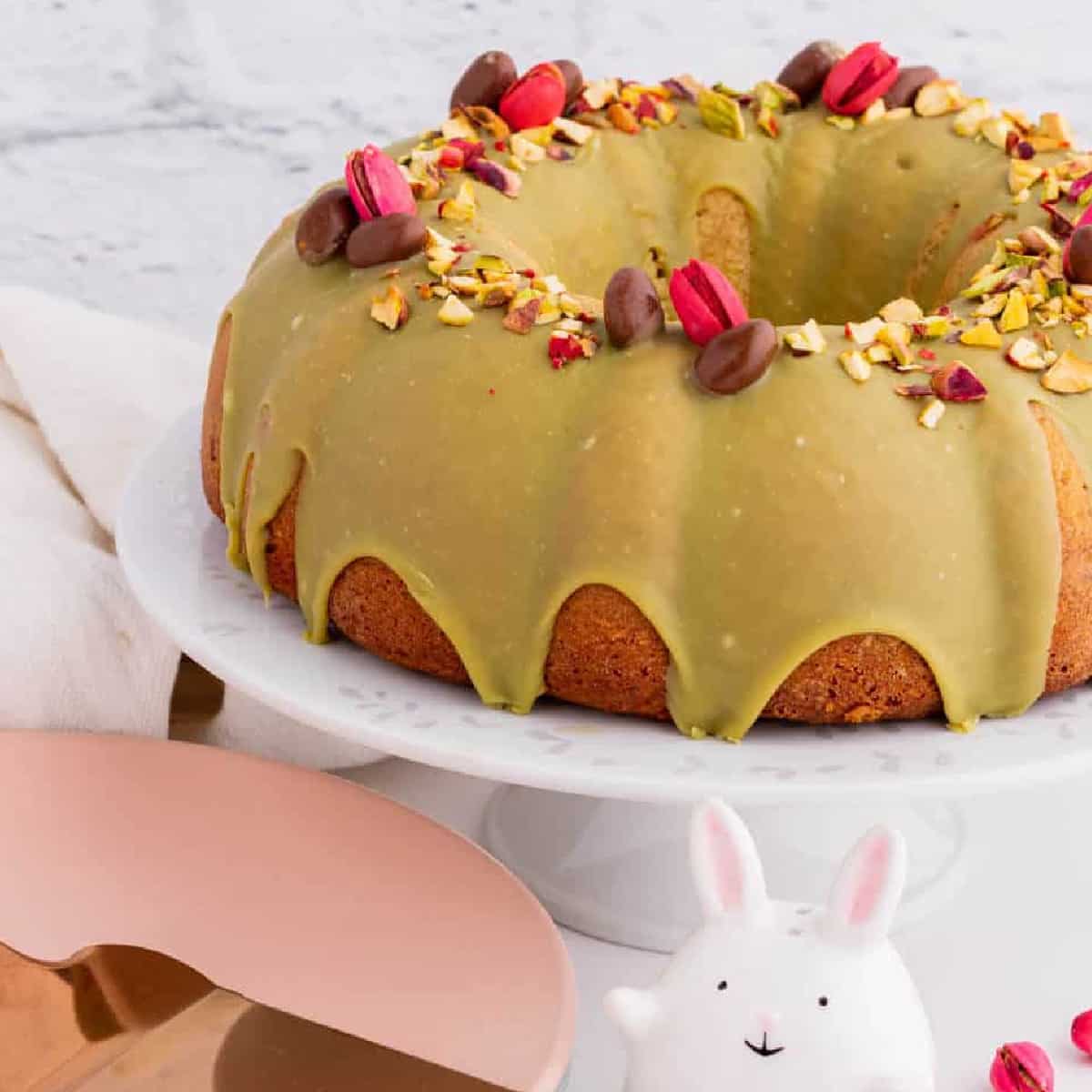 Pin it HERE!!
Pin it HERE!!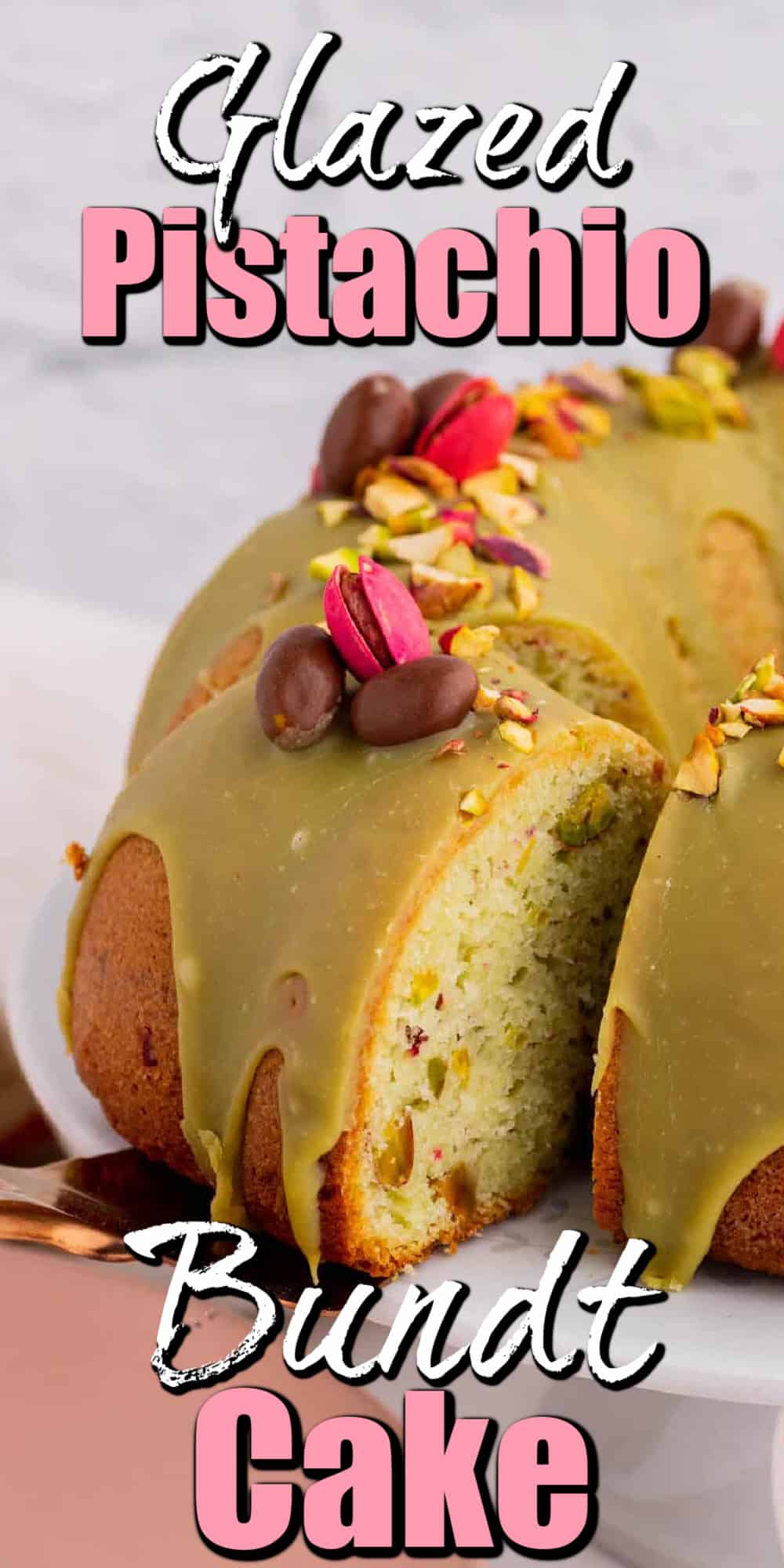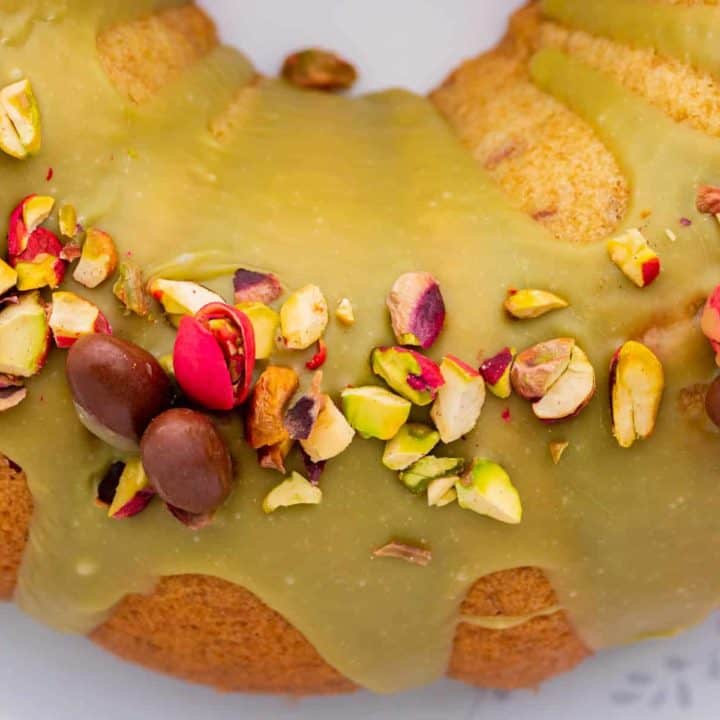 Pistachio Bundt Cake
Yield: serves 8
Prep Time: 20 minutes
Cook Time: 50 minutes
Total Time: 1 hour 10 minutes
This stunning Pistachio Bundt Cake is perfect on your Easter table or any time. You will get rave reviews with this cake recipe and unique glaze. Pistachio pudding mix makes you love this cake even more for its pretty green interior color!
Ingredients
1 3/4 cup flour
2 tbsp cornstarch
2 tbsp baking powder
3/4 tsp salt
1/2 cup unsalted butter; softened
1 1/4 cups sugar
3.5 oz (99 g) pkg pistachio pudding mix
3 eggs
1/2 cup chopped pistachios
1 1/4 cup milk
1/4 cup canola oil
1 tsp vanilla extract
raw pistachios, chocolate covered pistachios or Mini Eggs for garnish
FOR THE PISTACHIO GLAZE
1/2 cup white chocolate chips
1/4 cup heavy cream
1/4 cup pistachio cream
Instructions
Preheat oven to 350F. Grease and flour a 10-inch bundt pan.
Place the softened butter and sugar in the bowl of a stand mixer. Cream them together until they become light and fluffy.
Add the pistachio pudding mix to the butter and sugar.
Mix well, then add one egg at a time, mixing in between each addition.
Add chopped pistachios.
Whisk the dry ingredients (flour, cornstarch, baking powder, salt) together in a medium bowl.
Mix the milk, canola oil, and vanilla together in a large measuring cup.
With the mixer on low, add 1/3 dry mixture to stand mixer, then follow by pouring 1/3 wet mixture. Repeat until you end with the last portion of the wet mixture.
Mix until the ingredients JUST come together. Do not overmix.
Scoop evenly into prepared bundt pan and smooth out the top.
Bake for 45 minutes in a 350F oven. Test with a cake tester and add more time if the tester does not come out dry after inserting it.
FOR THE PISTACHIO GLAZE
Measure the white chocolate chips, heavy cream, and pistachio cream into a large glass measuring cup.
Microwave for 20 seconds, remove and stir. Repeat until almost all of the chocolate has melted, then stir until smooth.
Pour over cake, then decorate. You may need to wait until it sets a bit for larger decorations such as the pistachios/eggs.



Recommended Products
As an Amazon Associate and member of other affiliate programs, I earn from qualifying purchases.
Nutrition Information:
Yield: 8
Serving Size: 1
Amount Per Serving:
Calories: 690
Total Fat: 37g
Saturated Fat: 15g
Trans Fat: 0g
Unsaturated Fat: 20g
Cholesterol: 119mg
Sodium: 768mg
Carbohydrates: 80g
Fiber: 2g
Sugar: 49g
Protein: 11g
Recipe calculation was provided by Nutritionix and is an estimation only. If you need nutritional calculations for medical reasons, please use a source that you trust.