I have a great cookbook for you today if you are wanting to jump into the world of sous vide. The Complete Sous Vide Cookbook by Chris McDonald and it is filled with more than 175 fantastic recipes, and tips and techniques too! From this cookbook, I chose Grilled Lamb Chops with Pistachio Mint Pesto.
Lamb is gorgeous at any time of the year and if you have access to sous vide and then grill there is no better way to enjoy lamb chops. Plus we love a great pesto and this Pistachio Mint Pesto went so well with the lamb. Mint and lamb are so made for each other. I had fresh mint growing in our garden too, it was so nice to use that in a recipe like this one.
Another one of our great lamb dishes is this Herb Crusted Grilled Leg of Lamb, a stunner every time!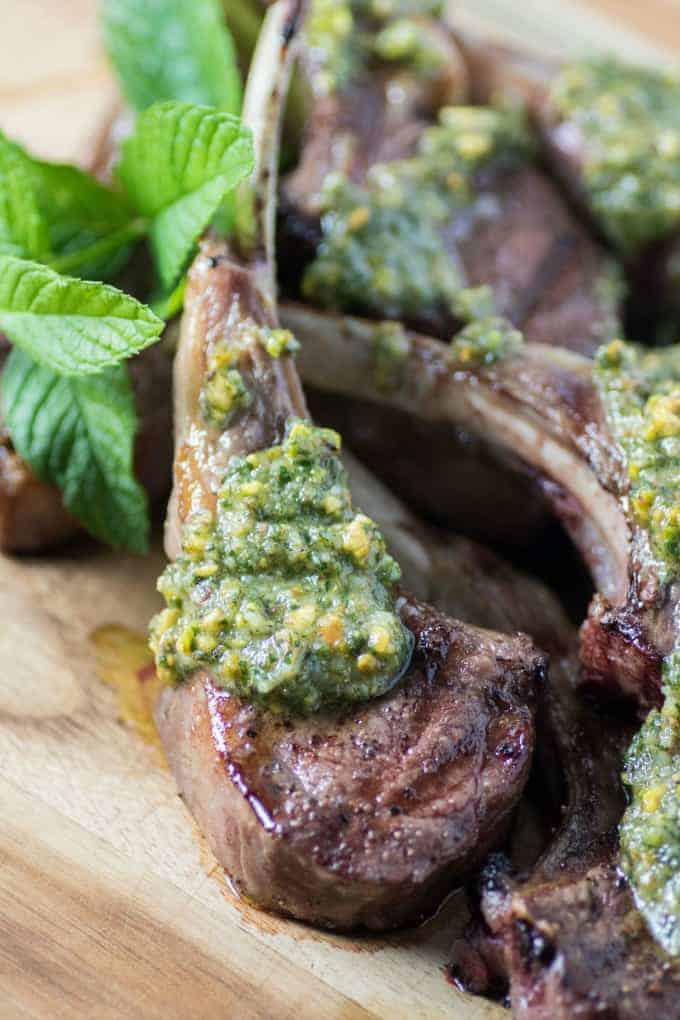 Succulent and juicy are these chops. The sous vide locks in the flavor and cook them to perfection. This recipe can be made for 2 to 3 racks of lamb or even one as we did for a romantic dinner for two.
The Complete Sous Vide Cookbook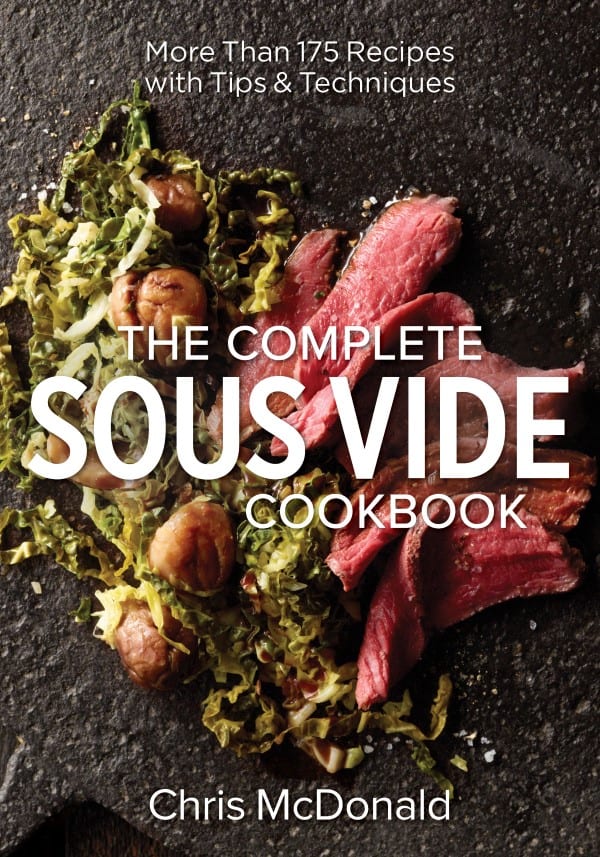 Cover image by Per Kristiansen.
I recently delved into sous vide cooking when Hamilton Beach gave me a slow cooker/sous vide to review. What an amazing machine!! This cooks protein like no other, and then a quick sear to make it perfect. The cookbook will walk you through all that is needed to get the most out of sous vide cooking with thorough easy to follow instructions.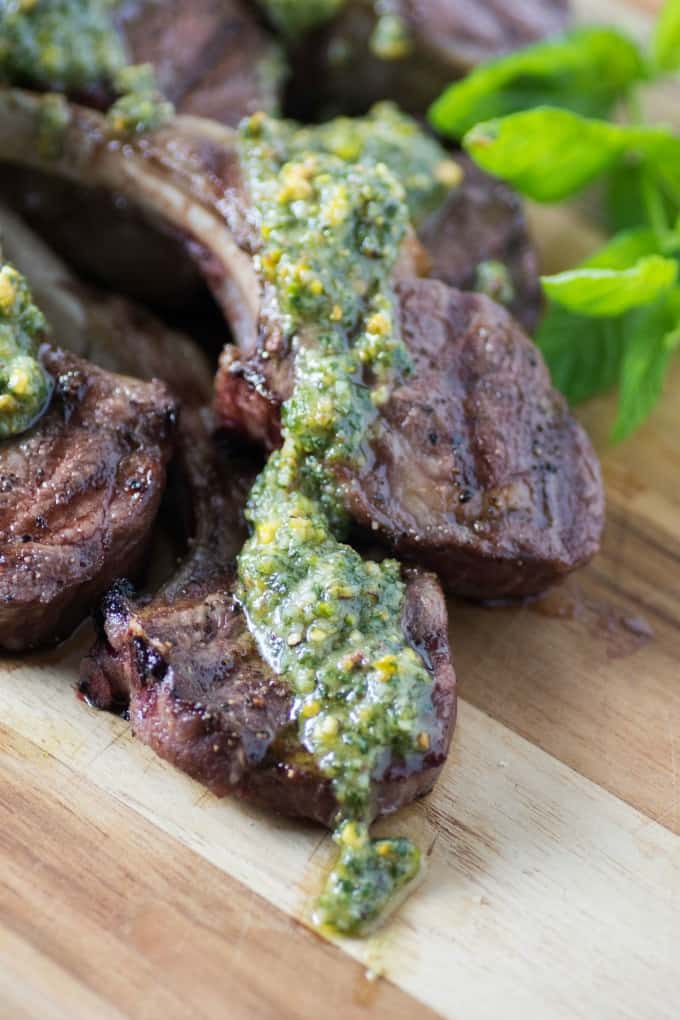 I have now made chicken, beef, salmon and lamb in our sous vide, all of them with outstanding results. This cookbook offers a lot for you to try. Recipes like New York Steak with Bordelaise Sauce, Miami Ribs, Georgian Pork Shoulder Roast with Pomegranate Glaze, Warm Duck Breast Salad wtih Walnuts and Apples, Chicken Liver Mousse and so many more including sauces, veggies and desserts.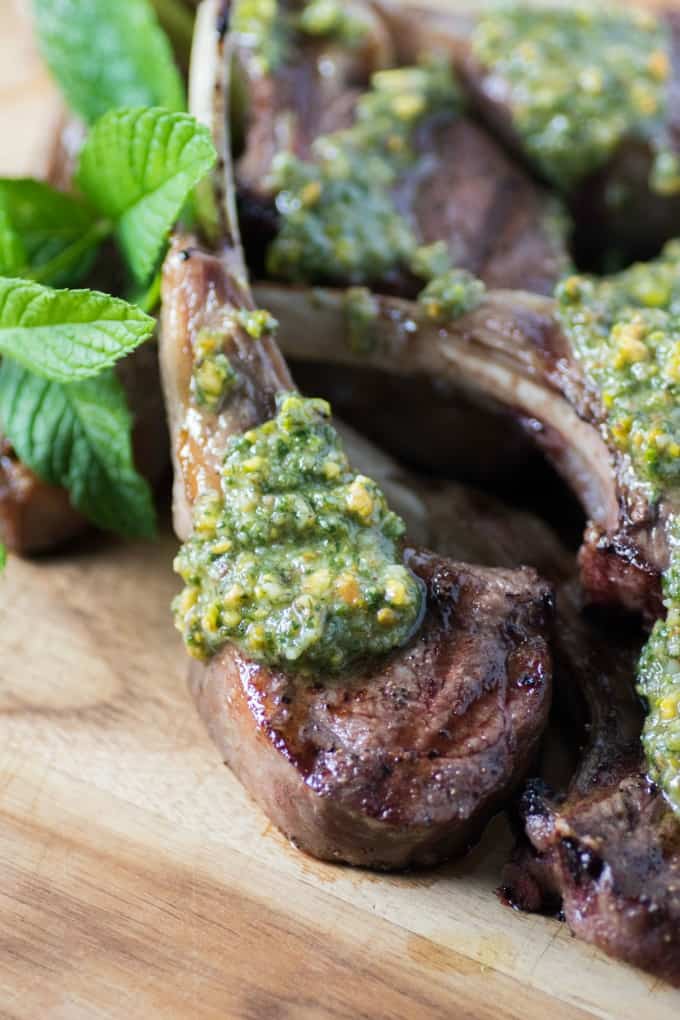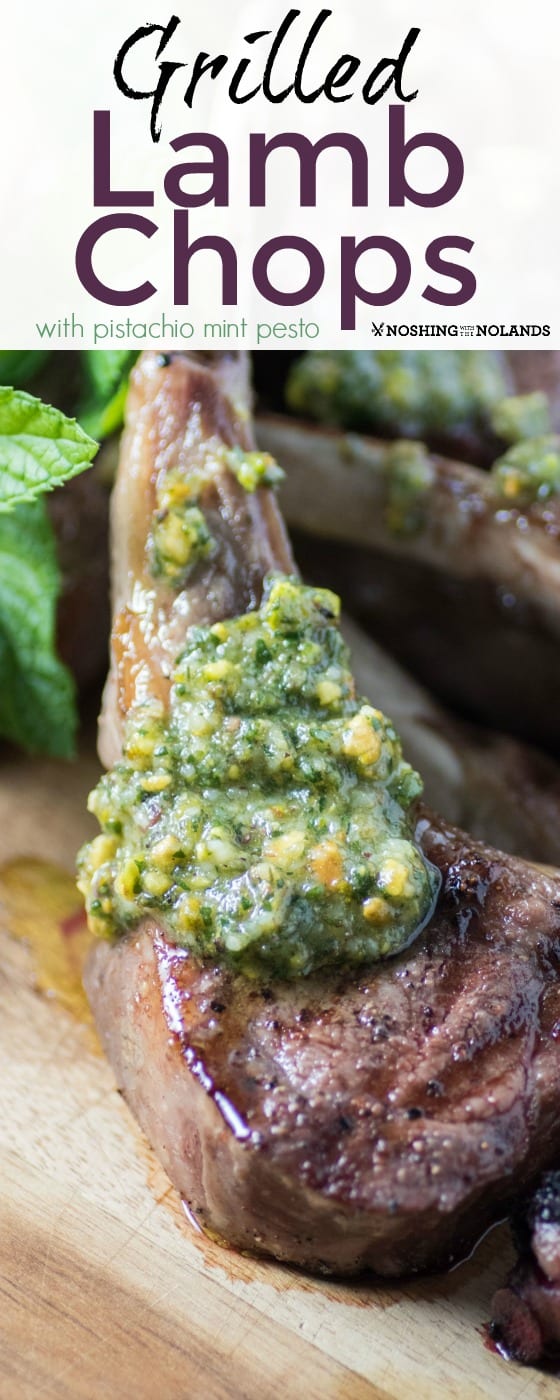 The Recipe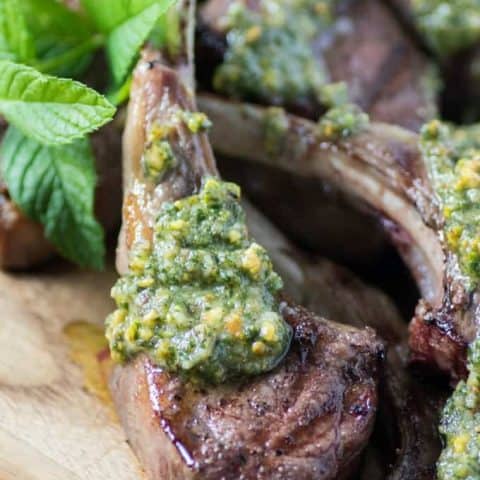 Grilled Lamb Chops with Pistachio Mint Pesto
Yield: 4 servings
Cook Time: 2 hours
Total Time: 2 hours
Preparing lamb chops sous vide yields perfect results. By cooking them as part of a whole rack first, you can focus on browning them beautifully right before it's time to eat. The pesto is at its most flavorful when you let it come to room temperature before cooking.
Ingredients
Lamb
2 or 3 - 7 to 8 bone lamb racks
1/4 cup olive oil
Salt and freshly ground black pepper
2 or 3 sous vide pouches
Pistachio Mint Pesto
1/2 cup finely grated Grand Padano cheese
1 tsp. freshly squeezed lemon juice
1 clove garlic, halved lengthwise and thinly sliced
1 cup loosely packed fresh peppermint or spearmint leaves
1/4 cup ground unsalted pistachios
1/4 cup extra virgin olive oil
Salt and freshly ground black pepper
Instructions
For the pesto: In a food processor fitted with the metal blade, combine cheese, lemon juice and garlic. Pulse until a coarse paste forms. Add mint and pistachios; pulse until mint is finely chopped. With the motor running, pour in oil through the feed tube and puree until smooth. Season to taste with salt and pepper.
Use immediately or transfer to an airtight container and refrigerate for up to 1 week.
For the lamb: Preheat hot water bath to 133F.
Using a sharp knife, trim all but a thin layer of fat from the racks. Rub 2 Tbsp. oil all over racks to coat.
Place each rack in a separate sous vide pouch and seal. Immerse in preheated hot water bath for 2 hours.
Remove pouches from hot water bath. Transfer to an ice bath and chill for 1 hour. Preheat a grill to high or heat a heavy-bottomed skillet over high heat.
Open pouches and slice racks into chops (each rack should yield 6 or 7 chops). Rub chops all over with remaining oil and season well with salt and pepper.
Place chops on grill or in skillet and sear for about 90 seconds per side or until just browned. Arrange chips on warm plates. Serve with pesto.
Tips:
You can easily halve or double this recipe. The racks are cooked at a slightly lower temperature than the one I usually recommend, because the chops will cook a bit more while browning. If you like your chops cooked to more than medium-rare, increase the browning time to 3-4 minutes per side.
To make ahead: Prepare up to the end of Step 3. Refrigerate sealed pouches for up to 1 week or freeze for up to 6 months. Proceed with Step 4.
Courtesy of
The Complete Sous Vide Cookbook
by
Chris McDonald
© 2016
www.robertrose.ca
Reprinted with publisher permission. Available where books are sold.