This Deliciously Easy Kale Pesto comes together in a matter of minutes. It is a gorgeous vibrant green and makes a nice alternative to a tomato sauce for pizza and pasta but also great on a sandwich too.
We love this recipe, and adding in fresh kale leaves with a basil pesto just adds so much more flavor. A great recipe to use up all that wonderful kale you see in the summer at farmer's markets, in your garden or at the grocery store.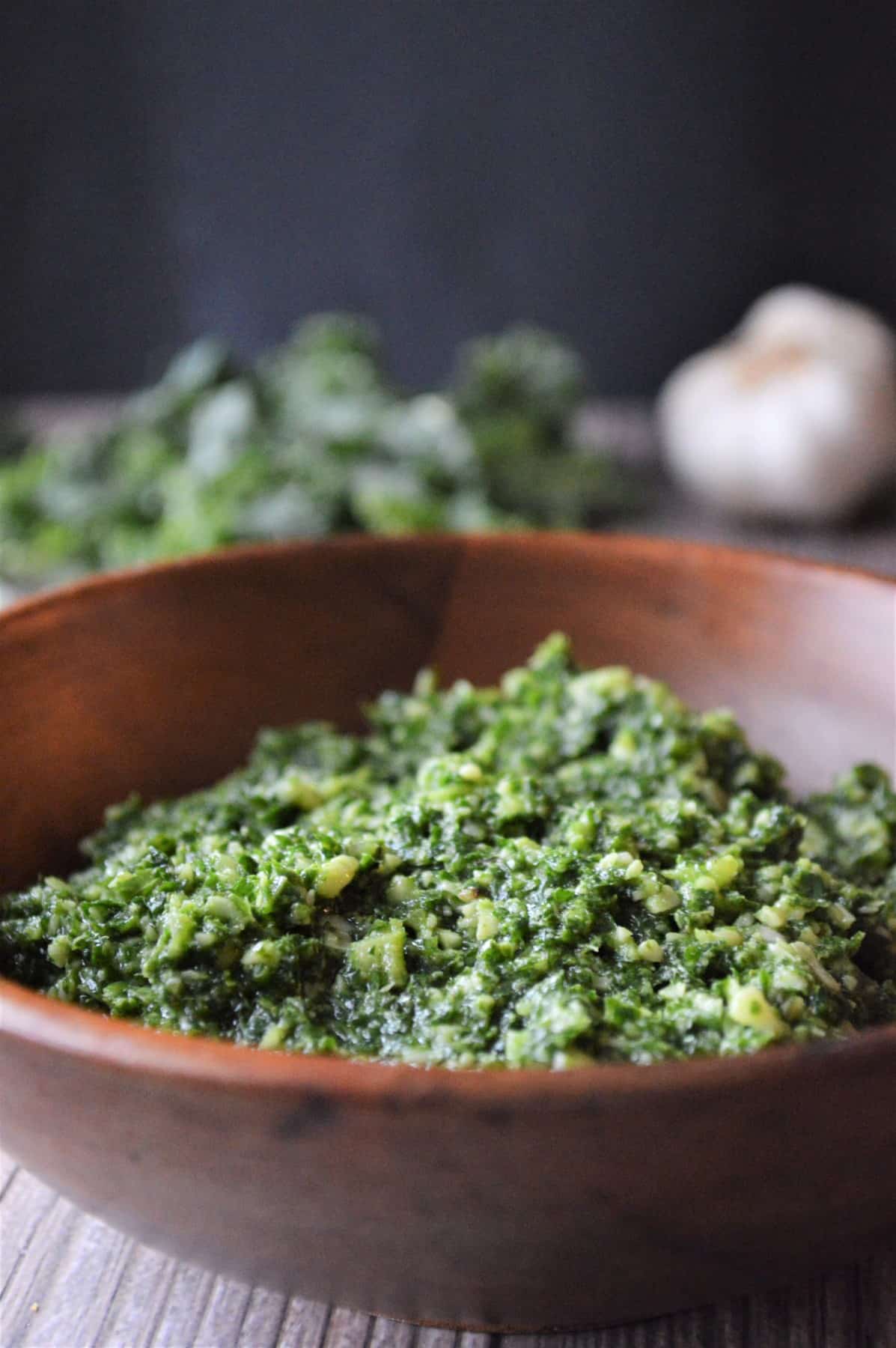 We love pesto and have been enjoying a Sundried Tomato Red Pesto also. It is fabulous on Creamer Potatoes in this recipe of Red Pesto Potatoes. A very easy recipe that will bring your Little potatoes to a whole new level.
Helpful Items For This Recipe
This post contains affiliate links. As an Amazon Associate, I earn a small portion from qualifying purchases at no extra charge for you.
Granite Mortar and Pestle Set (you can use this method also for making pesto)
What Ingredients Are in Kale Pesto?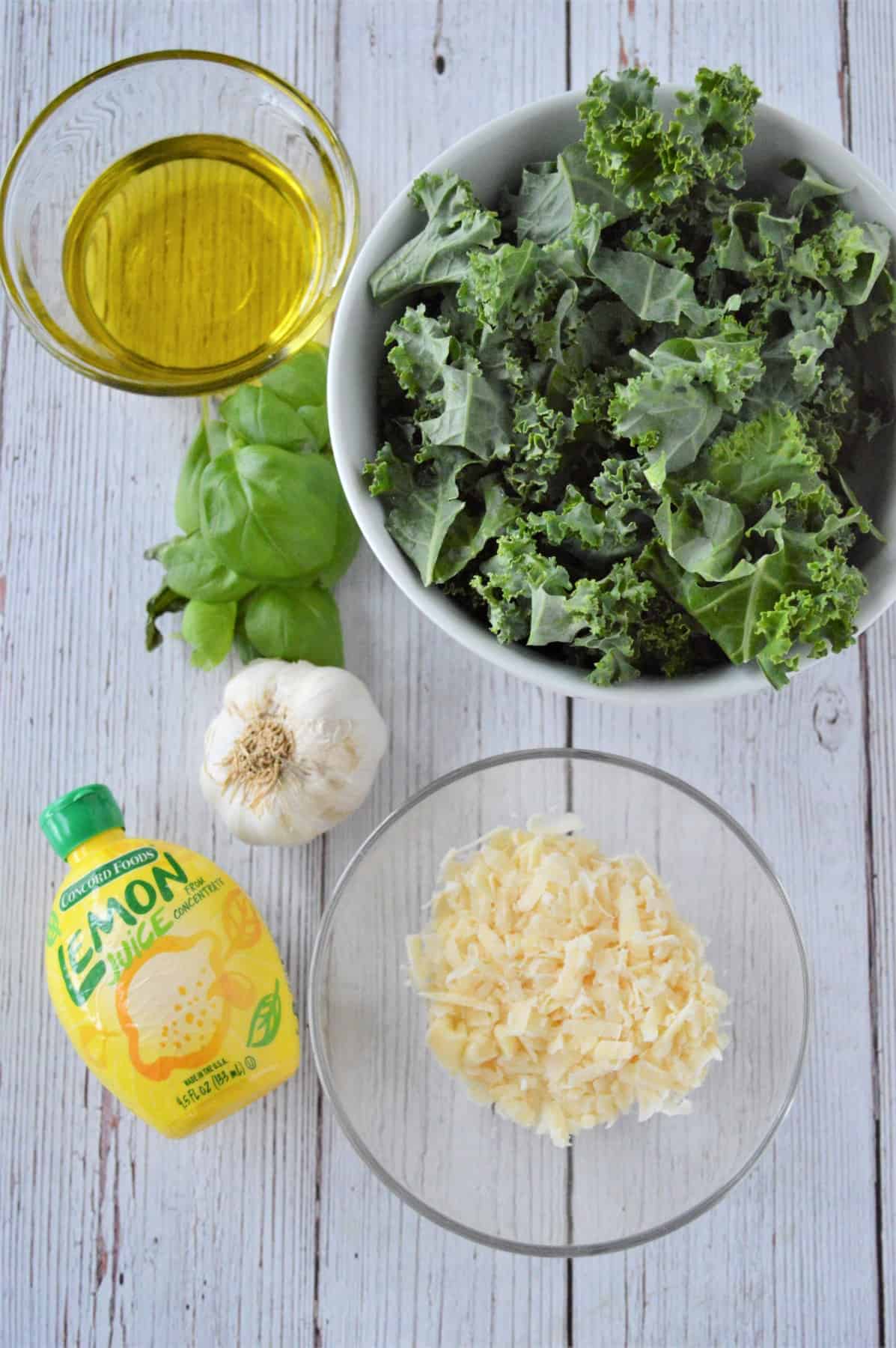 This is a very basic recipe that you can play with. If you have an aversion or allergy to nuts, then omit them as we did. But alternatively, you can add in a 1/2 cup of any of these toasted nuts like pine nuts, walnuts, almonds, macadamia nuts, pecans, pistachios, sunflower seeds, pumpkin seeds, sesame seeds, hemp seeds, and even peanuts.
The combination of say kale with walnuts make an excellent place to start, so experiment to find one that you like.
Parmesan is the classic cheese to add, but any hard, salty aged cheese like a Pecorino would also work. To make a creamy pesto, just add in a little cream.
We have even made a mint pistachio pesto that is great with lamb, like in this recipe, Grilled Lamb Chop with Pistachio Mint Pesto.
Or try our arugula pesto with walnuts in a Smoked Salmon Sandwich with Arugula Pesto. It really changes a ho-hum sandwich into something extraordinary.
Subbing in pesto on a pasta is scrumptious too like in our Shrimp and Pesto with Red Peppers.
We also love to make a simple Greek pizza using pita bread, pesto, feta, olives, and whatever fresh vegetables we have on hand like spinach, kale, tomatoes, arugula, and more. Even spooning some on scrambled eggs will liven up your breakfast tenfold.
Lastly, you can substitute the kale for other greens such as spinach, Swiss chard, mustard greens, arugula, collard greens, and herbs like mint, as we mentioned above.
Ingredients
Chopped kale
Fresh basil
Parmesan cheese
Extra Virgin Olive oil
Garlic cloves
Lemon juice (fresh or bottled, but make sure it is real lemon)
Dash of Kosher salt & freshly ground pepper
How to Make Kale Pesto
Pesto with only 6 ingredients plus salt and pepper comes together in a matter of 5 minutes' time. It is easy and delicious, and you will find you will be making it more and more.
Place all ingredients in a food processor. As you can see, the garlic cloves don't need to be chopped up, but when you add the kale, it is better in smaller pieces. The cheese grated works best, so it doesn't clump into a ball.
Blend until everything is broken down and smooth. You can correct seasoning with more salt and pepper if needed.
Store in an airtight container in your refrigerator. Kale pesto will last up to 5 days in the refrigerator. I usually drizzle an extra layer of olive oil on top to keep it fresh.
How Can I Make Pesto Vegan?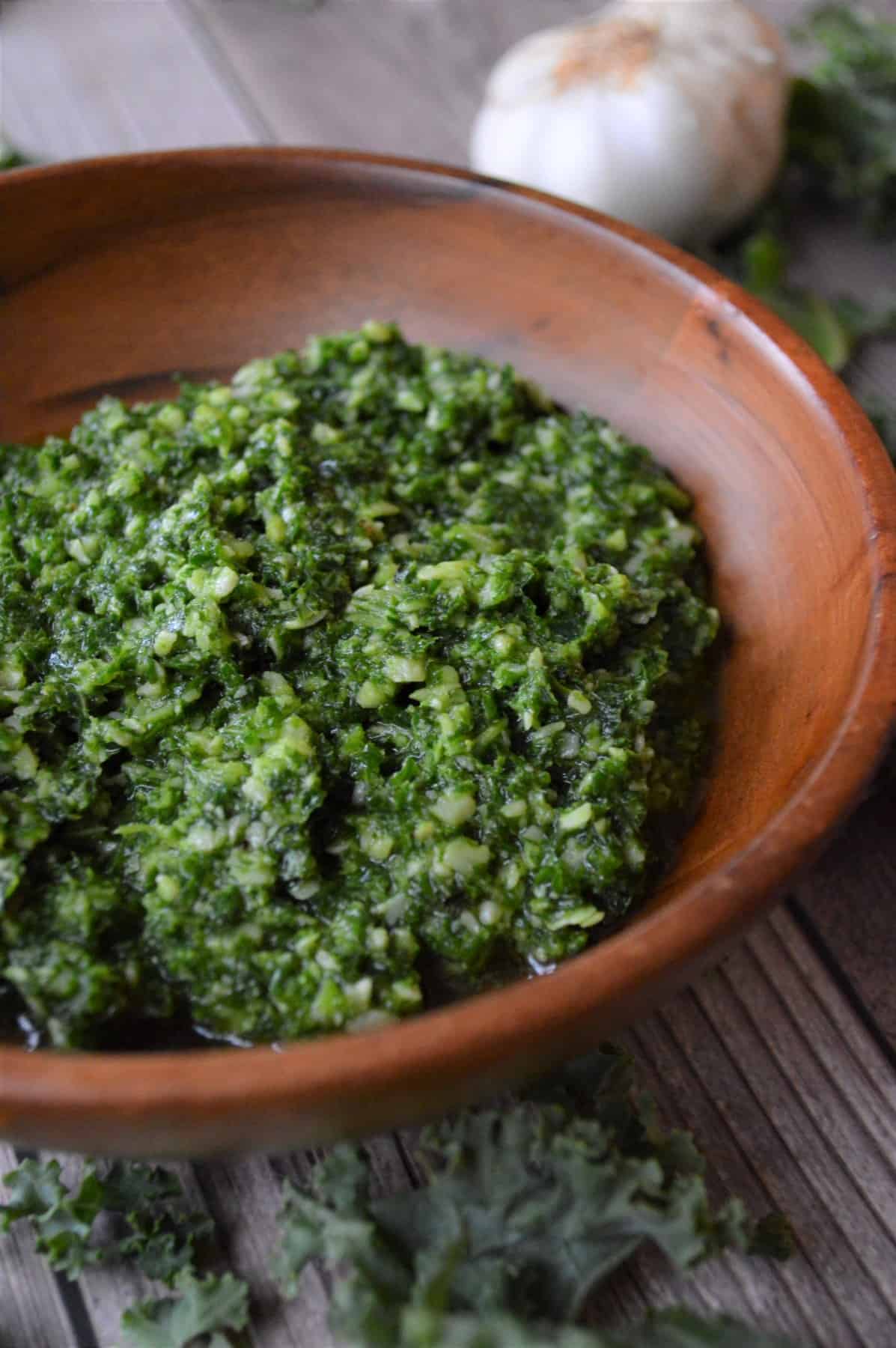 The only ingredient that you need to change to make a pesto vegan is Parmesan cheese. To accomplish that easily is to use nutritional yeast in place of the cheese. Nutritional yeast is naturally low in sodium and calories. It is also fat-free, gluten-free and sugar-free, and vegan.
This recipe is also naturally gluten-free if you use nutritional yeast or not.
Can You Freeze Pesto?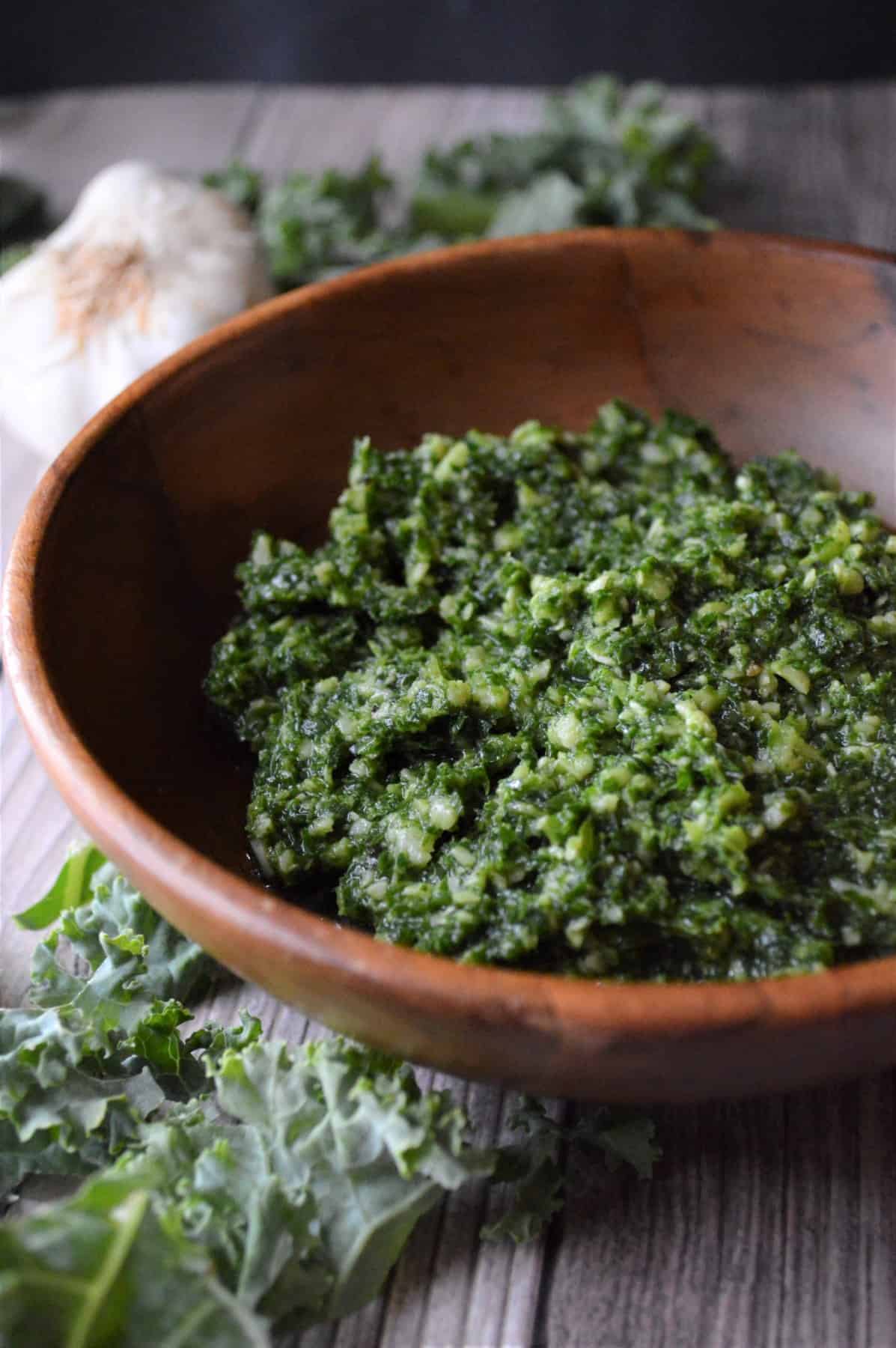 The answer is yes! Even a store-bought pesto after opening can be just popped into the freezer right in the jar it came in.
Homemade kale pesto also freezes well. Seal the pesto in an air-tight container. You can also freeze the pesto in portions in an ice cube tray. Once frozen solid, you can remove to a zipper seal bag and then have the ice tray back to use for other uses. This is great if you want to portion out the pesto for things like a sandwich or individual pizzas.
Pesto frozen in these ways should last up to 3 months in your freezer.
How to Fix a Bitter Pesto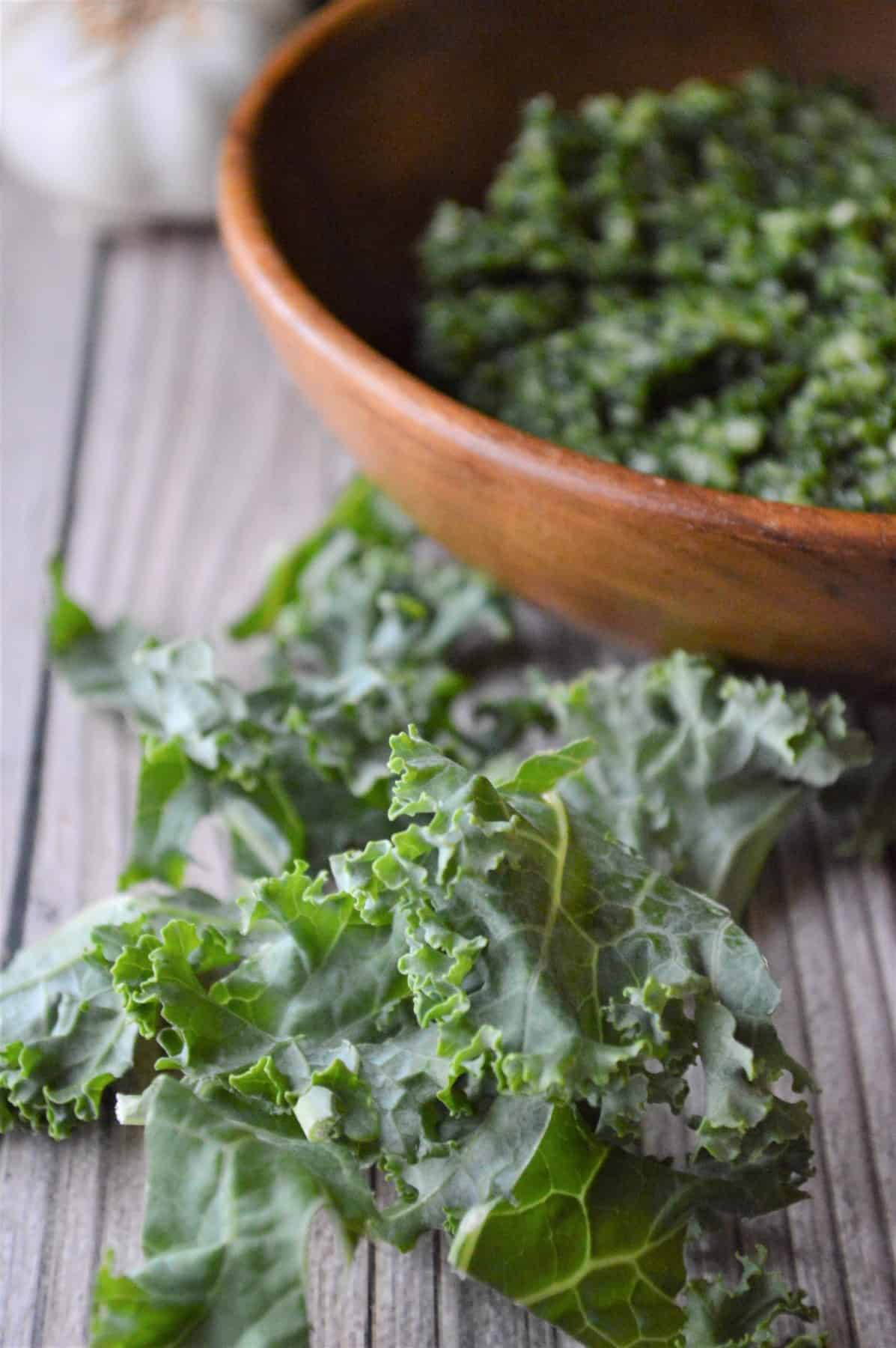 Sometimes it is your ingredients that can be strong or bitter, like in basil or kale. Try to use the freshest of ingredients and taste them before they go in. If they are bitter to start with, there is a way to reduce that in your finished product.
Mix your ingredients as per the recipe. Taste, and if it is bitter, balance it with a bit more olive oil and more cheese. The cheese will eventually take over the bitterness, so keep adding more until you reach the desired flavor. Also, adding in some nuts will sweeten up the pesto. Make sure to toast them first, as that will also bring out the natural sweetness in the nuts.
If you are still having issues, you can always shoot me a message, and I will be happy to help with this recipe or any of the ones we have on our site.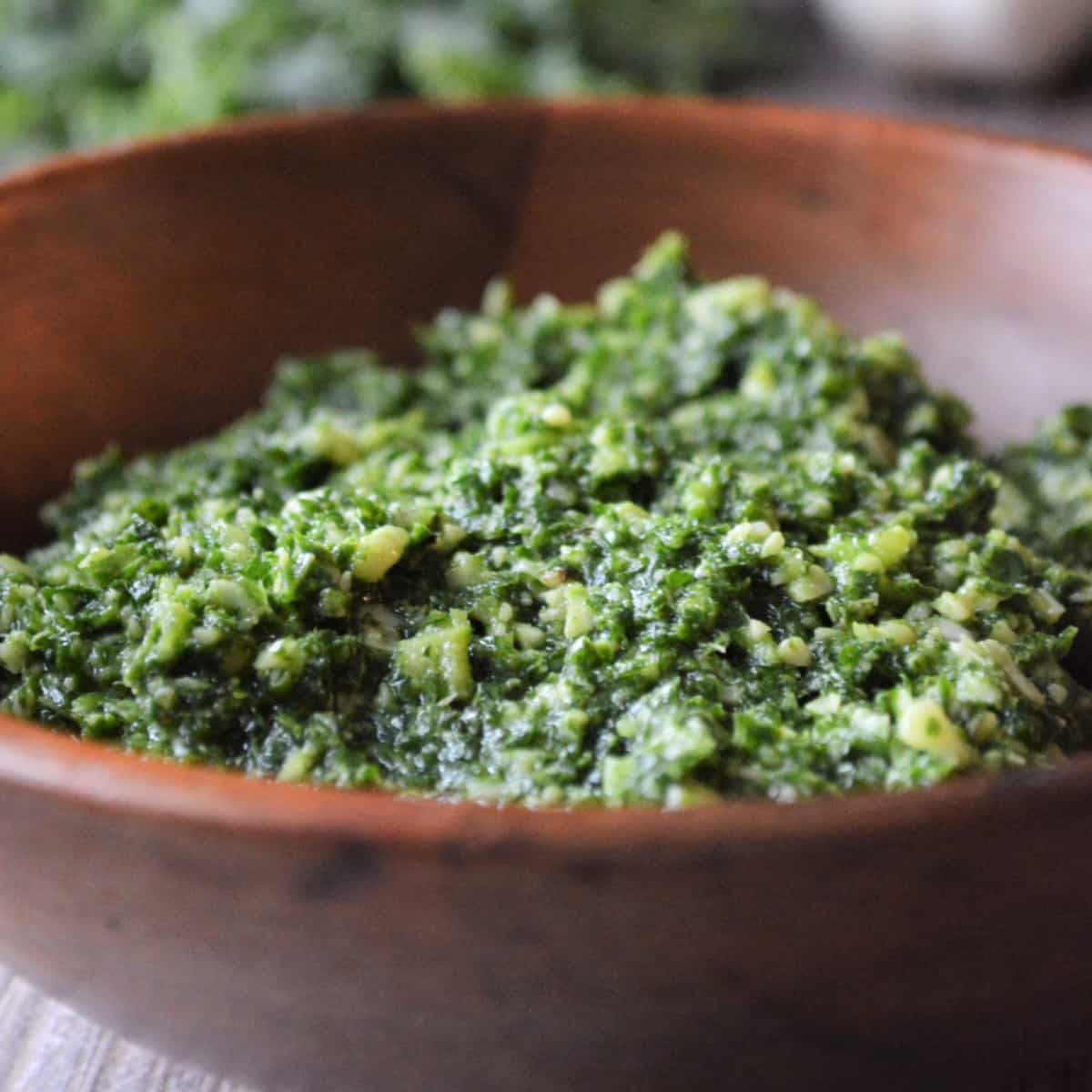 Pin it HERE!!
Pin it HERE!!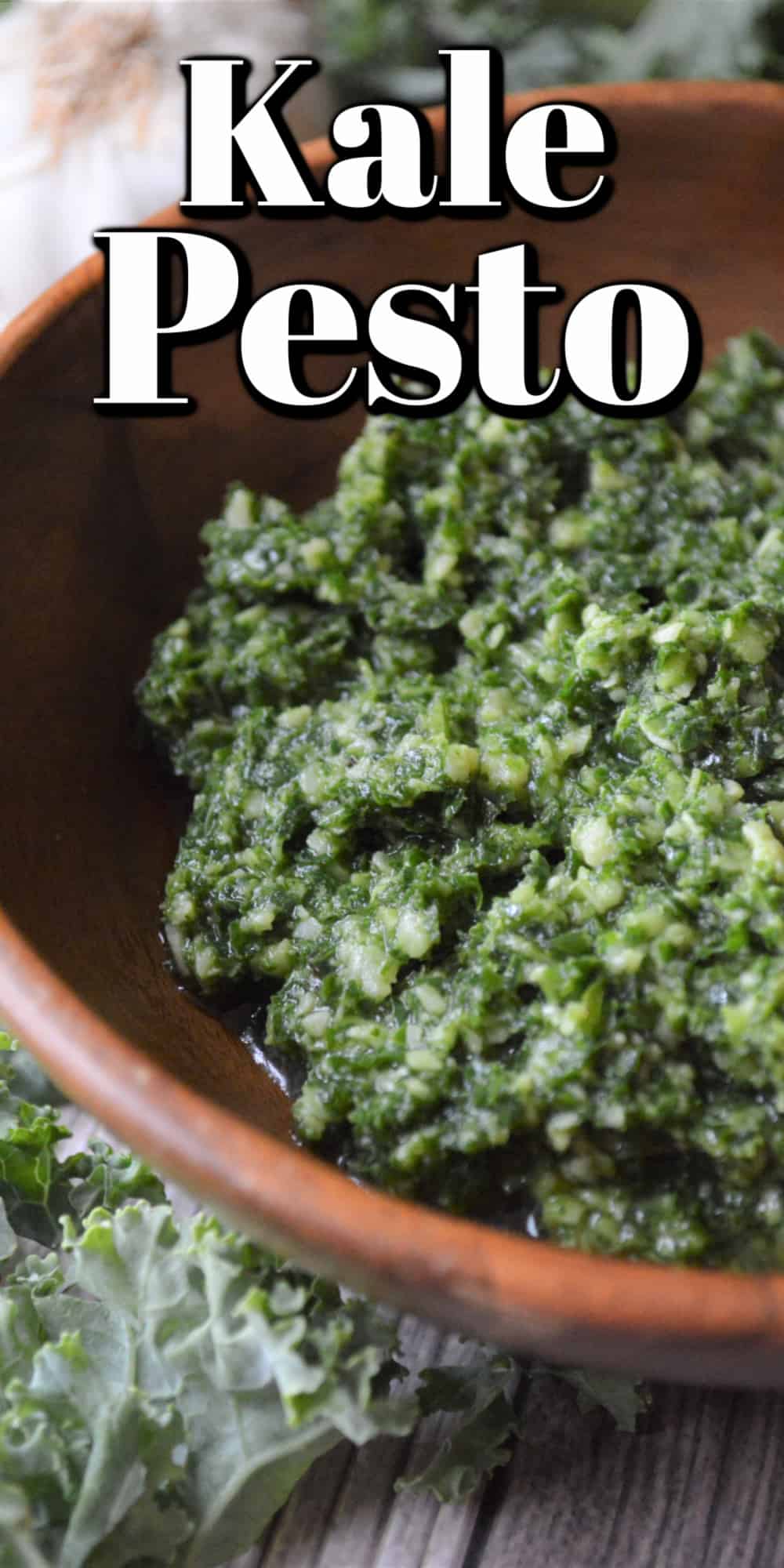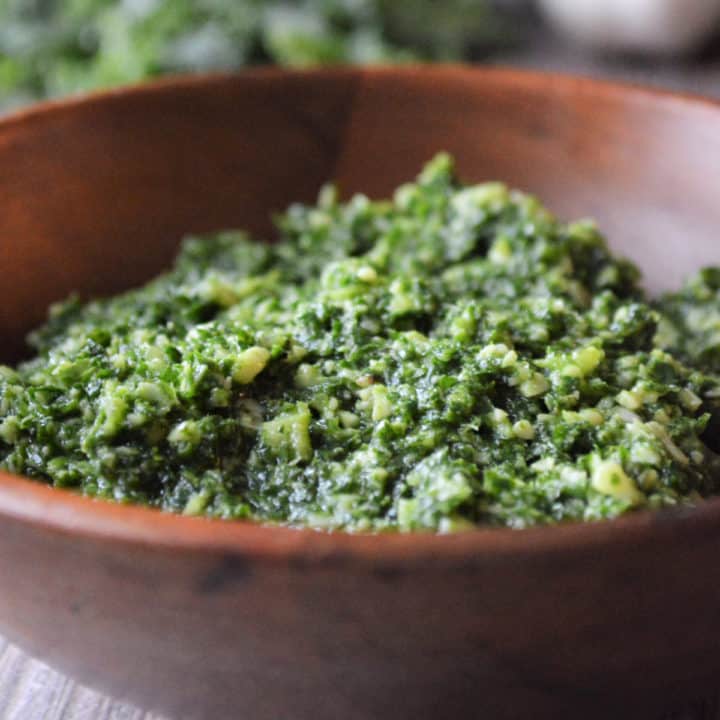 Deliciously Easy Kale Pesto
Yield: 8 servings
Prep Time: 5 minutes
Total Time: 5 minutes
This amazing Deliciously Easy Kale Pesto is made up in a matter of minutes. It makes a great alternative to a tomato sauce on pizza and pasta. Also compliments many sandwiches with its robust flavor.
Ingredients
3 cups chopped kale
1/4 cup fresh basil
1/3 cup Parmesan cheese
1/3 cup Olive oil
2-3 garlic cloves
1 Tbsp lemon juice
Dash of Kosher salt & freshly ground pepper
Instructions
Place all ingredients in a food processor.
Blend until everything is broken down and smooth.
Store in an airtight container in your refrigerator for up to 5 days.
Recommended Products
As an Amazon Associate and member of other affiliate programs, I earn from qualifying purchases.
Nutrition Information:
Yield: 8
Serving Size: 1
Amount Per Serving:
Calories: 112
Total Fat: 10g
Saturated Fat: 2g
Trans Fat: 0g
Unsaturated Fat: 8g
Cholesterol: 4mg
Sodium: 105mg
Carbohydrates: 4g
Fiber: 1g
Sugar: 1g
Protein: 2g
This post contains affiliate links. As an Amazon Associate, I earn a small portion from qualifying purchases at no extra charge for you.