Shrimp and Pesto with Red Peppers
Here is a great pasta that doesn't need any boiling, making dinner even faster and on the table in no time. This Shrimp and Pesto with Red Peppers uses pre-cooked shrimp that can be made and served in under 10 min. Look at how amazing that looks for such a fast meal. Plus, using NuPpasta is very low in calories and gluten free.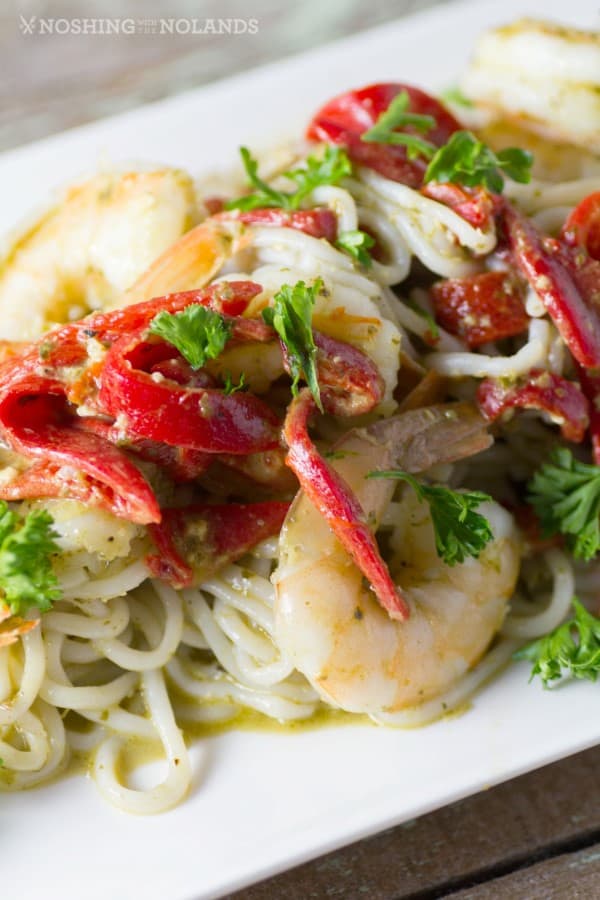 Such an easy process, just rinse the pasta and it is ready to use. NuPasta comes in three varities, spaghetti, fettuccine and angel hair and is also available in organic.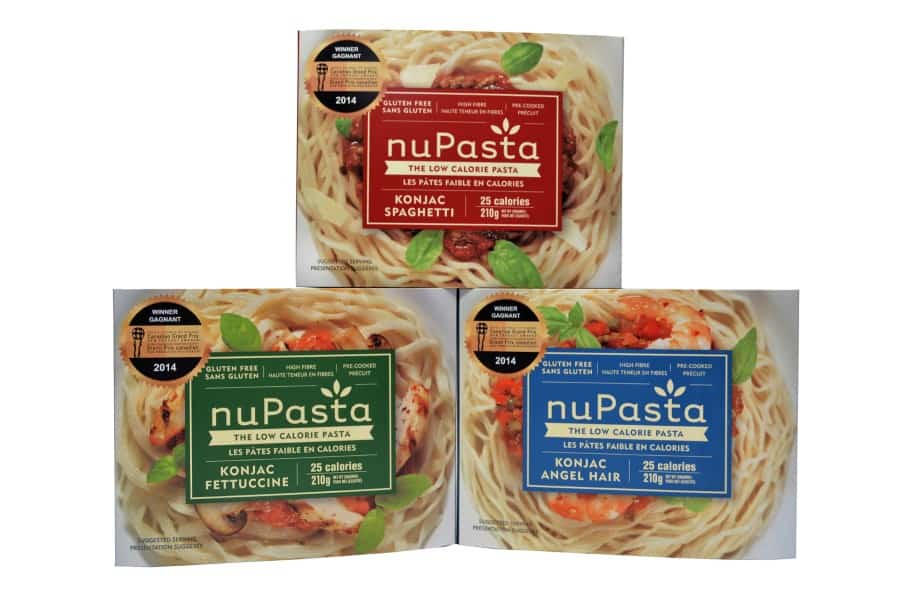 A full plate (210g) of regular cooked pasta contains about 300 calories and 2g of dietary fibre, the same amount of NuPasta contains 25 calories and 6g of dietary fibre. NuPasta is made from the root of the konjac plant, it is rich in dietary fibre but has no starch. With the absence of starch the pasta is then very low in calories.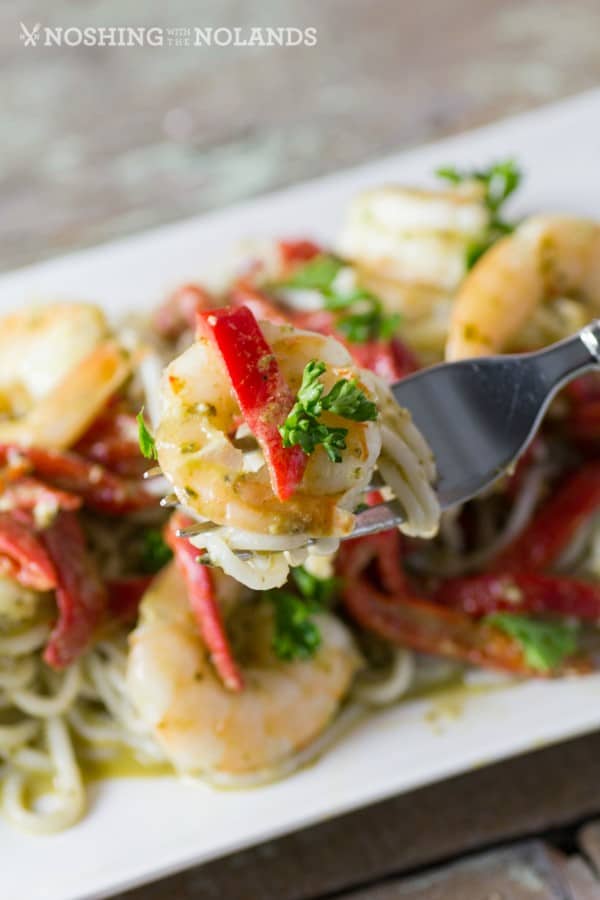 So a healthy, low calorie meal can be made in a flash. No excuses now not to eat a delicious dinner in no time. I love quick and easy meals like this!!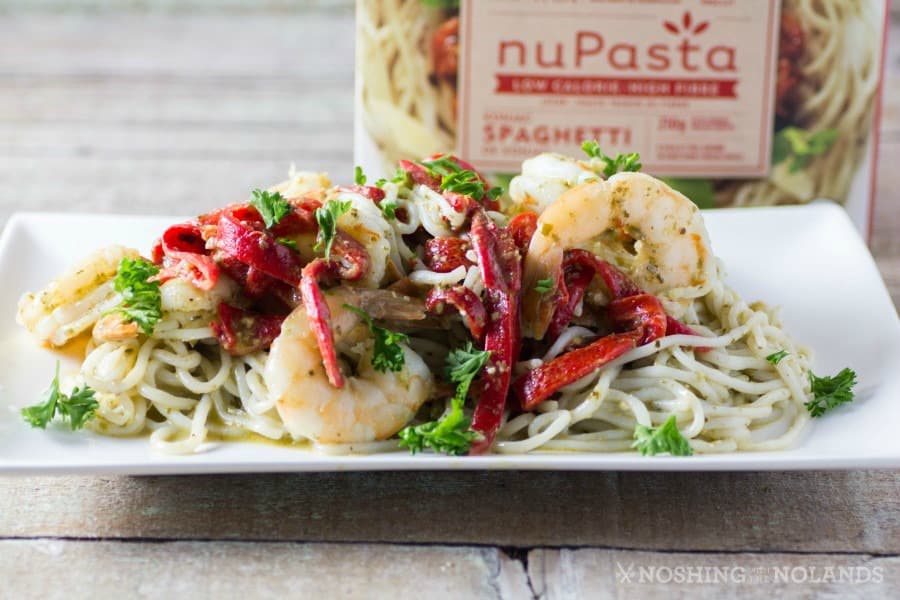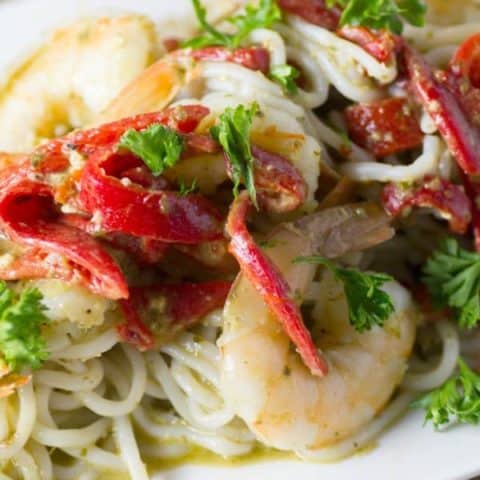 Shrimp and Pesto with Red Peppers
Yield: 2 servings
Prep Time: 5 minutes
Cook Time: 5 minutes
Total Time: 10 minutes
A gluten free pasta with the amazing flavors of shrimp, pesto and red peppers that can be made in under 10 min.
Ingredients
1 package NuPasta Spaghetti
1 tablespoon coconut oil *can substitute extra virgin olive oil
1 pound cooked shrimp
½ cup roasted red peppers
¼ cup pesto sauce
½ teaspoons salt
¼ teaspoon black pepper
Instructions
Drain and rinse NuPasta Spaghetti.
In a large pot add oil, cooked shrimp, roasted pepper and pesto to one package of NuPasta.
Toss to cover pasta in oil and pesto until fully coated and heated. Cook for approximately 5 minutes on medium heat. Add pepper and salt to taste.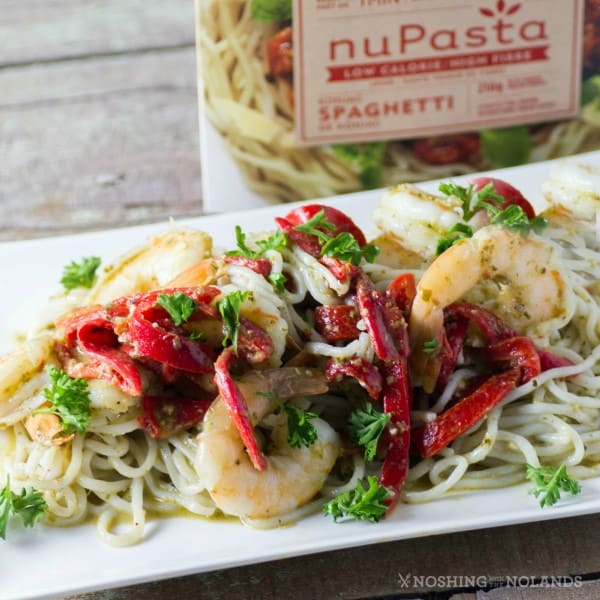 Follow along with NuPasta on Facebook, Twitter and Instagram. Can't find NuPasta at a store near you, then order it online 24/7.