Frozen Strawberry Easy Dessert
We are huge strawberry lovers in this household. We buy them all year round but of course this time of year they are getting to be even better. Bigger, redder, juicier, and more delicious. So we whipped up this Frozen Strawberry Easy Dessert for you to enjoy all spring and summer long. I love the combination of the chocolate with the strawberries, a delicious treat, and one that everyone will love. The inside is like a frozen creamy cheesecake, so refreshing and fantastic with the frozen strawberries and then additional fresh strawberries added on top.
We also have 10 other recipes for you to enjoy strawberries with today. So scroll on down and see what other recipes there are for this delicious berry!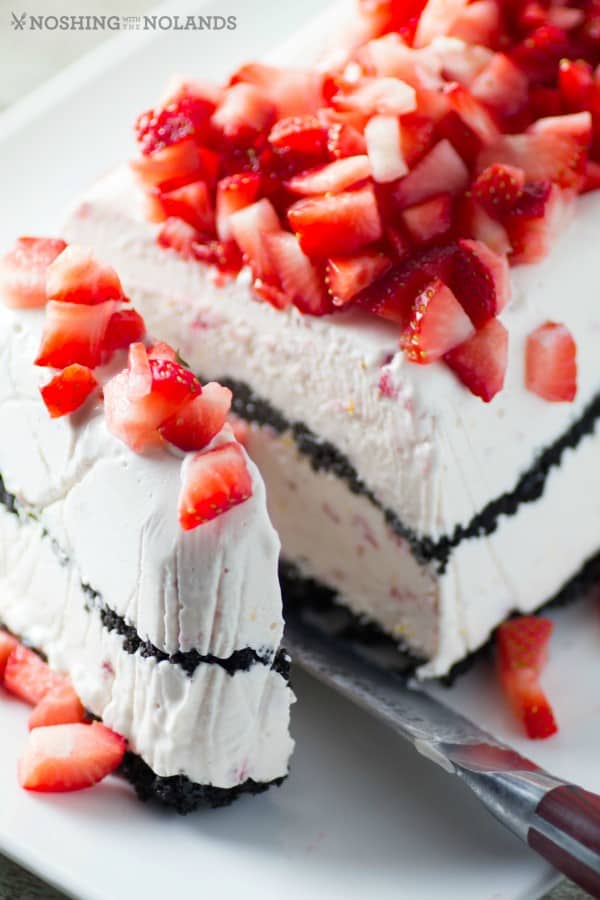 Strawberries and Chocolate
Make this up for a special night, you will be amazed how super easy it really is to create but you will be more astonished how absolutely scrumptious it is. You will instantly get rave reviews!! This is also a wonderful way to celebrate the strawberry season and to enjoy this luscious berry to its' fullest.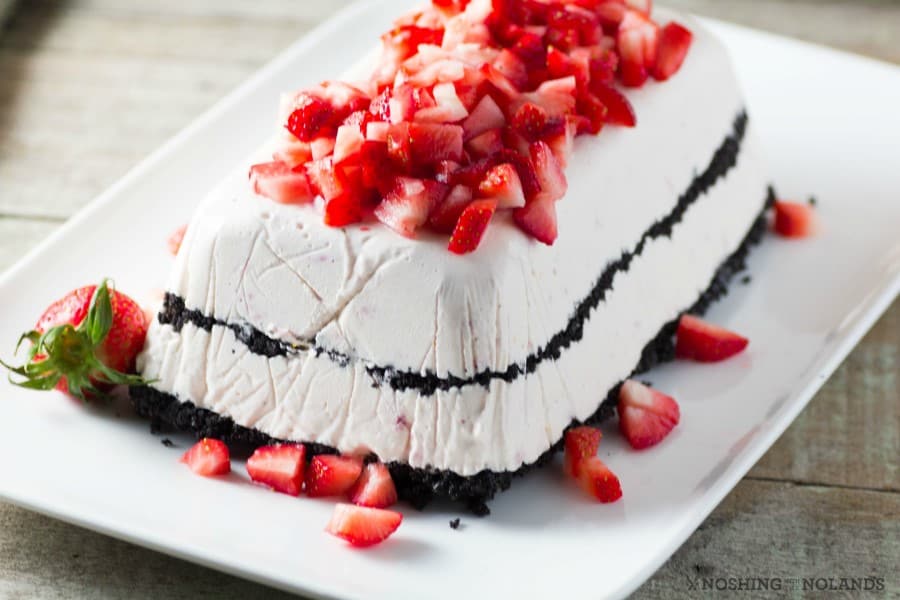 This is a perfect make-ahead summer dessert. It is stowed away in your freezer and ready when you are to indulge in it. Just take it out about 15 min. prior to serving for easier slicing!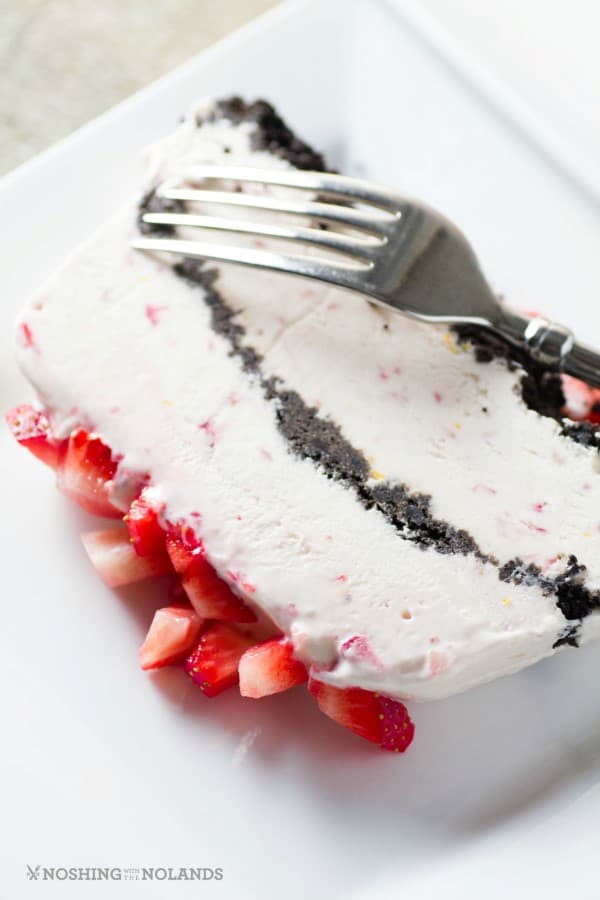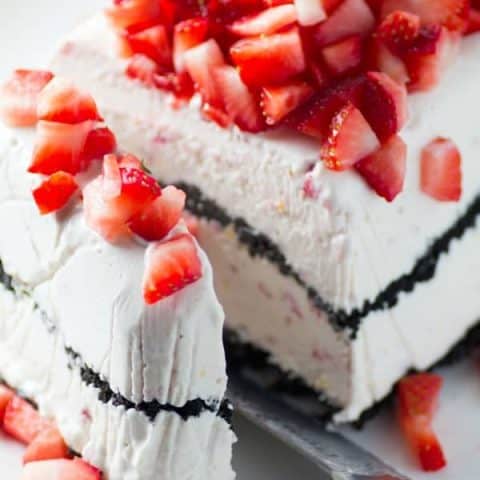 Frozen Strawberry Dessert
Yield: 16 servings
Prep Time: 15 minutes
Inactive Time: 6 hours
Total Time: 6 hours 15 minutes
An easy and delightful way to celebrate strawberries and summer. This frozen dessert tastes like cheesecake and ice cream together and will get you rave reviews!
Ingredients
1 1/2 cup chocolate baking crumbs
1/3 cup butter
1 pkg. (170 gm.) white chocolate
2 cups strawberries divided
1 can (300 ml.) sweetened condensed milk
2 pkg. (8 oz.) light cream cheese at room temperature
1 tsp. orange zest
1 cup light cool whip
Instructions
Mix chocolate baking crumbs and butter together, set aside. Line a 9x5" pan with plastic wrap and set aside.
Microwave white chocolate at 30 second to 1 min. intervals on medium until melted. Mash 1 cup of strawberries in a medium bowl. In a bowl of a standup mixer, beat cream cheese until smooth. Slowly add in milk, melted chocolate, mashed berries and zest. Fold in Cool Whip.
Spoon half the mixture into the prepared pan. Top with half of the chocolate crumbs and then repeat layers. Cover the top with plastic wrap and freeze for at least 6 hours or overnight.
Remove dessert 15 min. before serving. Finely chop the remaining strawberries. Invert the frozen dessert onto a serving plate. Top with the strawberries and slice and serve.
Nutrition Information:
Yield: 16
Serving Size: 1
Amount Per Serving:
Calories: 158
Total Fat: 11g
Saturated Fat: 7g
Trans Fat: 0g
Unsaturated Fat: 3g
Cholesterol: 18mg
Sodium: 61mg
Carbohydrates: 14g
Fiber: 1g
Sugar: 12g
Protein: 2g
Recipe calculation was provided by Nutritionix and is estimation only. If you need nutritional calculations for medical reasons, please use a source that you trust.
Recipe adapted from
Berry Frozen Dessert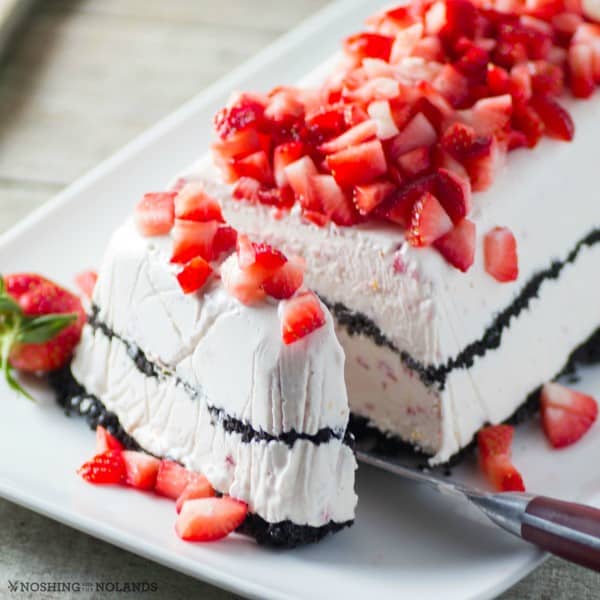 Let us indulge in more strawberries recipes, come and see what everyone else has whipped up for you!!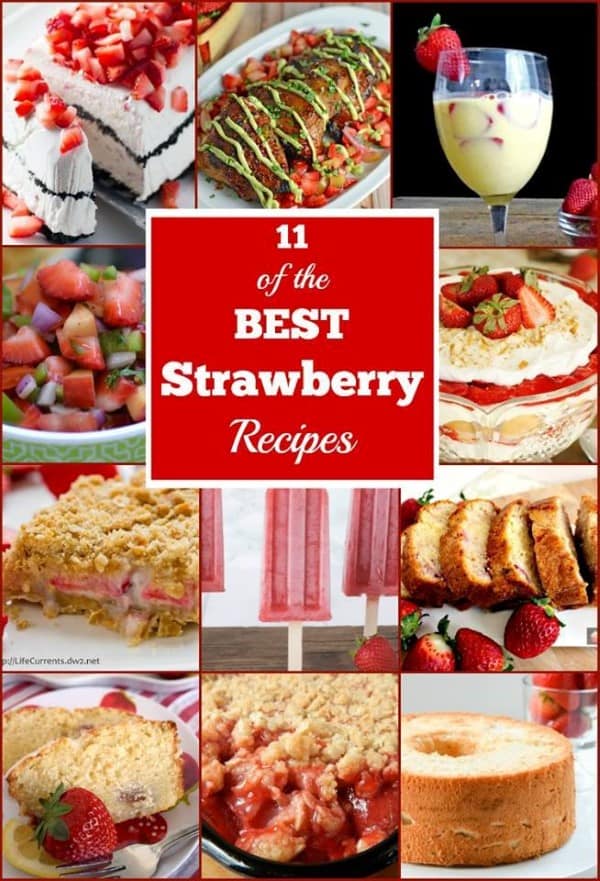 Check out all the other lovely strawberry recipes below from bloggers who took part in our 30 Day Strawberry Challenge.