Mushroom Cauliflower "Fried Rice"
I have been wanting to try this for awhile now. We love inventive recipes and to substitute cauliflower for rice I thought was genius in this Mushroom Cauliflower "Fried Rice". There have been few recipes like this floating around. So, when I saw a bag of already finely chopped cauliflower I had to come up with a recipe to share with you. 
This tastes exactly like yummy Chinese takeout fried rice but with a lot lower carbs and a lot less fat than is used in a commercial kitchen. Peas are higher in carbs so if you are on a low carb diet you may want to omit them or put in less if desired. This recipe is gluten free too as long as your soy sauce is. 
Who doesn't love a great Chinese takeout but now you can make this at home! Add to this dish a fantastic Asian Skillet Stir Fry and maybe some store bought dumplings or spring rolls to round out the feast! You will spend a lot less than take out!!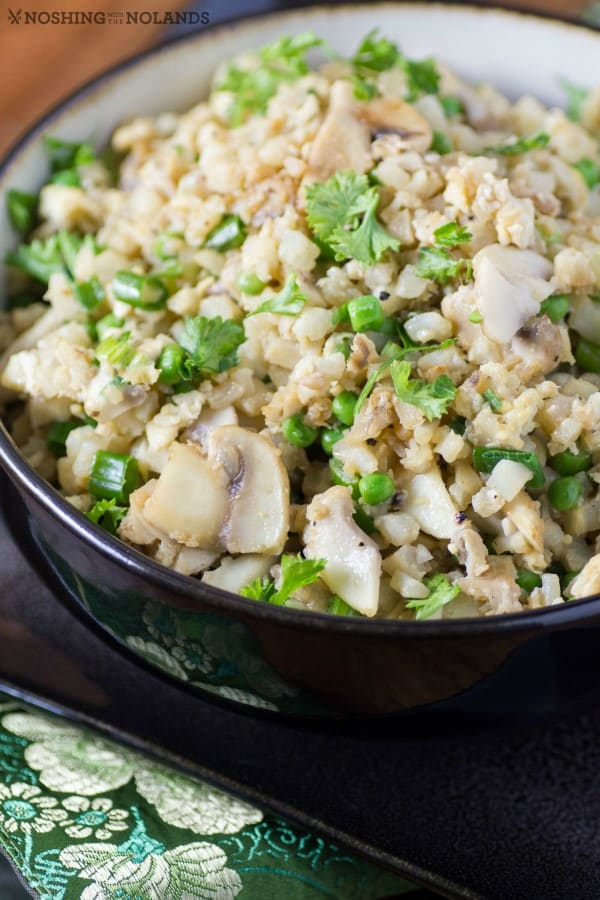 Doesn't that look amazing! Full of wonderful Asian flavors, this recipe really amazed my family, they loved it. Traditional ingredients are used as in a true fried rice including a little egg scrambled right in the wok. Do I need a wok to cook this, well, no, a large saute pan would work just as well, but invest in a wok you will use it over and over again and you can find them easily and inexpensively. 
Garlic, ginger, soy sauce, sesame oil give this dish a burst of flavor. It is easy to make and requires just simple to find ingredients. Most you just might have on hand already!!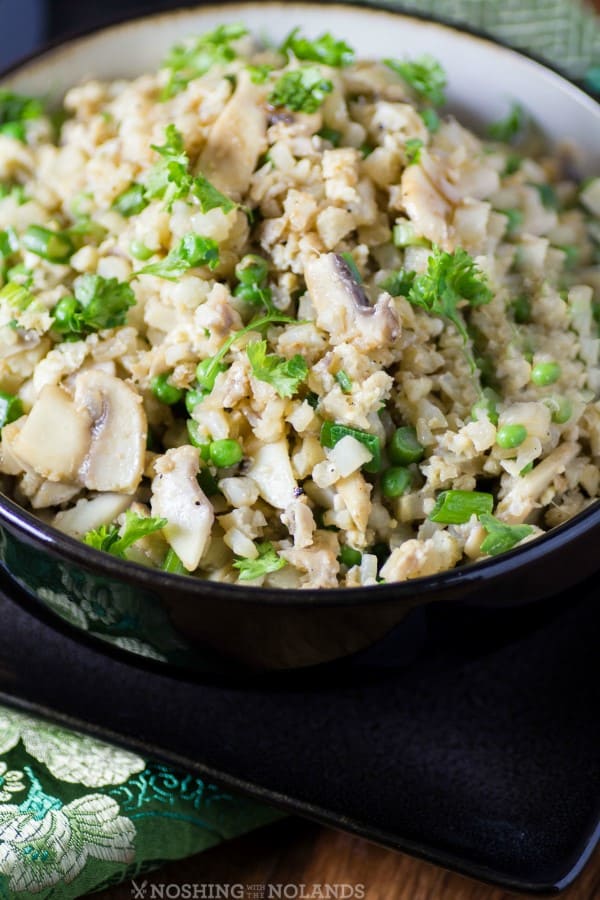 The Recipe
Mushroom Cauliflower "Fried Rice"
Do you want to opt for a lower carb side for an Asian dinner then try Mushroom Cauliflower "Fried Rice". This recipe has all the flavor and more of a traditional fried rice.
Ingredients
1 Tbsp. canola or vegetable oil
2 tsp. garlic, minced
2 tsp. ginger, minced
2 cups white mushrooms, sliced
14 oz. cauliflower, finely chopped or grated
½ cup frozen peas, thawed (optional)
2 eggs, beaten
2 tsp. sodium reduced soy sauce, gluten free if needed
1 tsp. sesame oil
3 green onion, sliced
Parsley, chopper for garnish
Salt and pepper
Instructions
In a wok or large non-stick saute pan add the oil over medium high heat. Cook the garlic and ginger for 1 min. stirring. Add in the mushrooms and cook for 3 min. Add the cauliflower and cook until tender 5-7 min. Season with salt and pepper. Add in the peas and stir. Make an open circle in the middle of the pan, add a tsp. of oil and scramble the eggs in the center and then incorporate into the cauliflower. Season with the soy sauce and sesame oil. Adjust seasoning if necessary. Garnish with green onion and parsley and serve.