Scalloped Sweet Potato/Potatoes
My "Aunt" Olive died recently and I wanted to do something extra special in her memory. Scalloped Sweet Potato/Potatoes was the answer. Not just to donate money, that is easy but to give of myself to remember her. She was a very fine lady. My memories of her are so pleasant, she was always so lovely dressed and full of smiles, stories and warm hugs.
Every year we take a meal down to The Mustard Seed, which is our local shelter. I have done it to replace a gift when someone says "oh don't send me something" I then give a gift to The Mustard Seed. I have done this for many years and have almost always done a minestrone soup. We all love that soup and it makes a huge pot.
Giving
This year I wanted to do something extra special. So Ken brined and smoked two chickens and I made two pans of the scallop potatoes. I also donated a huge bag of frozen corn. I sure hope some poor soul enjoyed a nice home-cooked meal.
In a rush for us to get out the door, I forgot to include a card that I wanted to say in the loving memory of Olive Owen. I told them so when I dropped off the meal but then thought that I would share the recipe with you in her memory.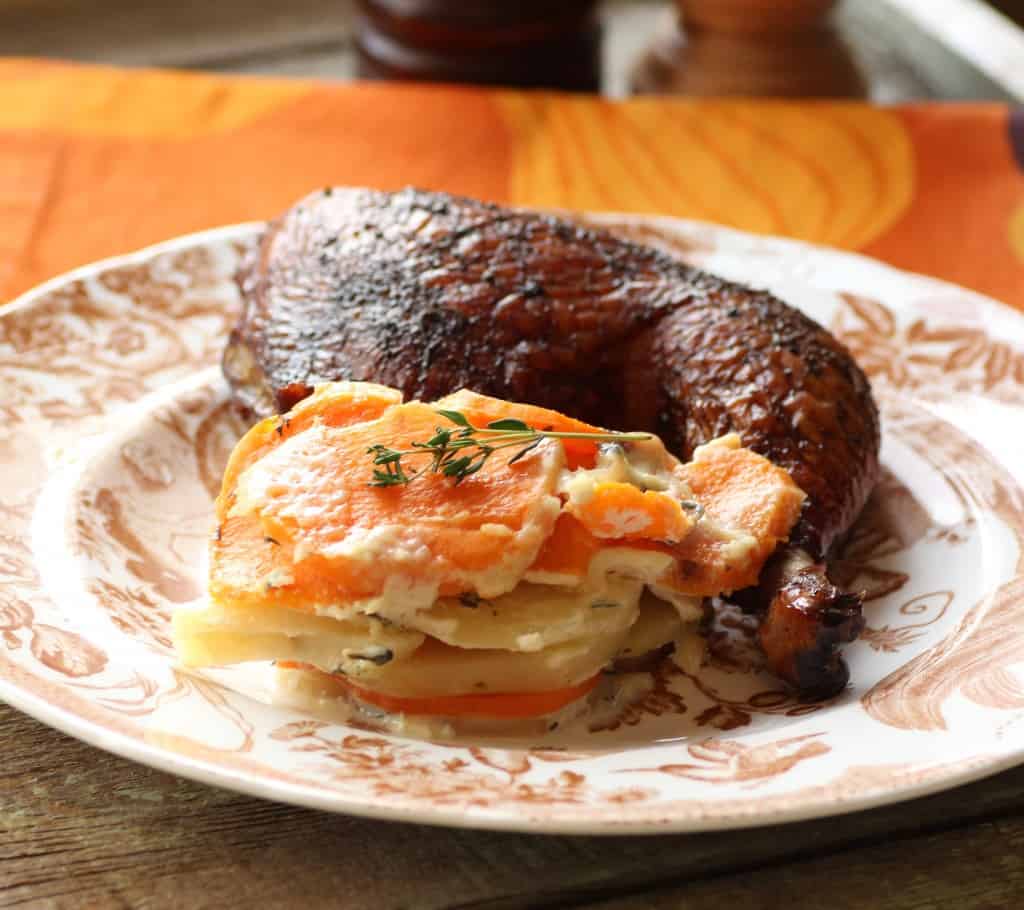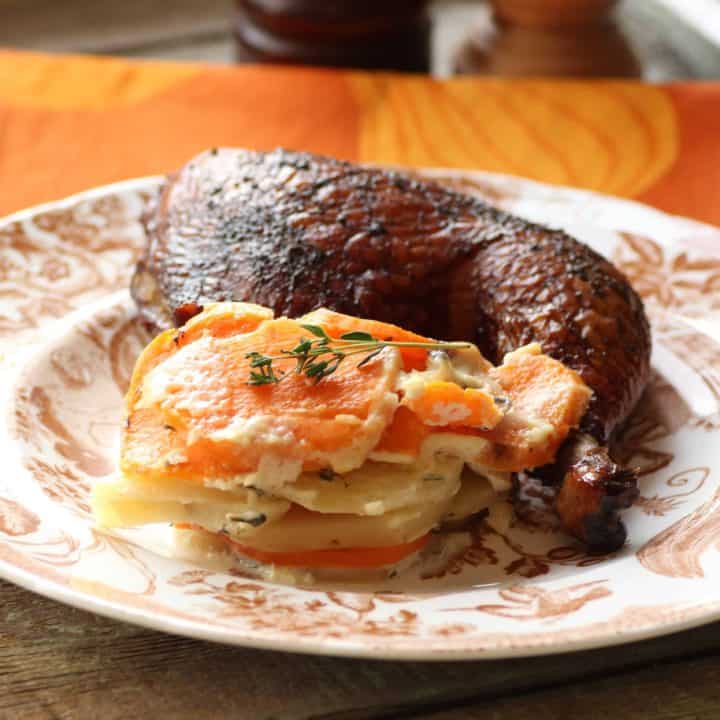 Scalloped Sweet Potato/Potatoes
Yield: 6 Servings
Prep Time: 20 minutes
Cook Time: 1 hour 15 minutes
Total Time: 1 hour 35 minutes
A delicious scalloped potato that won't add pounds to your waist.
Ingredients
3 Tbsp. butter
1 lb. sweet potatoes (orange-fleshed)
1 lb. baking potatoes
2 cups half and half cream, more if needed
1 clove garlic, minced
1 tsp. sea salt
2 tsp. fresh thyme
black pepper to taste
Fresh grating of nutmeg
Instructions
Preheat oven to 400F. With 1 Tbsp. butter grease an 8 1/2" deep baking dish. Wash, peel, and slice potatoes. Layer potatoes into the dish alternating sweet and baking potatoes.
In a small saucepan add the rest of the ingredients and bring up to a boil. Pour over the potatoes. Dot the top with the remaining butter. Cover with foil and bake for 50 min.
Remove the foil and if the potatoes are dry add a small amount of cream, 1/4 cup drizzled on top if necessary. Continue to bake uncovered for 25 min. Cool slightly and serve.
Nutrition Information:
Yield: 6
Serving Size: 1
Amount Per Serving:
Calories: 295
Total Fat: 14g
Saturated Fat: 9g
Trans Fat: 1g
Unsaturated Fat: 5g
Cholesterol: 44mg
Sodium: 520mg
Carbohydrates: 36g
Fiber: 4g
Sugar: 9g
Protein: 6g
Recipe calculation was provided by Nutritionix and is estimation only. If you need nutritional calculations for medical reasons, please use a source that you trust.
Adapted from Epicurious