Don't you just love a big dinner sized salad like this loaded one with tons of yummy ingredients? I know I sure do!! It is also a nice break from all those thick and hearty stews, soups and casseroles. Not that I don't love those, don't get me wrong but you have to have balance.
Wendy's has come up with some nice looking salads and this is one that I am doing a copycat of this one. The dressing is amazing and so simple!! You can have this salad whipped up in no time flat, you will love it!! ENJOY!!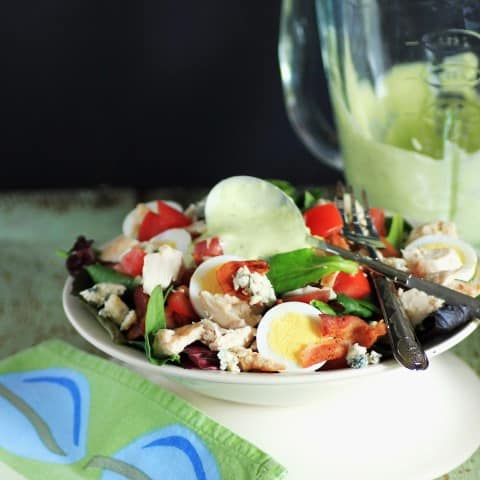 Wendy's Copycat Chicken BLT Cobb Salad
A delicious salad full of wonderful flavors!!
Ingredients
Dressing
1 cup light Ranch dressing
½ ripe avocado
1 tablespoon milk
Salad
1 egg, sliced
2 strips thick bacon, fried crisp
100 grams cooked chicken breast
⅓ tomato, chopped
⅛ blue cheese, crumbled
3 cups herb mixed salad greens
Instructions
Place the salad dressing ingredients in a blender and mix until smooth. Place the greens on a large dinner plate and top with the egg, bacon, chicken, tomato and blue cheese. Drizzle on the dressing.