Shipwreck
This is day 3 of 5 Days of Casseroles and today we bring you a Shipwreck. There is a bit of lore surrounding this great casserole. It is said that shipmates try to grab what they can when a ship is sinking and then this is their meals on land. Another claim is that this is a traditional dish made for survivors and first responders when a disaster has happened on the seas. This info I got from one of my favorite Facebook pages and sites. Best Southern Recipes from The Deep South is an amazing facebook page run by the lovely Mary. She is warm and inviting and pleasant, just what you would envision a great lady of the south to be like. She also has an amazing site Deep South Dish.
This is not where I got the recipe from but the information of the lore of this recipe. Kinda cool, huh? I have had this recipe for a long time. Given to me from a fellow nurse many years ago. Mary does say I must have southern blood running through my veins as a lot of southern dishes really appeal to me. Never even knew this one was southern until I did a little research. Gone With The Wind is my absolute favorite book and movie though, so she might be right!!!
Well back to this delicious casserole. We were rushing one night (out of many) to get dinner happening as this does take a while (2 hours) to cook. I whipped it together though in 10 min. flat, kinda going all out but you could easily do it in 15min. Then sit back relax and let dinner slowly simmer away in the oven. The aroma of this baking was amazing, and with such simple ingredients! The great thing about this recipe is that you can change it to your liking and I was all over that. I added many different ingredients from the original and topped it all off with a fresh tomato, YUM!! I hope you make this soon. ENJOY!!!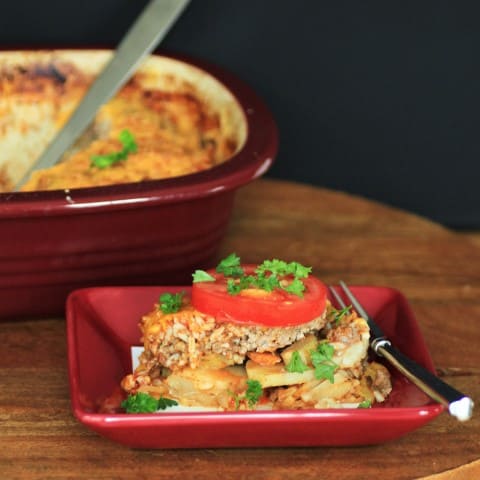 Shipwreck
An amazing casserole made up of simple ingredients that you will want to have again and again!!
Ingredients
2 large onions
2 large potatoes
1 lb. ground beef
10 oz. can cream of tomato soup
10 oz. can boiling water
½ cup long grain rice
1 cup chopped celery
2 large carrots, chopped
Salt and pepper to taste
Garlic powder, to taste
Italian seasoning, to taste
2 cups cheddar cheese, grated
2-3 large fresh tomatoes, sliced
Parsely for garnish
Instructions
Preheat oven to 350F. Peel and slice onion, cover the bottom of a 2 quart casserole dish. Sprinkle with salt and pepper. Slice peeled potatoes and place over onions, salt and pepper to taste. Pat ground beef over the potatoes and sprinkle with garlic powder, salt and pepper. Scatter carrots and celery on, sprinkle with Italian seasoning. Sprinkle rice on next.
Mix soup with the boiling water and pour evenly over top. Salt and pepper to taste again. Bake covered for 2 hours until vegetable are tender. In the last 10 min. of baking uncover and sprinkle with cheddar cheese. Serve with a fresh tomato slice and parsley.