Chicken-Fried Portobello with Mushroom and Shallot Gravy
I reviewed this cookbook the other day but wanted to try another recipe, maybe something a little more traditionally southern but of course still being vegetarian.
For the full review please head to Curried Cauliflower Soup. Today I wanted to try Chicken-Fried Portobello with Mushroom and Shallot Gravy, and wow is it good!!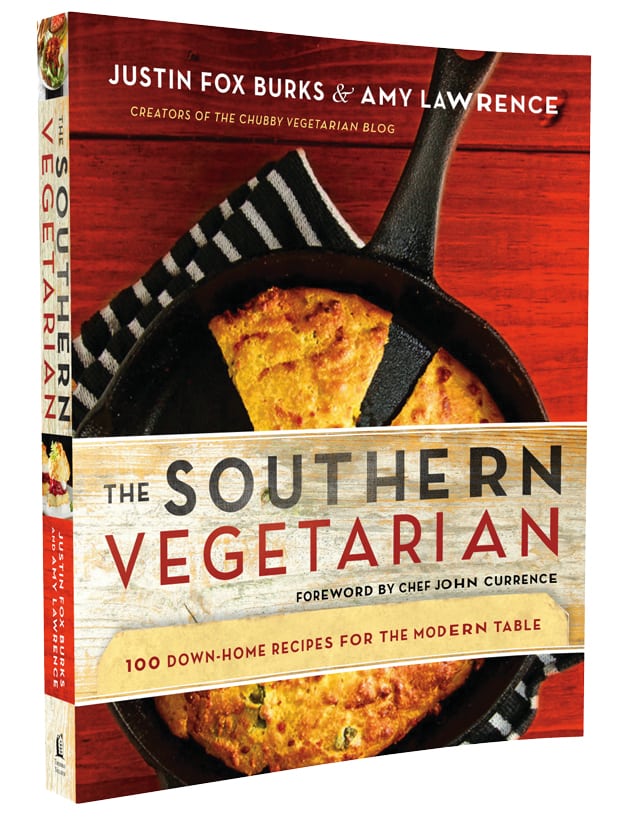 Chicken-Fried?
I honestly don't think I have had chicken-fried anything so might as well start with a portobello!! Hubby again was in the kitchen and created this wonderful meal you see here.
Delicious crispy mushroom with a creamy gravy a top of more wonderful veggies sure doesn't have me missing the meat. Portobello mushrooms are so meaty onto themselves.
Don't douse your mushroom with too much gravy as you will take away from the delicate crispy mushroom coating. No use in going to all that trouble if you are going to get it soggy again.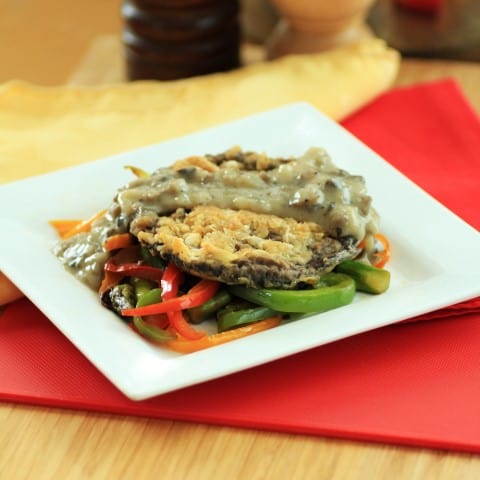 Chicken-fried anything is a true Southern classic, I hope you try this recipe and the many that this cookbook has to offer. ENJOY!!!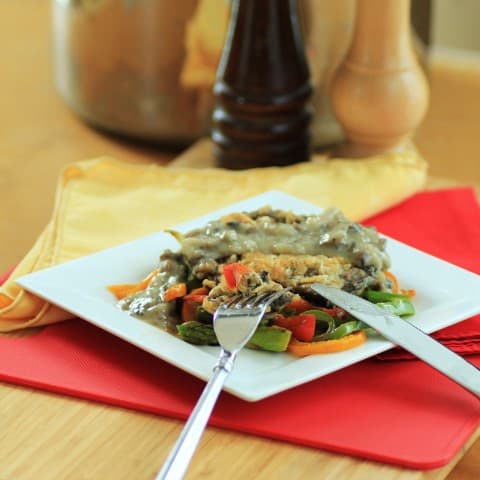 Chicken-Fried Portobello with Mushroom and Shallot Gravy Recipe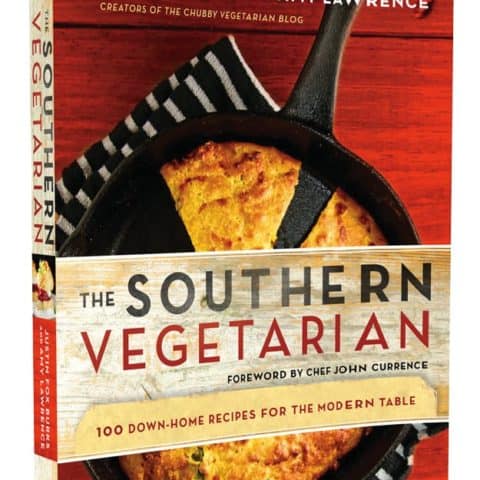 Chicken-Fried Portobello with Mushroom and Shallot Gravy
Yield: 3 Servings
Prep Time: 10 minutes
Cook Time: 15 minutes
Total Time: 25 minutes
A true Southern classic in this chicken-fried portobello mushroom.
Ingredients
1 cup all-purpose flour
1 tsp. sea salt flakes
1 tsp. garlic powder
1 tsp. cracked black pepper
1 tsp. sweet paprika
2 large eggs, beaten
2 Tbsp. heavy cream
3 medium portobello mushrooms
1 cup canola oil
1/4 cup finely chopped fresh parsley
Mushroom and Shallot Gravy
1 Tbsp. unsalted butter
Trimmings from the mushrooms, finely chopped
1/2 cup shallots, minced
1 Tbsp. all-purpose flour
3/4 cup broth (preferably mushroom)
1/2 cup 2% milk
Sea salt flakes to taste
1/2 tsp. cracked black pepper
Instructions
Combine the flour with the salt, garlic powder, pepper, and paprika in a blow large enough to accommodate one mushroom at a time. In a separate bowl combine the eggs and cream.
Trim the mushrooms by removing the stems and the part of the cap that hangs over the gill side. (Doing this will create a flat surface, which will make it much easier to panfry the mushrooms.) Reserve the trimmings because you will use them in the gravy.
Heat the oil to medium-high in a 12-inch frying pan. Depending on the size of the mushrooms, this pan should accommodate all three at once.
Preheat your oven to 350F. Now, batter the mushrooms using a three-step process: toss them in the flour mixture, coat them with the egg mixture, and then coat again in the flour mixture. This should help plenty of the spiced flour to adhere to the mushroom. Fry the mushroom for 2 minutes per side or until golden brown.
Place the mushrooms on a baking sheet and finish cooking them through in the oven. This should take 15 min., which is the perfect amount of time to make the gravy.
To serve, smother each mushroom with the Mushroom and Shallot Gravy and garnish with chopped parsley. (I don't recommend "smothering" them as they will get soggy).
Mushroom and Shallot Gravy
Melt the butter in a 10" frying pan over medium heat. Add the trimmings and shallots.
Once the shallots are translucent, add the flour and cook until nutty and fragrant.
Add the broth and milk as you whisk. Slowly bring the mixture to a boil and then reduce the heat to low. The gravy should be thick like pancake batter after a few minutes.
Season with salt and pepper.
Nutrition Information:
Yield: 3
Serving Size: 1
Amount Per Serving:
Calories: 1007
Total Fat: 86g
Saturated Fat: 12g
Trans Fat: 0g
Unsaturated Fat: 72g
Cholesterol: 151mg
Sodium: 1138mg
Carbohydrates: 48g
Fiber: 4g
Sugar: 7g
Protein: 15g
Recipe calculation was provided by Nutritionix and is estimation only. If you need nutritional calculations for medical reasons, please use a source that you trust.