Wendy's Copycat Bacon Portabella Mushroom Melt
I have a special treat for you today, Wendy's Copycat Bacon Portabella Mushroom Melt. This little lovely is on TV all the time for Wendy's here in Canada and I said that Ken just had to make some for us to try. He out did himself with this amazing burger. We are usually fairly plain Jane with our burgers and not dressing them up like this but the commercials just had me wanting to try one so badly and now you can have one at home too!!
We also have done a few other Wendy's recipes like Wendy's Copycat Apple Pecan Chicken Salad, Wendy's Copycat Chicken BLT Cobb Salad and Wendy's Copycat Berry Almond Chicken Salad.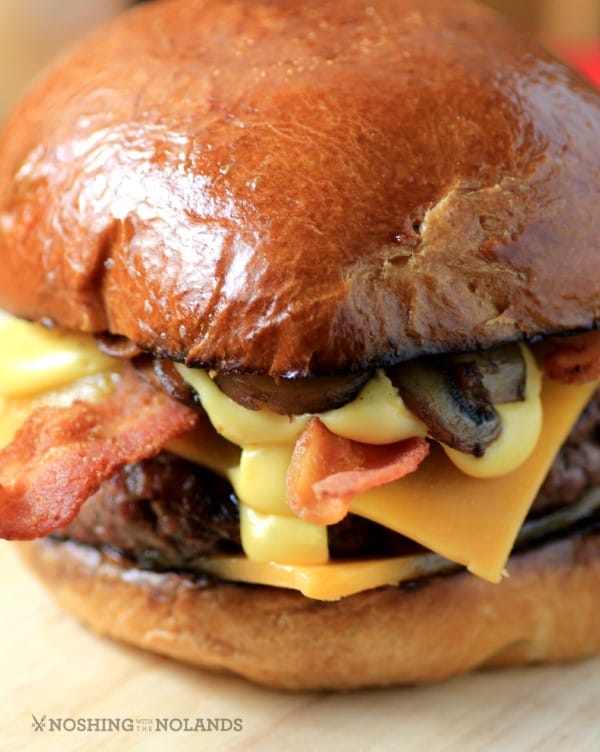 They say it is a 1/4 pound burger, well ours are 7 oz. of fine quality Alberta beef, seasoned to perfection. They say they top it with crisp applewood smoked bacon, yup we got that! Next, they lay on portabella mushrooms, we used fresh baby portabella which are cremini mushrooms, and got those little gems, all sauteed up just right!! After that is a melty cheddar cheese sauce, we made ours with aged cheddar! Plus two slices of good quality cheddar cheese. And lastly, all served up on a warm grilled bioche bun, picked up some of those at our local bakery!! This Wendy's Copycat Bacon Portabella Mushroom melt on a brioche bun is only available at Wendy's for a short time but you can now have this fantastic recipe forever!!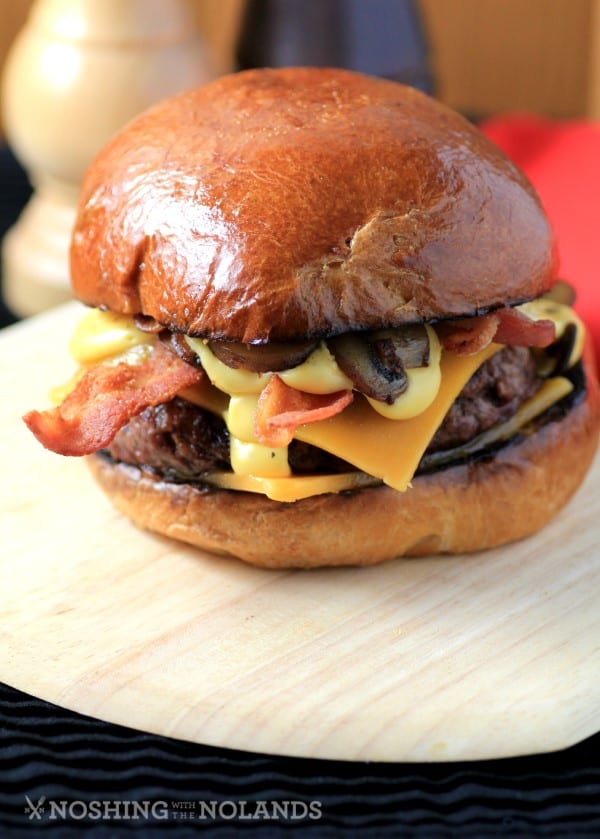 It is a two fister and you have to make a commitment to just open wide and indulge, you will be so happy that you did!! This is the best homemade burger I have ever had!!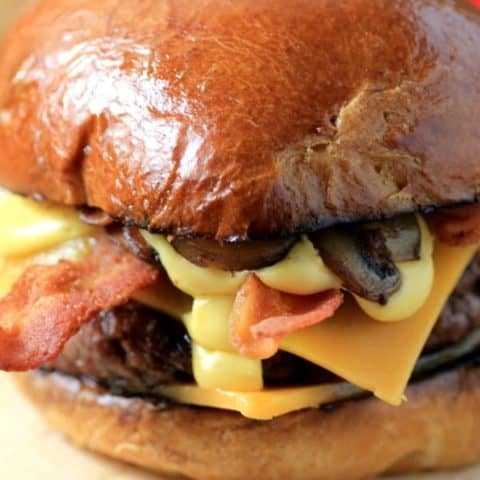 Wendy's Copycat Bacon Portabella Mushroom Melt
Yield: 2 burgers
Prep Time: 20 minutes
Cook Time: 12 minutes
Total Time: 32 minutes
A fantastic burger with sauteed portabella mushrooms with a melty cheese sauce together with perfectly crispy applewood smoked bacon on a 7 oz. patty all nestled into a brioche bun.
Ingredients
Burger
14 oz. lean ground beef
1 tsp. seasoning salt, steak spice or to taste
6 cremini mushrooms, sliced
1 Tbsp. butter plus more for buttering the buns
6 strips applewood smoked bacon, cooked crisp
4 cheddar cheese slices
2 brioche buns
Salt and pepper to taste
Cheese Sauce
2 Tbsp. butter
2 Tbsp. flour
1 cup milk
1 cup aged cheddar cheese, grated
Salt to taste
pinch of cayenne
Instructions
Mix the salt with the beef and form into two patties. Set aside. Melt the butter in a small fry pan and saute the mushrooms over medium heat. Season with salt and pepper. Set aside.
Meanwhile add the butter to a small saucepan and stir in the flour, cook for 1 min. Slowly add in the milk whisking. Bring the sauce up to a simmer and let thicken. Add the cheese, salt to taste and cayenne, stir well until cheese melts. Set aside keeping warm.
Heat the BBQ to 425F using a flat top or cast iron pan. Cook the burgers for 4-6 min per side or until internal temperature is 160-165F.
Butter the brioche buns and toast on the flat top or grill.
To assemble the burger place a cheese slice on the bottom of the two buns, top with the patty, then the second cheese slice followed by the bacon, cheese sauce and mushrooms and the top of the bun.