I am with #BreadBakers today and Pavani from Cook's Hideout is our host today with a great theme of Family Feast Breads. When we are together for the holiday someone always brings buns. We love them from everything from the soup course to dinner. For this theme today though I wanted something extra special. Ken is the bread guy in this household so I gave him the idea of Smoked Cheddar Caramelized Onion Dinner Rolls and he ran with it.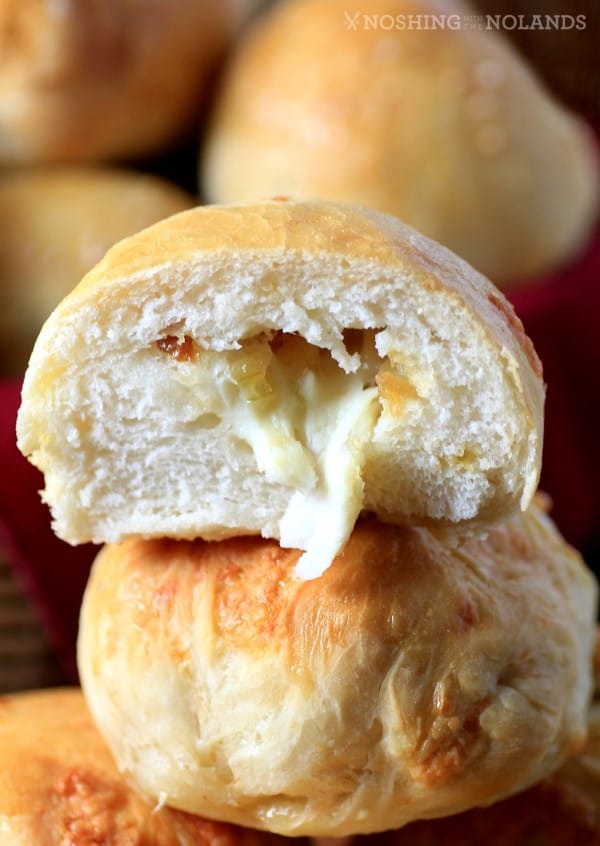 Not only do these rolls have smoked cheese right in the dough but an extra ooey-gooey center with the caramelized onion. He added a little cube of mozzarella in with the onion for a delicious surprise inside the bun.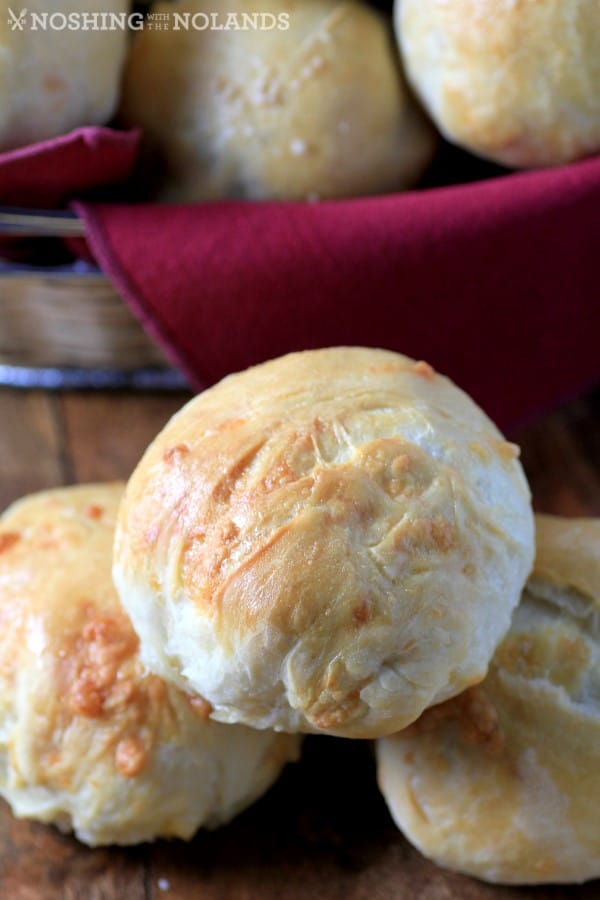 The buns are the perfect golden brown and studded with delicious smoked cheddar cheese. So amazing for any holiday table.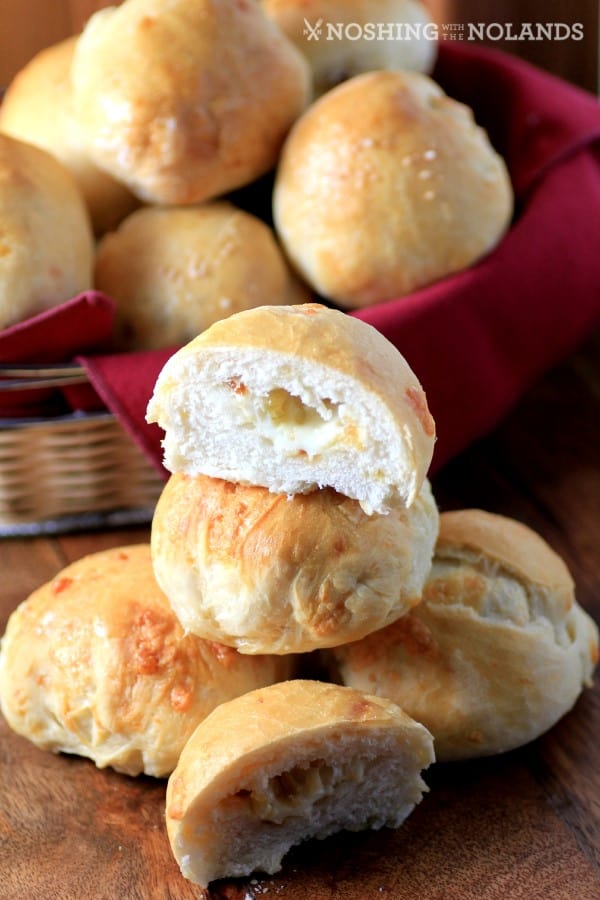 The recipe makes lots (18) and they freeze well as do most bread.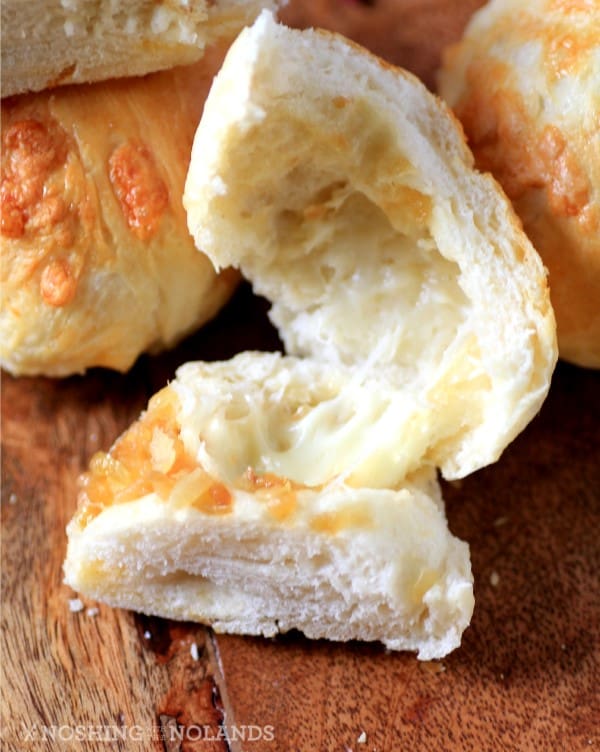 Here is one cracked wide open so you can see all that ooey-gooey goodness. Wouldn't your company, family, and friends be impressed with these for the holidays!!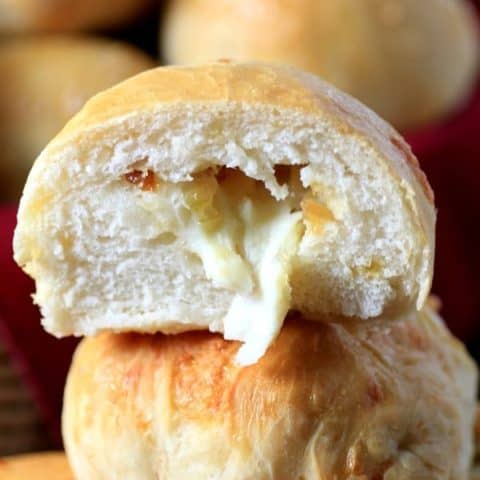 Smoked Cheddar Caramelized Onion Dinner Rolls #BreadBakers
Yield: 18 rolls
Cook Time: 30 minutes
Total Time: 30 minutes
We moved dinner rolls up to a whole new level with adding smoked cheddar to the dough and then stuffing them with mozzarella and caramelized onion.
Ingredients
2 cups bread flour
2 cups whole wheat flour
1 to 1 1/4 cup lukewarm water
1 envelope (7 gm.) active dry yeast
1 egg
1/2 cup smoked cheddar cheese, grated
1 tsp. salt
18- 1/2" cubes of mozzarella cheese
I egg yolk mixed with 1 tsp. water
Caramelized Onions
2 medium onion, diced
1 Tbsp. butter
1 Tbsp. olive oil
Salt to taste
Instructions
Place 1 cup water in a large bowl of a standup mixer and sprinkle in the yeast, wait 5 min. until the yeast is dissolved and bubbles start to appear. Add in the two flours and mix well. Attach the dough hook and mix on low speed. Add the egg and the smoked cheddar cheese. Knead the dough on low speed until the dough cleans itself from the side of the bowl. Add more water by the teaspoon if needed.
Once the dough wraps around the dough hook continue to knead for 3 min. Remove dough and place in a greased bowl. Cover with a tea towel and set in a warm spot until double in size.
While the dough is rising, melt the butter and olive oil in a medium skillet and saute onions for about 20 min. on medium low, until caramelized. Season with salt and set aside.
Once the dough has risen, separate dough into 18 pieces. Create a small hole in the center of the ball and add 1 tsp. of the caramelized onion and the cube of mozzarella. Close up the hole and roll into a ball. Place seam side down on parchment on a cookie sheet. When all the rolls are done, cover again with a tea towel and let rest for 30 min.
Preheat oven to 375F. Brush rolls with the egg yolk mixed with water. Bake for 30 min. and serve warm. Freeze well, thaw reheat and serve.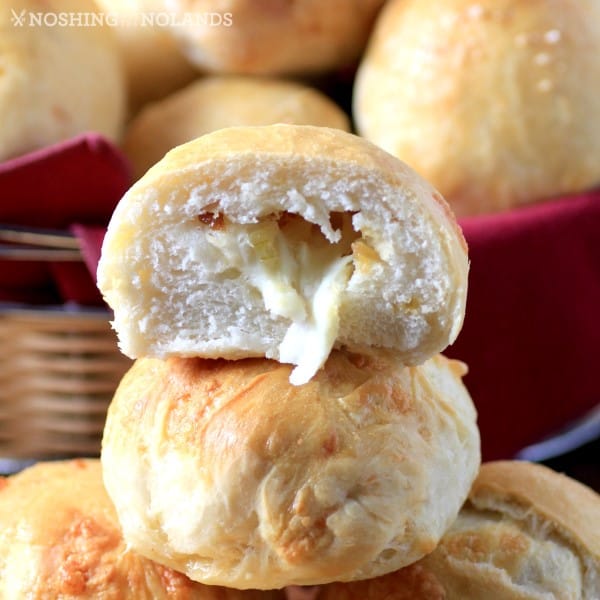 Now onto see what everyone else is sharing for their bread this month!!
Let's take a look at what my fellow bakers have baked for this month's Family Feast Breads event:
#BreadBakers is a group of bread loving bakers who get together once a month to bake bread with a common ingredient or theme. Follow our Pinterest board right here. Links are also updated each month on this home page.
We take turns hosting each month and choosing the theme/ingredient.
If you are a food blogger and would like to join us, just send Stacy an email with your blog URL to [email protected].