Comfort Spinach Egg Casserole
The holidays are almost upon us and with that we want comforting dishes. Almost all of my baking and a lot of my recipes include eggs for the holidays. I know using fresh and high quality eggs in my recipes will give them fantastic results. Today I have for you a Comfort Spinach Egg Casserole that works just as fantastic as a side dish as it does the next morning with a fresh poached egg on top. The eggceptional dish will bring you from morning to night!! We also have a fun holiday giveaway for you, so come to the bottom of the post to enter!!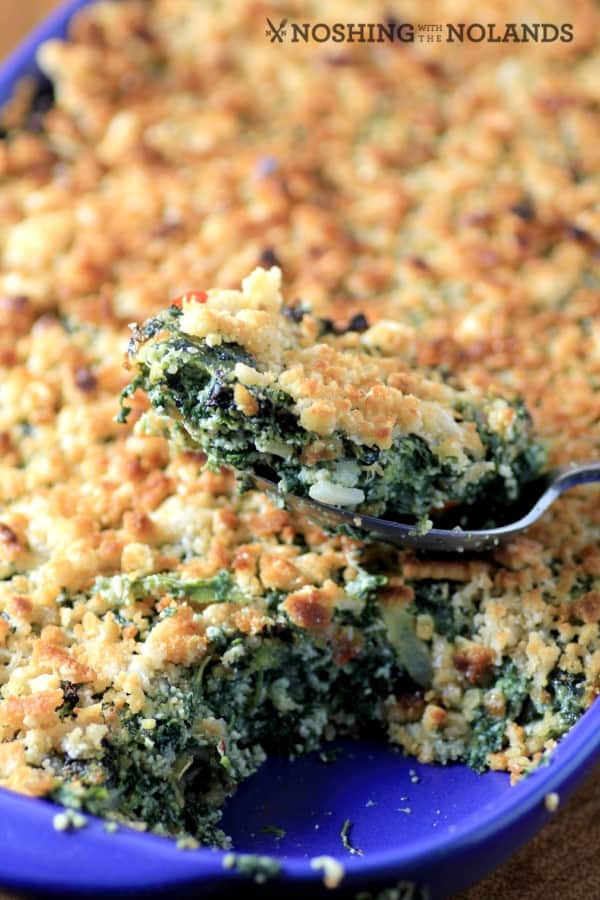 This casserole has loads of goodness along with comfort, as Canadian eggs provide us with lots of nutrients and vitamins like A, D and E. One egg also has only 70 calories.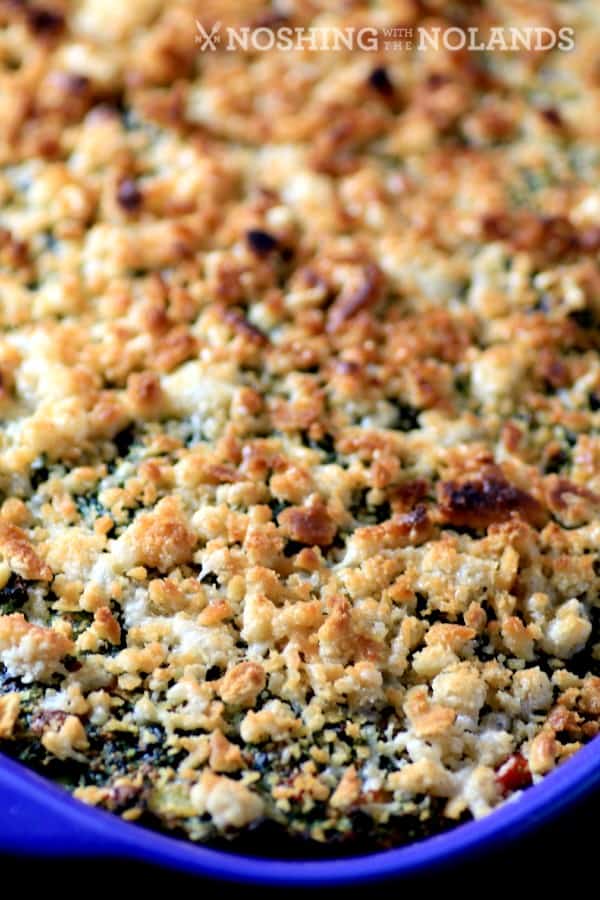 The entire dish can be made ahead of time and then the crunchy topping is added and broiled at the last minute. This dish is comforting with its' crispy topping and amazing spinach, pepper base. It is all held together with wonderful eggs which are a natural choice and can be part of your healthy, active lifestyle.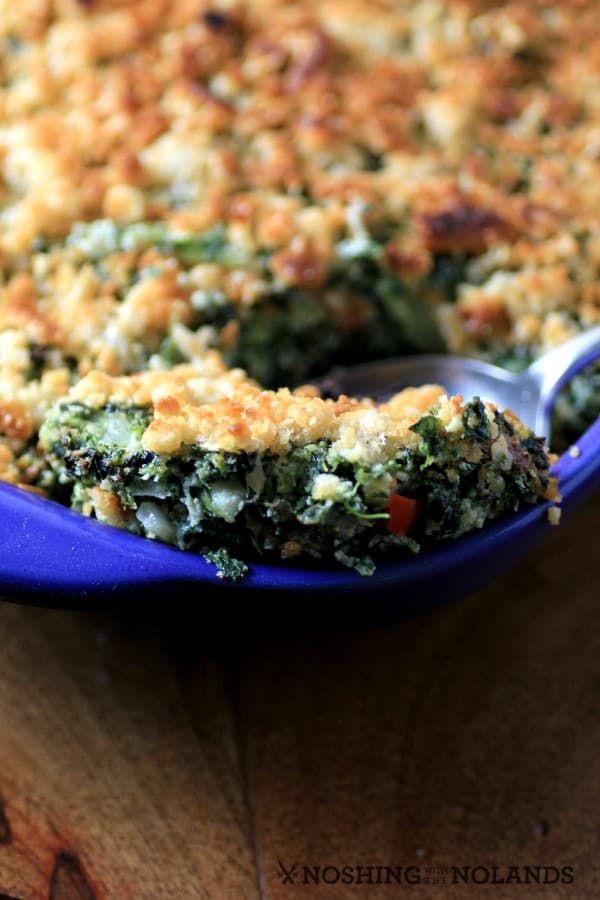 Did you know that under supply management that Canadian eggs are among the best in the world? Canadian eggs meet this standard through quality and freshness. Also, a high standard has to be met for food safety and farming practices. Our farmers work hard to give you the best and freshest eggs possible. There is nothing more comforting than a perfectly cooked egg in the morning for myself and my family. They are a go-to breakfast almost every day of the week.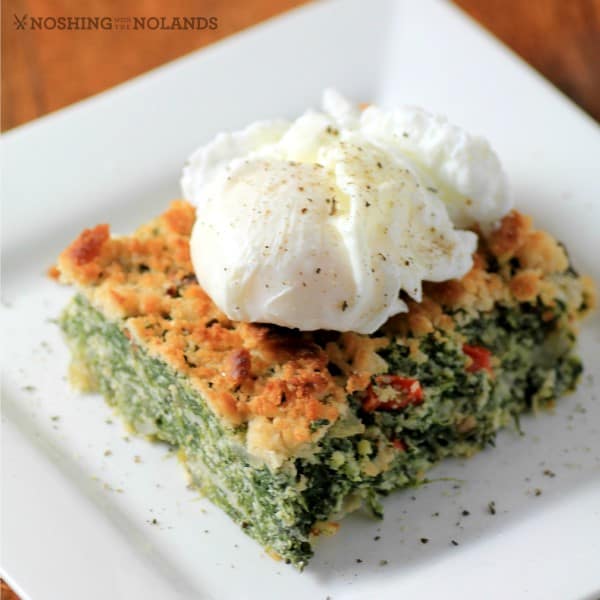 As I said this wonderful casserole can be changed into the base for a great breakfast, highlighting our comfort food, EGGS!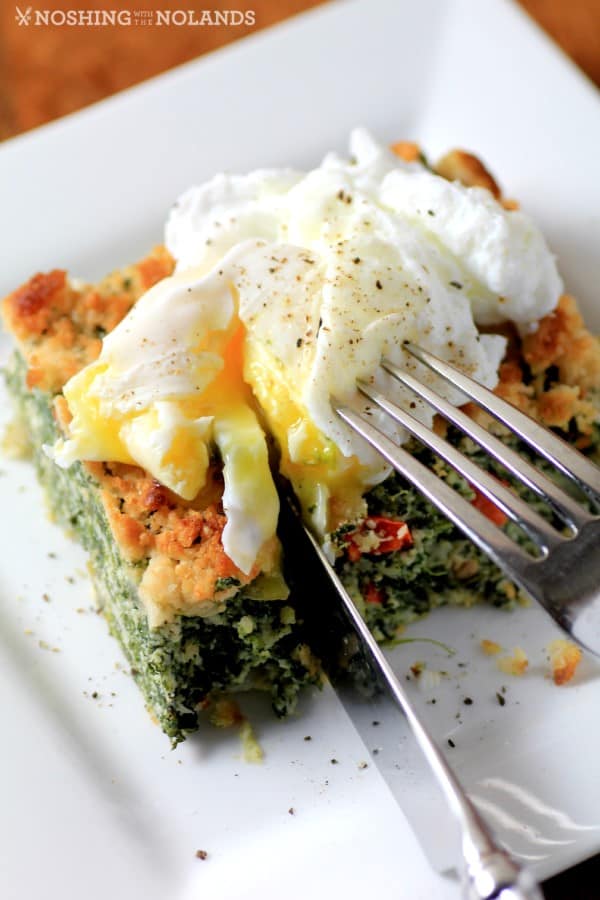 I love that eggs are so convenient and versatile, they can be served by themselves, adorning the top of a casserole like this one, made into a complex sauce or in almost everything you bake. Just think how many recipes include eggs, it is eggmazing!!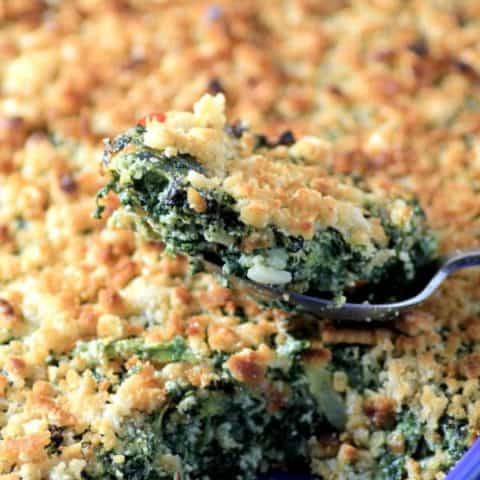 Comfort Spinach Egg Casserole #CanadianEggs
Yield: 8-10 servings
Prep Time: 20 minutes
Cook Time: 45 minutes
Total Time: 1 hour 5 minutes
A comforting spinach and egg casserole that is versatile from morning to night. It makes an eggcellent base for a poached egg the next morning.
Ingredients
1 small onion, diced
2 tsp. garlic
1/2 red pepper, diced
1 Tbsp. butter
2 cups light ricotta cheese
1/2 cup mozzarella cheese
2-10 oz. packages frozen spinach, thawed and drained very well
4 beaten eggs
1/4 cup butter, melted and cooled
2 Tbsp. flour
Salt and pepper to taste
Topping
1/2 cup Parmesan cheese
1 cup Ritz crackers
2 Tbsp. butter, melted
Instructions
Preheat oven to 350F. Heat the 1 Tbsp. butter in a medium skillet and add onion, red pepper and garlic and saute on medium low for 5 min. until the onion is translucent.
Meanwhile in a large bowl add the ricotta, mozzarella, spinach, eggs, butter, flour, salt and pepper. Add the onion mixture when done and cooled slightly. Mix well and then place in a greased 9x13 casserole and bake for 40-45 min. Make sure the center is cooked.
For the topping mix together the crackers, cheese and butter. Sprinkle on top and broil for 1-2 min. until golden brown and crispy. Serve immediately cutting in squares or scooping out.
If there are leftover try a poached or fried egg on top for breakfast!
Recipe adapted from
Epicurious.com
.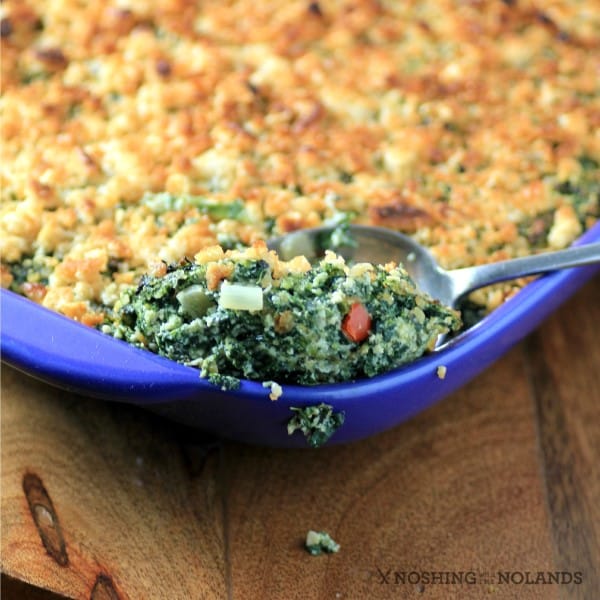 And now for our giveaway…………..
The giveaway runs from November 12 at 8 am and runs through to December 3rd, at that time a random winner will be chosen. There are 3 prizes and 1 winner for each!! This giveaway is open to Canadian residents. Winner must confirm by email within 48 hours or a new winner will be chosen.
Here are the very generous and amazing prizes!!
The Giveaway Prizes (1 winner per prize) –
1. KitchenAid Stand Mixer
2. Cuisinart Food Processor and Paderno Frying Pan with 4-cup Egg Poacher
3. Crockpot 5-in-1 MultiCooker
Giveaway RULES are here! Good luck everyone!!