Need a quick fix for dinner!! Not into cooking lots tonight!! Try this wonderful salad with lots of great ingredients. Berries are of course still available but they are pricier so stretching them in a salad makes sense.
Here is my third salad I did doing Wendy's Copycat salads. How I love a chicken/berry/nut salad. All of my favorites mixed together with an unbelievable raspberry/acai fat free dressing. You will love this salad for sure!! It is the perfect mix of sweet and savory. Enjoy!!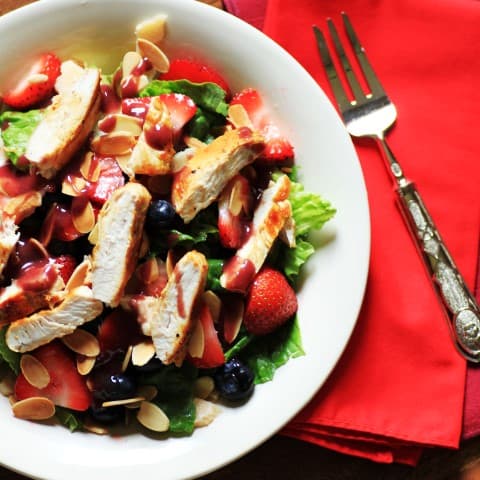 Wendy's Copycat Berry Almond Chicken Salad
A delicious combination of fresh flavors with an amazing fat free salad dressing.
Ingredients
For each salad you will need:
½ chicken breast, pounded thin
⅓ cup blueberries
⅓ cup strawberries
3 cups romaine lettuce or mixed greens
⅛ toasted almonds with sea salt
Shaved parmesan or asiago
Raspberry/Acai Fat Free Salad Dressing
2 teaspoons Dijon mustard
½ cup Acai Blend Juice
1 tablespoon raspberry jam
1 tablespoon cornstarch
Salt and pepper to taste
½ cup water
1 tablespoon apple cider vinegar
Instructions
Heat the acai juice in a small sauce pan, whisk in the mustard and raspberry jam and heat until melted. Whisk the corn starch and vinegar together. Bring mixture to a simmer and add the cornstarch/vinegar mixture. Simmer until thickened and add salt and pepper to taste. Add ½ cup water and whisk and let cool. Refrigerate, if too thick add a little more water to desired thickness.
Season the chicken breast and grill in a grill pan until cooked through.
Add the lettuce to a individual large bowl and top with the strawberries, blueberries, almonds and Parmesan. Top with warm sliced chicken and drizzle with dressing.
Read more at http://www.allfreecopycatrecipes.com/Entree-Salads/Wendys-Copycat-Berry-Almond-Chicken-Salad#1RSlY3laR9trxMes.99