I adore candied pecans or any nut for that matter and I am very lucky because Ken enjoys making them. He wanted to try a different method than oven roasting so out came the cast iron pan to do these Stovetop Spiced Pecans. These are always wonderful for the holidays, a sure fire hit to take as a hostess gift or part of a basket. We served these for Thanksgiving and they all disappeared quickly, almost before the company came, whoops!!
We have done Herb Roasted Cashews, Cinnamon Candied Pecans and Swedish Nuts before but Ken wanted to do something a little spicier. Still sweet but with a slight kick of heat. We also have granulated orange peel as one of our spices and I love to use it over the holidays, it adds just a hint of orange to these nuts. It is an optional ingredient so you don't have to add it.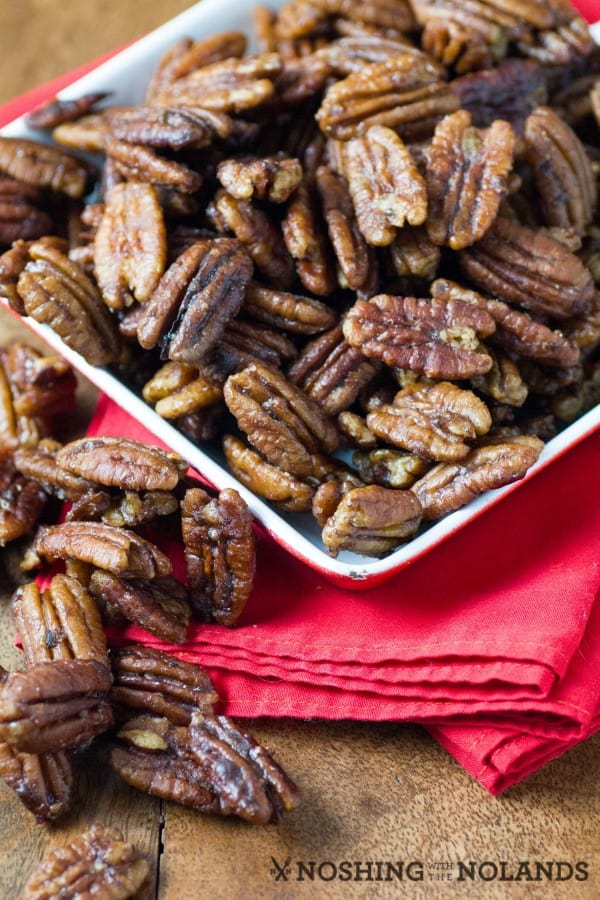 These nuts have the perfect balance of sweet heat. They are very addictive, you cannot only have just one. Men tend to love candied nuts for gift giving, always a welcomed treat. A homemade gift is treasured more I believe as someone has taken the time to make something just for you!
Finally, putting these out at parties for the holidays too will also make everyone very happy. A little candied nut goes great with cocktails and they can be made ahead of time and stored in an air tight container. They will still be great 2-3 weeks out.
The Recipe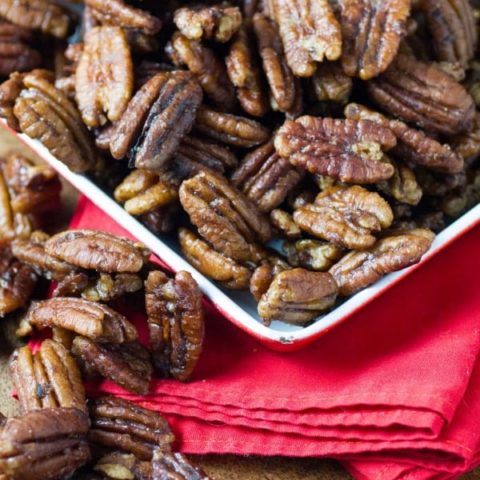 Stovetop Spiced Pecans
Yield: Makes 4 cups
Prep Time: 2 minutes
Cook Time: 10 minutes
Total Time: 12 minutes
And easy Stovetop Spiced Pecan that is perfect for holiday gift giving or entertaining.
Ingredients
4 cups pecan halves
1 tsp. Kosher salt
1/2 tsp. cayenne pepper
1/2 tsp. cinnamon
1/2 tsp. granulated orange peel (optional)
4 Tbsp. butter
1/4 cup packed brown sugar
2 Tbsp. water
Instructions
Line a sided cookie sheet with parchment paper and set aside. In a small bowl, mix together the salt, cayenne, cinnamon, and orange peel and set aside.
Place a cast iron pan over medium heat and add the pecans. Stirring frequently, cook the pecans for 4-5 minutes until they start to brown and become aromatic. Add the butter and stir to melt. Add in the spice mixture and continue stirring. Add in the sugar and water and stir to coat all the nuts. Cook for approx. 2-3 min. Place the nuts onto the prepared cookie sheet, separate them with a fork and allow the nuts to cool completely. Can be stored up to 3 weeks in an air tight container.
Adapted from Alton Brown, Spiced Pecans.