It is Grab Some Nuts Day today, and I and a group of bloggers are getting nutty!! I thought I would do something sweet but then thought of the huge herb-potted garden I have on the deck and came up with Herb Roasted Cashews.
I have made roasted nuts like this before and love to serve them as part of an appetizer for company. Nothing could be simpler, really. All of us in this family are crazy about nuts. Or try our savory popcorn with this recipe for Olive Oil Popcorn (Garlic and Rosemary).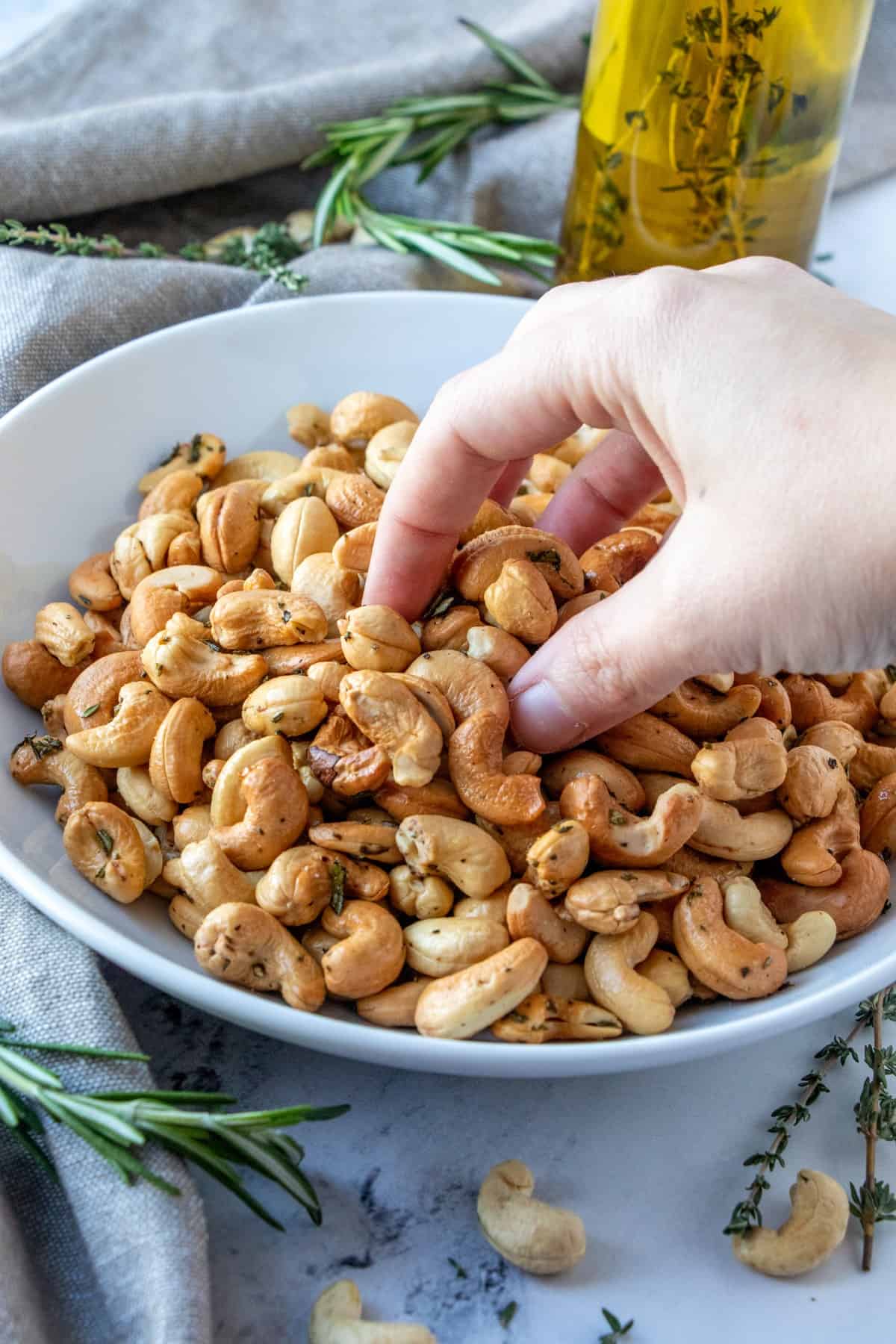 My mother really liked cashews, and I find them a classy nut. I was able to find raw cashews, unroasted and unsalted, so that was perfect for what I wanted!!
How to Roast Cashews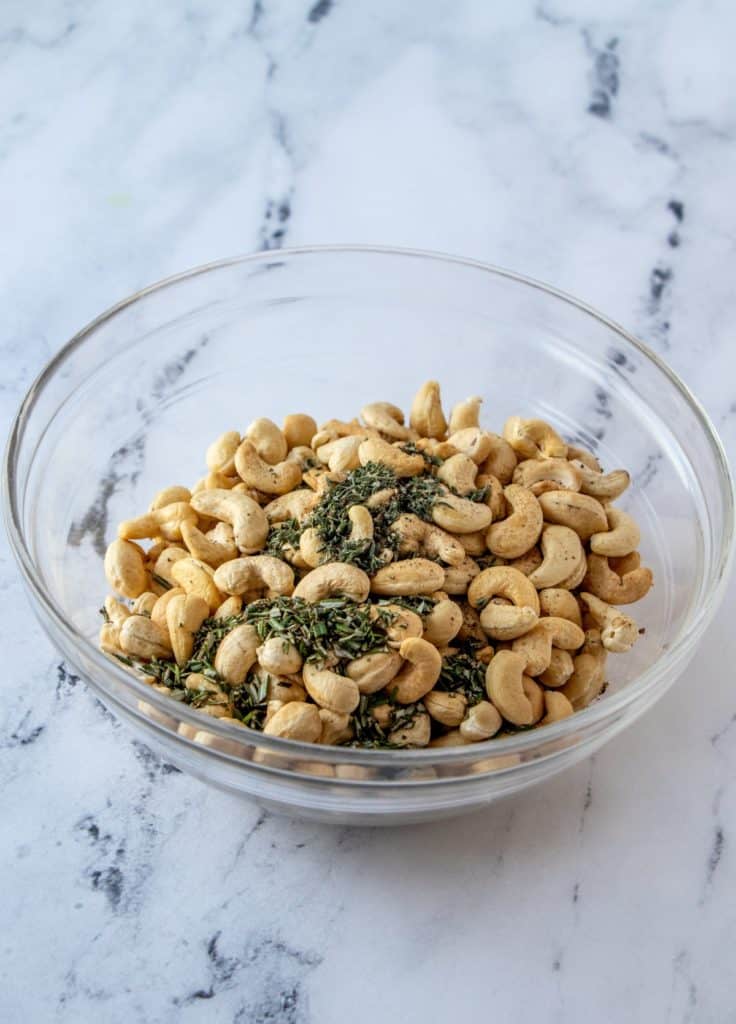 The process for this recipe is super simple; I don't even both to line a baking sheet as it washes up so easily. This cashew recipe takes minutes to accomplish and then a quick bake in the oven in a single layer until they are golden brown and delicious.
Now that the air fryer is a more common appliance, they could be quickly done in there too. Just preheat the oven to 350 F in an air fryer, and away you go. They will probably take around the same amount of time, but depending on your air fryer, you will want to watch them.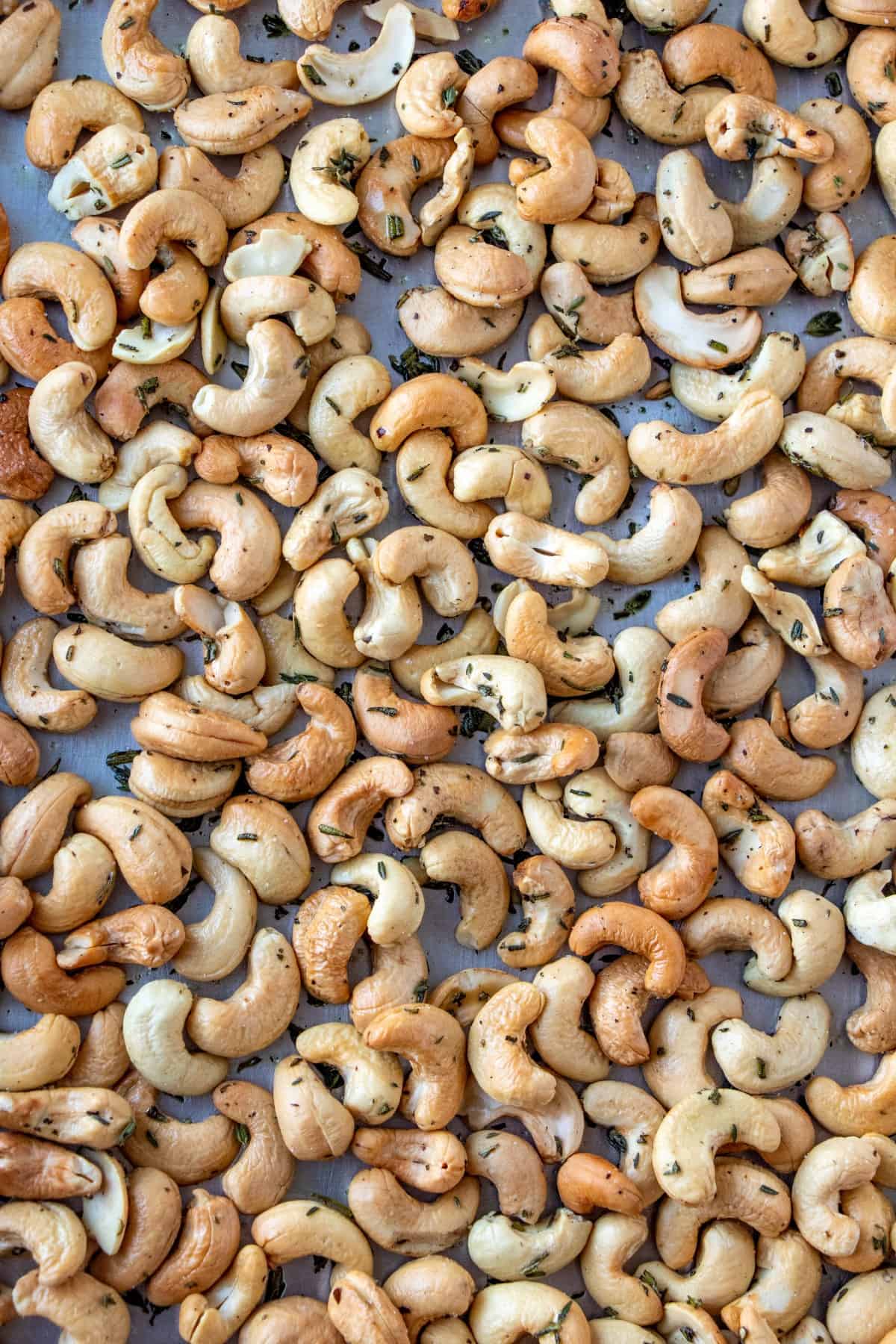 Ingredients
Raw cashews
Extra virgin olive oil
Fresh rosemary
Fresh thyme
Kosher salt
Fresh black pepper
Mix all the ingredients together in a bowl. Toss well and spread onto a rimmed baking sheet. Bake at 375F for 10-12 min. until lightly browned.
Serve warm or at room temperature.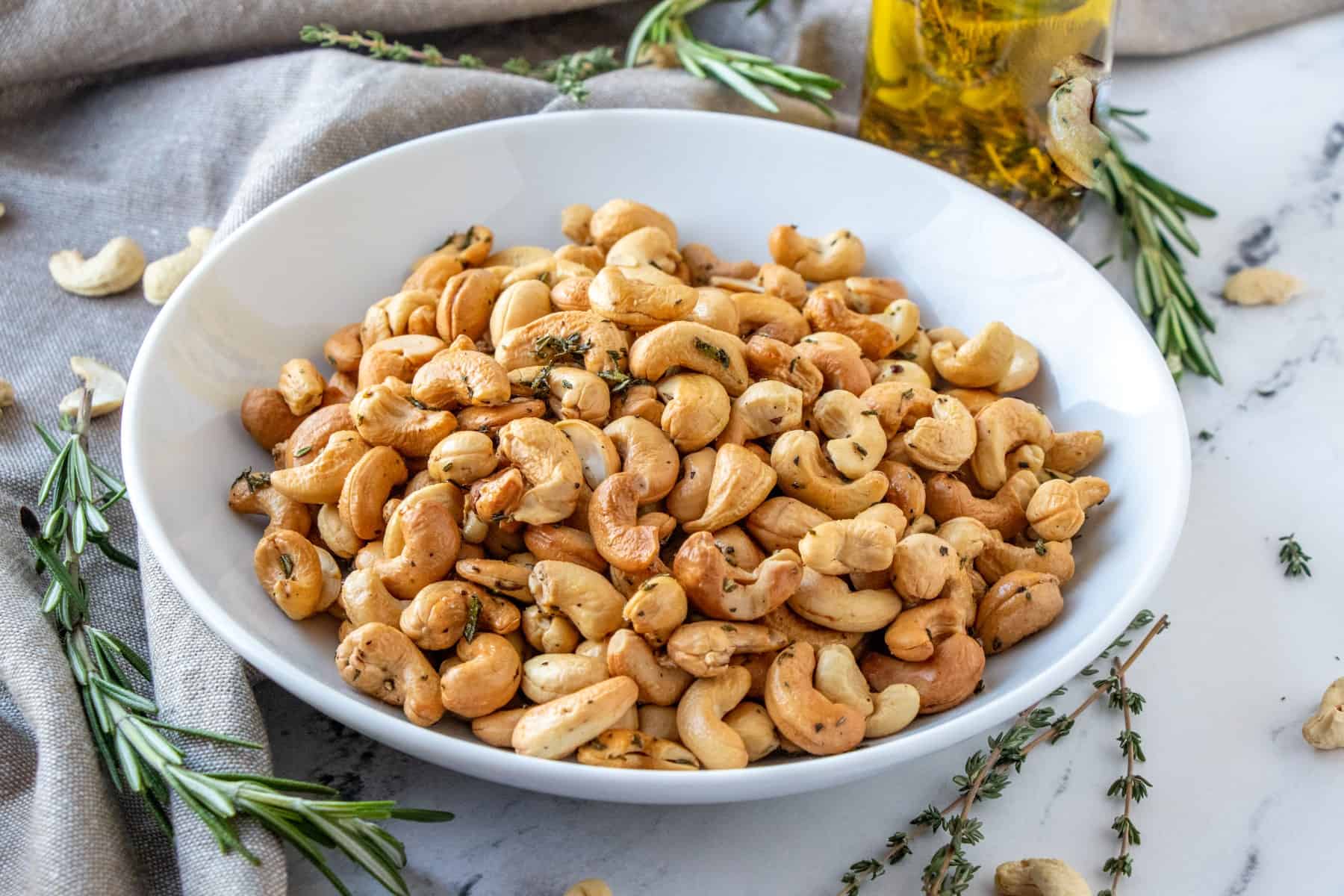 In our grocery store, there is a nice selection of nuts and fresh-made nut butter. I like to give nut recipes as gifts also, of course making sure there are no allergies!!
Should You Soak Cashews Before Roasting?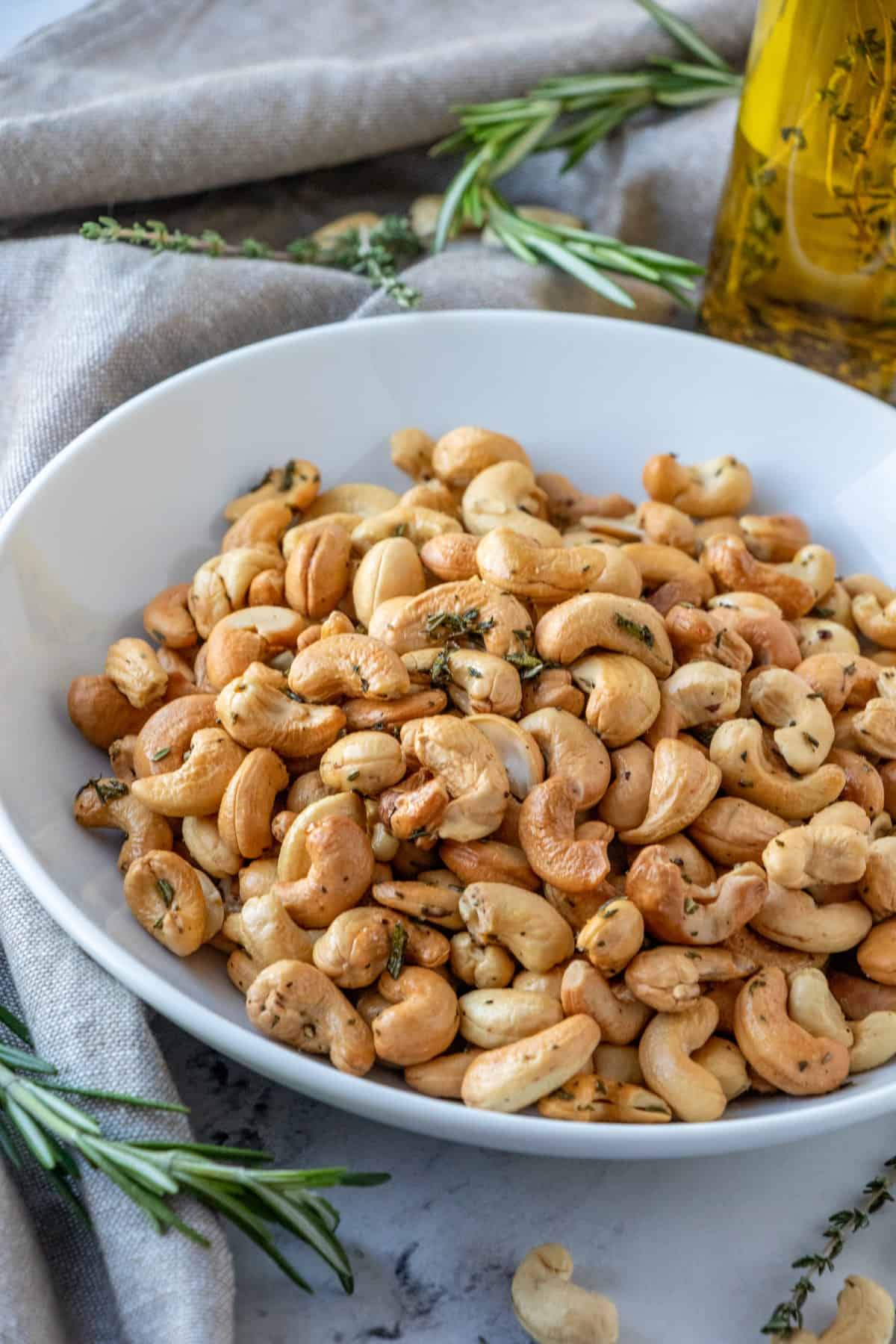 In doing some research, there are claims with raw cashews to soak them in salted water for 2-3 hours before roasting. There are claims about phytic acid and neutralized enzymes that are broken down in soaking that give your body a better absorption.
I have not tried this, so I can't say that it does anything but that is what I have read. I have also heard that it makes the nuts tastier too. They seem perfectly delicious in my mind anyway.
What Part of the Cashew is Poisonous?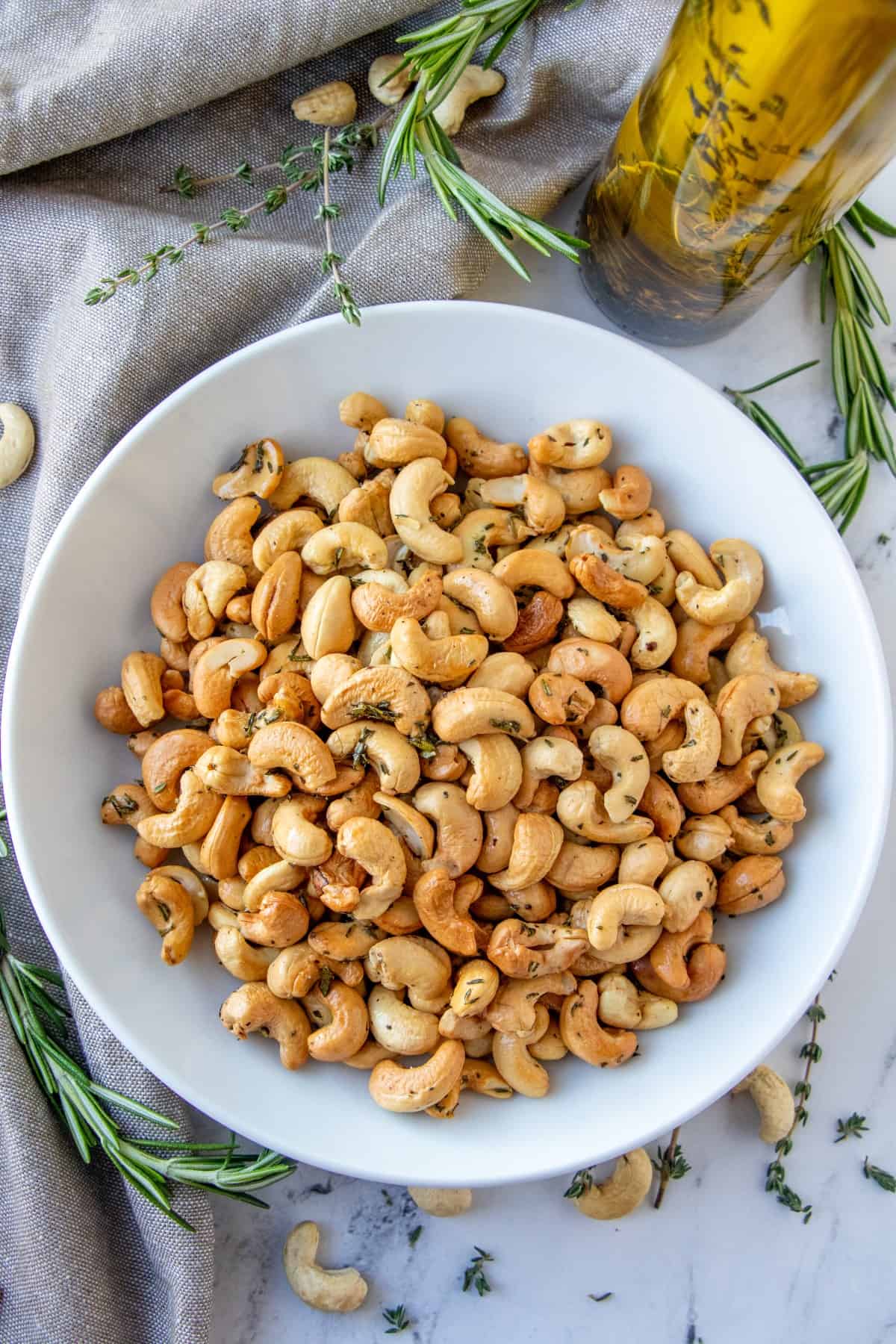 Now don't get all freaked out that cashews are poisonous and stop buying them. According to Healthline, cashews do contain a natural toxin, and this is in their raw unprocessed state. The toxin is called urushiol. The toxin is found around the cashew shell. It can leach out onto the exterior of the nut itself.
So are raw cashews poisonous? The cashews you see in the store that are labeled raw have actually been steamed to leach out this toxin. They are called raw because they haven't been roasted yet. Interesting little fact I thought about my favorite nut.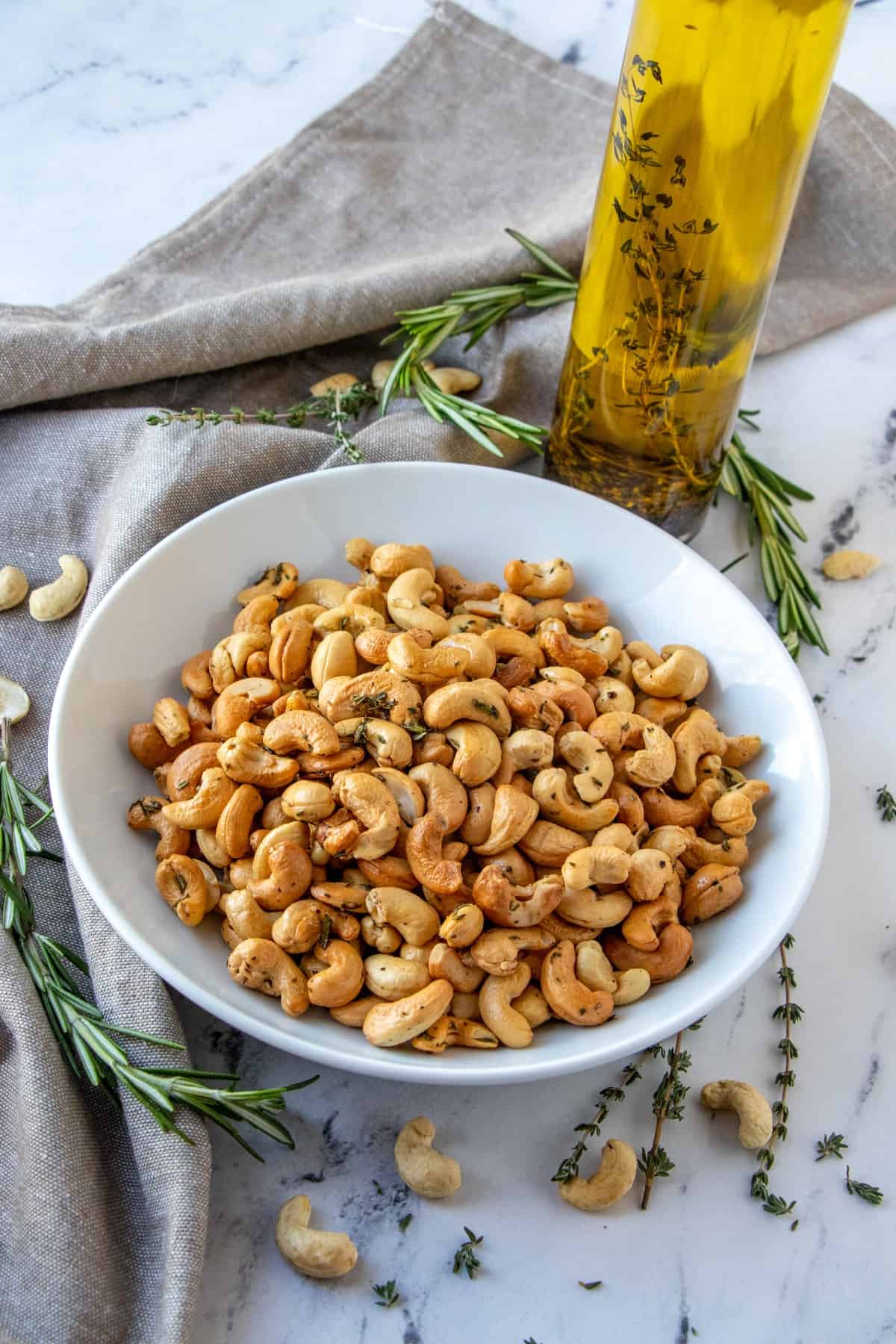 The rosemary and thyme are a perfect combination for cashew nuts. Coating them with good quality olive oil and a small amount of Kosher salt adds to the overall enjoyment of snacking on these delightful nuts.
Try other fresh herbs too if you like. I think dill would be fun or maybe some oregano. Get creative and come up with your own recipe. Maybe adding in a little cayenne pepper with some sugar for a sweet heat. Just in a bowl, combine what you think would work. Some sage in the fall would make a great nut too.
Be sure to visit all the other Nutty Participants for Grab Some Nuts Day: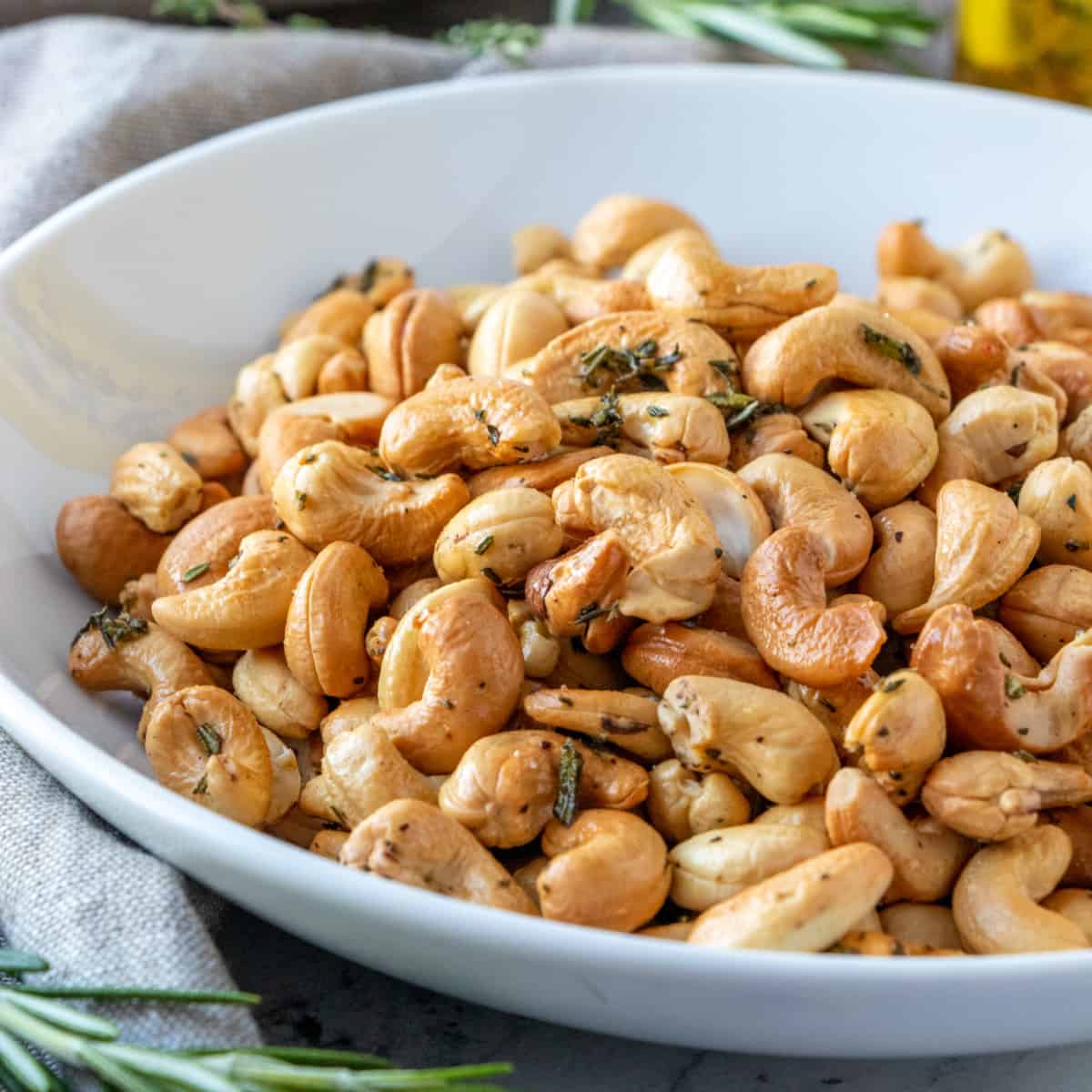 Pin it HERE!!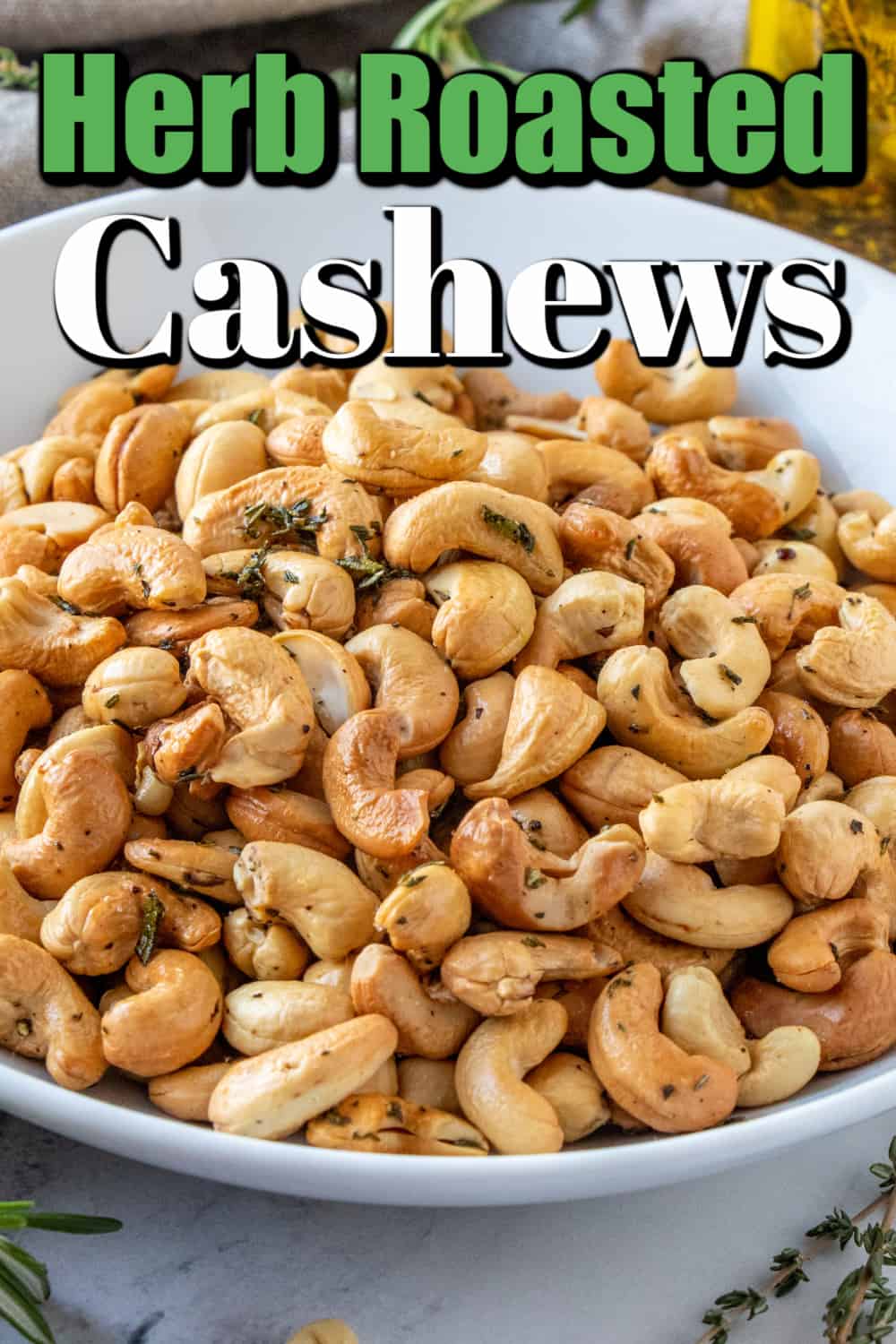 Pin it HERE!!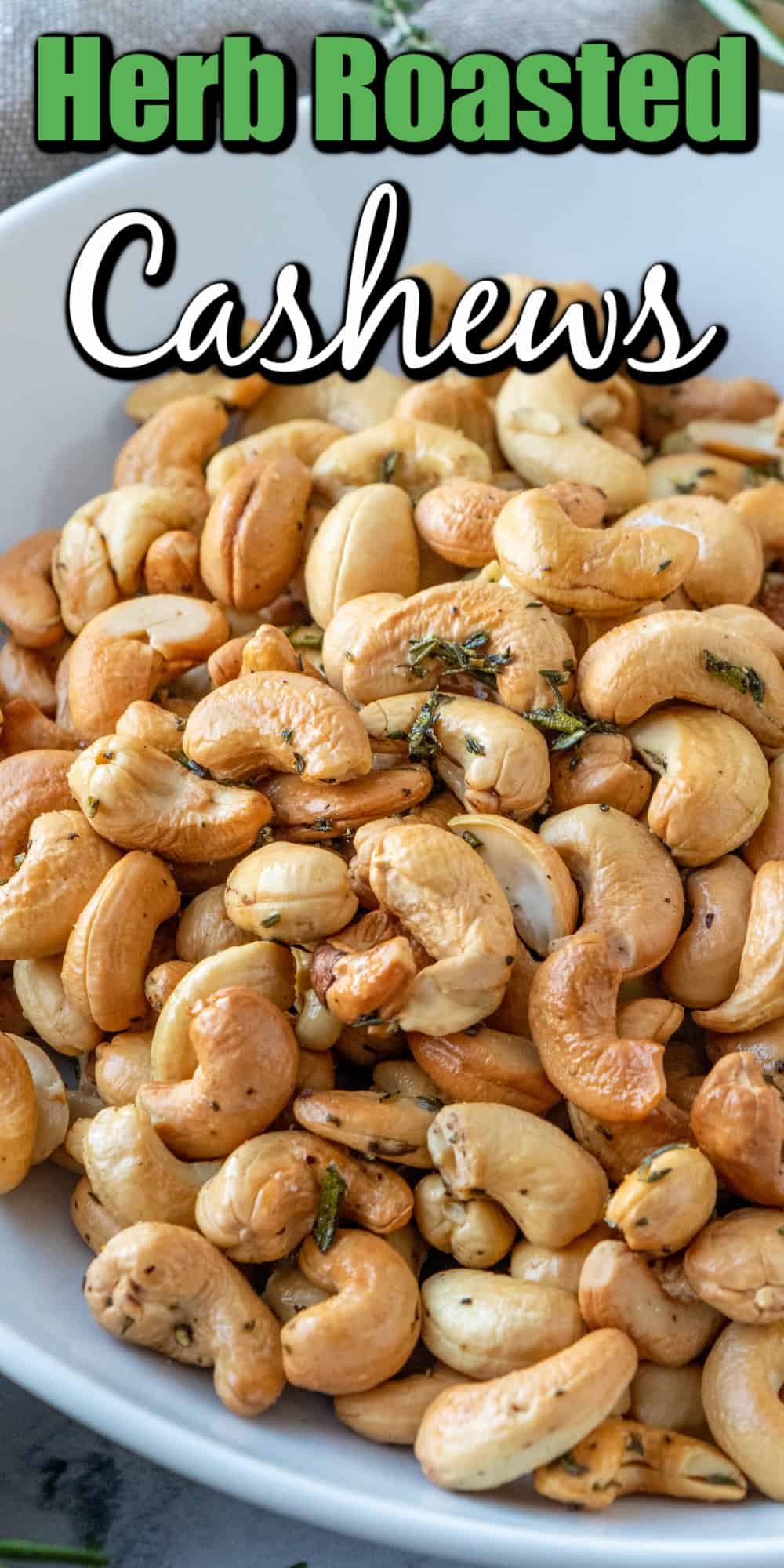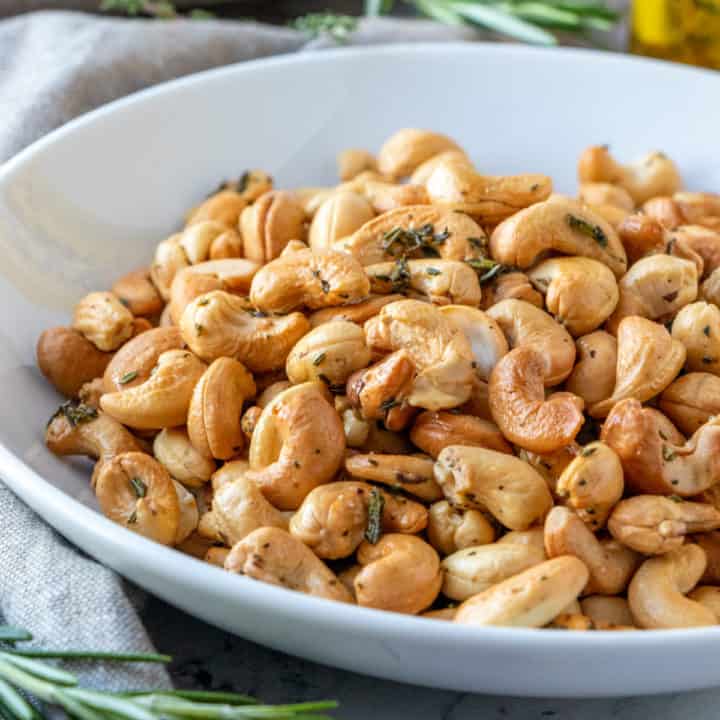 Herb Roasted Cashews
Yield: 6-8 servings
Prep Time: 5 minutes
Cook Time: 12 minutes
Total Time: 17 minutes
A simple and delicious Herb Roasted Cashew that can be served as a snack or appetizer!!
Ingredients
13 oz. raw cashews
1 1/2 Tbsp. extra virgin olive oil
1 Tbsp. fresh rosemary, chopped
1 tsp. fresh thyme, chopped
Fresh black pepper to taste
1 tsp. Kosher salt
Instructions
Mix all the ingredients together in a bowl. Toss well and spread onto a rimmed baking sheet. Bake at 375F for 10-12 min. until lightly browned.
Serve warm or at room temperature.
Nutrition Information:
Yield: 8
Serving Size: 1
Amount Per Serving:
Calories: 95559
Total Fat: 7578g
Saturated Fat: 1345g
Trans Fat: 0g
Unsaturated Fat: 5469g
Cholesterol: 0mg
Sodium: 2364mg
Carbohydrates: 5216g
Fiber: 570g
Sugar: 1021g
Protein: 3148g
Recipe calculation was provided by Nutritionix and is an estimation only. If you need nutritional calculations for medical reasons, please use a source that you trust.