I dare you to resist these decadent Fudgy Chocolate Brownie Cookies! A fudgy texture, soft and gooey, this is the recipe to a sinful treat. A little crinkled crust on the outside but still moist on the inside, you will not be able to eat only one.
These fudgy brownie cookies are what dreams are made of for the chocoholics. Do you like brownies? Do you like chocolate chip cookies? Any type of cookies. Then, you will love this recipe. Prepared in 15 min and less than 10 minutes in the oven, you really have no excuse!
Hi there, It's Melanie from Bon Appét'Eat. It's been a lot of fun to be part of the Noshing with the Nolands team. I am so excited to share some chocolate goodness today because I do love a fudgy almond brownie or a classic chocolate mousse, this one is foolproof!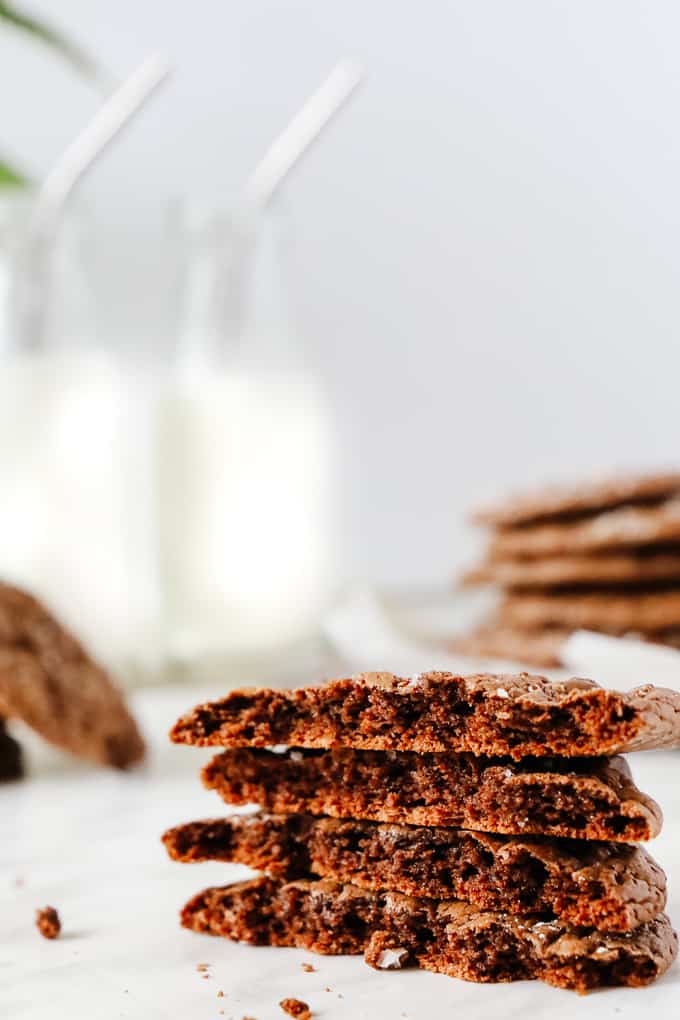 Helpful Items for This Recipe
This post contains affiliate links. As an Amazon Associate, I earn a small portion from qualifying purchases at no extra charge for you.
Baking Sheet Set with Cooking Racks
What is a brownie cookie?
It is the marriage of chewy, fudgy classic brownie with a cookie. It is the best of both worlds in a two-bite treat.
A brownie is a fudgy chocolatey cake. A cookie is a tender with a crunchy top treat. Here, with the chocolate brownie cookie recipe, you get both—a round goodness with a crunchy top and a moist and gooey inside.
Undeniably, you would agree this is a glass of milk's best friend!
How do you make Chocolate Brownies?
The ingredients you'll need to make the dough for this recipe are most likely already in your kitchen:
Ingredients
– Dark Chocolate or milk if you prefer
– Butter
– Eggs
– Granulated Sugar
– Baking powder
– All-purpose flour
– Salt
Some other ingredients are toppings you can add to your liking, such as some chocolate chips, sea salt, or maybe colored sugar. These will be a winning cookie for the holidays plain or dressed up.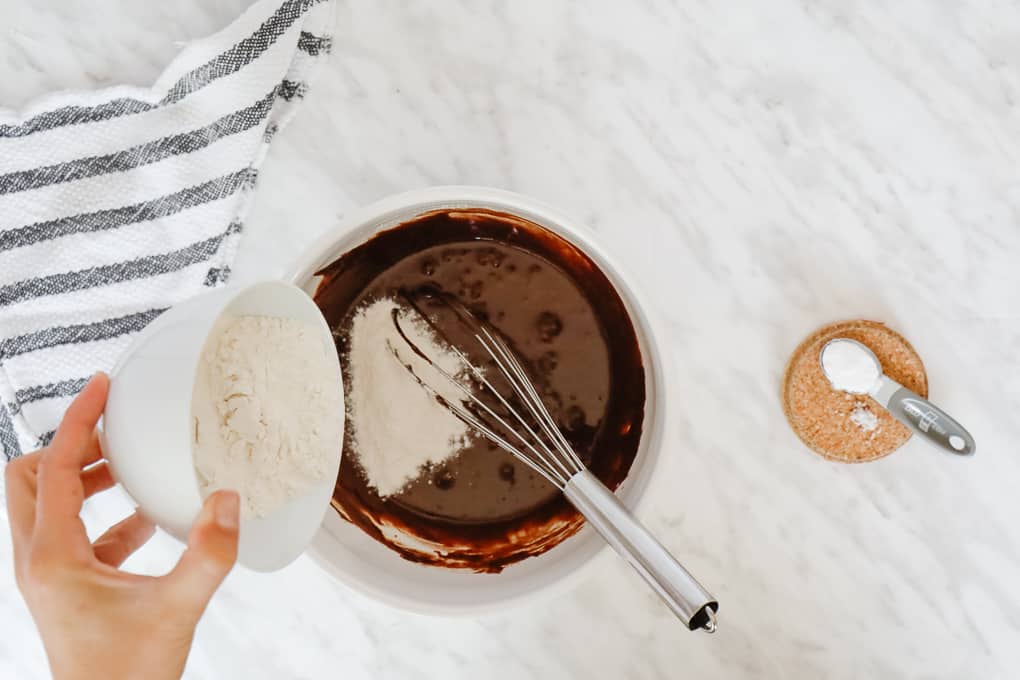 The steps are really simple and very similar to the brownie recipe itself.
If you wish, you can use your stand mixer or hand mixer; I just think this is a great recipe with minimal dirty dishes and effort to make it by hand. There is not too much whisking involved. Plus, it gives your arm a little workout too.
First, let's start by melting the chocolate and the butter together.
Tip: I did it in the microwave: place the butter first in a bowl and then the chocolate on top. Melt 15 seconds at a time and stir in between. Repeat until you obtain a uniform texture. Otherwise, you can melt it on the stove in a water bath, so it does not burn.
Then, in a large bowl, beat the eggs with the sugar. Next, add in the chocolate/butter to it.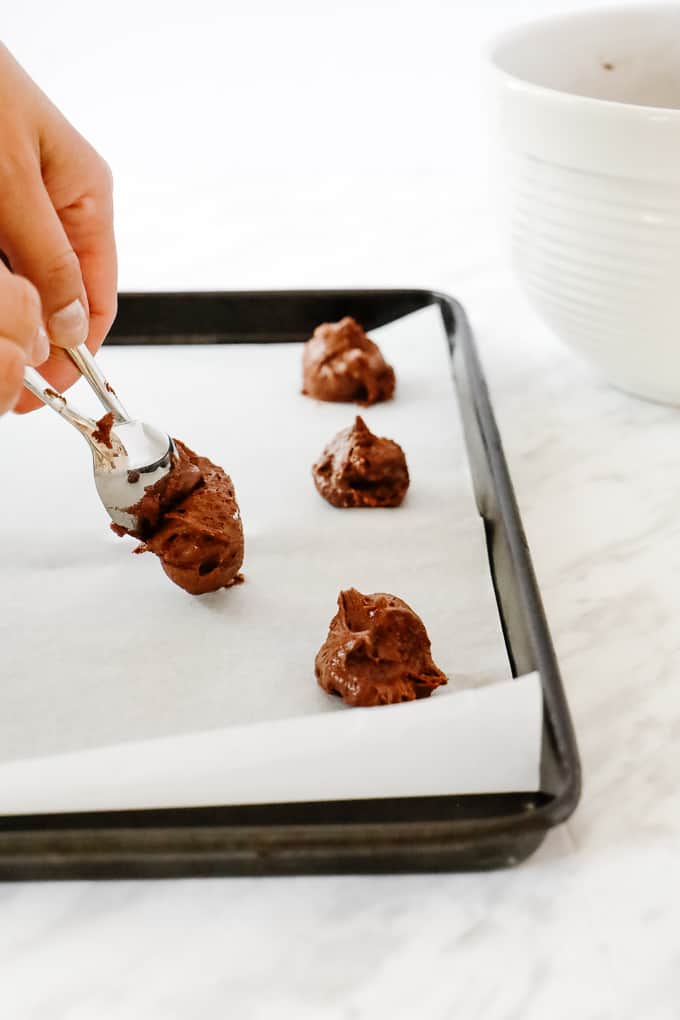 Lastly, add your dry ingredients: the flour, baking powder and salt can go in.
Now, set this bowl aside while you pre-heat the oven and prepare your baking sheets with parchment paper, or silicone mats if this is what you use.
Tip: It is best that you let your dough rest while you tidy up and get ready for the next step. You don't need to chill the dough in the fridge; letting it sit at room temperature (unless it is a hot summer and you don't have AC, then put it in the fridge) is sufficient. The mix will thicken a little bit, which will make the next step easier.
Why is this last step important?
The dough will hold better and make it easier to spoon it on the baking sheet. It has a consistency a little thicker than the actual brownie cake.
Finally, grab your baking sheets, take a teaspoon of dough and using another spoon, push it down on the baking sheet. Remember to space them out to allow to spread. It does not have to look perfect, the cookies will form and take a round shape themselves.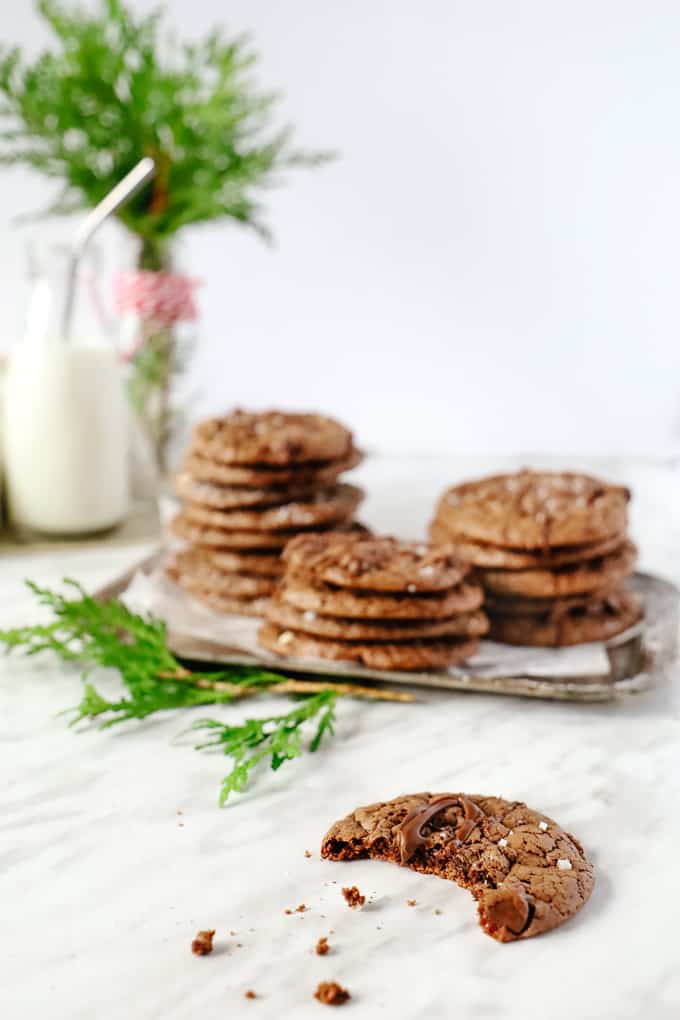 How long do I bake the brownie cookies?
You know your oven best. With my oven, the ideal time was 9 minutes at 390F, they turned out great. I did try 8 minutes; it is still delicious and fudgy. The cookie will be a little more fragile. If you like slightly undercooked, this could be your way of baking it.
Remember, when you take it out of the oven, it still bakes a little longer on the baking sheet. Allow to cool before placing them on a plate.
Know your oven and maybe set the timer for 7 minutes and add one minute of baking at a time. Keep an eye on them until you know your desired time.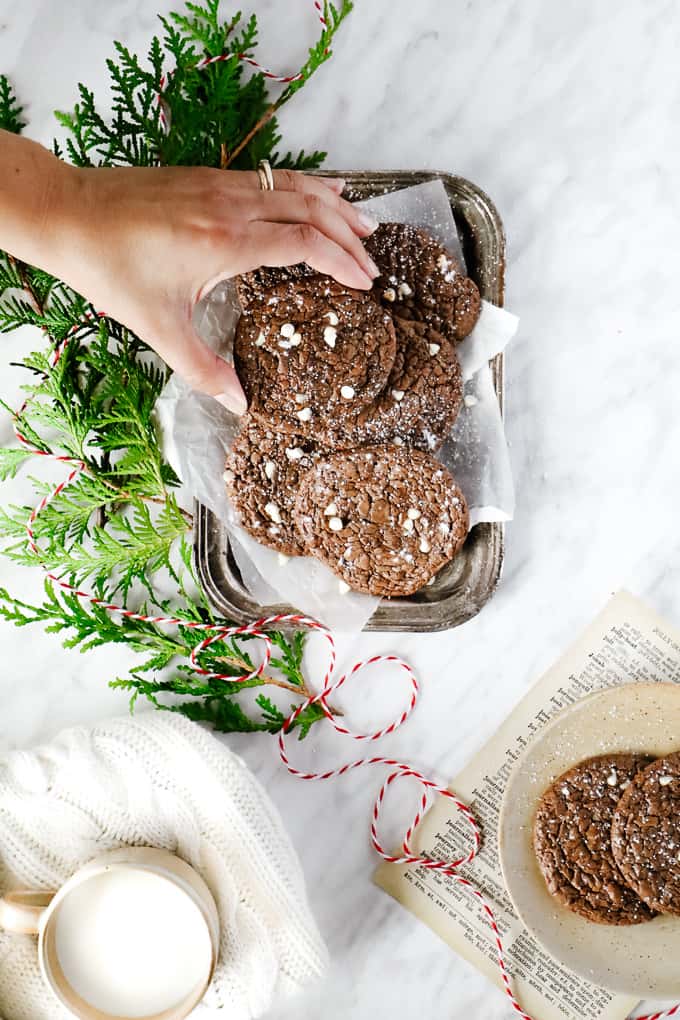 Which toppings can I add to my brownie cookies?
Dark Chocolate with sea salt: Above all, this was the most popular during the recipe testing. This combo is a real winner.
Fold in some chocolate chips or add them on top: You can do double dark chocolate or mix and match with some white or milk chocolate ones.
Depending on the time of the year, you can add some sprinkles. It could be Christmas themed or red for Valentine's Day, for example.
Go nuts and add some. How about some walnut pieces or chopped almonds?
Drizzle and dust: Melt some chocolate and drizzle on top of your cookies or keep it simple and dust some icing sugar.
Top it with ice cream! Level up the decadence.
Nothing! They are also delicious without any add-ons.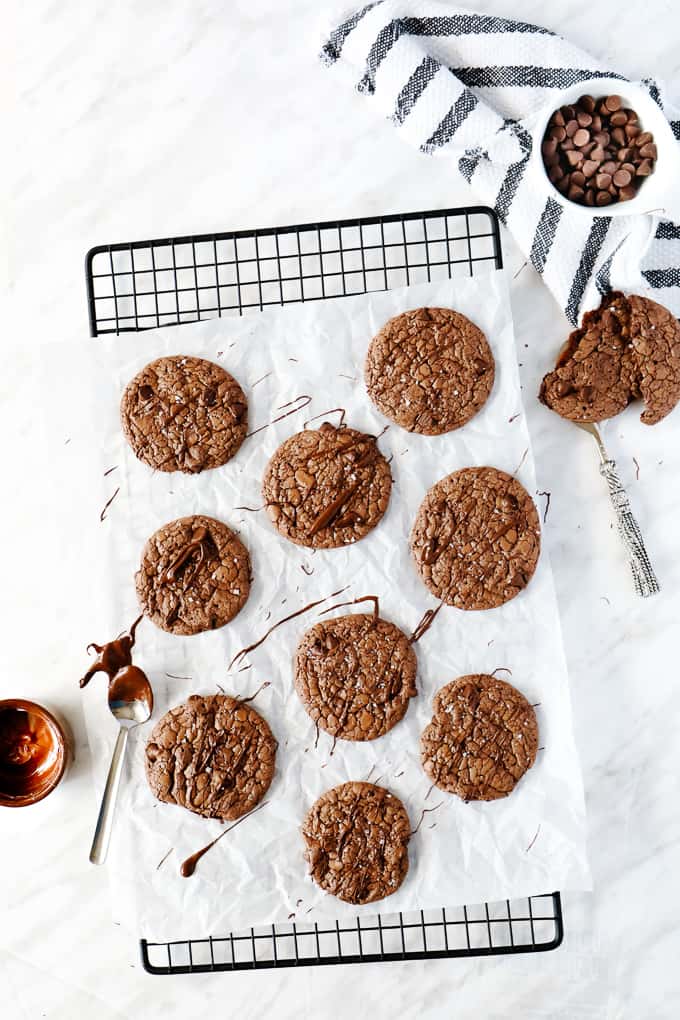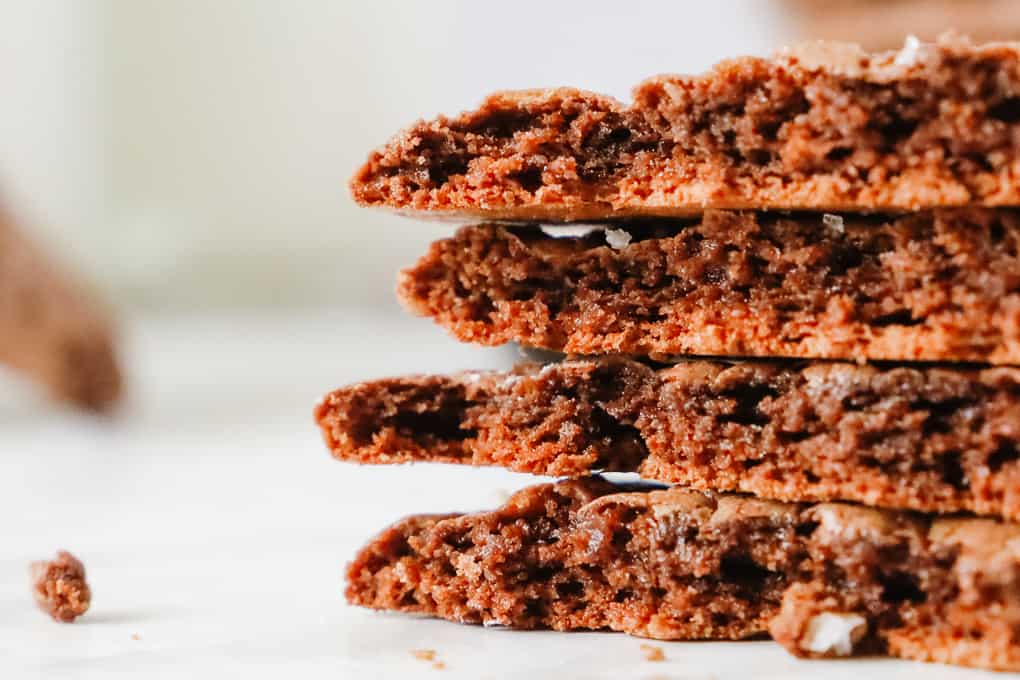 How long can I store the brownie cookies?
If, and I would like to emphasize "if", you have some leftover cookies, the best way to store them would be in an air-tight container for 3-4 days at room temperature.
Quite unlikely to happen. (I'm winking at you right now!)
Can I freeze them?
If you are planning to bake ahead…
Before baking them: You can freeze your brownie cookies, on the baking sheet, already prepared on the parchment paper. Once frozen, you can gather them in a zip lock bag or container.
Then to bake them, put them directly in oven while frozen. Keep an eye on them as you will be having to adjust the baking time.
Once baked: Organize your cookies in a zip lock bag to freeze them. When you take them out for consumption, thaw the brownie cookies completely at room temperature.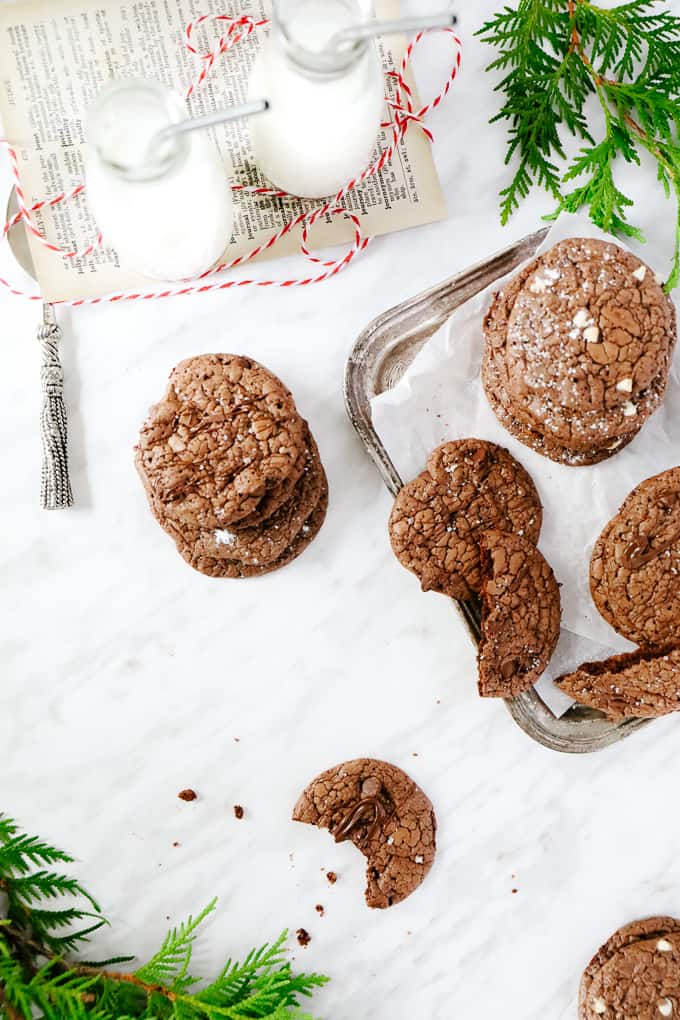 Other Favorite Holiday Cookies
Are you making these cookies for the holidays? Then you can add more to the cookie platter with these Holiday Cookies. They are the best of the best and we love making lots every year.
Here are some of the favorites that we have made over the years. Plus, a collection of cookies that are great to make ahead of time and freeze for the holidays.
Lemon Raspberry Jam Thumbprint Cookies
26 Freezable Christmas Cookie Recipes
Pin it HERE!!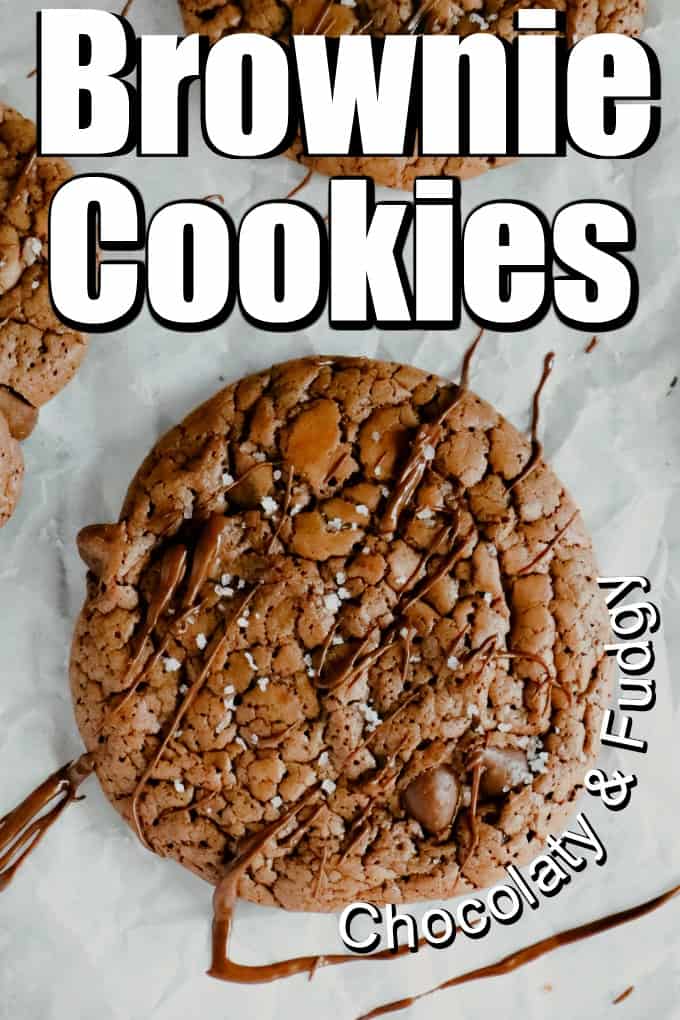 Pin it HERE!!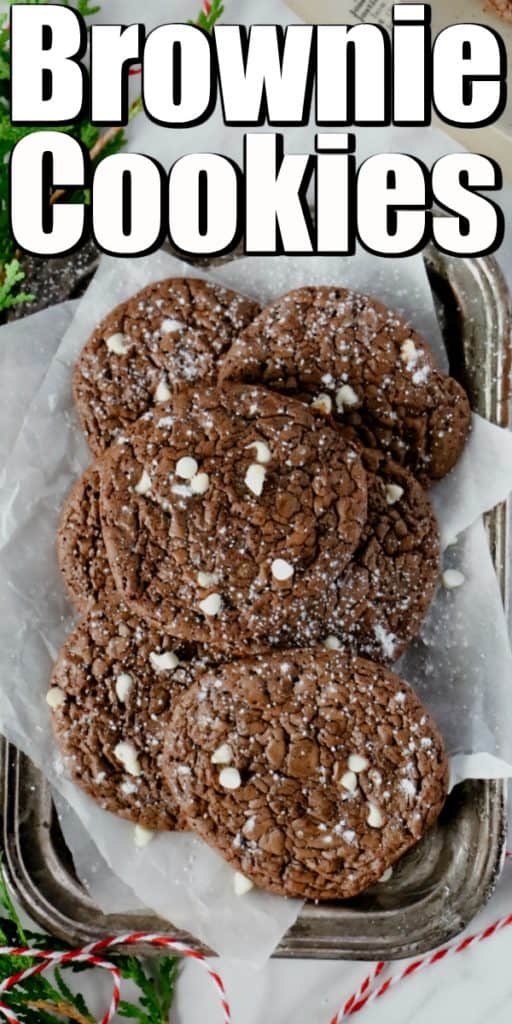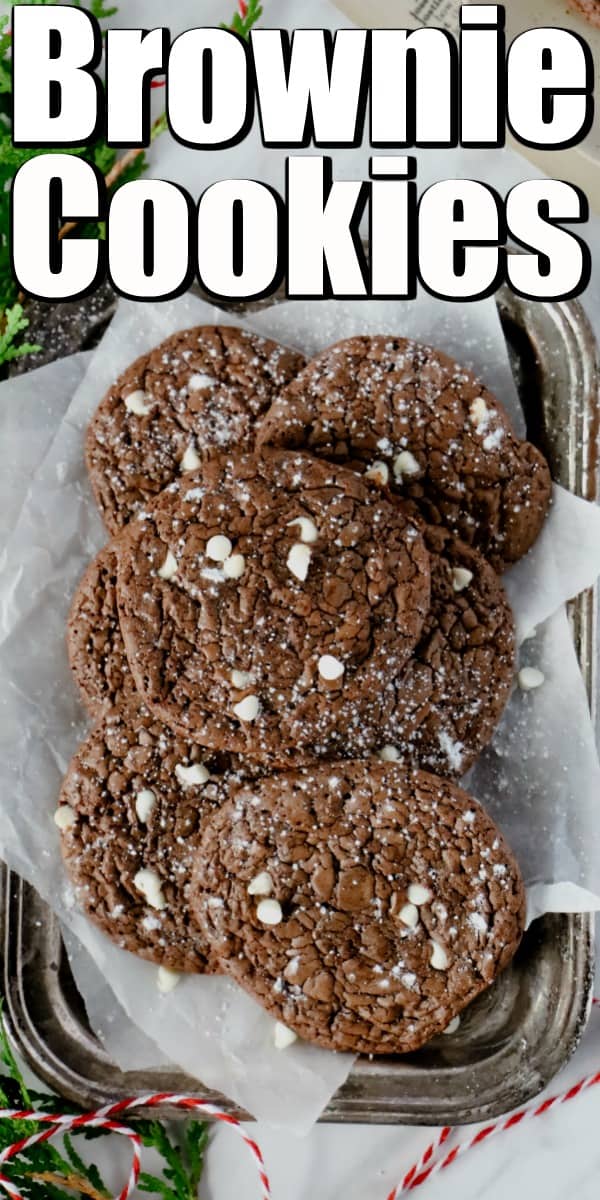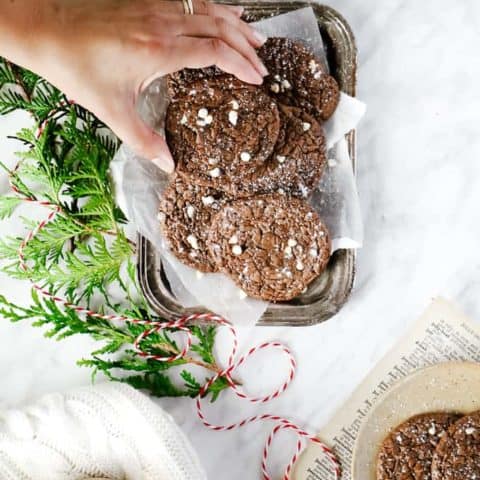 FUDGY CHOCOLATE BROWNIE COOKIES
Yield: 24 cookies
Prep Time: 15 minutes
Cook Time: 9 minutes
Total Time: 24 minutes
Decadent fudgy chocolate brownie cookies are soft and gooey, with a little crust on the outside but still moist on the inside!
Ingredients
1 cup of dark chocolate chips
2 tbsp of butter
2 eggs, medium size
1/2 cup of granulated sugar
4 tbsp of flour
1 tsp of baking soda
1 pinch of salt
Instructions
Melt the chocolate and butter together. (Microwave: place the butter first in a bowl and then the chocolate on top. Melt 15 seconds at a time and stir in between. Repeat until you obtain a uniform texture.}
In a large mixing bowl, whisk your eggs and sugar together.
Add in the chocolate/butter mixture. Stir well.
Lastly, add your dry ingredients: the flour, baking powder, and salt can go in. Set aside.
Pre-heat the oven at 390F and prepare your baking sheets with parchment paper.
Take a teaspoon of dough and using another spoon, push it down on the baking sheet. Repeat until you don't have space. Space them out to allow to spread, a good 3" between cookies.
Bake for 8 to 9 minutes. Let them cool down before handling the cookies.
Repeat until you have used up all your dough.
Recommended Products
As an Amazon Associate and member of other affiliate programs, I earn from qualifying purchases.
Nutrition Information:
Yield: 24
Serving Size: 1
Amount Per Serving:
Calories: 73
Total Fat: 4g
Saturated Fat: 2g
Trans Fat: 0g
Unsaturated Fat: 1g
Cholesterol: 17mg
Sodium: 177mg
Carbohydrates: 9g
Fiber: 1g
Sugar: 8g
Protein: 1g
Recipe calculation was provided by Nutritionix and is an estimation only. If you need nutritional calculations for medical reasons, please use a source that you trust.