Turkey Cutlets Parmesan
Disclosure: I was compensated by Canadian Turkey for this post. All opinions and experiences are my own.
Today I have for you Turkey Cutlets Parmesan. A unique way to incorporate more turkey into your day to day menus and why not?! This healthy, lean protein is loved by all and making a recipe like this is an awesome way to makeover a meal!!
I am so very happy to introduce to you that I am a new brand ambassador for Canadian Turkey for 2019!! This is a protein that I would say is my daughter's number one favorite!! She loves nothing more than a big juicy slice of turkey with cranberry sauce!!
But wait a minute!! You don't only have to have turkey for the holidays, oh no way. This protein is about as versatile as it gets. It can be easily substituted in for any other protein and make your meals not only delicious but healthy too!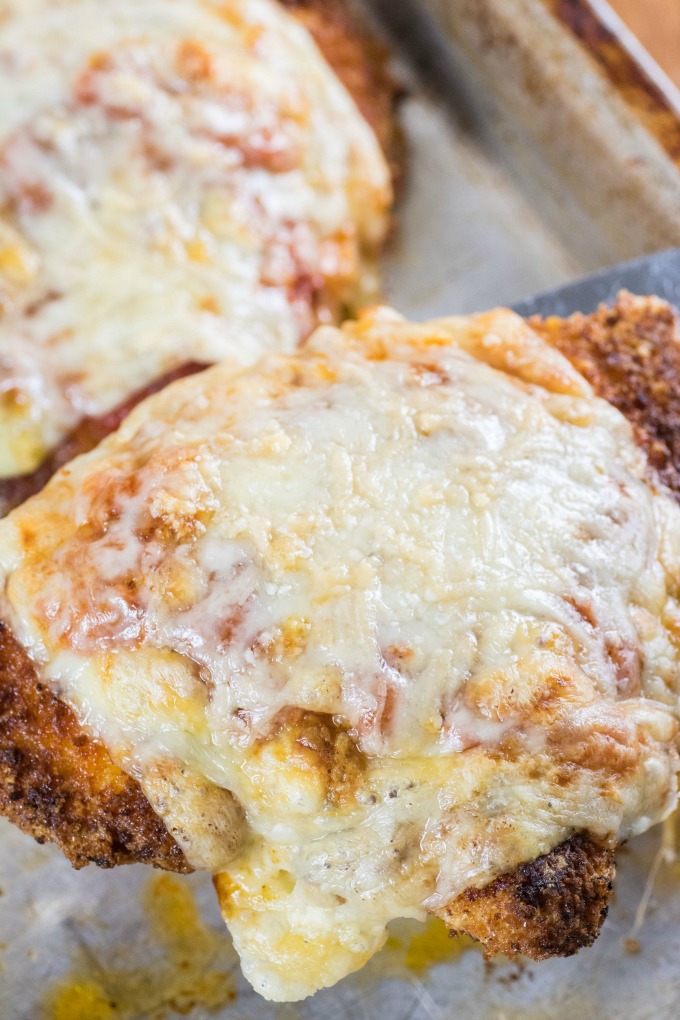 We adored this Turkey Cutlets Parmesan recipe. Well, what is not to love?! A perfectly delicious crispy exterior to the turkey and then a pocket of tomato sauce enveloped in mozzarella and Parmesan. That is love for me!!
Instead of the usual try subbing in turkey into your meals. This easy-to-make recipe will have the family begging you for more. Turkey can be substituted in almost any recipe!!
I always serve this up with a little spaghetti on the side as you do have leftover sauce from using a jarred tomato sauce. Then a big mound of crisp green beans and you have a meal that will make memories.
What are Turkey Cutlets?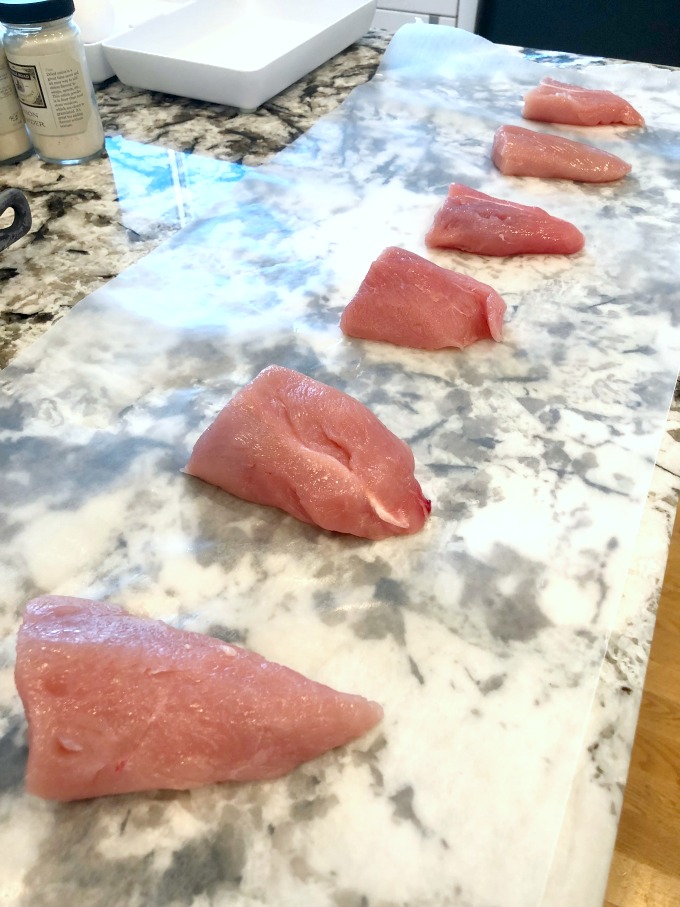 Turkey cutlets are sliced from a turkey breast. Turkey breasts are large but you can also find turkey fillets like we did. Pounding out turkey cutlets from a turkey breast will give you the most tender of turkey and a lovely flat even piece of protein that will also cook evenly too.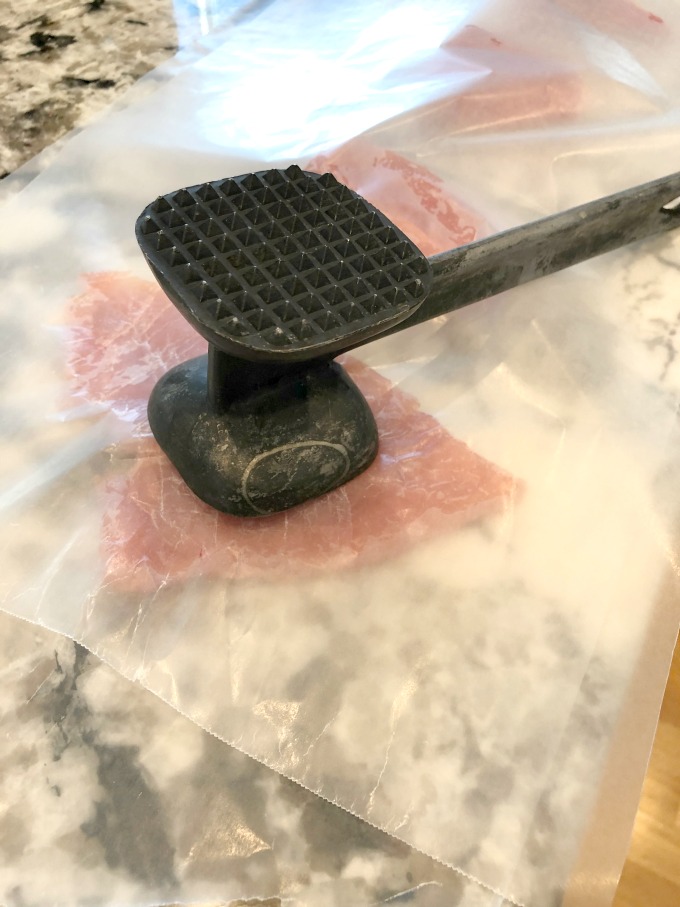 Instead of doing a thin slice I like to pound out the turkey between sheets of waxed paper. Make sure your turkey is boneless and skinless, that will be big time saver for you in the end!!
As a Canadian mom I want what is best for my family and adding in more turkey to our menu provides a perfect lean and healthy protein that is also so delicious.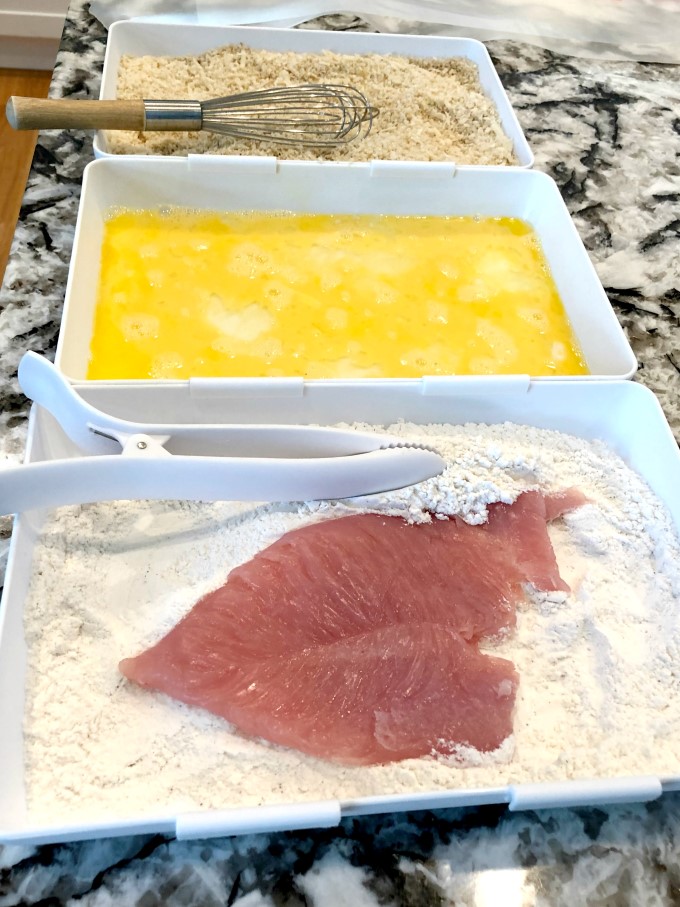 This is a pretty standard breading station with seasoned flour, whisked eggs and then seasoned Parmesan bread crumbs.
The cutlets first are dredged in the flour that has been seasoned with salt and pepper. Then they are dunked in egg and finally they get a crispy coating of bread crumbs mixed with Parmesan and panko crumbs for extra crispness.
How to Cook Turkey Cutlets?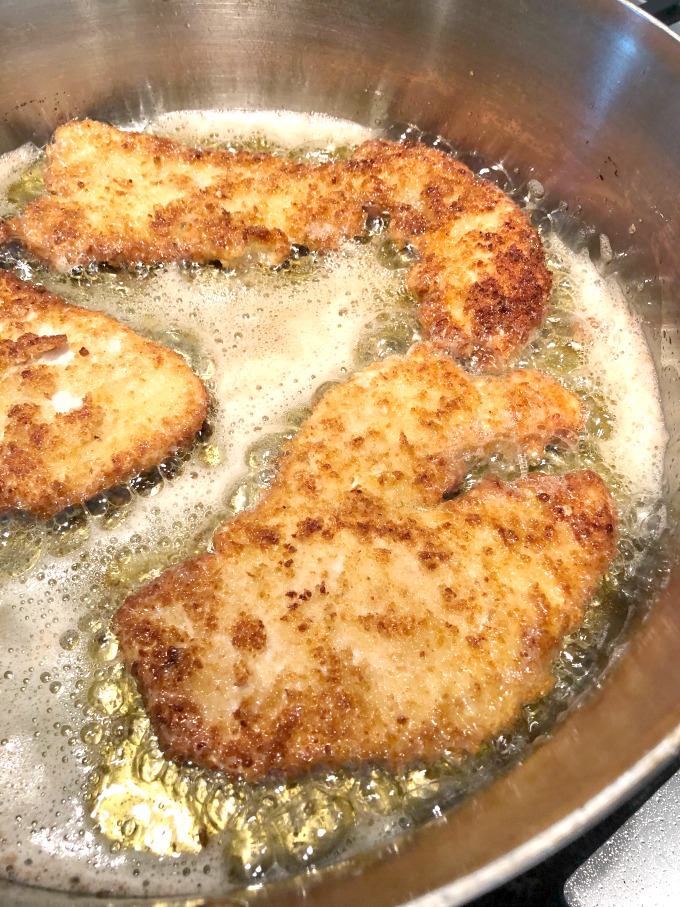 To cook turkey cutlets use regular olive oil for frying not EVOO. That should be left as a finishing oil. Place a large skillet over medium high heat. Make sure the oil in the pan is at about 350F.
Don't have the oil too hot as you want them to brown but also cook through. Having them pounded out helps with the even cooking as I mentioned before. They only take minutes on each side.
Turkey breast is cooked at 165F but with a quick fry of 3 minutes per side you should be nicely cooked through. Eating a good source of protein like this will keep away the cravings for munching and will last you all evening long.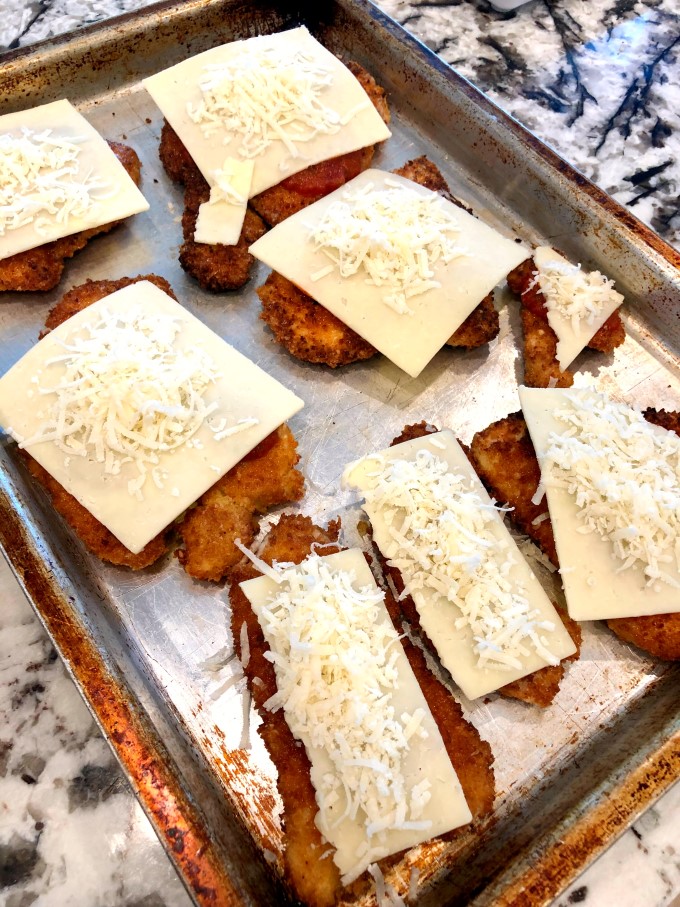 Add a big dabble of tomato sauce and then cover with mozzarella cheese slices that are sized to the portions.
Top with a sprinkling of Parmesan and they are ready to be popped into the oven for 15 min. and then under the broiler for their final prep. This recipe really takes very little time to make.
Canadian Turkey Ambassador 2019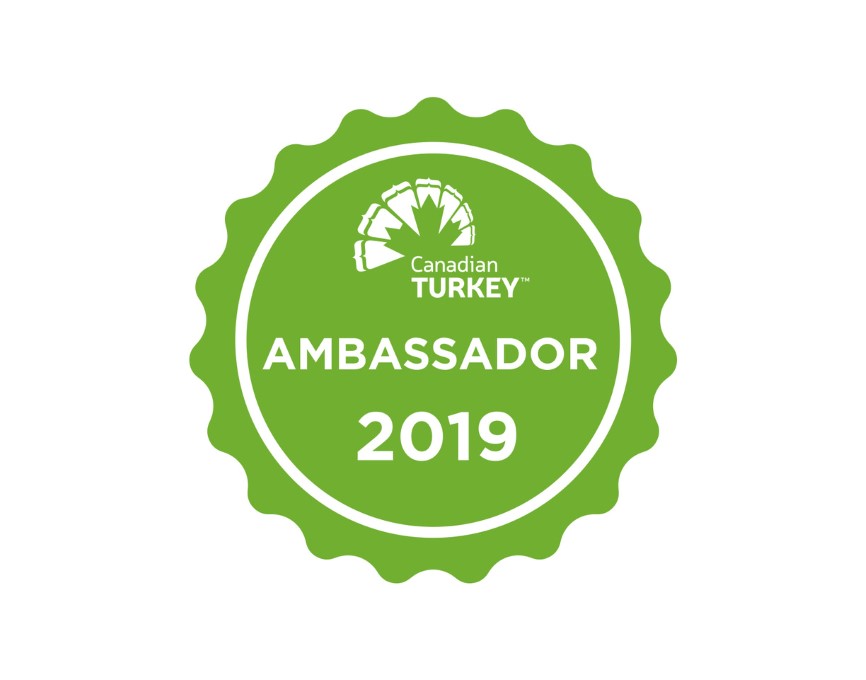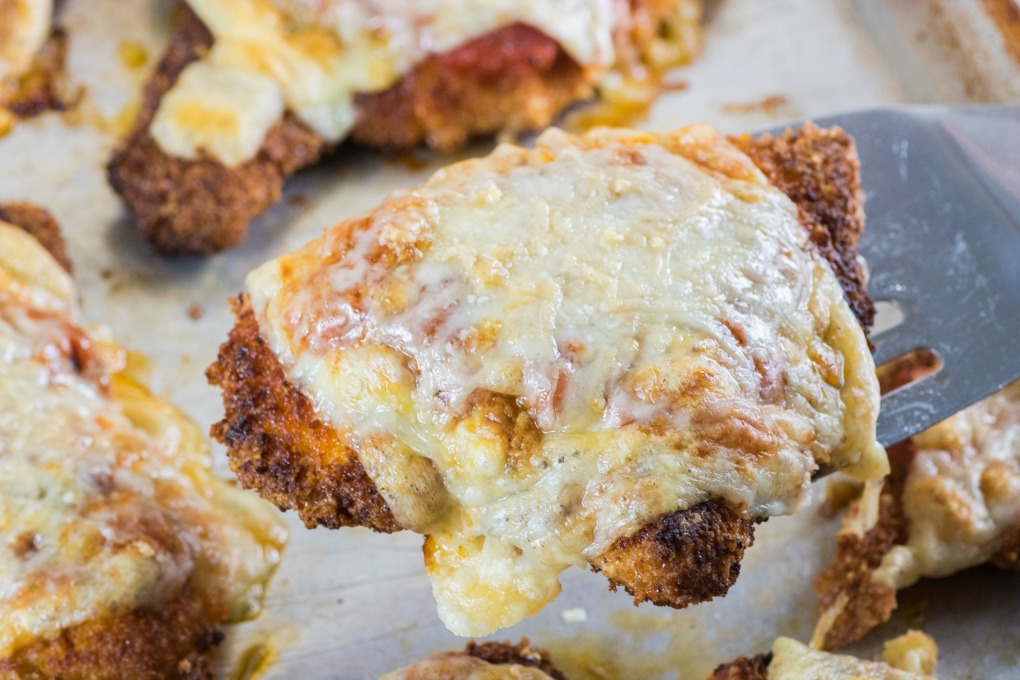 And then the final ooey gooey cheesy, crispy, flavorful masterpiece can be yours!! This recipe is very easy and one that I have made my family for as long as I can remember.
Subbing in the turkey loads this up with lots of protein, vitamins and minerals. Your family's memories will be filled with how scrumptious it is!!
This easy recipe is great for any night of the week but it is also company worthy for the weekend!! It comes together very quickly if you do a little prep ahead of time.
Turkey Parmesan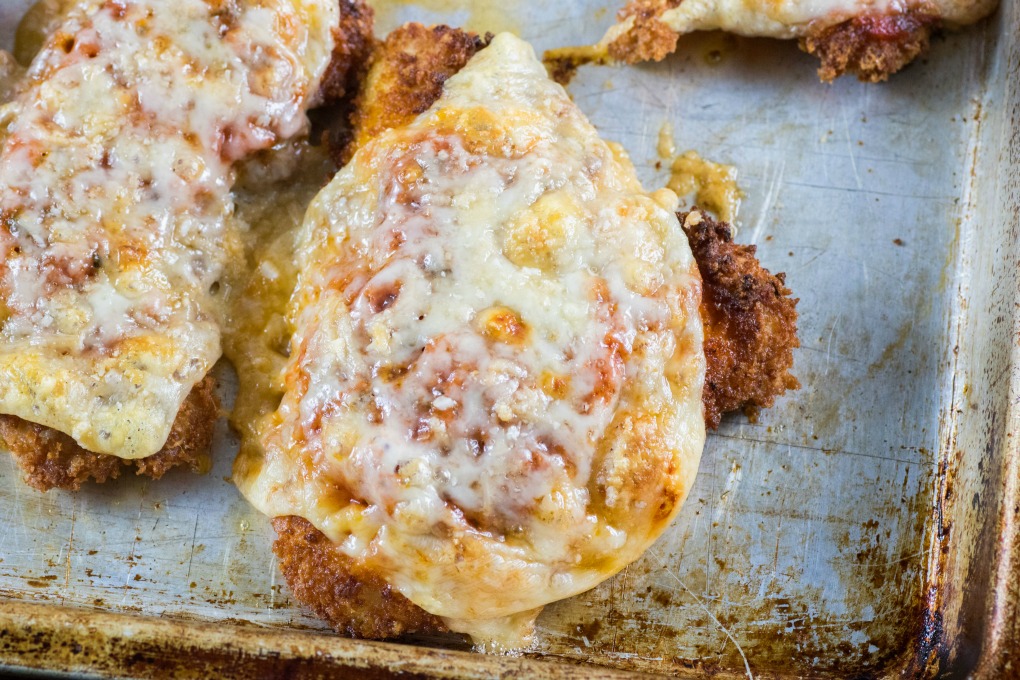 This pan of Turkey Cutlets Parmesan will feed a big family in style. Are you looking for more turkey inspirations? Hungry for more?? Besides right here at Noshing With The Nolands you can find many more turkey recipes at Canadian Turkey.
A lot of turkey recipes are low in calories because turkey is a great lean, healthy choice. We have loved making our Turkey Chili Nachos for years and now have made them even healthier with Healthy Mini Pepper Low Carb Nachos. These are easy makeover meals and a great use of wonderful turkey!!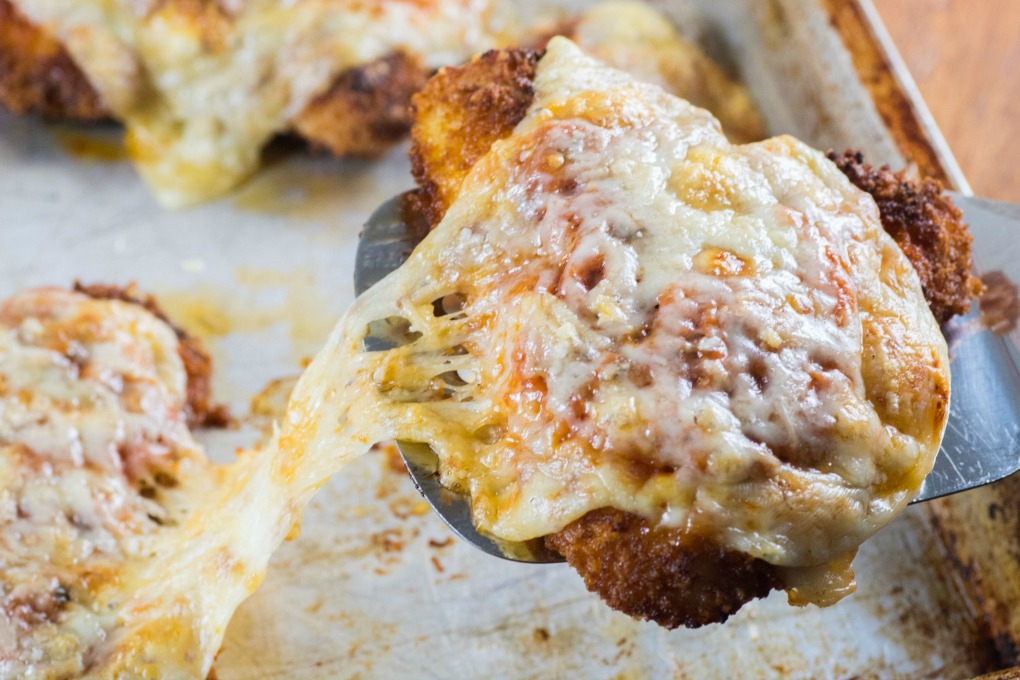 You can also follow along with Canadian Turkey on Facebook, Twitter, Instagram, Pinterest and YouTube.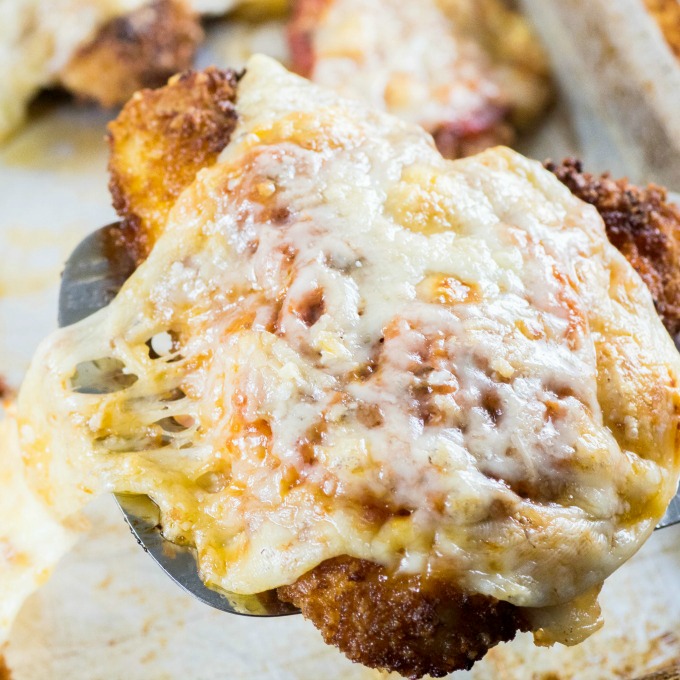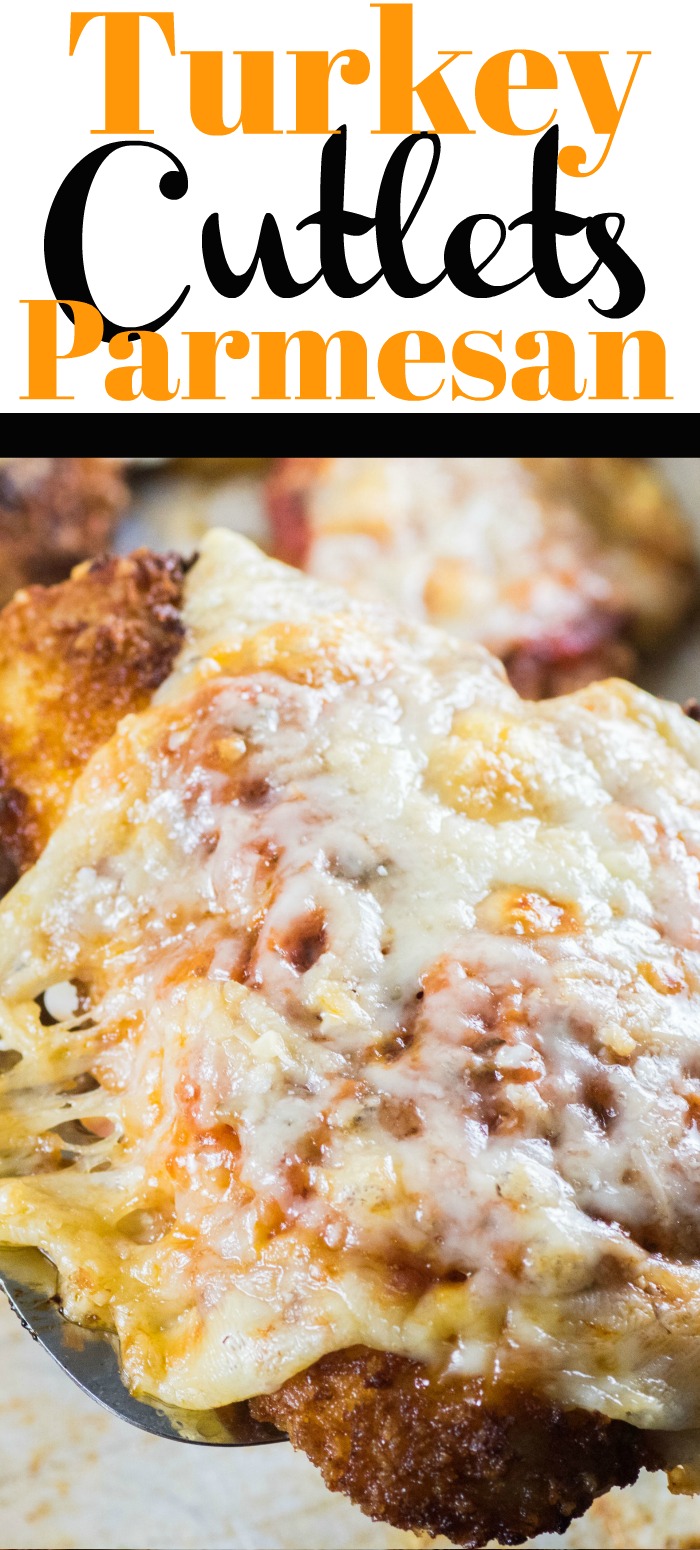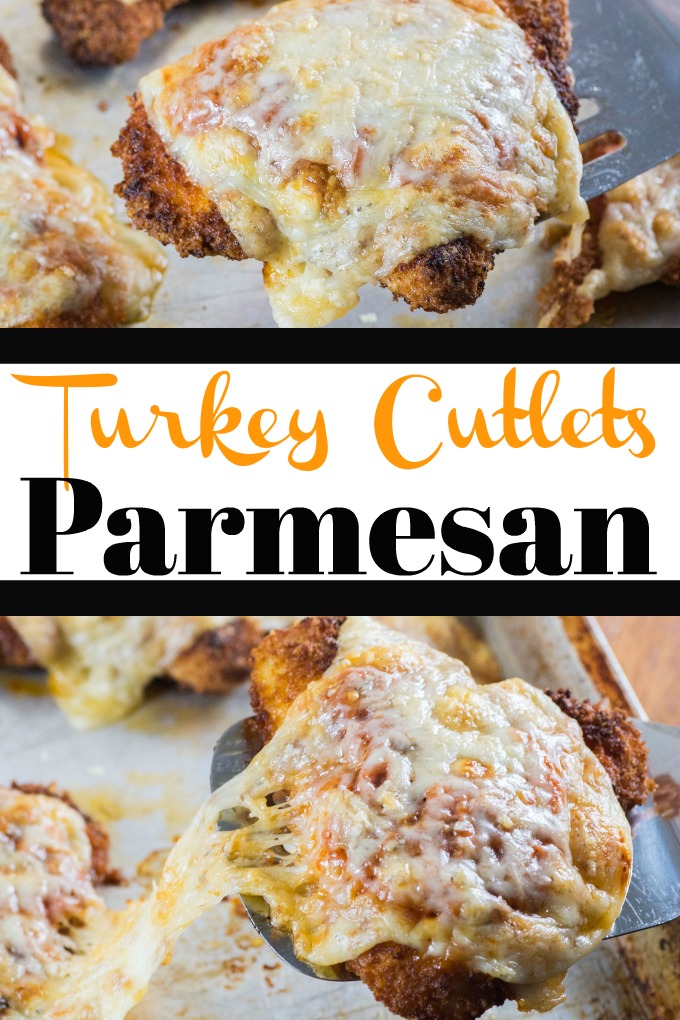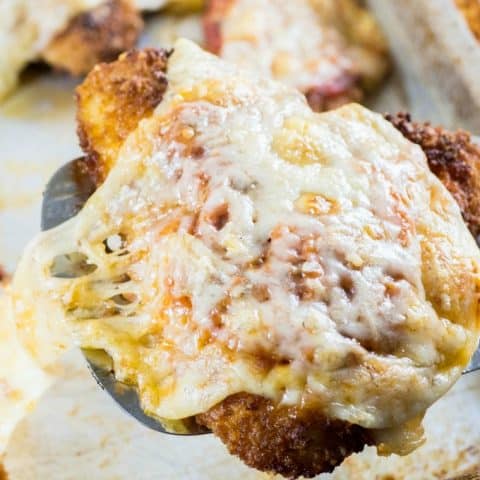 Turkey Cutlets Parmesan
Yield: 6 servings
Prep Time: 15 minutes
Cook Time: 30 minutes
Total Time: 45 minutes
Turkey Cutlets Parmesan are a great makeover meal using turkey in another delicious way!
Ingredients
3 turkey fillets, cut in half
Waxed paper
Breading
2 eggs, beaten
3/4 cup flour
1 tsp. Kosher salt
1/2 tsp. freshly ground pepper
1/2 cup Italian bread crumbs
1 cup panko
1/2 cup Parmesan, finely grated
1/2 tsp. onion powder
1 tsp. garlic powder
1/2 tsp. Kosher salt
Finishing
1/2 cup olive oil for frying
Salt to taste
1/2 cup Parmesan, finely grated
Sliced mozzarella
1 jar (630 ml.) 21 oz. Tomato Basil Sauce or your favorite
Instructions
Preheat oven to 425F and grease a sided baking sheet.
Place flour, salt and pepper in one dish. Whisk eggs into another. Stir together in a third dish the bread crumbs, panko, Parmesan, onion powder, garlic powder and salt.
Pound out the 6 turkey fillets between sheets of waxed paper until flat. Heat the olive oil in a large skillet.
Dip the turkey first in the flour, then egg and then bread crumbs. Fry the turkey cutlets in batches in the olive oil until golden and cooked through. Salt slightly when finished.
Place on a baking sheet and spoon tomato sauce into the center of the turkey cutlet. Top with a slice of mozzarella cheese and a sprinkle of Parmesan.
Bake for 15 min. until cheese is melted. You can finish under the broiler for a few minutes to get the cheese slightly golden.
Nutrition Information:
Yield: 6
Serving Size: 1
Amount Per Serving:
Calories: 488
Total Fat: 28g
Saturated Fat: 7g
Trans Fat: 0g
Unsaturated Fat: 20g
Cholesterol: 95mg
Sodium: 1407mg
Carbohydrates: 40g
Fiber: 3g
Sugar: 6g
Protein: 18g