Healthy Mini Pepper Low Carb Nachos
It is the New Year and with that a lot of us want healthy meals or snacks. These Healthy Mini Pepper Low Carb Nachos were an immediate hit with the family.
They are perfect for game day or as a casual meal. They would also make a late night indulgence not be quite as naughty as usual.
I adapted my Turkey Chili Nachos to suit this recipe. This is a recipe that we have made countless times. It is usually made when we have traveled to San Diego. I loved grabbing everything at my favorite store Trader Joe's.
The ingredients are simple to find and the recipe is very easy to pull together. I thought it would adapt well to the mini peppers and it sure did!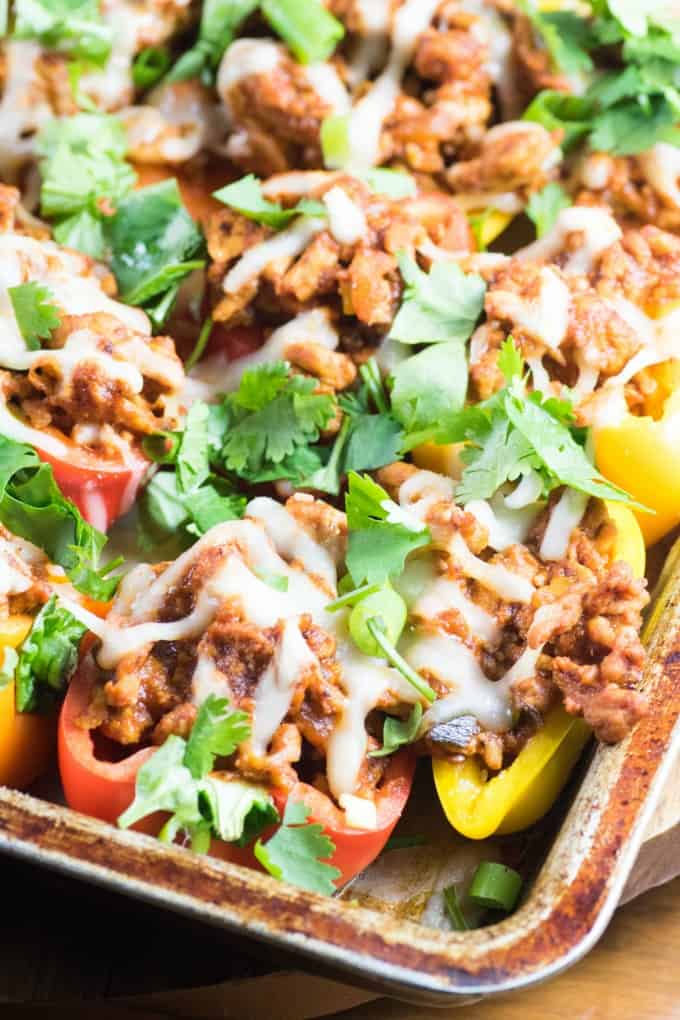 Helpful Items for this Recipe
This post contains affiliate links.
Non-Stick Nacho Grilling Platter
The chili in this recipe bursts with flavor and the mini peppers are the perfect vehicle to use instead of nacho chips. They are a lot healthier and add in their own yumminess to the recipe. Plus, using the mini peppers makes them low in carbs, healthy and gluten free too.
We used a mozzarella cheese which is usually lower in fat but you can use other shredded cheeses too like a monterey jack or cheddar cheese.
Instead of using ground beef we have always used ground turkey for this recipe. Ground turkey has always been delicious in this chili recipe. It is a nice thick chili to go with nachos and is easy to fill the peppers with.
It is a recipe that we have all loved and craved and one that I would make again and again as I know my family loves it.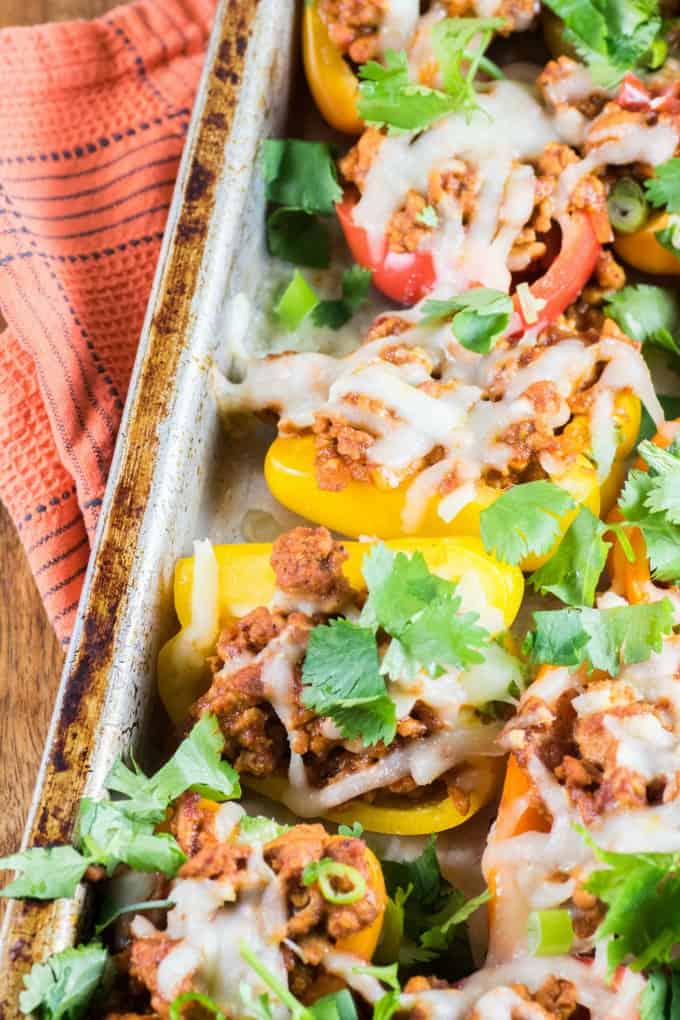 The mini bell pepper nachos are so colorful and eye catching. I love that you can now get the mini peppers in bags with all three colors. They are perfect for a recipe like this and are great with dips and vegetable platters too. Having them come in a bag like this is helpful and convenient too.
This recipe is one of the best low carb keto recipes I have had. Being on a keto diet doesn't mean you have to always have to have high fat. I could never do that! Using a lean protein like turkey is perfect too.
Do you like additional nacho toppings? Sure you can add avocado, guacamole, sour cream, salsa, whatever you like!
Mini Bell Pepper Nachos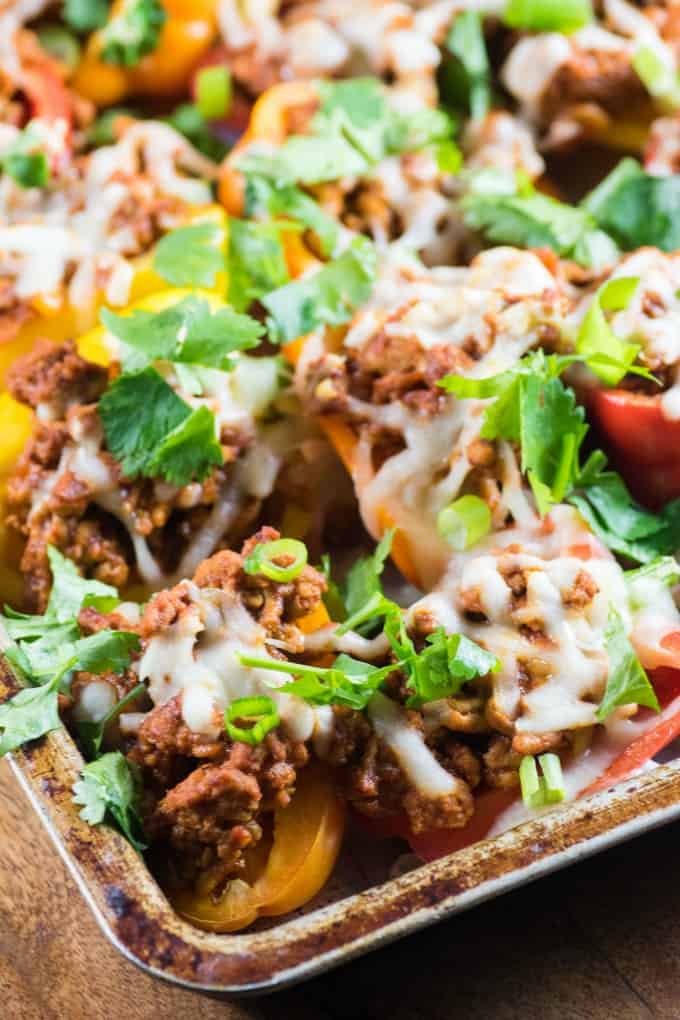 The Super Bowl and many big games before that are coming up quickly! These would be perfect to pull out of the oven hot for friends and family to munch on. If you have someone coming that is on a special diet that is gluten free, low carb or keto they can indulge right along with you.
Personally I didn't make them for any specific reason besides that they sounded to fantastic to me! What is not to love in this big sheet of goodness! A perfect way to start off the New Year also!!
We all have to be a bit more mindful of our calories after a lot of indulging from the holidays but who wants to give up on flavor, I sure don't!! This recipe has the best of both worlds!
Easy and Delicious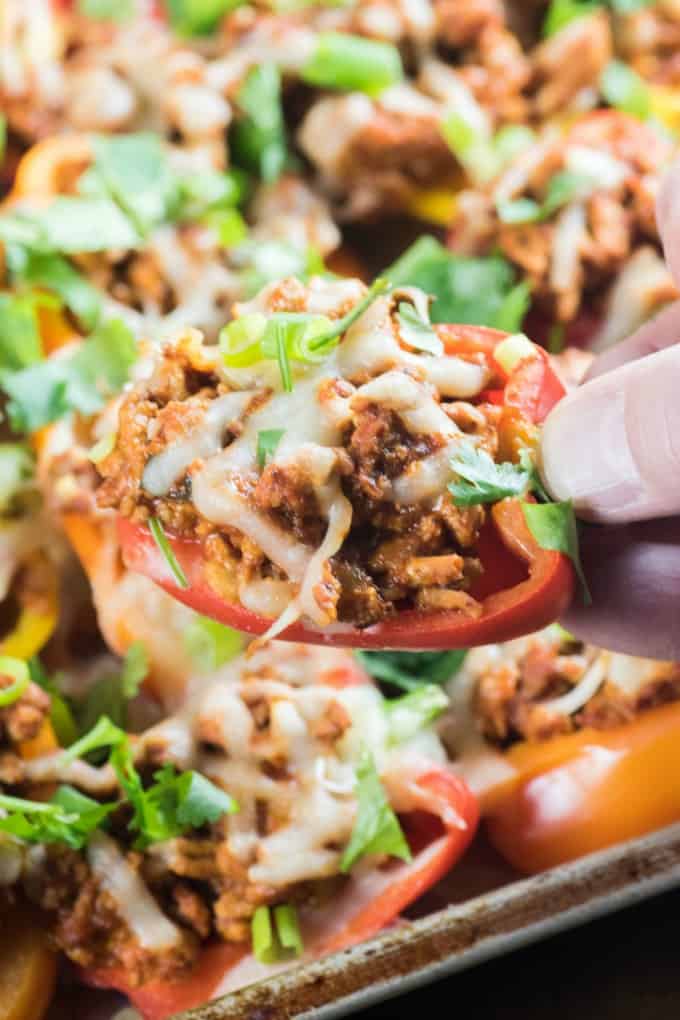 The mini peppers are the perfect size for a couple of bites! They are easy to pick up too if you leave the stems on! This is a complete meal for a family movie night too!
I love the cilantro, green onion and a fresh squeeze of lime at the end just before serving. This really livens up the flavor a lot.
You just may be surprised how much kids like these nachos. Many of them like the sweetness of peppers, the chili is pretty mild but you can always leave out the hot sauce too to make them even milder or serve it on the side for those who want it spicier.
I know you will be enjoying this recipe for years to come!! Cheer on your favorite team with these great nachos!! They are a real game-changer!!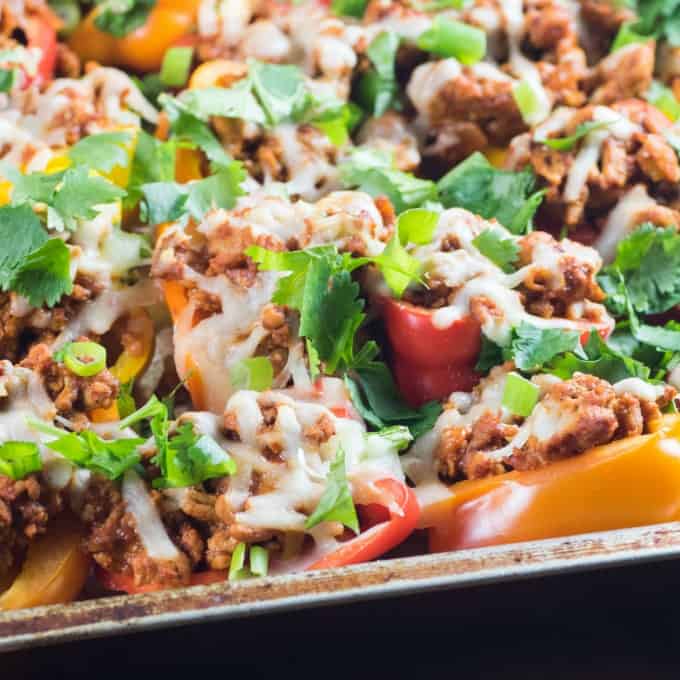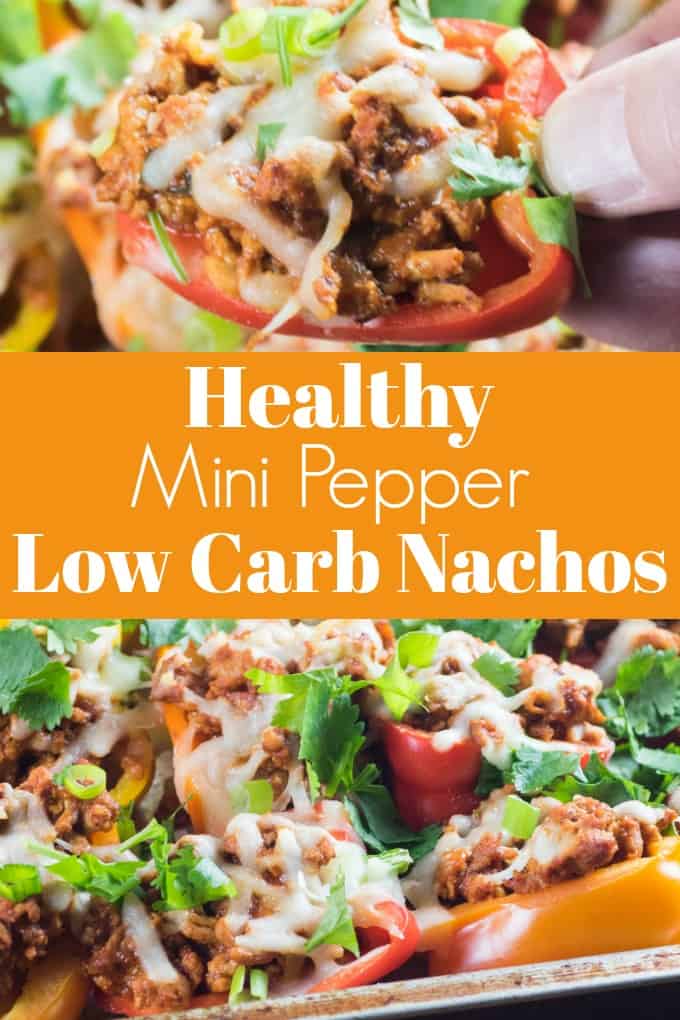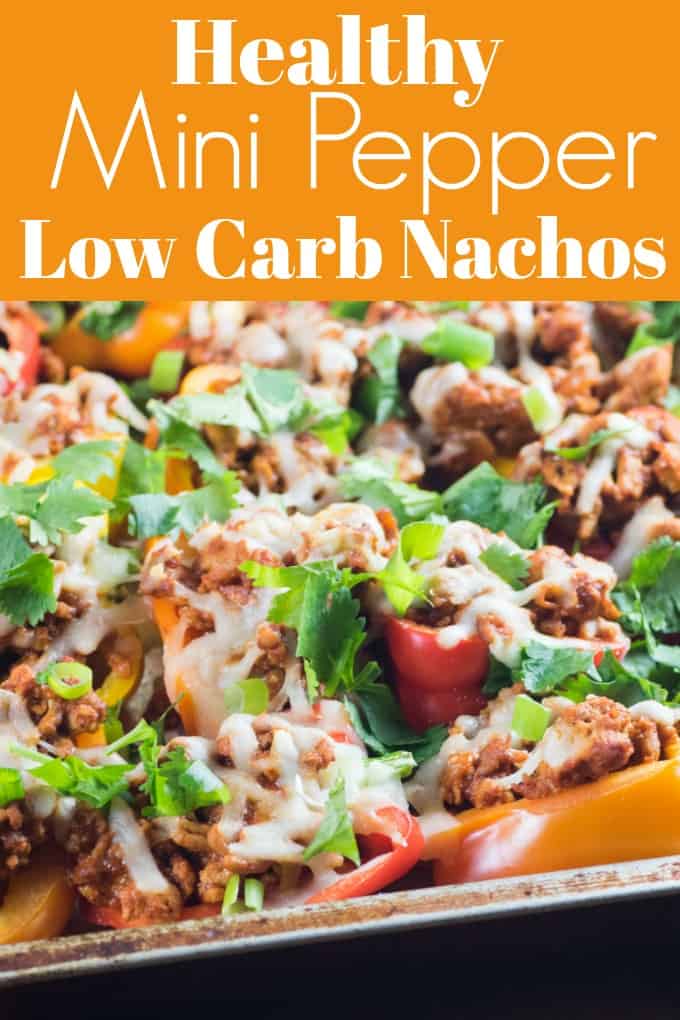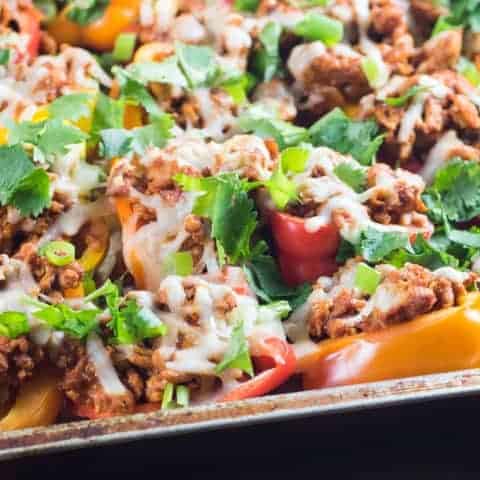 Healthy Mini Pepper Low Carb Nachos
Yield: 6 servings
Prep Time: 10 minutes
Cook Time: 20 minutes
Total Time: 30 minutes
These Healthy Mini Pepper Low Carb Nachos are great for dinner or as an appetizer for game day!! Gather around they will disappear quickly.
Ingredients
2 tsp. olive oil
1 onion, chopped
2 cloves garlic, minced
1½ tsp. ground cumin
Salt and pepper to taste
2 lbs. lean ground turkey
2 cups Pomodoro sauce or your favorite tomato sauce
2 green onions, sliced
2 Tbsp. salsa
2 Tbsp. hot sauce
1½ cups part skim mozzarella
2 Tbsp. chopped fresh cilantro
2 tsp. lime juice
13-15 mini peppers, cut in half and cleaned of veins and seeds
Instructions
Preheat oven to 400F. Cook the onion until soft and slightly golden, in the olive oil, in a skillet over medium heat. Stir in garlic, cumin, and salt and pepper and cook for 30 seconds.
Stir in the turkey and cook for about 5 min. until it is no longer pink. Stir in the tomato sauce. Add half the green onions, hot sauce and the salsa, adjust seasoning with salt and pepper. Cook for about 5 min. until thickened.
Spray a cookie sheet with cooking spray. Lay in the peppers in one layer. Fill each with the turkey chili and top with cheese. Bake until the cheese is bubbling and starting to turn golden.
Top with the remaining green onions, cilantro and lime juice. Serve immediately!!
Recommended Products
As an Amazon Associate and member of other affiliate programs, I earn from qualifying purchases.
Nutrition Information:
Yield: 6
Serving Size: 1
Amount Per Serving:
Calories: 511
Total Fat: 27g
Saturated Fat: 8g
Trans Fat: 0g
Unsaturated Fat: 16g
Cholesterol: 179mg
Sodium: 1044mg
Carbohydrates: 17g
Fiber: 4g
Sugar: 10g
Protein: 51g