One Pan Magic Cookie Bars
Need to make a last minute treat for any occasion? These One Pan Magic Cookie Bars are the easiest dessert recipe I have ever made! All you need is the one pan that you bake in, not even a bowl to mix the bottom crust in!! Seriously!!
This recipe has been around for many, many years but have you ever made it? It uses Eagle Brand sweetened condensed milk and after this recipe became wildly popular, the brand would share the recipe on the can. The exact origins of the recipe is unknown.
Moms in the 1960's glammed onto this recipe and it was something that everyone knew how to make by heart. It has a scrumptious graham cracker crust followed by layers of semi-sweet chocolate chips, butterscotch chips, coconut and walnuts.
There are then as many variations to this recipe than you can ever think of, kind of like a dream bar can be taken anywhere. We have done Millionaire Shortbread, Scrumptious Turtle Bars, Rhubarb Dream Bars, Pineapple Coconut Cherry Dream Bars, Strawberry Chocolate Dream Bars and Old-Fashioned Hawaiian Dream Bars.
What are the 7 layers of 7 Layer Bars?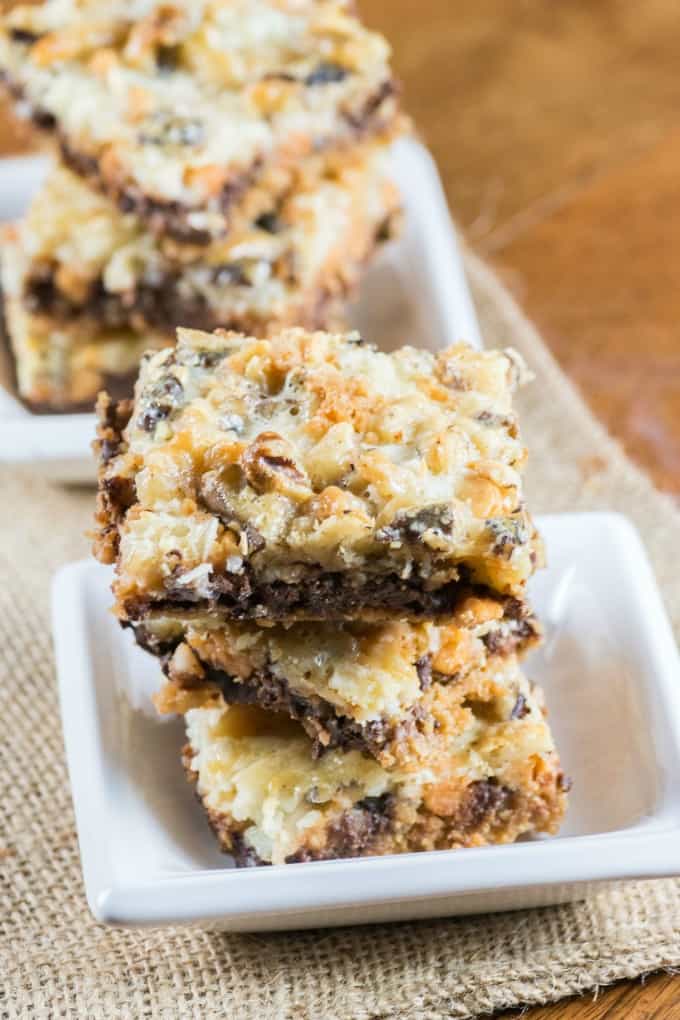 These bars are luscious and couldn't be easier to make!! The bars are also named seven layer bars for the seven ingredients that go into the recipe. They have also been touted as Hello Dolly Bars. So what are the ingredients that go into them?
They are butter, graham cracker crumbs, chocolate chips, butterscotch chips, coconut, walnuts and sweetened condensed milk. That's it and it couldn't be easier to assemble. Hello Dolly Bars use pecans instead of walnuts but is pretty much the same cookie.
It is so easy to make you will be shocked. I pulled out a 13x9x2″ pan and added the butter. Popped that into the microwave to melt and then sprinkled on the graham cracker crumbs. I followed this with the chocolate chips, butterscotch chips, coconut, walnuts and sweetened condensed milk.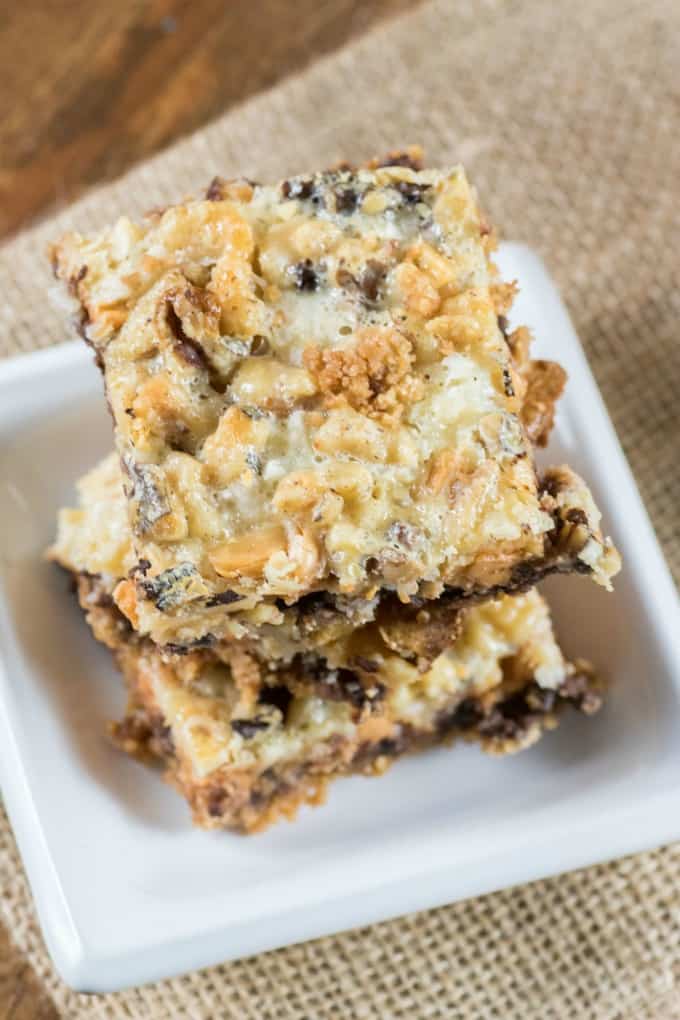 The pan was then put into a 350F oven for 30 minutes to bake. I think the pan could use a spray of oil higher up on the sides for the cookie to slide out easier. I would recommend that, they weren't impossible to get out but I do like when they just come out easily.
For this one pan method I wouldn't recommend parchment paper as the butter would leak under the paper and make a greasy mess.
So why are they called magic? It is that you place all the loosely spinkled ingredients in and then just pouring on the sweetened condensed milk just makes them magically come together.
Can Magic Cookie Bars Be Frozen?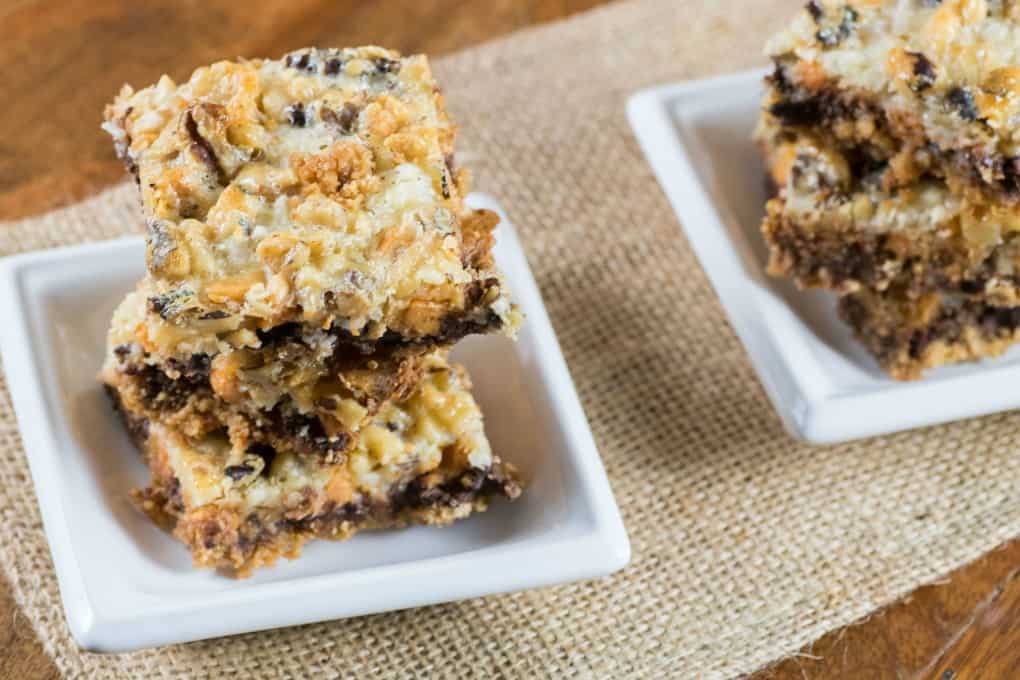 Can Magic Cookie Bars be frozen? The answer is yes, many cookies freeze well as I have showed in my 26 Freezable Christmas Cookie Recipes. The ones to avoid are made with thin batters or are very delicate like tulles, Florentine's, lace or pizzelles.
The doughs don't freeze well along with the baked cookies. In my mind they could go gooey when thawed and not work for that reason. Plus, they are so delicate they are best to be eaten when freshly made.
My advice for freezing is to place wax paper in the bottom of a cookie tin or plastic container and then place the cookie in followed by another layer of waxed paper and then more cookies.
Otherwise you will have a big clump of cookies in a container and be very unhappy with the results. If you would like to try another method of freezing, have them out on a cookie sheet and then freeze them this way and then store them together in the freezer.
Using the wax paper has always worked well for me. Some people like to freeze in plastic zip bags but I think cookies can be damaged that way. I also like to freeze my cookies after baking. They are so easy to package up and give as gifts then.
Magic Cookie Bars can be eaten straight from the freezer so they aren't even safe in there to keep you from indulging. From the freezer they are cold and chewy and a lot of people enjoy them like this even more.
Thawing
As for thawing I always put them directly into gift boxes from frozen and have never had and issue. Again they need to be separated between the layers with wax paper or the little cardboard inserts that some packaging provides.
I wouldn't thaw them in the container that they were frozen in as condensation will have built up in the container and the end result will be a soggy cookie.
If you are serving them on platters you can put them directly onto the platter and they will thaw quickly at room temperature. Approximately 20-30 minutes will be all cookies need to defrost.
How Long Do Cookie Bars Last?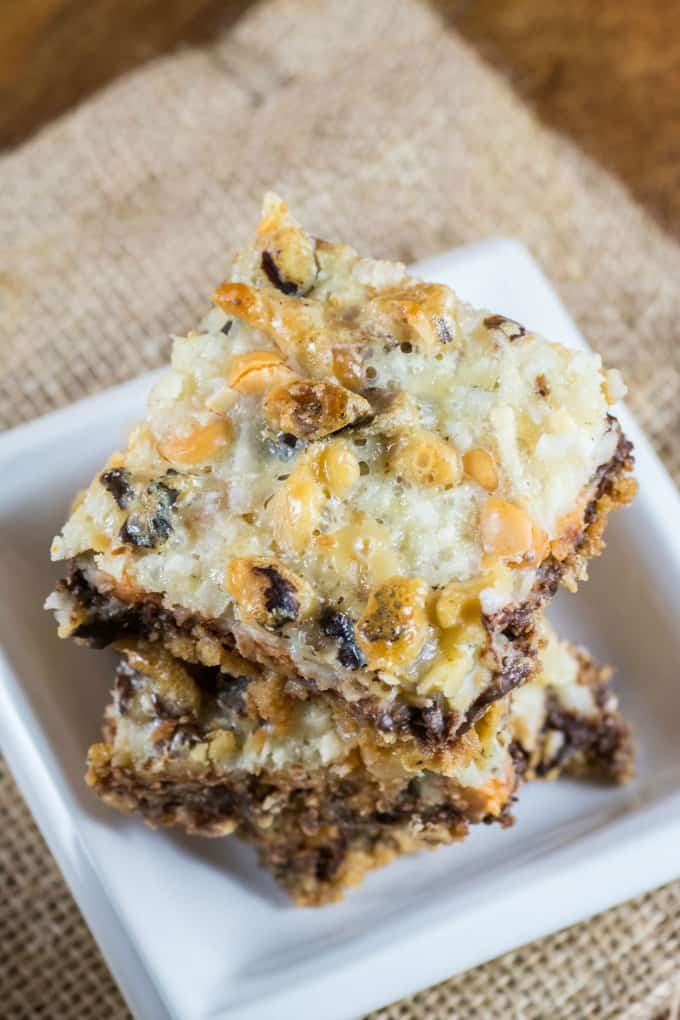 How long do cookie bars last? Well, if not frozen they can keep sealed in a container for a week or two. A cookie like this I would tend to put in the refrigerator though but in no way shape or form would something like this last that long in our house.
Everyone would be into them and nibbling away!! We all have a sweet tooth when it comes to something as delicious as these Magic Cookie Bars.
These bars make a great Christmas treat but there is no reason they can't be made at any time of the year. Taking these on a picnic or outdoor gathering would make you the hit of the party. This one pan method is so simple a child could make them.
This was popular when I was growing up, along with date squares these could be seen everywhere there were trays of sweets. Enjoy this recipe and make some up today.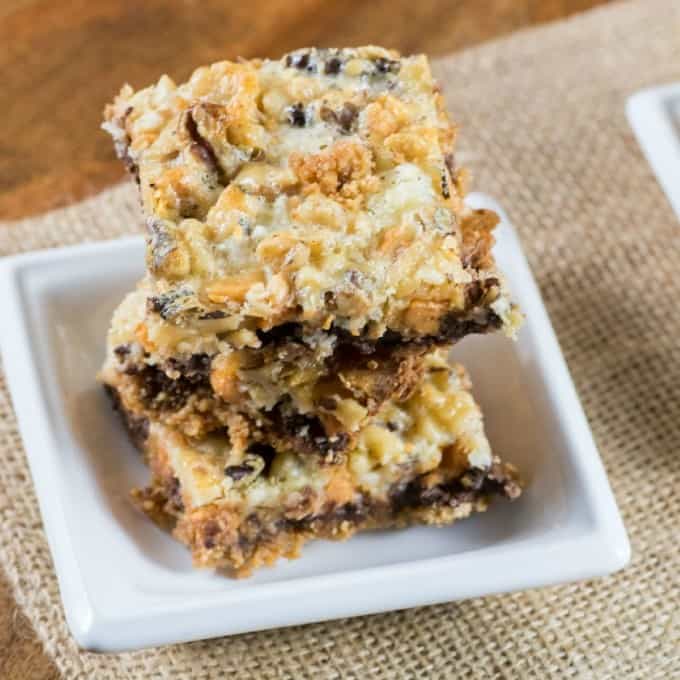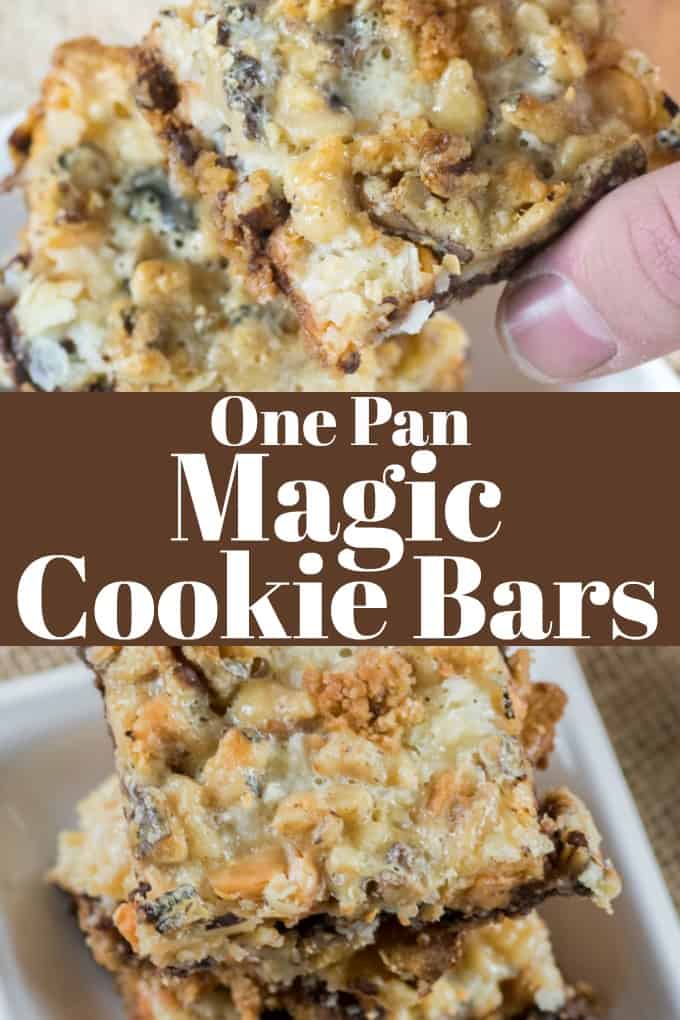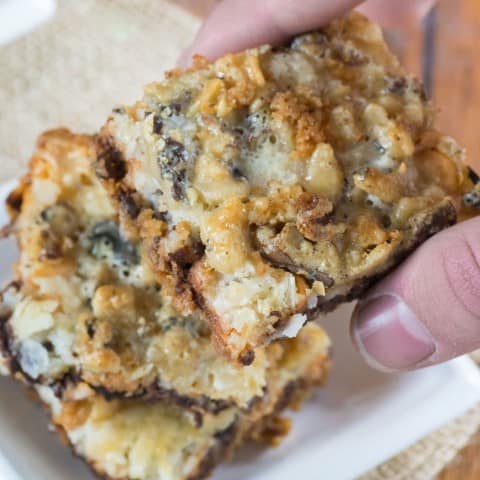 One Pan Magic Cookie Bars
Yield: 20 servings
Prep Time: 5 minutes
Cook Time: 30 minutes
Total Time: 35 minutes
A buttery graham cracker crust is topped with layers of chocolate chips, butterscotch chips, coconut, walnuts and then finished off with a slathering of sweetened condensed milk. These will be gobbled down in no time!!
Ingredients
1/2 cup butter
1 cup graham cracker crumbs
1 cup semi-sweet chocolate chips
1 cup butterscotch chips
1 1/3 cup flaked coconut
1/2 cup walnuts, chopped
1 10 oz. (300 ml.) can sweetened condensed milk
Cooking spray
Instructions
Spray the sides of a 9x13" pan with cooking spray that is oven and microwave safe. Preheat oven to 350F.
Place the butter in the pan and melt in the microwave. Evenly disperse around the pan.
Sprinkle the graham cracker crumbs over.
Then follow with layers of chocolate chips, butterscotch chips, coconut flakes and walnuts.
Pour over the sweetened condensed milk and smooth out with a spatula if needed.
Bake for 30 min. Let cool completely and then cut into 20 squares.
Recommended Products
As an Amazon Associate and member of other affiliate programs, I earn from qualifying purchases.
Nutrition Information:
Yield: 20
Serving Size: 1
Amount Per Serving:
Calories: 253
Total Fat: 15g
Saturated Fat: 9g
Trans Fat: 0g
Unsaturated Fat: 5g
Cholesterol: 19mg
Sodium: 105mg
Carbohydrates: 28g
Fiber: 1g
Sugar: 24g
Protein: 3g