Maple-Date Bars by Diabetic Foodie
This is another #SundaySupper installment of celebrating these wonderful people and their sites. Today we have Maple-Date Bars by Diabetic Foodie a recipe from Shelby. From the title of her blog, you guessed it she has Diabetes. She has an amazing journey written out in her About Me page, which you should check out.
Shelby has many wonderful recipes and I really enjoy her site. From this past #SundaySupper she made Asparagus and Proscuitto Bundles one of my favorite quick appetizers. She has other recipes like Salmon Quinoa Patties with Lemon-Caper Tarter Sauce that looks so enticing. What is impressive about her site is that she includes all the nutritional values for each recipe.
What caught my eye though, a couple of weeks ago were these lovely looking Maple-Date Bars. I had some dates in the pantry and hadn't had a date bar for so long. They enticed me to try to them plus I wanted a homemade treat for Amber's lunchbox. I followed her recipe exactly. No tweaks or adaptations and they turned out perfectly. YUM!! Amber devoured the ones in her lunch box, telling me that I have to make more and I surely will.
Here is Shelby's great recipe.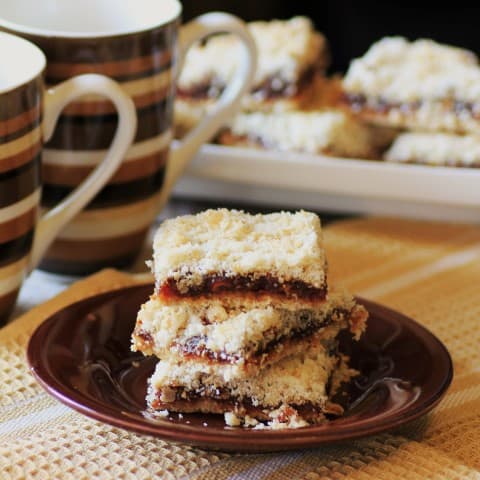 Thanks Shelby for letting me share this with all my readers!!!

Maple-Date Bars by Diabetic Foodie
A light and delicious date square.
Ingredients
1-3/4 cups finely chopped pitted medjool dates
¾ cup water
⅓ cup pure maple syrup
1 teaspoon lemon zest
1 cup all-purpose flour
1 cup rolled oats (not quick-cooking)
¼ teaspoon baking soda
¼ teaspoon salt
⅔ cup sugar
½ cup unsalted butter, softened
Cooking spray
Instructions
Combine dates, water and maple syrup in a small heavy saucepan over medium heat. Bring to a boil, then cook, stirring frequently, until most liquid is absorbed (about 12 minutes). Mixture should look like jam. Remove from heat and stir in zest. Cool completely.
Preheat oven to 400°F.
In a large bowl, whisk together flour, oats, baking soda and salt. Beat sugar and butter with a mixer at medium speed until smooth. Stir flour mixture into sugar mixture (it will be crumbly).
Coat an 11- x 7-inch baking pan with cooking spray. Press 2 cups of mixture into bottom of pan. Spread date mixture over flour mixture. Sprinkle remaining flour mixture on top.
Bake for 20 minutes or until golden brown. Cool completely in pan on wire rack, then cut into 20 bars.
Slightly adapted from Cooking Light