Coddle for St. Patrick's Day
Here we are with another #SundaySupper and I jumped at the chance as this Coddle for St. Patrick's Day is a perfect Springtime dish and that was our theme. I discovered this recipe for Coddle for St. Patrick's Day last year and made it when I had first started blogging. I felt that it was worthy of another post as it is such a great Irish dish for St. Patrick's Day!!
I couldn't wait to have it again. That and my all-time favorite Corned Beef and Creamed Cabbage. I need more than one day to celebrate as there are so many great Irish recipes so it turns into a week-long celebration just like any other holiday with blogging. Aren't we lucky bloggers!!
Easy Peasy
This is an easy and delicious meal just right for early Spring. This Coddle for St. Patrick's Day used to be made on the top of the stove and was said to have bubbled away for hours until late, well after the wife had gone to bed and still be great for when the husband stumbled in after the pub.
The sausages become so juicy and flavorful cooked this way in the oven and with me, anything to do with bacon is a dream!!!
I do lighten it up with chicken sausages instead of pork. Once you get this meal prepared you can sit back and have a green beer while it cooks!! The perfect Coddle for St. Patrick's Day. Enjoy!!!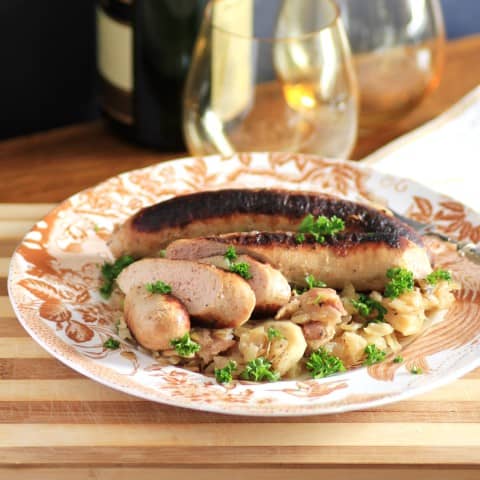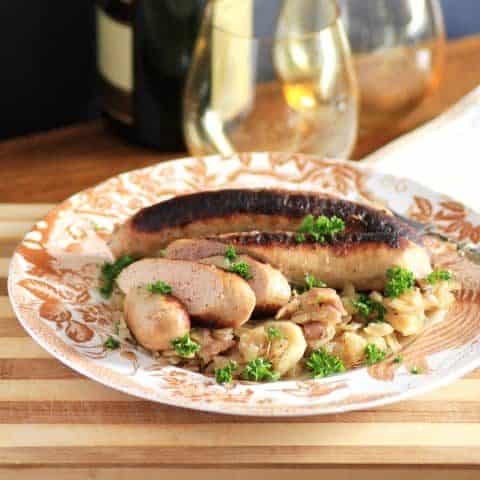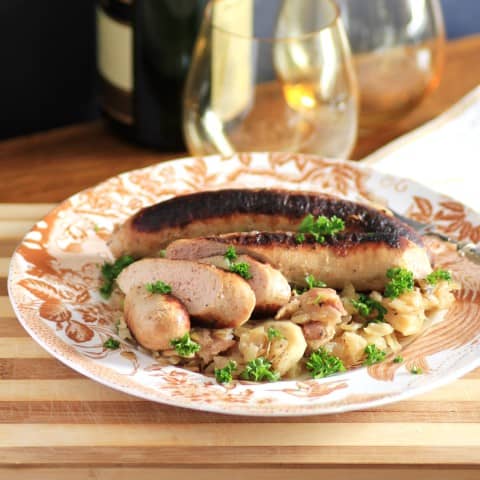 Coddle for St. Patrick's Day #SundaySupper
Yield: 4 Servings
Prep Time: 20 minutes
Cook Time: 1 hour 12 minutes
Total Time: 1 hour 32 minutes
Coddle for St. Patrick's Day. I jumped at the chance to show you this, Coddle for St. Patrick's Day is a perfect Springtime dish
Ingredients
1 Tbsp. canola oil
6 back bacon, cut into 1/2″ slices
3 medium onions, sliced
3 cloves garlic, minced
6 apple chicken sausage
4 medium potatoes, peeled and sliced thinly with a mandolin
3 carrots, sliced crinkle cut
1/2 tsp. ground sage
1 10 oz. can chicken stock
Salt and pepper to taste
Instructions
Preheat oven to 350F. Heat the oil in a large frypan and fry the bacon for 2 min.
Add the onion and continue to cook for 5-6 min. until golden brown.
Add the garlic and cook an additional minute. Remove from pan and set aside.
Add the chicken sausage and brown on both sides for 5-6 min. This will not be cooked through.
Butter a large deep baking dish and add the thinly sliced potatoes, season with salt and pepper.
Layer the carrots on top followed by the onion mixture. Sprinkle with onion with sage, salt, and pepper.
Place the sausage on top and pour over the chicken stock. Cover and cook in the oven for 1 hour.
Sprinkle with parsley. Serve and enjoy with bannock or soda bread and a salad. Also goes great with a Guinness or red wine!!!
Nutrition Information:
Yield: 4
Serving Size: 1
Amount Per Serving:
Calories: 550
Total Fat: 19g
Saturated Fat: 4g
Trans Fat: 1g
Unsaturated Fat: 12g
Cholesterol: 134mg
Sodium: 993mg
Carbohydrates: 50g
Fiber: 6g
Sugar: 8g
Protein: 45g
Recipe calculation was provided by Nutritionix and is estimation only. If you need nutritional calculations for medical reasons, please use a source that you trust.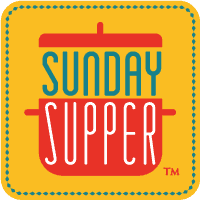 Green and Spring Dishes Menu Includes:
Breakfast
Apps, Bread, Salads, Soups, and Dressings:
Main and Sides:
Desserts:
Beverages:
Please be sure you join us on Twitter throughout the day during #SundaySupper. We'll be meeting up at 7:00 p.m. EST for our weekly #SundaySupper live chat where we'll talk about our favorite Springtime recipes!
All you have to do is follow the #SundaySupper hashtag, or you can follow us throughTweetChat!