These gorgeous Millionaire Shortbread bars are a fun and fancy addition to your holiday cookie plate. With three perfect layers of sweet shortbread, buttery soft caramel, and rich chocolate ganache, every bite of these caramel shortbread cookies is a decadent delight! This is a cookie bar everyone will want to try.
I love holiday baking, and it's always fun to add something unique to the cookie lineup. Millionaire Shortbread is a tasty treat originally from Elizabethan-era Scotland. Not only does it taste incredible, but it looks flashy too – perfect for holiday parties and gifting.
For more holiday baking ideas, try these Scrumptious Turtle Bars, Chocolate Caramel Cookie Cups, and our favorite soft, pepperminty Candy Cane Cookies. 'Tis the season for all the delicious baked goods!
HELPFUL ITEMS FOR THIS RECIPE
This post contains affiliate links. As an Amazon Associate, I earn a small portion from qualifying purchases at no extra charge for you.
Finest Belgian Dark Chocolate With 54.5% Cacao (large bag, but we do a lot of baking and chocolate making)
What Is In Millionaire Shortbread?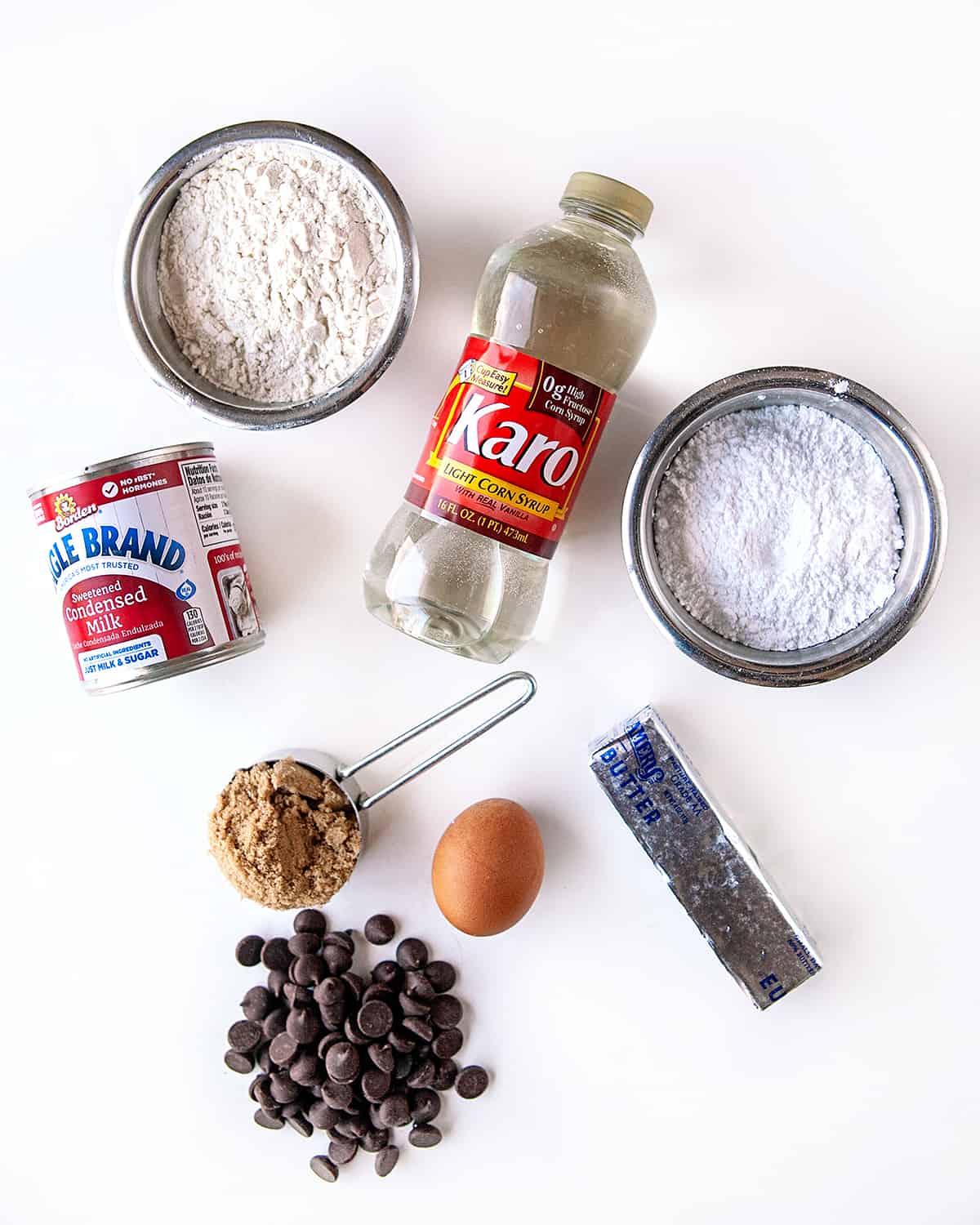 While Millionaire Shortbread looks like a million bucks, it's actually made of only a few simple ingredients that you likely already have in your pantry at home.
If you can find it, Lyle's Golden Syrup is a delicious substitute for light corn syrup. They are similar, but Lyle's is an imported European product that has a richer flavor. It can be hard to find, though (but I have an Amazon link above), and using corn syrup works just fine too.
INGREDIENTS
Unsalted Butter at room temperature
Powdered Sugar
Large Egg Yolk
Salt
All-Purpose Flour
Sweetened Condensed Milk
Salted Butter
Brown Sugar
Light Corn Syrup / Golden Syrup
Dark Chocolate Chips (Amazon link above)
Heavy Cream
Flaked Salt for Sprinkling
How To Make Millionaire Shortbread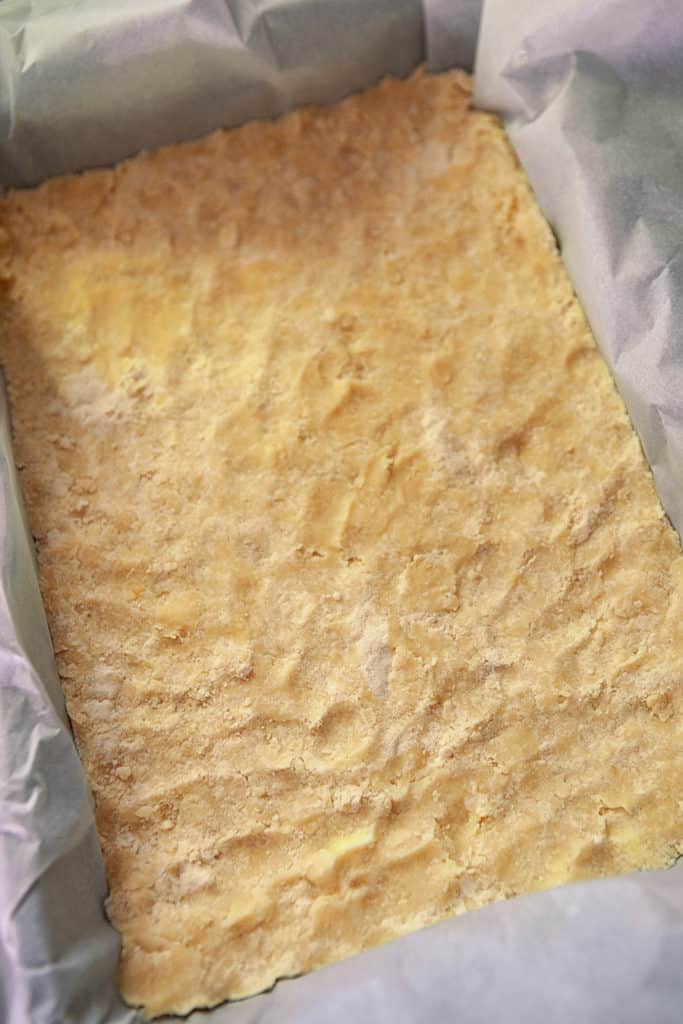 While Millionaire Shortbread isn't difficult to make, you do need to be very precise to get three perfect layers. If you follow the instructions carefully, these shouldn't give you too much trouble.
First, you create a simple shortbread crust. Because this forms the base of the cookies, I changed up the traditional shortbread recipe just a little bit so that it isn't too crumbly when you're ready to cut the bars.
Unlike traditional shortbread, this shortbread base includes egg yolk and powdered sugar, which results in a bit of a softer crust, but still tastes like a delicious shortbread cookie.
Once you combine the butter, sugar, egg yolk, salt, and flour into a crumbly dough, you'll press it with your fingers into a 9×13 inch pan lined with parchment paper (as pictured above) and then bake it until it's just barely golden brown. Let the shortbread layer cool completely before you move on to the next step.
Caramel Layer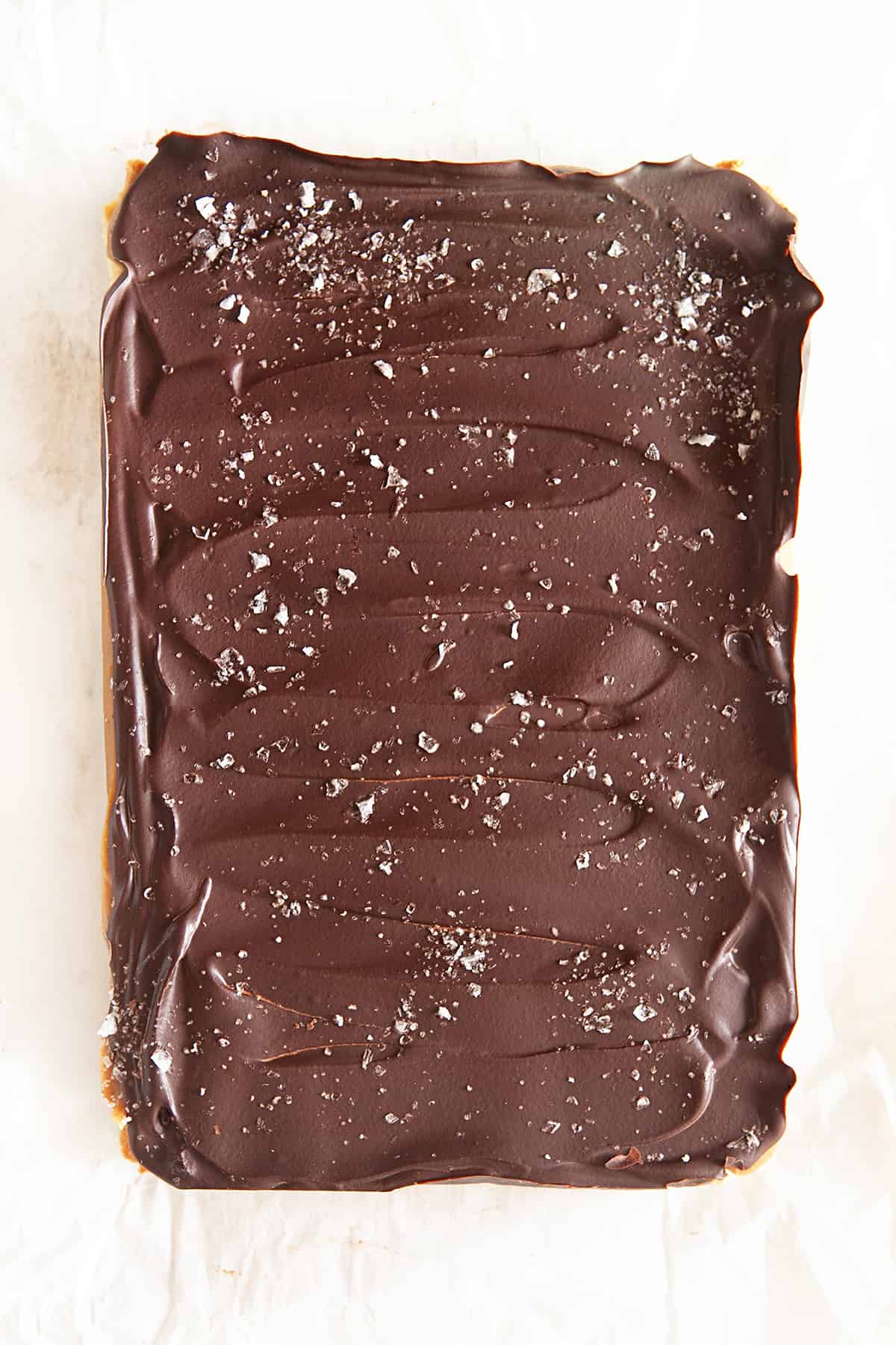 The second layer of the cookies is a soft caramel layer. This is the layer that requires the most precision.
The most helpful thing you can do to ensure a perfectly soft yet firm layer of caramel is to use a candy thermometer. Making sure that the caramel reaches a temperature between 220 and 225 degrees Fahrenheit is the best way to ensure that the caramel will set and be soft enough to cut and chew without being too runny or too hard.
I use my trusty Thermoworks Thermapen instant-read meat thermometer. It is quick, easy to use, and gives me an exact temperature in a second every time!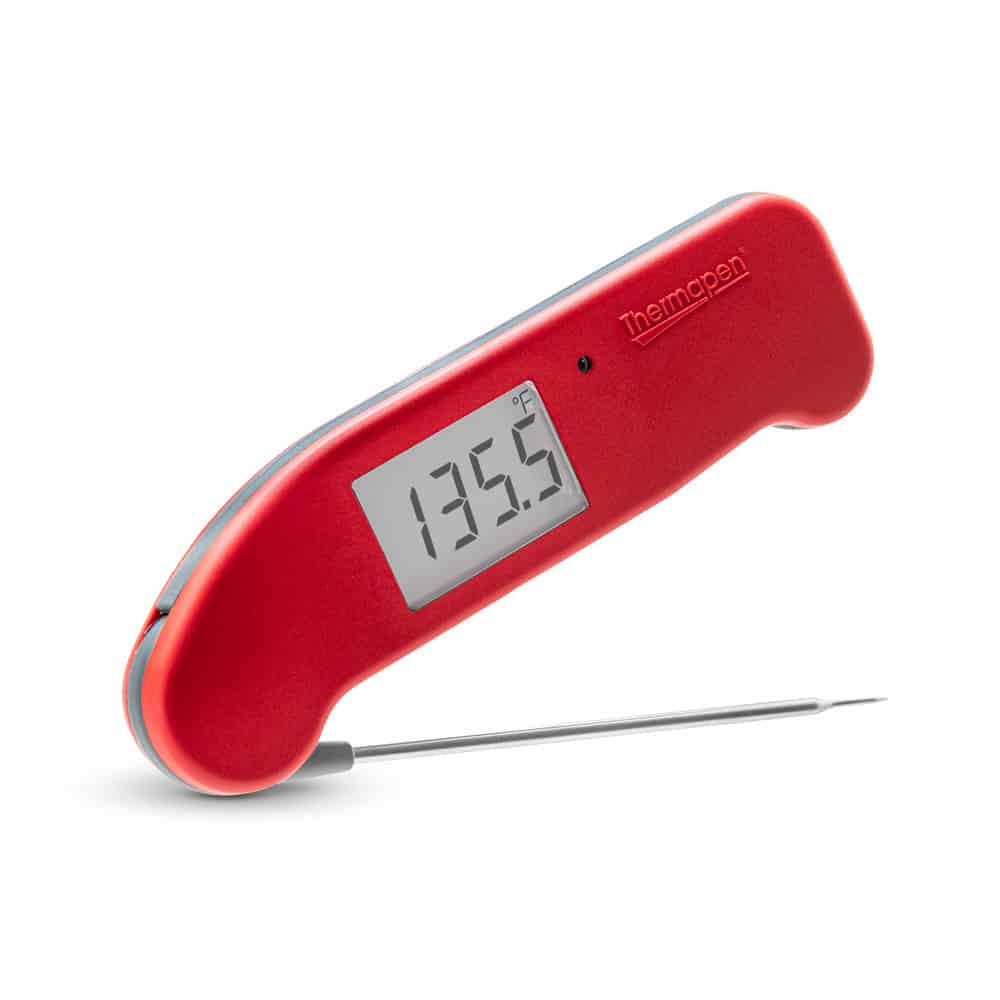 Combine the brown sugar, sweetened condensed milk, butter, and corn syrup in a large saucepan. While whisking constantly, bring the mixture to a boil over medium heat.
Reduce the heat to medium-low to maintain a simmer and continue to whisk constantly until the mixture reaches a temperature between 220 and 225 degrees Fahrenheit. This step can take up to 20 minutes but resist the urge to increase the heat (this just increases your chances of burning the caramel).
When the caramel is ready, pour the caramel over the prepared shortbread crust, spreading with a spatula, so it is even and smooth across the cookie crust. Refrigerate this for a few hours or until the caramel is cooled and set (it will be soft to touch but not runny or jiggly).
Chocolate Layer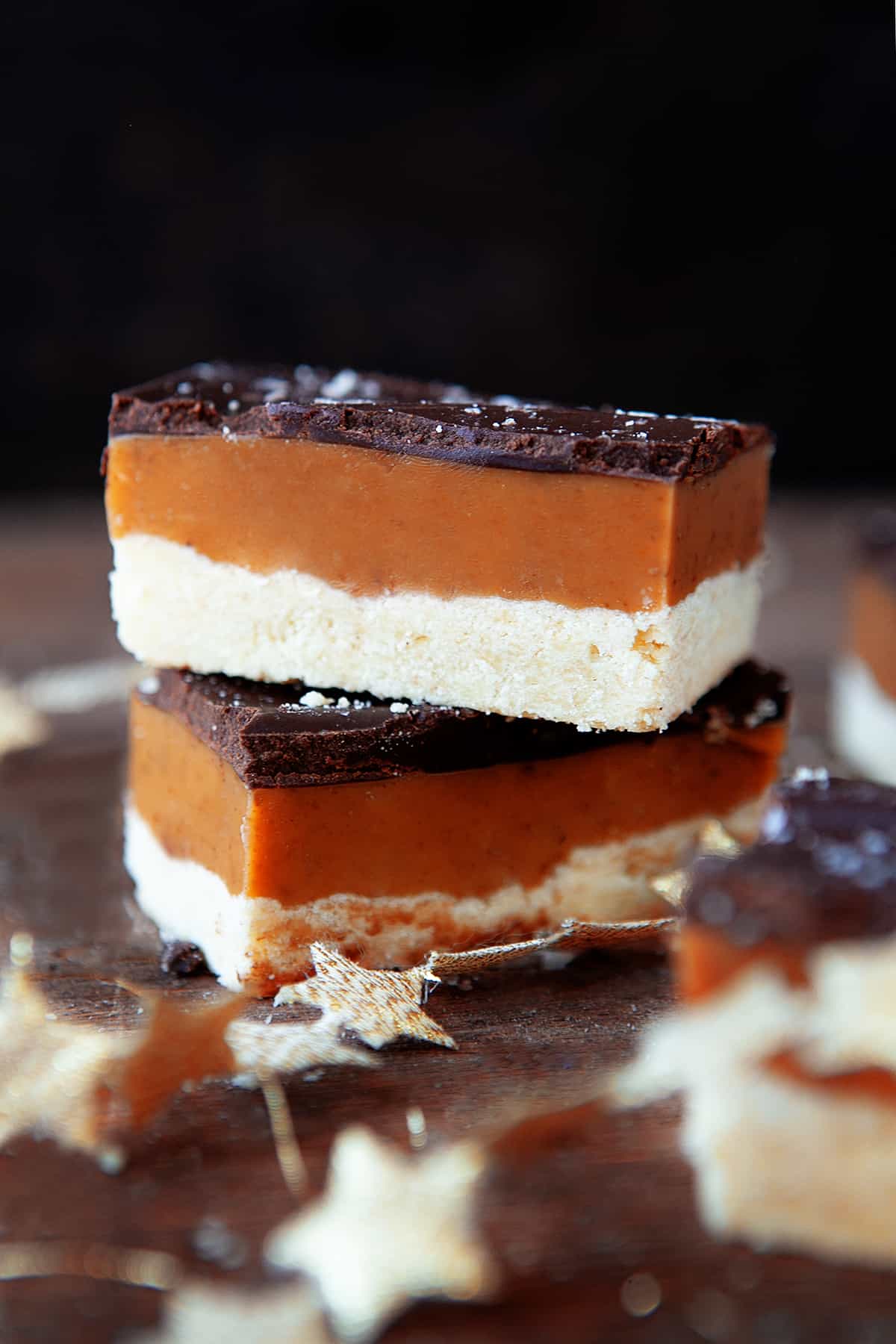 When the caramel is set, combine the dark chocolate chips and heavy cream in a double boiler over low heat and stir constantly just until the chocolate is melted and smooth. Stir in and remove from heat and let it rest for 5 minutes, then spread it over the caramel layer and sprinkle sea salt or flaked salt over the top.
Refrigerate the Millionaire Shortbread for at least 30 minutes (but ideally overnight) to let the chocolate topping harden. When it's set, gently lift the shortbread out of the pan using the parchment paper and then cut it into bars or squares. Because it's so rich, I like to cut it into smaller pieces.
How Do You Cut Millionaire Shortbread Neatly?
Millionaire Shortbread can be a little tricky to cut because you don't want to crumble the cookie layer or smoosh the caramel and chocolate layers. After a little experimenting, here's what I've found to be the easiest way to cut millionaire shortbread neatly.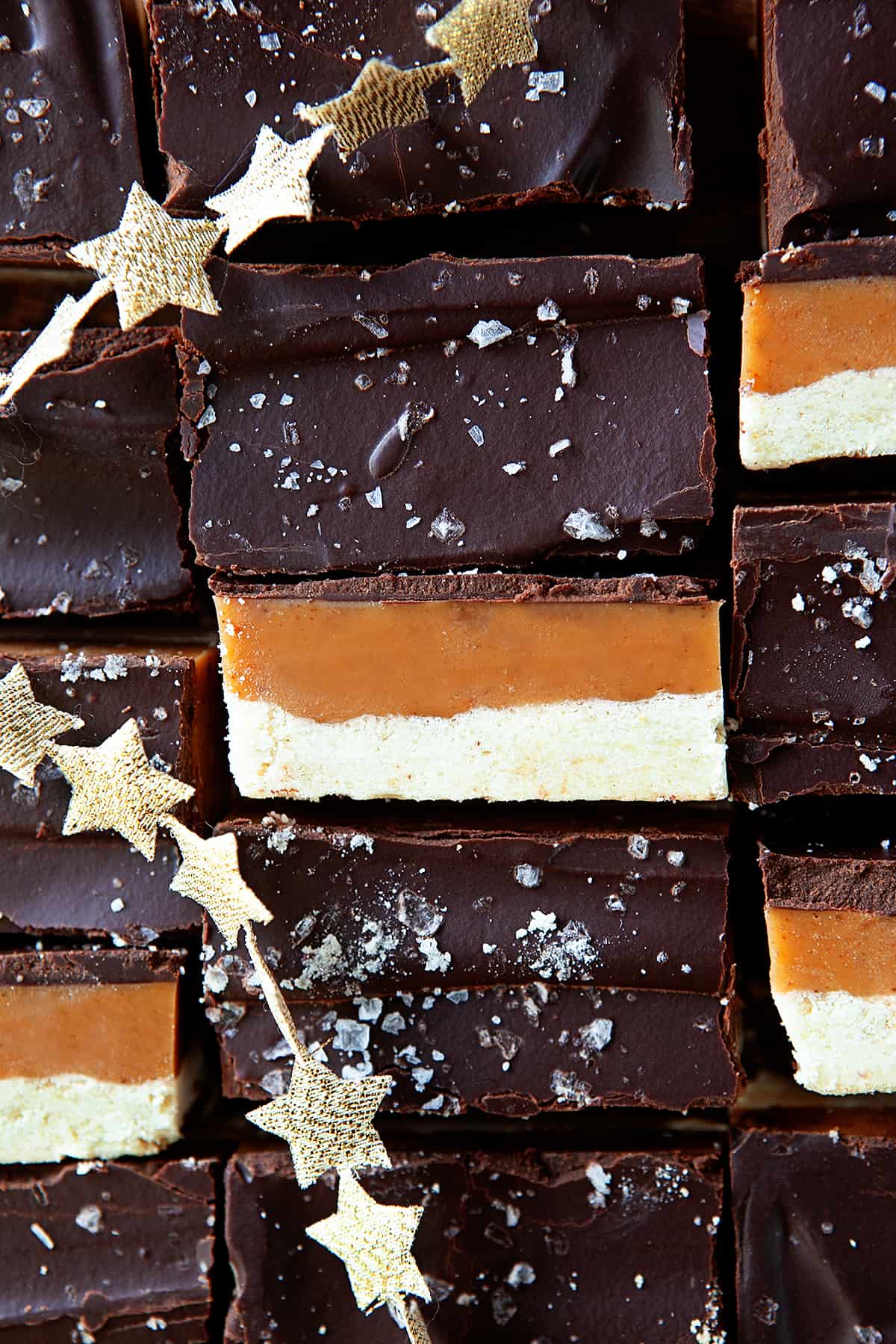 First, it's very helpful to chill the Millionaire Shortbread overnight so that all of the layers are firm. When you're ready to cut, remove it from the fridge and let it sit on a cutting board for about 30 minutes to let the layers warm a bit to room temperature.
Have the shortbread removed from the pan with the parchment, then, using a long, flat, sharp knife, gently score the chocolate layer first, without pressing through all three layers at once. Once the chocolate layer is cut through, then gently and slowly press through the remaining two layers. The key is to go very slowly and press very gently.
Some recommend running the knife under hot water before cutting, but I found that this melts the chocolate and creates a smear as you cut instead of the clean, smooth layers that Millionaire Shortbread is known for.

Why Is It Called Millionaire Shortbread?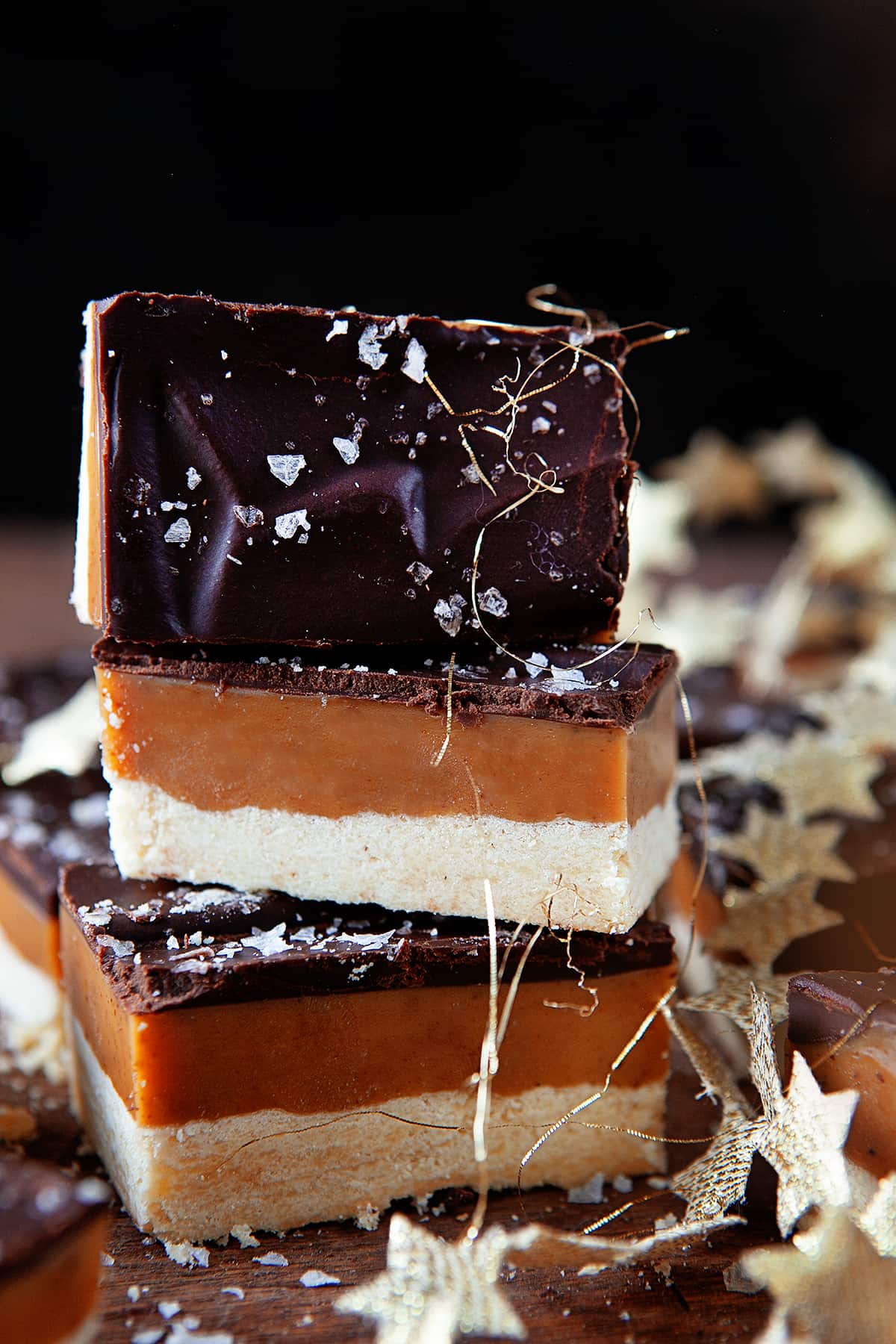 Millionaire Shortbread got its name because of the rich ingredients it uses. In fact, there's a funny Scottish saying that warns, "The millionaire's shortbread is often richer in calories than the one who tastes is in hard cash".
But honestly, Shortbread + Caramel + Dark Chocolate really does taste like a million bucks too, so maybe it's worth every single rich calorie!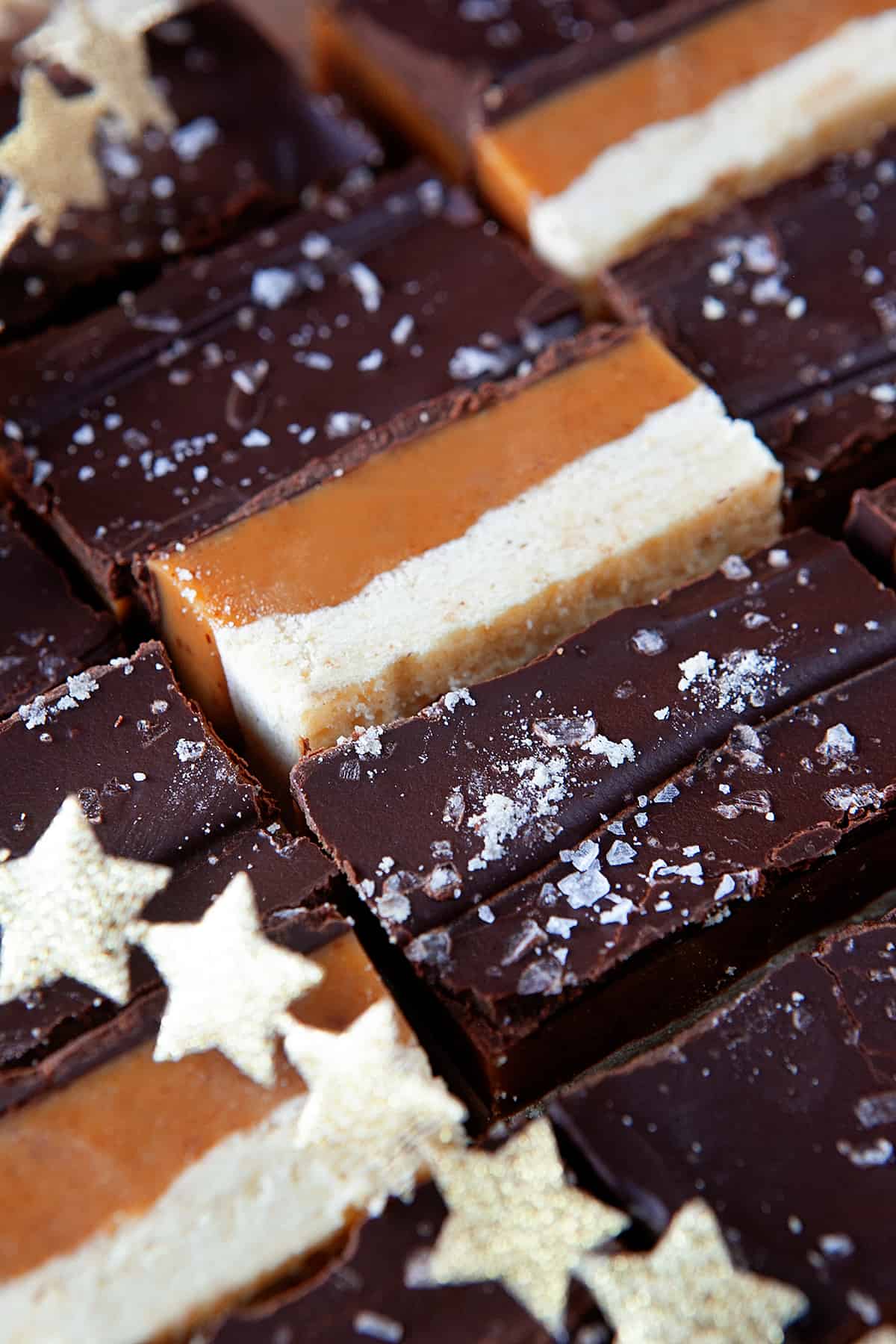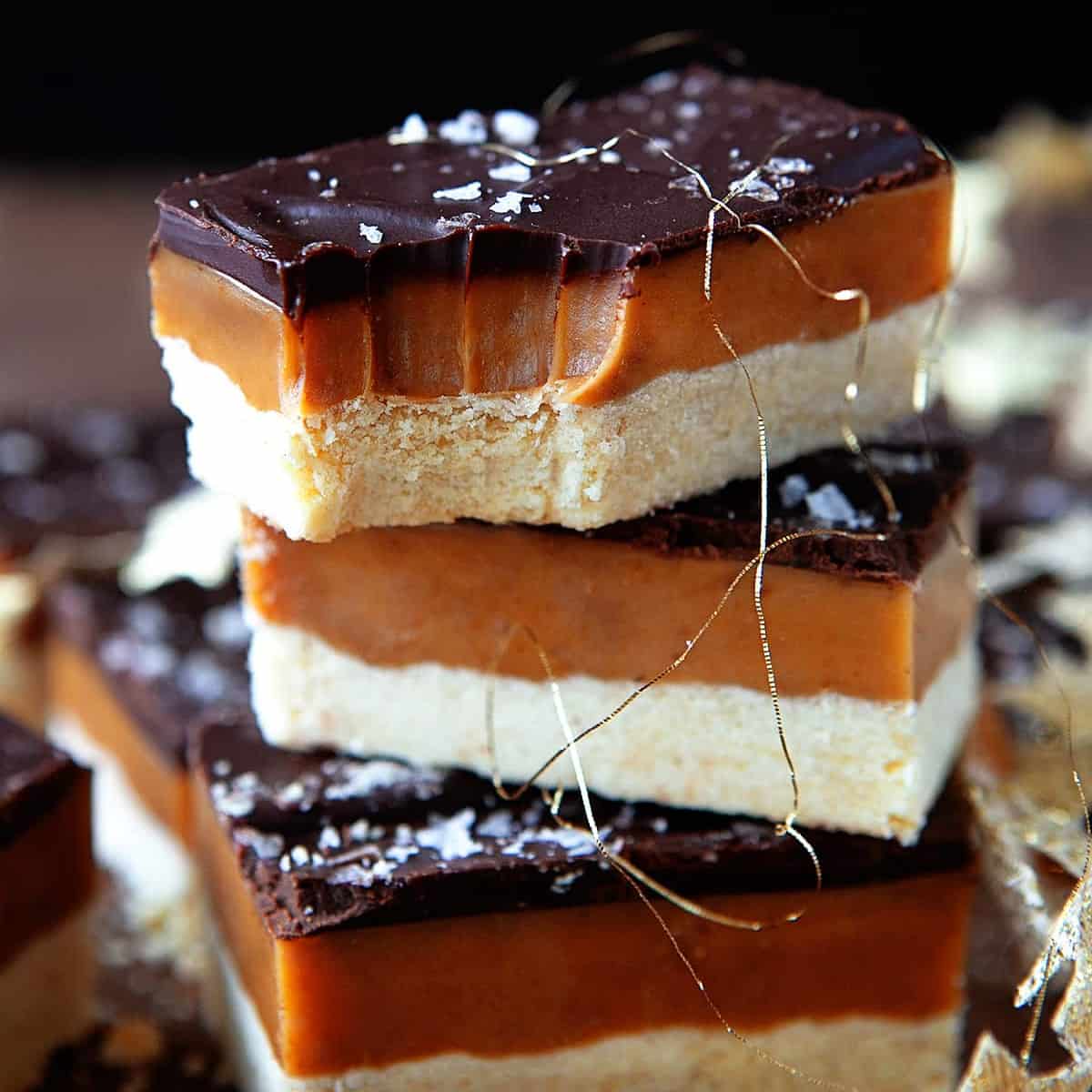 Pin it HERE!!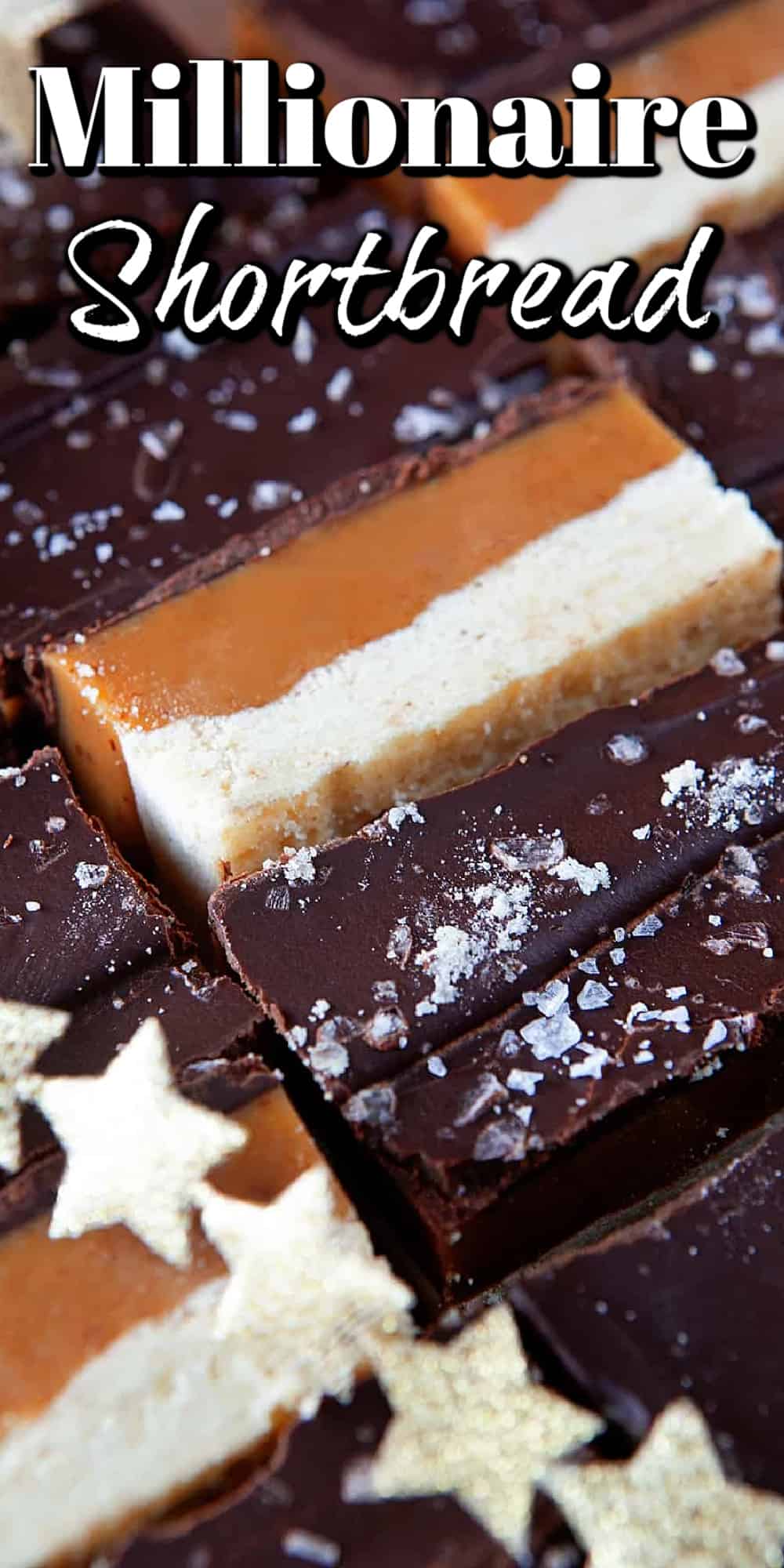 Pin it HERE!!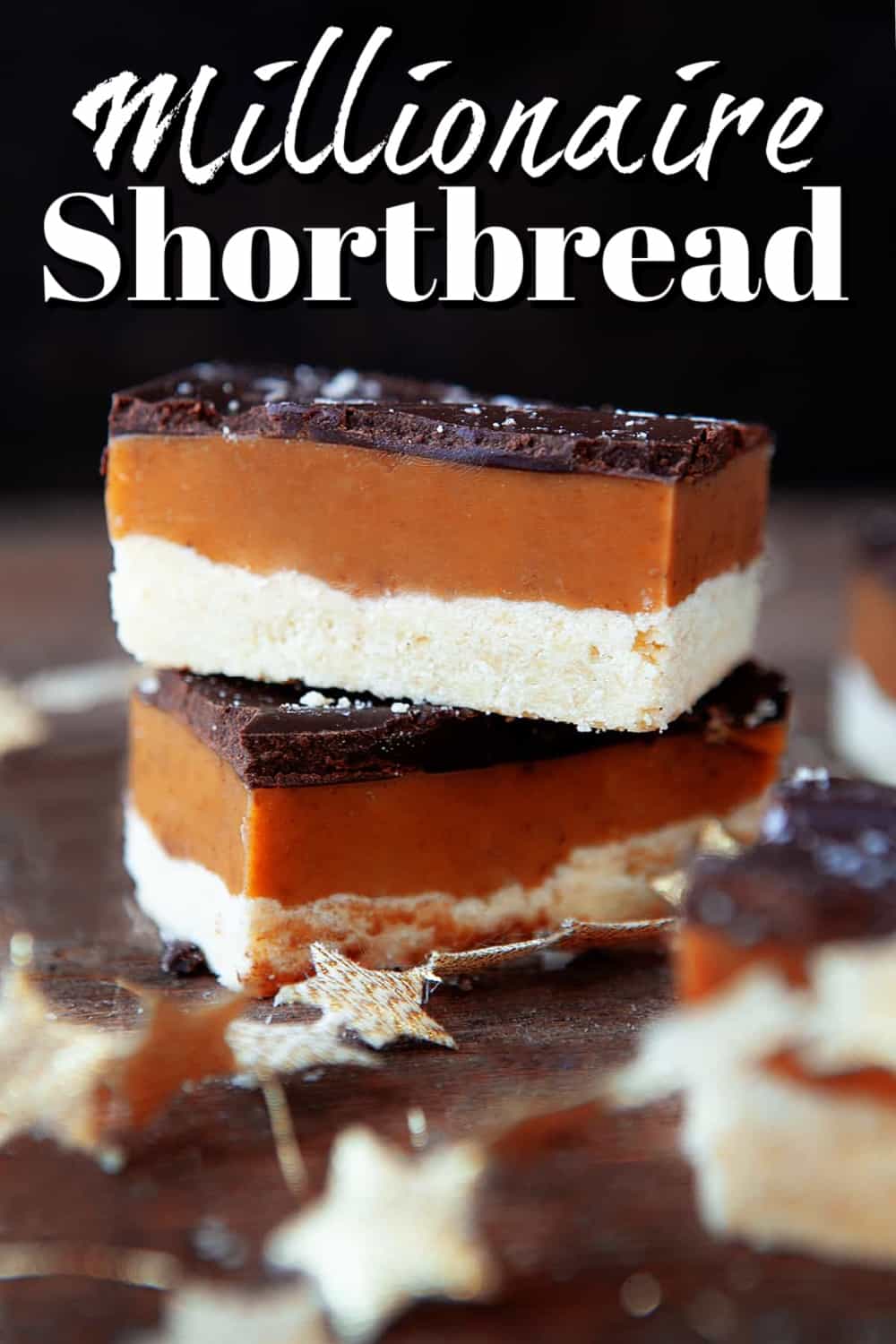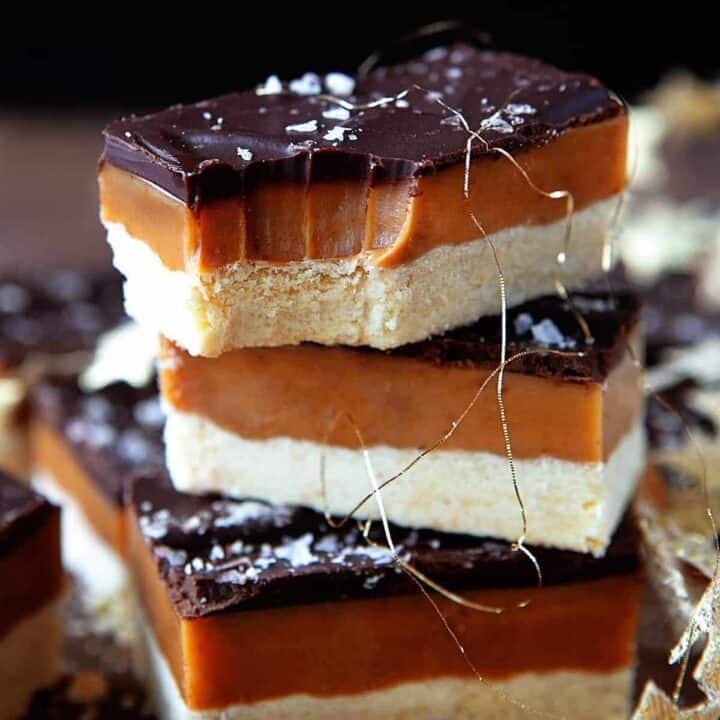 Millionaire Shortbread
Yield: 24 bars
Prep Time: 30 minutes
Cook Time: 55 minutes
Additional Time: 3 hours
Total Time: 4 hours 25 minutes
These Caramel Shortbread Bars are a rich treat that tastes like a million bucks! Layers of rich shortbread, creamy caramel, and semi-sweet chocolate make the perfect bite.
Ingredients
For the Shortbread Crust
1 cup unsalted butter, at room temperature
2/3 cup powdered sugar
1 large egg yolk
1/2 teaspoon salt
2 1/4 cups all-purpose flour
For the Caramel Layer
2 (14 oz) cans sweetened condensed milk
14 tablespoons salted butter cut into tablespoon size pieces
1 cup light brown sugar, packed
1/3 cup light corn syrup
For the Chocolate Layer
1 (10 oz) bag dark chocolate chips
1/2 cup heavy cream
Sea Salt Flakes (like Maldon) for sprinkling
Instructions
Preheat oven to 350 degrees Fahrenheit. Line a 9 x 14-inch baking pan with parchment paper, leaving an overhang on the sides.
In the bowl of a standing mixer, add the butter and mix on medium speed until the butter is well creamed. Add the sugar and mix for another 30 seconds. Scrape down the sides, then add the egg yolk and mix for another minute.
With the mixer running at low speed, add the flour 1/2 cup at a time, pausing in the middle to add the salt. Mix only until just combined - the mixture will be crumbly.
Pour the mixture into the prepared pan, and using your hands, press the dough evenly into the bottom of the pan (not up the sides). Bake at 350 for 15 to 18 minutes, or until the edges begin to turn a light golden brown. Remove from oven and let cool completely.
To prepare the caramel layer, combine the condensed milk, butter, brown sugar, and corn syrup in a large saucepan. While whisking constantly, bring the mixture to a boil over medium heat. Reduce temperature to medium-low heat to maintain a simmer and continue whisking until the caramel is a deep golden color and reaches a temperature between 220 and 225 degrees Fahrenheit (use a candy thermometer or instant-read thermometer to check). Remove immediately from heat and pour evenly over the prepared shortbread (use a spatula to spread if necessary.)
Allow the two layers to cool in the fridge for at least one hour before topping with chocolate.
To make the chocolate layer, combine the heavy cream and chocolate chips in a double boiler over low heat. Stir just until the mixture is completely smooth, then remove immediately from the heat.
Let the chocolate rest for 5 minutes, then spread it smoothly over the top of the caramel layer and sprinkle with salt flakes.
Chill in the fridge for at least 30 minutes, but ideally overnight.
To cut, remove from pan using the parchment paper overhang. Let it rest on a cutting board at room temperature for 30 minutes. Then, using a long, sharp, flat knife, gently score the chocolate layer before pressing through the remaining two layers. Cut slowly and gently for clean layers. Enjoy!

Recommended Products
As an Amazon Associate and member of other affiliate programs, I earn from qualifying purchases.
Nutrition Information:
Yield: 24
Serving Size: 1
Amount Per Serving:
Calories: 261
Total Fat: 17g
Saturated Fat: 11g
Trans Fat: 0g
Unsaturated Fat: 6g
Cholesterol: 60mg
Sodium: 135mg
Carbohydrates: 25g
Fiber: 0g
Sugar: 16g
Protein: 2g
Recipe calculation was provided by Nutritionix and is an estimation only. If you need nutritional calculations for medical reasons, please use a source that you trust.