Peach Pie Recipe with Almond Cream is the dessert of your dreams: a buttery crust filled with a delicious almond cream topped with some juicy fresh peaches. You will not be able to top that one! The recipe is easy and I have all the steps explained if you have any questions along the way.
Are you wondering how to make a peach pie? This recipe is the opportunity to learn two classic pastry techniques: how to make a pie crust and almond cream. Do not be intimidated; I'll breakdown all the steps for you!
Hi there, It's Melanie from Bon Appét'Eat. It's been a lot of fun to be part of the Noshing with the Nolands team. You should pop by my blog if you have a chance! I'm so excited to share one of my favorite recipes and give you a taste of France! I'm obsessed with anything almond and this pie is no exception.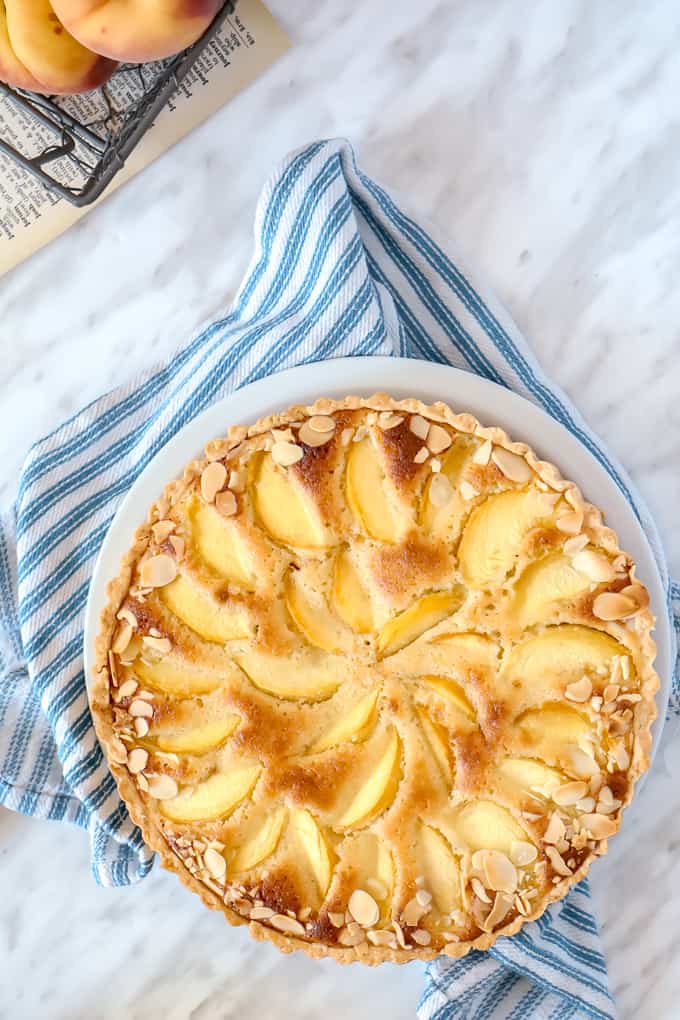 Helpful Items For This Recipe
This post contains affiliate links. As an Amazon Associate, I earn a small portion from qualifying purchases at no extra charge for you.
9″ Pie/Tart Pan with Removable Bottom
Kneading Mat with Measurements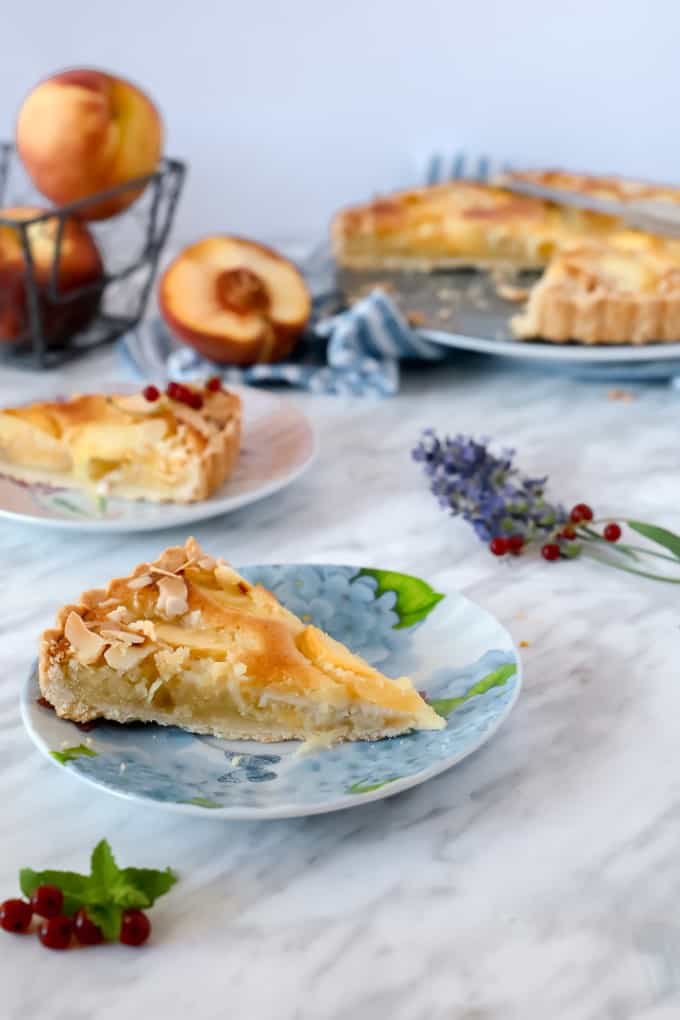 How to Make a Peach Pie from Scratch?
Let's start by making the best buttery crust. Making the pastry crust from scratch is such an easy step. I know that recipe by heart and soon you will too.
First, in a small bowl, cream the butter with the sugar. Add in the egg and mix some more until it has a very creamy appearance. (see picture below)
Then, in another large bowl or a clean surface, make a well with the flour and pour the mixture in. Fold in with a spatula or bench scraper if you have one until the dough is smooth.
Wrap it in cellophane and let it rest in the fridge for 20 minutes maximum.
Roll the dough on a lightly floured surface.
To transfer your pie dough to your dish (I used a 9-inch pie plate), roll your dough onto the rolling pin and unroll it on the pie plate.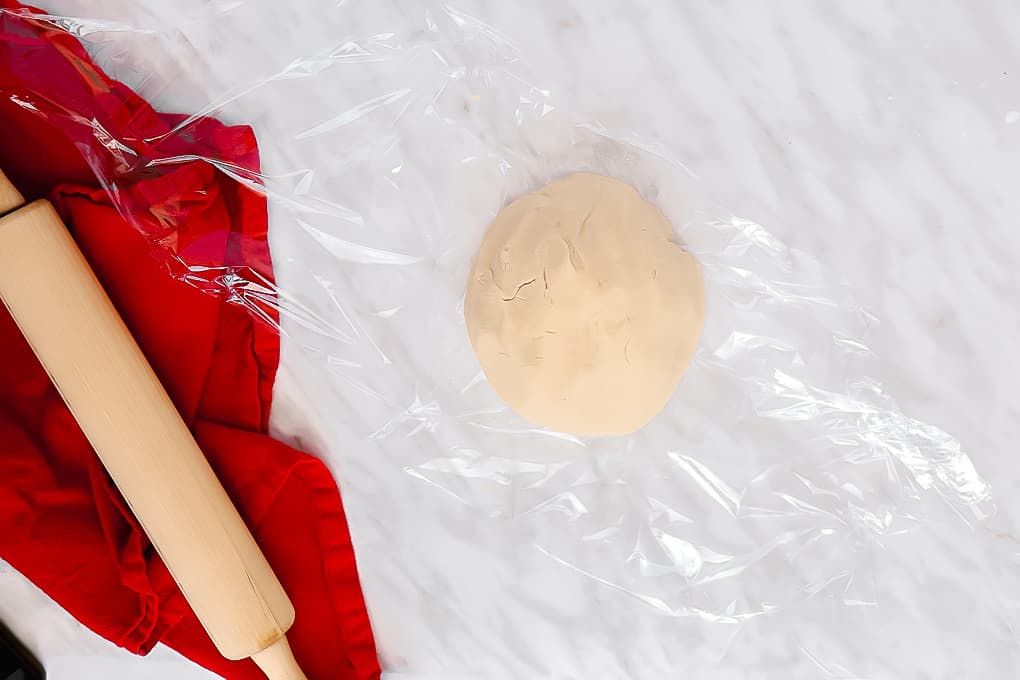 A few tips:
I forgot to get my butter out, it is still hard: Grab your cheese grater to make 'grated butter', it will help you work the butter to a cream state, especially if you are using a stand mixer.
Don't over-work the dough: Once you have combined all the ingredients and your crust is assembled and looks smooth, stop working on it. The dough will become hard and tough to spread.
Do you have more questions? I made a whole post about my homemade pie crust, this is a reliable recipe to make your own fruit tart. There are a lot of details and step by step if you need more guidance than the recipe card at the end of this post.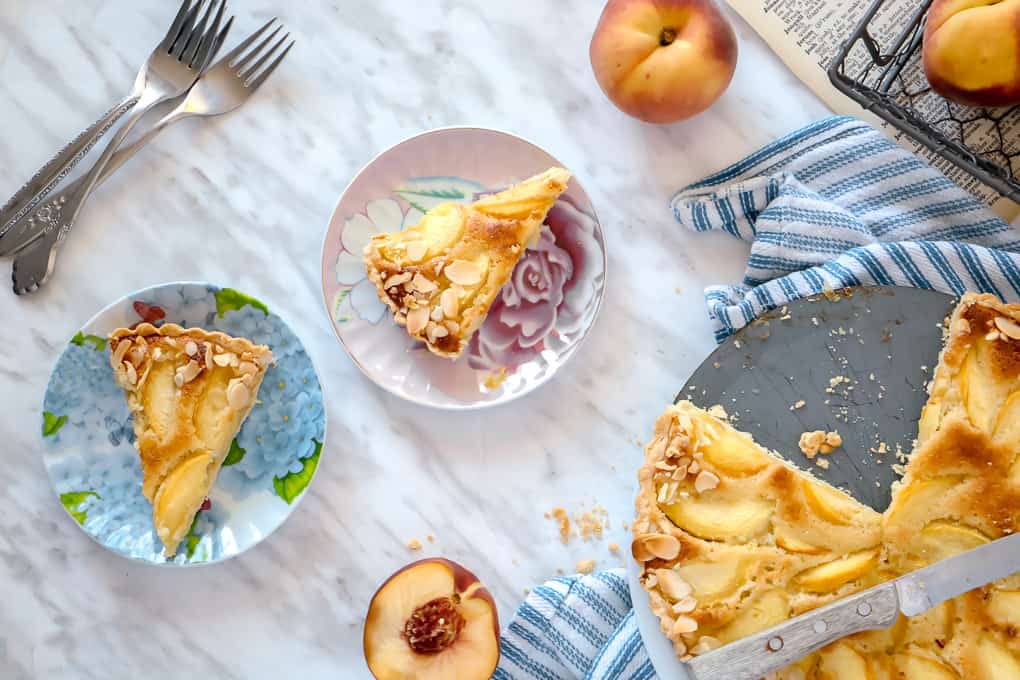 How do You Make Peach Pie Almond Filling from Scratch?
Today's peach pie recipe is not your classic cobbler (although this rhubarb and strawberry one is to die for!) or fruit pie with a lattice top, today's pie will be a show stopper on the dessert table. This peach pie gets my French touch with the almond cream as a pie filling. We have a version called Tarte Amandine; it is made with pears.
Almond cream is simple to make and tastes amazing. If you are an almond lover, this is the recipe you need to master. Believe me, it makes a great combination with fresh fruits.
Only 3 steps: In a bowl, mix the eggs and the granulated sugar (if you use brown sugar, it will change the color, stick to the white one). Afterward, add the melted butter and continue mixing. Lastly, add the almond flour. That's it! This is ready to be poured in your homemade pie crust!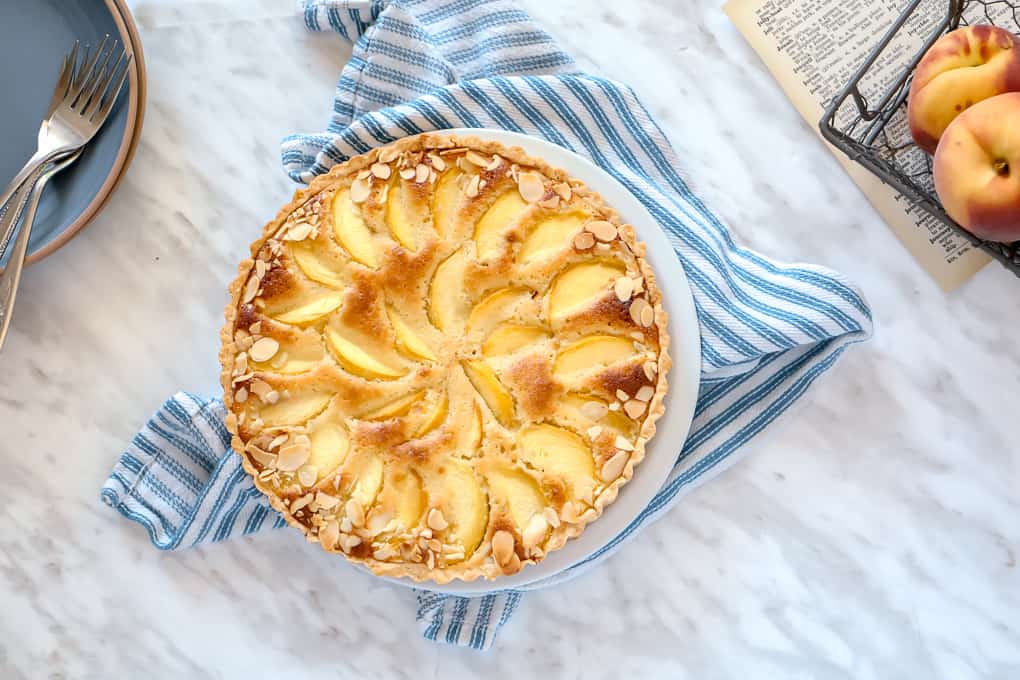 How Long Should you Bake a Peach Pie?
Your oven will need to be pre-heated. Once it reaches 425F, bake it for 20 to 25 minutes or until the top is golden as shown in the above picture.
Some ovens are different and you might need 30 minutes.
Do you Have to Peel Peaches for Pie?
Yes, you should. No one wants to chew on a piece of peel while enjoying this delicious peach pie recipe.
Although it is a little extra step, it is simple and you can do it in advance. The technique is really similar to peeling tomatoes.
Using a paring knife, make a little cross at the bottom of the fruit. Immerse it in boiling water for a minute or so. Remove it and place them in a large bowl of iced water. That's it; once they are cooled down, there are ready to peel!
How ripe should the peaches be? They should feel firm but not hard. If too ripened, it will be more challenging to slice your fruit and present nicely.
How many peaches will you need? I would say that if they are medium-sized, two will be sufficient. Three if you want the pie to be extra juicy, but be careful not to overflow your almond cream.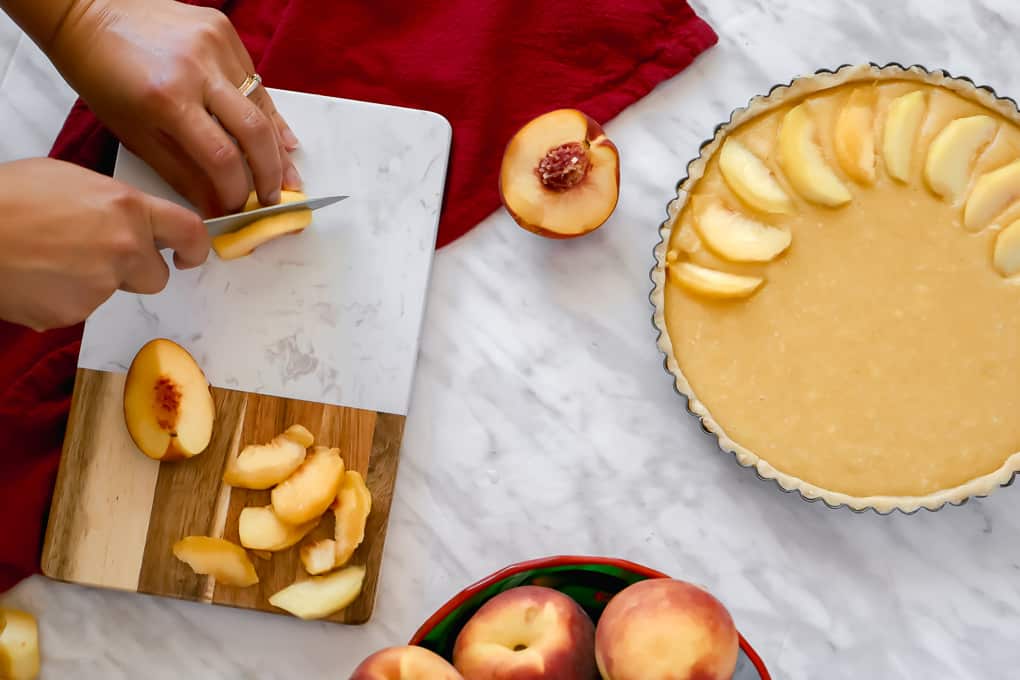 Can I Use Canned Peaches Instead of Fresh?
Yes, you can use canned peaches. However, if you do not have fresh peaches on hand for some reason, I would recommend going for frozen ones. Canned peaches are sweet since they are in a syrup.
If you wish to substitute the peaches, go ahead and use apples in the fall, blueberries or plums in summer. The same steps are to be followed, just the fruit changes!
How to Serve and Store the Leftovers of the Peach Pie?
This delicious pie can be enjoyed on its own with some tea or coffee. For the sweet tooth of your life, you can top it with a scoop of vanilla ice cream.
Although I would suggest having the pie cooled down completely before devouring it, it is also incredibly good when it's still warm.
If by miracle, you have some leftovers, you should keep the rest in an airtight container in the fridge for 3 or 4 days maximum.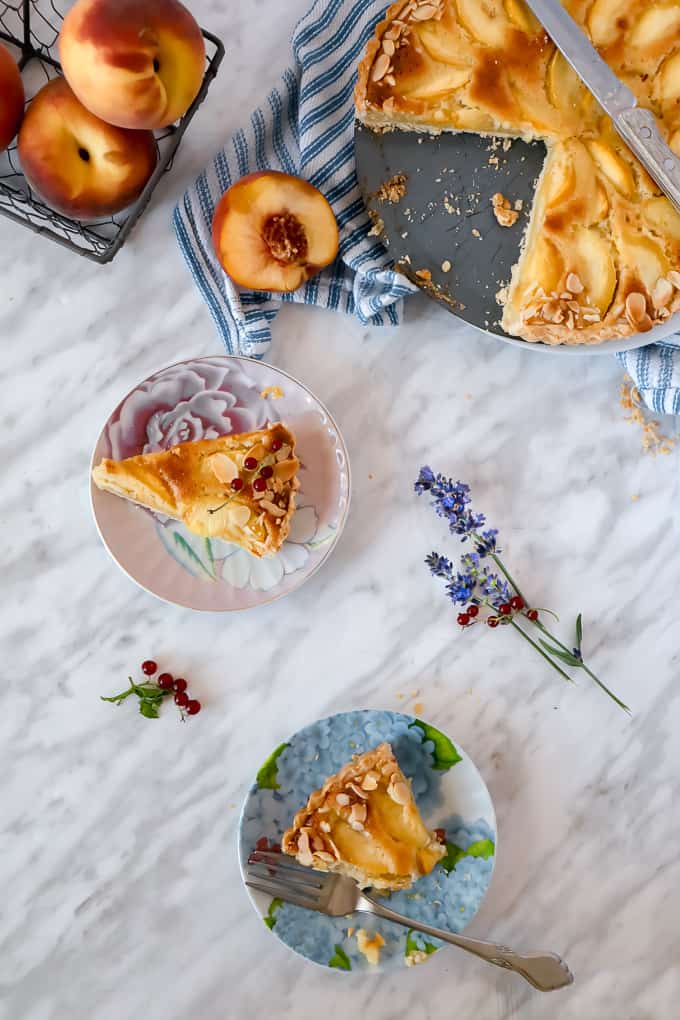 Pin it HERE!!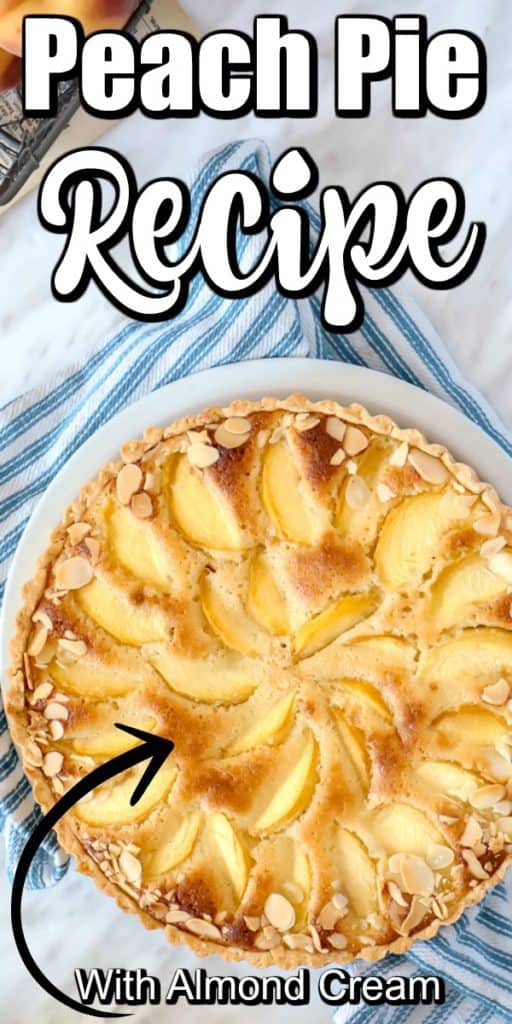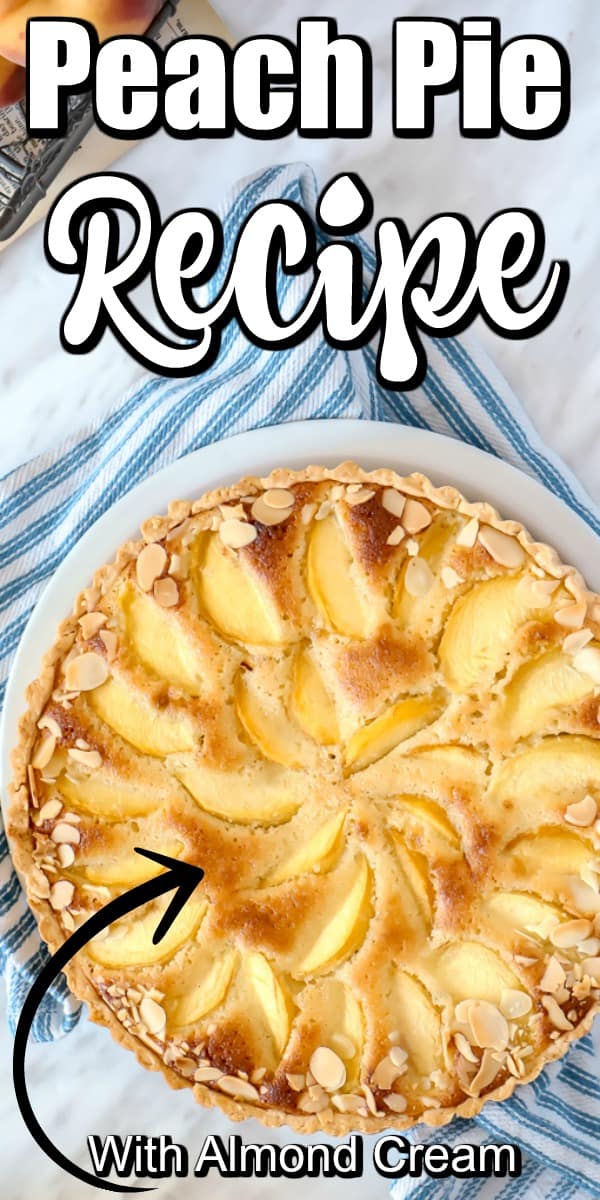 Pin it HERE!!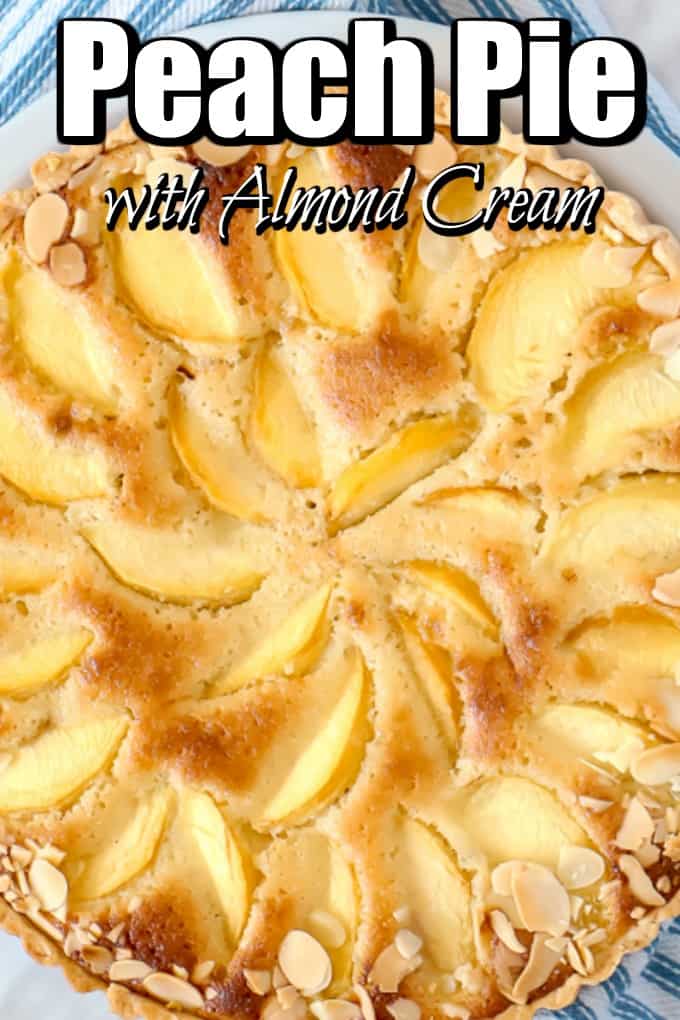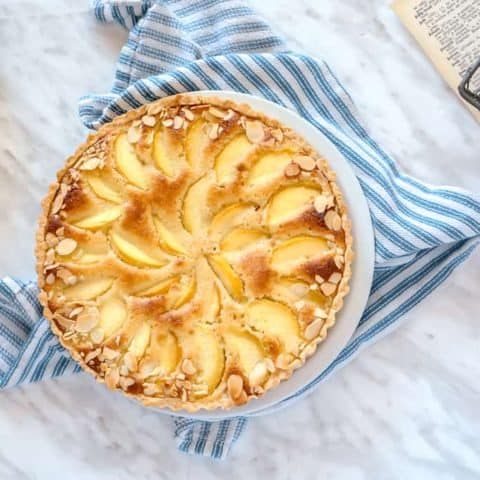 Peach Pie Recipe with Almond Cream
Yield: 6 to 8
Prep Time: 30 minutes
Cook Time: 25 minutes
Total Time: 55 minutes
Peach Pie Recipe with Almond Cream is the dessert of your dreams: a buttery crust filled with a delicious almond cream topped with some juicy fresh peaches. You will not be able to top that one!
Ingredients
Pie Crust
1/2 cup of butter, softened
1/4 cup of granulated sugar
1 and 1/3 cup of flour
1 egg, medium size, beaten
For the almond cream
3 eggs, medium size
1/2 cup of butter
1/2 cup of sugar
1 cup of almond flour
2 peaches, ripe
Instructions
Pre-heat the oven at 425F.
For the pie crust:
- In a small bowl, cream the butter with the sugar
- Add in the beaten egg. Mix well.
- In a separate bowl, pour the flour and put the egg/butter mix in the middle. Fold in everything together. Using a spatula, fold the flour and pretend to cut in the middle with the tip of your spatula to incorporate the flour. Repeat this gesture until your dough is smooth. Set aside in the fridge for 20 minutes.
- Roll the dough on a lightly floured surface. Place it in your 9" pie/tart baking dish with a removable bottom.
For the almond cream:
- In a bowl, whisk the eggs and sugar until fluffy.
- Melt the butter and add it to the mixture, mix well. Add the almond flour.
- Pour into the pie crust. Don't fill it up to the top.
For the peaches:
- Bring a pot of water to a boil. With a sharp knife make a cross on the bottom of the peaches.
- Place the peaches in the boiling water for 30 seconds or until the skin shows signs of peeling off.
- Take the peaches out and immerse them in a bowl filled with ice to cool them down.
- Now, peel and slice them and place them in the almond cream.
Bake for 20-25 min in the oven until golden.
Recommended Products
As an Amazon Associate and member of other affiliate programs, I earn from qualifying purchases.
Nutrition Information:
Yield: 8
Serving Size: 1
Amount Per Serving:
Calories: 424
Total Fat: 32g
Saturated Fat: 16g
Trans Fat: 1g
Unsaturated Fat: 14g
Cholesterol: 143mg
Sodium: 214mg
Carbohydrates: 30g
Fiber: 3g
Sugar: 23g
Protein: 7g
Recipe calculation was provided by Nutritionix and is an estimation only. If you need nutritional calculations for medical reasons, please use a source that you trust.