I was out back and looking at my rhubarb patch and saw that a first batch was ready and waiting. I have a very ruby red varietal, one that I didn't plant but was here when we moved in. The stalks, for the most part, are large and red right to the top. With this color of rhubarb, I get some magnificent looking desserts like this Rhubarb Strawberry Cobbler.
I have also made my very popular Rhubarb Dream Bars, Old Fashioned Rhubarb Loaf, Super Easy Rhubarb Tarts, Rhubarb Strawberry Crisp, Rhubarb Strawberry Sour Cream Pie, Rhubarb Raspberry Clafoutis, and just plain old good Strawberry Rhubarb Compote. I love making a simple compote that I make every year with or without strawberries.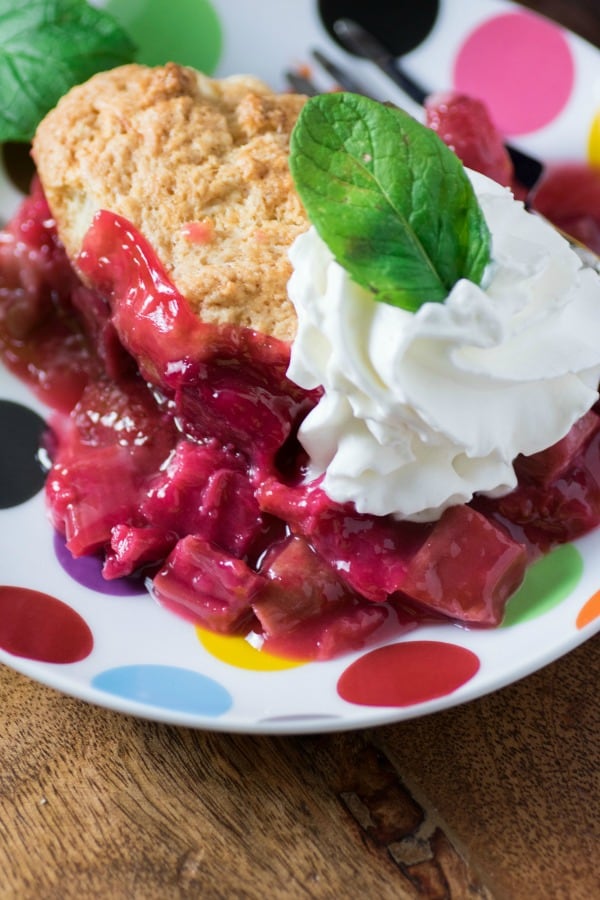 Helpful Items For This Post
This post contains affiliate links. As an Amazon Associate, I earn a small portion from qualifying purchases at no extra charge for you.
Rhubarb Seeds (grow your own)
With Canada Day almost here this pretty red and white rhubarb cobbler is absolutely perfect for a small crowd. It is best served fresh and hot out of the oven, but you can make it ahead of time (or on a cooler day) and re-warm it too!
A very easy dish for the home cook to master and come out great every time.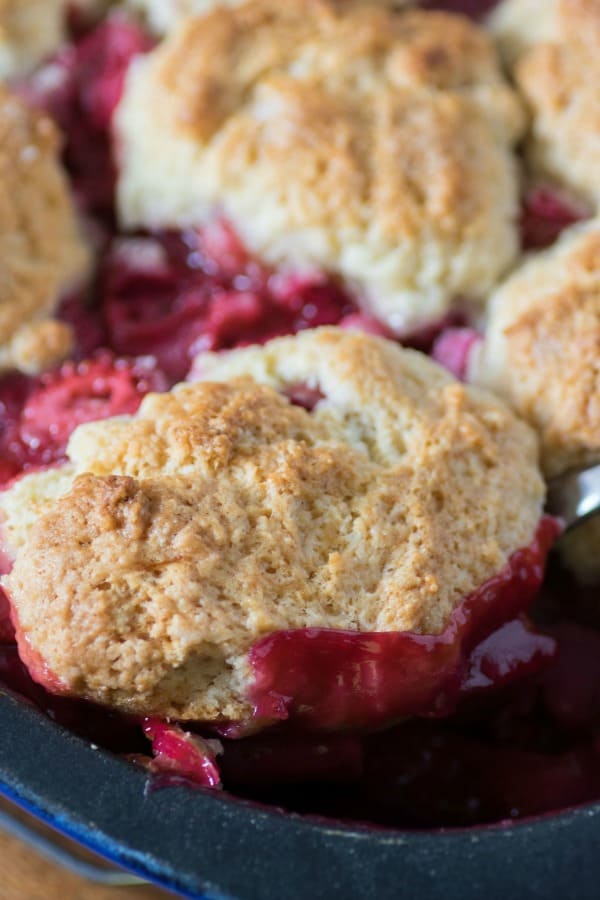 I honestly have not made many cobblers in the past. When I started I was afraid of the biscuit topping not being as desirable as a crisp topping but man was I wrong!! I think this cobbler is even better than a similar recipe with a crisp topping.
With the cobbler topping, each scoop or serving gets one of the gorgeously crispy, yet fluffy inside, biscuits.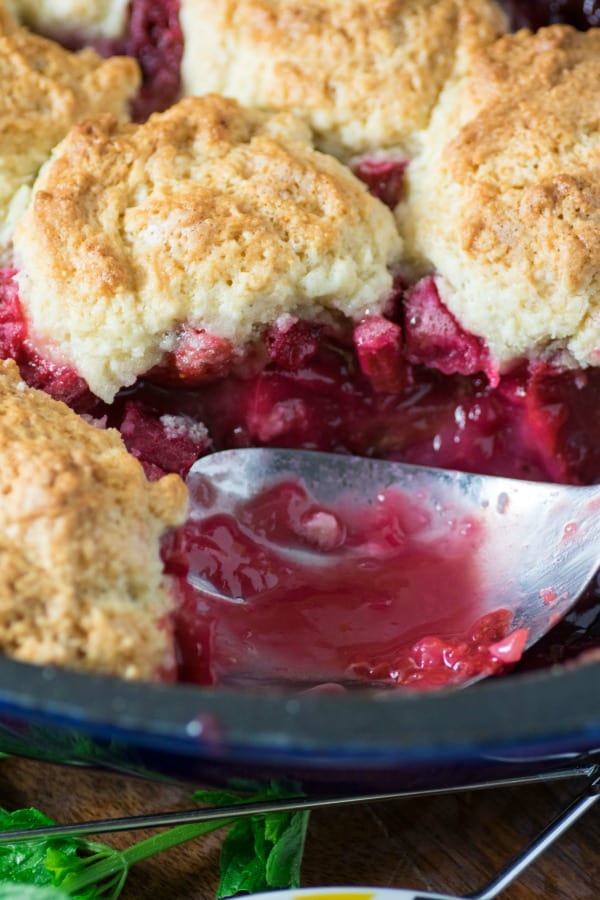 How to Make Rhubarb Strawberry Cobbler
The process of making rhubarb strawberry cobbler is actually pretty simple. You'll make the cobbler biscuit topping and the rhubarb-strawberry filling separately and then join them together before you bake.
Before you start, preheat the oven to 350 degrees Fahrenheit and grease a 2 quart (9" x 2" round or 8" x 8" square or oval) dish and set it aside.
For the cobbler topping, you need a cup of flour, 3 tablespoons of sugar, one and a half teaspoons of baking powder, a large pinch of salt, a quarter cup of cold butter (cut into cubes), one beaten egg, and a quarter cup of half and half (10%) cream.
Add the flour, sugar, baking powder, and salt into a medium bowl and whisk together until well combined.
Add the cubes of butter and work into the flour mixture using your hands. Be careful not to melt the butter. Then, stir in the beaten egg and cream until combined, being careful not to overmix. Finally form into biscuits and set aside.
For the rhubarb-strawberry filling, you need four and a half cups of rhubarb stalks, one and a half cups of strawberries, three-quarters of a cup of sugar (adjust to taste), and a scant third of a cup of flour.
You can use frozen rhubarb and strawberries if you have them on hand, no need to thaw them first. Add all ingredients into a large bowl and toss to coat.
How to Cook your Cobbler
Spoon the rhubarb-strawberry mixture into the greased baking dish and top with the biscuits. Put the dish in the oven and bake for 35-45 minutes or until the biscuits are browned and the fruit is bubbling.
Serve with whipped cream and a mint garnish or with vanilla ice cream.
You can prepare this for how many servings you need and change it up as required. This time, I did 10 biscuits on top to make 10 servings.
The sauce cooked up perfectly adding in the flour, so it is a gorgeous consistency. I like to see a cobbler with a drop biscuit on top and not one solid crust.
To me, it just seems to be more visually appealing that way. This dessert kind of looks like a cobble-stone road, but I don't think that is where the name came from.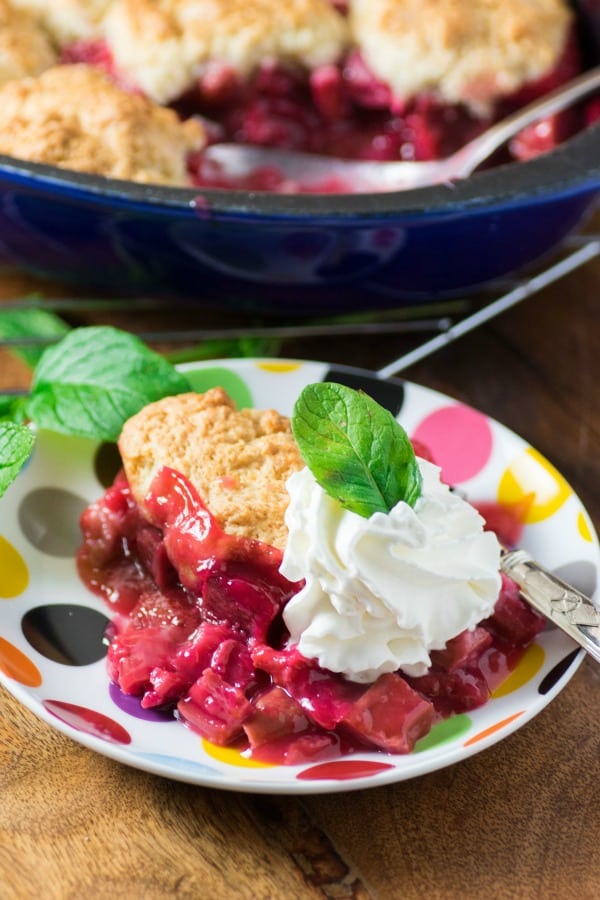 The final result is a perfectly gorgeous summer dessert. It is absolutely decadent topped with some vanilla ice cream. Serving it with a little puff of whipped cream is excellent too!
It tastes best when served warm so that the whipped cream or ice cream melts a little. Fresh mint from our garden gave it an extra touch and the flavor combination was amazing.
Enjoy!!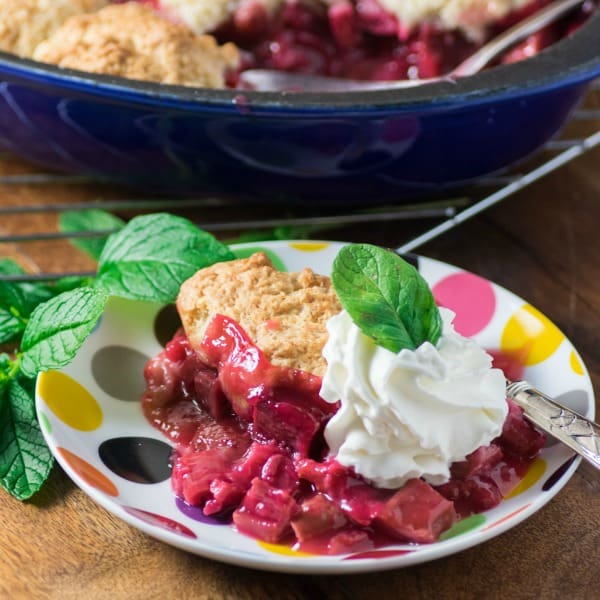 Pin It HERE!
Rhubarb Strawberry Cobbler Recipe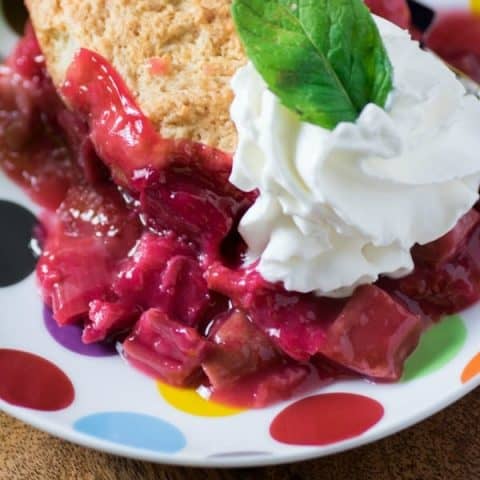 Rhubarb Strawberry Cobbler
Yield: 8 servings
Prep Time: 20 minutes
Cook Time: 45 minutes
Total Time: 1 hour 5 minutes
Enjoy this gorgeous Rhubarb Strawberry Cobbler this summer. You will want to make it again and again as it is not only easy but bursting with fresh fruit flavor!
Ingredients
4 1/2 cups rhubarb stalks only (leaves are poisonous) cut into 1" pieces, fresh or frozen
1 1/2 cups strawberries, sliced, fresh or frozen
3/4 cup sugar, if you like it sweet increase to 1 cup
1/3 cup flour, scant
Cobbler Topping
1 cup flour
3 Tbsp. sugar
1 1/2 tsp. baking powder
Large pinch of salt
1/4 cup butter, cold and cut into cubes
1/4 cup half and half cream (10%)
1 egg, beaten
Whipped cream
Mint, optional
Instructions
In a large bowl add the rhubarb, strawberries, sugar and flour, toss to coat.
Preheat oven to 350F. Prepare a 2 quart dish by greasing and set aside.
In a medium bowl add the flour, sugar, baking powder and salt. Whisk together. Add the butter and using your hands work it into the flour mixture. Continue working until the butter is about the size of peas or slightly smaller.
Stir in the cream and egg and gently mix together, do not over mix.
Place the fruit in the prepared dish. Top with the cobbler topping making 8-10 biscuits.
Bake for 35-45 min. until fruit is bubbling in the middle and the biscuits are browned. Serve warm with whipped cream and a garnish of mint if desired.
Notes
Note: If using frozen fruit then increase cooking time by 20-30 minutes. Make sure the fruit has softened before taking it out of the oven.
Recommended Products
As an Amazon Associate and member of other affiliate programs, I earn from qualifying purchases.
Nutrition Information:
Yield: 8
Serving Size: 1
Amount Per Serving:
Calories: 342
Total Fat: 9g
Saturated Fat: 6g
Trans Fat: 0g
Unsaturated Fat: 3g
Cholesterol: 49mg
Sodium: 203mg
Carbohydrates: 62g
Fiber: 3g
Sugar: 40g
Protein: 5g
Recipe calculation was provided by Nutritionix and is an estimation only. If you need nutritional calculations for medical reasons, please use a source that you trust.