Best Three Cheese Ranch Pasta Salad Recipe
The summer seems to be going by quickly but we still have a good chunk of it left. One of my favorite things is summer salads so I loved this Best Three Cheese Ranch Pasta Salad Recipe. This post first appeared over at Real Housemoms where also I'm a contributor. I decided to now bring you the full recipe. It is one that has been a sure fire hit with its' delicious and easy dressing. This salad will also be great in the fall with continued BBQ entrees, or it is a wonderful stand alone vegetarian option that is filling, healthy and satisfying!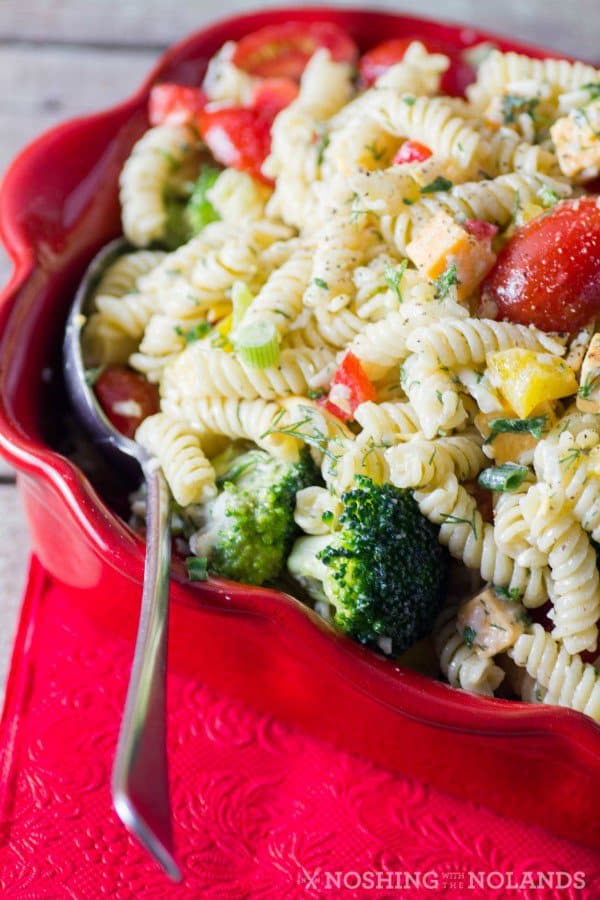 Plenty of veggies and lots of fun fusilli pasta consequently make this simple summer side dish a real hit!! Everyone loves a great pasta salad. This goes fabulous with anything from the BBQ. Plus it works for a picnic, backyard gathering or any night of the week meal!!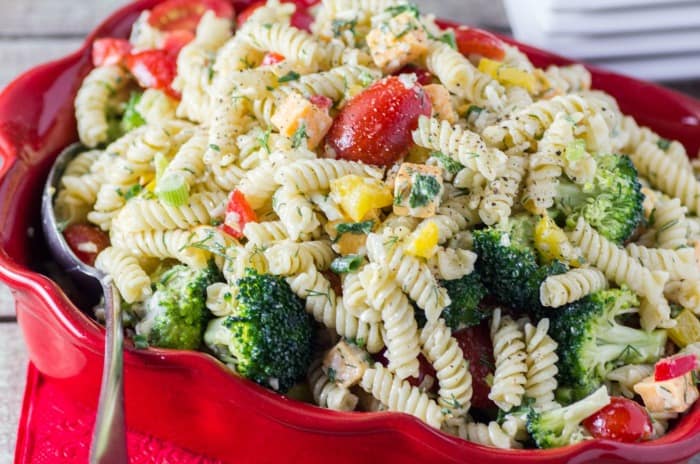 This salad also has a sweet and citrusy flavor because of the added dill which in turn livens things up and makes it taste fresh and wonderful. It is better if it is made ahead of time which lets the flavors meld. It makes a big batch so there is lots to enjoy and share with family and friends Here is the full recipe now for you, ENJOY!!

Best Three Cheese Ranch Pasta Salad Recipe
A great cheesy pasta salad bursting with fresh veggies and ranch dressing.
Ingredients
16 oz. package spiral pasta
½ red pepper, diced
½ yellow pepper, diced
3 green onions, diced
1 small head of broccoli, cut into small pieces
18 grape tomatoes, halved
½ cup small cubed cheddar
Dressing
½ cup light mayo
1 clove garlic, minced
¼ cup fresh parsley, minced
¼ cup fresh dill, minced
2 Tbsp. Parmesan cheese, finely grated
4 Tbsp. cheddar cheese, finely grated
2 Tbsp. romano, finely grated
4 Tbsp. extra virgin olive oil
Salt and pepper to taste
Instructions
Cook the pasta in boiling salted water according to manufacturer's directions.
Meanwhile mix dressing ingredients together. Drain pasta and rinse under cold water to cool. Transfer to a large bowl and add the veggie and cheese. Toss the dressing with the salad to coat well. Refrigerate several hours.