I have decided to start sharing my full posts that I have done over at Real Housemoms with you here. This post first appeared over at Real Housemoms where I'm a contributor, under the title of Key Lime Tart in February. Today I have changed it slightly as this would be wonderful to serve now too, Summer Key Lime Tart.
Actually anytime of the year is perfect for this tart, think Mother's Day as I know any mom would love this. It is perfect this time of year to bring your senses alive again. In the summer you can enjoy it with fresh berries from the farmers market. Furthermore, key limes are more readily available year round than ever before but their peak season is June to August. Another great citrus tart is our Terrific Treacle Tart, if you are a Harry Potter fan then this is a must.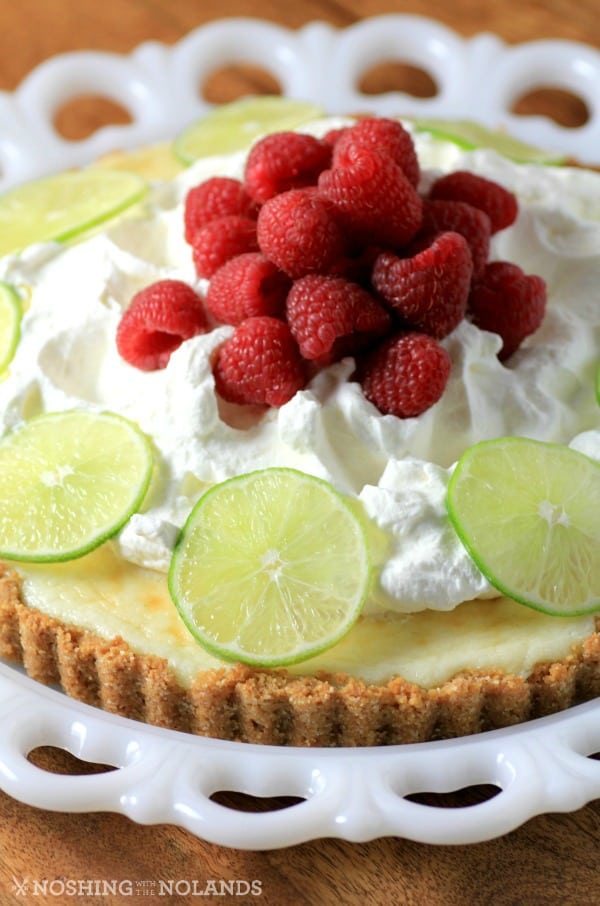 Graham Cracker Crust
The wonderful graham crust that Ken made for this tart, he is the pie guy in this household, makes this tart even more special. He added in a bit of almond flour to the graham crackers and it just upped the flavor profile on this crust to a new level. We will be doing this from now on.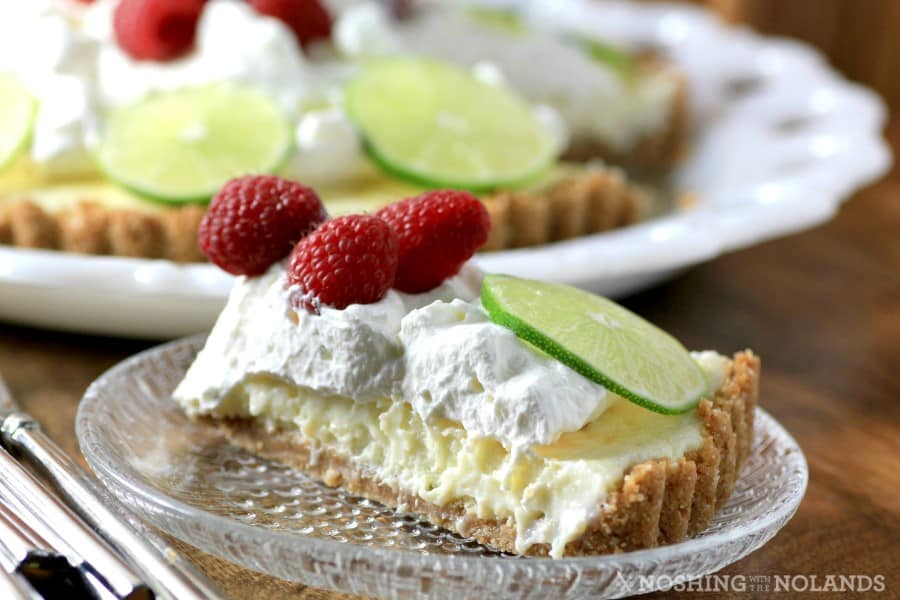 See how lovely that tarts looks, plus, the flavor is out of this world fantastic!! If you are a key lime pie fan, consequently you are going to love this tart even more. It really seems like the perfect dessert for anytime of the year. I know it would be appreciated at almost any function. I can see this gorgeous green and red tart on the table at Christmas time too.
Summer Key Lime Tart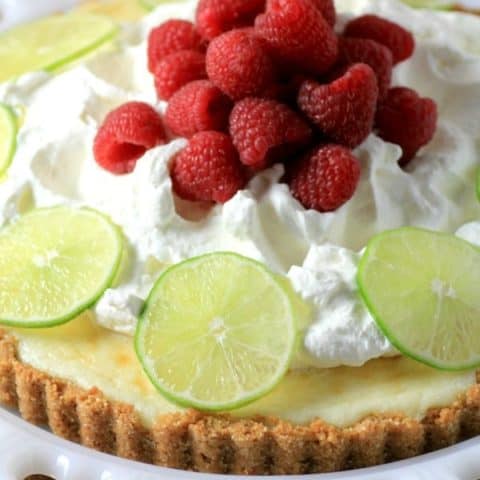 Summer Key Lime Tart
Yield: 1012 servings
Prep Time: 3 hours 15 minutes
Cook Time: 25 minutes
Total Time: 3 hours 40 minutes
Ingredients
Crust
1 1/2 cups graham cracker crumbs
1/2 cup ground almonds
Scant 1/2 cup butter
Filling
1- 300 ml. (10 oz.) can of sweetened condensed milk
3 large egg yolks
3 key limes, zested
1/2 cup key lime juice (maybe 16-20 key limes)
Topping
1 1/2 cups whipping cream
2 Tbsp. icing sugar
1 lime thinly sliced
Raspberries for decoration
Instructions
Preheat oven to 325F. Mix the graham crumbs with the ground almonds. Melt the butter and add, mixing well. Press into a the base of a 9 1/2 - 10" loose bottomed tart pan. Bake in the oven for 10 min. Cool.
Meanwhile, in a bowl of a standup mixer whisk the egg yolks and then add the condensed milk. Whisk for 3 min. Add in the juice and lime zest and continue to beat for an additional 3 min. Pour the filling into the cooled base. Place on a rimmed cookie sheet and bake for 15 min. Let cool completely and then chill for 3 hours or overnight.
When ready to serve beat the whipped cream until soft peaks, adding in the icing sugar to sweeten. Dollop the cream on top of the pie, decorate with the lime slices and raspberries. Alternatively decorate with more lime zest and serve.