This Cherry Pineapple Dump Cake is the easiest way to get a delicious dessert on the table when you're short on time! With just 6 ingredients and a 5 minute prep time, there's never been a more simple path to a hot dessert. You're going to fall in love with this one!
If you're looking for more super simple dessert recipes, be sure to check out this tasty Strawberry Dump Cake, Rhubarb Dump Cake, Cherry Cheesecake Popsicles, and this fun Rainbow Birthday Poke Cake.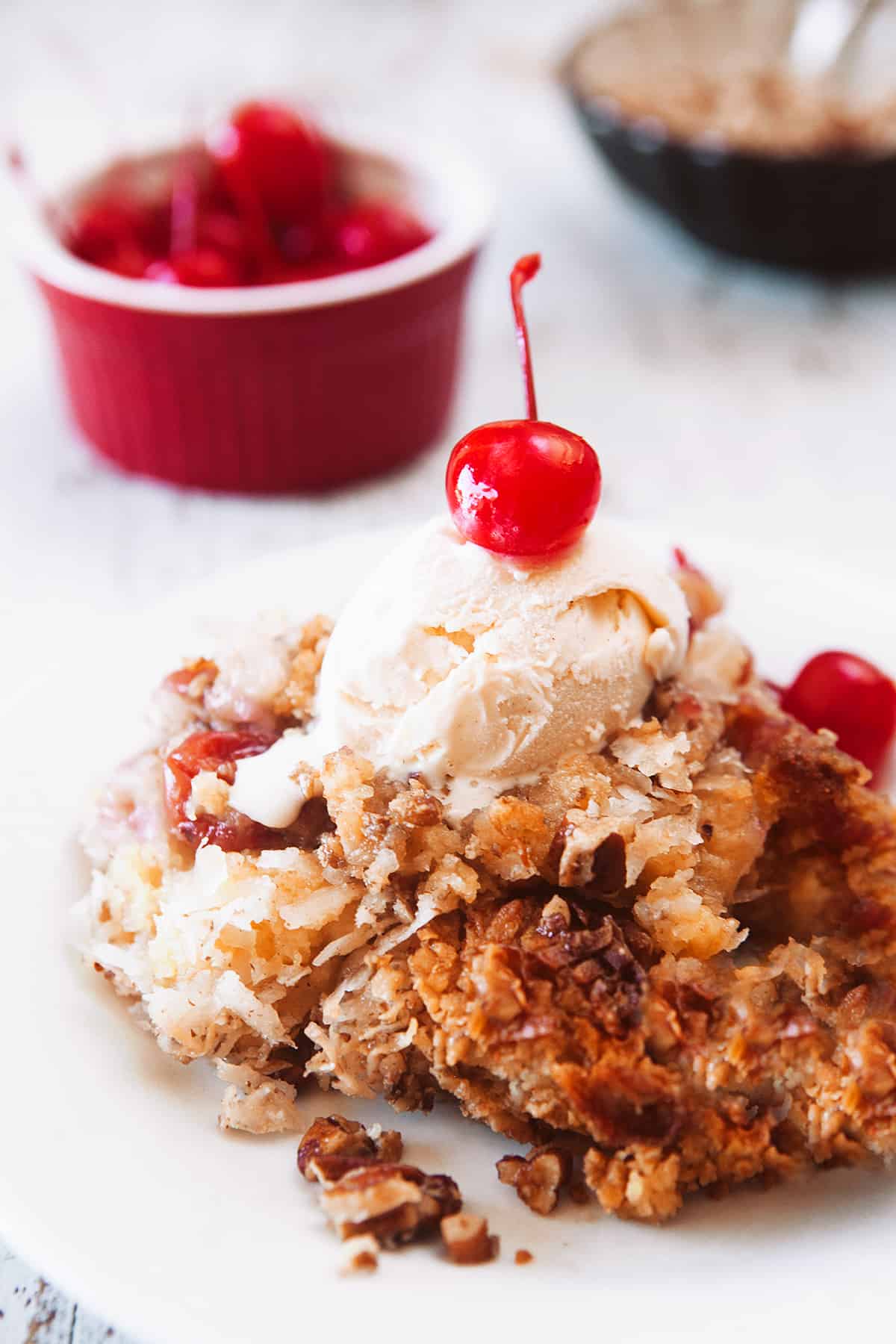 Hi there, it's Allison here again from Some the Wiser. I'm already looking forward to warmer weather, which is why this tropical pineapple cherry flavor combination is checking all the boxes right now. I'm also enjoying these Fresh Strawberry Scones and this incredible Broiled Pineapple with Honey Ricotta.
Helpful Items For This Recipe
This post contains affiliate links. As an Amazon Associate, I earn a small portion from qualifying purchases at no extra charge for you.
Nonstick Cake Pan With Lid, Rectangle – 9 Inch x 13 Inch
Porcelain Dessert/Salad Plates, set of 6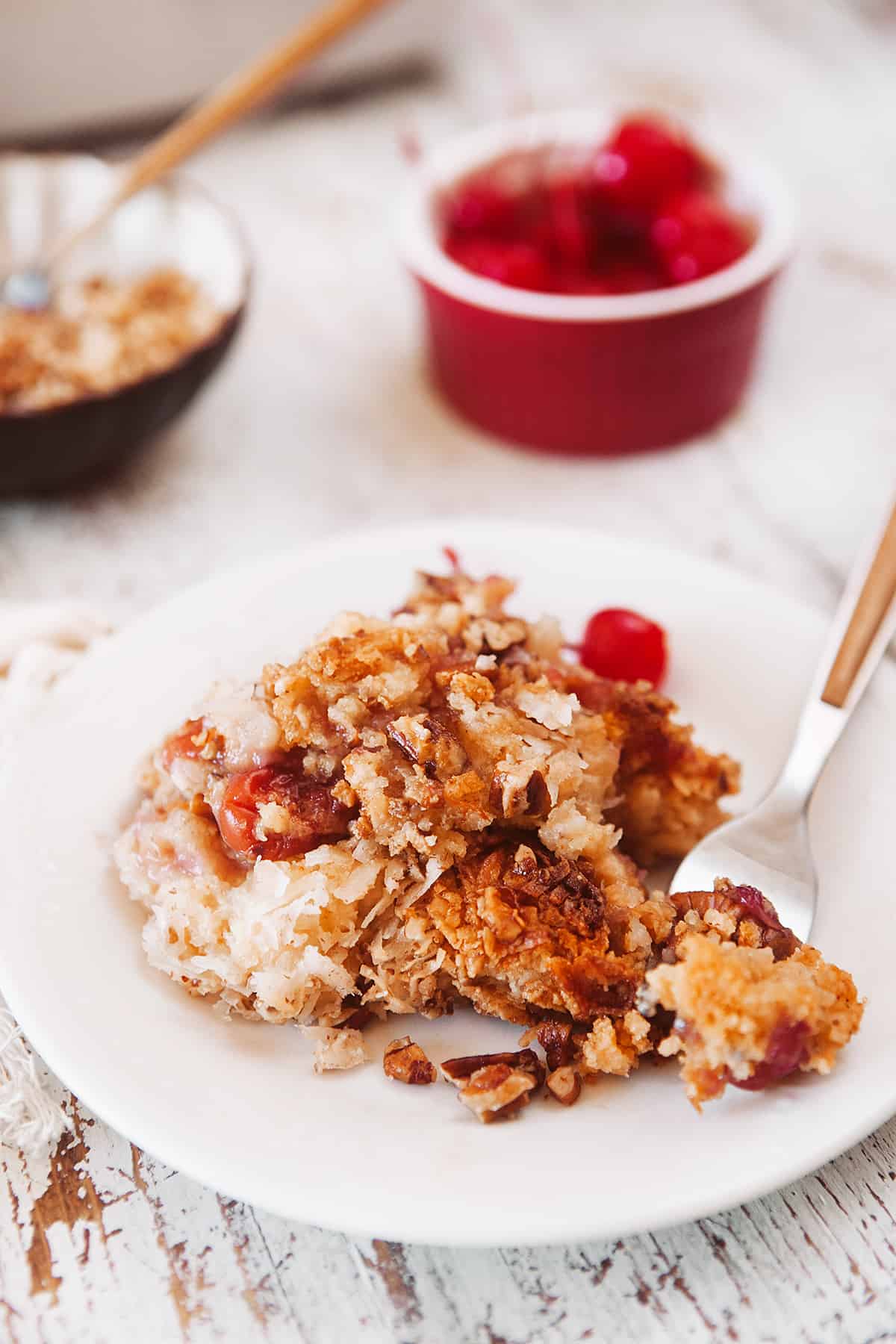 How to Make a Cherry Pineapple Dump Cake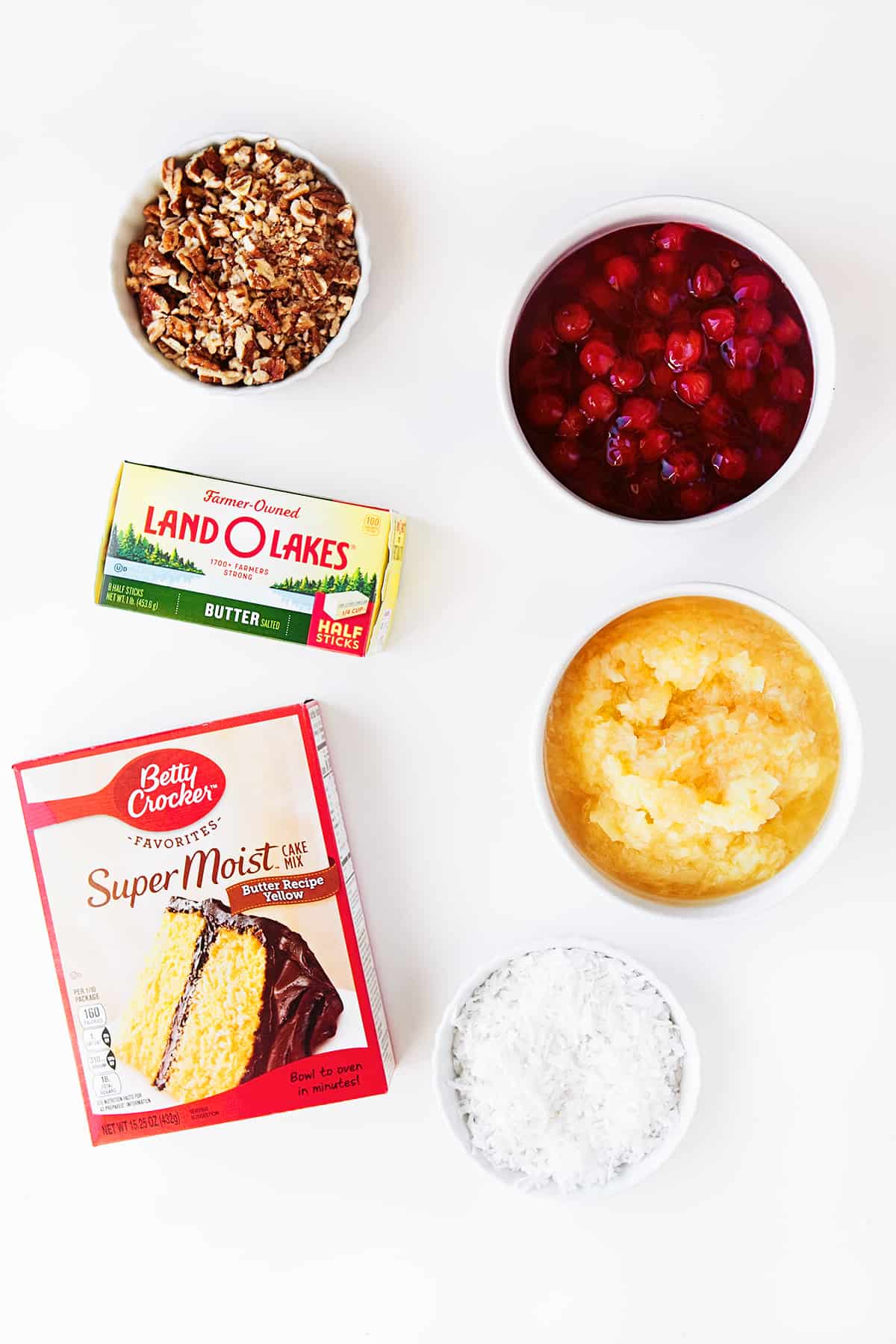 If you're not familiar with dump cakes, you're in for a real treat! A dump cake is the absolute easiest cake recipe you'll ever make. Doesn't everyone need a super simple back pocket cake recipe at the ready every now and then?
To make this Cherry Pineapple Dump Cake you only need 6 ingredients (plus ice cream or whipped cream if you want a topping).
A can of Cherry Pie Filling
A can of Crushed Pineapple
A Yellow Cake Mix
Two Sticks of Butter
A cup of Shredded, Sweetened Coconut
A cup of Chopped Pecans (optional, but they add such a delicious crunch)
After you've preheated the oven to 350 degrees Fahrenheit. You just dump the ingredients into a baking dish! That's why it's called a dump cake.
First dump in the cherries, followed by the pineapple, then the dry cake mix on top. Sprinkle it with the coconut, then pecans, and then finish it off by drizzling it with melted butter on top. Finally, pop it in the oven for 45 to 60 minutes, or until it's golden brown.
The old saying is, "easy as pie," but I think the better way to get the point across would be to say, "easy as dump cake."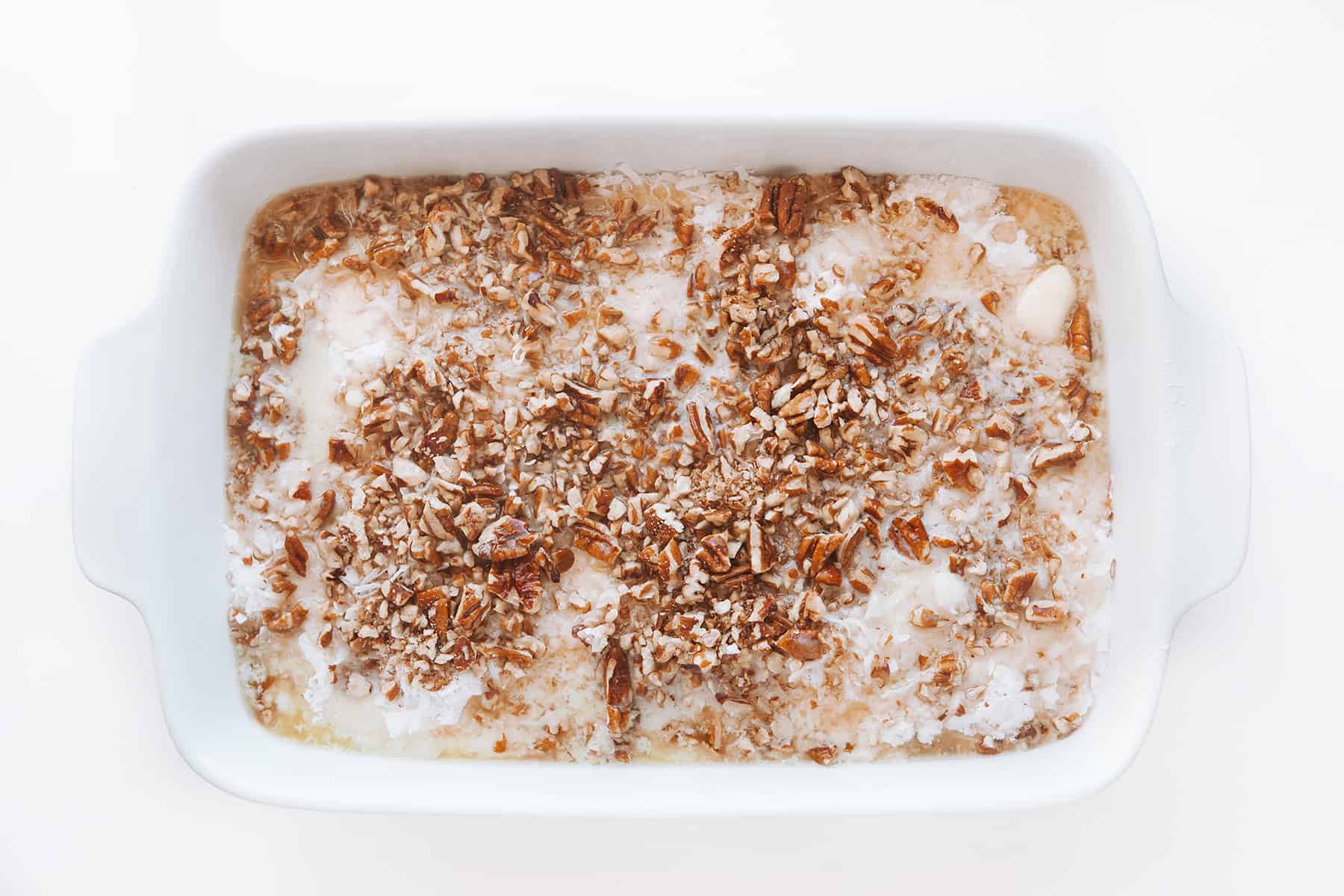 Do You Stir A Dump Cake?
It's no mistake that I didn't include any whisking, mixing, or stirring in my instructions. You really don't need to stir a dump cake.
With the canned fruit on the bottom, and the melted butter on the top, the liquids bake into the cake mix in the oven and create gooey layer in the middle and crispy layer on top without any stirring at all. It's like magic!
It is some what like an Impossible Pie as the magic happens in the oven.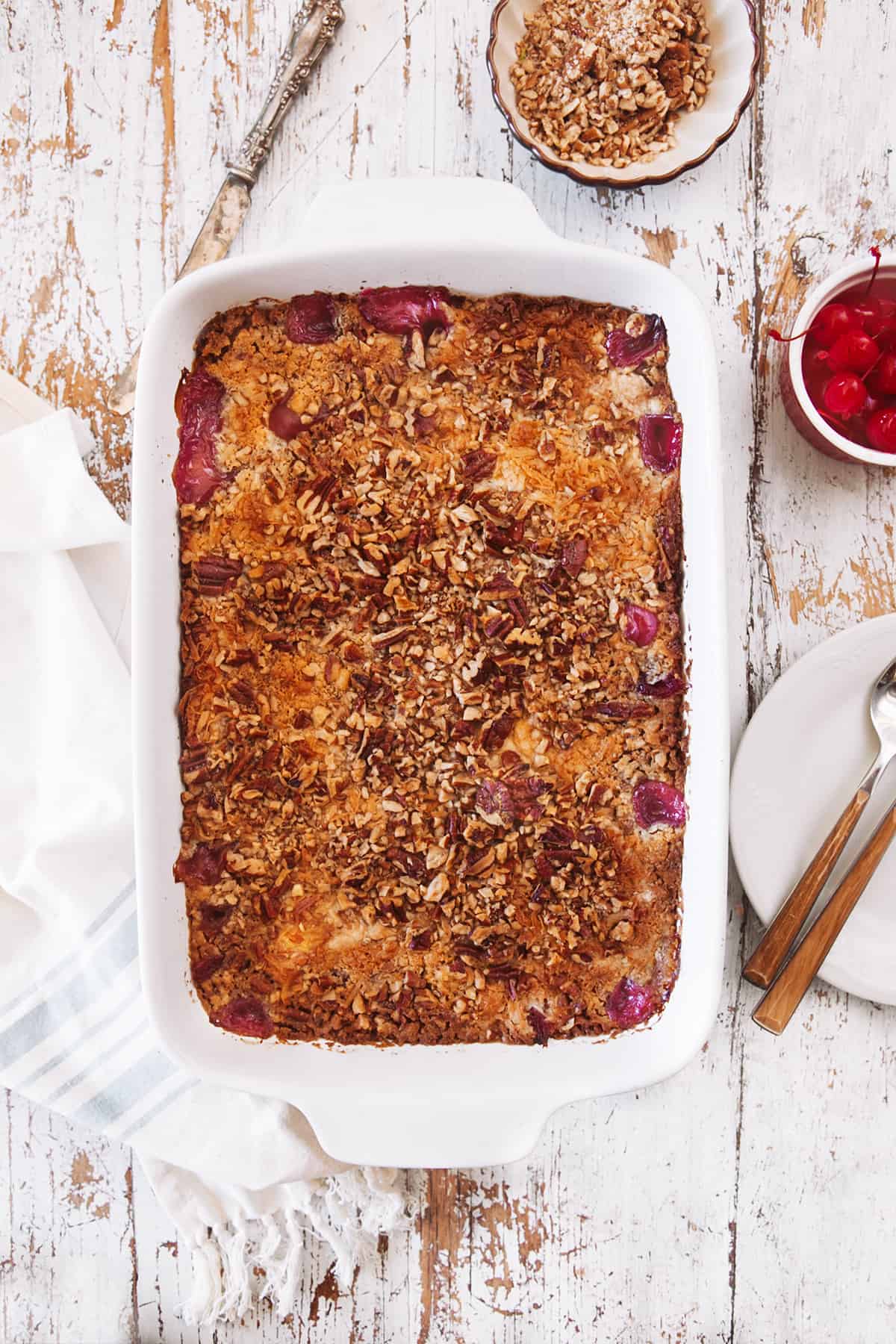 Do You Serve a Dump Cake Hot or Cold?
You can serve a dump cake hot or cold. I personally think this pineapple dump cake is best hot with a big scoop of slow churned vanilla ice cream on top (so it gets all melty).
However, dump cake is also delicious served cold or at room temperature with or without a scoop of ice cream or whipped cream on top of the cake. I like to add some maraschino cherries just for a little extra pizzazz when I serve it.
This Cherry Pineapple Dump Cake is one of those cakes that tastes good just about any which way you want to eat it.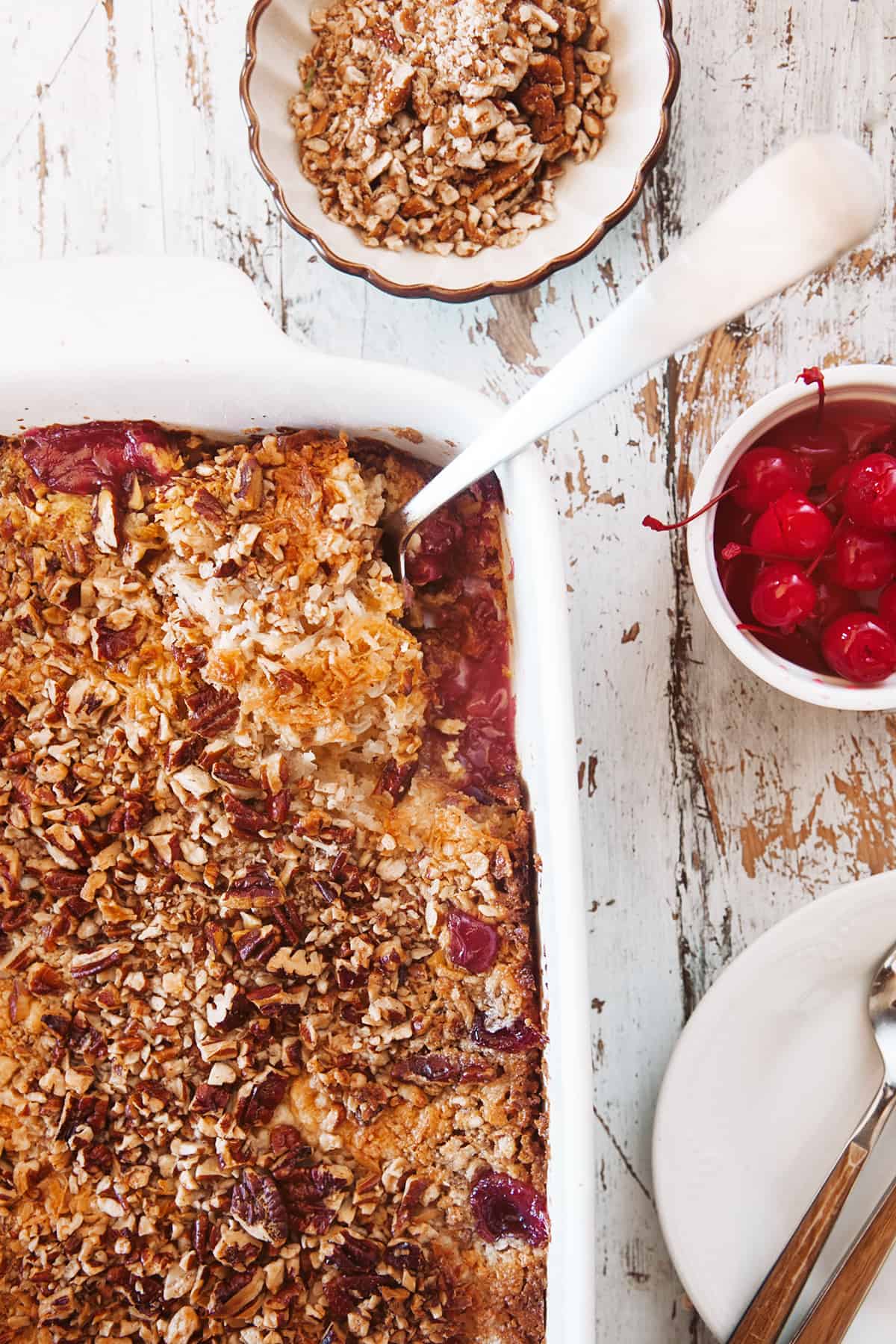 Do You Have to Refrigerate a Cherry Pineapple Dump Cake?
You don't need to refrigerate the dump cake as part of the preparation process. However, to store it, you'll want to keep it in an air tight container in the fridge for up to a week.
You can also freeze dump cake in an airtight container for up to three months. Just bring it to room temperature, or warm it up before you serve it.
That being said, it's going to taste best the day you make it when the top is still crunchy from baking and the middle is still hot and gooey.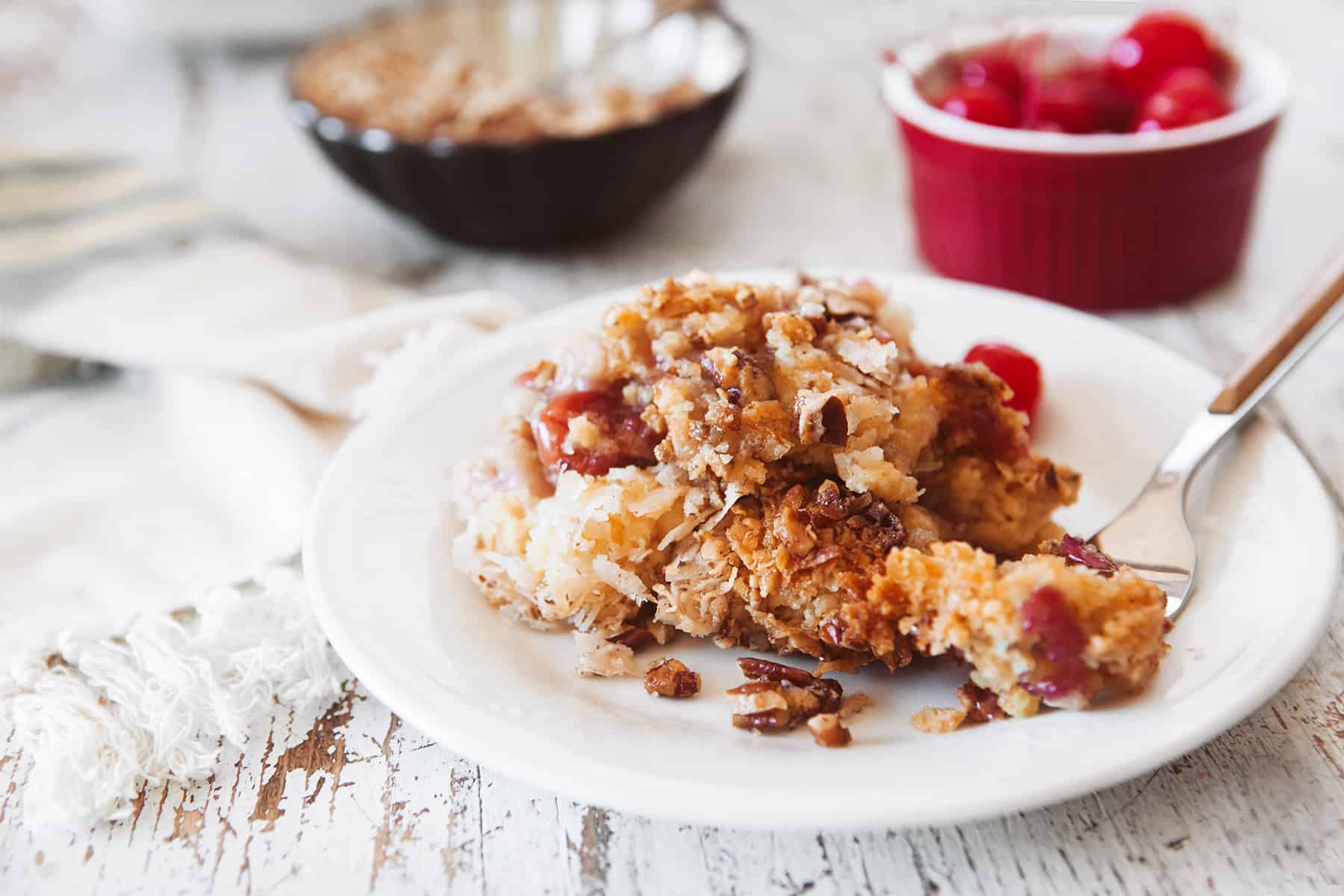 How Do You Make a Dump Cake From Scratch?
There's nothing wrong with using a cake mix when you need a short cut in the kitchen. Sometimes, however, you just want the comfort of a recipe from scratch.
To make a dump cake from scratch, just mix up the dry ingredients for your favorite standard yellow cake recipe. Include the flour, sugar, baking powder, baking soda, and salt.
When the Cherry Pineapple Dump Cake recipe says to add the cake mix, just dump in your homemade mixture.
Enjoy this cake any way you make it. Try different combinations, leave out the nuts or change them up. Once you try one of these easy cake you will want to make more!!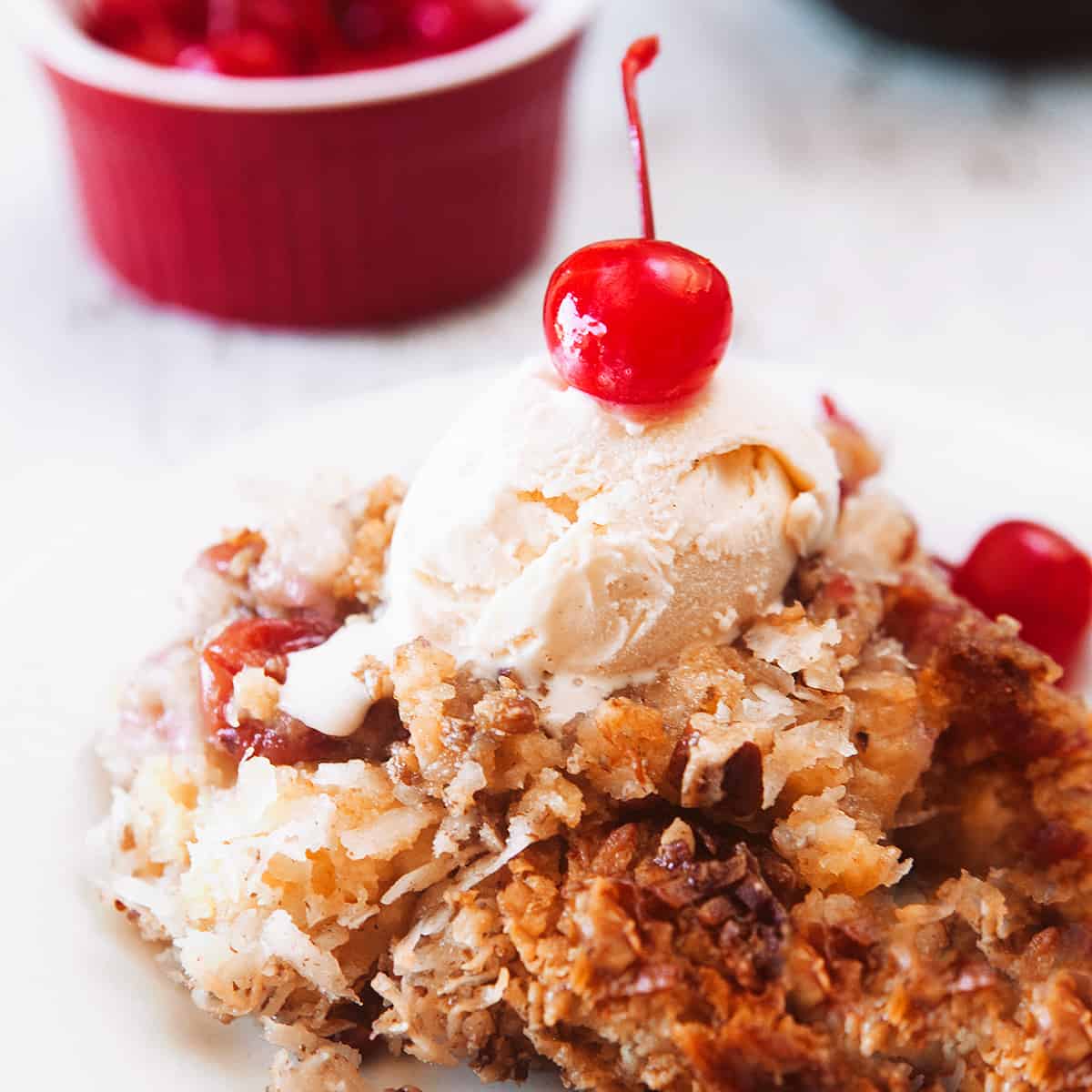 Pin it HERE!!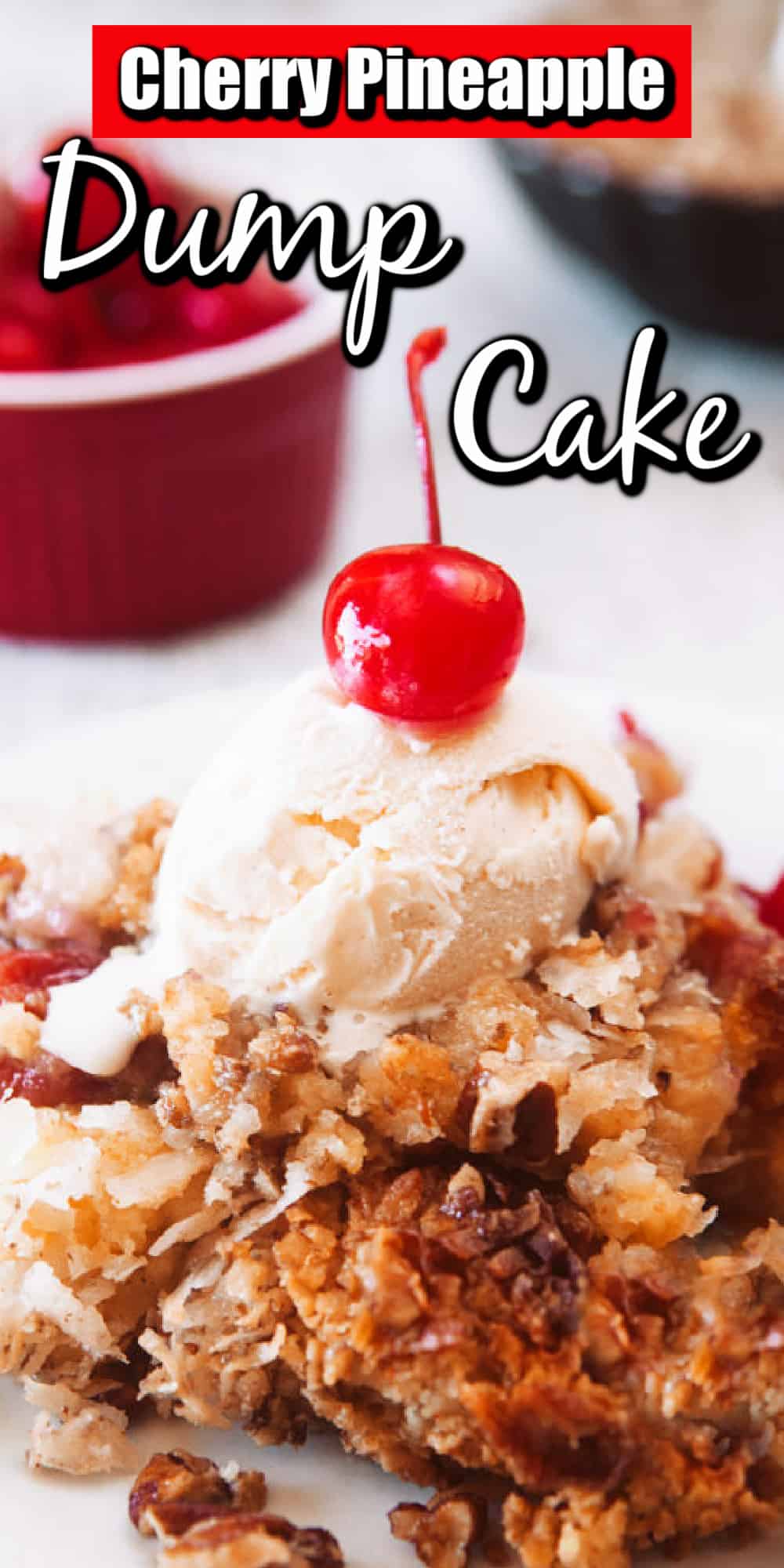 Pin it HERE!!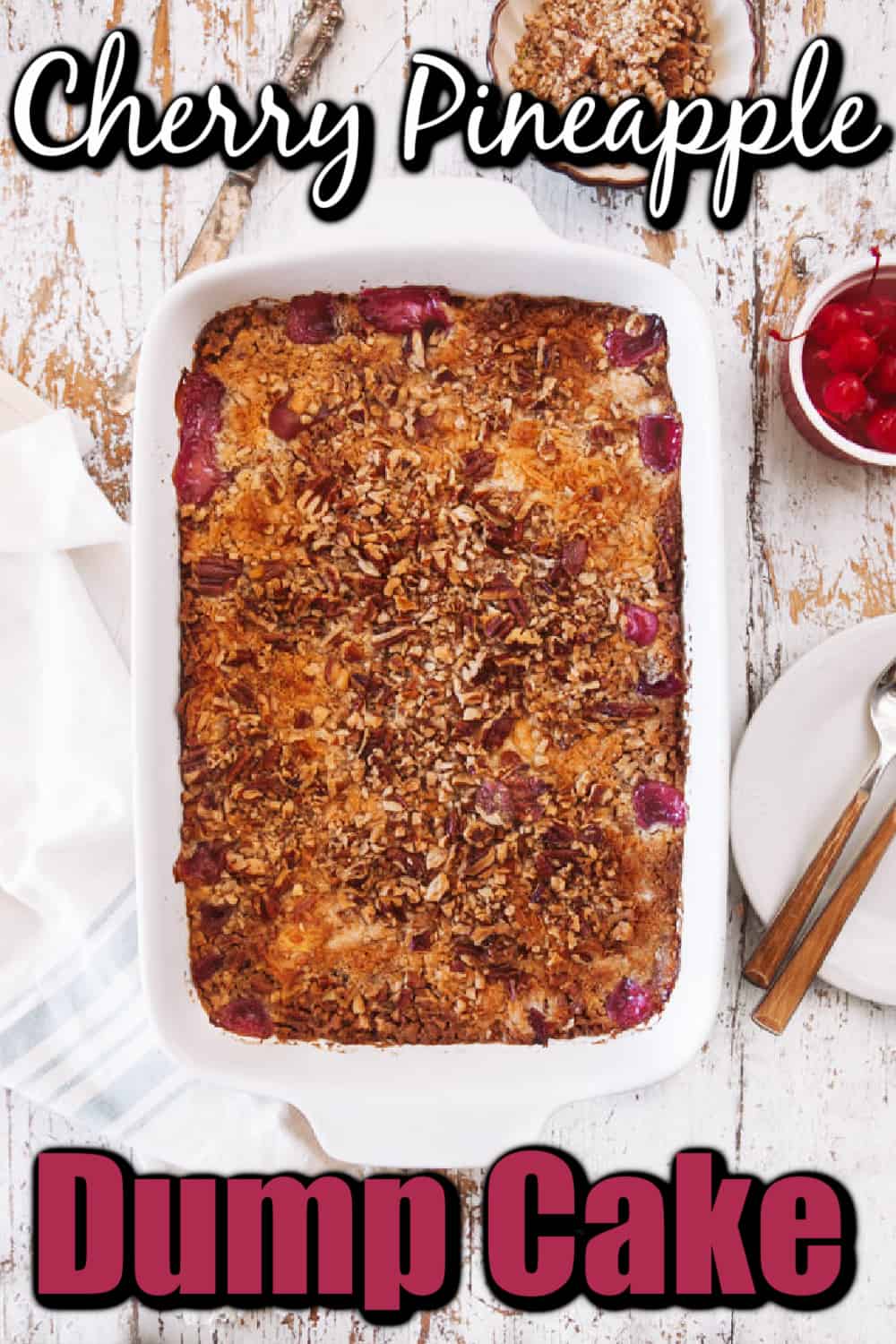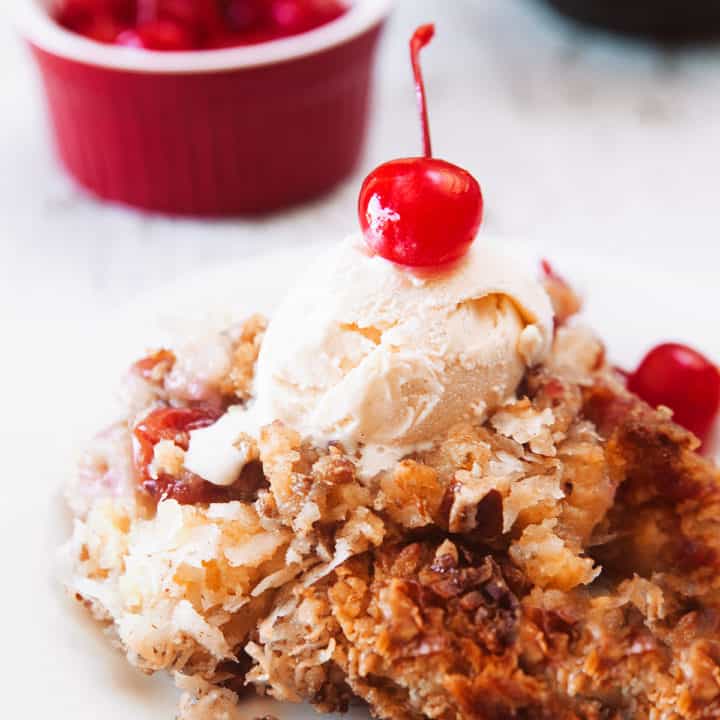 Cherry Pineapple Dump Cake
Yield: 10 to 12
Prep Time: 5 minutes
Cook Time: 1 hour
Total Time: 1 hour 5 minutes
Although the name Cherry Pineapple Dump Cake may not be the most appealing it is one of the easiest and delicious cakes around. The "dump" part is how you prepare the cake by simply adding the ingredients, not stirring, and baking to golden brown perfection!
Ingredients
21 ounce can of cherry pie filling
20 ounce can of crushed pineapple, with juices (undrained)
1 box of yellow cake mix
1 cup of sweetened, shredded coconut
1 cup of chopped pecans
1 cup of unsalted butter, melted
Instructions
Preheat oven to 350 degrees Fahrenheit.
In a 9 inch x 13 inch baking dish, dump in the cherry pie filling and spread it evenly around the baking dish. Repeat with the crushed pineapple and juices.
Sprinkle the cake mix evenly over the top of the canned cherries and pineapple. Then evenly cover the top with the coconut, followed by the chopped pecans.
Finally, drizzle the melted butter evenly all over the top of the cake. Do not stir.
Bake for 45 to 60 minutes, or until the cake is golden brown. Serve warm or at room temperature.
Recommended Products
As an Amazon Associate and member of other affiliate programs, I earn from qualifying purchases.
Nutrition Information:
Yield: 12
Serving Size: 1
Amount Per Serving:
Calories: 490
Total Fat: 25g
Saturated Fat: 13g
Trans Fat: 0g
Unsaturated Fat: 11g
Cholesterol: 41mg
Sodium: 362mg
Carbohydrates: 65g
Fiber: 3g
Sugar: 31g
Protein: 3g
Recipe calculation was provided by Nutritionix and is an estimation only. If you need nutritional calculations for medical reasons, please use a source that you trust.