It is #WeekdaySupper time again at Noshing With The Nolands. We have to give you a simple and easy dinner that takes under 30 minutes. It of course has to be delicious too. Well I have got you covered with this scrumptious tasting Hamburger Stroganoff from my girlfriend Deb. She has made this recipe for years and her daughters whom are grown and have families of their own, still request it.
The flavor is just as good or even better than it's bigger brother Beef Stroganoff, that takes a lot more time and effort!!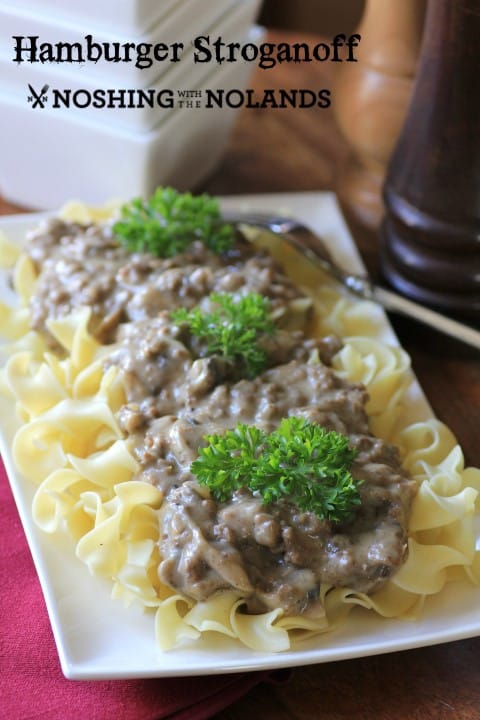 Weekday meals are tough and kids get bored or picky. This creamy and delicious meal will have kids asking for more but the best part is that it is on your table in no time flat!!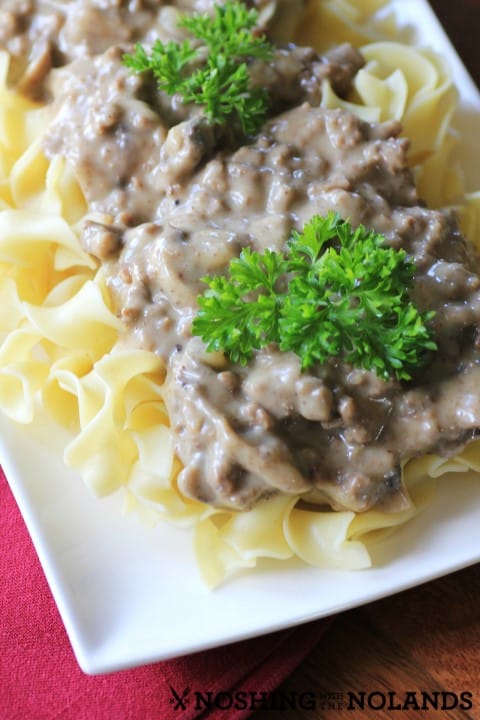 I love egg noodles with a dish like this, it is so comforting!! This is a perfect fall/winter meal, that will fill up the heartiest of appetites!

Yield: 4
Hamburger Stroganoff #WeekdaySupper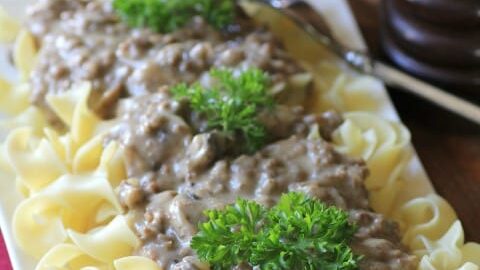 An easy and fast #WeekdaySupper that you will have on the table in under 30 minutes.
Ingredients
1 cup minced onion
2 Tbsp. butter
1 lb. ground beef
2 Tbsp. flour
1 tsp. salt
1/4 tsp. pepper
1- 10 oz. can cream of chicken soup
1/2 cup sour cream
7 oz. fresh mushrooms, sliced
1/2 cup grated cheddar cheese
Parsley for garnish, chopped if desired
Instructions
In a large pan saute onion in butter until transparent. Add the ground beef and brown. Stir in the flour, salt, pepper and sliced mushrooms. Saute for 5 min. until mushrooms are cooked. Pour in the soup, and cook uncovered for 10 min. Add the sour cream and cheddar cheese and stir to combine.
Meanwhile cook desired amount of egg noodles according to manufacturer's instructions.
Serve the stroganoff over the cooked noodles and garnish with parsley.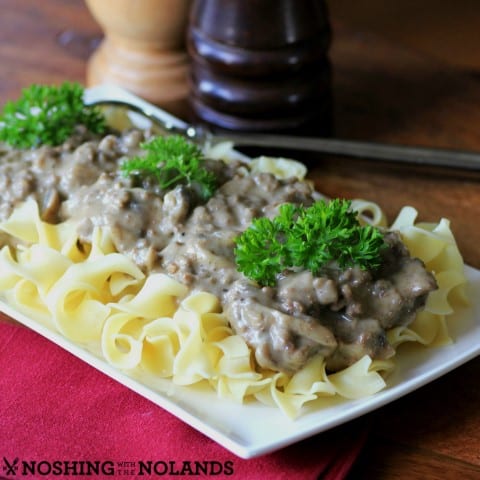 Look who else is cooking up some great chow this week for #WeekdaySupper. Come and see them all through the week!!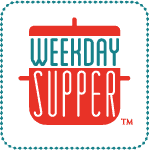 Monday – Chicken in Pesto Cream Sauce by Flavor Mosaic
Tuesday – Hamburger Stroganoff by Noshing With The Nolands
Wednesday – Watermelon and Mint Pesto Cucumber Noodle Salad by Take A Bite Out of Boca
Thursday – Fried Tofu with Sesame Soy Dipping Sauce by Hezzi-D's Books and Cooks
Friday – Peppery Caramelized Onion Egg Curry by Sue's Nutrition Buzz