This Homemade Enchilada Sauce recipe is so easy you will never want to buy store-bought enchilada sauce again! With only a handful of everyday ingredients and a few minutes, you can prepare this fantastic sauce.
Looking for some other fantastic Mexican-inspired recipes you can make at home? Why not check out this easy Cheesy Enchilada Rice, Mexican Breakfast Casserole, or these super tasty Baked Chicken Flautas for dinner this week?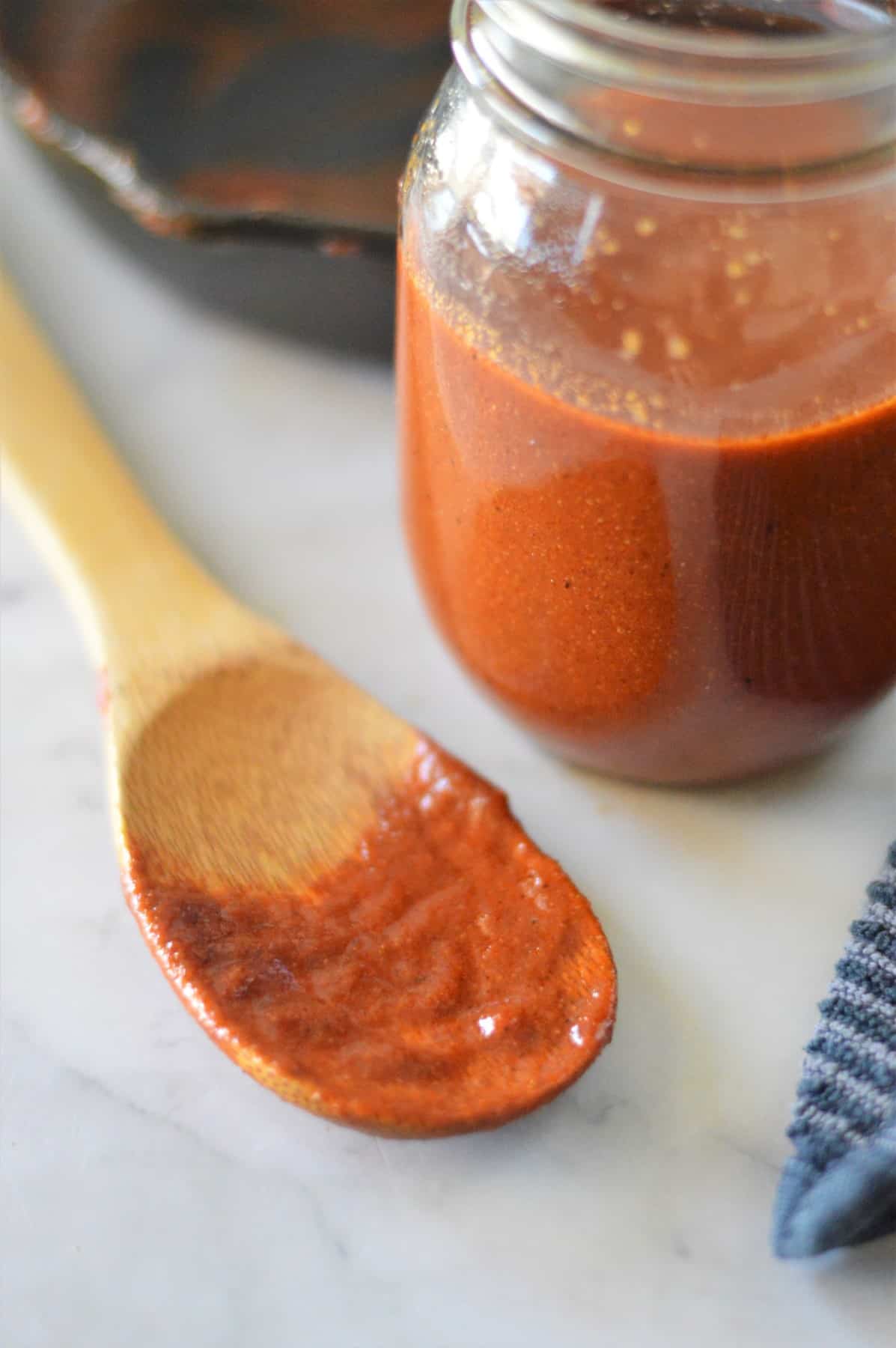 HELPFUL ITEMS FOR THIS RECIPE
This post contains affiliate links. As an Amazon Associate, I earn a small portion from qualifying purchases at no extra charge to you.
Cast Iron Skillet with Lid – 10″-Inch
What is Enchilada Sauce Made of?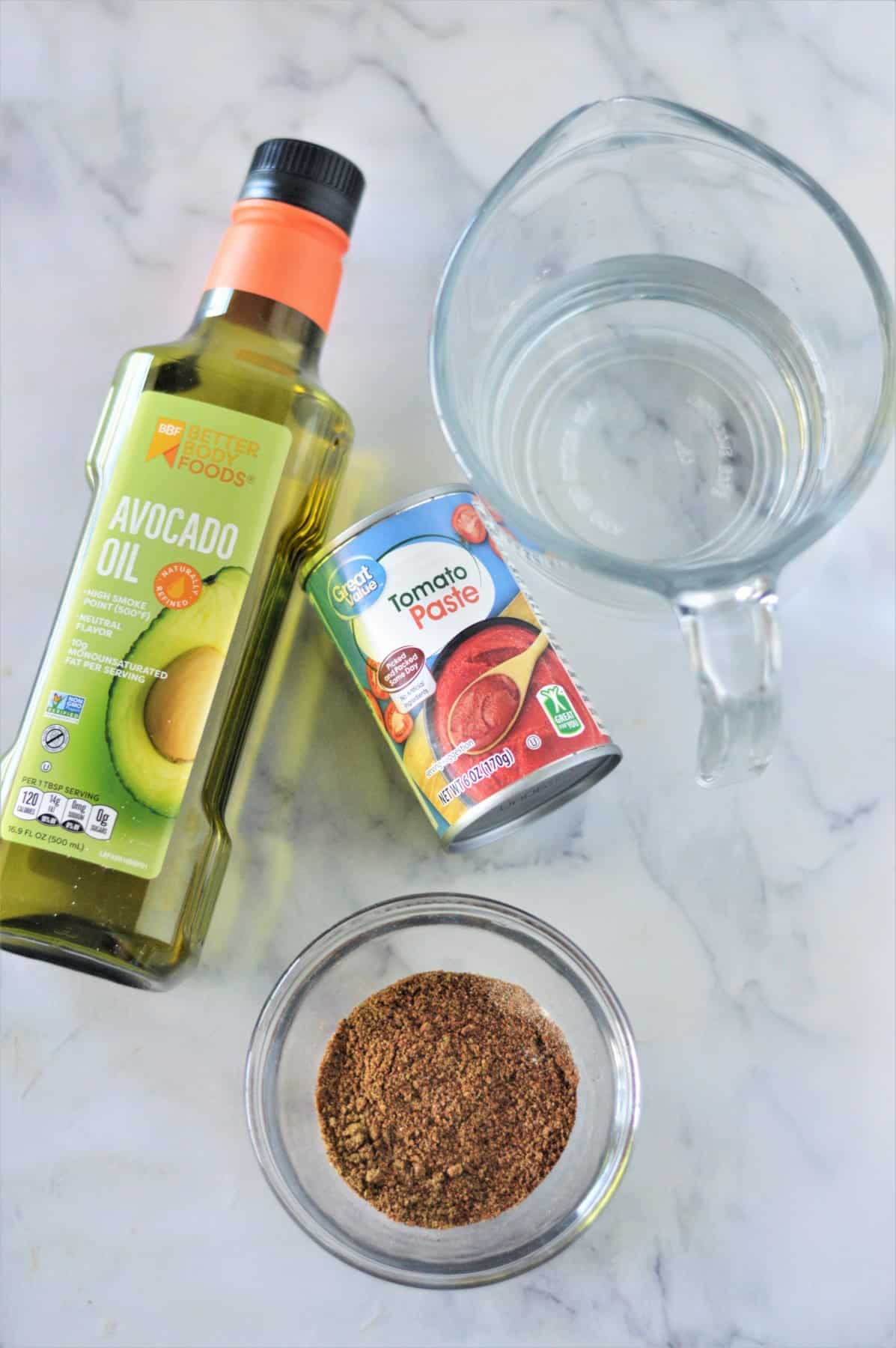 Isn't it better to know what you are serving your family, knowing everything that goes into the recipe? Rather than hoping that can of sauce you just opened is a healthy choice for your family. This recipe is gluten-free as there is no all-purpose flour at all, but to thicken the sauce, we used tomato paste instead.
We love Mexican and Latin food, and having an easy enchilada sauce recipe is vital for so many recipes. The flavors are amazing, my family loves them, and the recipes are usually straightforward and easy to follow!
This tomato-based homemade enchilada sauce cooks for just a few minutes. You can prepare it in advance and store it in the refrigerator until dinner. What could be easier than that? The recipe creates a mild enchilada sauce, but be my guest, if you like it spicy, just amp it up with cayenne, chilies, or whatever heat source you enjoy! Do get a good brand of chili powder, as that really does make a better sauce.
INGREDIENTS
Avocado oil (or olive oil)
Tomato paste
Water
Chili powder
Ground cumin
Garlic powder
Onion powder
Kosher Salt
6 ingredients with Kosher salt and water, that's it! I mean, why aren't you making your own enchilada sauce all the time?
How To Make Enchilada Sauce
You may have everything you need in your pantry already. If not, the ingredients are everyday items found in your local grocery store. Nothing mysterious or out of the ordinary here!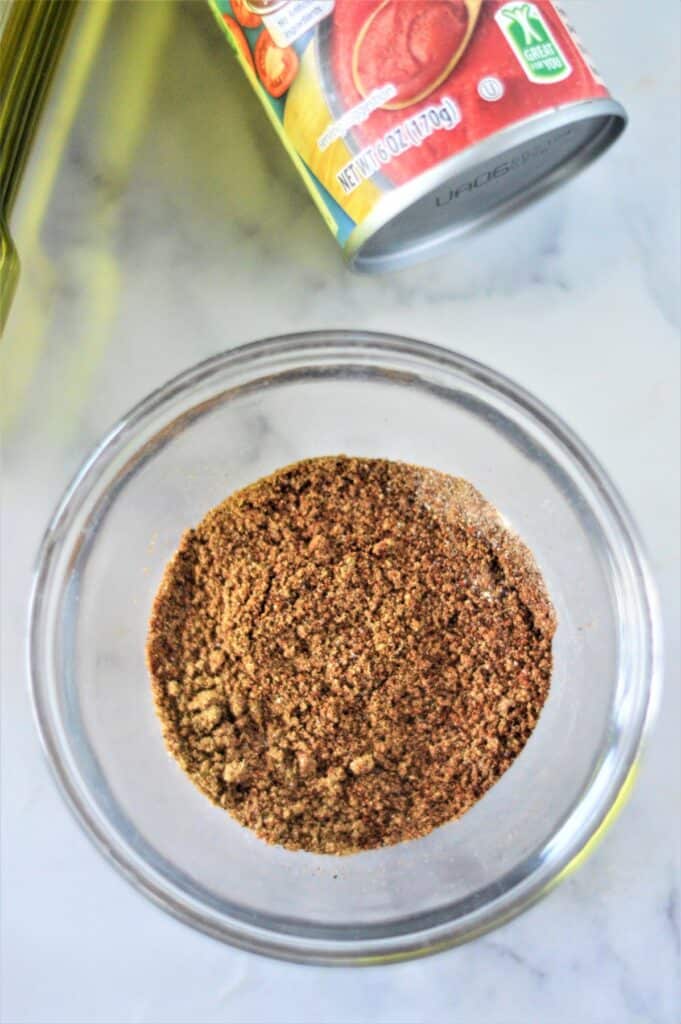 Start by combining the chili powder, cumin, garlic powder, onion powder, and salt in a small bowl. Note: I use Kosher salt when I'm cooking. I find the flavor much better, and the end result tastes wonderful.
Pour the avocado oil into the skillet and heat over medium-low heat. Note: if you do not have avocado oil, you can substitute good quality extra virgin olive oil.
Once the oil is hot but not smoking, add the spice mix to the skillet and stir to combine. You want to "bloom" the spices for about a minute in the skillet. To bloom the spices is to heat the spices in oil. This allows them to release maximum flavor and aroma.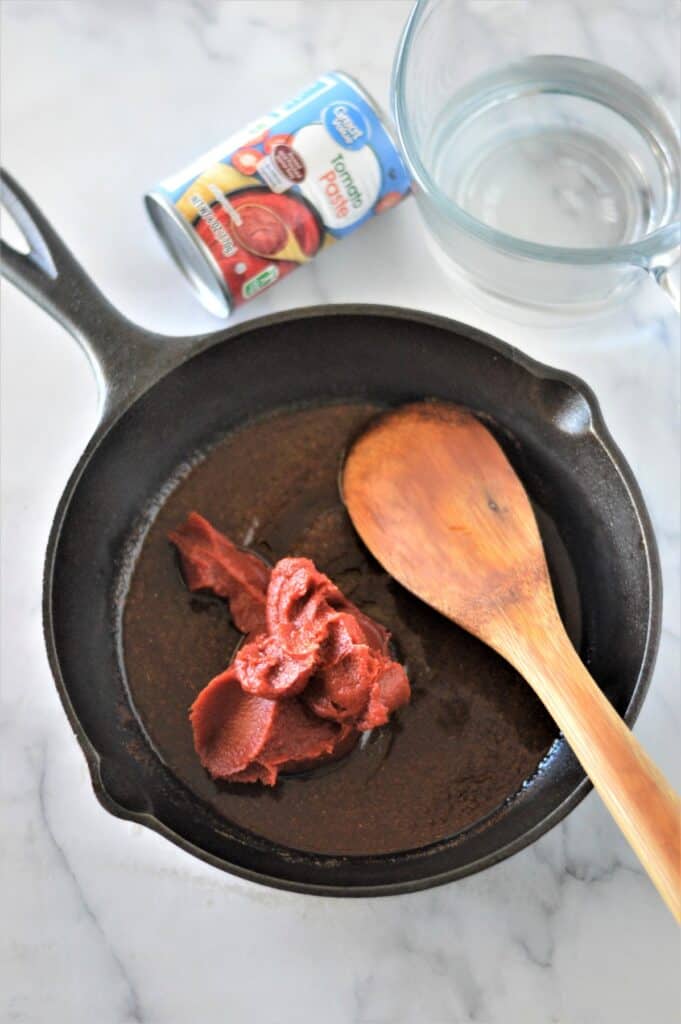 Once your spices are aromatic, after about a minute or so, add the tomato paste and water to the skillet. Stir to combine and bring the pan to a low simmer over medium-low heat. Continue to simmer over low heat until the sauce has a smooth consistency and there are no lumps.
Remove from the heat and taste the sauce. You can adjust the seasonings a little at this point but remember all the spice flavors will intensify as the sauce sits and melds. Allow the enchilada sauce to cool to room temperature before transferring it to an airtight container. The sauce is now ready for you for dinner.
How Can I Store Enchilada Sauce?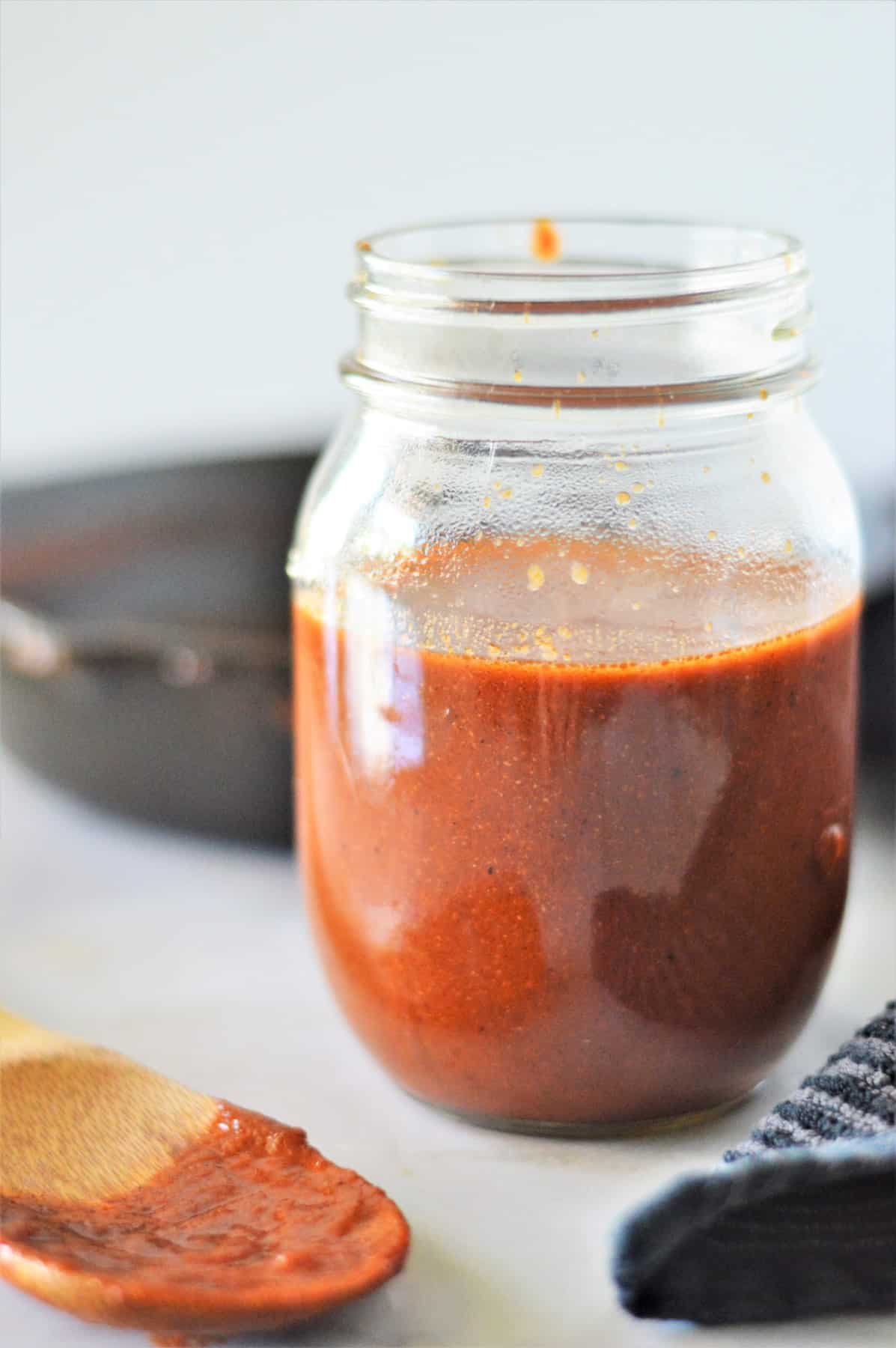 Enchilada sauce will store in your refrigerator for 5-7 days. If you need to keep it longer, it will last in the freezer for 3 months. Make sure to store the sauce in freezer-safe glass jars. Defrost at room temperature or overnight in the refrigerator.
What is the Difference Between Enchilada Sauce and Red Sauce?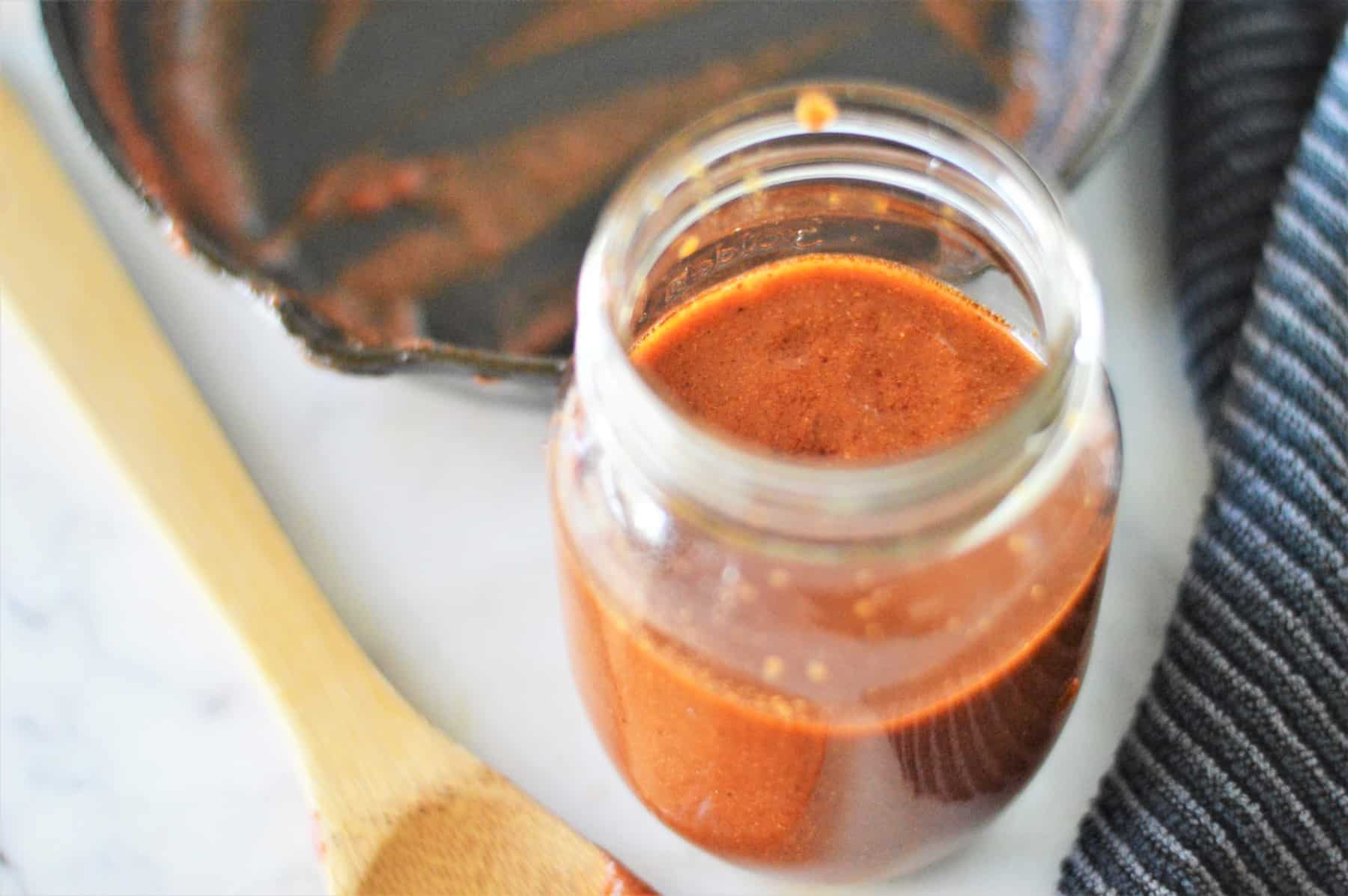 Although this is made with tomatoes, this is not a tomato sauce. Enchilada sauce is made with ground chilis or chili powder. Red chili sauce is made with whole chilis. Enchilada sauce also has a thinner consistency, and because it uses ground chilis, the chili flavor is usually more pronounced. Red Chili sauce is thicker and usually has a sweeter flavor.
Can You Make Green Enchilada Sauce?
The short answer is yes, you can make a green enchilada sauce, sometimes called Verde sauce. The basic difference between red and green enchilada sauce is the use of tomatillos and green chilis.
Red enchilada sauce uses tomatoes or tomato paste, hence the red color. Green enchilada sauce tends to be slightly more bitter as the tomatillos are more acidic and less sweet than regular tomatoes.
Looking for Ideas for your Homemade Red Enchilada Sauce?
Here are some recipes that you can use this delicious easy Enchilada Sauce in!
Easy Enchilada Casserole will make the whole family happy!
Enchilada Frittata was a real winner of a meal and so easy to make too!
When you have leftover turkey or chicken hanging around this Leftover Turkey, Sausage Enchilada Casserole is always a winner!!
Cheesy Enchilada Rice – This Cheesy Enchilada Rice recipe is perfect as a side dish for many of your Mexican feasts. It is easy to make and features ingredients like rice, beans, corn, cheese, and more.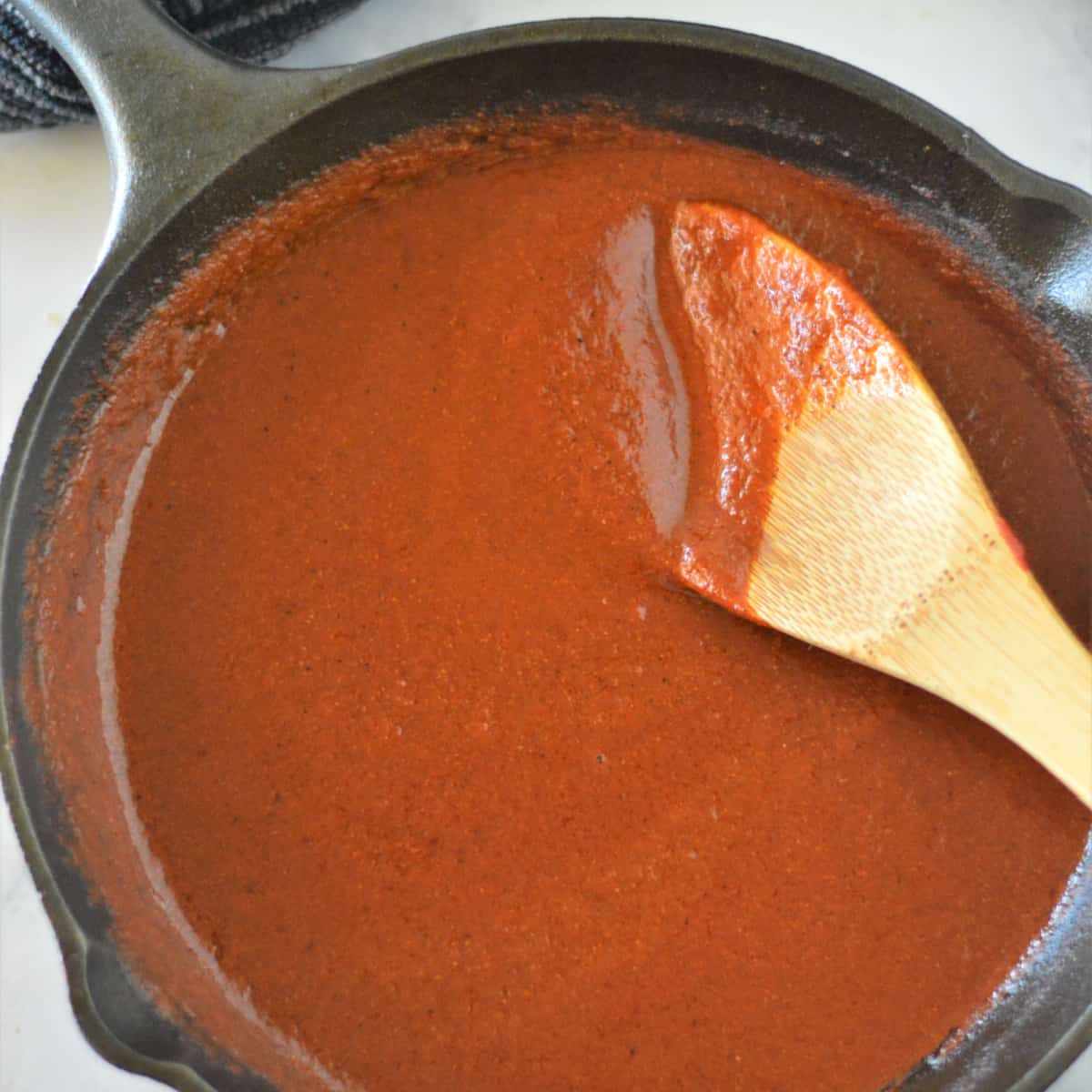 Pin it HERE!!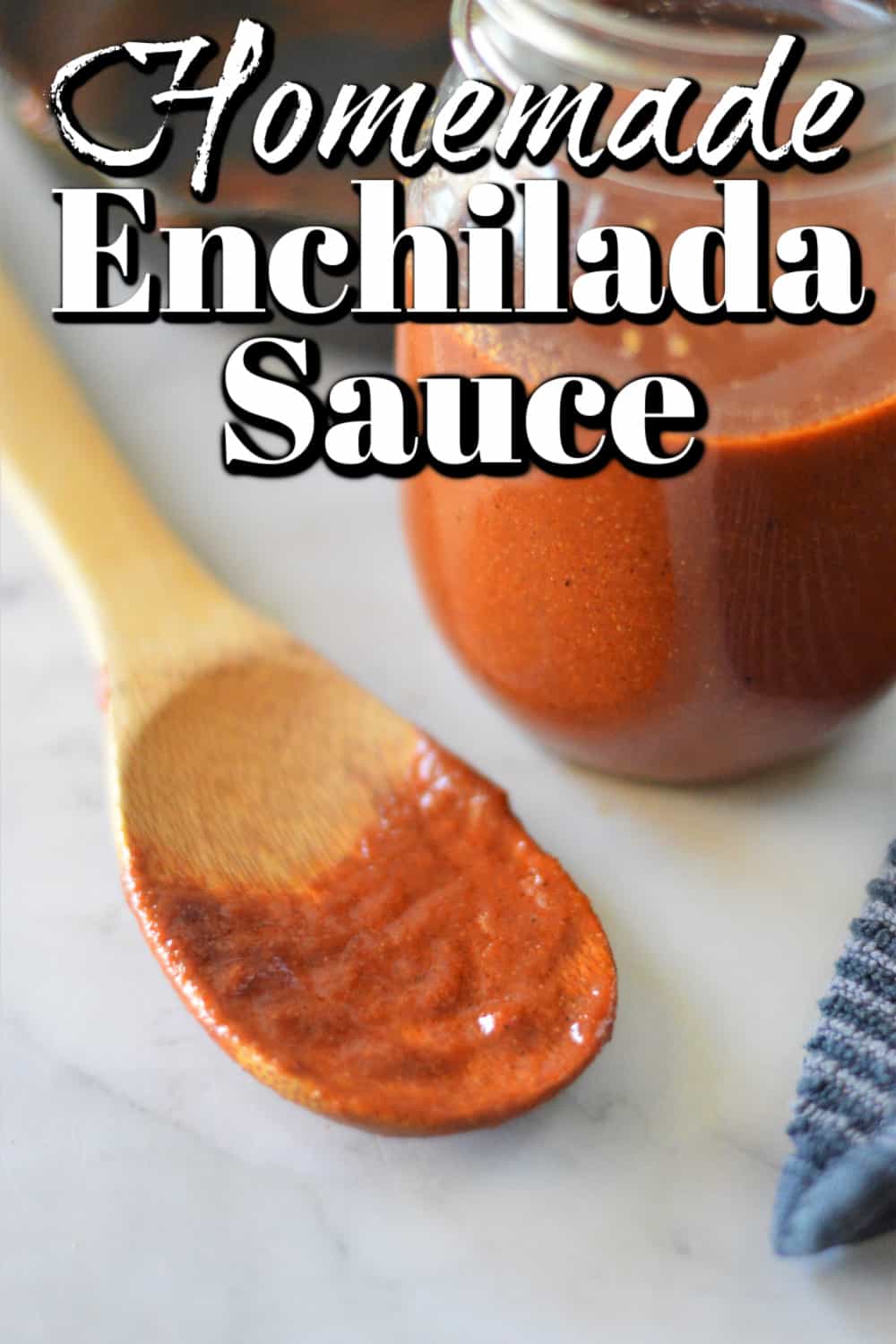 Pin it HERE!!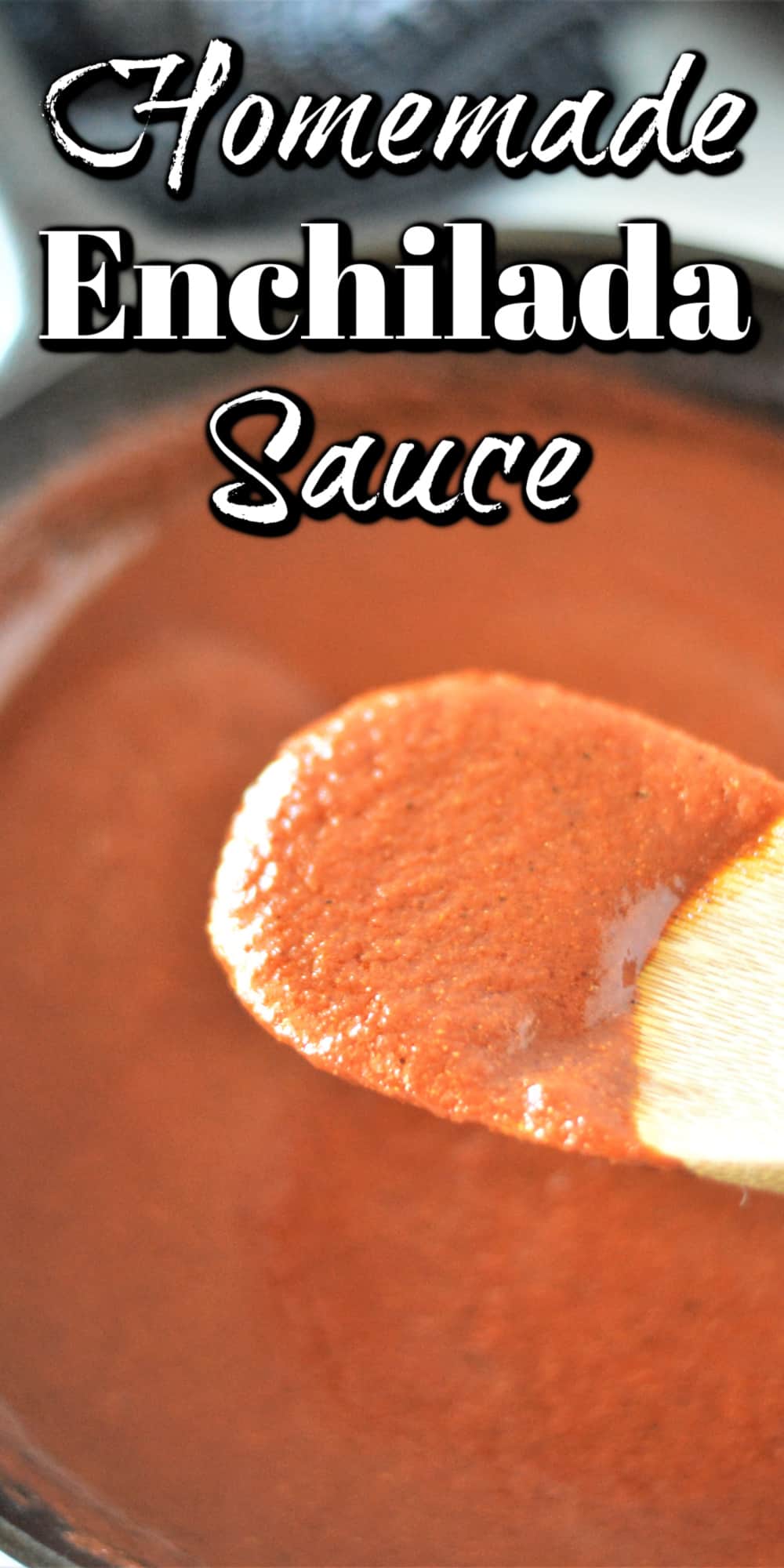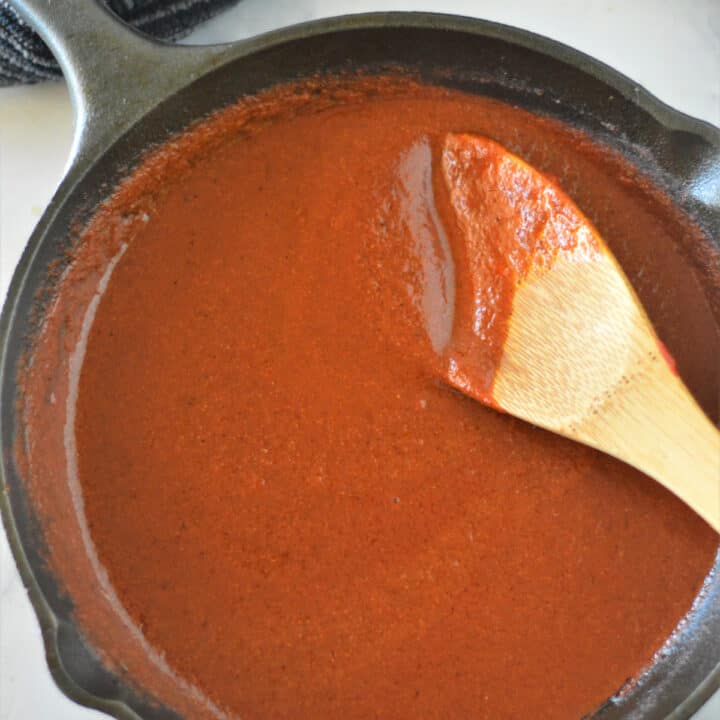 Homemade Enchilada Sauce
Yield: 1 1/2 cups
Prep Time: 2 minutes
Cook Time: 5 minutes
Total Time: 7 minutes
An easy enchilada sauce that is quick to prepare and is perfect for so many dishes! This recipe only takes minutes to make.
Ingredients
3 Tbsp avocado oil (you could use good quality olive oil)
6 oz tomato paste
1 cup water
1 Tbsp chili powder
1 Tbsp cumin
1 tsp garlic powder
1 tsp onion powder
1 tsp Kosher salt
Instructions
1. In a small bowl, combine chili powder, cumin, garlic powder, onion powder, and Kosher salt.
2. Begin by heating the avocado oil in a skillet over medium-low heat.
3. Add spice mix to the skillet, stirring constantly for about 1 minute.
4. Add tomato paste and water. Continue to simmer over medium-low heat until you have a smooth consistency and there are no clumps (approx. 2 minutes).
5. Remove from heat and let cool.
6. Use immediately or store in an airtight container in your refrigerator until you are ready to serve.
Recommended Products
As an Amazon Associate and member of other affiliate programs, I earn from qualifying purchases.
Nutrition Information:
Yield: 4
Serving Size: 1
Amount Per Serving:
Calories: 142
Total Fat: 11g
Saturated Fat: 1g
Trans Fat: 0g
Unsaturated Fat: 9g
Cholesterol: 0mg
Sodium: 245mg
Carbohydrates: 10g
Fiber: 3g
Sugar: 5g
Protein: 3g
Recipe calculation was provided by Nutritionix and is estimation only. If you need nutritional calculations for medical reasons, please use a source that you trust