It is holiday season and leftover season, so today I give you Leftover Turkey, Sausage Enchilada Casserole. We just had our Thanksgiving up here in Canada last weekend. I know I am not the first to have thought of this recipe but it came to me when I was looking at this Enchilada Casserole recipe in our files. I also had some leftover sausage in the freezer and you may have that too from your stuffing. It made a great combination of flavors and gave us a whole new easy dinner. If you would like to make your own Homemade Enchilada Sauce then try our awesome recipe.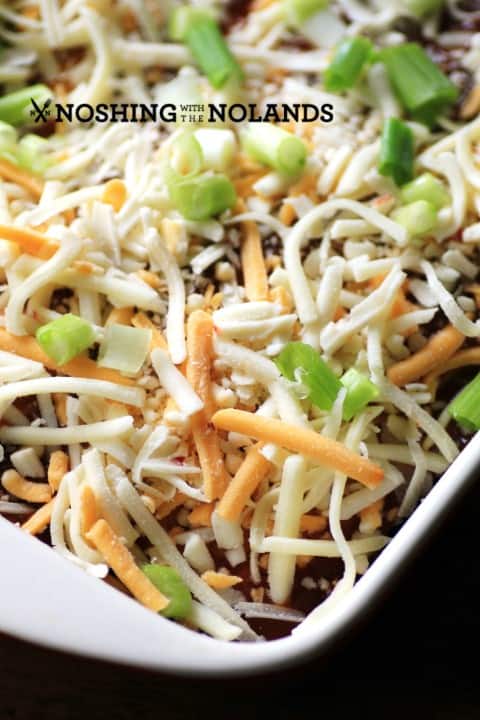 Layers of turkey, sausage, cheese and sauce. I added in a little salsa as one layer. I like the chunky veggies in there too!!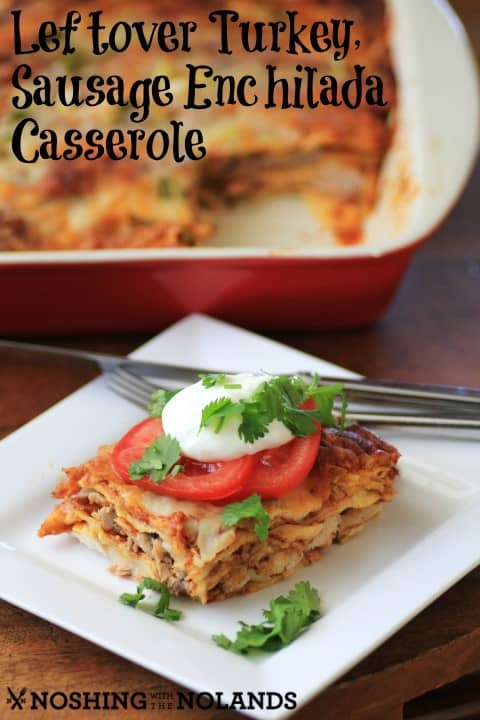 For a dish like this I like to add a little freshness back in with tomatoes, cilantro and sour cream. It is simple and just ups it to a new level. You can also make this a gluten free dish with corn tortillas!!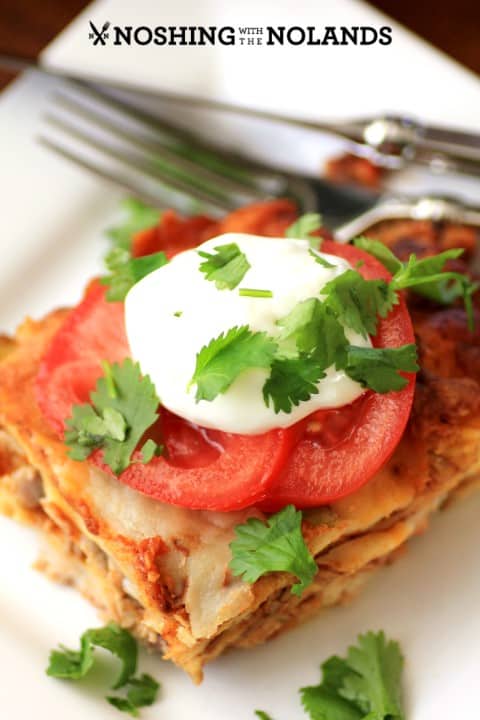 Use up that turkey in a whole new way. Give it another life and another meal your family will love. This is easy on time and it is great crowd pleaser for young and old!!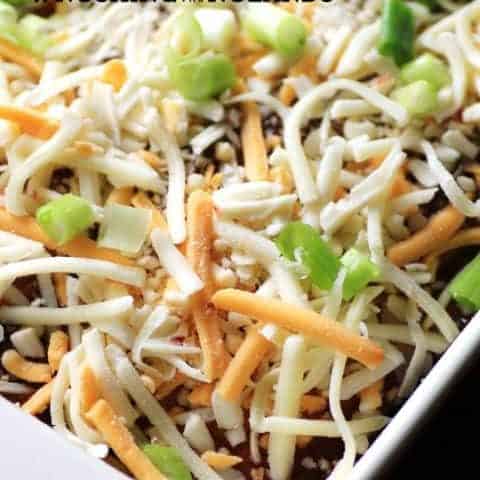 Leftover Turkey, Sausage Enchilada Casserole
Yield: 6-8
Prep Time: 20 minutes
Cook Time: 40 minutes
Total Time: 1 hour
Using leftover turkey and sausage makes this enchilada super easy and uses up your leftovers.
Ingredients
5-6 10" Cheese Jalapeno Tortillas, sliced into 1 1/2" strips (divided into three portions)
2 cups red enchilada sauce
1 cup chunky salsa
2 cups diced cooked turkey
1 1/2 cups sausage or Italian sausage, cooked and crumbled
1/2 onion, finely diced
3-4 cups Mexican cheese blend, shredded (I used a new Creamy Mexican)
2 green onions, diced
Garnish
Sliced tomatoes
Sour Cream
Cilantro
Instructions
Preheat oven to 350F. Spray a 9x13" pan with cooking spray. Lay out enough tortilla strips to cover the bottom of the pan over lapping where needed. Top with the 1 cup of salsa. Place in all of the turkey. Top with 1/2 of the onion. Top with 1 cup of the cheese. Add another layer of tortilla strips to cover. Cover with 1 cup of enchilada sauce. Scatter in the sausage and remaining onion. Top with another 1 cup of cheese. Layer on the last of the tortilla strips. Top with the remaining enchilada sauce and cheese.
Bake for 30-40 min. until browned and bubbling. Cut into individual squares and garnish each with tomatoes, sour cream and cilantro.