Enchilada Casserole
Two days ago I gave you a Mexican Meatball Soup recipe from this cookbook that I am reviewing. I don't normally do this but I am giving you a second recipe, Enchilada Casserole as I am loving this cookbook. This one is so easy.
I love Mexican foods but have never purchased enchilada sauce. Why, I have no idea??? This casserole was the easiest thing on earth to make. I strongly advise for you to purchase this wonderful cookbook. I will be making many more from it. My new go to cookbook for Mexican meals for sure!!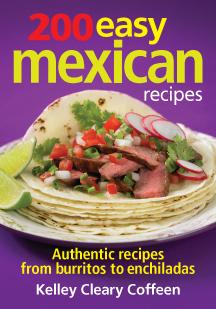 Come and enjoy this casserole and see how easy it is to make. ENJOY!!!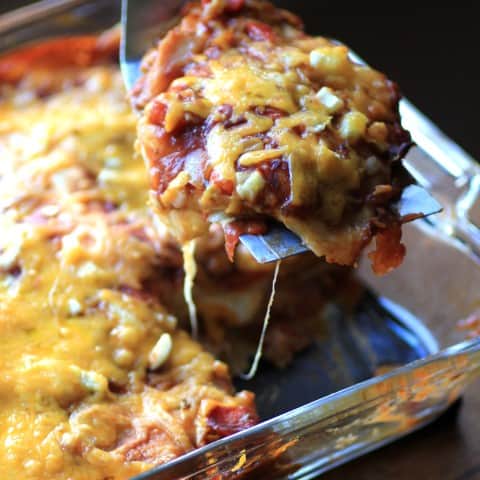 Enchilada Casserole from 200 Easy Mexican Recipes
A wonderfully easy casserole to put together and enjoy!!
Author:
Kelly Cleary Coffeen
Ingredients
18- 6 inch corn tortillas, micro warmed (I used flour tortillas)
3 cups red or greeen enchilada sauce, store bought (I used ½ enchilada, ½ homemade salsa)
2 cups diced cooked chicken
3 cups Monterey Jack or cheddar cheese (I used a blend of Tex Mex and cheddar)
1 onion, diced
1 cup shredded lettuce
½ cup sliced black olives
1 tomato, seeded and diced
Instructions
Preheat oven to 350F.
Place 6 tortillas in the bottom of a baking dish, overlapping as necessary (I used a 9x13" and sprayed it with cooking spray). Top with 1 cup of the sauce, spreading to the outer edges of the tortillas. Top with half of the chicken and 1 cup of the cheese, spreading to the outer edges. Garnish with one-third of the onion. Layer six more tortillas, sauce, the remaining chicken and half each of the remaining cheese and onion. Top with remaining 6 tortillas and remaining sauce, cheese and onion.
Bake in the oven for 30-40 min. Let stand 5-8 min. Cut into squares and serve on individual plates. Garnish with lettuce, olives and tomatoes.