Creamy Cucumber Dill Salad
I loved my mother's salads growing up. She was from Finland so there were two that she made over and over that is very Scandinavian. This Creamy Cucumber Dill Salad and a Finnish Cucumber Salad called Kurkkusalaatti. I make the latter every summer a few times but also really enjoy this salad too. Both are light, cool, and refreshing on a hot day and pair so nicely with BBQ meals or cold suppers. Another favorite of ours is an Easy Asian Inspired Cucumber Salad, all of these are so easy to make for a great side dish.
This salad has the addition of sweet white onions which is a nice touch compared to the sometimes biting red onions. The fresh dill makes this dish come alive!! It also has the right balance of sour and just a touch of sweetness. I would say a perfect summertime salad.
Perfect Summer Salad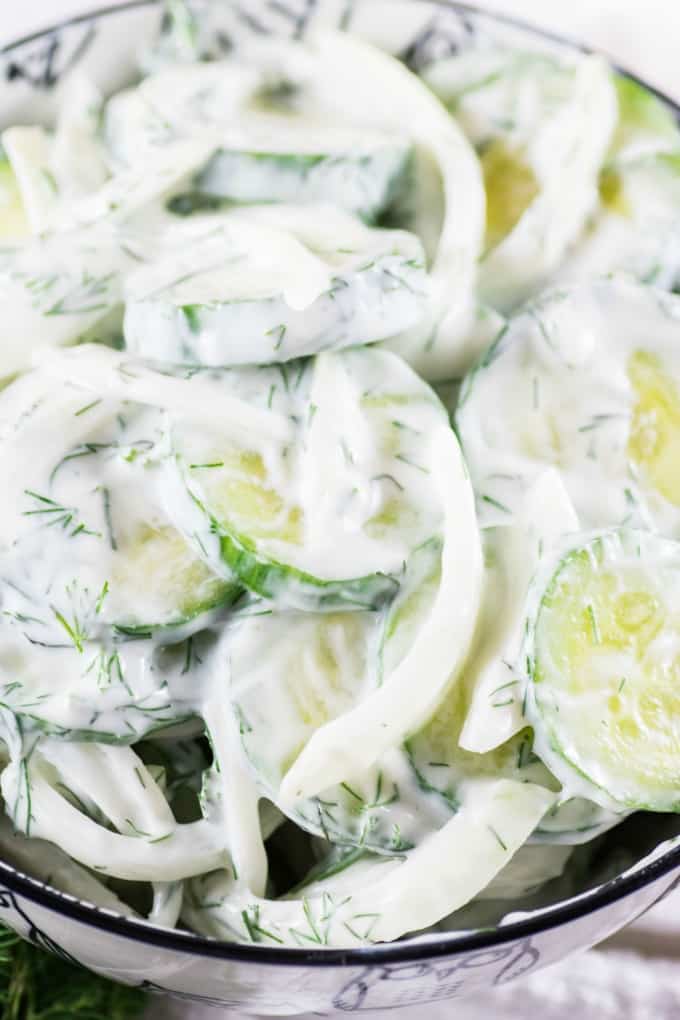 You can easily double this recipe up for a larger crowd. It is a perfect summer pot luck dish as it goes with anything, is completely portable, takes minutes to make and is better if made ahead of time!!
When I take a dish to someone's I want to make sure it is a hit but one that you aren't slaving over for the whole day. This recipe will garnish you rave reviews with little effort. Got to love that!!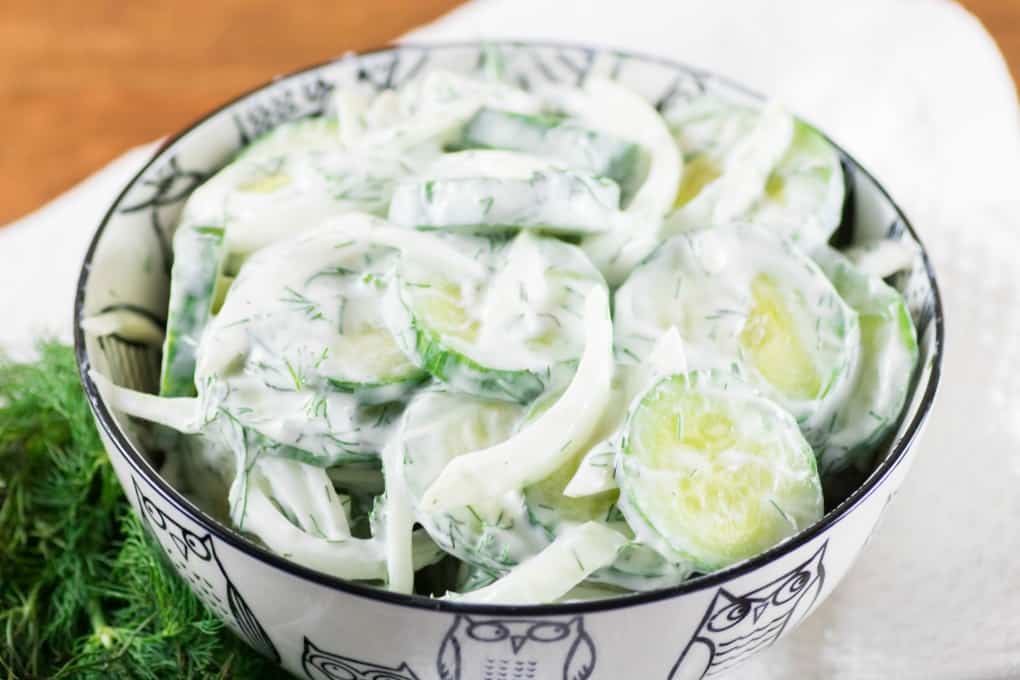 I love my new little owl bowl it makes me smile especially with this delicious salad in it, perfect to carry right outside to serve from!!
This salad would be fantastic with salmon but I also think equally good with chicken or ribs or even beef!
I love to have just salads for dinner sometimes in the summer when it is hot and you aren't that hungry. It would also make a great addition to a picnic basket!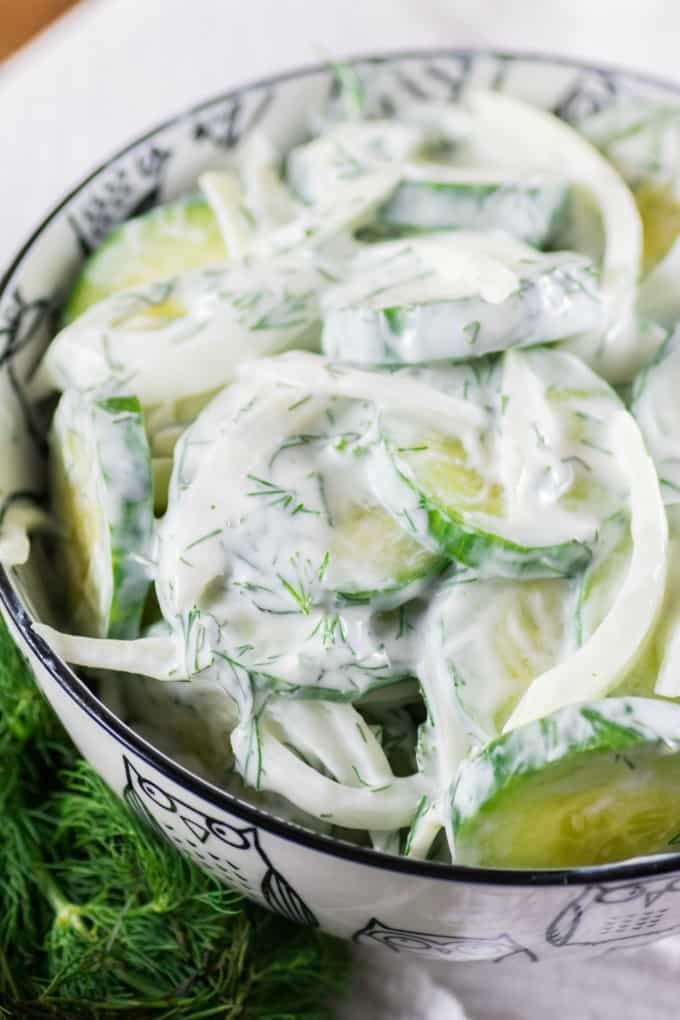 You can use any cucumbers you wish for this salad, the smaller ones hold less water but you can also use the big farmers market cukes in here too.
I used a long english cucumber this time for this recipe. You can also peel the cucumber if desired but I like the green poking through of the skin.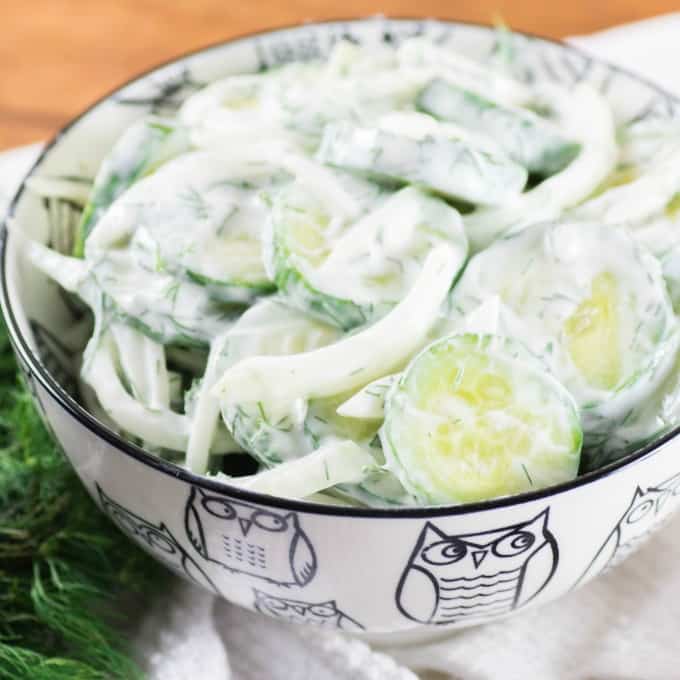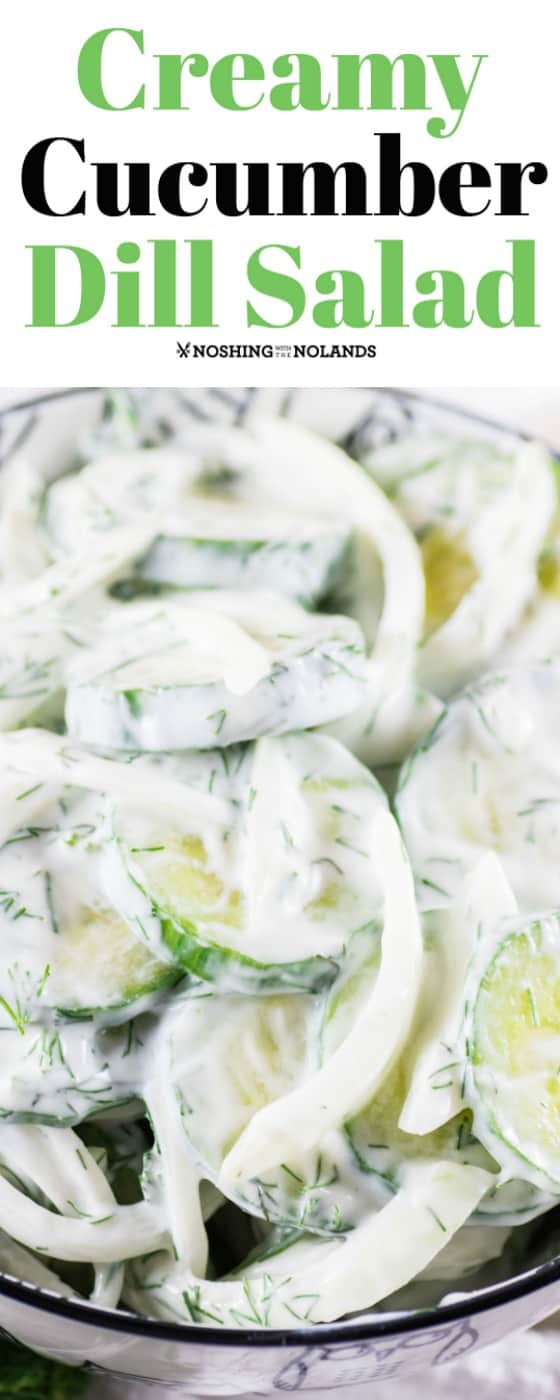 The Recipe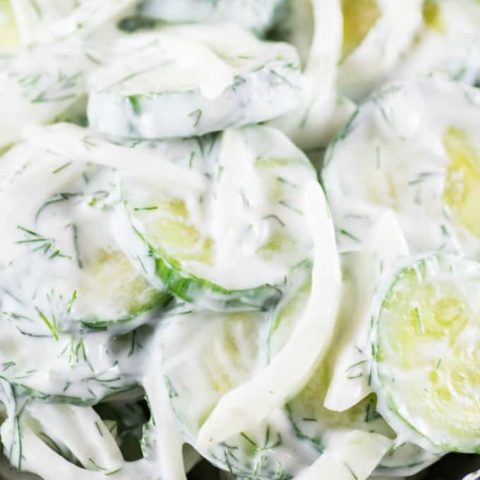 Creamy Cucumber Dill Salad
Yield: 4 servings
Prep Time: 10 minutes
Total Time: 10 minutes
My mother used to make this delicious and refreshing Creamy Cucumber Dill Salad in the summers all the time. It goes great with any summer meal!!
Ingredients
1 long English cucumber, sliced
1/3 cup white onion, sliced
1/4 cup light sour cream
1 1/2 Tbsp. fresh dill, chopped
1 Tbsp. white vinegar
1/2 tsp. sugar
Salt to taste
Instructions
Combine the sour cream, dill, vinegar, sugar and salt and toss with the cucumber and onion. Refrigerate one hour before serving. Don't make it too far ahead as it will get watery.