Today I bring you Joe Montana's Touchdown Guacamole. I have loved football forever but I was really addicted to it back when Joe Montana was playing with the 49ers. Those were great years of football!! My friend Karen and I would watch all the games but especially her team the Miami Dolphins and mine the San Fransisco 49ers. We had a friendly rivalry going on at that time.
Watching football and munching away on food kind of go hand in hand. So when I saw that #SundaySupper was doing a tailgating party I was all over it. Ken had found this recipe a few years ago and even though he doesn't like guacamole he loves this one. Chunky and full of flavor. Thanks to Ken for finding it and to Joe Montana for all those great years of football and for this fabulous guacamole. Love it!!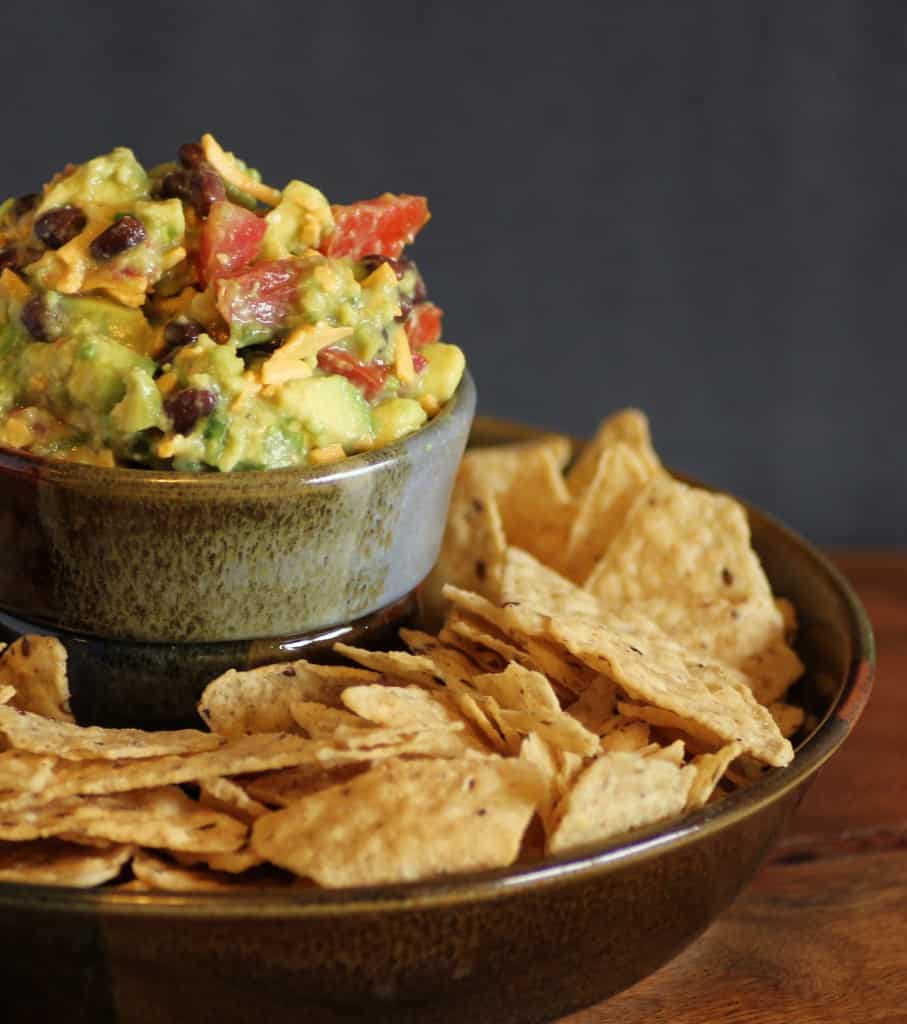 Joe Montana's Touchdown Guacamole/ It's Tailgating Time at #SundaySupper
Yield: 10 Servings
Prep Time: 15 minutes
Total Time: 15 minutes
The best guacamole this side of Mexico!!
Ingredients
4 ripe avocados, seeded, peeled and diced
2 ripe red tomatoes, diced
2 jalapeno peppers, seeded and finely diced
1/2 19 oz. can of black beans, drained and rinsed
4 green onions, thinly sliced
2 limes, juiced
1/2 cup of sharp aged cheddar cheese, grated
1 tsp. garlic salt
Instructions
Place two of the avocados in a bowl. Add the tomatoes, jalapeno peppers, garlic salt and the lime juice. Mash lightly with a potato masher. Add the beans, onions and the cheese along with the two remaining avocados. Stir to combine. Chill until ready to use. Serve with tortilla chips and enjoy the game.
Nutrition Information:
Yield: 10
Serving Size: 1
Amount Per Serving:
Calories: 222
Total Fat: 16g
Saturated Fat: 4g
Trans Fat: 0g
Unsaturated Fat: 11g
Cholesterol: 11mg
Sodium: 241mg
Carbohydrates: 17g
Fiber: 9g
Sugar: 2g
Protein: 7g
Recipe calculation was provided by Nutritionix and is estimation only. If you need nutritional calculations for medical reasons, please use a source that you trust.
Adapted from Joe Montana's recipe.
Need more tailgate ideas? Check out this lineup:
The Lineup
Pre Game Warm-ups:
On the Sidelines:
Main Events:
Overtime:
From the Cooler:
Wine Pairings by Wine Everyday
Don't forget to join us on twitter at 7pm ET to talk all things tailgate. Use tweetchat to follow along with #SundaySupper.
We'd also love to feature your tailgating recipes on our #SundaySupper Pinterest board and share your menu with all of our followers!