Beer-Battered Onion Rings with Southern BBQ Sauce
Are you looking for a great game day treat? Something special for the Super Bowl game? Well, I have the perfect treat for the big day, Beer-Battered Onion Rings with Southern BBQ Sauce. Your guests and family will be drooling over these and fighting to get the last one. They are not hard to make and the onion rings and sauce freeze great! Just defrost the sauce ahead of time and then simply bake the onion rings in the oven. You will be the one with fans this year!!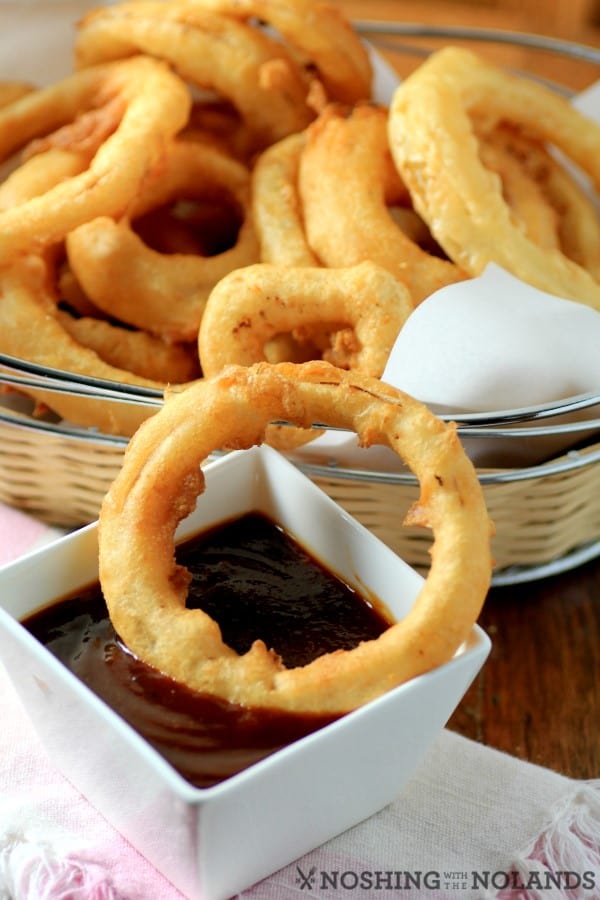 The onion rings are crispy and I think even better after having a run through the freezer. The batter is so flavorful with the added beer, plus the Southern BBQ sauce is a real winner with Southern Comfort in it. The whole experience will have you crying out for more!!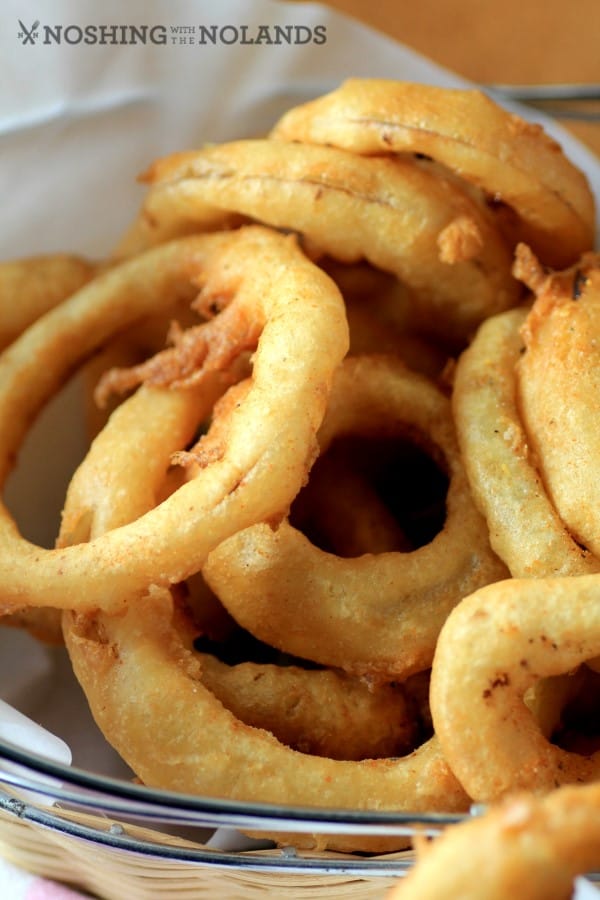 The onion we used for this was a large sweet onion. We so prefer these for onion rings than the yellow onion, not only are they sweeter and more delicious but they make large onion rings too!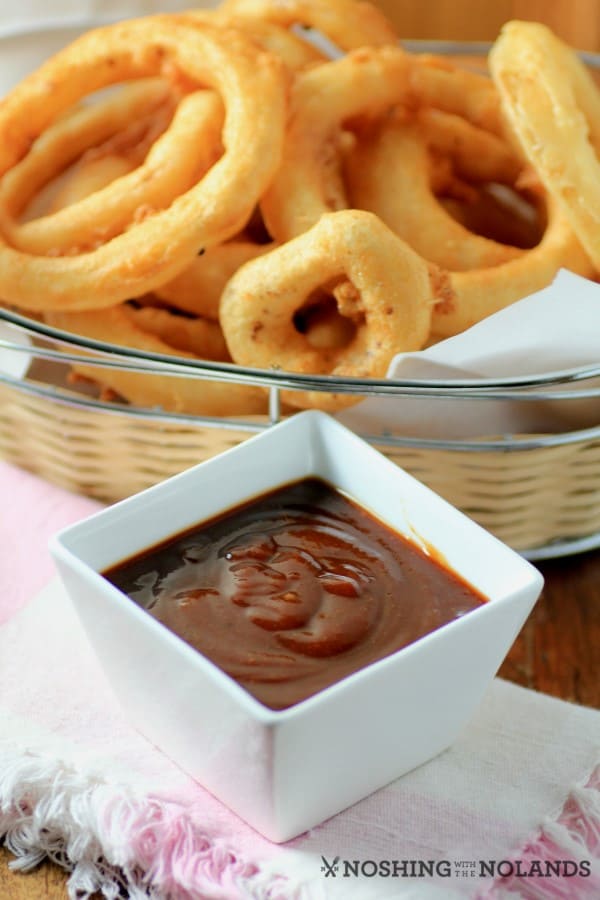 The BBQ sauce is sweet and spicy with a great kick from Southern Comfort. We upped the game by making the BBQ sauce for dipping instead of just plain old ketchup. This sauce is very versatile and will be something that you will want to make again and again.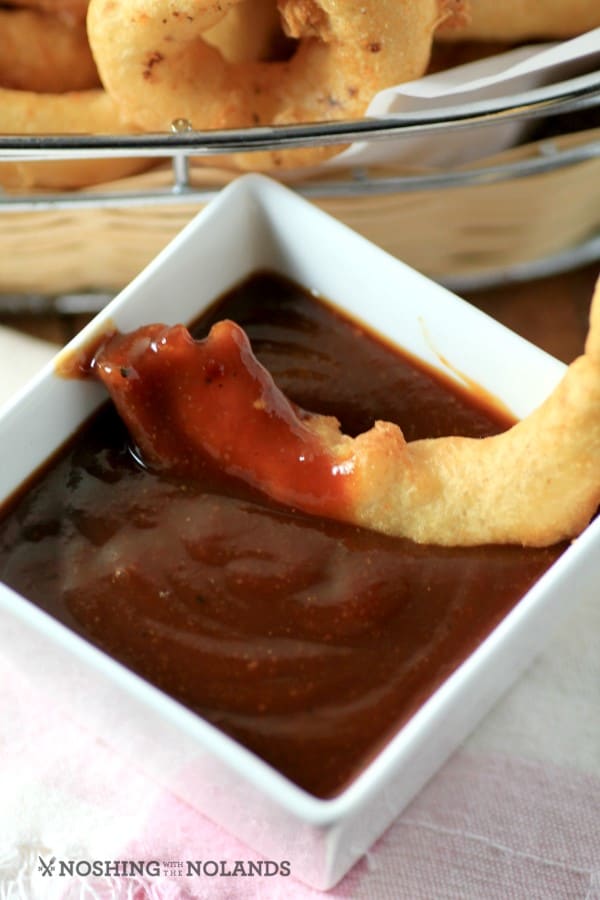 The BBQ sauce is luscious and has a depth like no other. You will want to be double dipping for sure!! Keep this recipe on hand for all your BBQ sauce needs, you will be slathering it on chicken, ribs, beef and more!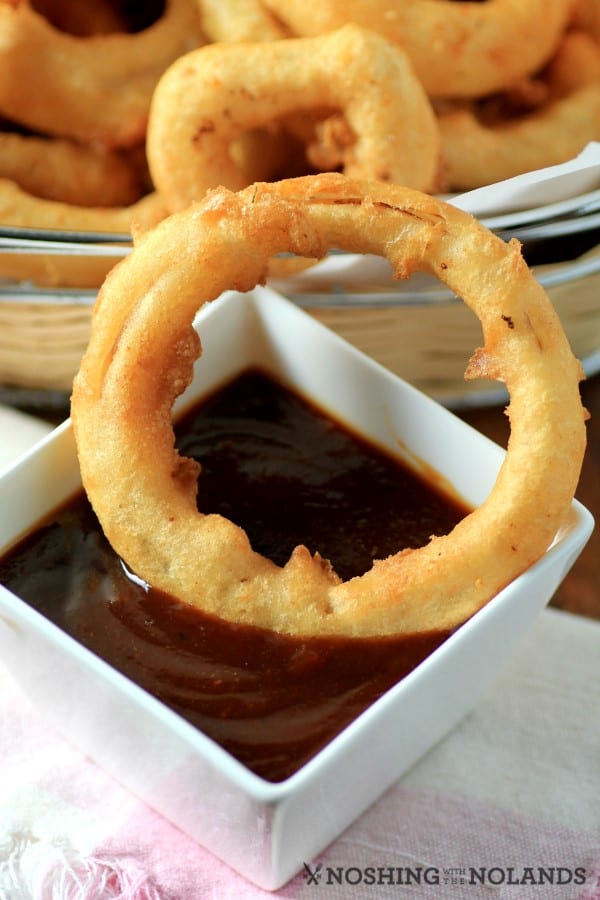 Look at that big "O" of an onion ring. One after another turns out to be perfect. One onion is all you need for loads of onion rings!! Give this recipe a try, you will get rave reviews!!

Yield: 6-8 servings
Beer-Battered Onion Rings with Southern BBQ Sauce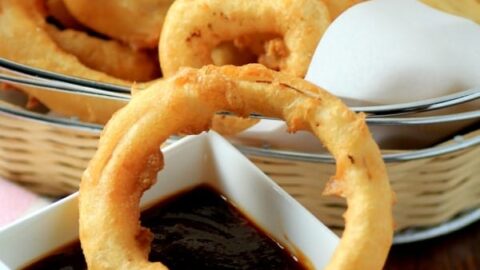 A perfectly crisp beer-battered onion ring with a tangy, sweet and spicy BBQ sauce, perfect for any game day and wonderful for Super Bowl.
Ingredients
Southern BBQ Sauce
1 cup ketchup
1/2 cup Southern Comfort
3 Tbsp. brown sugar
3 Tbsp. fancy black molasses
3 Tbsp. apple cider vinegar
2 Tbsp. Worcestershire sauce
1 Tbsp. Dijon mustard
1 tsp. liquid smoke
1 tsp. onion powder
1 tsp. garlic powder
1/4-1/2 tsp. dried crushed red chili flakes
1/2 tsp. black pepper
1/2 tsp. salt
Onion Rings
2 large white sweet onions
3 1/2-4 cups all purpose flour
1 1/2 cups cornstarch
2 tsp. garlic powder
2 tsp. onion powder
1 tsp. cayenne pepper
2 tsp. sugar
1 Tbsp. Kosher salt
1 1/2 cups amber ale
2 cups sparkling water
1 large egg
2-4 cups canola oil
Instructions
For the BBQ Sauce:
Whisk all the ingredients in a medium saucepan over medium heat and bring mixture to a boil, stir occasionally. Bring temperature down to simmer and let sauce reduce to 2 cups, stirring frequently. Sauce will keep up to 2 weeks in the fridge but also freezes well.
For the onion rings:
If making to serve immediately, preheat oven to 250F. Place two cooling racks over two rimmed baking sheets.
Slice onion into 1/2" thick slices and separate into rings. Add the onion rings to 1 1/2 cups flour, toss to coat and let sit for 30 min.
When ready to fry them up, mix the remaining flour (1 1/2 cups) with the cornstarch, garlic powder, onion powder, cayenne, sugar, and salt, in a large bowl.
Whisk together the beer, sparkling water and egg in another large bowl. Gradually whisk in the dry ingredients, add in the extra 1/2 cup of flour if needed.
In a large wok of deep fryer heat oil to 350F. Work in batches and don't crowd the onions. Take the onion rings and coat them in the batter and then drop into the oil. Cook the onion rings until golden brown, turning once as needed. Take the onion rings out and place on the prepared cookie sheets. If making ahead to freeze let cool at this point or place in oven to keep warm while you finish making the rest.
*Freeze on the cookie sheets, once frozen place in bags and then back into the freezer. Reheat at 350F. for 10-15 min. or until heated through and crisp.
Recipes adapted from
Epicurious
.