This Crab Rangoon Dip is the scrumptious appetizer you need in your life right now! This simple creamy baked crab dip is hot, cheesy, and loaded with delicious flavor. Serve it with crispy wonton chips, tortilla chips, or veggies.
You might as well plan on making a double batch because it will be devoured in a flash! It's a perfect dip recipe for entertaining.
If you're looking for more tasty appetizers, be sure to check out these Best Fried Zucchini Sticks. Plus, Chutney, Pine Nut, Cranberry Dip, Everything Bagel Dip, or Homemade Boursin Cheese, perfect for the holiday season ahead. Plus we have a collection with our 25 Christmas Holiday Appetizers.
Hi, I'm Allison joining you from Some the Wiser again. It's been such a pleasure sharing recipes here with the Noshing crowd this year. With the holidays just around the corner, I'm cooking up a storm right now.
My delicious Apple Coffee Cake with Caramel Crumble is perfect for baking on a cold day. And this gorgeous Greek Stuffed Acorn Squash makes a perfect vegetarian meal or side dish for the holiday.
Helpful Items For This Recipe
This post contains affiliate links. As an Amazon Associate, I earn a small portion from qualifying purchases at no extra charge for you.
Canned Fancy White Lump Crab Meat
How to Make Crab Rangoon Dip
Crab Rangoon dip is so easy to make, and even easier to eat! Inspired by the Crab Rangoon Wontons from my favorite local Chinese food hotspot, this hot and creamy crab dip is a perfectly delicious appetizer. Luckily, you only need a few ingredients to whip this up at home.
Crab is the star of the show and the most important ingredient. If you can find it, fresh lump crab meat is amazing in this recipe. However, I live in the desert and finding good fresh crab isn't easy. I frequently substitute canned crab, or even imitation crab in this dip and it's still quite delicious.
Once you have your crab meat, the rest is a cinch. Just beat cream cheese, sour cream, and mayonnaise together until nice and smooth in a large bowl. Then mix in the lemon juice, soy sauce, Worcestershire sauce, and garlic powder. Stir in the crab, Monterey Jack, Parmesan, and green onions. Then you'll top it with a little more cheese and bake for 20 minutes.
When you pull it out of the oven, the Crab Rangoon Dip will be golden brown and bubbly. It's delicious and served hot, while the cheese is still gooey and easily spreadable.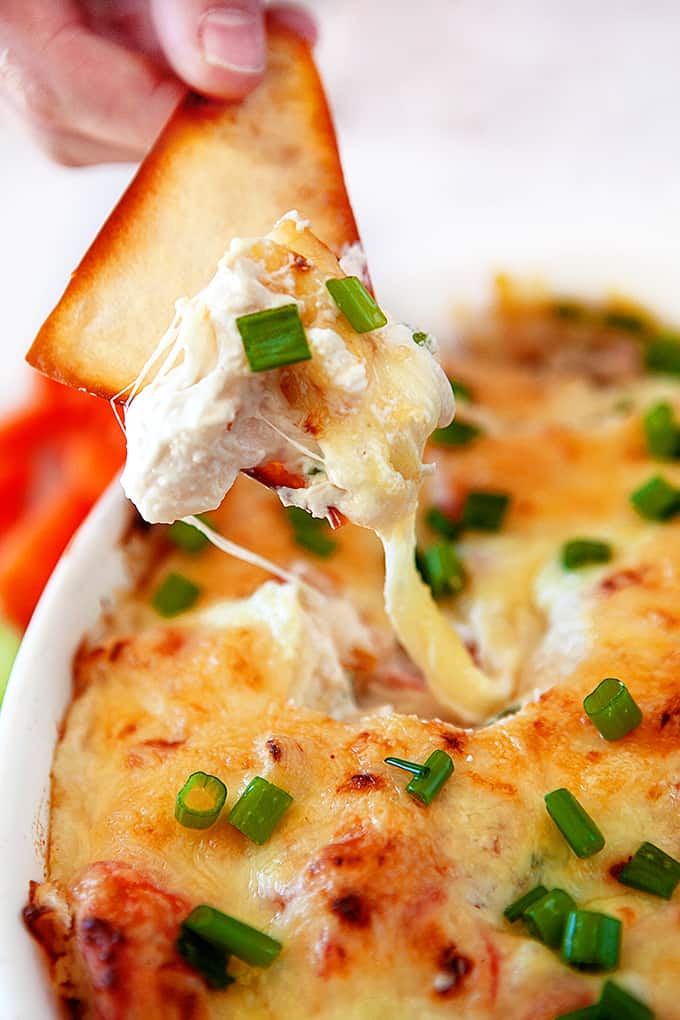 What to Dip in?
This cheesy crab dip is mild in flavor so it's great to pair with a lot of different things!
My personal favorite thing to serve with Rangoon Dip is baked wonton chips. Traditional Crab Rangoon is served inside of a fried wonton. Serving the dip with wonton chips just seems a little more authentic to me.
You can make baked or fried wonton chips by cutting wonton wraps in half. They are so crispy and delicious with the dip!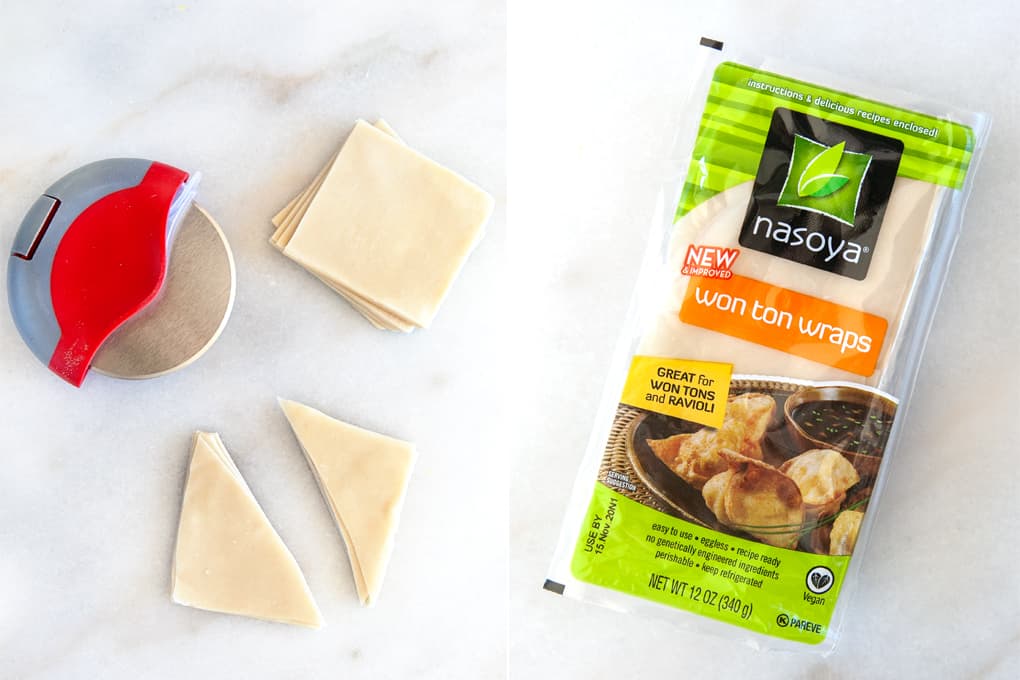 You can also serve the dip with tortilla chips, slices of a baguette, or fresh veggies. My favorite veggies to pair with the crab dip are carrots, celery, cucumbers, and radishes.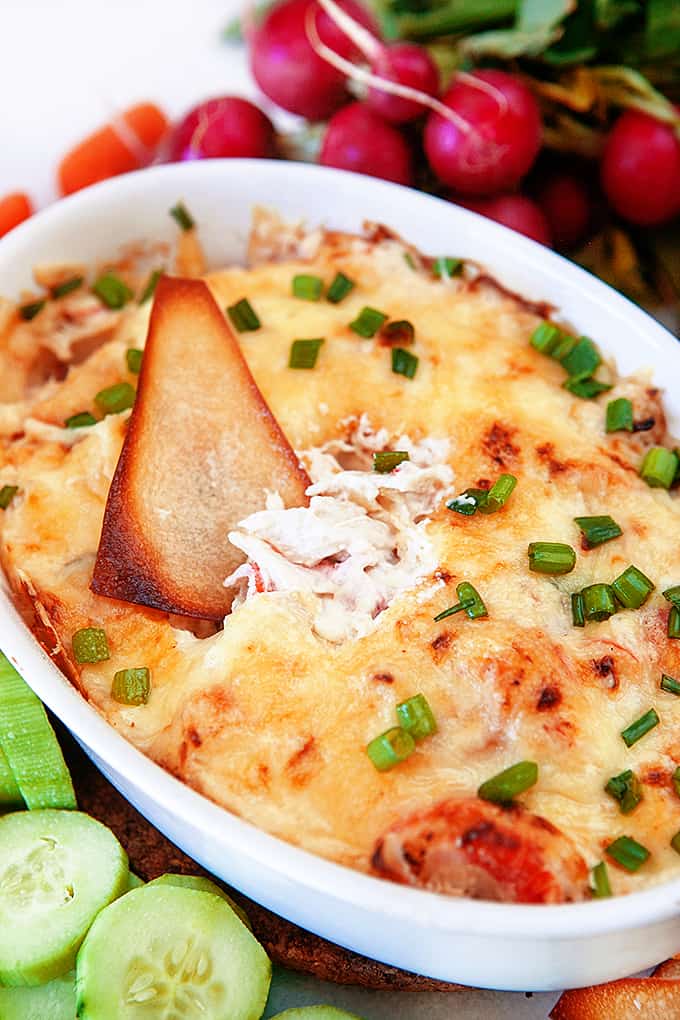 Can Crab Rangoon Dip be made ahead of time?
You can make Crab Rangoon Dip ahead of time. You can even freeze this crab dip!
When you're entertaining, having make-ahead recipes is a life saver. This dip is best served hot, but you can mix up the dip and stop just before you top it with cheese. Stick it in the fridge for up to 48 hours, or in the freezer for up to 3 months before you're ready to bake it.
When you're ready to serve it, top it with cheese and bake until the dip is bubbling and the cheese is golden and beginning to brown. If it's frozen, you'll want to thaw it in the fridge before baking.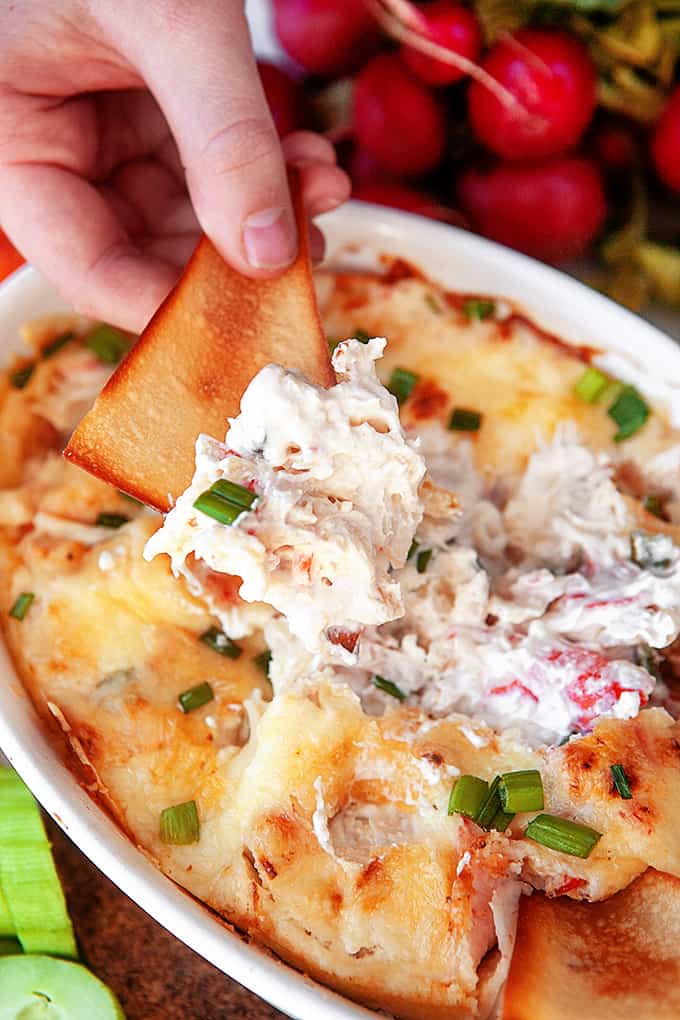 Can You Reheat Crab Rangoon Dip?
I think you'll find it rare that you have any leftover crab dip. This is a pretty successful crowd pleaser recipe! But if necessary, you can reheat crab rangoon dip.
Just place it in an oven-safe baking dish and reheat at 350 degrees Fahrenheit for approximately 10 minutes, or until it's heated through and bubbly. Serve leftovers hot!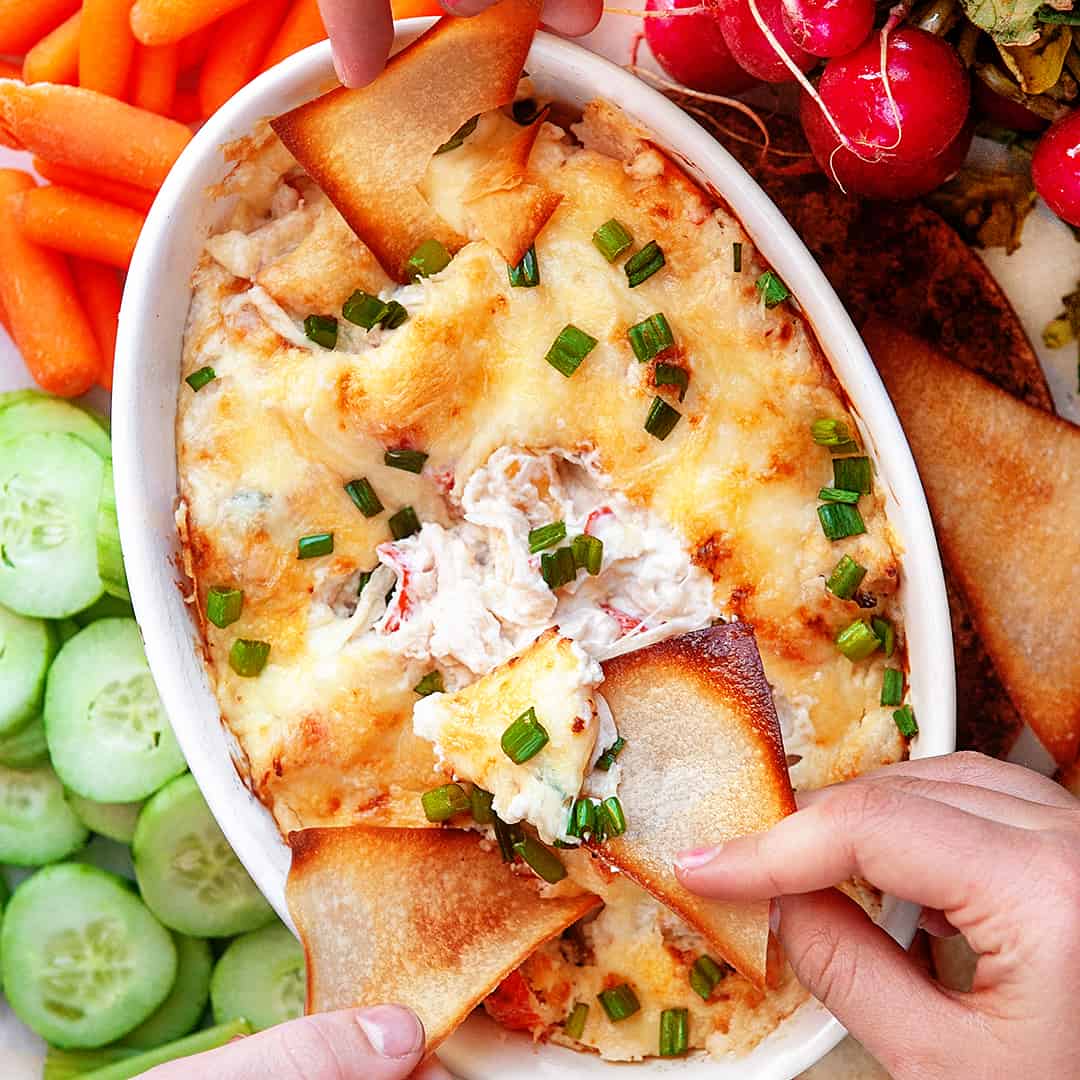 Pin it HERE!!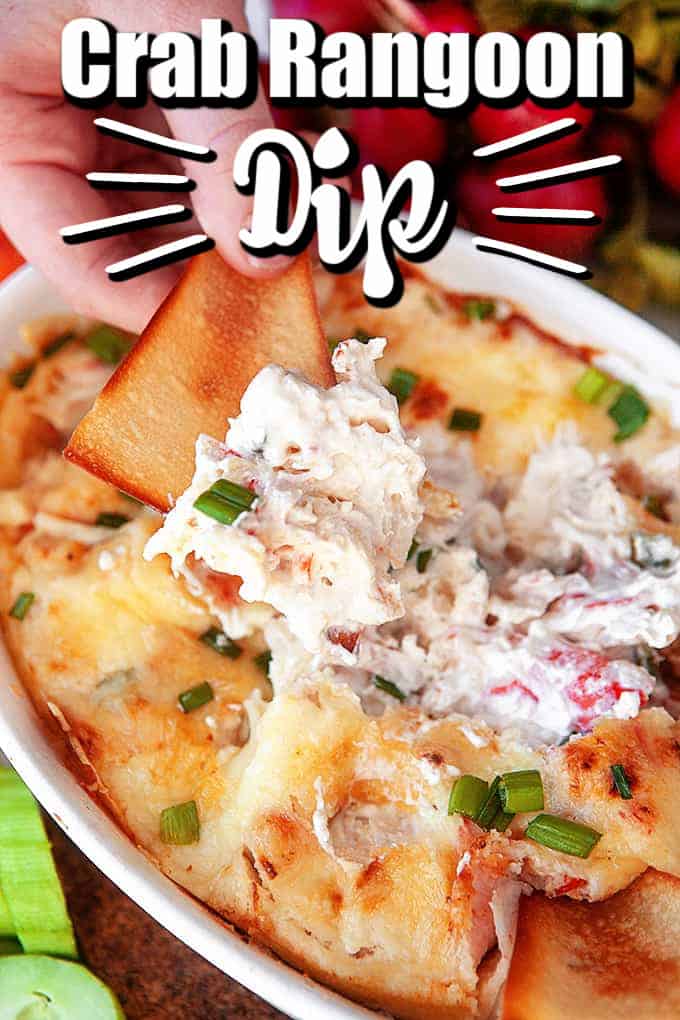 Pin it HERE!!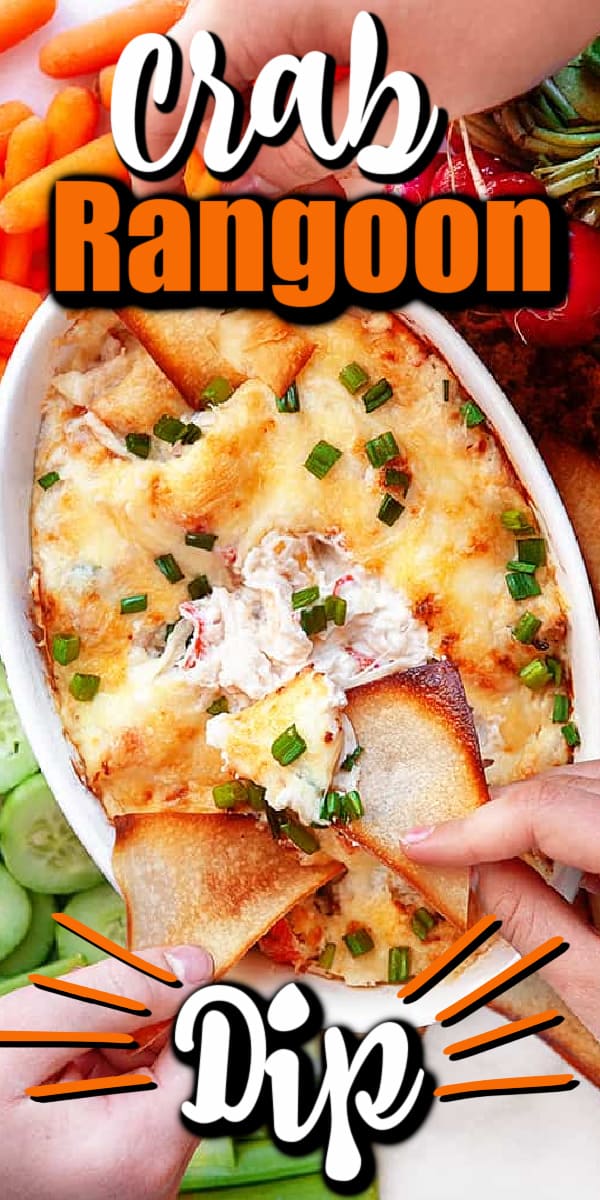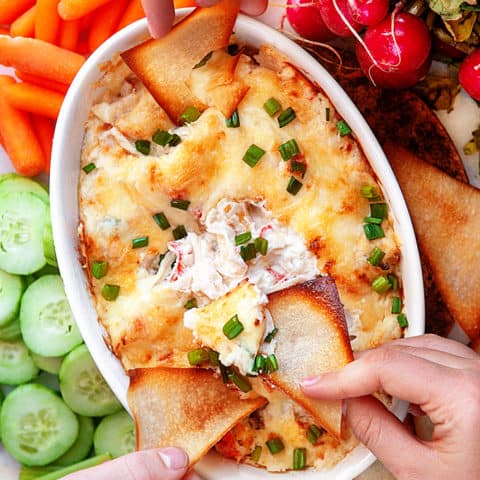 Crab Rangoon Dip
Yield: 8 to 10 servings
Prep Time: 10 minutes
Cook Time: 25 minutes
Total Time: 35 minutes
This quick and easy Crab Rangoon Dip is a crowd-pleaser. Hot, cheesy, and loaded with crab! Serve with baked wonton chips or veggies.
Ingredients
8 ounces softened cream cheese
1/4 cup sour cream
1/4 cup mayonnaise
1/2 teaspoon garlic powder
1/4 teaspoon black pepper
1 teaspoon Worcestershire sauce
1 teaspoon Soy sauce
1 to 2 teaspoons fresh lemon juice
12 ounces crab meat
3 green onions, diced (green part only) plus more for garnish
1/4 cup grated Parmesan cheese
1 cup grated Monterey Jack cheese, divided
For the Wonton Chips
1 (12 ounce) package of 2 inch wonton wrappers, cut in half diagonally (see picture above)
Olive oil cooking spray
Instructions
Preheat oven to 425 degrees Fahrenheit.
In a large bowl, whisk together the softened cream cheese, sour cream, and mayonnaise until smooth. Whisk in the spices, sauces, and lemon juice. Stir in the crab meat, Parmesan cheese, green onions, and 1/2 cup of the grated Monterey Jack cheese.
Transfer mixture to a 9-inch oven-safe baking dish. Top with remaining Monterey Jack Cheese. Bake for 20 to 25 minutes, or until dip is bubbly and cheese is golden brown.
To make the Baked Wonton Chips, preheat the oven to 350 degrees Fahrenheit. Generously spray a large baking sheet with Olive Oil cooking spray. Arrange the cut wonton wrappers on the baking sheet. Spray the tops of the wrappers with a thin layer of cooking spray and salt if desired. Bake for 5 to 6 minutes or until the wontons are crisp and begin to turn golden at the edges. Let them cool before serving. These can be made a day ahead of time.
Recommended Products
As an Amazon Associate and member of other affiliate programs, I earn from qualifying purchases.
Nutrition Information:
Yield: 10
Serving Size: 1
Amount Per Serving:
Calories: 229
Total Fat: 19g
Saturated Fat: 9g
Trans Fat: 0g
Unsaturated Fat: 9g
Cholesterol: 75mg
Sodium: 399mg
Carbohydrates: 3g
Fiber: 0g
Sugar: 1g
Protein: 12g
Recipe calculation was provided by Nutritionix and is an estimation only. If you need nutritional calculations for medical reasons, please use a source that you trust.