Boursin cheese is a mouthwatering soft and creamy cheese spread with a delicious herb garlic flavor. With this Homemade Boursin Cheese Recipe, you can whip up a batch at home and enjoy it with chicken or potatoes, as a side dish, or traditionally as a dip, spread, and more!
This is as awesome in the spring/summer months as it is for the holiday season. The best part of the creamy Boursin copycat is the garlic and herb cheese blend. Perfect for munching at any time. Want another cool munch, try our Cucumber Hummus Bites, an excellent make-ahead appetizer too. Or our Air-Fryer Pigs in a Blanket, Bruschetta Caprese and Cranberry Brie Bites are amazing too!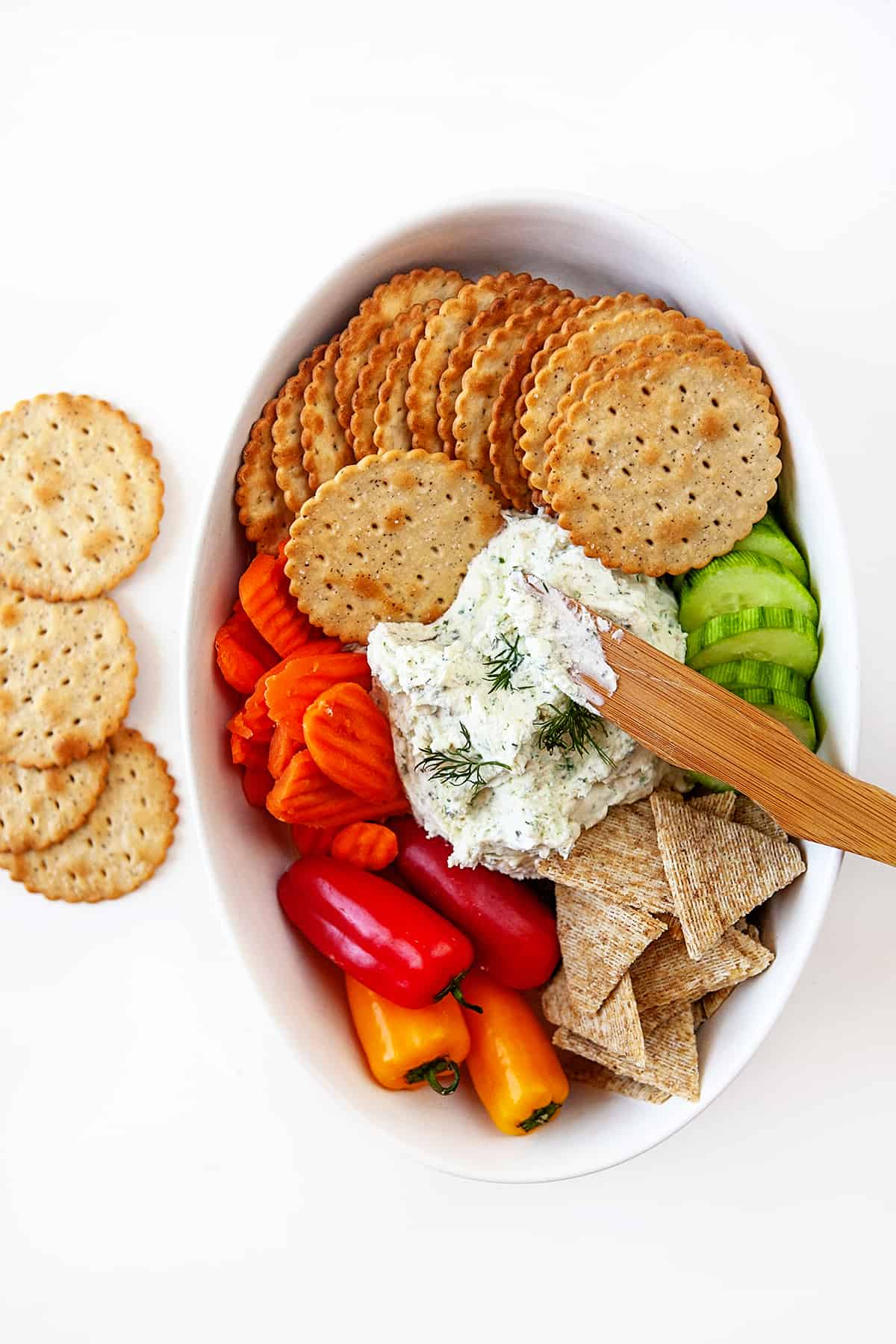 Helpful Items For This Recipe
This post contains affiliate links. As an Amazon Associate, I earn a small portion from qualifying purchases at no extra charge for you.
French White 15 oz. Oval Casserole Dish
Cheese Spreader Set, Stainless Steel, 6 Piece Set
Marimekko Floral Cocktail Beverage Paper Napkins, Unikko Dark Blue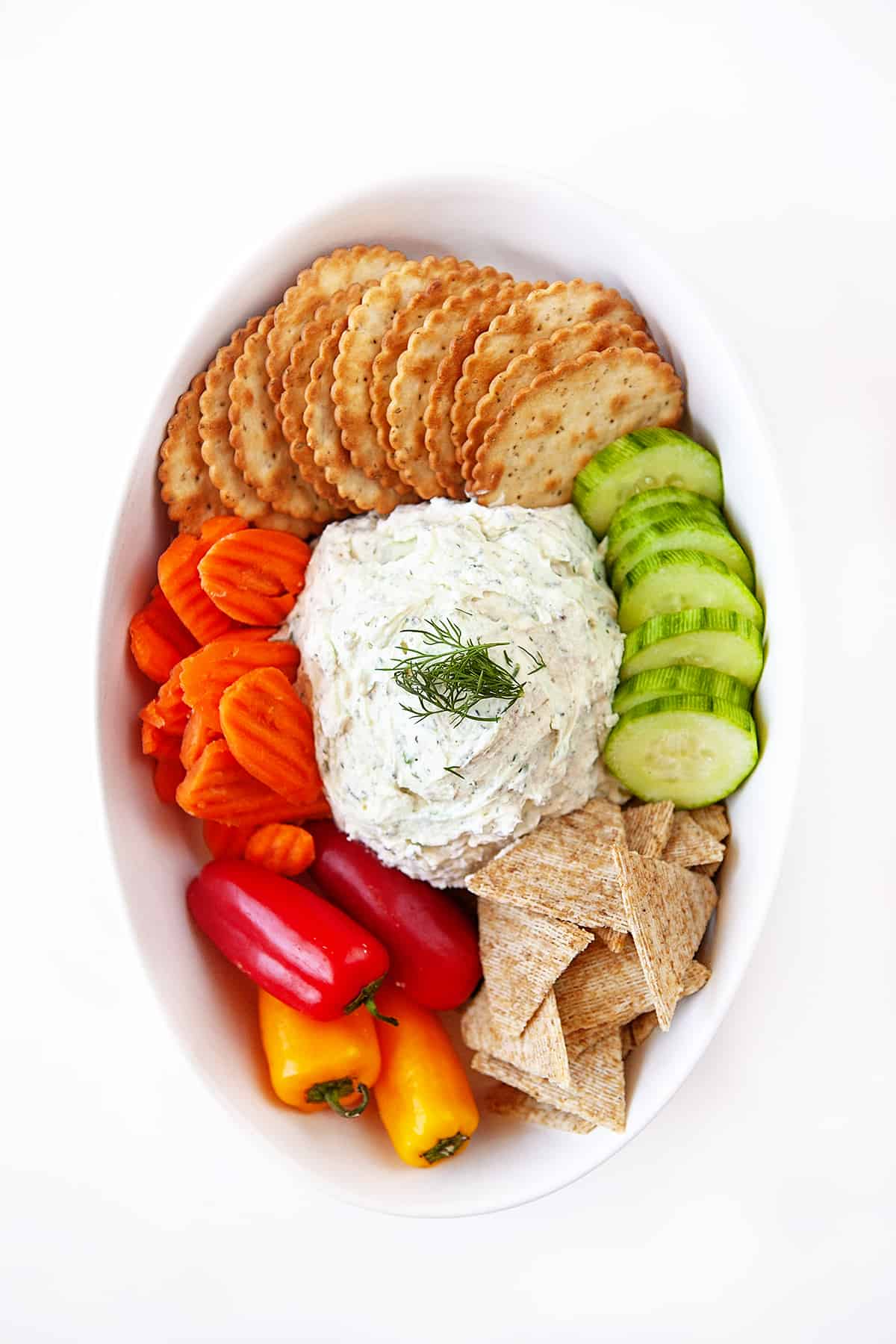 I first discovered Boursin on a trip to France when I was a teenager, and I fell in love! It's similar to cream cheese, but it's both fluffier and creamier and bursting with flavor.
For years now, I've been slathering this perfect herb-flavored cheese onto everything from crackers to pasta. Knowing how to make this homemade Boursin Cheese Recipe just makes it even easier for me to satisfy all my cheese cravings!
What is Boursin Cheese Made Out Of?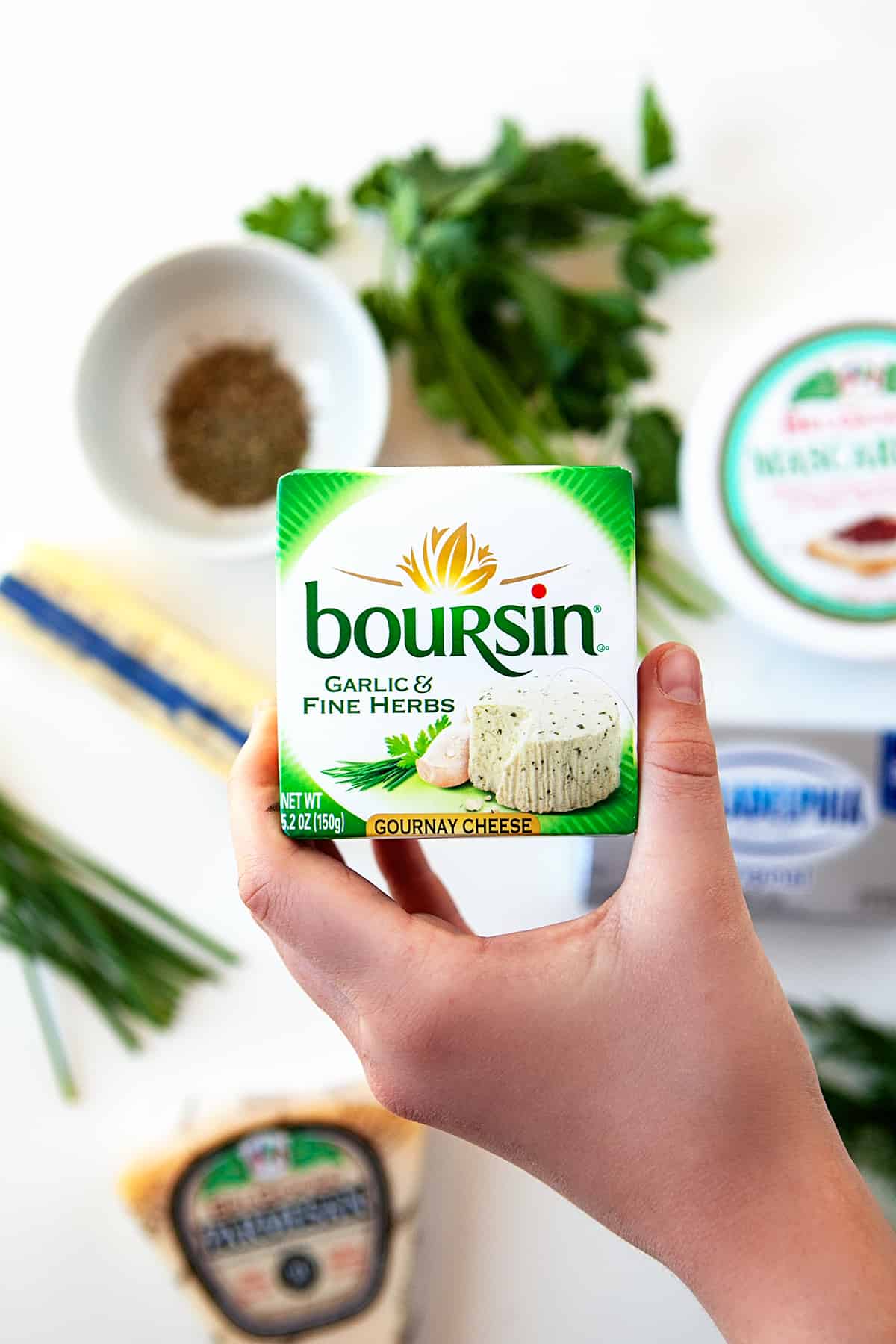 Traditional Boursin Cheese is made with Gournay, a type of French cream cheese. It's a really unique type of cheese in that it is both soft and crumbly, fluffy and spreadable. Gournay cheese, however, isn't always easy to find.
Luckily, there's a work around to make great Boursin Cheese at home! By blending Cream Cheese, Butter, and Mascarpone in a food processor, it is possible to achieve that same type of soft yet crumbly cheese texture that Boursin is famous for. It's so simple that you'll wish you'd tried it sooner!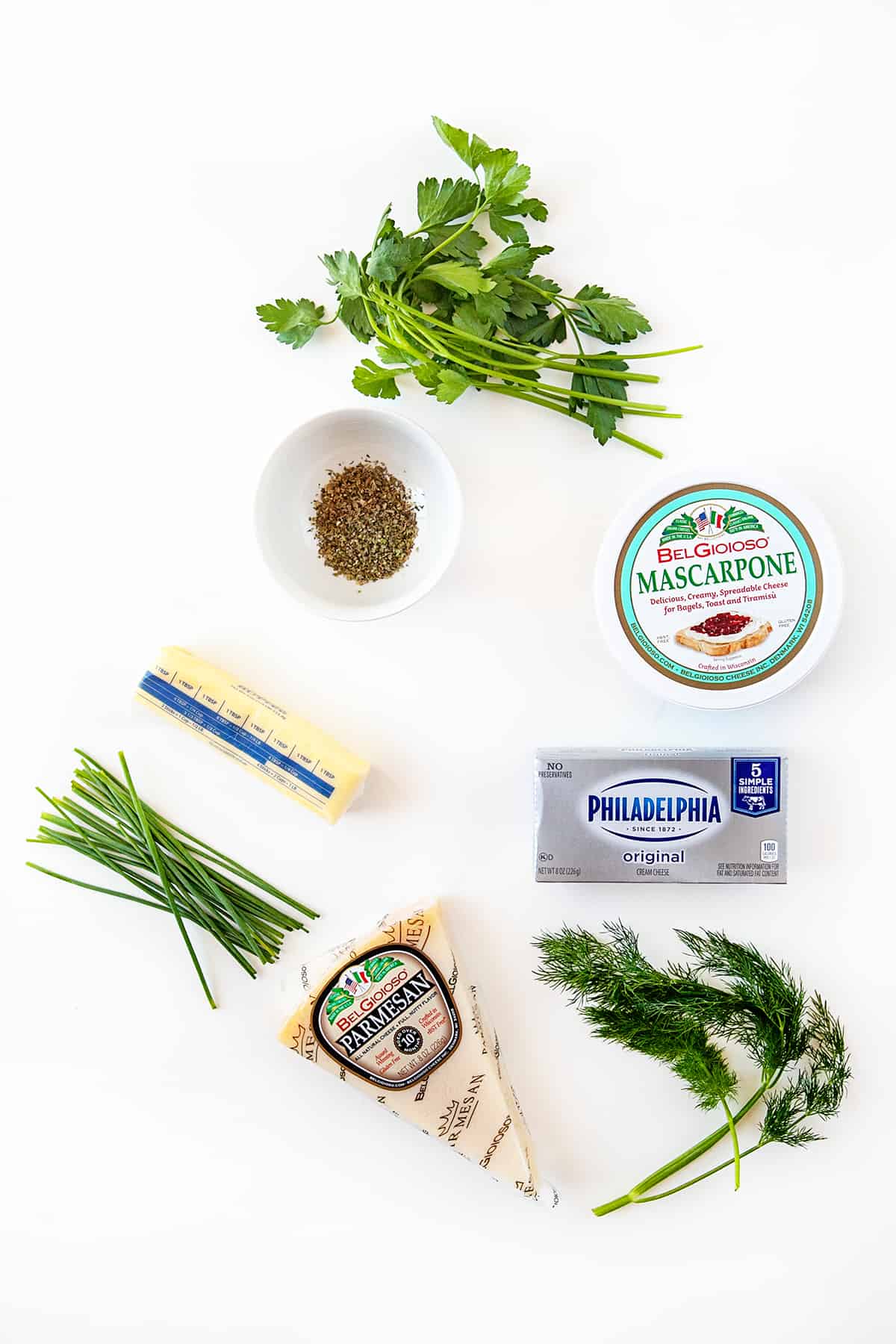 Ingredients
To make this homemade Boursin Garlic and Herb Cheese Recipe, you'll need the following ingredients. They are simple to find in any grocery store:
Cream Cheese
Mascarpone
Salted Butter
Freshly Grated Parmesan Cheese
Crushed Garlic Clove
Fresh Herbs: Dill, Chives, Parsley
Dried Herbs: Thyme, Marjoram, Black Pepper
It may not sound like much, just a handful of ingredients, but together, they really do pack a big flavor punch!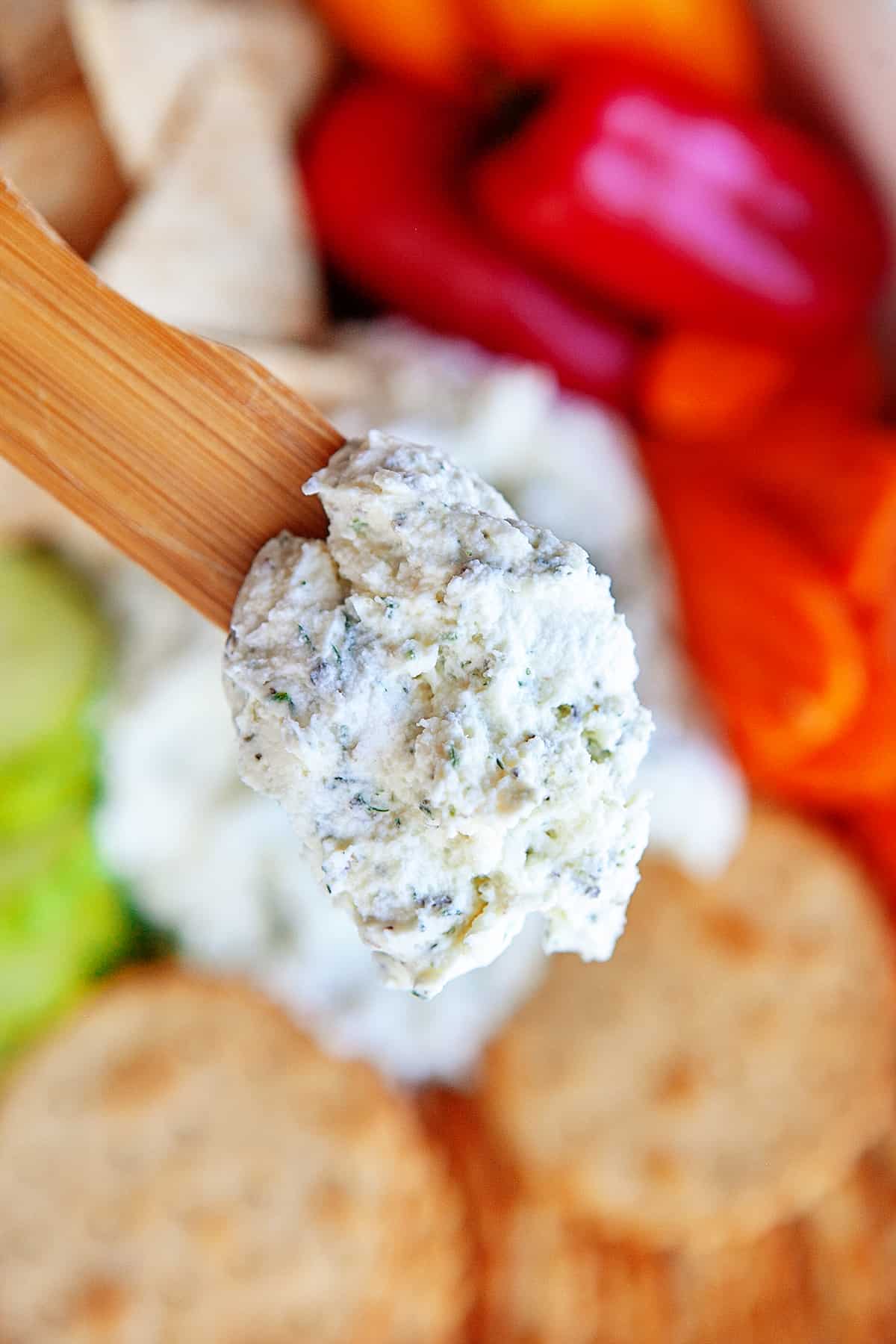 How Do You Make Boursin Cheese From Scratch?
First, to make Boursin Cheese from scratch, you'll want to make sure your cream cheese, mascarpone cheese, and butter are all at room temperature. This will ensure a very smooth, creamy blend.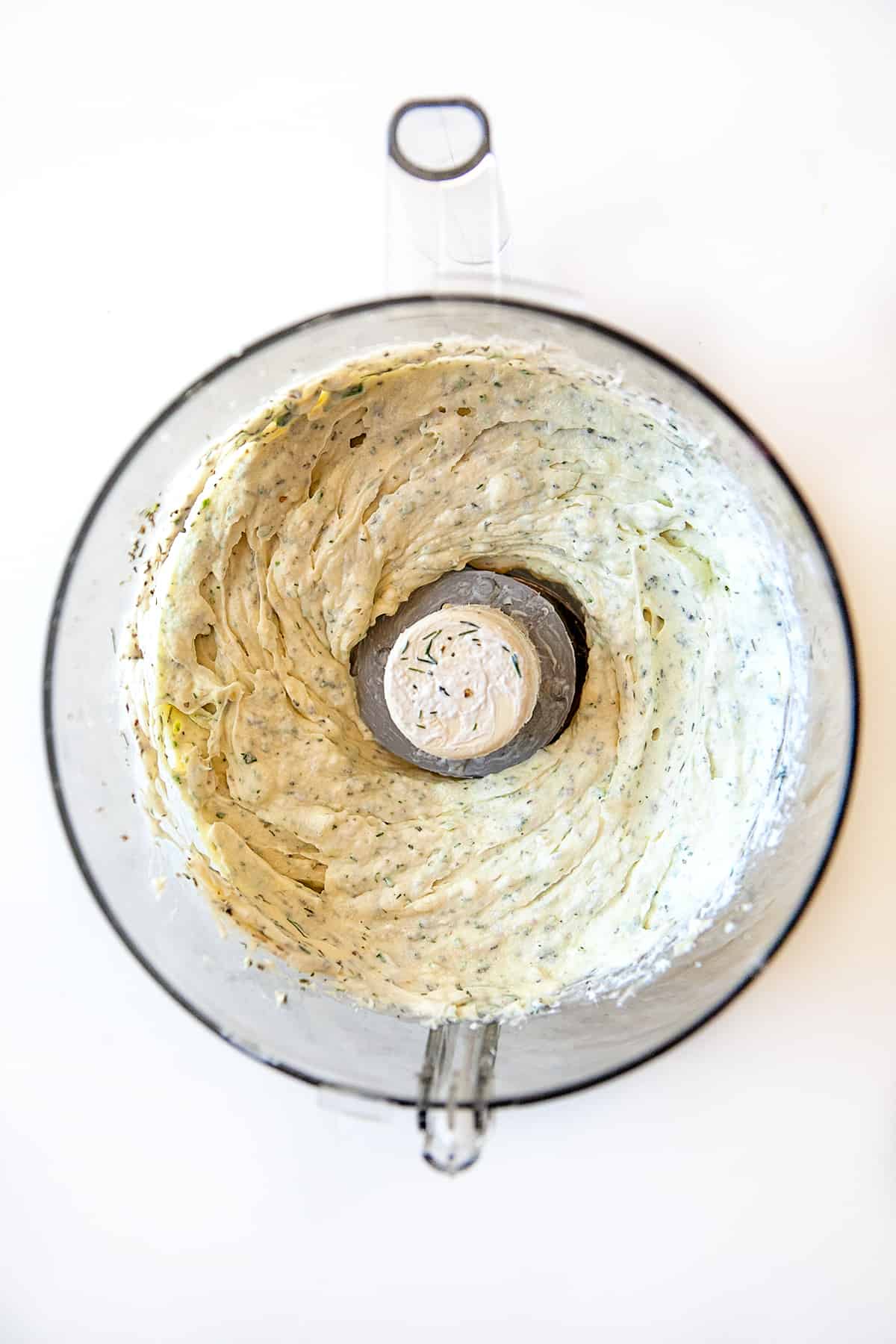 You want to dip your cracker right in there already, don't you?
The process of making homemade Boursin cheese is actually really simple. Gather all of your ingredients, then combine them all in a food processor. Then, simply pulse a few times until all of the ingredients are blended and smooth.
Once you have a perfectly creamy mixture, you'll want to refrigerate it for at least 12 to 24 hours to let all the flavors really meld together.
If you're using it as a dip, you'll want to let it soften just a bit before you serve it. If you're using it as a spread or like a cheese ball, it's ready to go right from the fridge! Nothing could be simpler for an outstanding, memorable appetizer!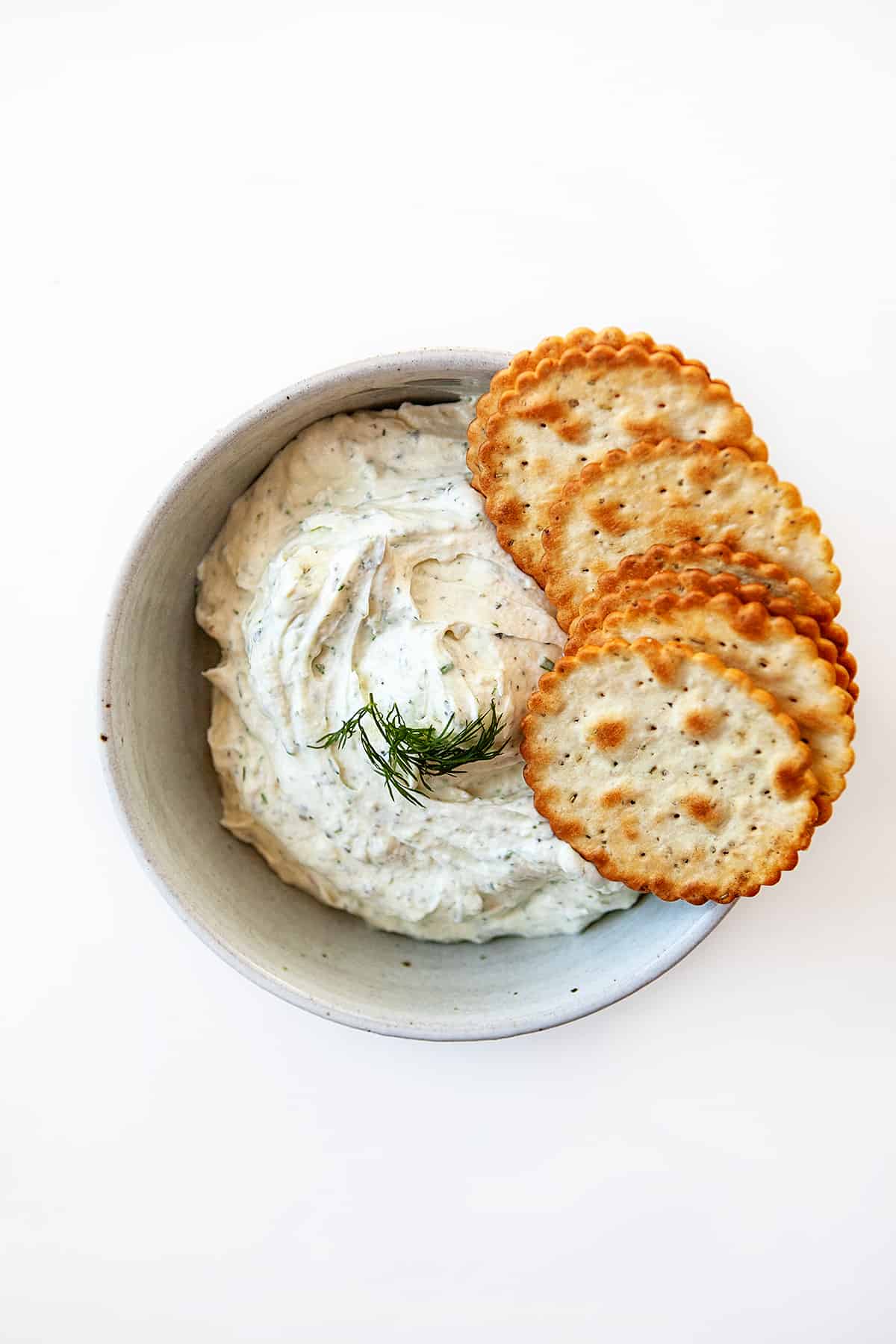 Which Herbs Are In Boursin?
Traditional packaged Boursin comes in a variety of flavors, but the most popular and widely known is "Garlic and Fine Herbs," which is what I modelled this recipe after.
To achieve the best flavor in this homemade Boursin Cheese recipe, I've combined both fresh and dried herbs. The combination is absolutely delicious! For the most perfect herb flavor blend, use fresh chives, parsley, and dill, along with crushed garlic. Then, to add just a bit more flavor, you'll also add in dried thyme and marjoram.
The blend of garlic and herbs in Boursin is a savory treat for the senses! A cheese blend that so many people already enjoy but fun to make yourself!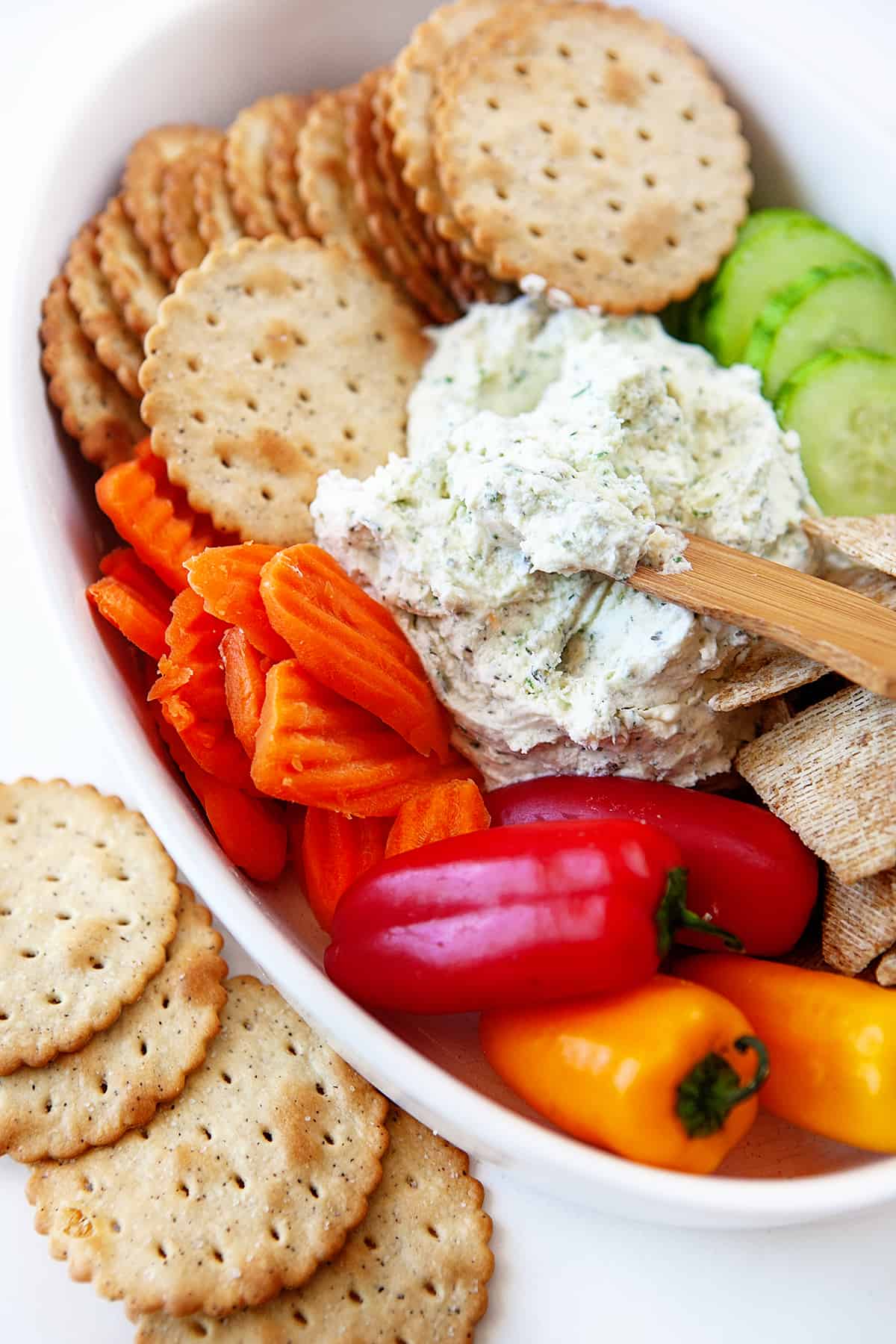 What is Boursin Cheese Good On?
Part of why I love Boursin cheese is because it is so versatile! My favorite way to eat it is with crackers and vegetables, like cucumbers, carrots, and bell peppers. However, there really are a hundred different ways to enjoy Boursin cheese. Here are a few:
Topping for a Baked Potato
Stuffed in a Chicken breast
Tossed with Pasta as a creamy cheese and herb sauce
Stuffed into mushrooms as an appetizer
Added into a salad, one with nuts and fruits would be wonderful
Spread on baguette slices
Slathered on a grilled steak
Served on a cheese board with fruit, crackers, and vegetables
Try it on a pizza for an explosion of flavor
Mash it into your potatoes for a new lively twist
Serve it at room temperature for a more creamy dip or chill it and serve like a cheese ball
Boursin cheese is so good and flavorful! Have fun substituting it in any savory recipe that calls for cream cheese. The possibilities are truly endless.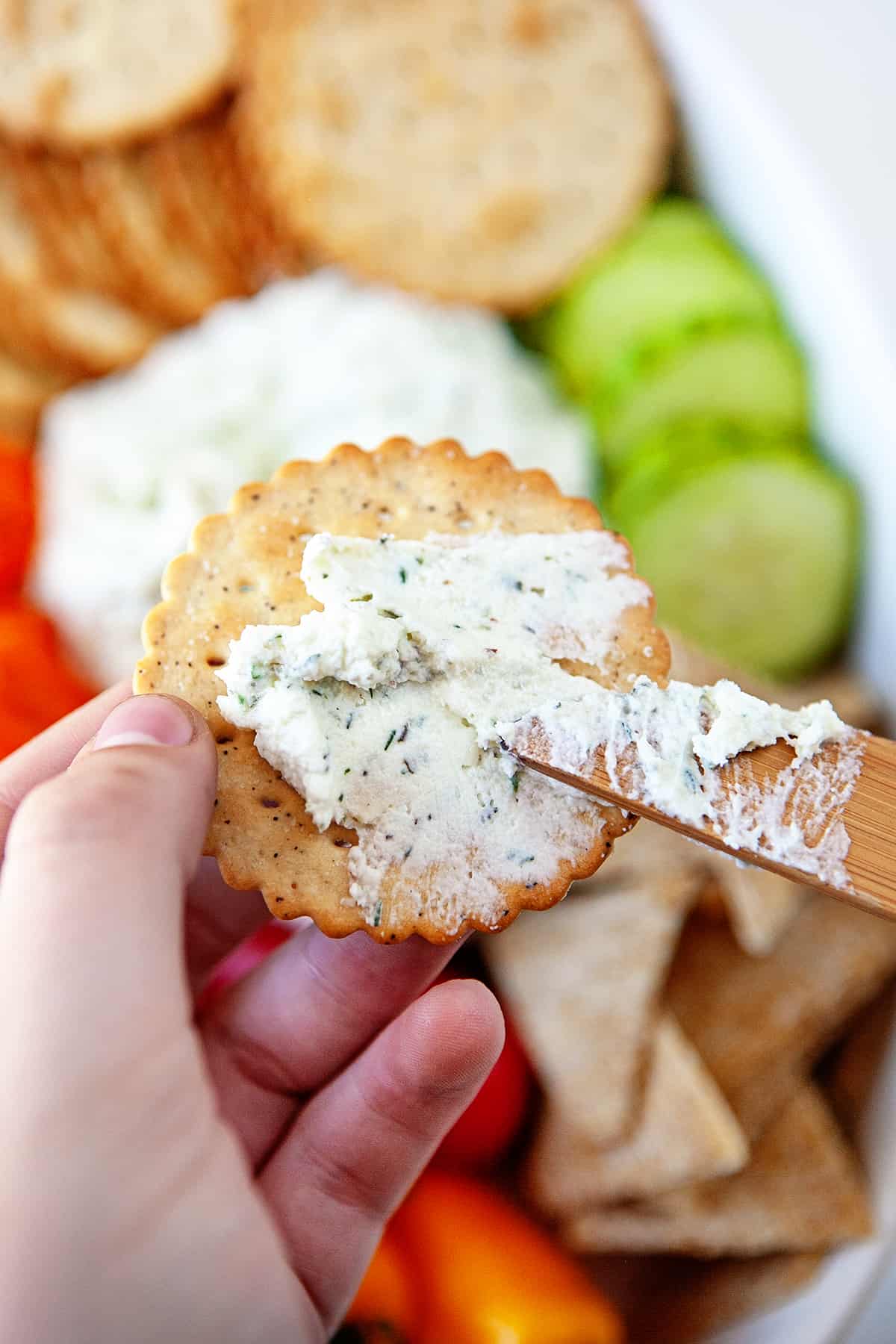 Because it's so simple to make and so delicious to eat, it's a perfect game day appetizer or party food for entertaining. It's also a great gluten-free option for the appetizer table. And when everyone finds out you made it from scratch, they are going to be so impressed! They're also going to ask for the recipe, so be sure to have it on hand. We love it when you share our recipes!!
Other Boursin Cheese Flavors to Make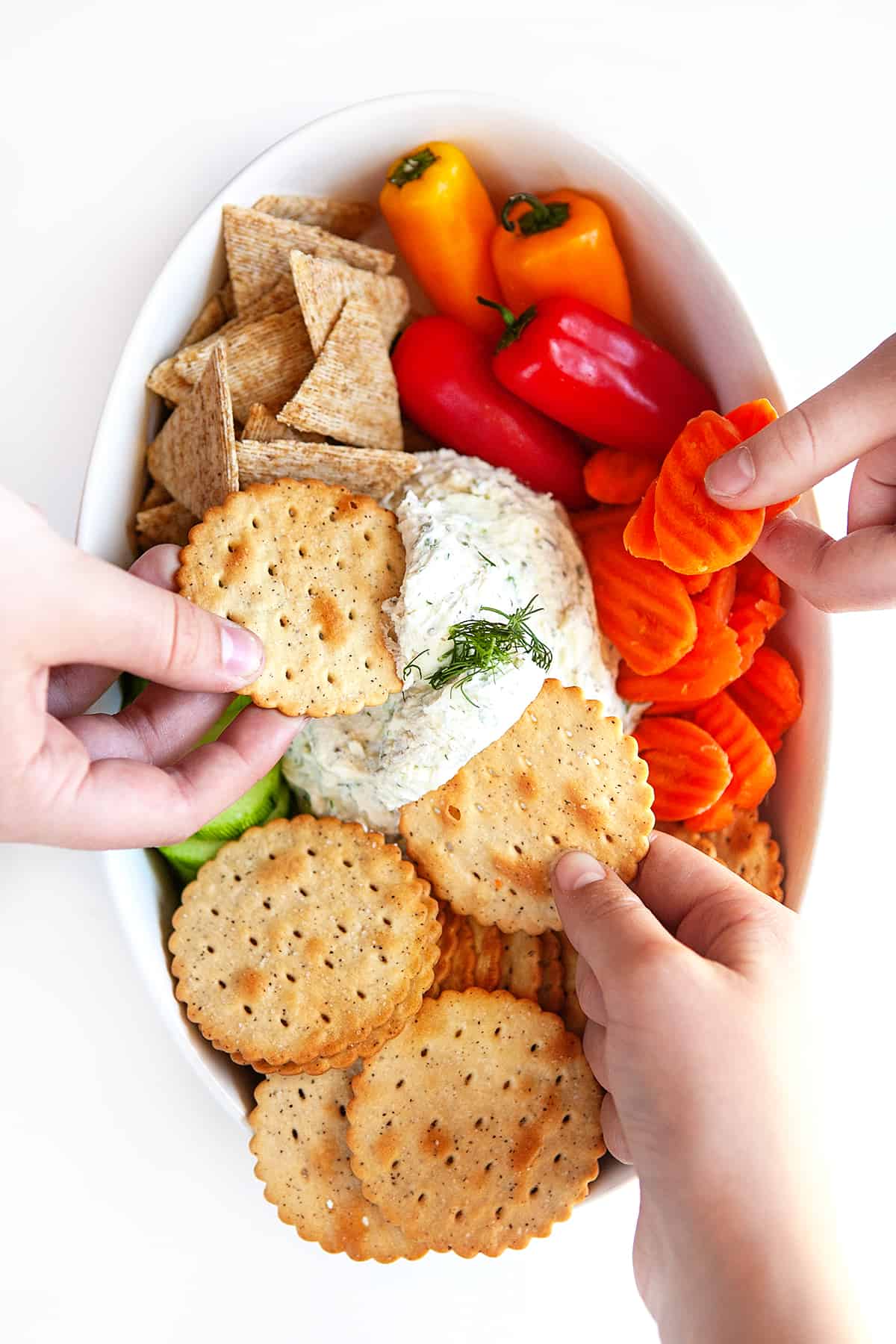 Try making some of these other flavors:
Black Pepper
Shallot and Chive
Cranberry and Spice
Fig and Balsamic
Plus make your own flavor combination and come back and tell us what you have experimented with!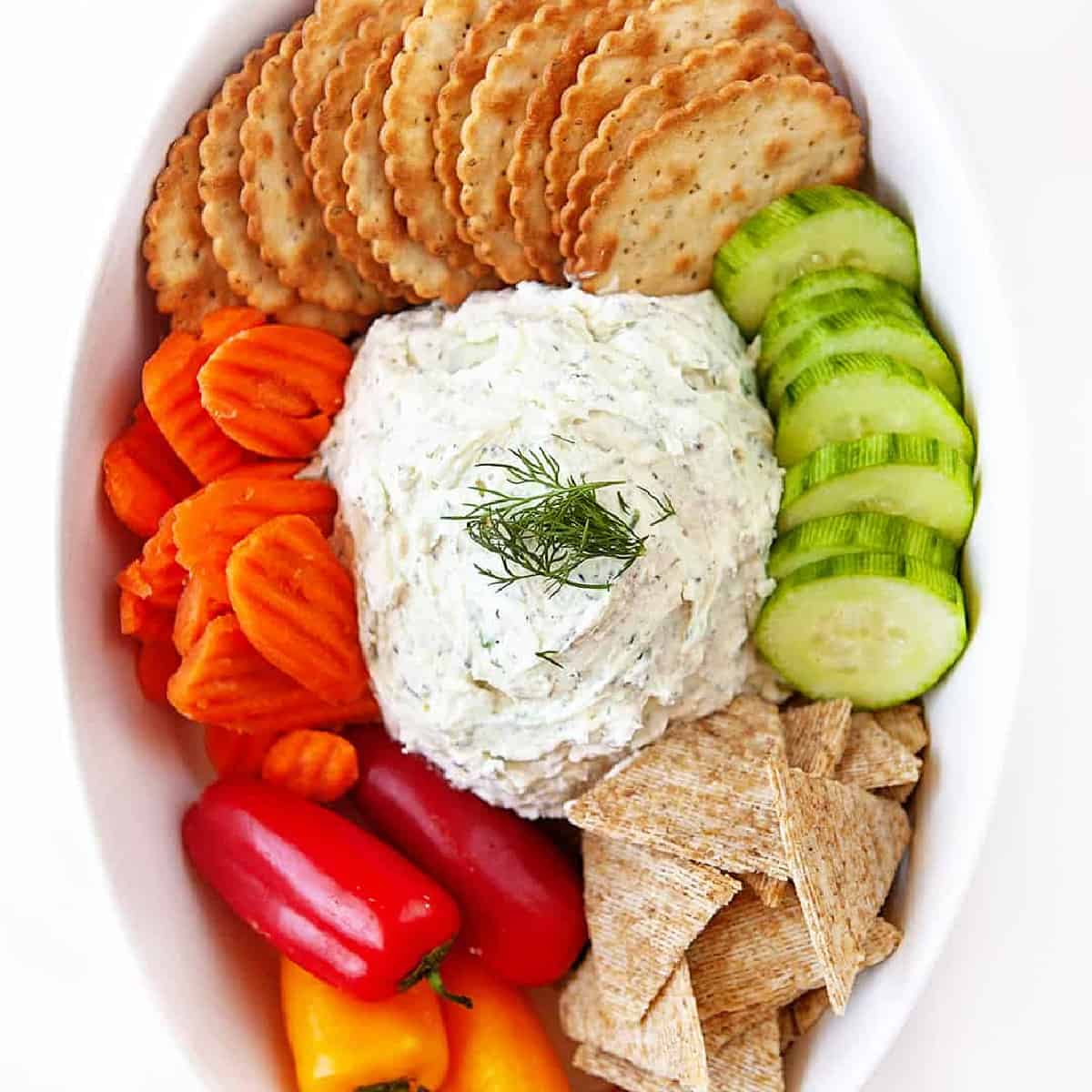 Pin it HERE!!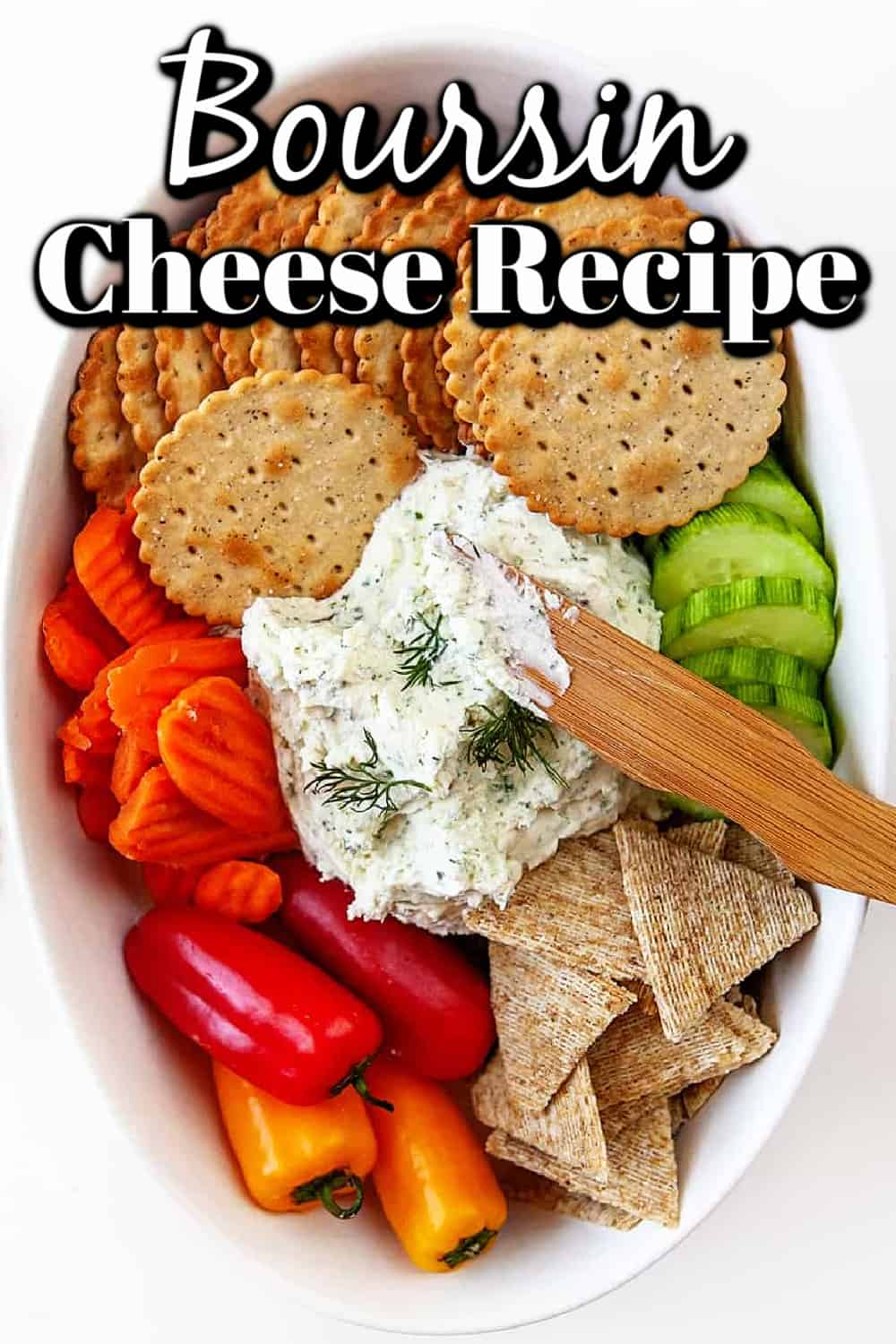 Pin it HERE!!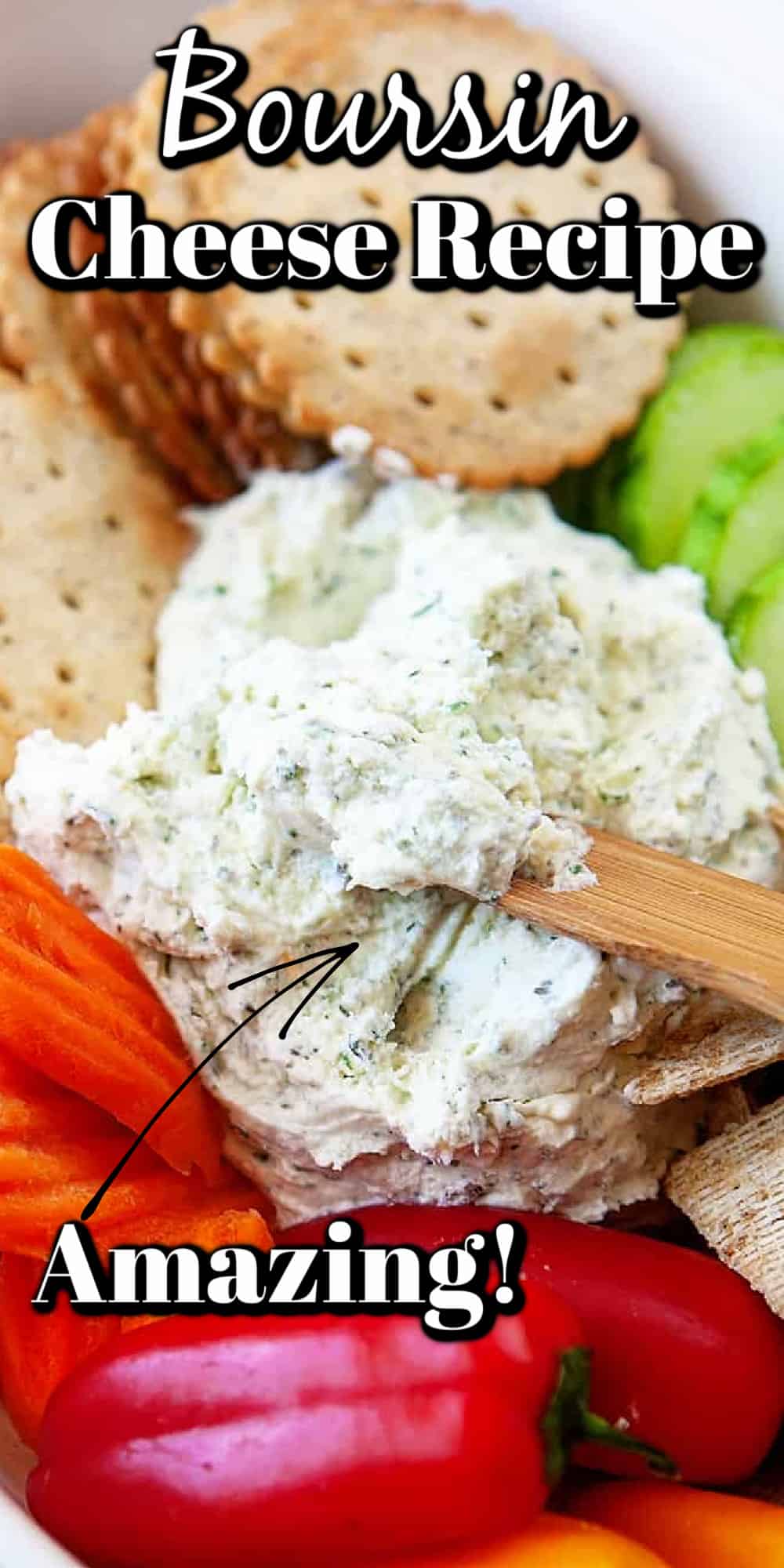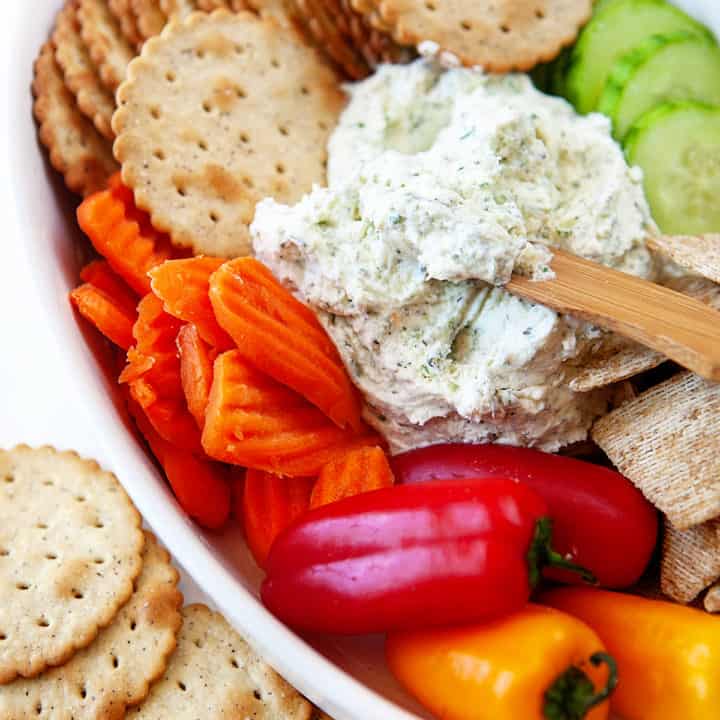 Homemade Boursin Cheese Recipe
Yield: 15 servings
Prep Time: 10 minutes
Additional Time: 1 day 1 hour
Total Time: 1 day 1 hour 10 minutes
Homemade Boursin Cheese is so easy to make and so flavorful! A creamy soft cheese spread flavored with garlic and herbs.
Ingredients
8 ounces cream cheese, room temperature
8 ounces mascarpone cheese, room temperature
4 ounces salted butter, room temperature
3 tablespoons freshly grated Parmesan cheese
2 garlic cloves, crushed
1 tablespoon fresh dill, minced
1 tablespoon fresh chives, minced
2 tablespoon fresh parsley, minced
1/2 teaspoon dried marjoram
1/2 teaspoon dried thyme
pinch of salt
pinch of black pepper
Instructions
Combine all of the ingredients in a food processor and pulse until smooth and creamy.
Shape into a round cheese ball shape if desired, or press it into a round jar or bowl. Cover and refrigerate for 24 hours to let the flavors meld together.
To serve as a dip, let it soften to room temperature before serving. If you're using it as a spread, it is ready to go straight from the fridge.
Recommended Products
As an Amazon Associate and member of other affiliate programs, I earn from qualifying purchases.
Nutrition Information:
Yield: 15
Serving Size: 1
Amount Per Serving:
Calories: 179
Total Fat: 19g
Saturated Fat: 11g
Trans Fat: 0g
Unsaturated Fat: 6g
Cholesterol: 53mg
Sodium: 191mg
Carbohydrates: 2g
Fiber: 0g
Sugar: 1g
Protein: 2g
Recipe calculation was provided by Nutritionix and is an estimation only. If you need nutritional calculations for medical reasons, please use a source that you trust.