Disclosure: I was compensated for this post. All opinions and experiences are my own.
Need inspiring appetizer ideas for camping, BBQ's, or casual dining? I love using Creamer potatoes from The Little Potato Company for quick and easy appetizers, sides, and more. This Million Dollar Dip with Roasted Little Potatoes recipe is not only simple to make but extremely scrumptious!!
It is like having a loaded potato without all the fuss. An easy dip like this is very portable along with the easy-to-make Little potatoes that can take you from the oven to the BBQ easily.
The Little Potato Company's Creamer potatoes are simple to grill or roast in their sturdy easy-to-cook-and-serve tray. They have three different flavors to choose from: Onion and Chive (which we used for this recipe), Garlic Herb and Roasted Red Pepper, and Onion.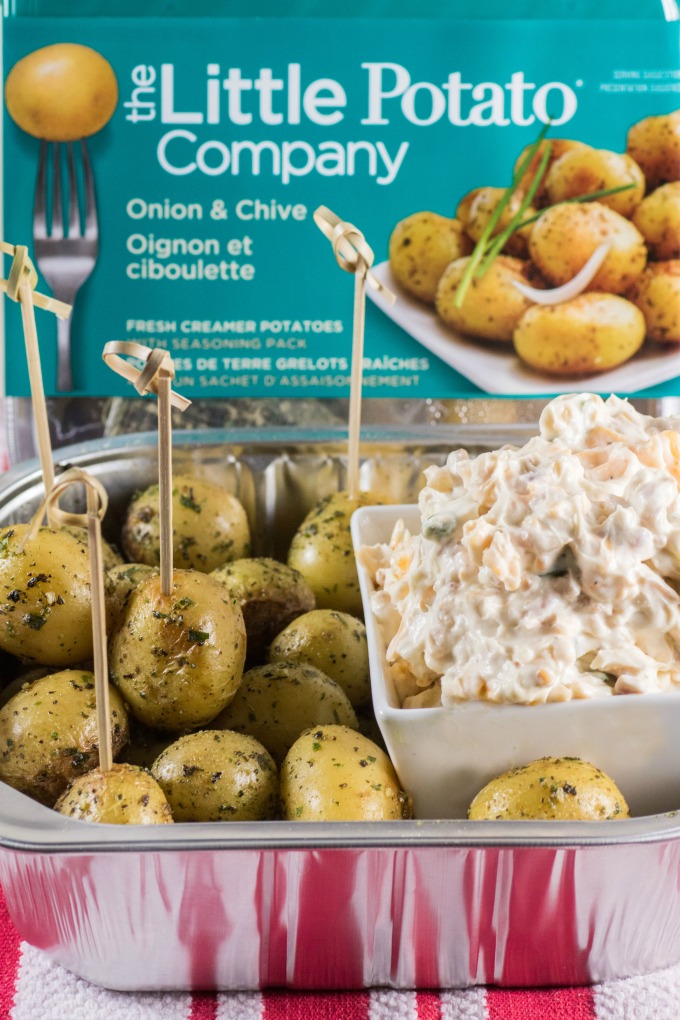 I served this up to the kids and they just couldn't get enough of it.
Million Dollar Cream Cheese and Garlic Dip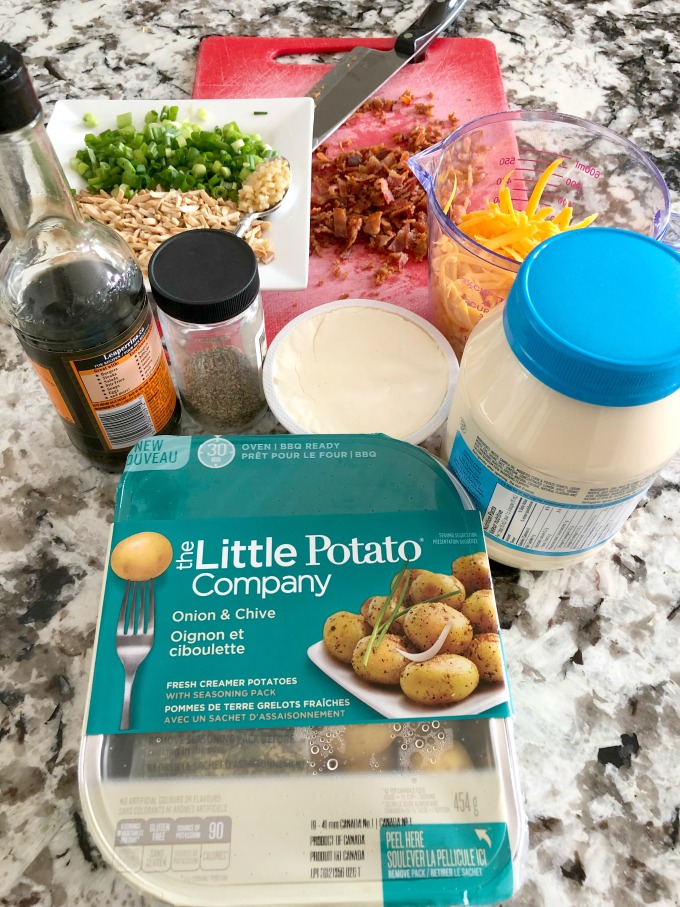 Simple ingredients go into this recipe. Spreadable cream cheese, garlic, mayonnaise, crispy bacon, cheddar cheese, slivered toasted almonds, green onions, lemon pepper and Worcestershire sauce.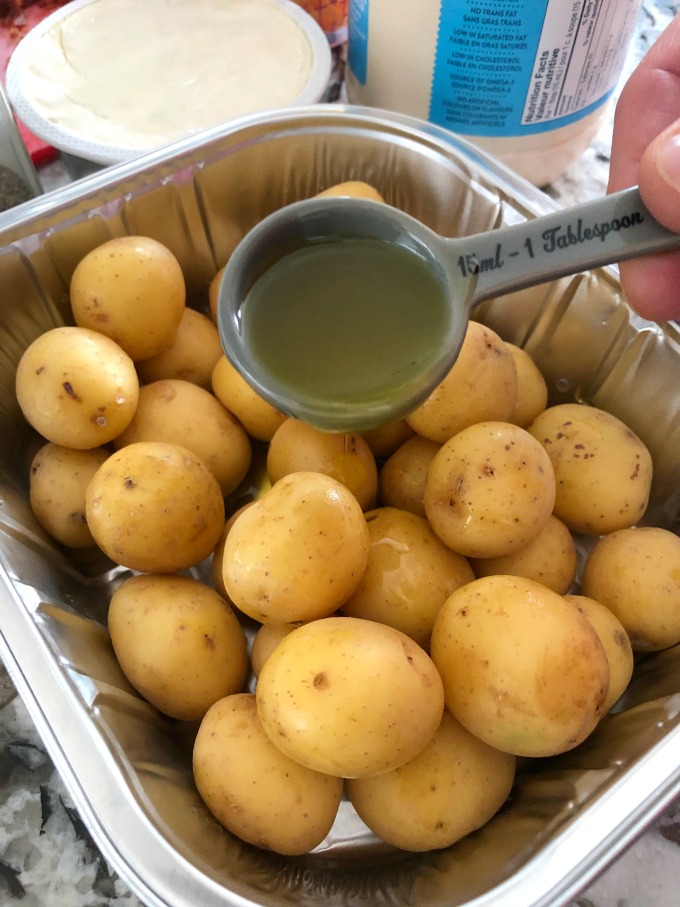 The Creamer potatoes are so easy to work with as they come prewashed and there is no need to peel the potatoes, thanks to the naturally thin-skin, it's delicious. Nipping out that package for all recipes is essential.
Just a quick pouring on of a couple of tablespoons of olive oil, while the oven is preheating, is pretty simple work. Next comes the seasoning package.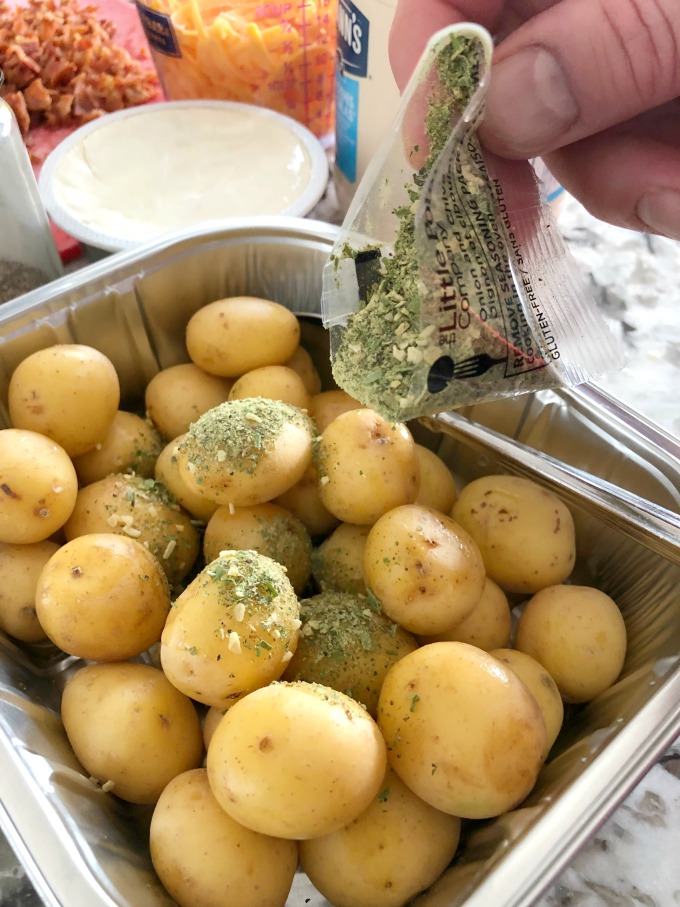 Put on 1/2 the seasoning package that comes with the Little potatoes. You will use the other 1/2 after they are roasted. Give them a toss and pop them into the oven to roast to perfection.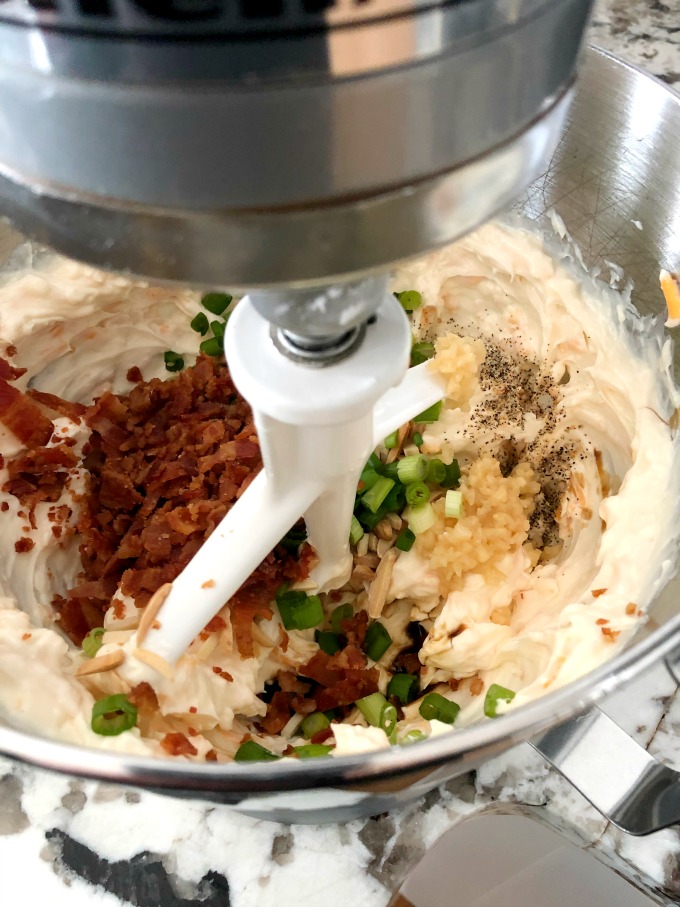 While the Little potatoes are roasting mix all the ingredients of the Million Dollar Dip together. I creamed the mayonnaise, cream cheese and cheddar together first and then added in the remainder of the ingredients.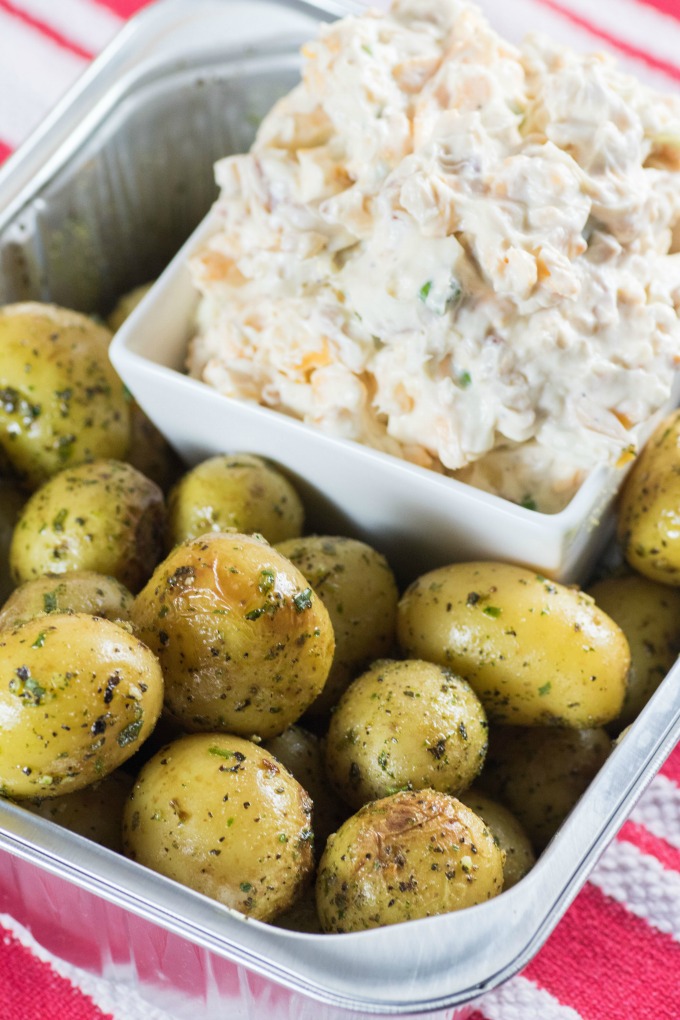 The potatoes can be served right in their sturdy easy-to-cook-and-serve tray for a casual, no fuss appetizer. This works perfectly for any BBQ or outdoor gathering. How easy is that and everyone will be impressed!
Neiman Marcus Million Dollar Dip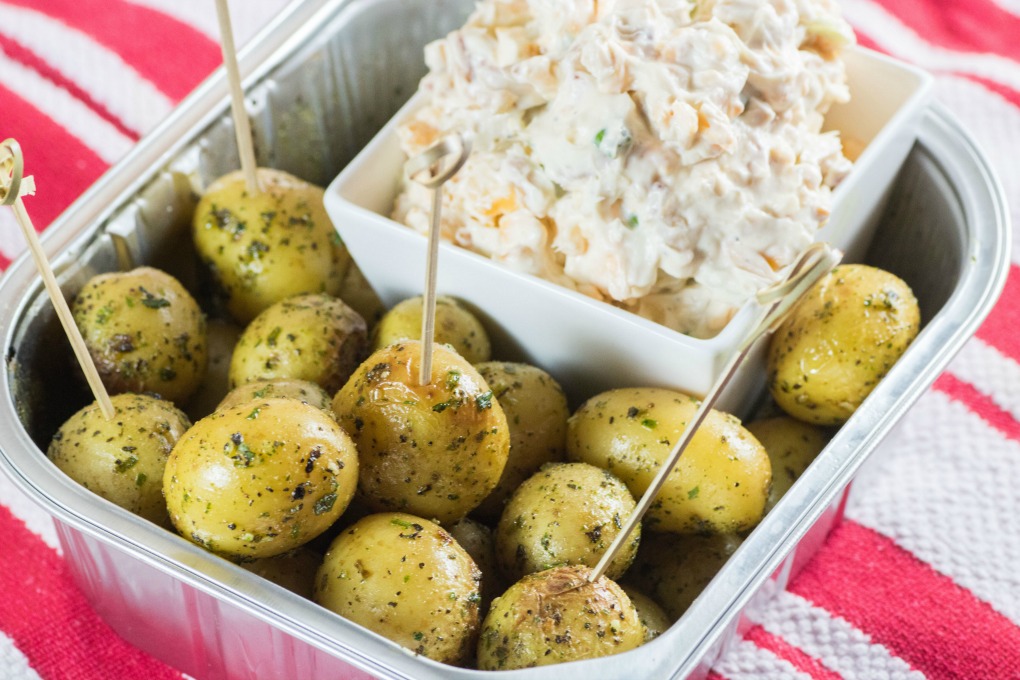 This dip has a few names, it is also called Neiman Marcus Cheese Dip. This dip was created by Helen Corbitt who in the 1950's was the Director of Food Services at Neiman Marcus' Restaurant in Dallas, Texas. She later published it in her cookbook. It has been a popular recipe ever since. A real hit at any party.
I love the smoky bacon in the dip but I think what sets this apart is the crunch that you get from toasted slivered almonds. It makes it unique and toasting the nuts give it extra flavor.
It pairs gorgeously with the Creamer potatoes that are all dressed up with onions and chives.
5 Million Dollar Dip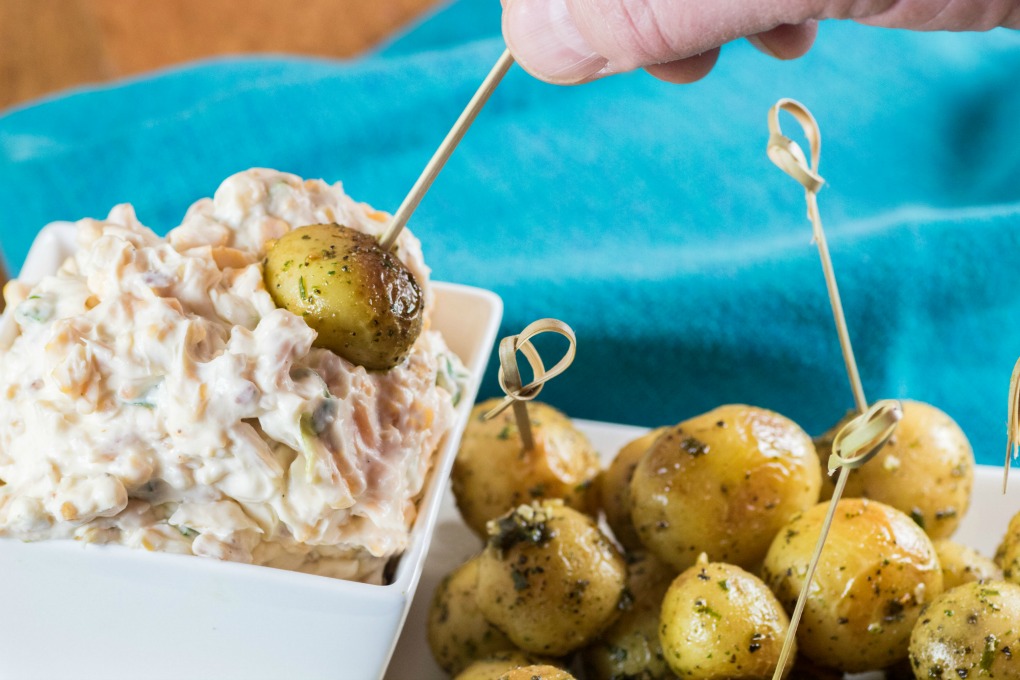 Over the years is also has been touted as a 5 Million Dollar Dip or 5 Minute Million Dollar Dip. Our dip version does take longer than five minutes though.
You are suppose to use bacon bits which of course you can but I like to make my own bacon bits from fresh bacon. Some of these overly processed products that were loved in the 1950's are not as appealing to me now.
I like fresh ingredients just like The Little Potato Company has to offer but yet still quick and easy to use.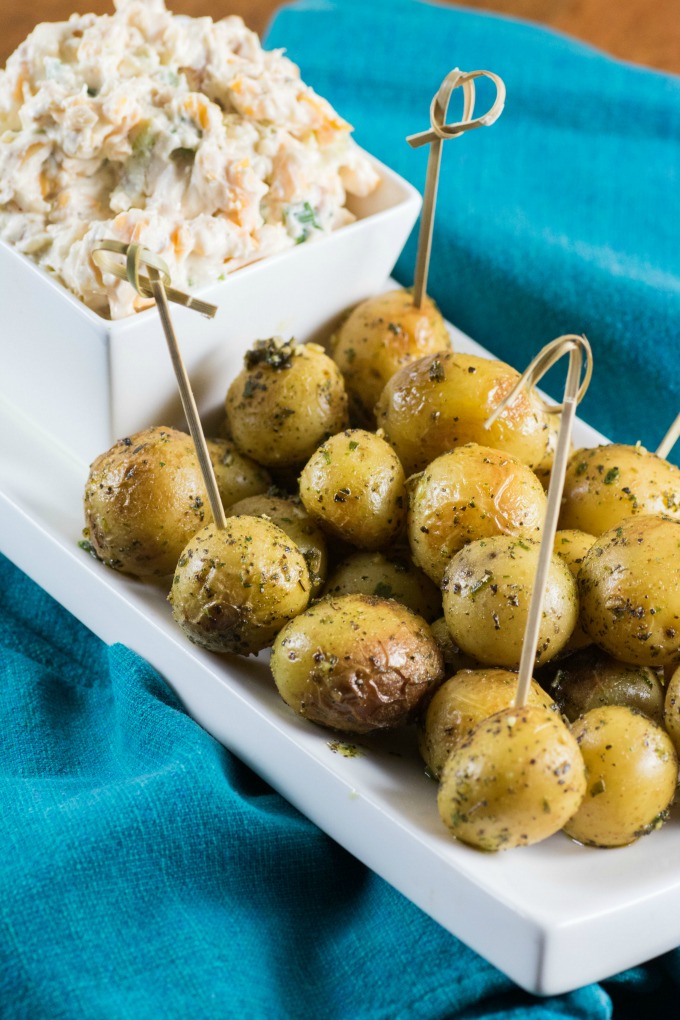 If you are serving these and want them to look more elegant then simply plate the appetizer on a platter. This recipe will become a family favorite like it has for so many others since the 1950's.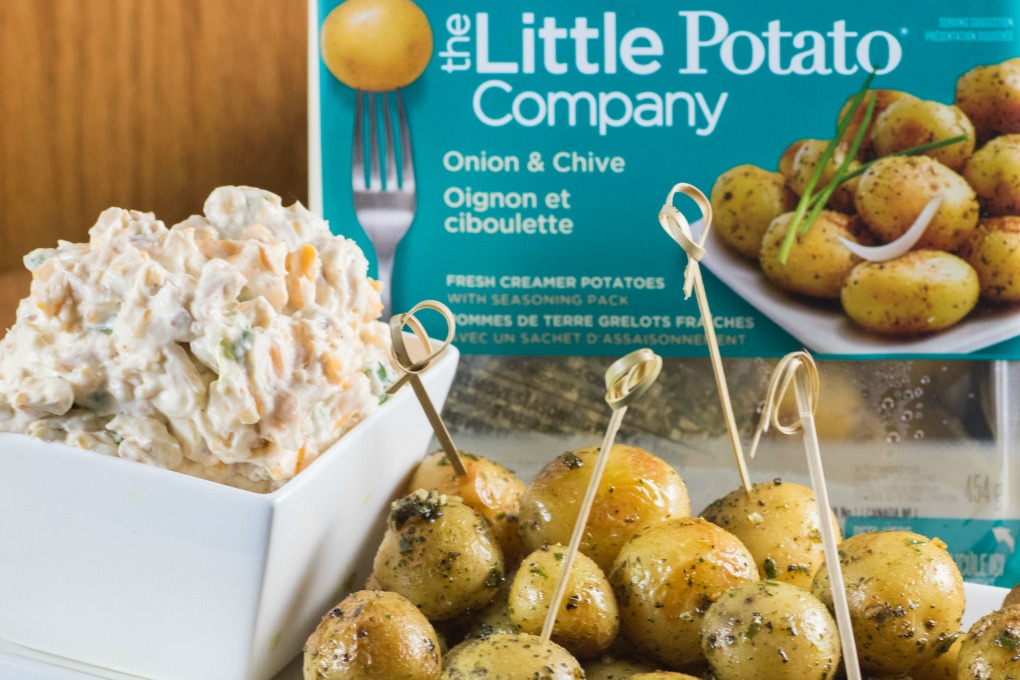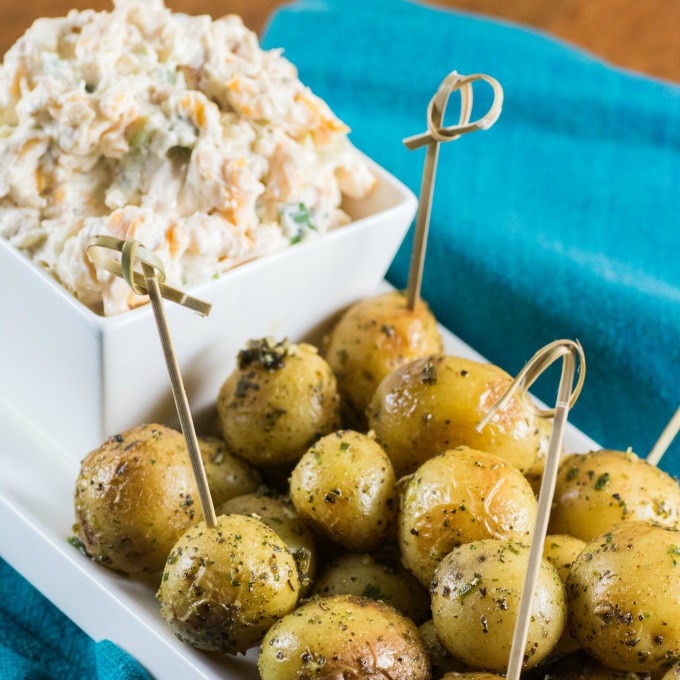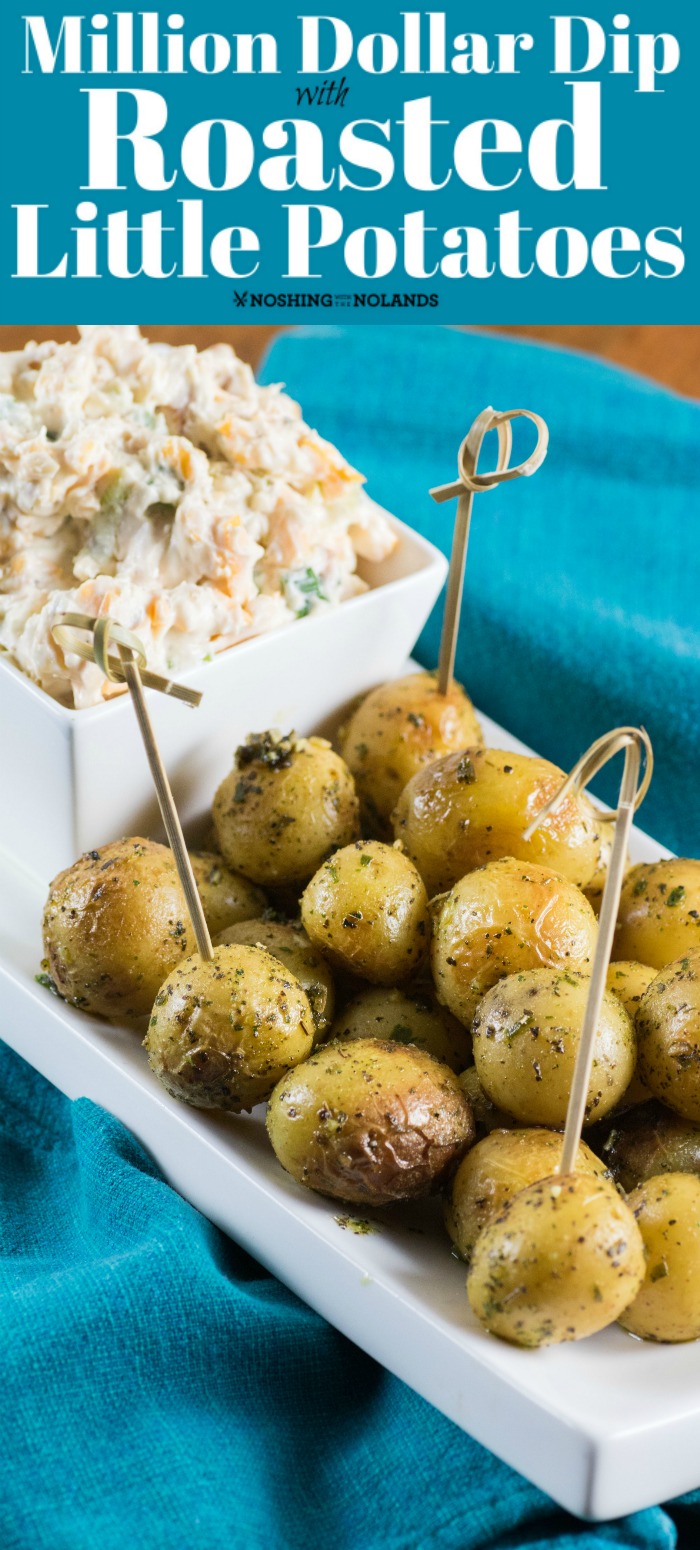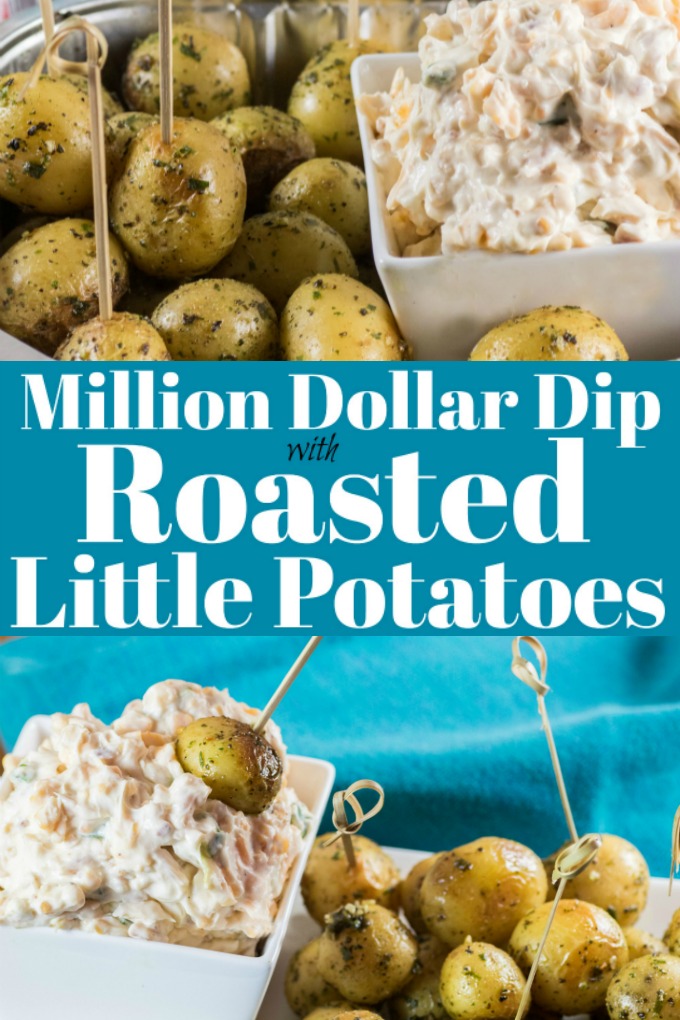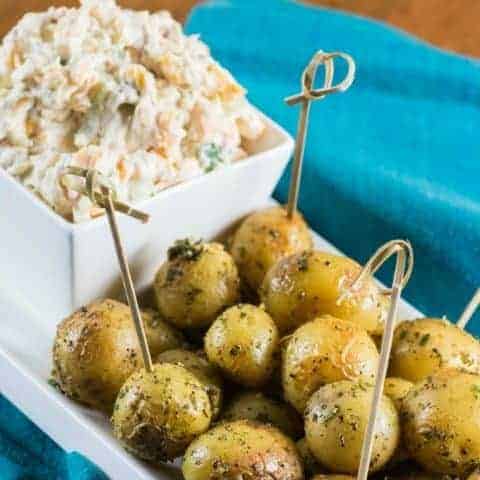 Million Dollar Dip with Roasted Little Potatoes
This Million Dollar Dip with Roasted Little Potatoes recipe will be a sure fire hit at any BBQ, house party or picnic!!
Ingredients
1 lb. The Little Potato Company's Onion & Chive Oven/BBQ Ready Pack
250 gm. (8 oz.) spreadable cream cheese
1 1/2 cups light mayonnaise
1 1/2 cup cheddar cheese, grated
4 green onion, sliced
6 slices bacon, cooked crisp and cut into bits
1/2 cup slivered almonds, toasted
1 tsp. garlic, minced
1/2 tsp. lemon pepper
1 tsp. Worcestershire sauce
Instructions
Preheat oven to 425F. Prepare Little potatoes as per package and roast for 30-40 min. until tender.
Meanwhile in a stand up mixer with a paddle attachment or by hand mix the cream cheese, cheddar cheese and mayonnaise together until creamy.
Add in the green onion, bacon, almonds, garlic, lemon pepper and Worcestershire sauce. Mix until just combined
Serve with the roasted Little potatoes. If you have extra dip refrigerate covered and serve with more Little potatoes later.
Nutrition Information:
Yield: 8
Serving Size: 1
Amount Per Serving:
Calories: 349
Total Fat: 24g
Saturated Fat: 7g
Trans Fat: 0g
Unsaturated Fat: 16g
Cholesterol: 37mg
Sodium: 745mg
Carbohydrates: 22g
Fiber: 3g
Sugar: 3g
Protein: 11g