These Cranberry Brie Bites are a super simple scrumptious appetizer. They take just minutes to put together, and with hot melty cheese and sweet cranberry sauce in a buttery crescent roll shell, they're a guaranteed hit for holiday entertaining. Serve these great nibbles with our Poinsettia Cocktail; both are so festive and perfect for cranberry lovers.
Looking for more easy appetizers for the holidays? Try our Garlic Butter Board or these tasty Brown Sugar Bacon Wrapped Smokies. Having quick, simple, delicious recipes for entertaining makes the holidays feel so much more manageable!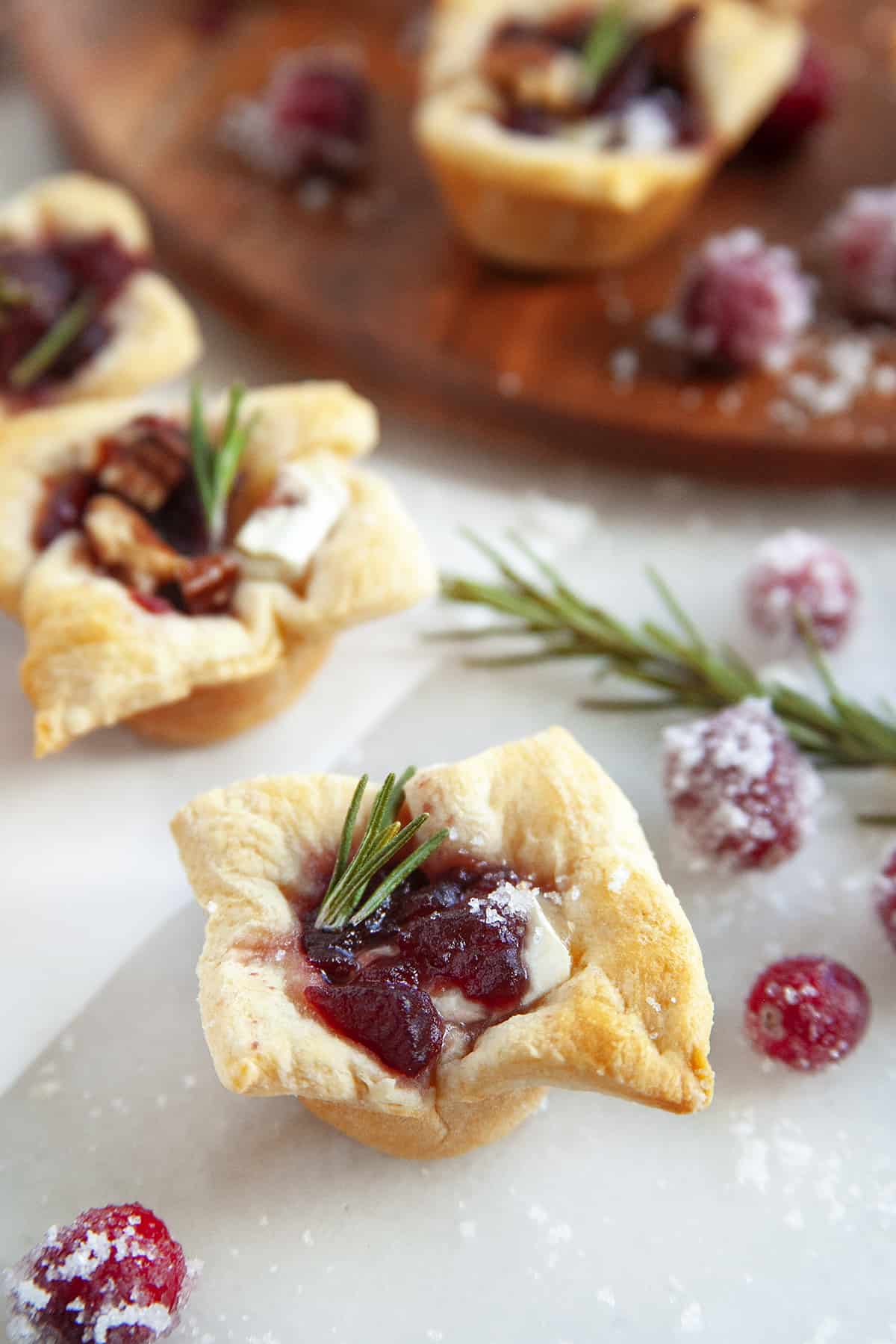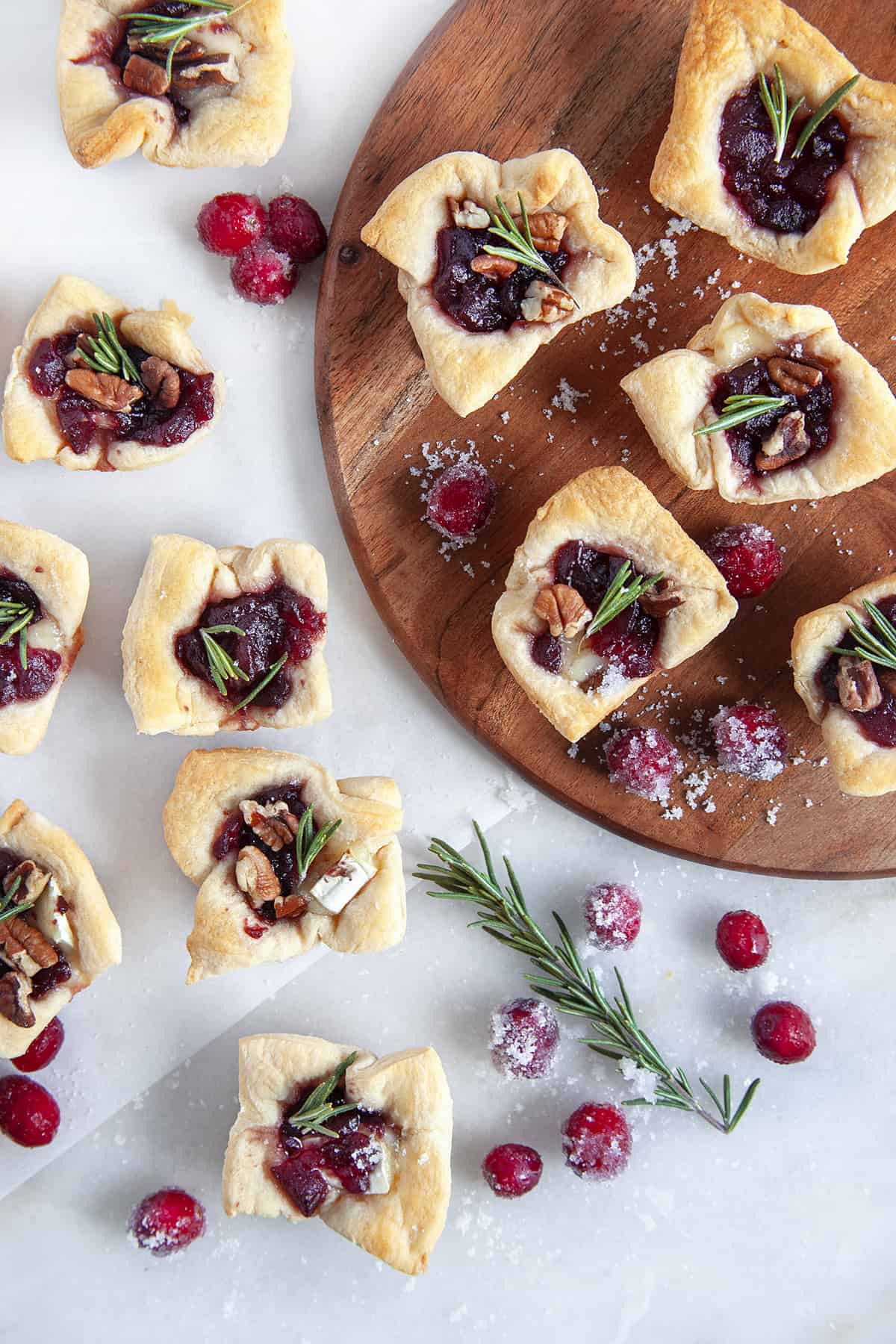 What Do You Need to Make Cranberry Brie Bites?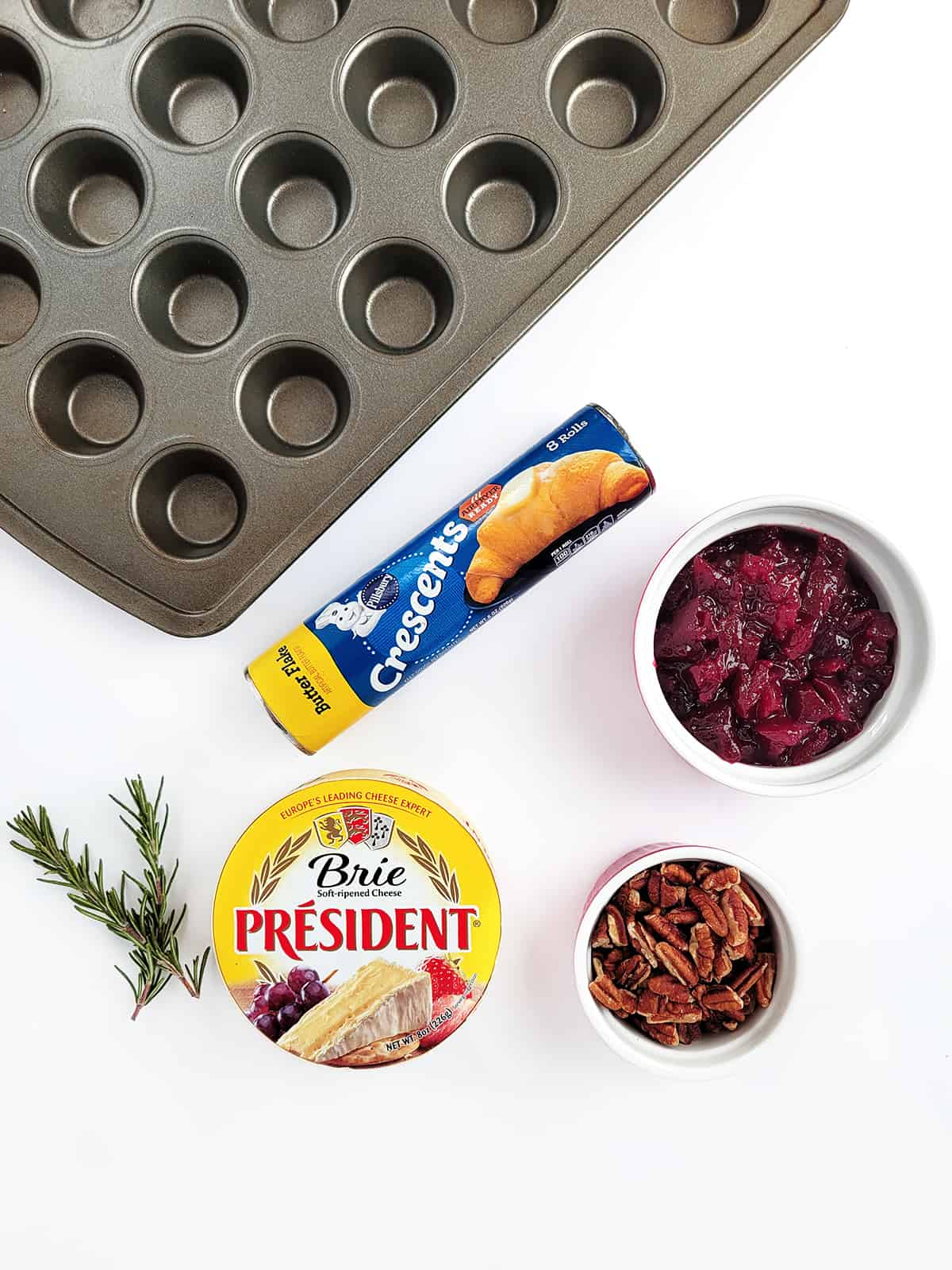 To make Cranberry Brie Bites, you'll need an 18 Cup Mini Muffin Tin. You'll also need just a few simple ingredients that you can find at any grocery store.
Variations to this Recipe
For the cranberry sauce, you can use homemade or canned. Because these bites only require a small amount of cranberry sauce (about 1/3 cup), this is a great recipe to use up the leftover sauce that you may have. However, these are also delicious and are well worth mixing up a batch of homemade cranberry sauce just to make them (this is our favorite Homemade Cranberry Sauce Recipe). Another variation is to use pepper jelly.
If you like nuts, adding pecans to this recipe gives them a delicious crunch! Likewise, the fresh rosemary is a fun and festive garnish if you're making these bites for holiday entertaining.
One other option is to use puff pastry in place of the crescent rolls or layered phyllo words too!
INGREDIENTS
Crescent rolls
Brie cheese
Cranberry sauce
Pecan pieces (optional)
Rosemary for garnish (optional)
How to Make Cranberry Brie Bites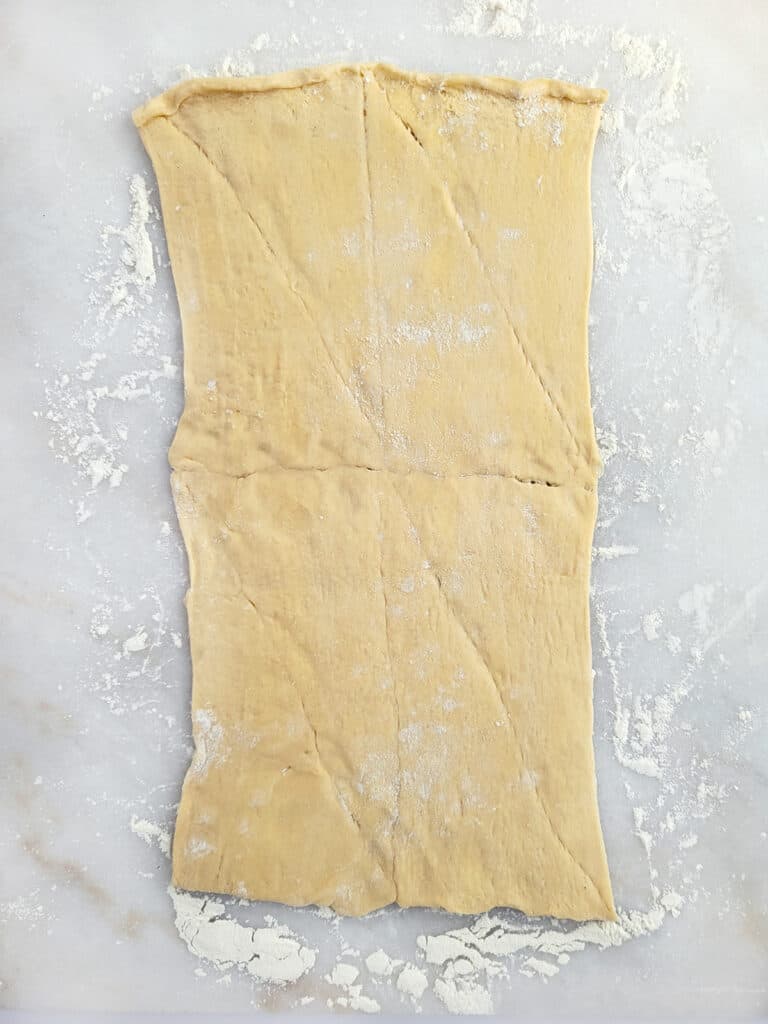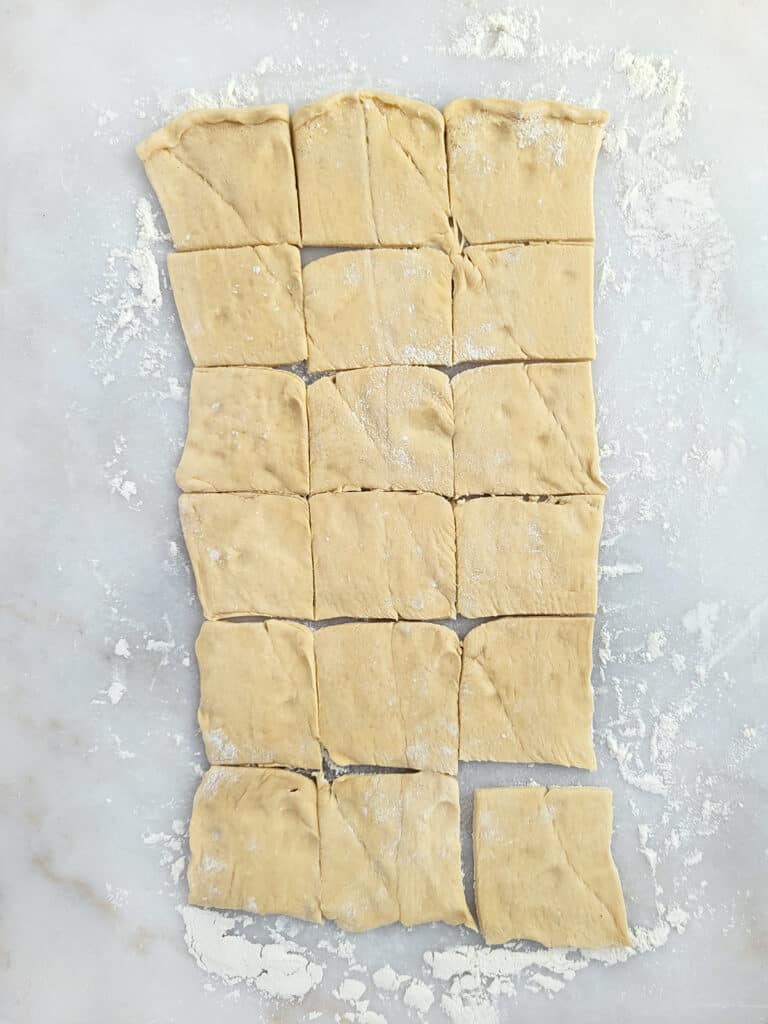 Preheat your oven to 375 degrees Fahrenheit.
On a lightly floured surface, unroll the crescent roll dough and use your fingers to gently press together the seams. Then, cut the dough into 18 roughly equal squares (a pizza roller works great for this!).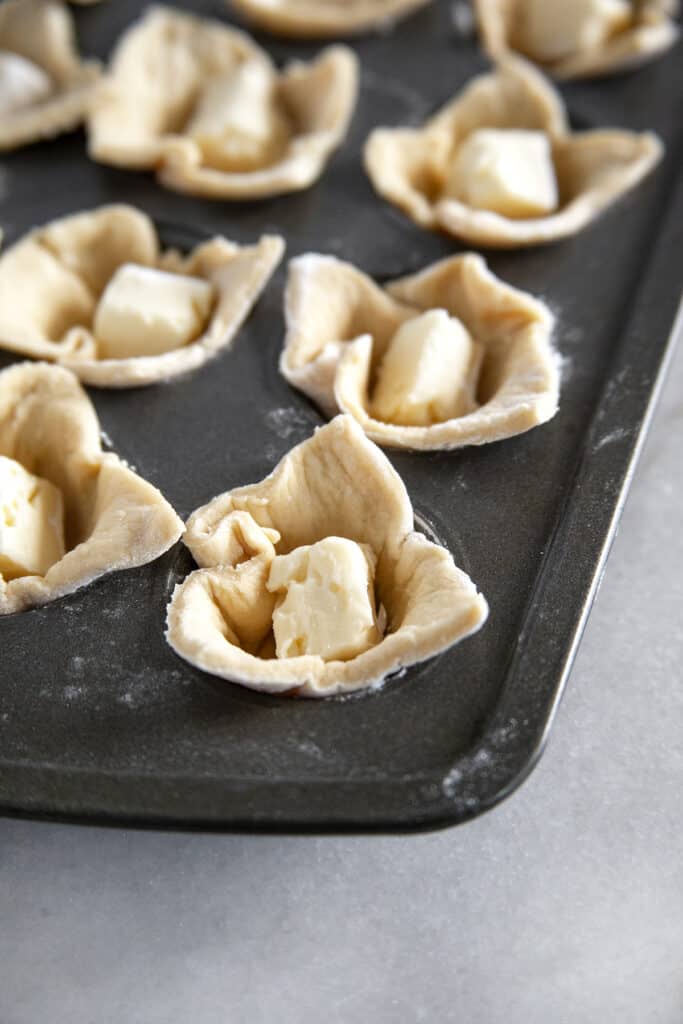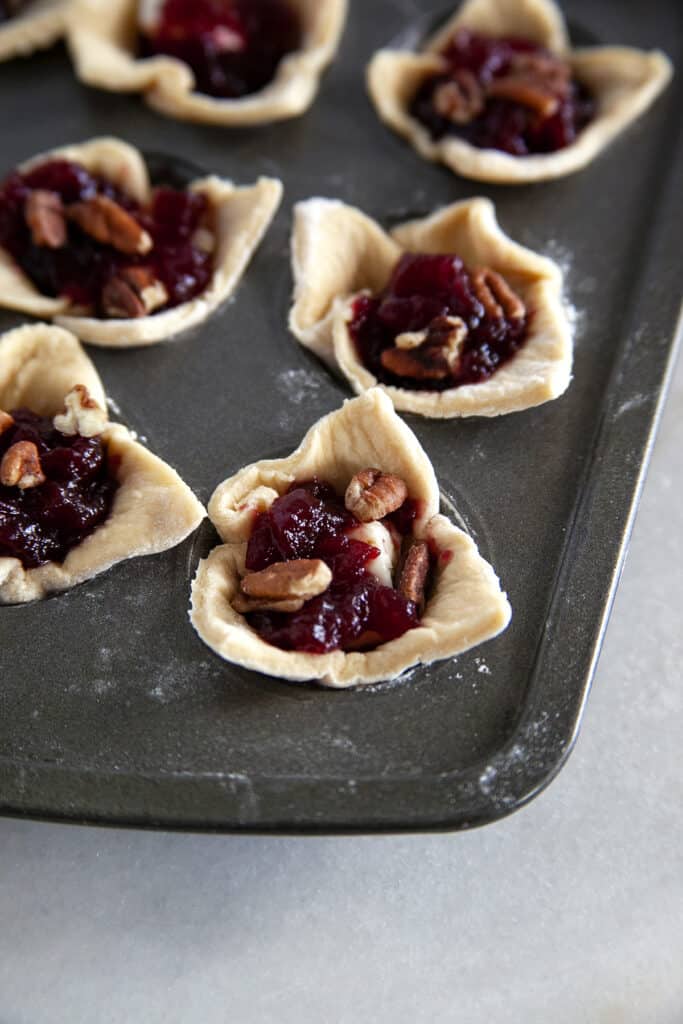 Place each small piece of the crescent dough into a cup of the mini muffin tin and press the pastry squares into place. Add a cube of brie cheese to every filled cup and top with a heaping teaspoon of cranberry sauce and a sprinkle of chopped pecans (if using).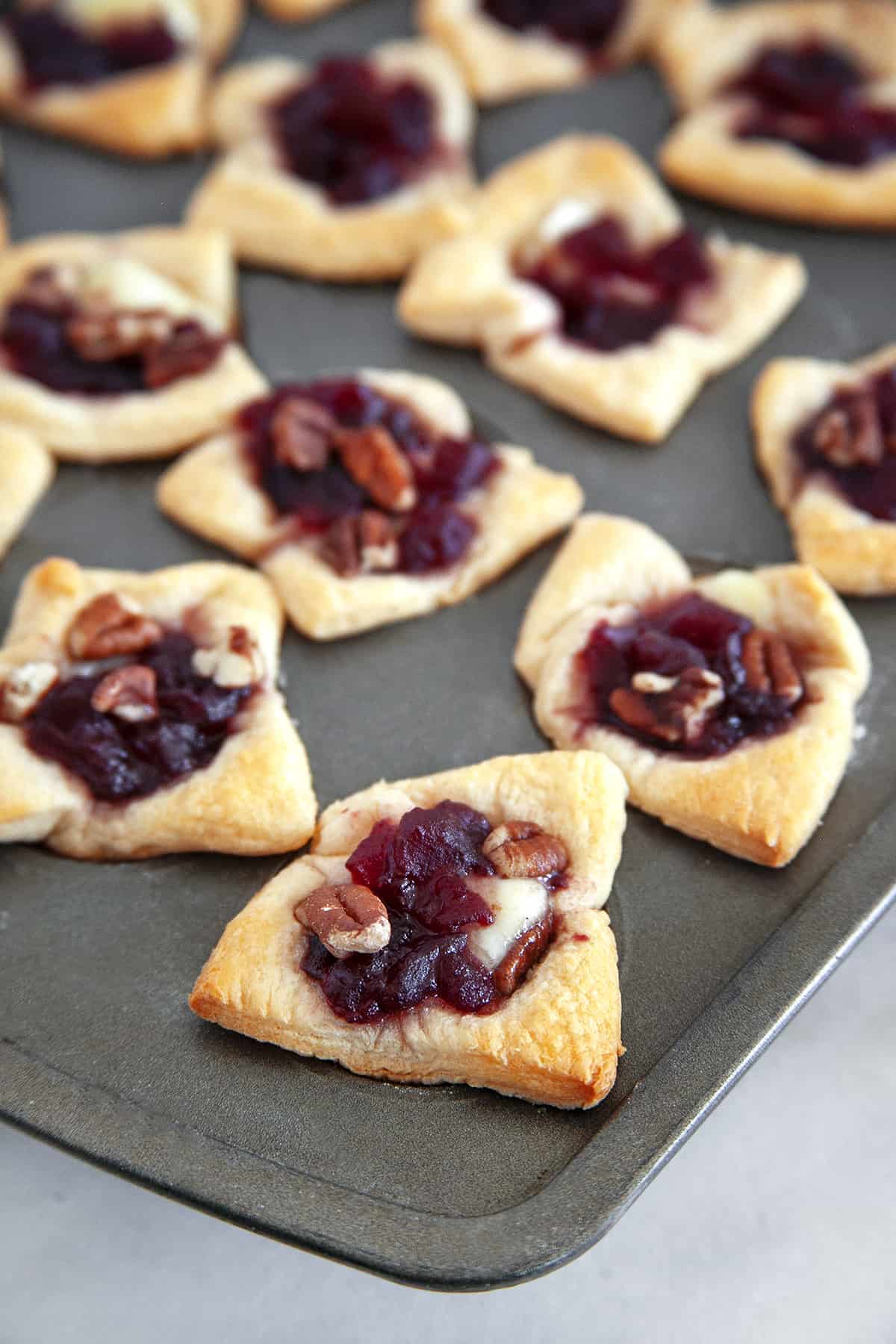 Bake at 375 degrees for 10 minutes. When the brie bites are done, the cheese and cranberry sauce will be bubbly and the dough will be golden brown. Remove them immediately from the muffin tin. Garnish with sprigs of rosemary.
These are best served right away while they are still warm and the baked brie cheese is deliciously melty!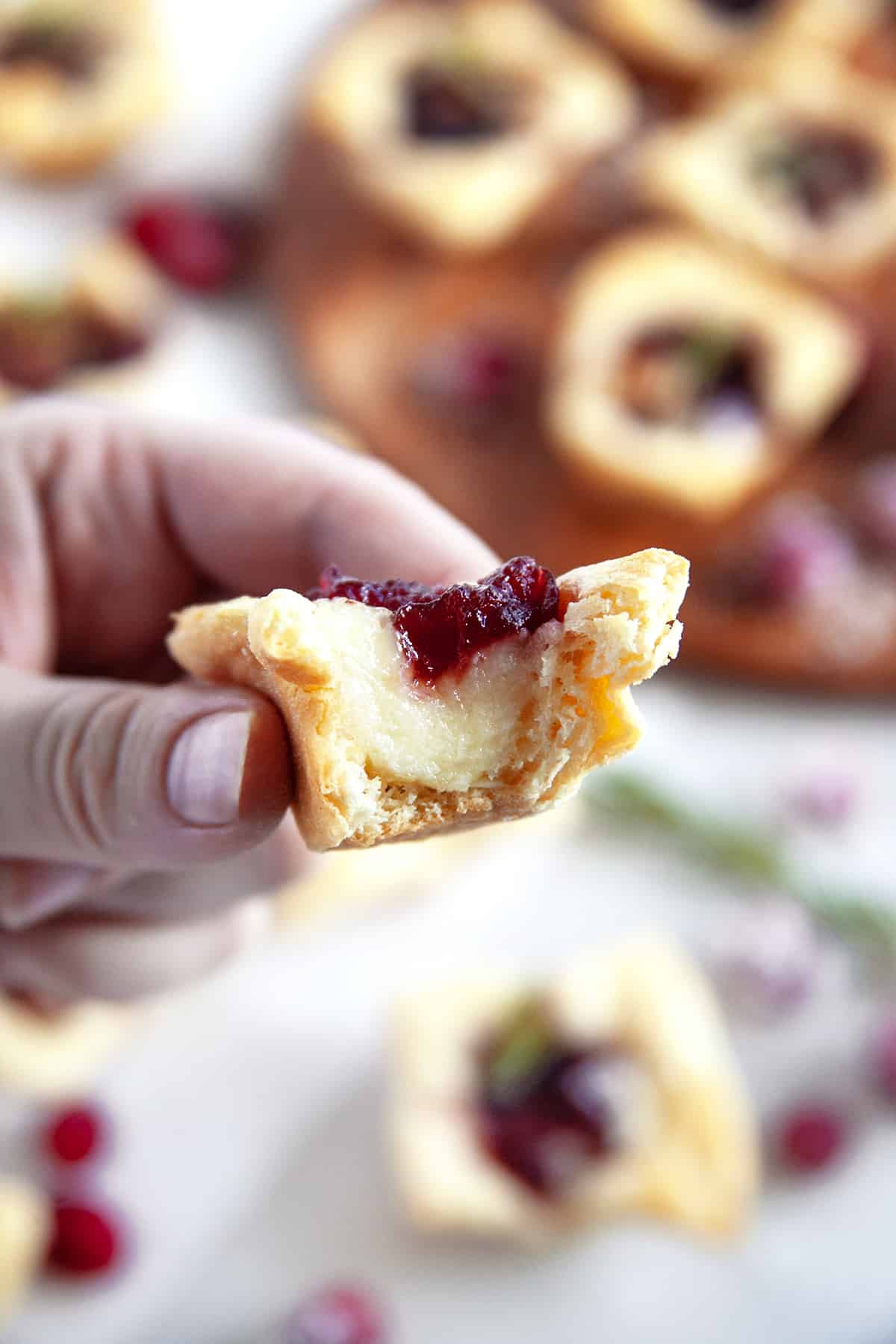 Can Cranberry Brie Bites be made ahead?
You can make this Cranberry Brie Bites recipe ahead of time! Just prepare the bites as described above, but instead of baking, cover the muffin tin with plastic wrap and store them in the fridge for up to 24 hours before you bake them. Pop them in the oven when company arrives and you have a delicious piping hot appetizer in no time.
You can also place the prepared, but unbaked, brie bites on a parchment-lined baking sheet and freeze the cranberry brie bites. When the bites are frozen through, remove them from the baking sheet and place them in a Ziploc bag. When you are ready to prepare them, bake them at the same temperature, but add an additional 3 to 5 minutes to cook time.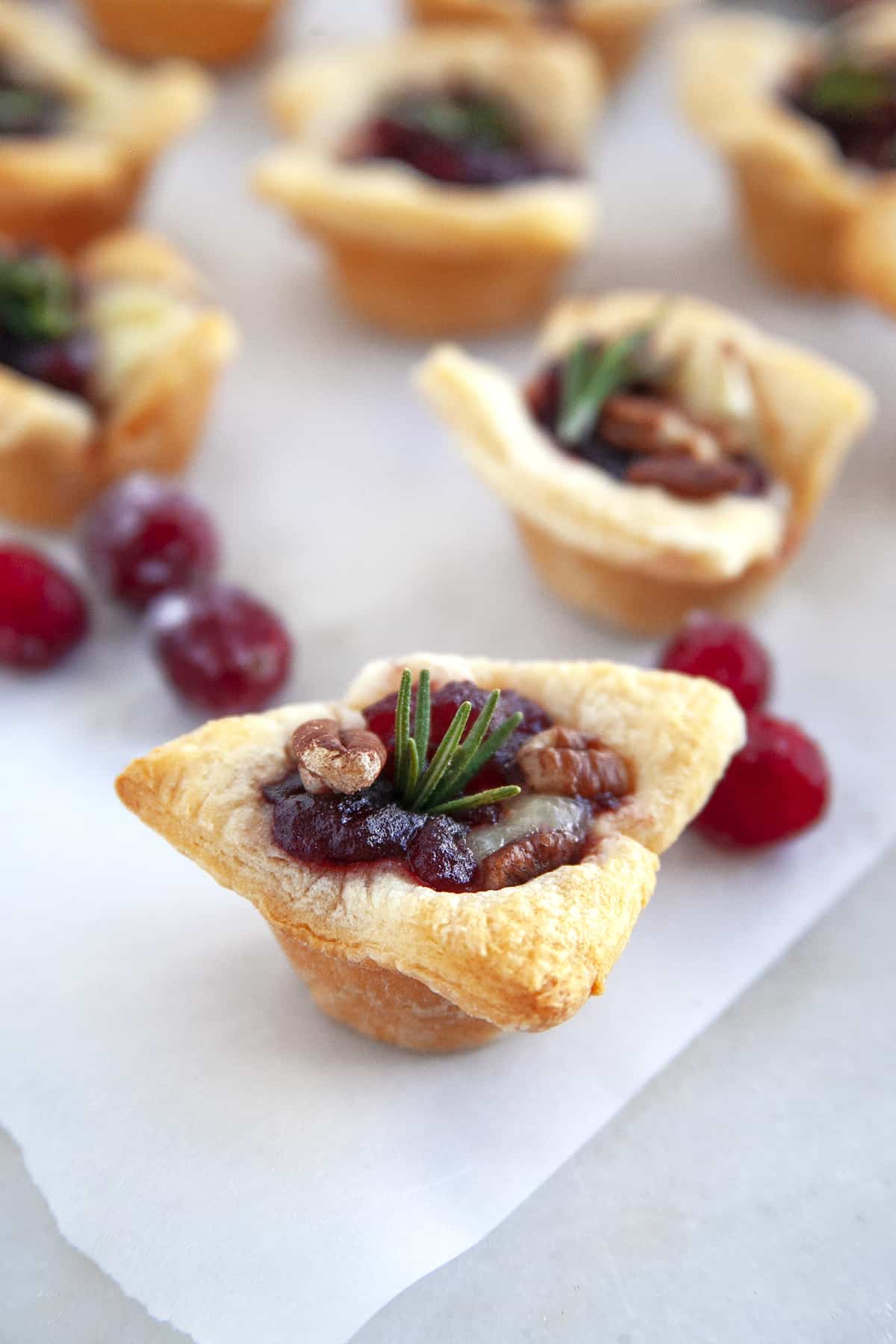 Can You Reheat Cranberry Brie Bites?
These delicious bite-size appetizers are most delicious when they are hot out of the oven. If you need to reheat these bites, just place them on a baking sheet and heat them at 350 degrees until they are heated through and the cheese is bubbly again.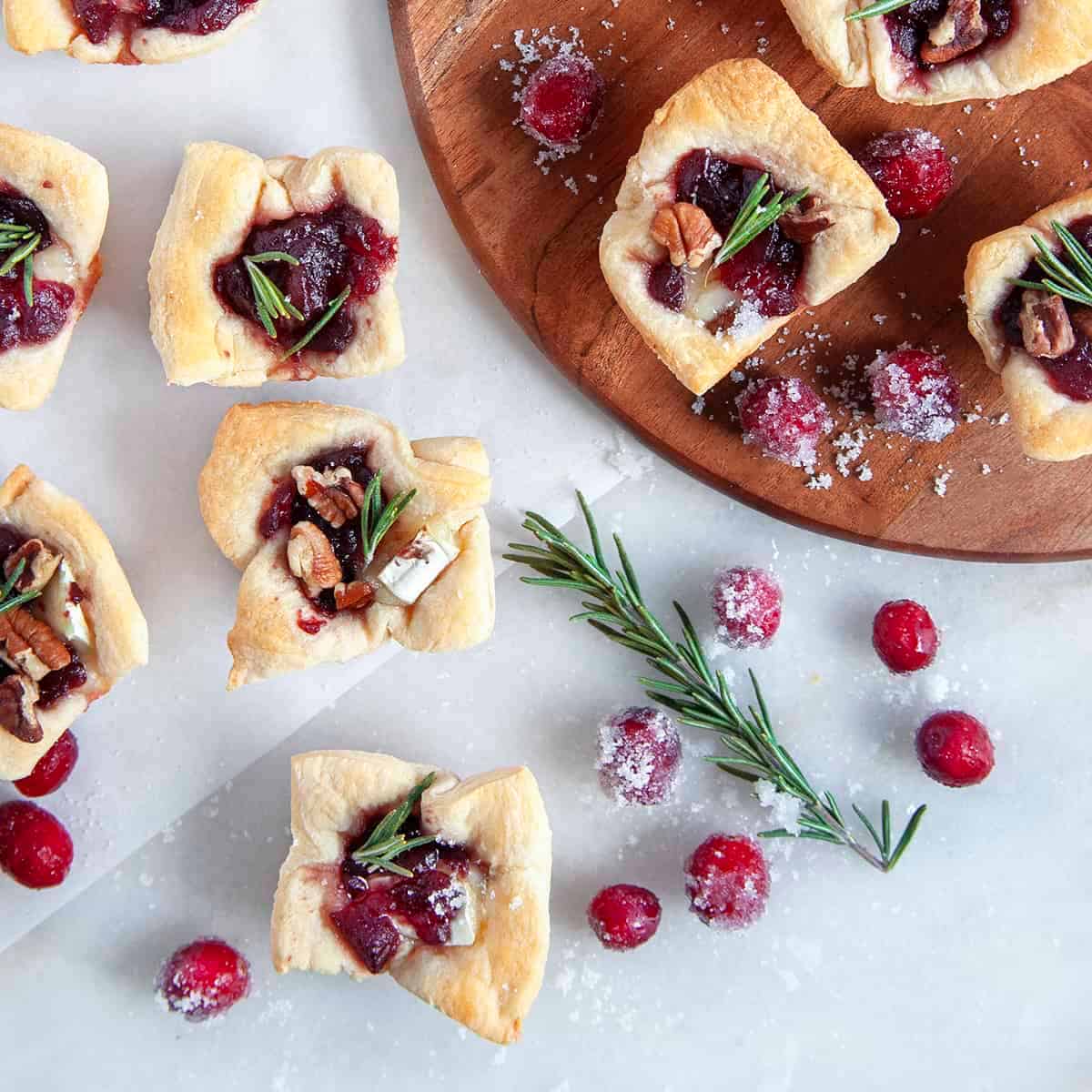 More Holiday Appetizers
Cucumber Humus Bites – Fresh and easy to make. A nice lighter healthy appetizer.
Homemade Boursin Cheese Recipe – Excite your guests with this delicious cheese spread and brag that you made it too!
Crab Rangoon Dip – Seafood for the holidays is always welcome. This simple creamy baked crab dip is hot, cheesy, and loaded with delicious flavor.
Pine Cone Cheese Ball Recipe – This Pine Cone Cheese Ball Recipe is perfect for a crowd for the holidays. It is easy to make and is ready when the company arrives and tastes fantastic.
Pin it HERE!!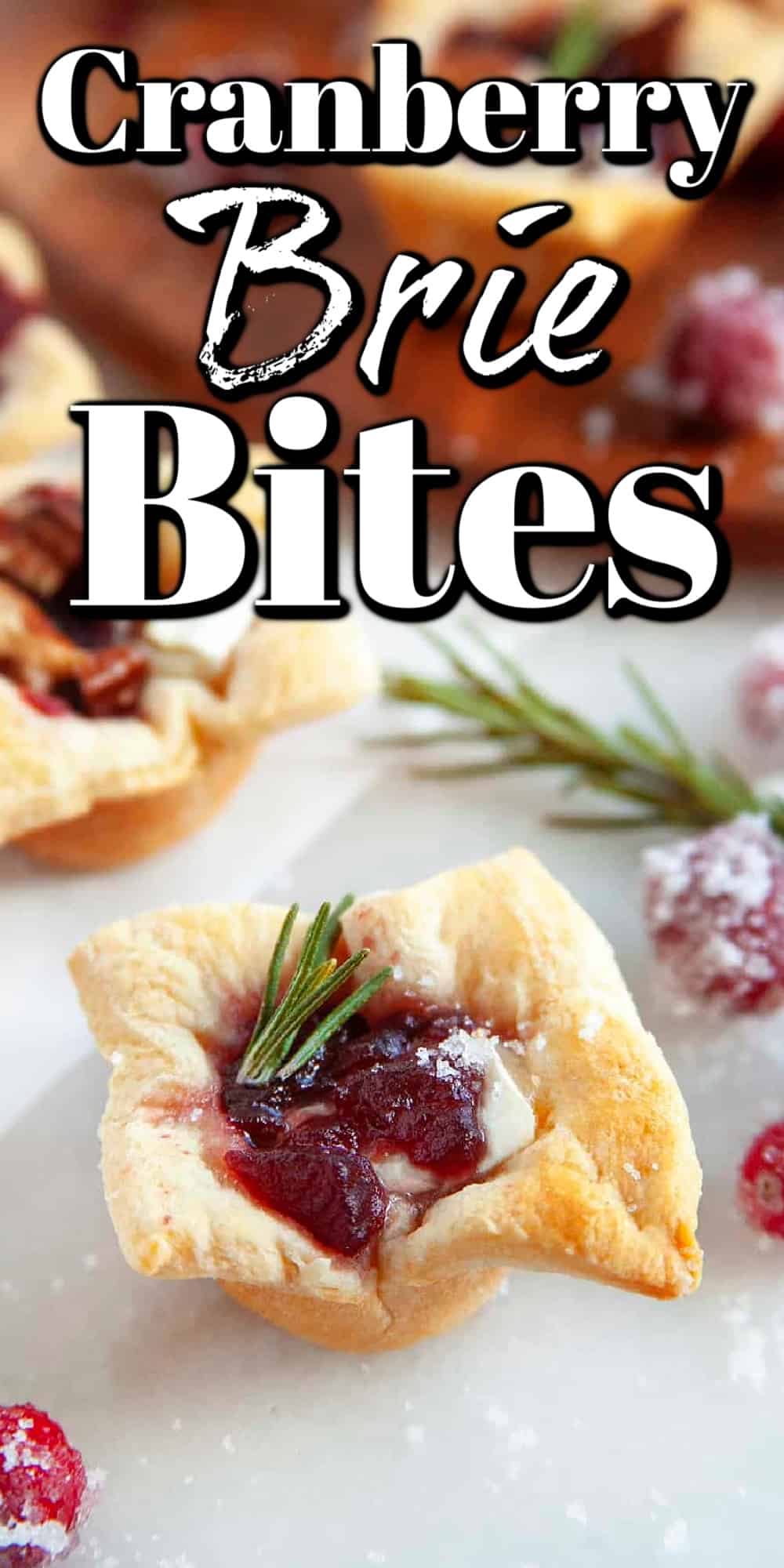 Pin it HERE!!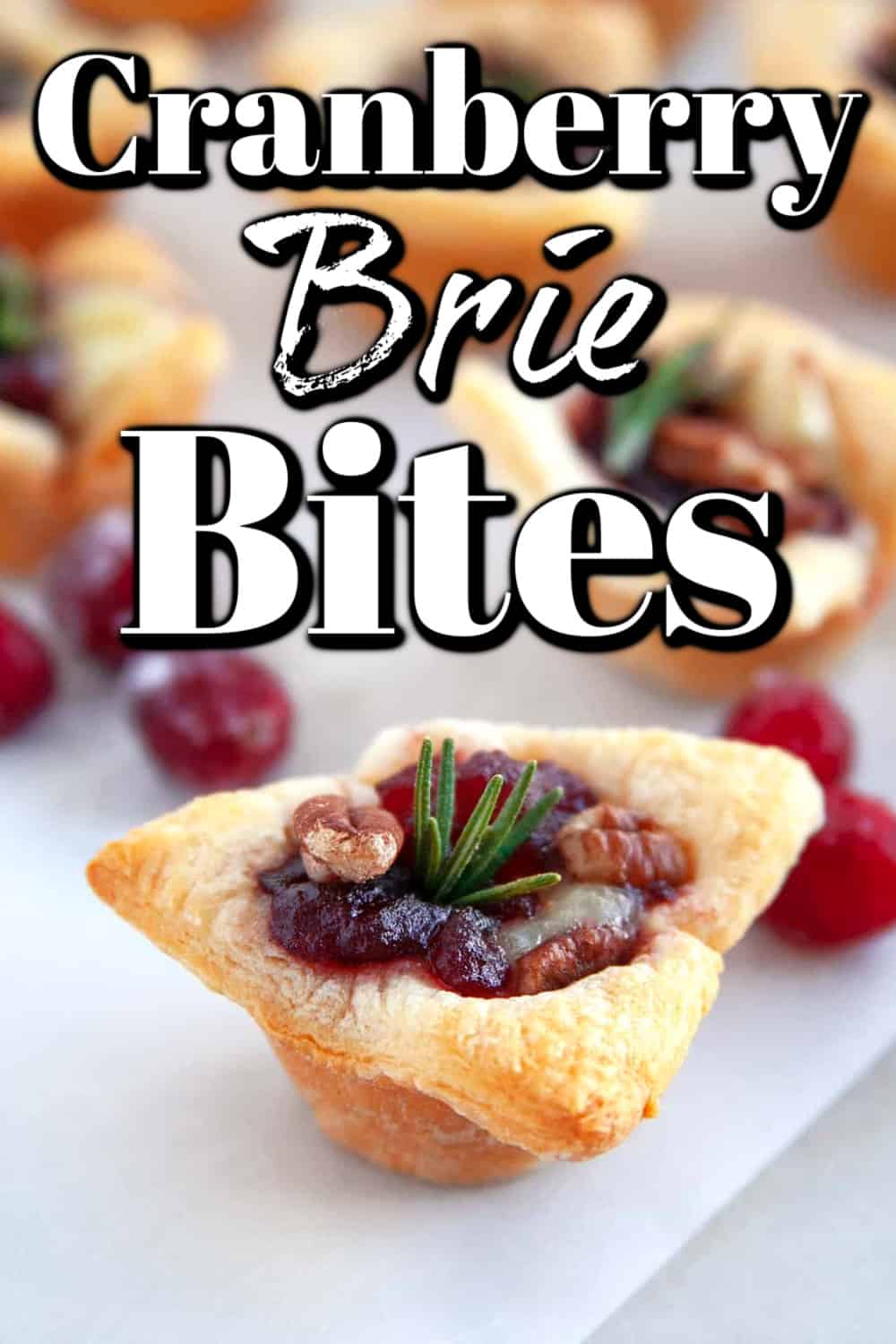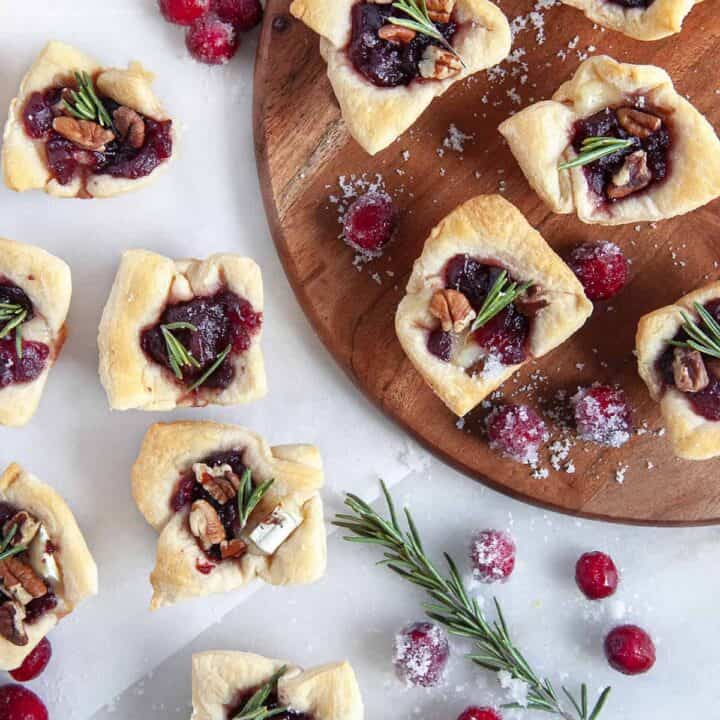 Cranberry Brie Bites
Yield: 18 bites
Prep Time: 10 minutes
Cook Time: 10 minutes
Total Time: 20 minutes
These Cranberry Brie Bites can't be beaten for their ease of making and serving. They are perfect to have at the ready in your fridge and when company arrives just pop them into the oven.
Ingredients
1 (8 oz) tube crescent rolls
4 oz brie cheese (cut into 18 cubes)
1/3 cup cranberry sauce (canned or homemade)
3 tablespoons chopped pecan pieces (optional)
fresh rosemary for garnish
Instructions
Preheat oven to 375 degrees Fahrenheit.
On a floured surface, unroll the crescent rolls. Gently press together the seams.
Cut the dough into 18 roughly equal squares. Using a pizza cutter makes quick work of this.
Place a square of dough into each cup of the mini muffin tin. Add a cube of brie and a teaspoon of cranberry sauce to each filled cup. Top with a sprinkle of chopped pecans, if using.
Bake for 10 minutes or until the dough is golden brown and the sauce and cheese are bubbly.
Remove immediately from the muffin tin. Garnish with fresh rosemary sprigs. Serve warm.
Nutrition Information:
Yield: 18
Serving Size: 1
Amount Per Serving:
Calories: 43
Total Fat: 3g
Saturated Fat: 1g
Trans Fat: 0g
Unsaturated Fat: 1g
Cholesterol: 7mg
Sodium: 46mg
Carbohydrates: 3g
Fiber: 0g
Sugar: 2g
Protein: 2g
Recipe calculation was provided by Nutritionix and is an estimation only. If you need nutritional calculations for medical reasons, please use a source that you trust.