Hot Crossed Buns
These Hot Crossed Buns are a delicious treat for Spring and Easter. They're traditionally eaten on Good Friday, but these spiced sweet rolls are a tasty addition to breakfast or brunch anytime. This simple Hot Crossed Buns recipe is as good as any sweet bun you'd find at your favorite bakery!
If you're looking for more great recipes for your Easter menu, be sure to check out our Rainbow Easter Deviled Eggs, or try these fun Easter Cupcakes.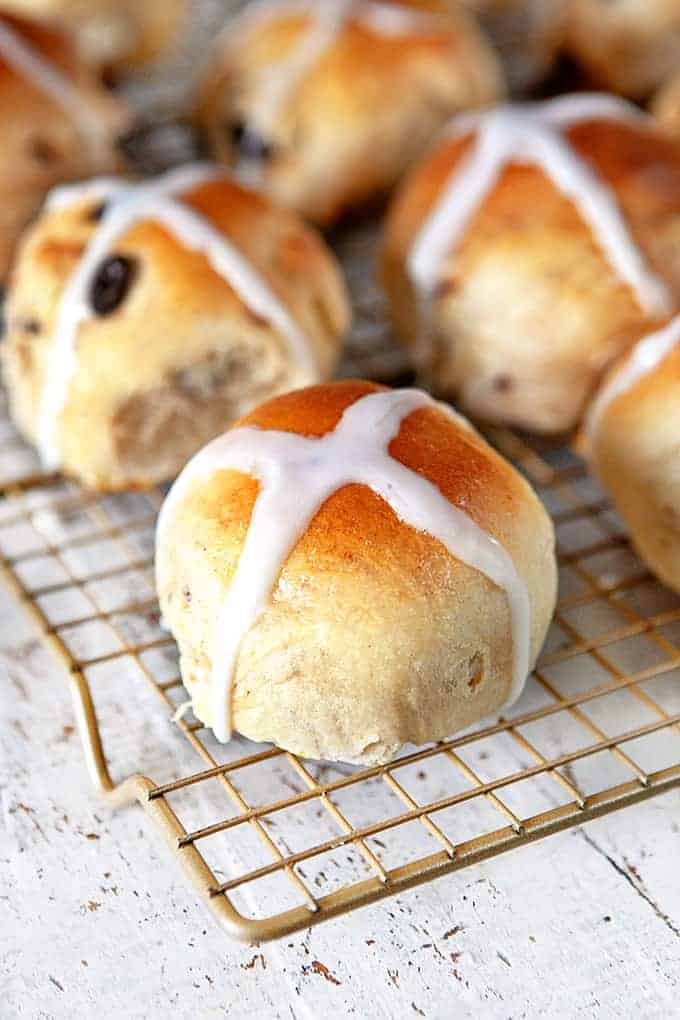 HELPFUL ITEMS FOR THIS RECIPE
This post contains affiliate links. As an Amazon Associate, I earn a small portion from qualifying purchases at no extra charge for you.
Kitchen Aid Stand Mixer, Empire Red
Stainless Steel Wire Cooling Rack
Basting Brushes

Hi there! I'm Allison, the writer, and photographer dishing up family-friendly recipes and book recommendations over at Some the Wiser. Right now I'm happily jumping into Spring and celebrating the new warmer weather! I'm so excited to be adding these Asparagus Ricotta Tarts with Honey Lemon Sauce and these bright and fresh Strawberry Napoleons to my Spring menu.
One of my favorite things to bake in the Spring though is Hot Crossed Buns. They're no harder to make than a simple dinner roll, but they're a little sweeter and a lot more special.
What are Hot Cross Buns?
Hot Crossed Buns are spiced sweet buns, often made with raisins or currants, and topped with frosting in the shape of a cross.
They are sweet, but not overly sweet, so they're a versatile part of any Spring menu. They're similar in taste and texture to a cinnamon roll, but they're less work to make. You can serve them with breakfast, brunch, or even for dessert!
If you're not a fan of raisins or currants, you can leave them out or add your favorite dried fruit. I've tried them with dried cranberries in place of the raisins and they were just as tasty.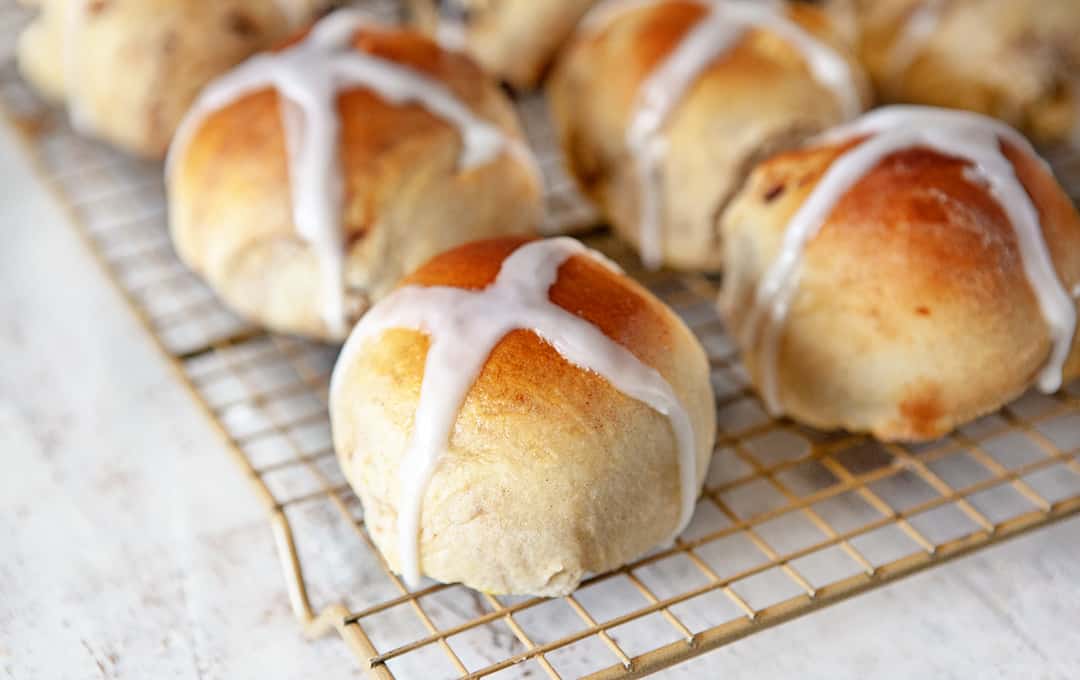 What is the significance of Hot Cross Buns?
We often think of Hot Crossed Buns as part of a traditional Easter menu. And while it's true that they are often eaten on Good Friday by Christians, hot crossed buns can also be traced back to pagan Spring celebrations.
Depending on what you believe, the cross on a hot crossed bun can either represent the phases of the moon, or the cross that Jesus Christ was crucified on.
Hot Crossed Buns can also trace their claim to fame back to the original Mother Goose nursery rhymes. Remember that old nursery song? It goes something like this: "Hot Cross Buns, Hot Cross Buns, One-a-Penny, Two-a-Penny, Hot Cross Buns." If only you could still find one for a penny!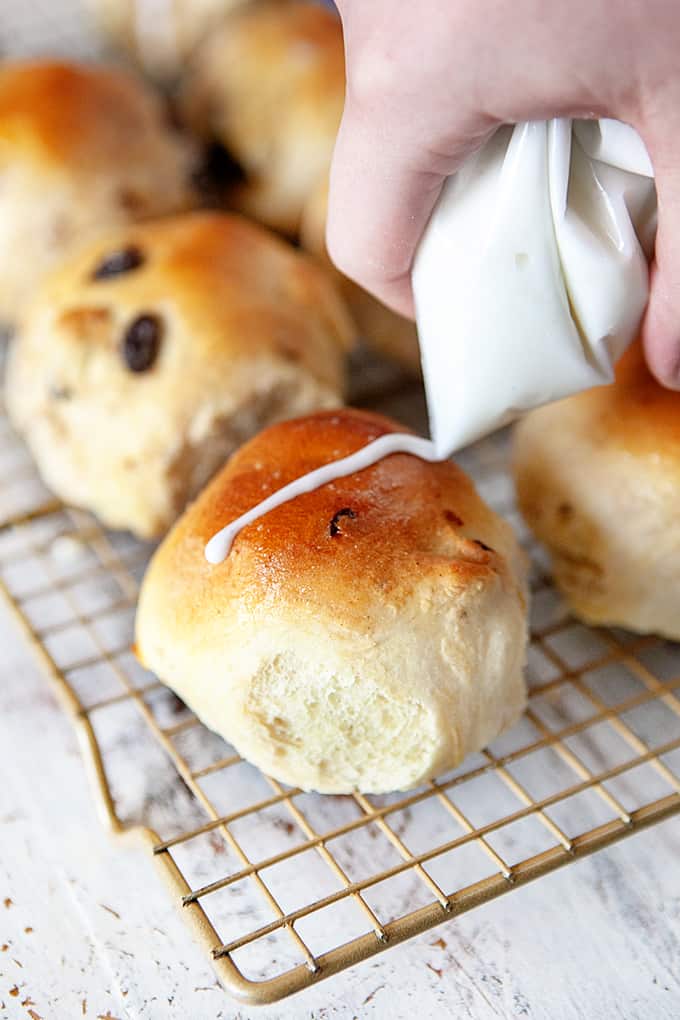 Why do you eat Hot Cross Buns on Good Friday?
In many countries, including Canada, the United States, the United Kingdom, and New Zealand, people make and eat hot crossed buns on Good Friday.
Superstition says that buns made on Good Friday will never spoil and can even bring good health to those that eat them. Eating the buns on Good Friday also marks the end of Lent.
Nowadays, however, people make and eat Hot Crossed Buns year-round as a simple, sweet treat. They may not cure you of any health problems, but they're almost guaranteed to make you smile.
How to make Hot Cross Buns
If you've made homemade rolls before, this process is very similar so you're all set to make Hot Crossed Buns. If you're new to this type of baking, this is a great place to start! These buns are easy to make (and even easier to eat!).
I like to simplify the process by using a standing mixer. You can make Hot Crossed Buns without a mixer, start with a wooden spoon and then you'll just have to roll up your shirtsleeves and do the kneading by hand.
To begin, dissolve the yeast in the warm milk, with the 1/4 cup white sugar. This helps activate the yeast, ensuring a soft, fluffy dough to work with. Then, you add the egg and egg white, butter, and all-purpose flour and knead with the standing mixer until a soft ball of dough forms. During the last few minutes of kneading, you'll add the cinnamon and raisins (or currants).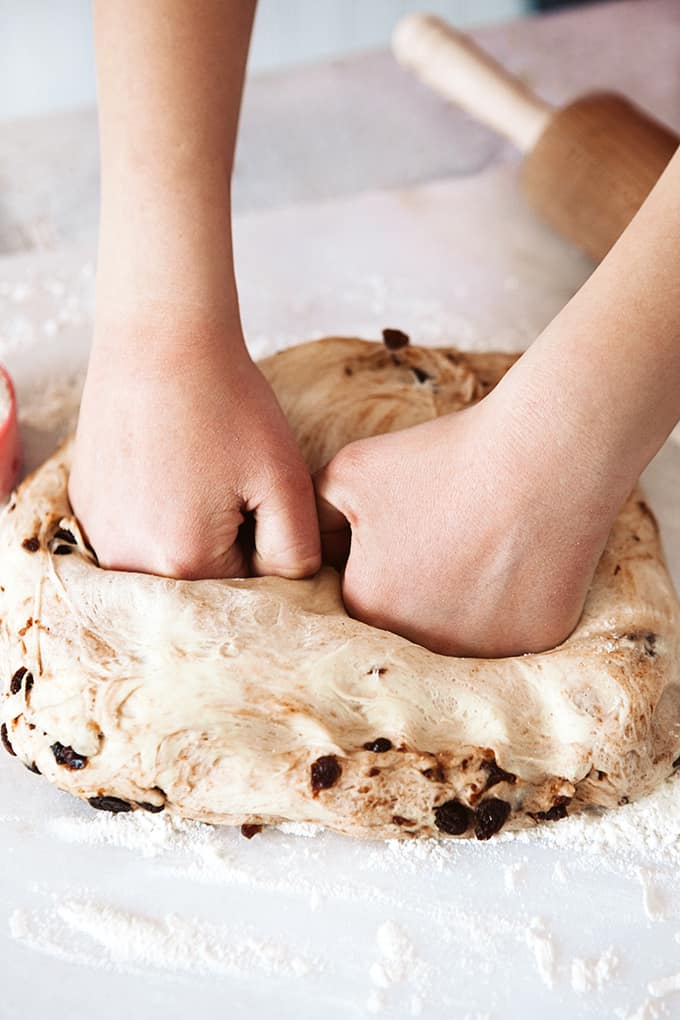 Letting the Dough Rest and Rise
Transfer the dough to a greased large bowl and cover with plastic wrap lightly. Leave the dough at room temperature or rise in a warm spot.
After letting the dough rise until doubled in size, which takes about an hour, you'll turn the dough out onto a lightly floured surface, punch it down, and let it rise for 10 more minutes.
When the dough has risen a second time, you'll divide the dough into 12 balls and roll them into smooth round balls before placing them in a greased pan. To make sure my hot crossed buns are all the same size, I like to weigh the dough so each ball is equal. This is entirely unnecessary, but if you want them to be perfectly uniform, it's an easy extra step.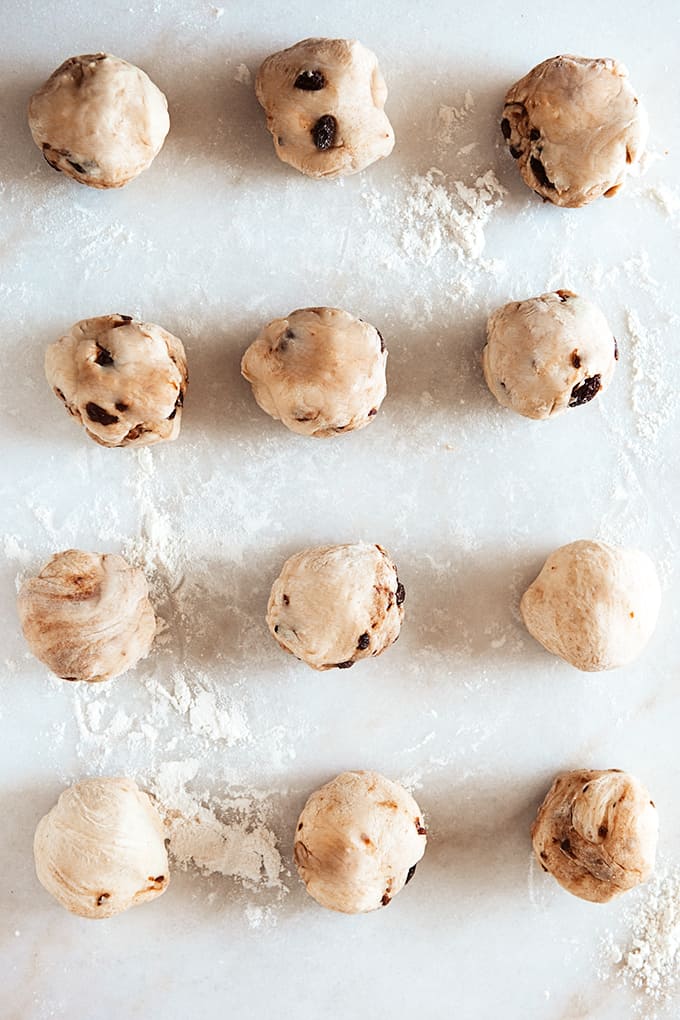 Finally, you brush them lightly with an egg wash, made up of egg yolk and water. Then add them to a 9×13″ baking pan and bake them in a preheated oven for 20 minutes, or until they're golden brown.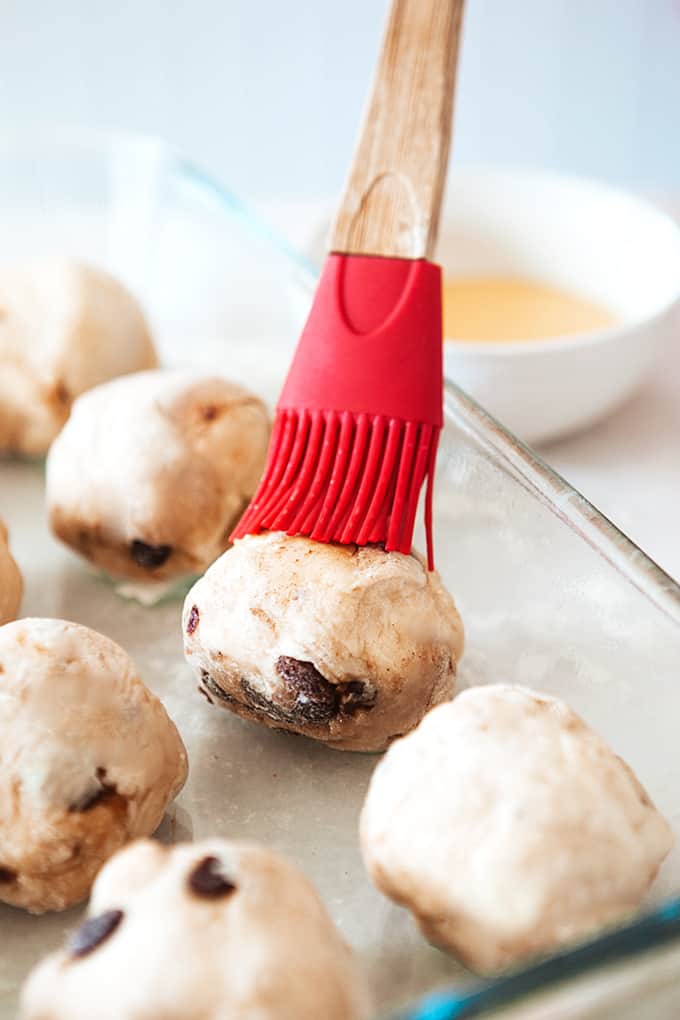 When they've cooled, you can add the finishing touch and paint on that frosting cross shape to make delicious Hot Crossed Buns. Mix the 1/2 cup powdered sugar with the 2 tsp. milk and a drop of lemon oil to make the frosting.
The final step, and my personal favorite part of baking hot crossed buns, is to eat them right up! They're excellent while they're still warm. Everyone will be so impressed when you have these at the ready for the holiday.
Hot Crossed Buns will last up for 5 days in an airtight container at room temperature or many months in the freezer if you would like to make them ahead of time. You don't have to make them the morning of Good Friday.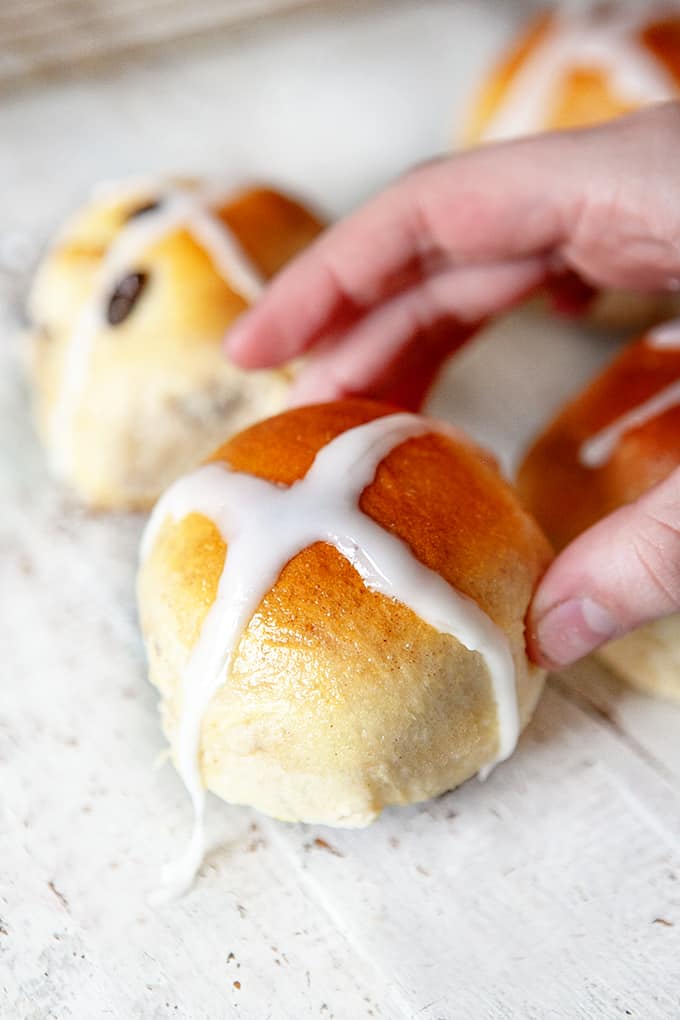 Tips for Making Hot Crossed Buns
Use a standing mixer. You can make these by hand, but a mixer does all the heavy lifting. Alternatively, you could make the dough in your bread machine.
Make sure you have fresh, active yeast. If the yeast is old, it may not rise as well and you will have underwhelming rolls that you won't want to eat.
Don't skimp on the rise time. Depending on the temperature and humidity, the dough should double in size in about an hour. If you try to cut this step short, you may not have fluffy, soft rolls. Try to let them rise in a warm area of the house, not by a drafty cold window.
Add your favorite dried fruit, or skip that ingredient altogether. I love raisins and currants, but if you don't, this recipe is versatile and you can make them how you like them. Some people love the traditional candied fruit also found in Hot Crossed Buns.
Add a drop of lemon oil to the frosting for a little burst of bright flavor. This is optional, but I think it's a delicious addition.
Pin it HERE!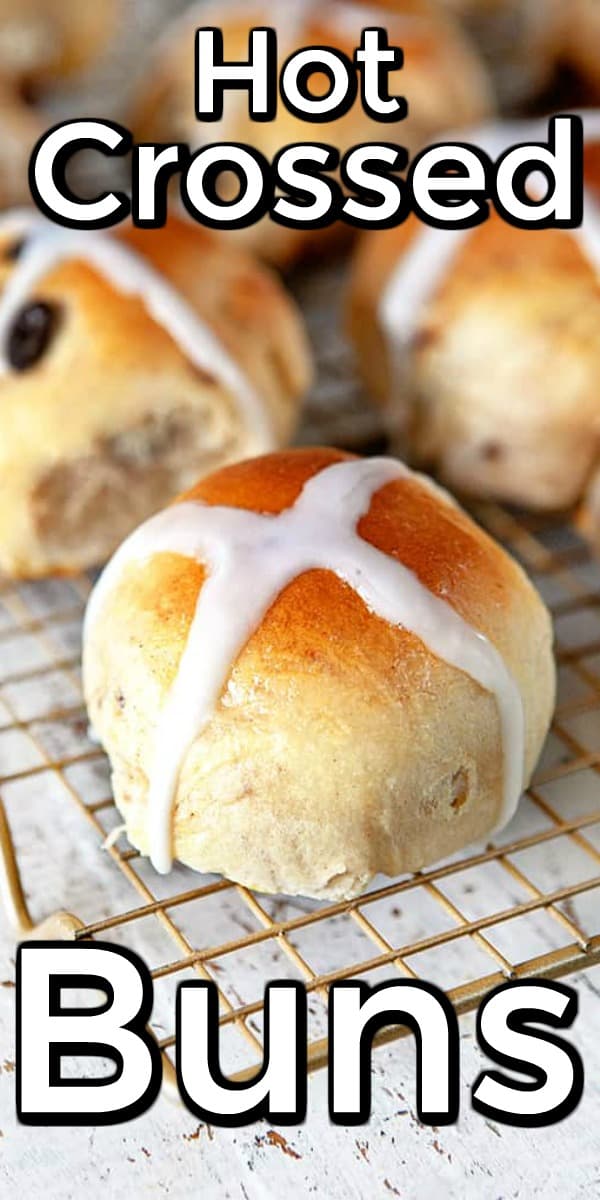 Pin it HERE!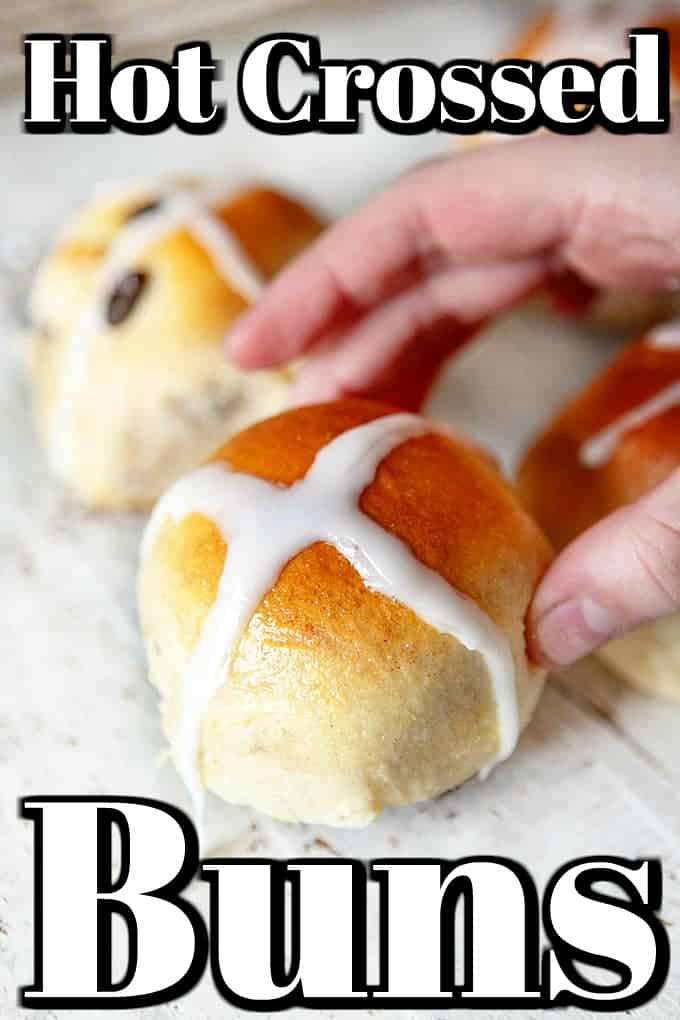 Yield: 12 buns
Hot Crossed Buns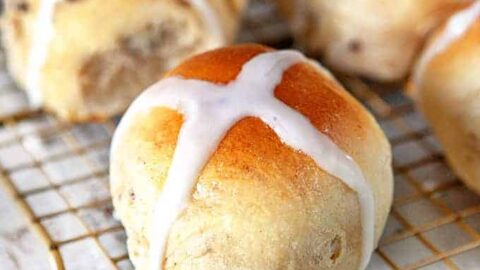 Additional Time
1 hour
10 minutes
Total Time
1 hour
50 minutes
Ingredients
3/4 cup warm milk
1 tablespoon yeast
1/4 cup sugar
3 salted tablespoons butter, melted
1 egg
1 egg white
3 cups all purpose flour
3/4 cup raisins or currants (optional)
1 teaspoon ground cinnamon
For the Egg Wash
1 egg yolk
2 tablespoons water
For the Frosting
1/2 cup powdered sugar
2 teaspoons milk
1 drop lemon oil (optional)
Instructions
In the bowl of a standing mixer with a dough hook attached, pour in the warm milk and stir in the yeast and sugar. Let it stand until the yeast is dissolved and foamy, about five minutes.
Add the butter. Lightly beat the egg and egg white and add to the mixer as well. Add the flour and mix on low, scraping the sides as needed, for 10 minutes.
Add the raisins (or currants) and cinnamon and mix for another 5 minutes.
Transfer the dough to a greased bowl and cover lightly with plastic. Let the dough rise until doubled, about an hour.
When the dough has doubled, turn it out onto a lightly floured surface. Gently punch it down and let it rise for another 10 minutes.
Meanwhile, preheat the oven to 375 degrees Fahrenheit. Grease a 9x12 baking pan.
When the dough has risen a second time, separate it into 12 equal balls and roll them smooth. Place in prepared baking pan.
Whisk together the egg yolk and water for the egg wash. Lightly brush each dough ball with the egg wash, then bake for 20 minutes, or until golden.
Remove from oven and turn out onto a wire rack immediately. When they are cool to touch they are read to apply frosting in the shape of a cross or x on each bun.
To make the frosting, stir together all of the ingredients until smooth. Transfer to a plastic bag. Make a small cut in the corner of the plastic bag and squeeze the frosting through to make the crosses.
Recommended Products
As an Amazon Associate and member of other affiliate programs, I earn from qualifying purchases.
Nutrition Information:
Yield:
12
Serving Size:
1
Amount Per Serving:
Calories:

251
Total Fat:

3g
Saturated Fat:

1g
Trans Fat:

0g
Unsaturated Fat:

2g
Cholesterol:

19mg
Sodium:

30mg
Carbohydrates:

51g
Fiber:

3g
Sugar:

23g
Protein:

6g
Recipe calculation was provided by Nutritionix and is an estimation only. If you need nutritional calculations for medical reasons, please use a source that you trust.