This was fantastic!! I used the compote I made in my canning class and it was excellent!! It was a rhubarb orange compote so I thought a nice thick and creamy Greek vanilla yogurt would go nicely. Paired with those two I added a ginger flavoured organic granola with cashews. WOW, what a lovely combination. It was a beautiful day (we aren't getting many of those) so I thought I would take my photos outside. Amber was off school for the day and we got to enjoy a beautiful breakfast parfait on the back deck. A great way to start off the day!!!
Rhubarb Compote
Makes 4 cups
6 cups fresh chopped rhubarb, washed
2 oranges peeled, seeded and sliced thin
1 cup organic cane sugar
Combine all ingredients in a medium heavy bottomed saucepan. Bring to a boil over medium heat, stirring constantly. Cover and simmer gently for about 10 min. The rhubarb will begin to soften. Uncover and continue to cook another 7 to 10 min. Remove from heat. Pour into sterilized jars. Fill jars to 1/4″ of top. Wipe rims clean. You may not want to can this as I'm sure it will disappear in no time. Put filled jars in boiling water canner to cover. Process in the water bath for 10 min. Let jars cool overnight.
For two parfaits
1 cup granola
1 cup 0% fat Greek Vanilla yogurt
1 cup rhubarb orange compote
Layer the ingredients into a parfait glass or glass of your choice starting with the compote followed by the yogurt and then the granola. Continue layering until topped with the yogurt. You may need more or less of all these ingredients depending on the size of your glass.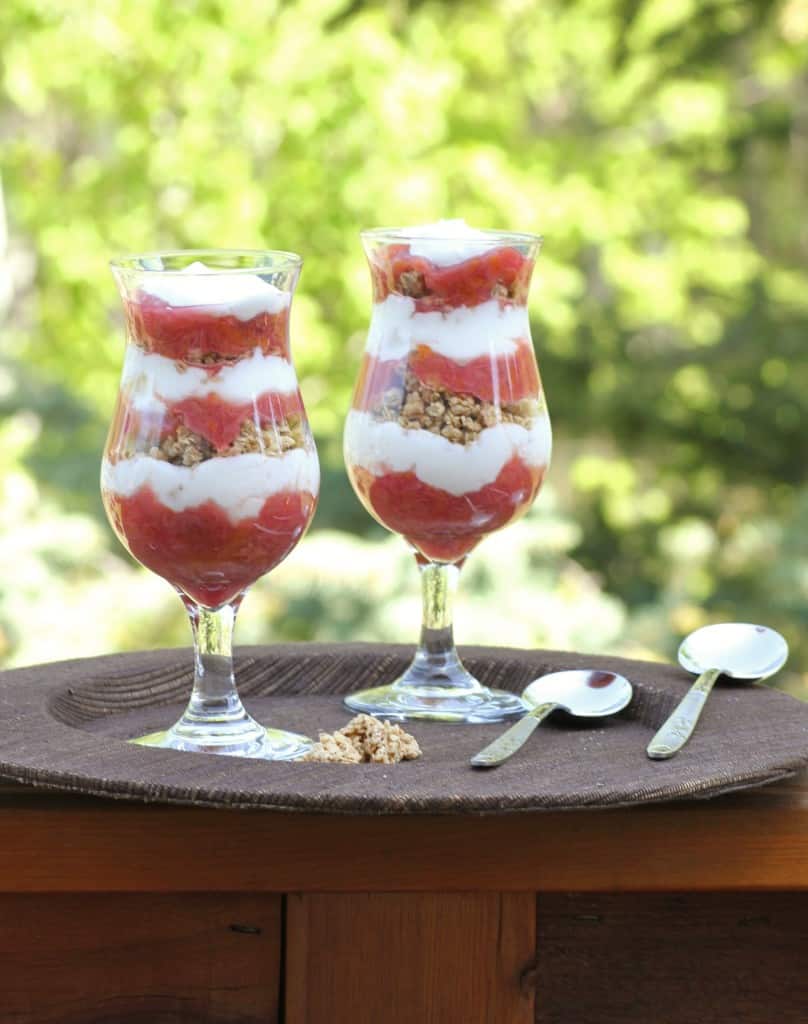 Recipe for the compote by Chef Valerie Andrews
This has been entered in Sunflower Supper Club's Weekend Potluck