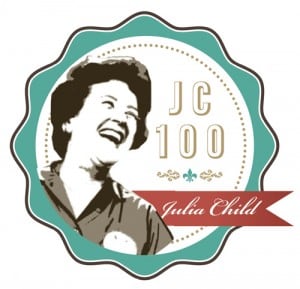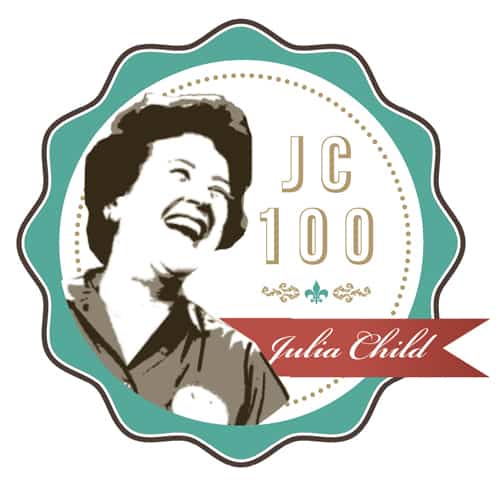 Here is my third assignment, it's Julia Child's Coq Au Vin for JC100, celebrating what would have been Julia's 100th Birthday coming up in August.
This has been a favorite of mine but I haven't made it in years!! Ken said I could do this with my eyes closed but he is giving me way too much credit.
When you have to cook both the onions and the mushrooms separately and both to perfection along with flaming brandy, browning chicken, and extracting the smokey flavor from the lardons you have got to have your eyes open.
And open wide as each of these steps make you drool!!! Julia was a master at all these techniques and again if you follow her recipe you will have a gorgeous meal!! We sure did!!! It was fabulous!!
Serve with a fresh salad. This is so truly delicious. My family was very spoiled for a mid-week meal.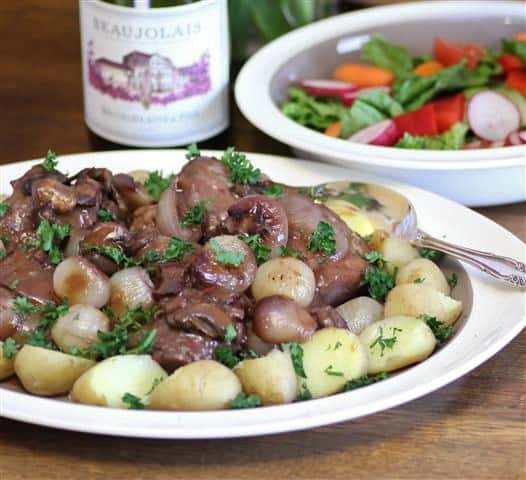 Julia Child's Coq Au Vin for JC100
Yield: 6 Servings
Prep Time: 20 minutes
Cook Time: 3 hours
Total Time: 3 hours 20 minutes
Julia Child's Coq Au Vin is a wonderfully classic recipe that your family and friends are going to love!
Ingredients
3-4 oz. of bacon, cut into lardons (1/4″ wide)
2 Tbsp. butter
2 1/2-3 lb. chicken pieces
1/2 tsp. salt
1/8 tsp. pepper
2 oz. brandy or cognac
3 cups red wine, such as Burgundy, Beaujolais, Cotes de Rhone or Chianti
1-2 cups beef stock
1/2 Tbsp. tomato paste
2 cloves garlic, mashed
1/4 tsp. thyme
bay leaf
20-24 peeled white onions about 1 inch in diameter
1 1/2 Tbsp. butter
1 1/2 Tbsp. olive oil
4 oz of the wine that you are using for the chicken
Salt and pepper to taste
A herb bouquet of 4 sprigs parsley, 1/2 bay leaf, and a sprig of thyme tied up in cheesecloth
1/2 lb. mushrooms, sliced
2 Tbsp. butter
1 Tbsp. olive oil
1 Tbsp. minced shallot
Salt and pepper
3 Tbsp. flour
2 Tbsp. softened butter
Parsley
Small new potatoes
Instructions
Simmer the bacon in 2 quarts of water for 10 min. This extracts the smokey flavor. Pat dry.
Melt 2 Tbsp of butter in a large frypan and on low cook the bacon until lightly browned. Remove with a slotted spoon to a side dish.
Cut up into manageable pieces. I cut the thighs and breast in half and added the backs for extra flavor. Dry the chicken very well. Brown in the hot fat.
Season the chicken. Return the bacon to the pan, cover, and cook for 10 min. turning the chicken once.
Uncover and pour in the cognac. Averting your face, ignite the cognac with a long lighter or match. Shake the frying pan back and forth for a few seconds until the flames subside.
Pour the wine into the frying pan saving about 1/4 cup to mix with the tomato paste. I found this easier to incorporate then. Stir in the garlic and herbs. Add just enough stock to almost cover the chicken.
Bring it to a simmer. Cover and simmer slowly for 25-30 min. or until chicken is tender and the juices run clear. Turn the chicken once while cooking. When finished remove to a side dish.
Meanwhile, as the chicken is cooking you can make the mushrooms and onions. Heat the butter and oil in a 10″ skillet and saute the onions over medium-low heat for about 10 min., rolling the onions about so they will brown as evenly as possible.
Be careful not to break the skin. Then pour in the wine and season to taste, and add the herb bouquet.
Simmer covered for 40 min. until the onions are tender and the liquid has evaporated. Remove the herb bouquet.
Again while the chicken and now the onions are cooking you can saute the mushrooms. No time for sitting back and sipping any wine yet!!
Place a 10″ or larger skillet over high heat with the butter and the oil. As soon as you see the butter foam has begun to subside, indicating it is hot enough, add the mushrooms. Toss and shake in the pan for 4-5 min. This method doesn't have the mushroom exude any of its moisture. Be sure not to crowd them. I used a larger skillet. During their saute, the mushroom will first absorb the fat but in 2-3 min. the fat will reappear on the surface and the mushrooms will begin to brown.
Toss in the shallots and saute over medium heat for 2 min. Set mushrooms aside.
Once the chicken is done skim off the fat and then raise the heat and boil rapidly to reduce to about 2 1/4 cups. Correct seasoning with salt and pepper. Remove bay leaf.
Blend the flour and butter together into a smooth paste and whisk this into the hot sauce.
Serve with the small new potatoes and garnish with parsley.
Nutrition Information:
Yield: 6
Serving Size: 1
Amount Per Serving:
Calories: 1980
Total Fat: 95g
Saturated Fat: 32g
Trans Fat: 1g
Unsaturated Fat: 55g
Cholesterol: 769mg
Sodium: 2065mg
Carbohydrates: 56g
Fiber: 7g
Sugar: 21g
Protein: 181g
Recipe calculation was provided by Nutritionix and is estimation only. If you need nutritional calculations for medical reasons, please use a source that you trust.
Excerpted from The Way to Cook by Julia Child. Copyright © 1989 by Julia Child. Reprinted with permission from the publisher Alfred A. Knopf, a division of Random House, Inc.