Mozzarella Cheese Sticks
Here is a recipe for Mozzarella Cheese Sticks from a fellow blogger's site My Prairie Window and originally from Ree Drummond's latest cookbook The Pioneer Woman Cooks. Keira from My Prairie Window has been of great help and support along my journey into food blogging. We have started at the exact same time and have really tried to help each other out. This recipe is a very easy, super tasty side dish, appetizer or snack. I did my own twist with a lovely tomato dipping sauce and gave it a little BAM with some Emeril's seasoning in the flour. I know you will enjoy this one!!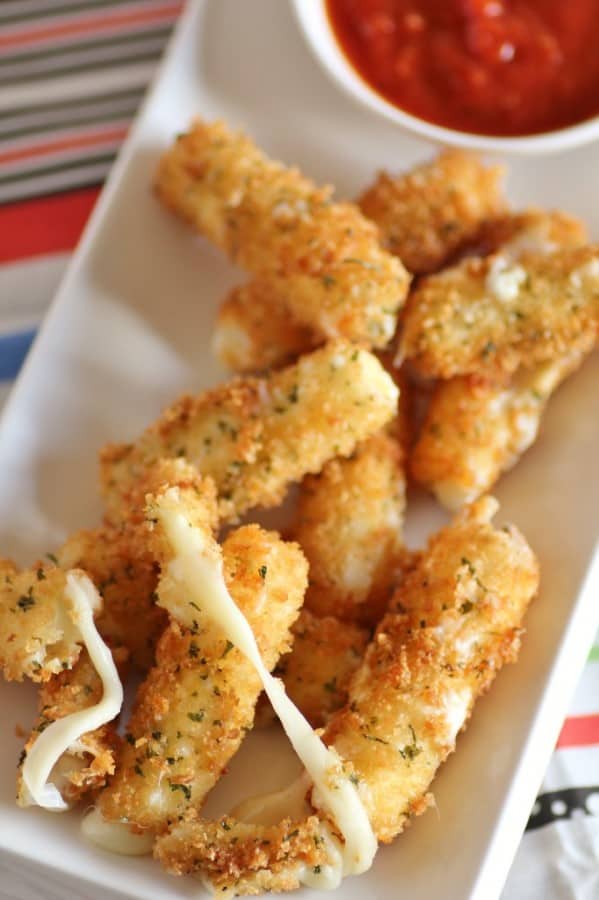 The Recipe
Mozzarella Cheese Sticks
Ingredients
16 string cheese sticks
½ cup flour
½ tsp. Emeril's Essence
2 eggs
¼ cup milk
1½ cups panko crumbs
1 Tbsp. dried parsley
Salt and pepper to taste
Canola oil for frying
Dipping sauce
19 oz. can tomato sauce
2 cloves of garlic, minced
1 Tbsp. olive oil
½ tsp. crushed red pepper or to taste
1 tsp. Italian seasoning
salt and pepper to taste
Emeril's Essence
2½ tablespoons paprika
2 tablespoons salt
2 tablespoons garlic powder
1 tablespoon black pepper
1 tablespoon onion powder
1 tablespoon cayenne pepper
1 tablespoon dried oregano
1 tablespoon dried thyme
Instructions
Mix all ingredients together for Emeril's spice. You will think of a million things to put it into.
Unwrap cheese sticks and cut them in half. Using three bowls for dipping, place the flour and Emeril's Essence in the first bowl. Beat the eggs with the milk in the second bowl and then in the third bowl add the panko crumbs, parsley and salt and pepper to taste. Now start to dip the cheese sticks. First in the flour, then egg and finally panko. Place them on a cookie sheet and freeze for 20-30 min. Meanwhile heat the olive oil in a small sauce pan and add the garlic and saute for 1 min. Add the tomato sauce, red pepper, Italian seasoning, salt and pepper to taste. Simmer 15 min. Heat a few inches of the canola oil in a wok or large deep frying pan. Place sticks in the oil and fry to golden brown. Do not overcrowd the pan. Fry them in batches. Drain on a paper towel lined plate. Serve with the tomato sauce immediately.
I think I may keep some of these in the freezer. Great appetizer for kids and adults alike. We all loved this one. Thanks Keira!!
Adapted from The Pioneer Woman Cooks
Emeril's Essence by Emeril Lagasse
Beautiful Material Designed by Lynn Baron