Is there anything better than hot, golden brown Mozzarella Cheese Sticks fresh out of the deep fryer? Yes! When they're homemade mozzarella sticks and just as easy as frozen ones from the store but they come out of your kitchen.
Here is a recipe for Mozzarella Cheese Sticks from a fellow blogger's site My Prairie Window and originally from Ree Drummond's latest cookbook, The Pioneer Woman Cooks.
Want other cheesy delights? Try our amazing Cheesy Bread or Soft Pretzels and Cheese Sauce, always a hit too!!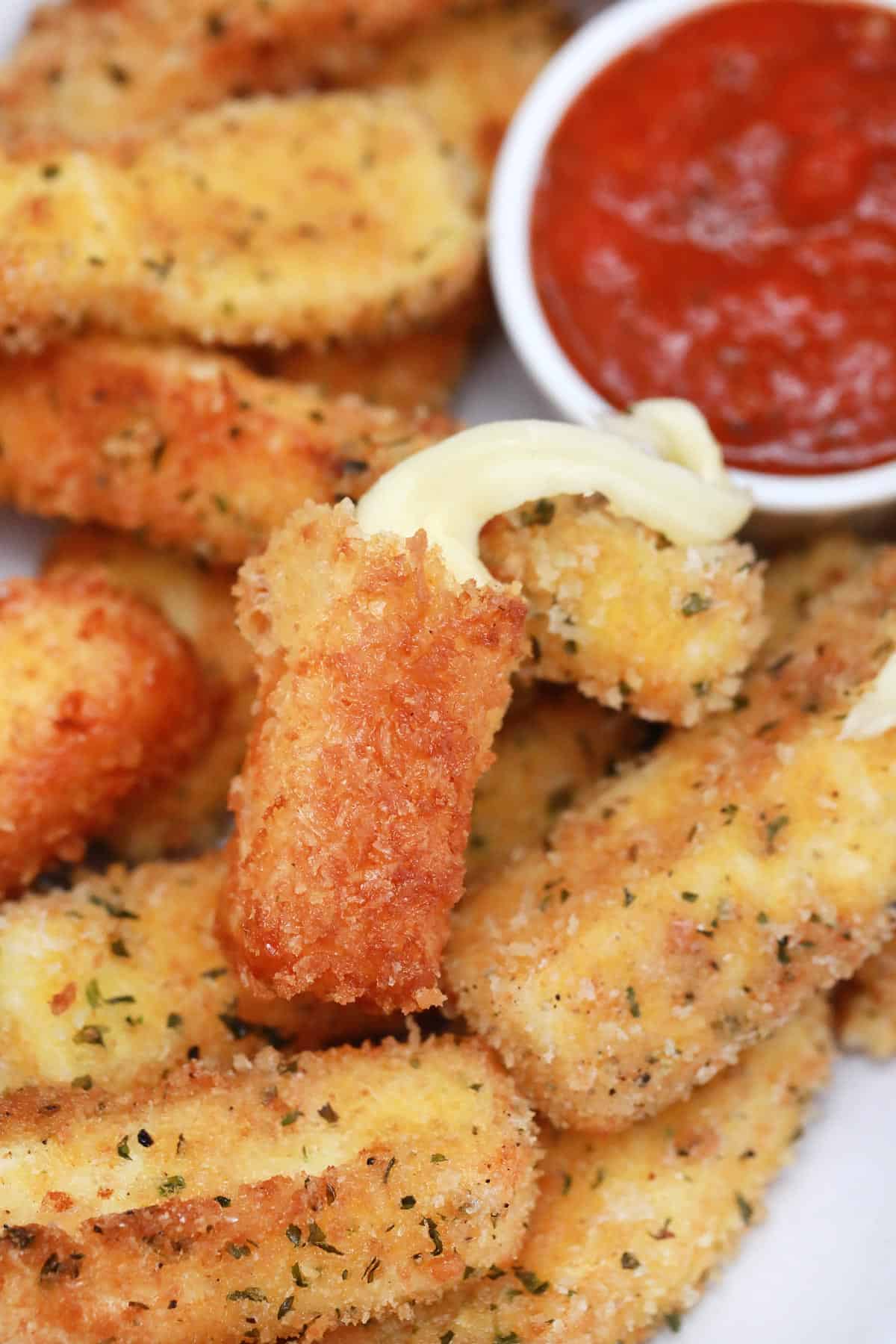 We have revamped this post for you with new pictures. If you are looking for the old pictures just scroll to the bottom.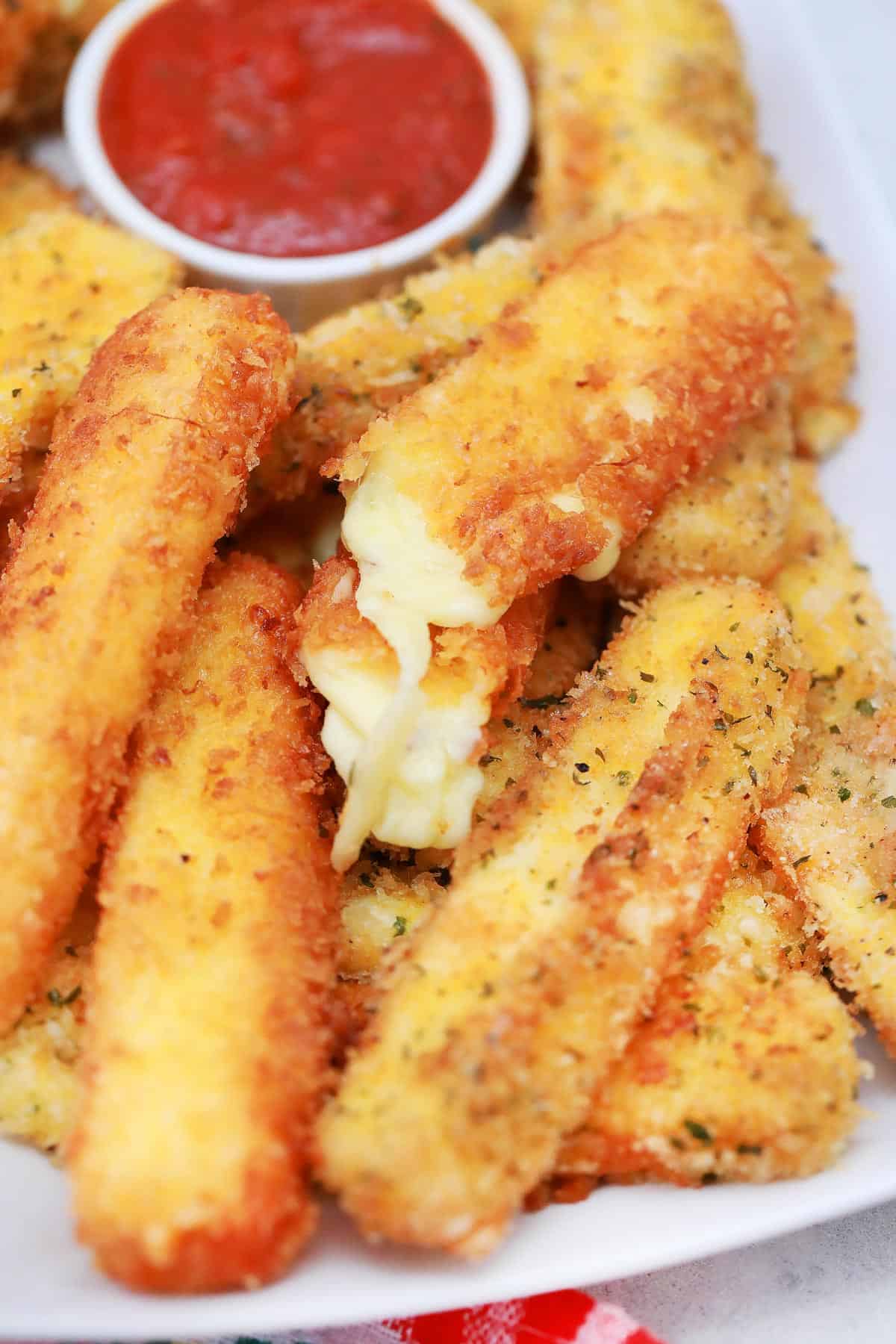 Helpful Items for This Recipe
This post contains affiliate links. As an Amazon Associate, I earn a small portion from qualifying purchases at no extra charge for you.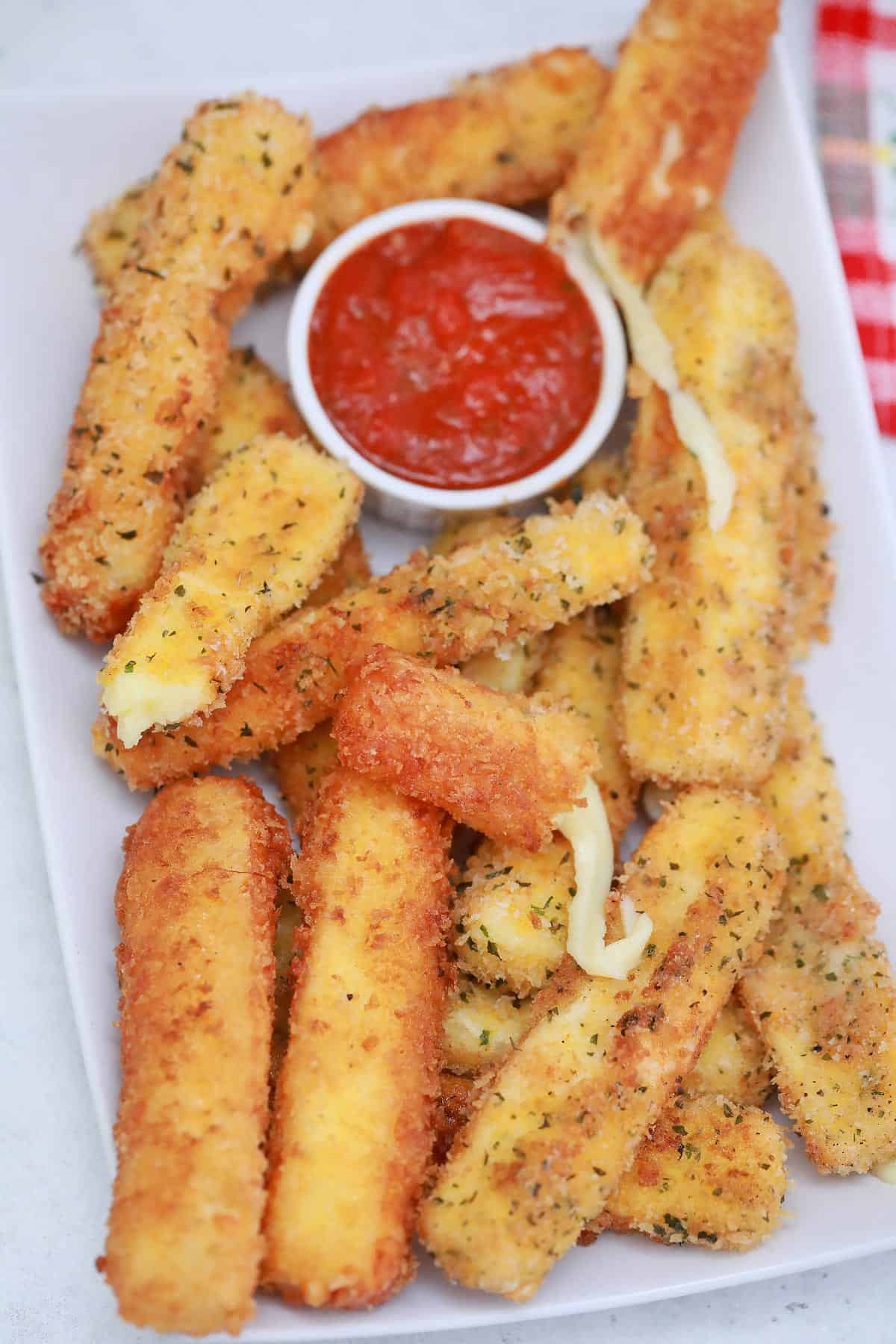 Keira from My Prairie Window has been of great help and support along my journey into food blogging. We have started at the exact same time and have really tried to help each other out.
This recipe is a very easy, super tasty side dish, appetizer or snack. Who doesn't love fried cheese, I mean come on this is good stuff!!
I did my own twist with a lovely tomato dipping sauce and gave it a little BAM with some Emeril's seasoning in the flour. I know you will enjoy this one!!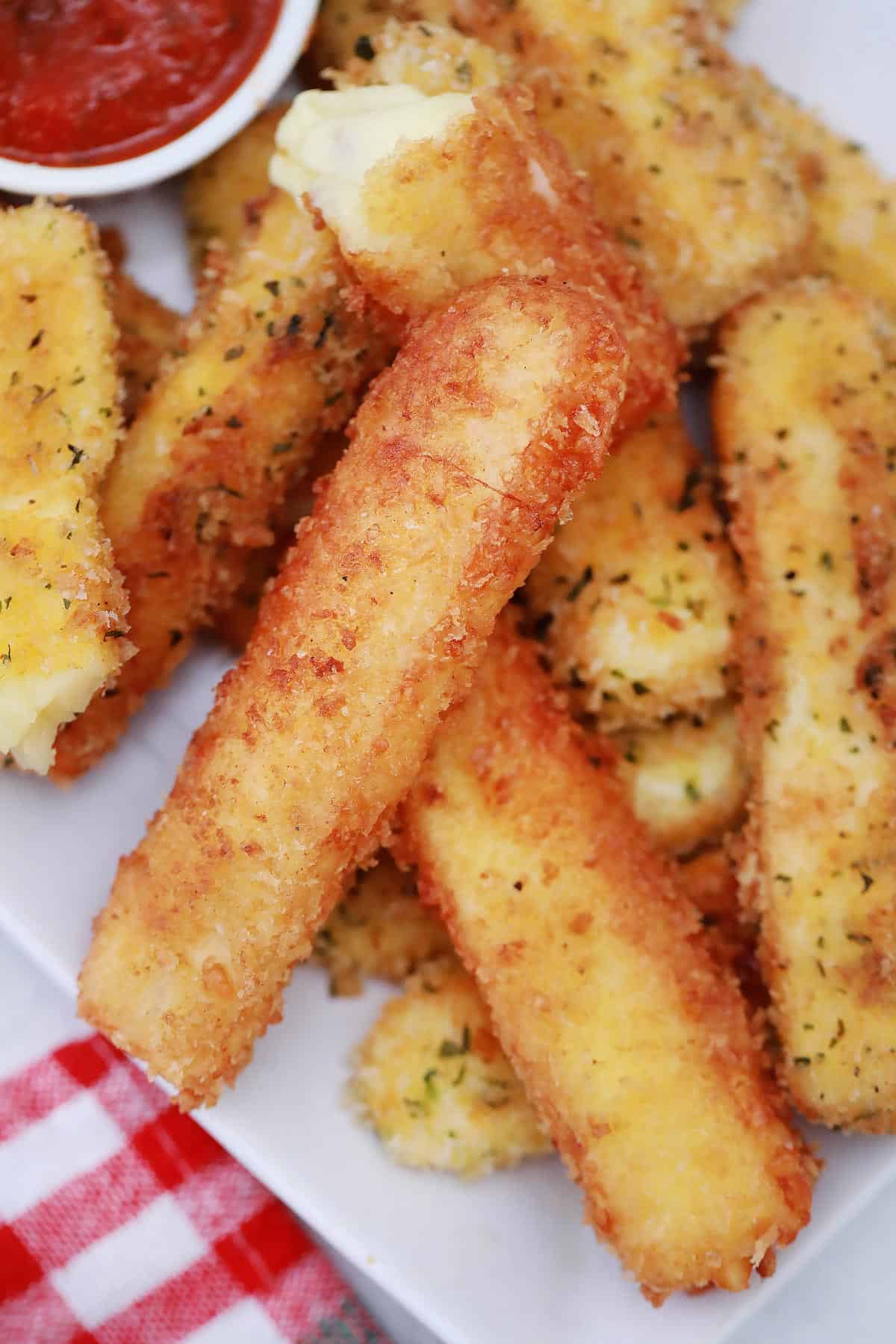 Crispy on the outside and ooey-gooey on the inside, that is perfection to me!! Cheese sticks of any kind are a huge draw to me but the ones that I find do the best are string cheese sticks for this recipe.
What to eat with mozzarella cheese? Well, mozzarella cheese sticks go great with a tomato dipping marinara sauce.
Is String Cheese and Mozzarella The Same?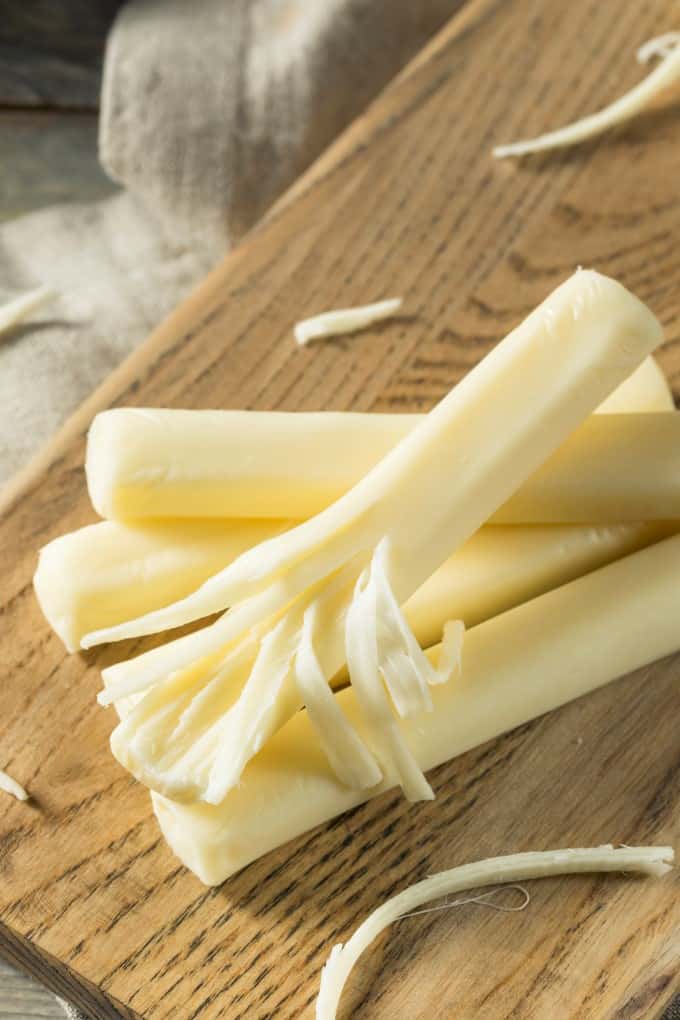 Mozzarella sticks are still 100% mozzarella cheese but unlike fresh mozzarella that is in a brine, mozzarella cheese sticks are dried out. They are also heated to 140F.
This heat makes the milk proteins move around and line up in a row. The cheese then becomes very stringy and stretchy and, of course, as you know, fun to play with.
Cheese strings are perfect for this recipe as after they are fried they are still stringy and stretchy and ooey and gooey!!
OOEY GOOEY CHEESE!!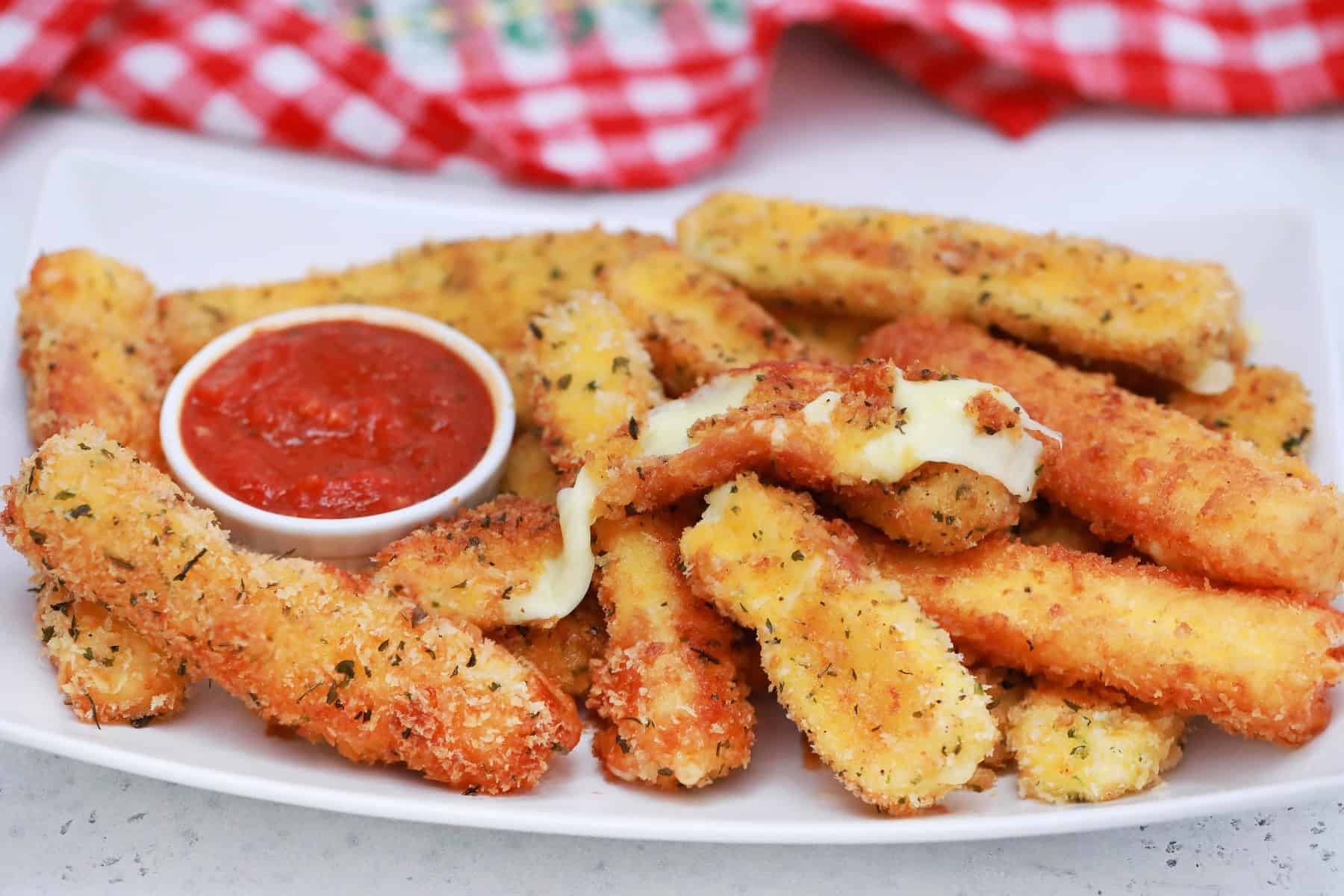 Everyone young and old will love these. Kids go crazy for cheese and for crispy goodness so you know these will be a winner! These would also be great on game day as you cheer your favorite team forward.
I love that they can be made up and stored in the freezer until they go for a pop in the deep fryer. That is a great way to have them on hand and not to stress about getting them ready before company arrives. They are ready and waiting for you!!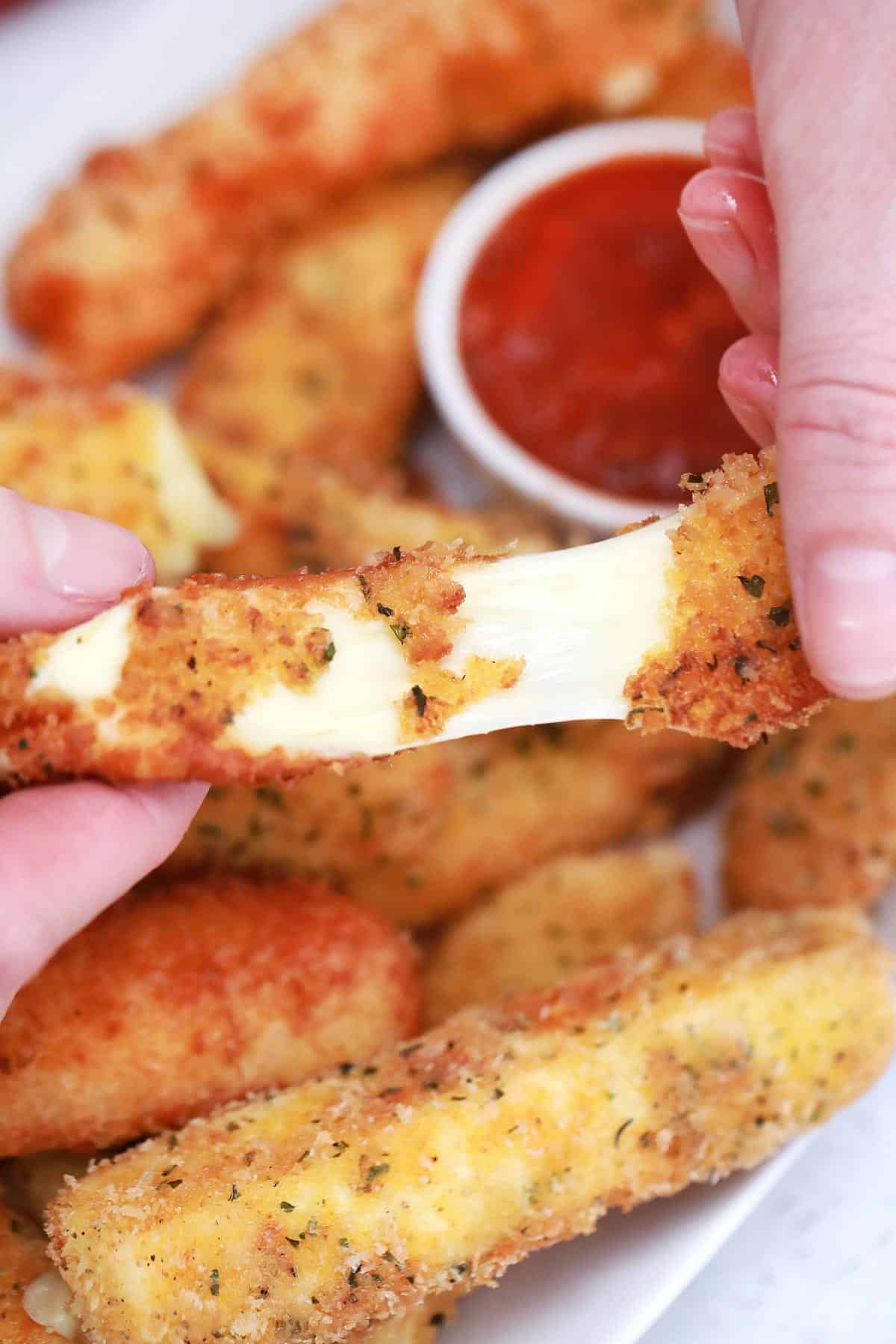 Hot out of the fryer (I would try them in an air fryer too) the cheese will melt while the outside is crispy from the panko crumbs. If you are not familiar with panko crumbs they are a Japanese-style breadcrumb traditionally used as a coating for deep-fried foods.
The biggest difference between panko crumbs and bread crumbs is that panko is made from bread with the crusts removed.
How to Make Mozzarella Cheese Sticks with String Cheese?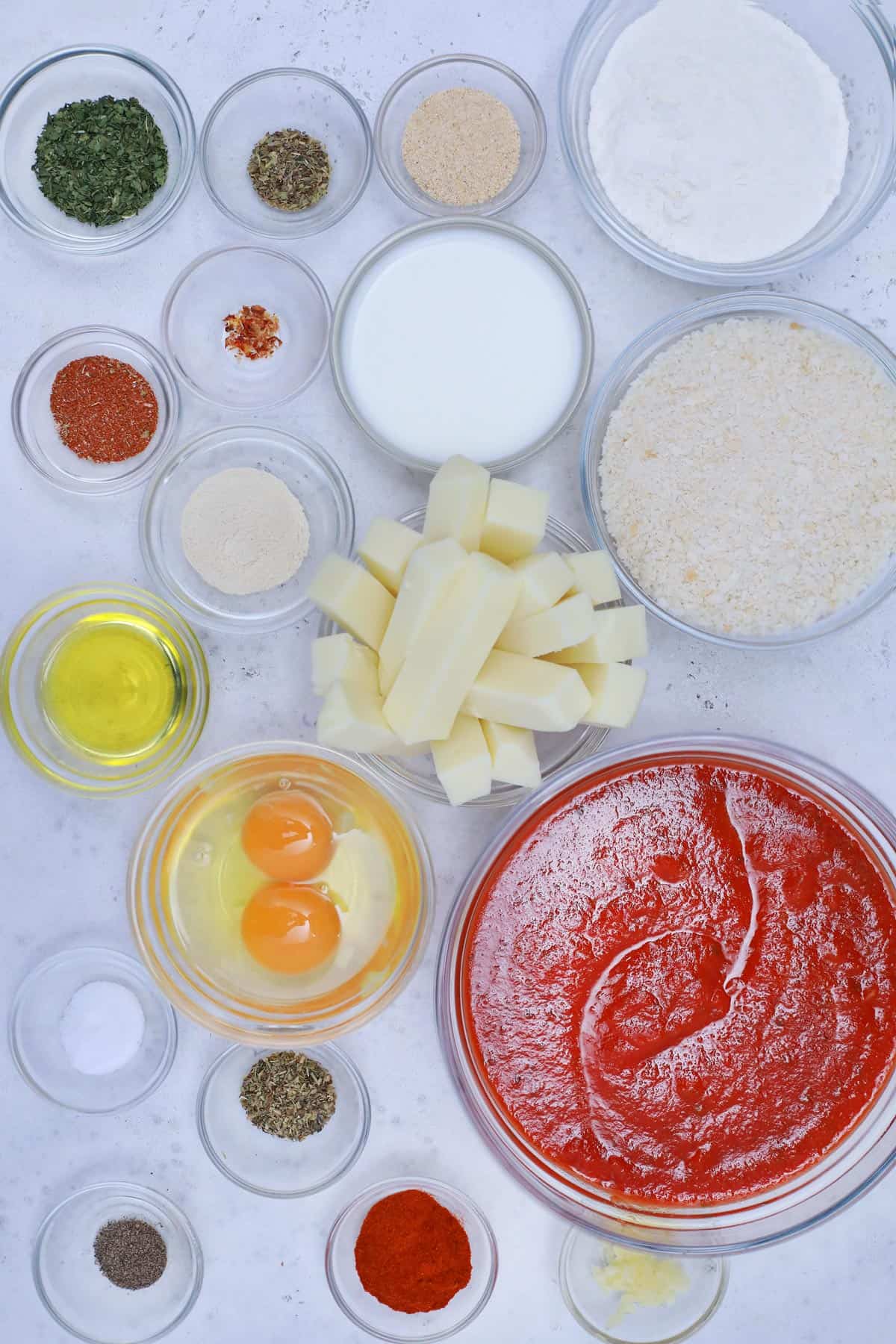 Once you've made the spice blend, it's actually really fast and easy to make the actual mozzarella cheese sticks. The secret ingredient is using string cheese sticks instead of spending a lot of time trying to shape the mozzarella into a stick.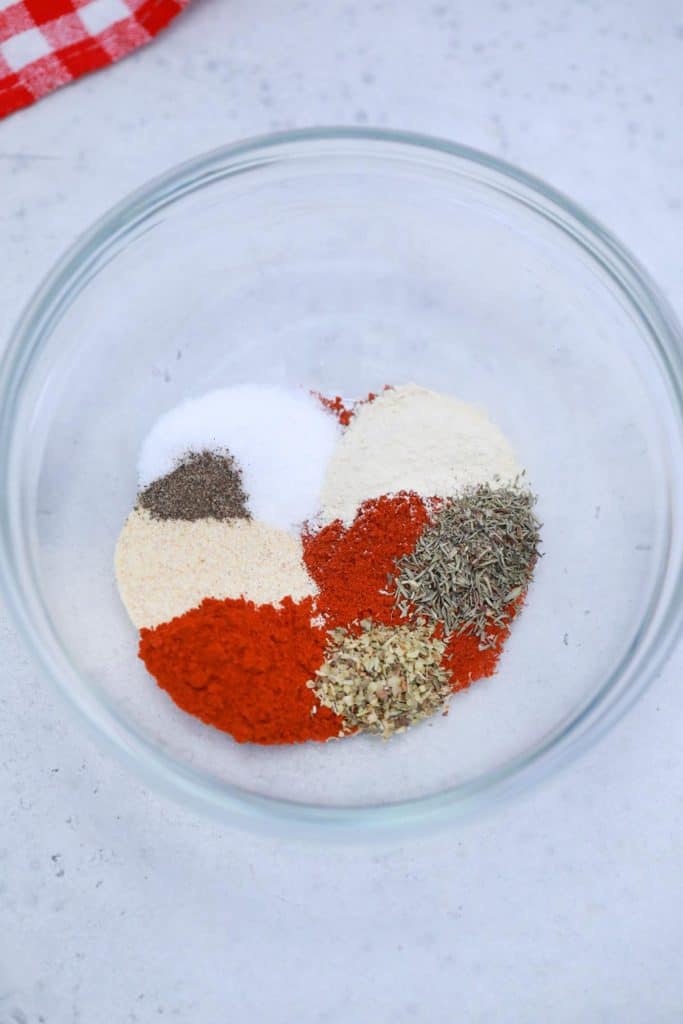 Setting up an assembly line is the best way to get the mozzarella sticks coated in batter. Bowl one should have the flour and Emeril's Essence mixture; bowl two will be the milk and egg mixture; and bowl three will be the outer crust – the panko crumb with parsley, salt, and pepper mixture.
Lay the baking sheet beside the third bowl so that you can place it on the baking sheet immediately after coating it. Chill in the freezer for half an hour.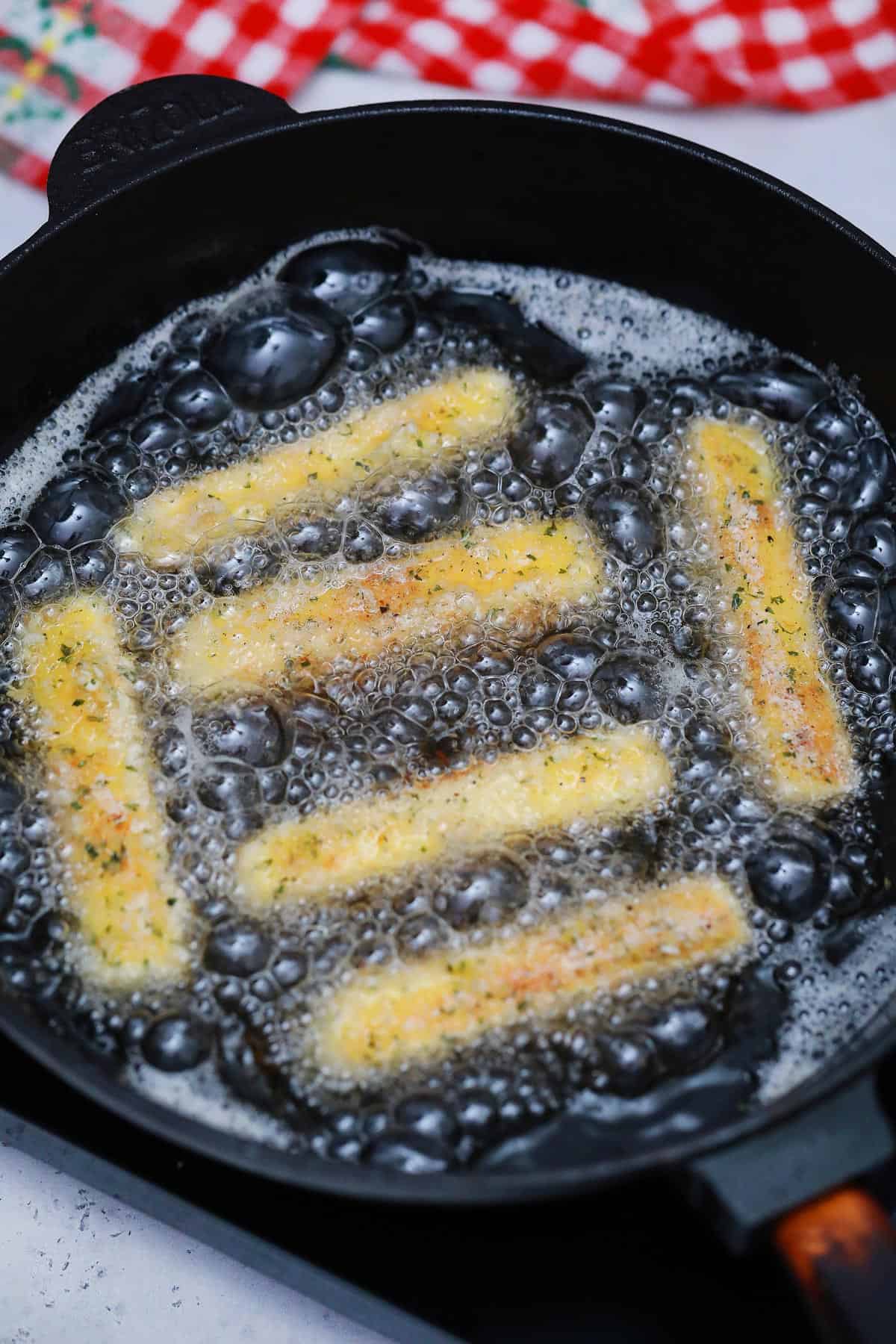 Then heat the oil in a deep fryer, frying pan or wok pan over medium-high heat and deep fry until golden brown. Drain on paper towels before serving.
I use canola oil as opposed to olive oil to give them a nice light taste.
It's really that easy. The hardest part is going to be convincing yourself that you shouldn't make these every day.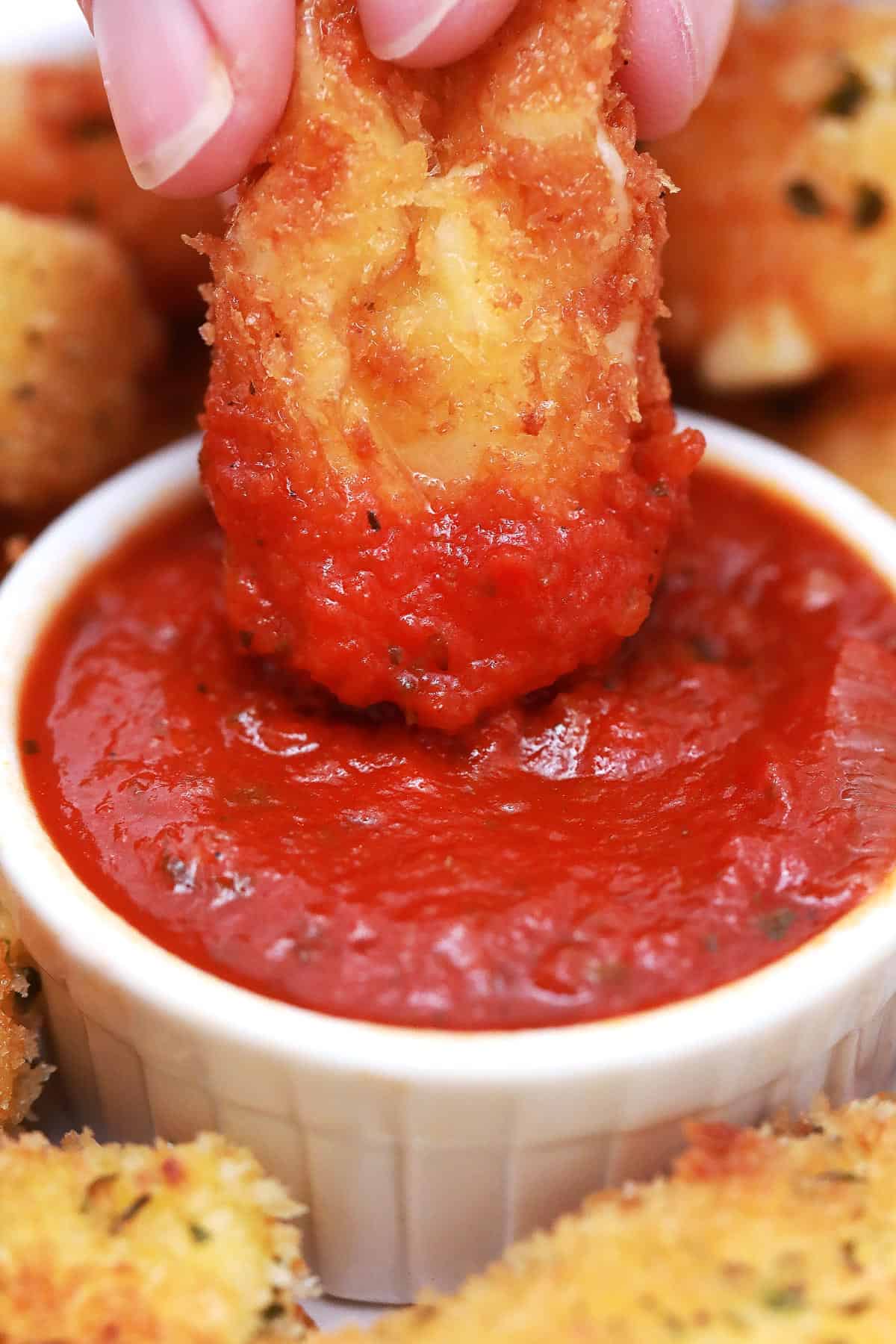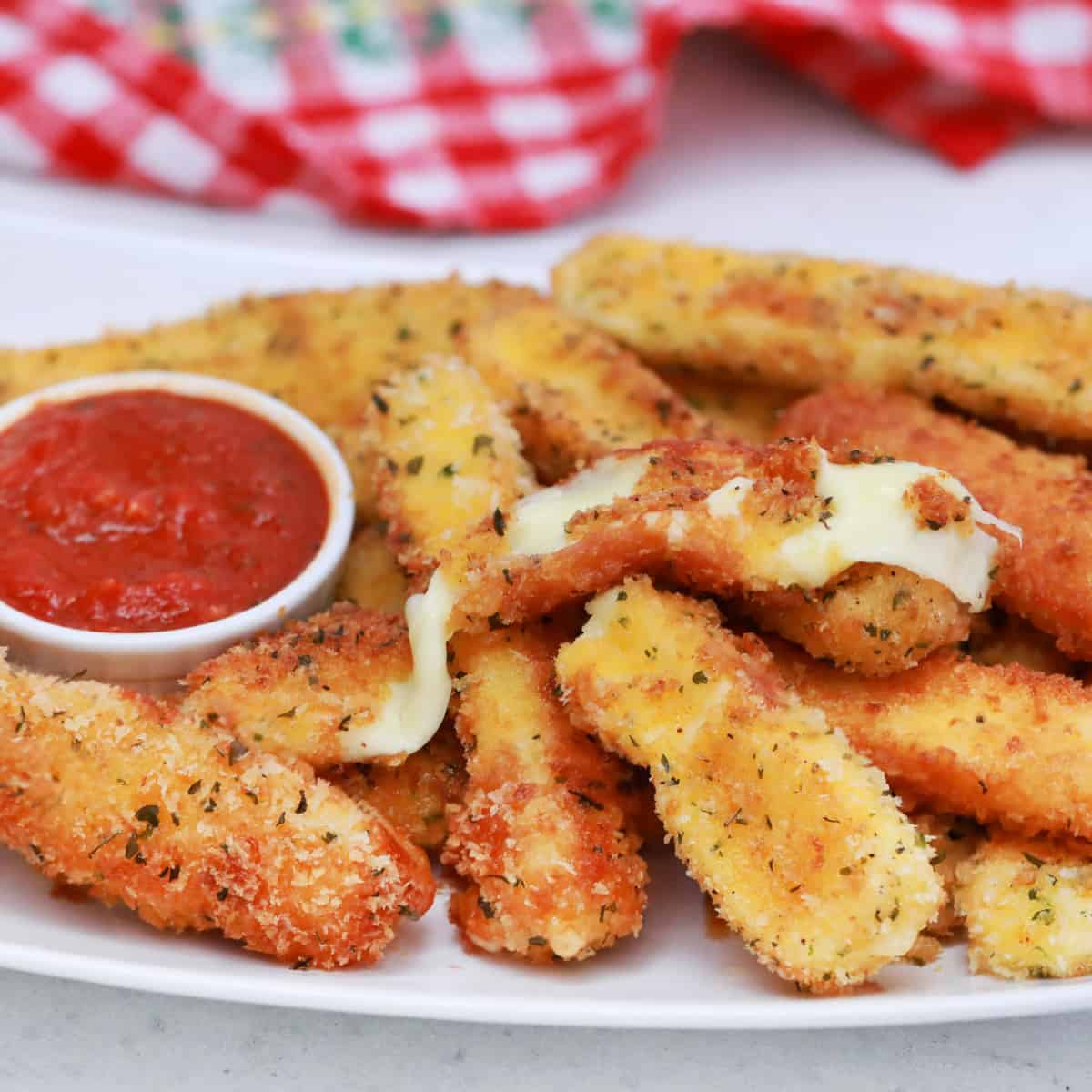 Pin it HERE!!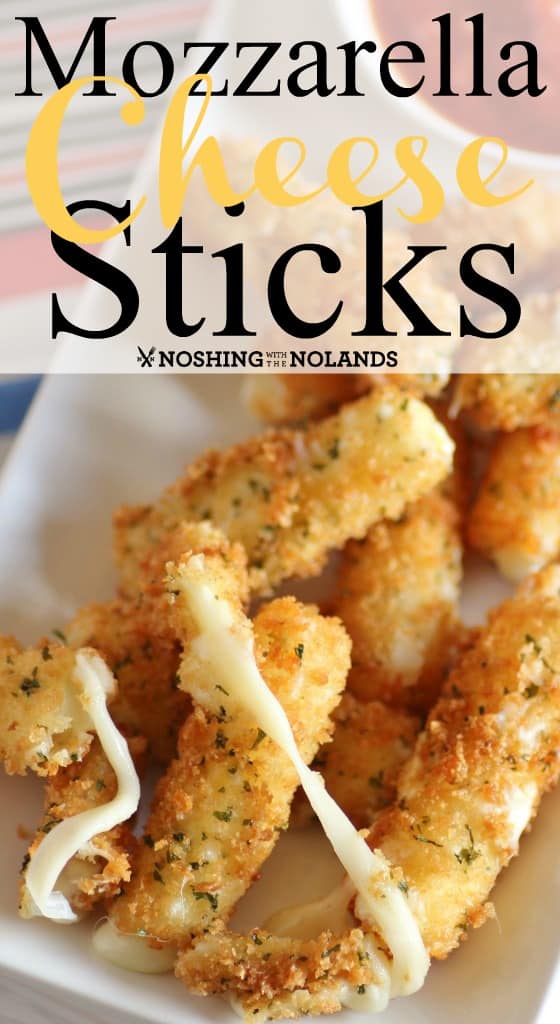 Mozzarella Cheese Sticks Recipe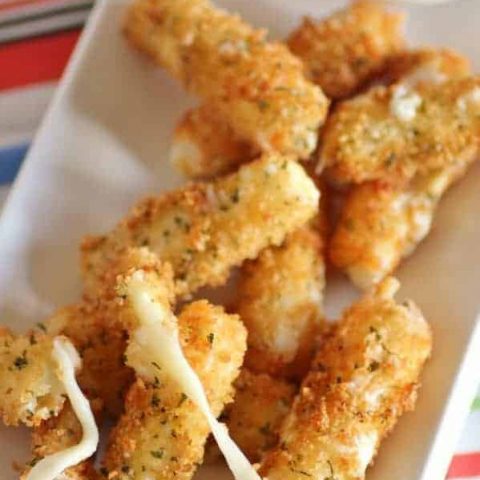 Mozzarella Cheese Sticks
Yield: 32
Prep Time: 20 minutes
Cook Time: 30 minutes
Additional Time: 30 minutes
Total Time: 1 hour 20 minutes
Homemade Mozzarella Sticks are easy make-ahead appetizers that wait for you in the freezer until you want to heat up some oil and fry to a golden brown. They have a little extra kick in the spices and are an ooey-gooey favorite.
Ingredients
16 string cheese sticks
1/2 cup all-purpose flour
1/2 tsp. Emeril's Essence
2 eggs
1/4 cup milk
1 1/2 cups panko crumbs
1 Tbsp. dried parsley
Salt and pepper to taste
Canola oil for frying
Dipping sauce
19 oz. can tomato sauce
2 cloves of garlic, minced
1 Tbsp. olive oil
1/2 tsp. crushed red pepper or to taste
1 tsp. Italian seasoning
salt and pepper to taste
Emeril's Essence
2 1/2 tablespoons paprika
2 tablespoons salt
2 tablespoons garlic powder
1 tablespoon black pepper
1 tablespoon onion powder
1 tablespoon cayenne pepper
1 tablespoon dried oregano
1 tablespoon dried thyme
Instructions
Mix all ingredients together for Emeril's spice. You will think of a million things to put it into.
Unwrap cheese sticks and cut them in half. Using three bowls for dipping, place the flour and Emeril's Essence in the first bowl. Beat the eggs with the milk in the second bowl and then in the third bowl add the panko crumbs, parsley and salt, and pepper to taste.
Now start to dip the cheese sticks. First in the flour, then egg and finally panko. Place them on a cookie sheet and freeze for 20-30 min.
Meanwhile, heat the olive oil in a small saucepan and add the garlic and saute for 1 min. Add the tomato sauce, red pepper, Italian seasoning, salt and pepper to taste. Simmer 15 min. Heat a few inches of the canola oil in a wok or large deep frying pan.
Place sticks in the oil and fry to a golden brown. Do not overcrowd the pan. Fry them in batches. Drain on a paper towel-lined plate. Serve with the tomato sauce immediately.
Recommended Products
As an Amazon Associate and member of other affiliate programs, I earn from qualifying purchases.
Nutrition Information:
Yield: 32
Serving Size: 2
Amount Per Serving:
Calories: 94
Total Fat: 5g
Saturated Fat: 2g
Trans Fat: 0g
Unsaturated Fat: 2g
Cholesterol: 23mg
Sodium: 634mg
Carbohydrates: 8g
Fiber: 1g
Sugar: 1g
Protein: 5g
Recipe calculation was provided by Nutritionix and is an estimation only. If you need nutritional calculations for medical reasons, please use a source that you trust.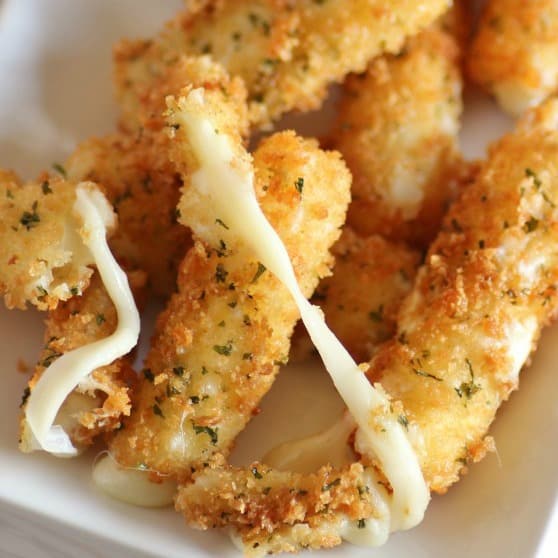 Adapted from The Pioneer Woman Cooks
Emeril's Essence by Emeril Lagasse