Do you start to crave healthy food come the New Year? I love bran muffins that are chalked full of wholesome healthy ingredients but are still bursting with flavor. These Blueberry Banana Bran Muffins will fix that healthy need you have after all the overindulging from the holiday season but won't make you feel like you are having a lunch bag let down!!
Sneaking in a little white flour isn't all that bad but if you don't want that stick with whole wheat flour entirely. As for the other ingredients I added in wheat bran, oat bran, and flaxseed for goodness and yummy bananas and light sour cream to give them a delightfully moist texture. Then a big punch of antioxidants from little wild blueberries. Love, love, love these muffins!! If you would like another great muffin then try our Apple Cranberry Muffin, so delicious too!!
The Goodness of Blueberries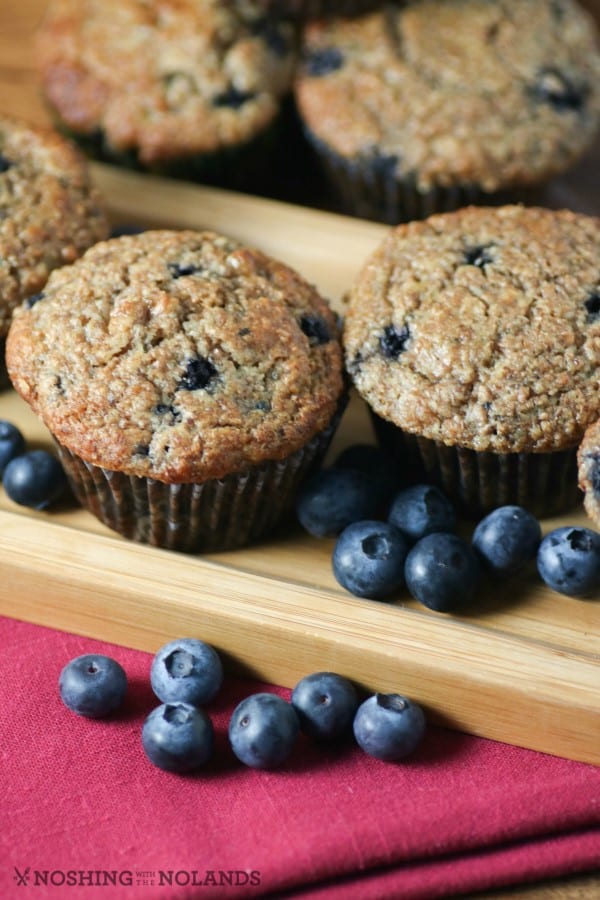 Using frozen blueberries in this recipe is wonderful but fresh blueberries also work great. I just happened to have those on hand, use what is easiest for you! These muffins stick to your ribs and fill you up for a great start to the day. They also provide you with energy for that mid-afternoon slump.
Blueberries are full of natural goodness. Blueberries are great for heart health, bone strength, skin health, blood pressure, diabetes, cancer prevention, and mental health. One cup of blueberries has a whole daily allowance of vitamin C.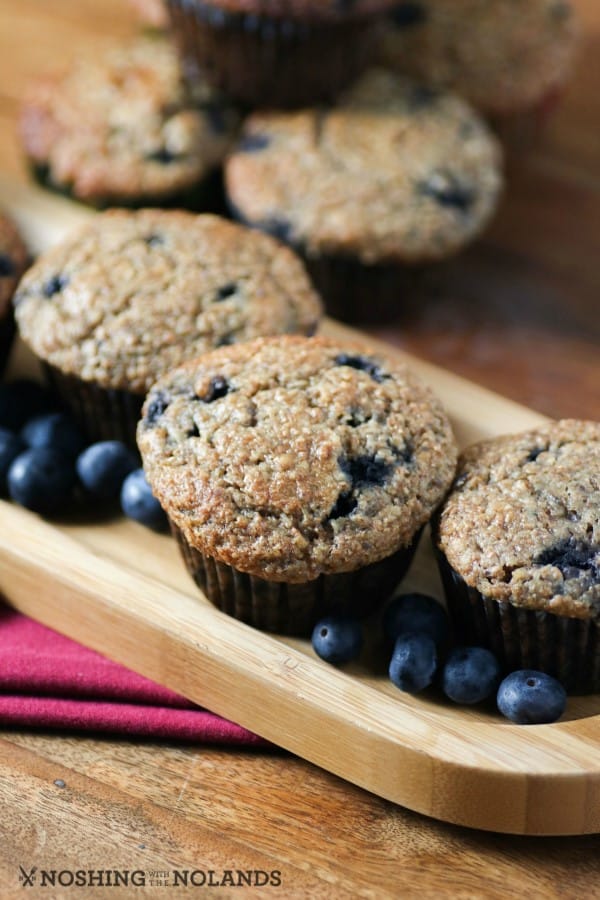 We are so looking forward to this year in blogging, it soon will be our 5th year anniversary since we started this very rewarding career. We are happy to be bringing you wonderful recipes like this one along with our continued product, cookbook, restaurant and travel reviews. There are some new things up our sleeve to this year as we always strive to bring you the best of all we find!!
Errrrrrr…………….record sratch and back to the muffins!! So what makes these muffins so good……..they are easy to make, a great grab and go breakfast, are nutritious and best of all taste great!! So run and get the ingredients you need and whip these up today!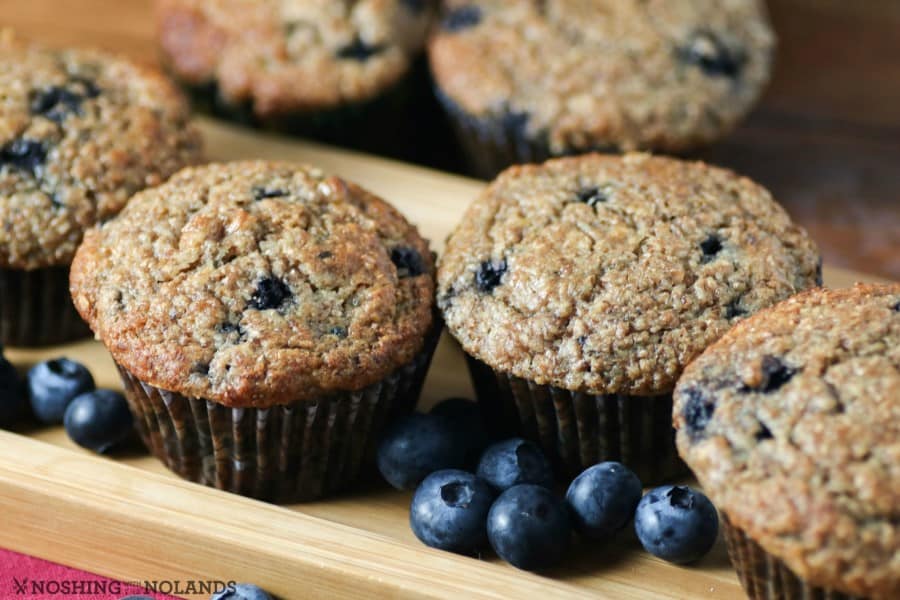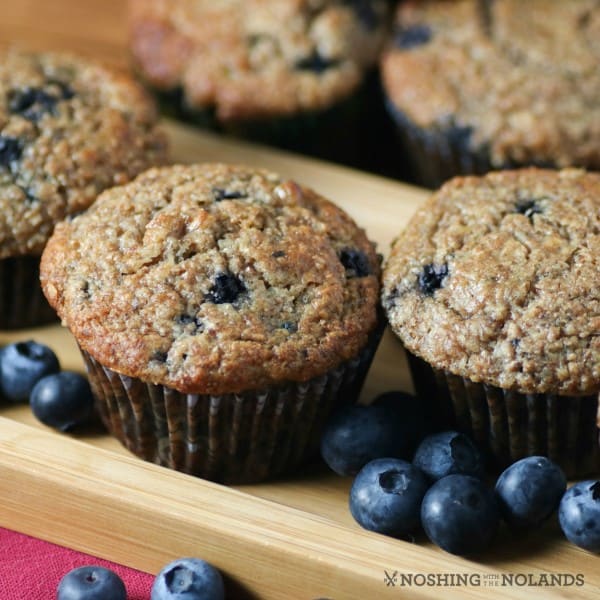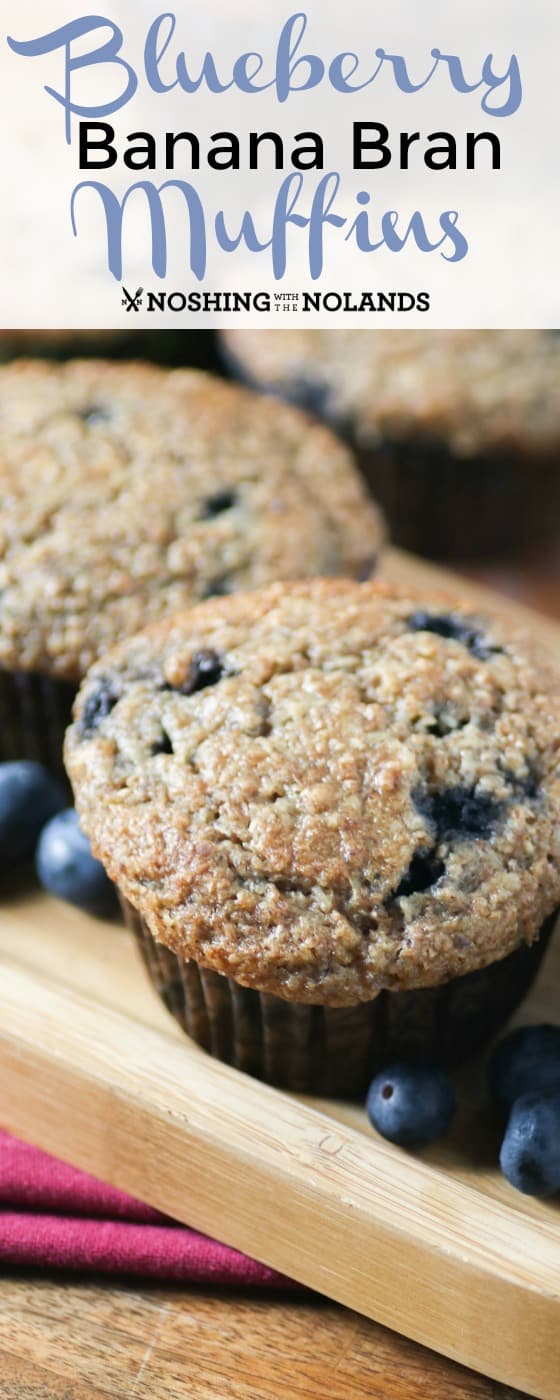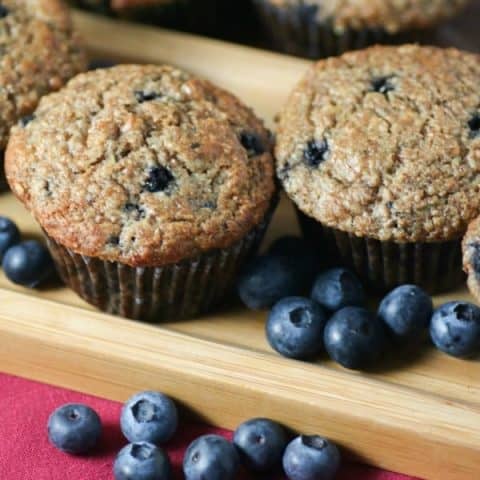 Blueberry Banana Bran Muffins
Yield: 16 muffins
Prep Time: 20 minutes
Cook Time: 20 minutes
Total Time: 40 minutes
Blueberry Banana Bran Muffins will give you that needed healthy boost and are perfectly moist and delicious for anytime of the day!!
Ingredients
1 cup skim milk
1 1/4 cup wheat bran
2 ripe bananas
1 egg, beaten
2/3 cup brown sugar
1/3 cup canola oil
1/2 cup light sour cream
1 cup whole wheat flour
1/2 cup all purpose flour
1/2 cup oat bran
2 Tbsp. ground flax seed
1 tsp. baking powder
1 tsp. baking soda
1 1/2 cups blueberries, fresh or frozen
Instructions
In a small bowl add the wheat bran and skim milk and set aside.
Mix the flours, oat bran, flax seed, baking powder and baking soda and set aside. Preheat oven to 400F. Fill muffins pans with 16 muffins liners.
In a large bowl add the bananas and mash with a potato masher. Then add in the egg, brown sugar, canola and sour cream. Mix well with a wooden spoon. Add in the flour mixture and the bran mixture into the bowl and stir to combine. Don't overmix. Fold in the blueberries.
Fill the muffin cups to almost full and bake for 20 min or until they spring back when touched in the middle and are golden brown. Let cool in the muffin tin for 5 min. and then remove to cool completely on a wire rack.
Store in an airtight container for up to 5 days or freeze.
Nutrition Information:
Yield: 16
Serving Size: 1
Amount Per Serving:
Calories: 169
Total Fat: 7g
Saturated Fat: 1g
Trans Fat: 0g
Unsaturated Fat: 5g
Cholesterol: 14mg
Sodium: 128mg
Carbohydrates: 27g
Fiber: 4g
Sugar: 11g
Protein: 4g
Recipe calculation was provided by Nutritionix and is an estimation only. If you need nutritional calculations for medical reasons, please use a source that you trust.