Spicy Two-Bean Vegetarian Chili
We love vegetarian or vegan meals in our house. We aren't strictly vegetarian though but really like the variety. Our daughter, Amber has taken to being a Pescatarian where she mainly eats vegetarian but does also eat fish and seafood. She is a healthy eater and loves her beans and lentils. So it was her that enjoyed making this meal for us, Spicy Two-Bean Vegetarian Chili.
This recipe is full of vegetables and spice with the addition of not one but two kinds of beans. Black and kidney beans are among some of our favorite beans. With a vegetarian diet, it is very important to still get lots of protein. Beans afford you protein in your diet but they still aren't a complete protein which is important for a young body to grow. If you leave the chili as it is you have a vegan recipe. For us, we added lots of wonderful cheese to calm the slightly spicy heat and to add in essential amino acids to make the meal even more complete.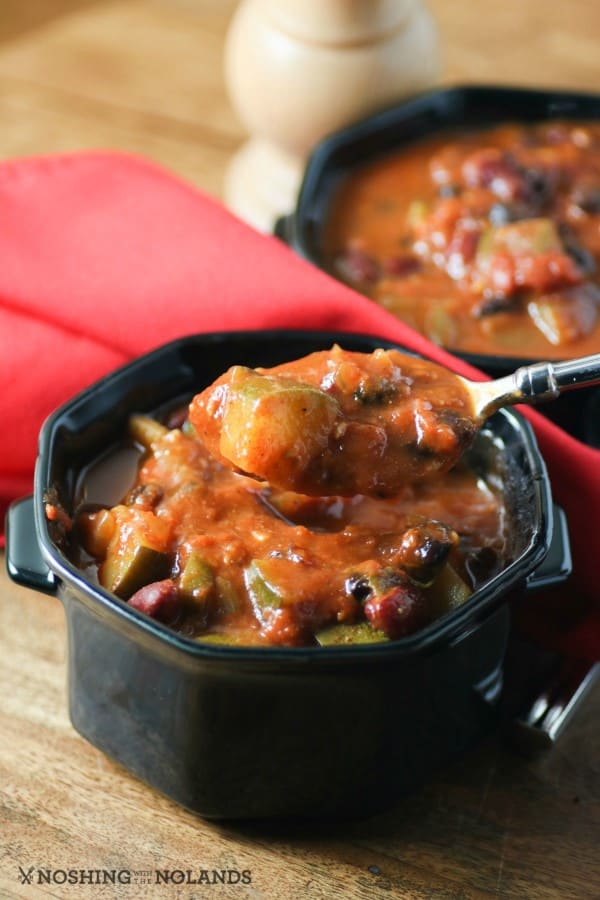 I wanted to show you the chili without the cheese to see all the wonderful ingredients and to leave it up to you to be a vegan or vegetarian meal.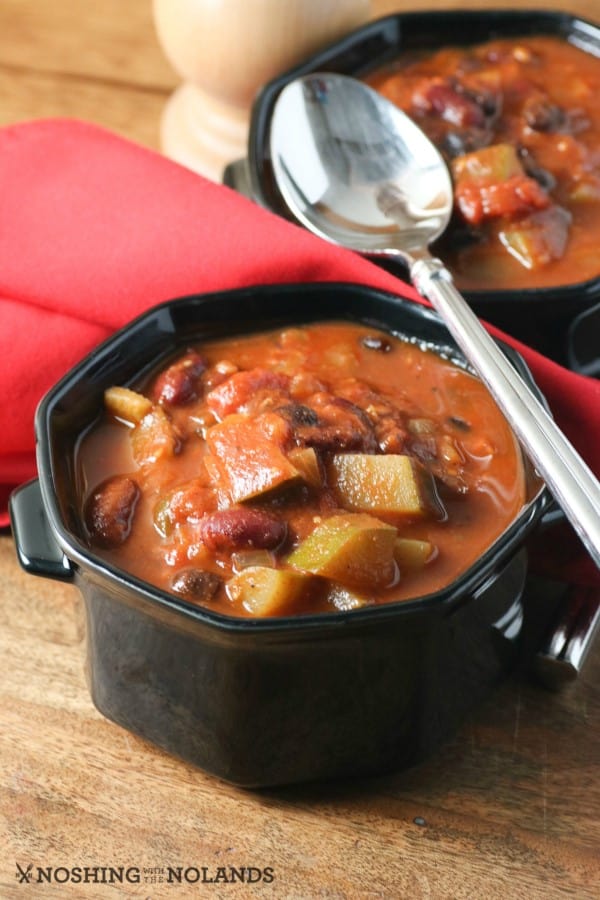 I loved the addition of the zucchini in this chili to give it some chunky texture, making it even more hearty. Besides the usual heat from chili powder and ancho chili powder, we added in a small can of jalapenos. It added the perfect heat to this recipe. It wasn't overpowering but warming. We usually add in green chilies which are much milder but I loved the jalapenos in this recipe.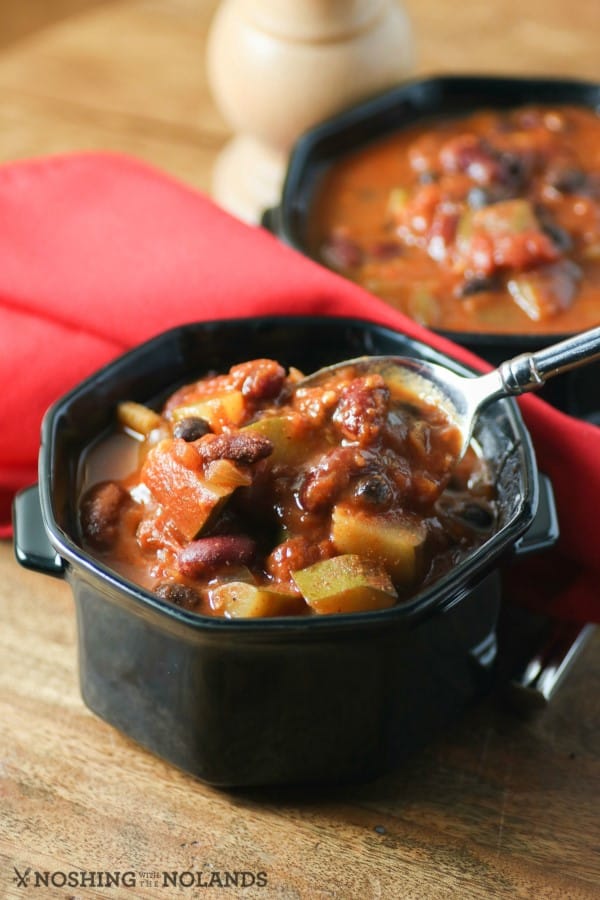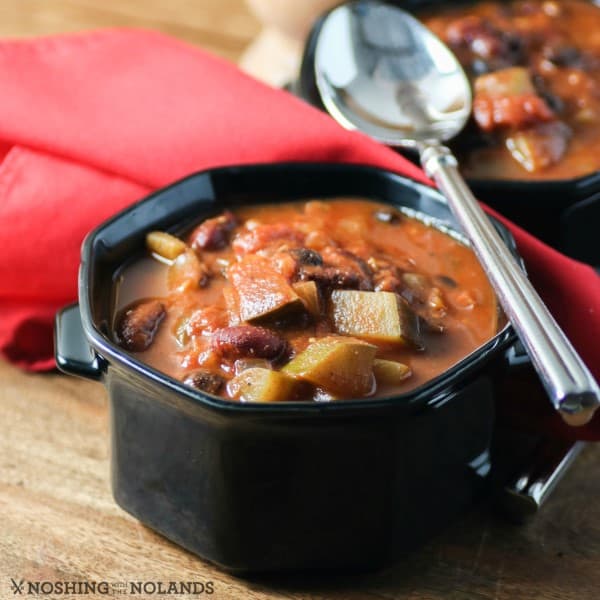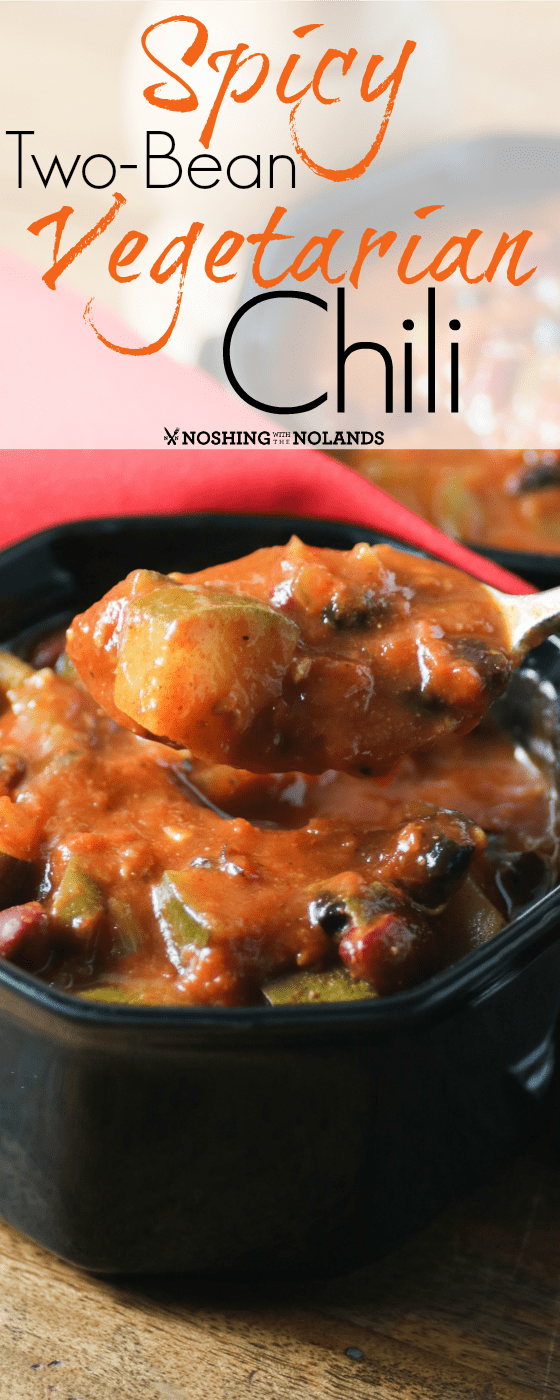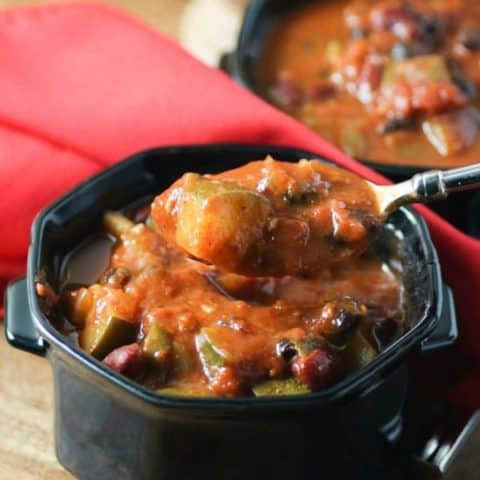 Spicy Two-Bean Vegetarian Chili
Yield: 8 servings
Prep Time: 20 minutes
Cook Time: 1 hour 6 minutes
Total Time: 1 hour 26 minutes
Spicy Two-Bean Vegetarian Chili Recipe Type: Entree Cuisine: American Author: Tara Noland Prep time: 20 mins Cook time: 66 mins Total time: 1 hour 26 mins Serves: 8 servings A Spicy Two-Bean Vegetarian Chili that is wonderfully hearty and healthy! The perfect way to start off the New Year!
Ingredients
1 Tbsp. olive oil
1 medium onion, diced
4 tsp. garlic, minced
1 1/2 Tbsp. chili powder
1/2 tsp. ancho chili powder
1 tsp. cumin
Salt and pepper to taste
1 (5.5 oz.) can tomato paste
1 medium zucchini, cut into 1/2 inch dice
2 - (16 oz.) cans of tomatoes
1 (4 oz.) can sliced jalapeno peppers
1/2 cup water
1 (15.5 oz.) can black beans, drained and rinsed
1 (15.5 oz.) can kidney beans, drained and rinsed
Grated cheddar cheese, optional
Instructions
In a large pot add the olive oil and over medium heat saute the onion and garlic until the onion is translucent, about 3-4 min.
Add in the chili powder, cumin and ancho chili powder and stir for 1 min. Add in the tomato paste and stir to cook for about 2 min.
Add in the tomatoes, zucchini and jalapenos and stir well. If too thick add in 1/2 cup water. Continue to simmer until zucchini is tender, 45 min. or more, stirring occasionally. Season with salt and pepper to taste.
Add in the beans and continue to cook for 15 min. Adjust seasoning and serve with grated cheddar if using.
Nutrition Information:
Yield: 8
Serving Size: 1
Amount Per Serving:
Calories: 124
Total Fat: 4g
Saturated Fat: 1g
Trans Fat: 0g
Unsaturated Fat: 2g
Cholesterol: 4mg
Sodium: 190mg
Carbohydrates: 17g
Fiber: 5g
Sugar: 4g
Protein: 7g
Recipe calculation was provided by Nutritionix and is estimation only. If you need nutritional calculations for medical reasons, please use a source that you trust.