I love coming up with creative recipes and with a little nudge from Little Potato Company to come up with a potato quesdadilla, I thought of when I used to make homemade pierogies by the hundreds and how much work that was. I then thought of this amazing cheater pierogi that you can easily enjoy with your family, Jalapeno Pierogi Quesadillas. This was an immediate hit with my family. Not only did they love the idea but adored the recipe. Creamer potatoes can't be any easier to work with, they are already washed and ready to use. No peeling required.
It is contest month for us here at Noshing With The Nolands so scroll down to the bottom for your chance to win one month free little potatoes!!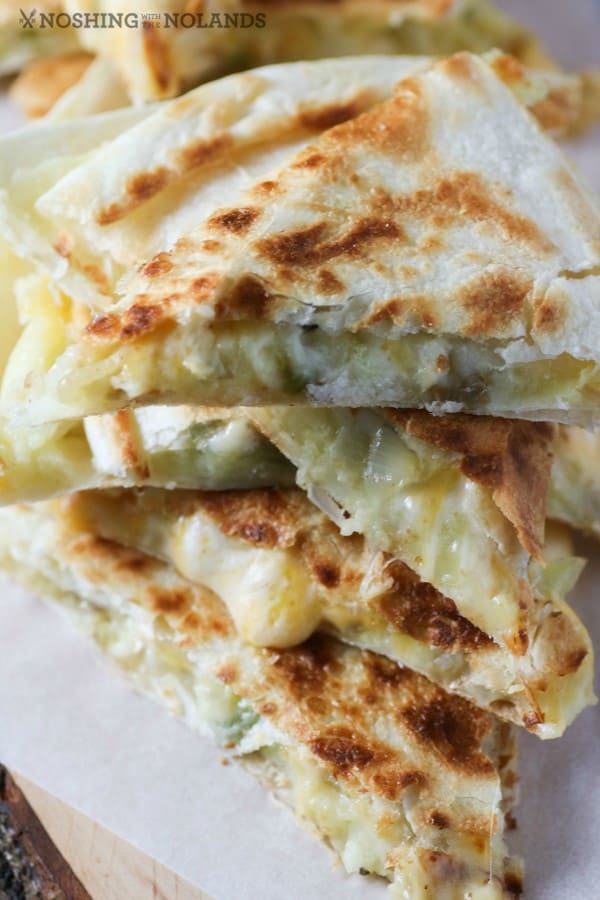 Little potatoes are a nutrient dense Superfood, so loading them up in a tortilla is a great idea. Packed full of vitamins and minerals, Little Potatoes are a perfect part of your family's healthy, balanced diet. And for those of you that are health conscious, Creamer potatoes offer important nutritional benefits.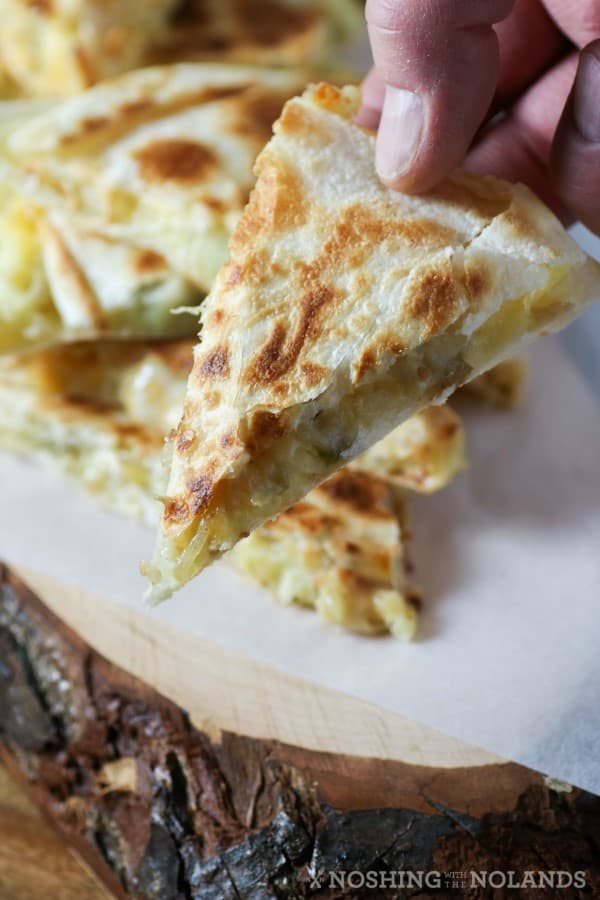 Creamers potatoes are naturally fat-free, cholesterol-free, and only 20 calories each. They contain vitamins, minerals, antioxidants, potassium, and fiber that provide healthy energy.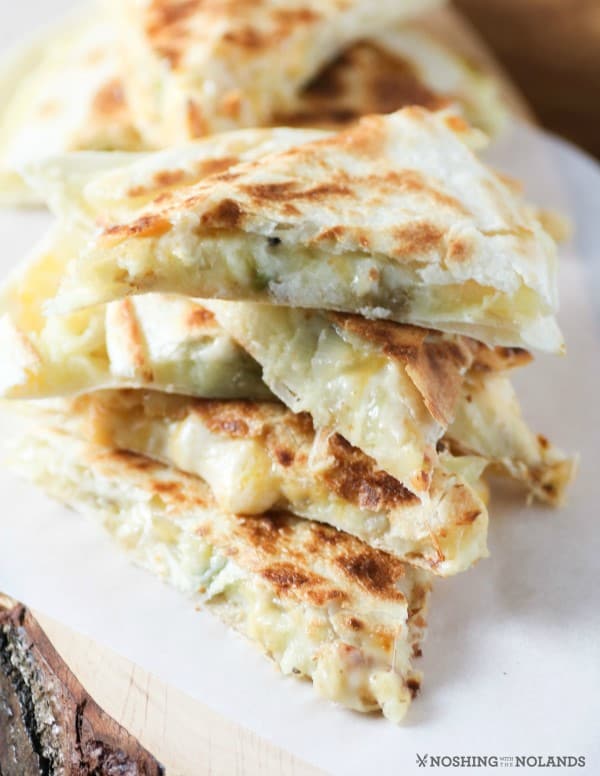 Holding back on some of the richness, I used skim milk to mash them and less butter as Creamer Potatoes already have such a buttery flavor and texture. Sprinkling on some wonderful cheesy goodness not only adds to the flavor but gives you the boost of dairy and all the benefits. A little bit of grated cheese goes a long way.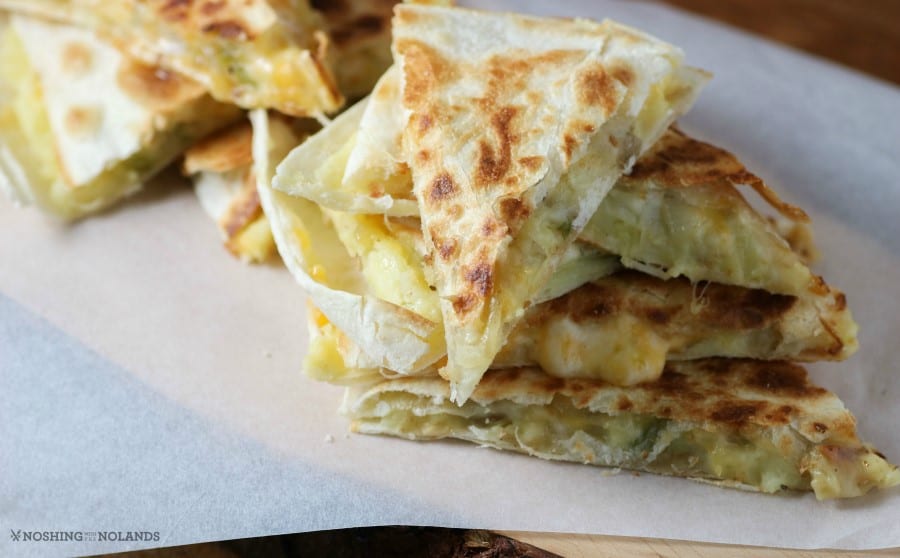 Using seeded jalapenos with the pith removed, barely gives you any heat at all but some lovely additional flavor. Don't be afraid of them if you have never used a jalapeno before. Just be cautious when working with them. I wear latex gloves when cleaning and slicing them so as not to get any of the heat on my fingers and accidentally in my eyes.
The Recipe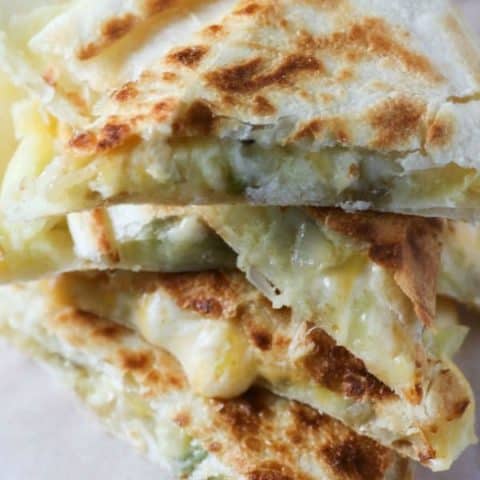 Jalapeno Pierogi Quesadillas
Yield: 8 sevings
Prep Time: 15 minutes
Cook Time: 30 minutes
Total Time: 45 minutes
An easy fix for the beloved pierogi, Jalapeno Pierogi Quesadillas will have everyone falling in love with these for a quick weeknight dinner.
Ingredients
1 1/2 lbs. Little Potato Company Baby Boomer potatoes
2 Tbsp. butter
1/4 cup skim milk
Salt and pepper
2 small onions, sliced
2 jalapenos, seeded and pith removed and thinly sliced
1 Tbsp. canola oil
3 cups light or regular Tex Mex grated cheese blend
8 large tortillas
Cooking spray
Light sour cream
Instructions
Boil the potatoes in salted water for about 17-18 min. until very tender. Mash with the butter and skim milk. Set aside to cool slightly.
Cook onions and jalapenos in canola oil in a medium saute pan on medium heat until onions are translucent. Season with salt and pepper. Set aside.
Divide the mashed potato among 4 large tortillas shells and smooth out to 1/2" of the edge. Top each with a 1/4 of the onion, jalapeno mixture.
Place about 3/4 cup of the cheese over top of each tortilla. Cover with the second tortilla on each. Spray the top of the tortilla with cooking spray and also a large sized saute pan. Place the quesadilla in the saute pan with the sprayed tortilla up. Cook on medium high heat until golden brown, flip and cook the other side until golden also.
Slice with a pizza cutter into wedges and serve with sour cream.