Spicy Pecan Goat Cheese Truffles
This recipe has been made many times before and it is a delicious little decadent appetizer. I had never served them on the pretzel sticks before but Spicy Pecan Goat Cheese Truffles are perfect on a little rod! An appetizer like this is elegant enough for New Year's Eve or casual enough for a game day celebration and everything in between!! It is easily whipped up in the fantastic light weight Hamilton Beach Food Processor. Making your work so much easier.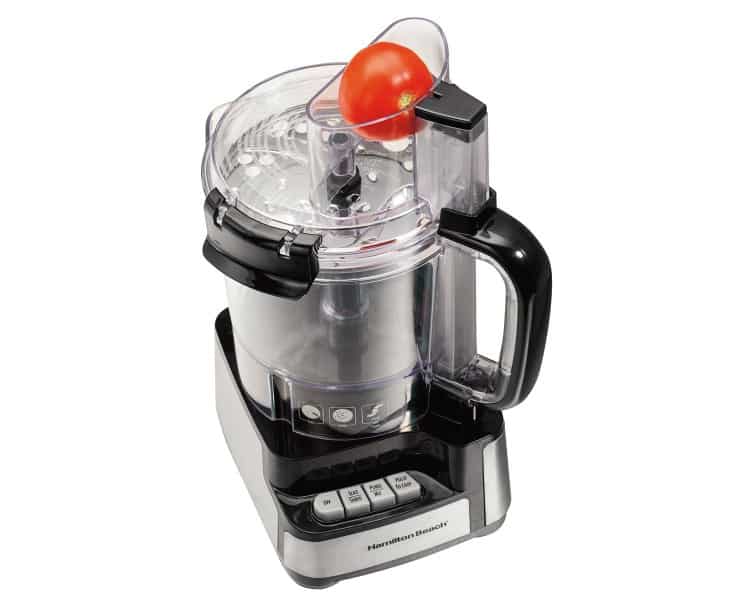 The Stack and Snap 12 Cup Food Processor is a marvel in functionality at a great price. It is easy to use as it doesn't require any twisting or locking. I liked that the bowl is so big so you don't need to chop things before putting them in. The bowl has a simple snap down lid that prevents leaks and has an easy pour spout.
It has a powerful 450 watt motor with an "S" blade that makes quick work of your chopping needs. The nuts were perfectly and evenly chopped for this recipe! Plus, the blade, bowl and lid are all dishwasher safe. It has a reversible slice/shred disk that will make salads and more a breeze. I love using the food processor when I have bulk cheese to shred! Sure beats grating by hand!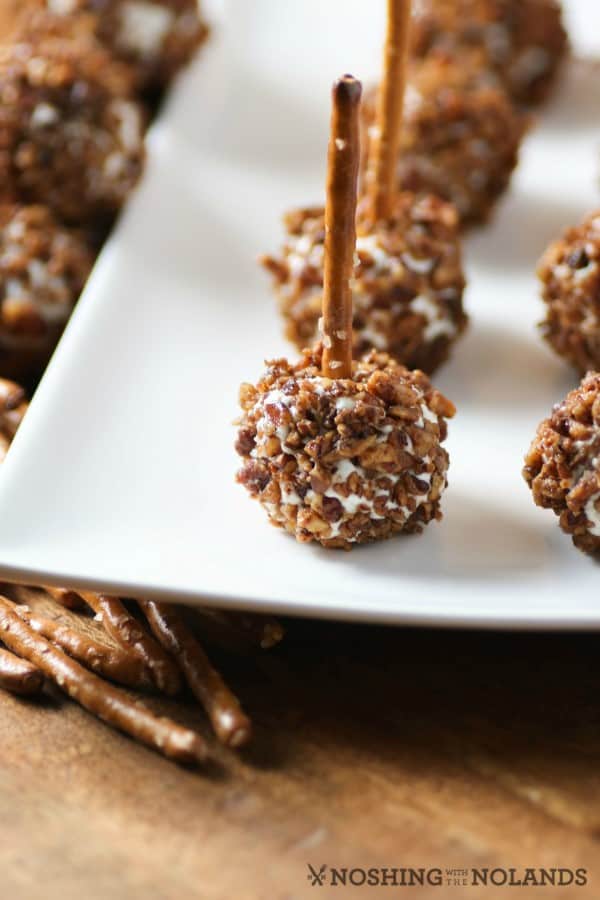 After a quick whirl in the food processer, the pecans are cooked first in a spicy ginger sweet sauce, making them incredibly scrumptious and something that you have to stop yourself from eating!!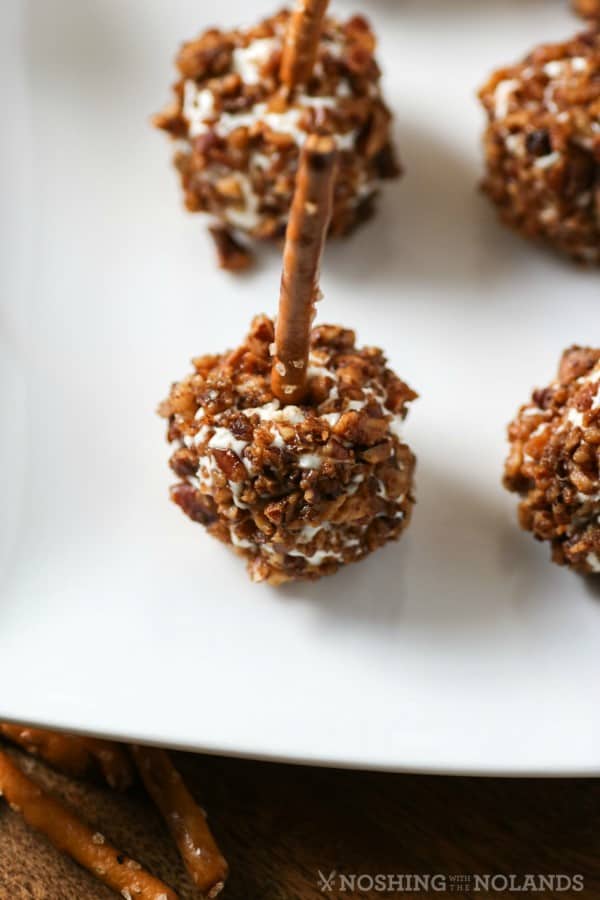 Once the nuts have taken their turn in Hamilton Beach Food Processor, the goat cheese and cream cheese with a few spices are quickly blended together in the same bowl. No need to clean it until you are done!
The Recipe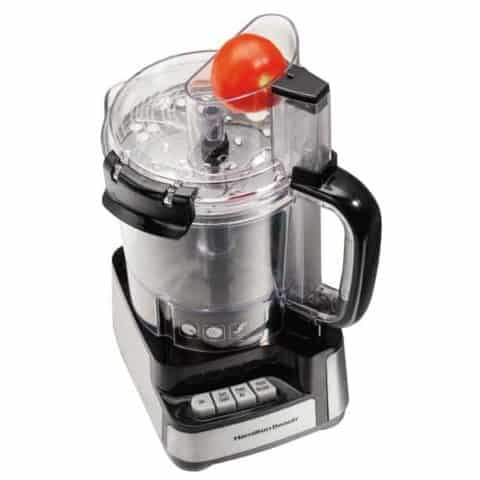 Spicy Pecan Goat Cheese Truffles
Yield: 32-36 appetizers
Prep Time: 30 minutes
Cook Time: 45 minutes
Total Time: 1 hour 15 minutes
Spicy Pecan Goat Cheese Truffles is a delicious appetizer that fits into an elegant celebration or a casual get together just as easily.
Ingredients
2 Tbsp. butter
5 Tbsp. maple syrup
3 slices of fresh ginger
1/2 Tbsp. water
1/2 tsp. powdered ginger
1/2 tsp. salt
1 tsp. Tabasco sauce
1 1/2 cups pecans
300 gms. (10.5 oz.) goat cheese
3 oz. light cream cheese
Salt and pepper to taste
Large pinch of nutmeg
Pretzel sticks
Instructions
Preheat oven to 300F. Line a baking sheet with foil or a Sil-Pat liner. In a small saucepan add the butter, syrup, sliced ginger, powdered ginger, salt and Tabasco and simmer on low for 2-3 min.
Meanwhile, place the nuts in a Hamilton Beach Food Processor and pulse until evenly chopped. Once the sauce is done and removed from heat, stir in the pecans to evenly coat. Spread out on the prepared cookie sheet. Bake for 30- 45 min. stirring every 15 min. until nuts are almost dry.
Remove from oven and let cool completely. In the same bowl of the food processor add the goat and cream cheese along with salt, pepper and nutmeg. Mix until well blended. Carefully remove the blade from the food processor. Roll small 1" balls of the goat cheese mixture into the cooled chopped nuts. For serving place a pretzel stick in each one.
Truffles can be made up to 6 hours ahead of time and refrigerated. They also freeze well for longer storage. Add the pretzel sticks in just before serving.
Recipe adapted from
Recipe Girl
.
Serve this easy appetizer up for your next gathering!! These cheese truffles fit in gorgeously with any charcuterie too. Enjoy!!