Today I have Sandi From A New York Foodie who I also met over at Enjoying Yummy Recipe, a private blogger group on Facebook. Sandi is lovely and supportive and a great person to work with on our learning path of blogging. She has a great site with loads of fantastic recipes like, Stuffed Shells with Spinach. I would love for you to go and have a look around and to also follow her on Facebook, Twitter, Pinterest and Google+.
I know give you Sandi and her delicious meal!!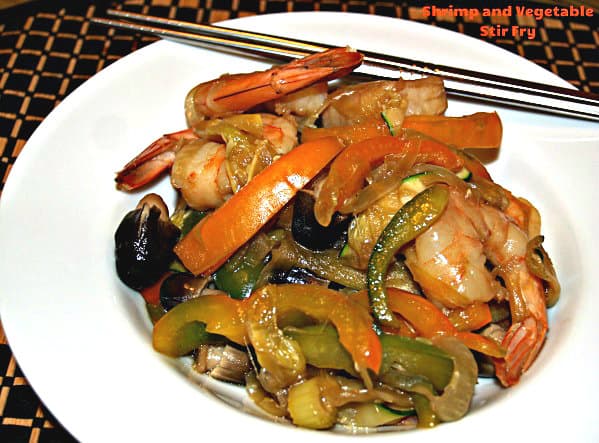 Are you craving Asian food? Do you buy it from the takeout/takeaway places a lot? Well how about you make it yourself? You can save lots of money and you can control the amount of fat that goes into your food. Asian food is wonderful, I love it myself, but let's face it, these restaurants cook with a lot of extra fat and oils. You can have all the same things at home but the only difference is that you will be controlling what goes into your food!
To see how it's made it, keep reading!
Shrimp and Vegetable Stir Fry
Ingredients
2 lbs extra-large shrimp, peeled and deveined
1 medium green pepper, sliced thinly
1 medium red pepper, sliced thinly
2 celery stalks, sliced thin
4 garlic cloves, chopped
1 small zucchini, sliced thinly
1 (15 oz) can straw mushrooms, drained
2 tbsp. peanut oil (divided)
2 tsp. sesame oil (divided)
1-2 heaping tbsps. Garlic powder
1 cup low sodium soy sauce
1 tbsp. cornstarch
½ cup water
¼ tsp. red pepper flakes (optional)
Directions
In a large glass bowl or measuring cup add 1 tsp. of the sesame oil, the soy sauce and garlic powder, mix well. Add shrimp to a large Ziploc bag and pour the marinade in the bag. Lay the bag on a plate on the bottom shelf of the refrigerator for an hour, turning after about 30 minutes, making sure that the marinade gets all over the shrimp.
Heat up a wok or large skillet over medium high heat with 1 tbsp. of the peanut oil and stir fry the shrimp (without marinade) for about 2-3 minutes, until they turn pink, stirring often. Be careful to not cook them too long as they can get tough and rubbery. When the shrimp are
Heat up the wok with the remaining tbsp. of peanut oil, the remaining teaspoon of sesame oil and stir fry the all the fresh vegetables until crisp tender, about 5-7 minutes, stirring often. Add the red pepper flakes, if using.
Mix the cornstarch with the water and make a slurry. Slowly pour into the vegetable mixture and stir. This will make a sauce and it will be thickened. You might need to add a little bit more water.
Once the vegetables are crisp tender add the can of mushrooms and the shrimp. Stir to combine. Serve over rice! Enjoy!