Cookbook review day here and I have been excited to show you Easy Chicken Thighs in Peanut Sauce with Green Beans. This recipe is from the delicious cookbook, The Ultimate One-Pan Oven Cookbook by Julia Konovalova.
I love cooking like this for a weeknight dinner. So simple, so easy are chicken thigh recipes like this one done on a baking sheet. Check out our 38 Great Sheet Pan Dinners for more recipes!!
The cookbook shows you how to make complete meals using not just your sheet pan but also a dutch oven, roasting pan and more.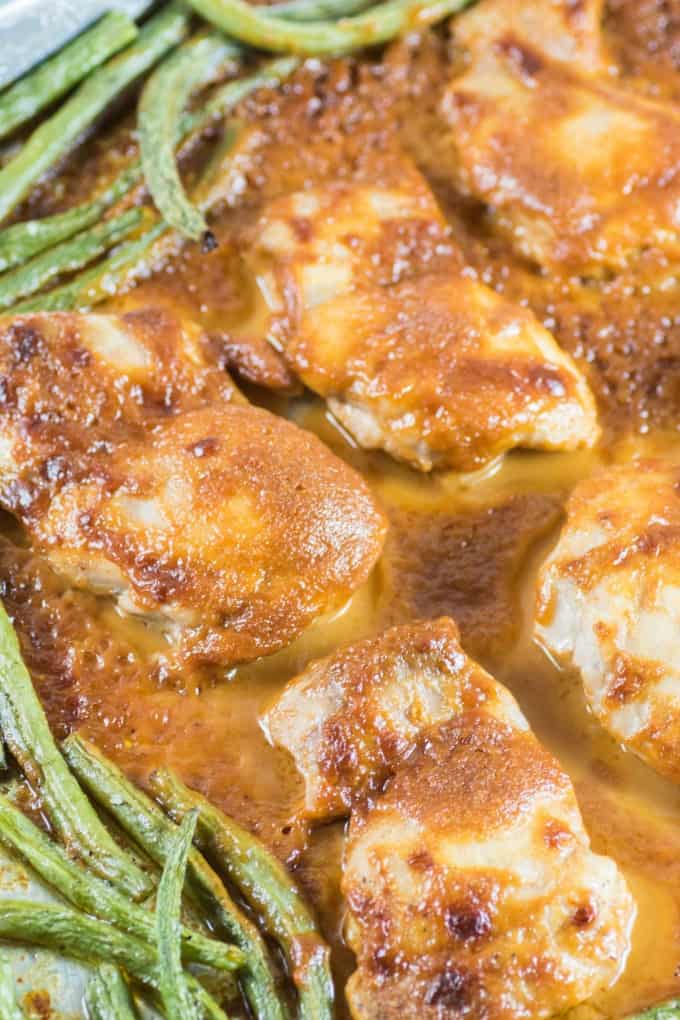 Using boneless, skinless chicken thighs are a healthy choice. When the chicken is baked in the oven like this it is so much more tender than if it was fried or done on the BBQ!
The only other side dish I served with it was just a plain rice done in my rice cooker. Such a quick and easy meal, we love this recipe!
The sauce that was so simple to make and was an instant hit with the family. The combination of lemon juice, orange juice, soy sauce and sriracha paired up amazingly well with the peanut butter.
The Ultimate One-Pan Oven Cookbook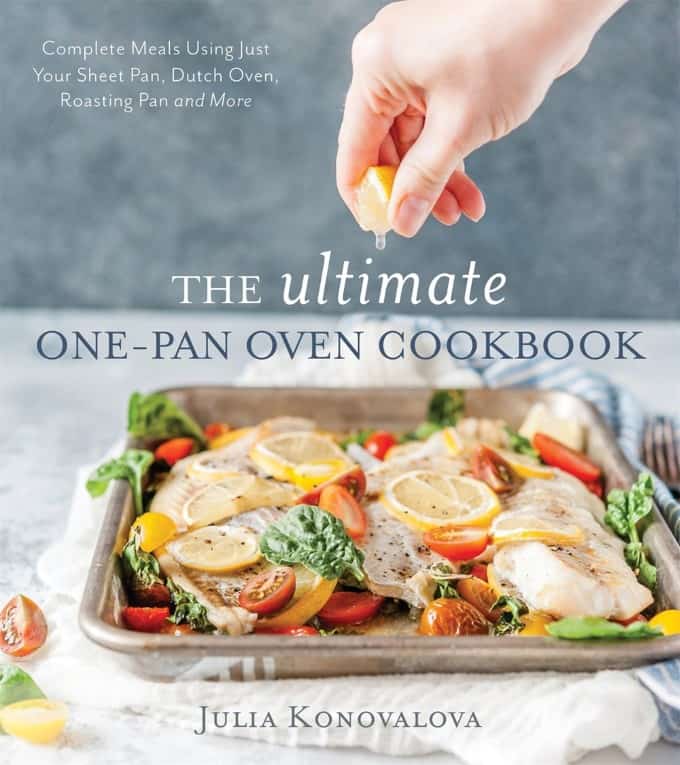 The cookbook is filled with great recipes like this one! There are fantastic recipes for breakfast like Oven-Baked Maple-Sriracha Bacon, Mango Chili French Toast or Thick Oven Omelet.
Then there are great complete one-pan oven meals like Roasted Shrimp with Feta and Broccoli, Hoisin Maple-Glazed Salmon with Vegetables or Pizza-Style Chicken with Wilted Spinach.
The sections continue with Hands-Off Mains and dishes like the drool worthy Spiced Bacon-Wrapped Pork Roast, Delicious Mini Dill Meatballs or Family-Style Herb and Garlic Roast Leg of Lamb.
Julia even has a section on Simple Soups, Salads and Sandwiches, Easy Sides, One Pan, Many Nibbles and Delicious and Unique Desserts. Bringing you recipes that are simple from morning to night!
All the recipes come with full, high quality photos which I always like to have in a cookbook.
How Long to Bake Chicken Thighs?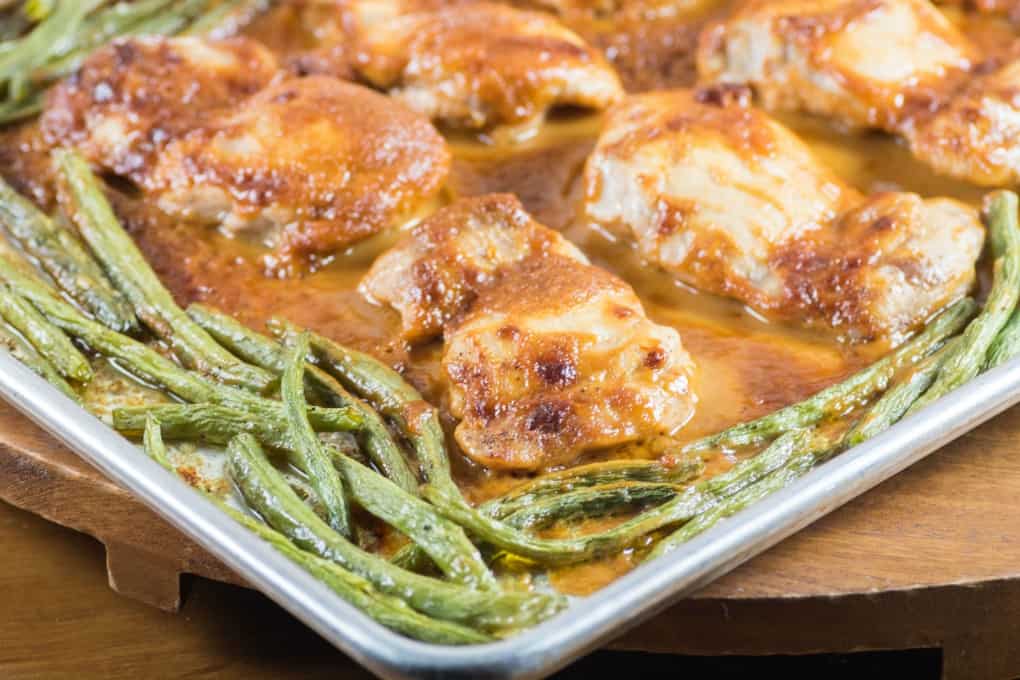 I do like to cook with chicken thighs more so than chicken breasts as they never seem to dry out like breasts can.
Make sure to dry them with paper towels before cooking as they will take on the sauce better and crisp up a bit too.
Using an instant read thermometer will always make sure you have the best perfectly done chicken too. Don't go by only time but by temperature too. Chicken is cooked at 165F.
Julia has included a handy Safe Internal Cooking Temperatures guide to help you with all your cooking needs.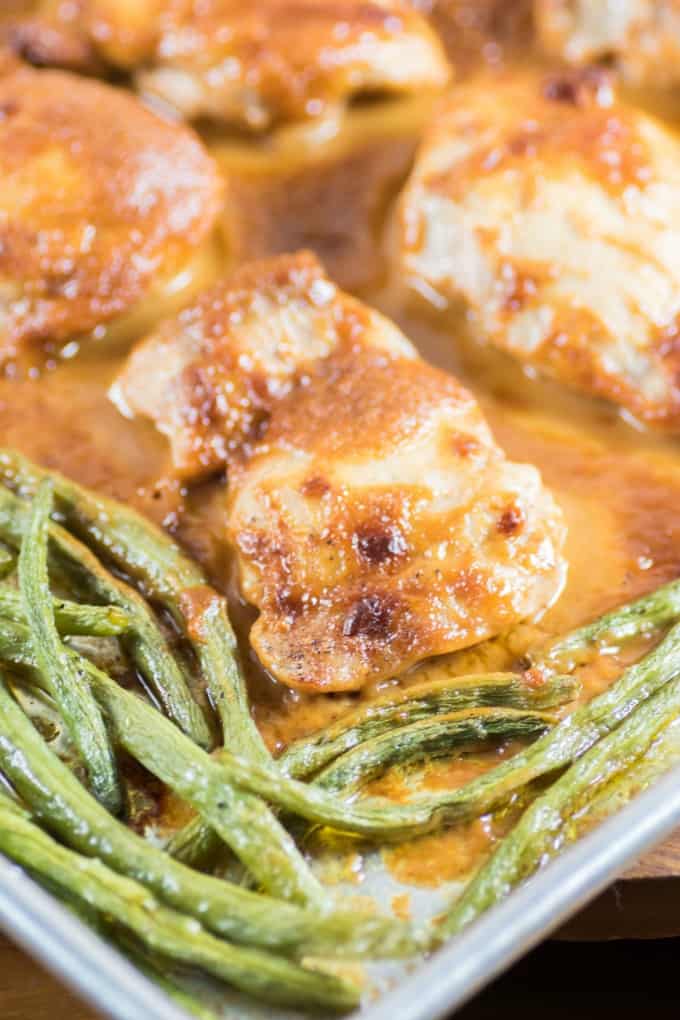 Tender, juicy, flavorful this is a great recipe!! The chicken cooks in a hot, preheated oven at 425F. which lets it roast to perfection.
I like cooking in a hotter oven like this for sheet pan meals as they cook quickly and brown up nicely.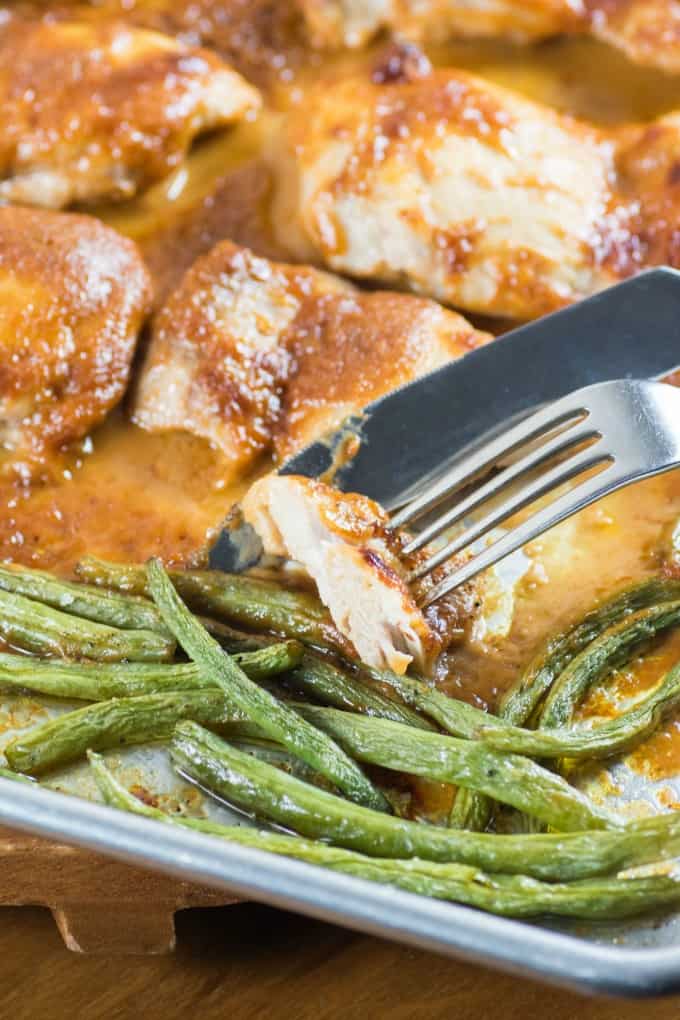 There were seconds had at this meal, the kids just loved the flavor! The beans went so lovely with this meal as I think they go perfectly with an Asian style sauce like this too.
To make this meal even easier to pull together I made the sauce ahead of time and refrigerated it until I was ready to make the meal.
You could do something like this in the morning. Dinners are hard to pull together so I find any tips like this are really helpful.
To be able to put your feet up for a moment and relax while the dinner cooks is a must need for me after a long day's work!!
Baked Chicken Thighs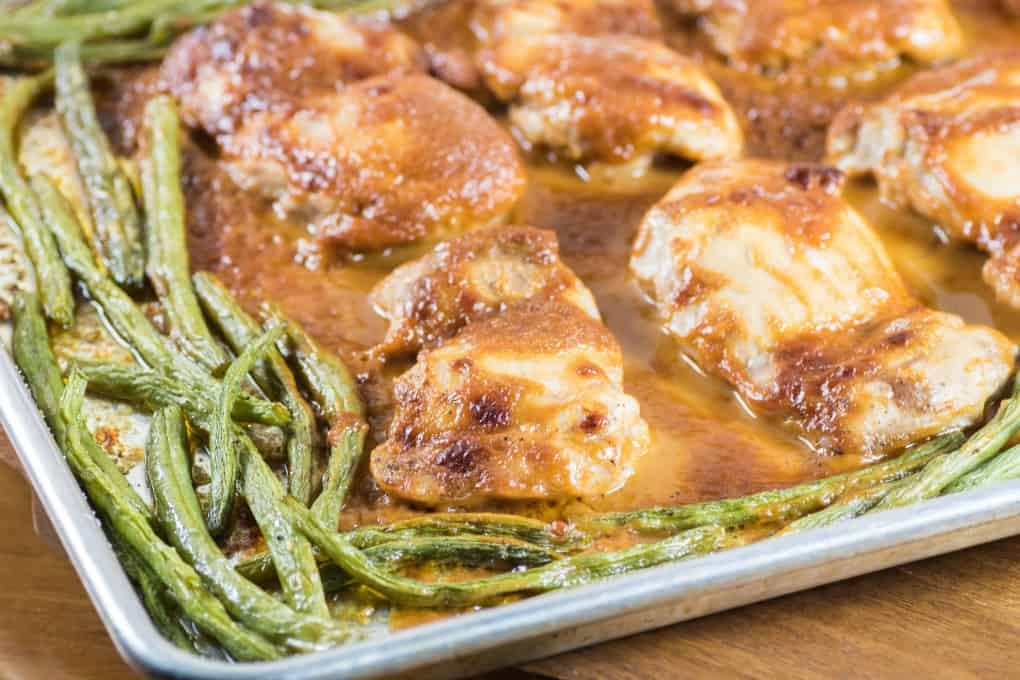 Julia Konovalova's love for food started at a young age. She spent summers at her grandparents cottage in Russia watching them grow fruits and vegetables and raise chickens.
She moved to Canada when she was a teenager. Julia went on to receive a Bakery Arts Certificate from George Brown College.
Julia later started up her own website, Imagelicious. She resides in Toronto with her husband and daughter.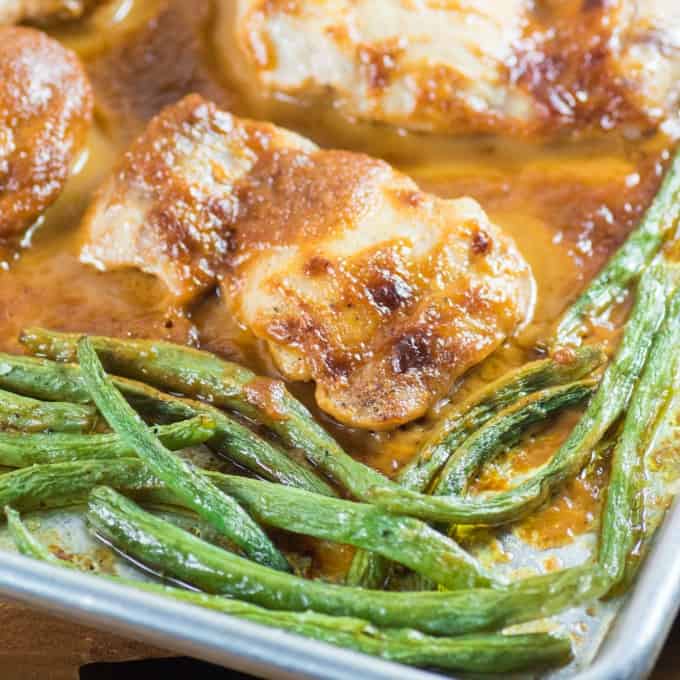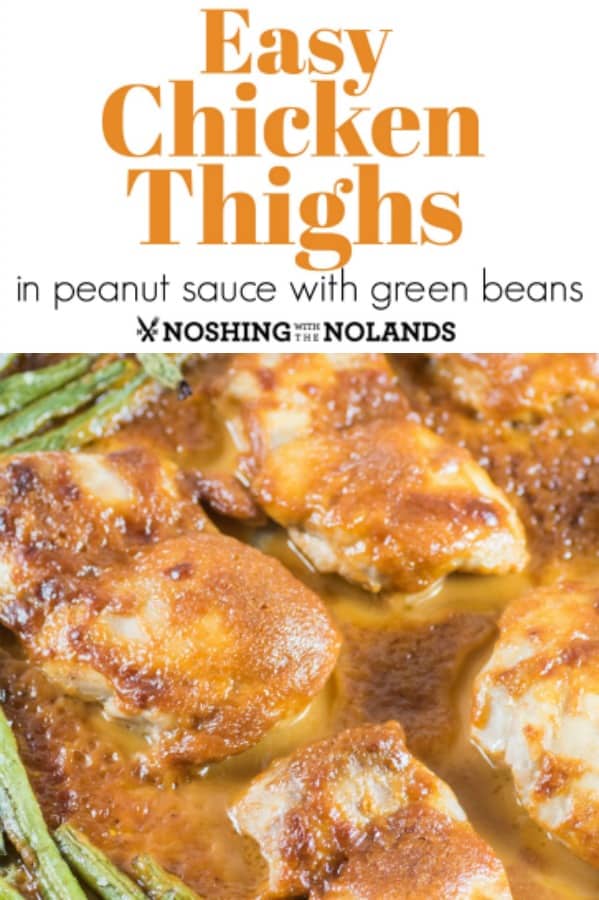 Baked Chicken Thighs Recipe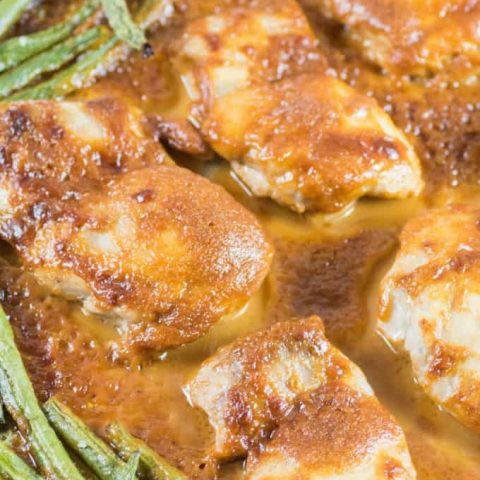 Easy Chicken Thighs in Peanut Sauce with Green Beans
Yield: 4 servings
Prep Time: 15 minutes
Cook Time: 30 minutes
Total Time: 45 minutes
When my brother-in-law got engaged, his fiancée's family invited us over for dinner. Her mom served the most delicious chicken wings. I had at least a dozen, maybe more. They were delicious and sticky and perfectly charred, and I just couldn't put my finger on what it was that made them so addicting. Finally, I asked, and it turned out that the secret ingredient was peanut butter. Those chicken wings inspired this recipe.
Ingredients
2 tbsp (30 ml) olive oil, divided
¼ cup (45 g) smooth peanut butter
2 tbsp (30 ml) lemon juice
4 tbsp (60 ml) orange juice
2 tbsp (30 ml) soy sauce
2 tbsp (30 ml) Sriracha
8 skinless, boneless chicken thighs
¾ lb (340 g) green beans
Salt and pepper to taste
Instructions
Preheat the oven to 425°F (218°C).
While the oven is preheating, mix 1 tablespoon (15 ml) of the olive oil with the peanut butter, lemon juice, orange juice, soy sauce and Sriracha in a bowl.
I like using a small glass jug for this. It's a lot easier to mix this sauce if the peanut butter is warm. I don't have a microwave, so I put a jug with the sauce into a bowl of just boiled water to heat it up. If you have a microwave, you could heat it for 20 to 30 seconds.
Place the chicken thighs in the middle of a nonstick baking pan. I use an 11 x 17 inch (28 x 43–cm) pan. Make sure that the chicken thighs are fully flattened.
Pour half the sauce over the thighs, then flip and pour the rest of the sauce, making sure that it fully covers the chicken.
Spread the green beans around the chicken thighs in one layer. Pour the remaining 1 tablespoon (15 ml) of olive oil over the green beans, season with salt and pepper to taste and lightly mix with your hands or tongs to cover them with oil and seasoning.
Roast for 30 minutes, or until the chicken thighs are cooked to 165°F (74°C) and the sauce is thickened.
Serve with rice, if desired, or double the amount of green beans and cook on a separate pan.
Reprinted with permission from
The Ultimate One-Pan Oven Cookbook
by Julia Konovalova, Page Street Publishing Co. 2018. Photo credit: Julia Konovalova.